"Back in 2006, I met a man named Daniel. He and I became fast friends and soon after, I told my mom he was the man I was going to marry. By 2012, we lived together. Daniel was my best friend. He was a bit older than me, but he was pivotal in me becoming who I am now. When we met, I was recovering from an assault that left me devastated. Almost to the point where I didn't know who I was anymore. Slowly, Daniel helped me gain my self-esteem and self-love back. On Christmas Eve of 2014 Daniel asked me to marry him and I said yes. Unfortunately, Dan's health started to decline. He was working so much and always put his health on the back burner no matter how much I protested. On July 6th, 2015 I worked an overnight shift and got home at 9 AM on July 7th. I knew something was off with Dan. I had to rush home from my own Dr. appt because he called me freaking out about symptoms he had. And yet he refused to go to the ER. We finally agreed I would take an hour nap and when I woke up – we'd go to the emergency room. I woke up almost 2 hours later, confused as to why he hadn't come and gotten me. I came downstairs and found him dead on the floor. I fought and tried to save him by performing CPR and I stayed with him until paramedics came but I was too late.
I came back to work after about a week. At the time Alex and I were just co-workers. He was so kind to me from the start about my loss. About 2 months after Dan passed I knew I had to find a roommate or move back home. I had known Alex for about a year, and I offered him a room at my house. He moved in about 3 months after Dan passed. Living with me wasn't easy. I couldn't sleep alone so I was blowing up an air mattress in front of my tv in the living room at night. I spent a lot of time in bed crying. Alex was always so kind to me, he really tried to be a great friend to me the whole time. He even stayed up in the living room with me at night until I fell asleep. You have to understand we were close friends by this point.
I never expected to fall in love with Alex. It happened slowly, over time. He never went out of his way to make anything happen, and he never put me in any uncomfortable situations. He was the epitome of a gentleman. But about 9 months after he moved in, I started to have feelings for him. One thing Daniel always said to me was that I was worthy of love. And that I should always be surrounded by people who love me completely and uninhibitedly. Alex was the perfect example of that kind of love. He sat with me for hours listening to me cry as I told stories of my life with Daniel. He was never jealous or short with me, he empathized with me and was gentle and kind. Something I hadn't yet experienced post-loss.
As of this year we have been together for just about 2 years. He and I are still best friends and we love each other so completely. In mid-September I was sick with a cold and despite my best efforts – my dad ended up getting ill. He's had an extensive history with battling pneumonia. So, when he started acting a bit off and very sickly – Alex and I took him to the ER – no questions asked. Over the next month and a half, the team at University Hospital battled to keep his oxygen levels above an 80, and his heart regular.
For some reason they couldn't get his oxygen levels up to even close to where they should be if you're just sick. He was about to come home finally after weeks in a step down from the ICU, when things got worse. We got a call his heartbeats were irregular, and his oxygen levels dropped even lower. He was put in the ICU on a mask to help force oxygen into his lungs. We were then told his best bet at finding out exactly what was going on was a lung biopsy – but because he was doing so poorly it would be risky. It was a chance we had to take. They intubated him while my mom was present (I was on the speaker phone) and did the biopsy. He didn't wake up right away though.
We spent about 2 days waiting for a change. I was begging and pleading with God to just give me a chance to talk to him one last time. My father is my best friend, he's been there by my side through some of the best and worst times of my life. We always joke that we're 2 halves of the same whole. This was devastating to me. I've never had a day go by in the last 10 years where I haven't talked to him at least twice in a day. On the 3rd day he hadn't woken up yet, my mother and I went up there for hours and talked to him. We were saying goodbye at this point because he just wasn't getting better. He was on life support, and no changes had occurred.
The next day I received a call. It was a voice I hadn't heard in a while that asked 'Hey, remember me?' It was my dad! I rushed to the hospital in tears because my prayers had been answered! He was awake and talking, he seemed to be getting better. We waited 2 days and got the lung biopsy results. My dad has a progressive lung disease – most likely brought on by things he was exposed to during his time in factories (during the 60's and 70's) and in construction (during the 80's and 90's). He has scar tissue built up on the inside of his lungs that are affecting his ability to get enough oxygen. We were finally told he would not be getting better. That his symptoms will stay the same and only get worse. That my dad, my best friend was dying.
This news shocked me to my core. There is still so much that I wanted my dad to experience with me. Like my wedding, his grand babies, me getting older and watching our family grow. Alex knows after losing Daniel I try not to take time or people for granted and make the most of everything I'm given in life. He asked me if I wanted to get married at the ICU so my dad could give me away. I've never been huge on traditions like that, but it became extremely important to me for this to happen. We started to plan this in 24 hours. Luckily, we had help pour in on a GoFundMe I set up to get help for our marriage license and to buy me a cocktail dress to wear. After 2 days $400 had poured in. I was able to buy an $800 wedding dress on clearance and make corsages for our parents and Alex.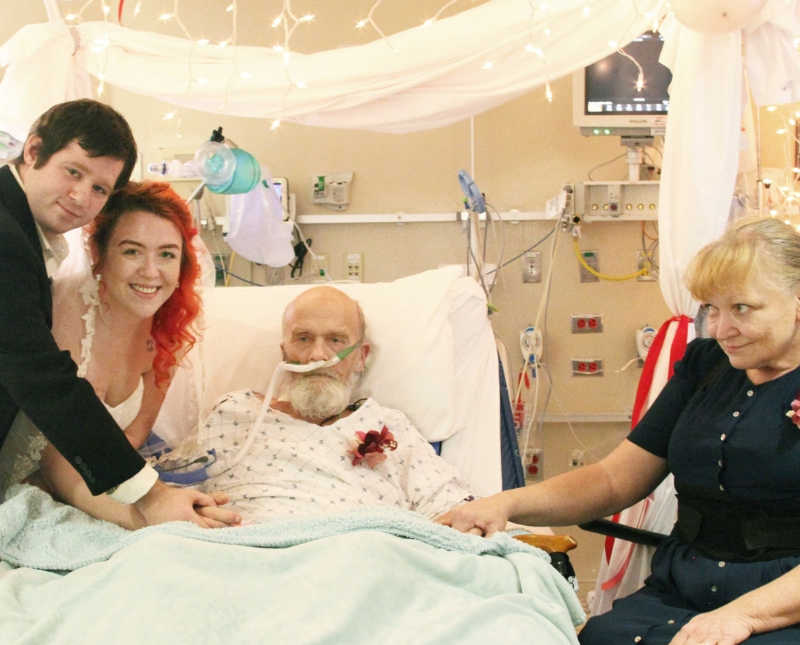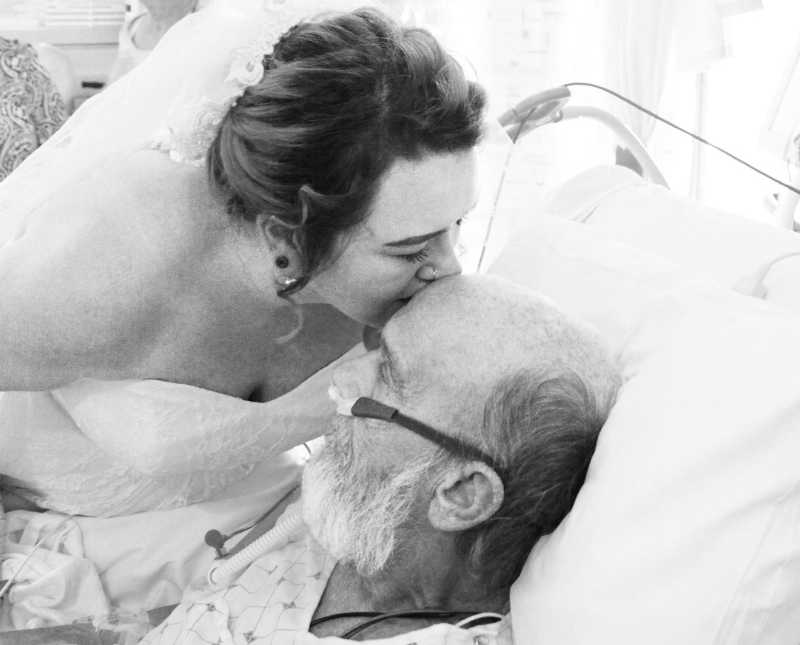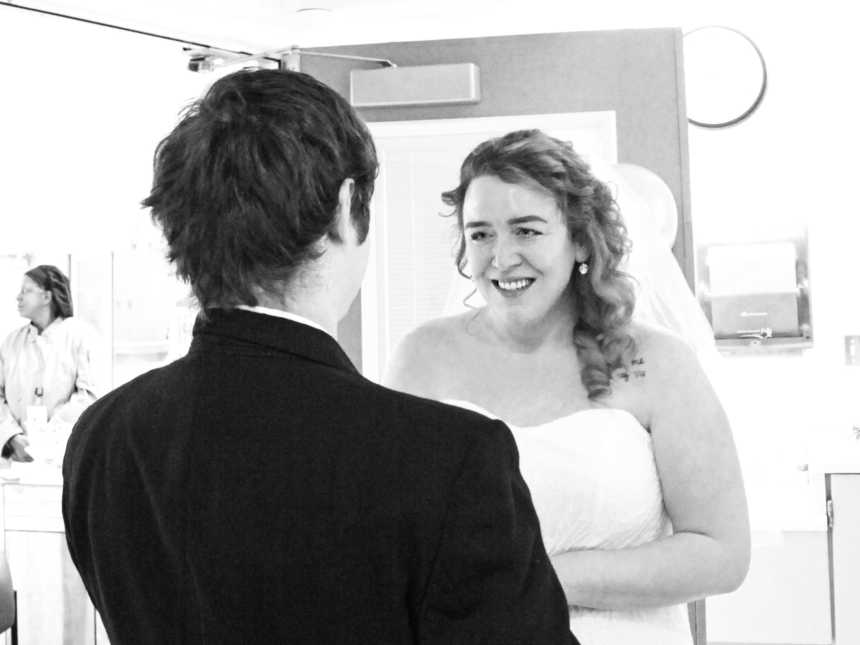 I never expected the kind of care and attention to detail we received from UC's ICU staff. When I turned the corner with my mom, I saw about 50 people lined up to watch, and as I walked into my dad's room, I saw all the beautiful decorations they had put up. This day was truly magical and so surreal. They played music for us, and allowed my best friend, a few family members and my cousin in. More people than we expected. I've been so lucky to have a husband who has helped me recover from a terrible and sudden loss, and then helped me (and is still helping me) make the most of the time I have left with my dad. He and my father have become very close and the ultimate testimony to that is that Alex is taking our last name since my father didn't have any sons. Right now, my dad is at home with Hospice care, and on December 30th we got to celebrate our 2-month anniversary with my parents. The biggest take away from all of this in my eyes is to make every moment count. When we got married, we were told my dad may not last the week and so we seized the moment to make sure we got the most out of that time we had. I'm extremely lucky that my husband is such a kind, caring, compassionate and supportive man. And I can't wait to see what the future has in store for us!"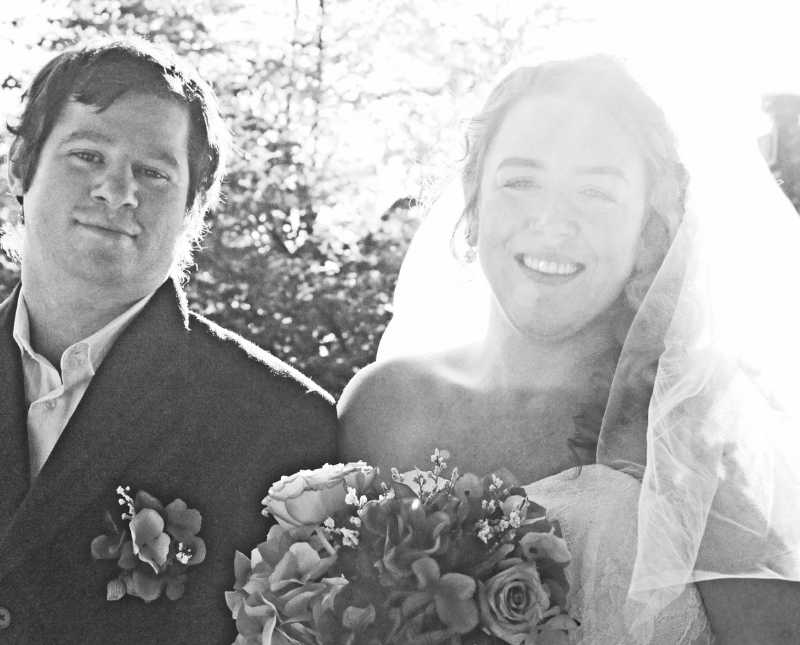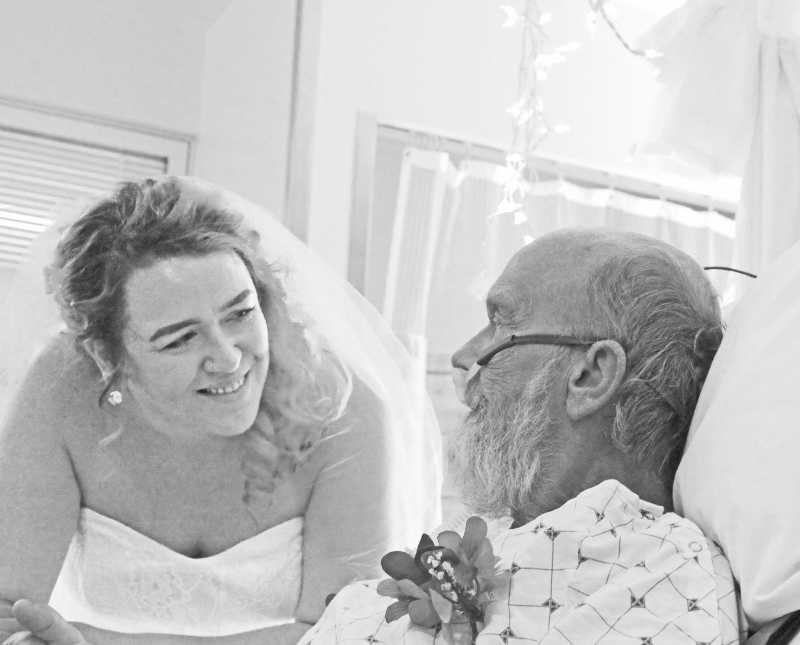 This story was submitted to Love What Matters by Amanda Zoe. Submit your story here. For our best love stories, subscribe to our free email newsletter.