Trying For A Baby
"Louis and I were married in 2007 at the young ages of 20 and 21. We talked about having kids one day but opted to wait until we finished college and got our careers started. We always knew we wanted to adopt. We thought we would have a couple of kids and then adopt a couple of kids. We waited until I was 25 to start our journey of becoming parents. We began with low stress about getting pregnant but as the months passed, we wondered why we weren't pregnant yet. No one in our family ever had any fertility issues. In fact, everyone seemed to get pregnant really easily before us.
Months went by and with each month a roller coaster of emotions went through my body. I felt like I was failing. Was I doing something wrong to not deserve a child? I had a deep desire to be pregnant and a deep desire to be a mom. A year passed and I was scheduled for my yearly check up with my OBGYN. I talked to my doctor about wanting to be pregnant and she said the word 'infertile,' and said we could try a medication and if that didn't work, we would need to see a specialist. We started a medicine called Clomid. It helps you to ovulate. The meds can increase your chances of having twins or multiples. We talked often about the idea of twins. But the months passed. During this time we bought a house. We had dreams of the sound of tiny footsteps and laughter running down the halls. I remember driving home from church one Sunday, and turning to Louis to say, 'I feel like God is preparing us for something REALLY big! Maybe we will have twins!'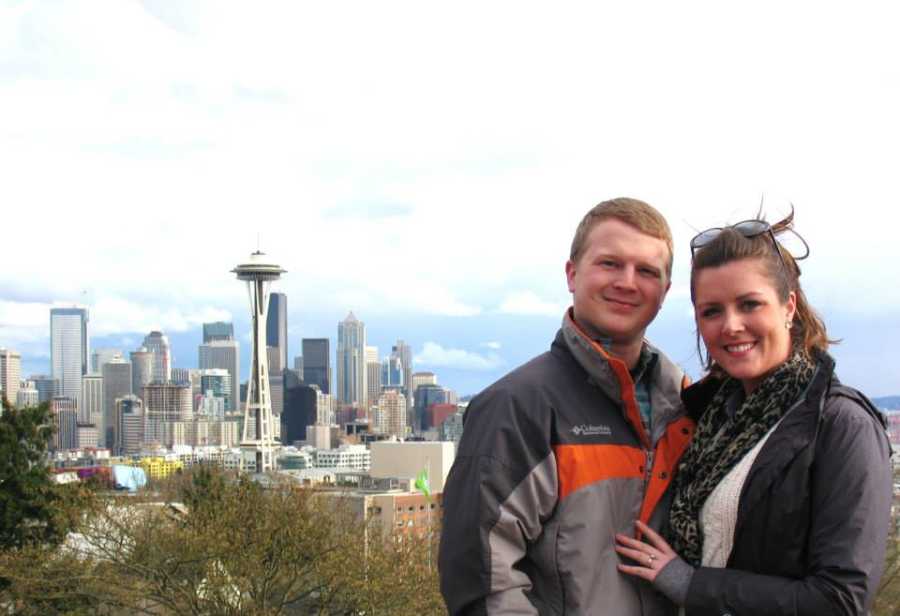 The medicine seemed hard on my body. My hormones were off and I had at least one day a month where I felt depressed and down. On those days I cried most of the day. I remember being in the Kroger checkout line with a baby in a shopping cart in front of me. I was getting frustrated because I felt like the baby was staring at me. Obviously the baby was not out to get me. I wanted the baby to stop looking at me, but he just kept smiling … My spirit was so sad that we weren't parents yet. I knew I was in a dark place and needed to seek God's will. People often told us 'just relax,' 'don't think about it,' 'it will happen.' All of those were meant to be words of encouragement, but they hurt an already hurting heart. I was on the medicine for 5 months when we decided we didn't like how it was making me feel. After trying to get pregnant with medication with no luck, we talked about our options. We didn't feel called to walk the road with a fertility specialist. We decided we wanted to follow the calling we felt towards adoption. We said, 'We aren't giving up hope of being pregnant one day, but we want to see what God does with this feeling of being called towards adoption.' That's when the 'miracles' started to unfold.
Called For Adoption
If you've looked into adoption you know that there are many, many agencies to work with. I did research online and felt a tug towards one in particular. I remember my mom asking many questions of why this one and not that one? She was guarded and nervous for us. I was on the phone with her when she was asking these questions on my way to work. 'I don't know,' I told her. I just feel that's where our baby is. Meanwhile, a friend I hadn't talked to in 6 months sent me a text. She was asking how we were. I updated her that we weren't pregnant but were thinking of adoption. She said she had a friend who was an adoption counselor at a local agency. As soon as I got to work I searched her name on Google, and lo and behold, it was the same agency! I got chill bumps all over and took that as a sign from God that we were on the right track.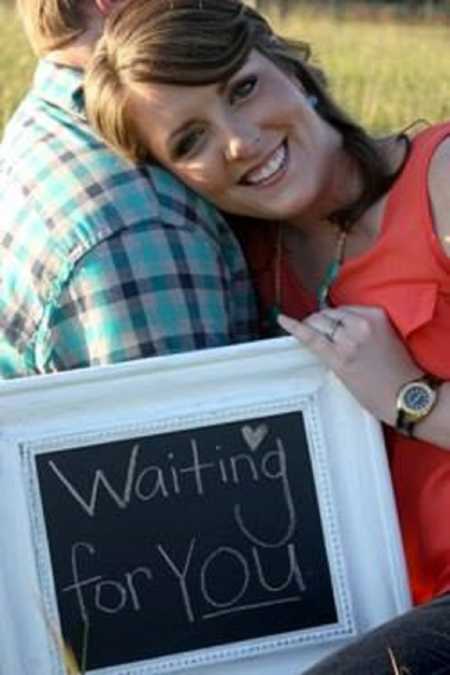 We attended our first 'discover adoption' meeting with Bethany Christian Services on Aug. 19, 2013. I was so nervous but super excited. I nervously walked up to the lady who was about my age and asked her if they have ever placed twins. She said, 'That's so funny you ask, because we just placed twins a few months ago.' On the way home, I felt at peace. We knew we were supposed to do this. We started the adoption process. Because we were still grieving infertility, we took our time with the adoption paperwork and deadlines and used that time to fundraise and prepare our hearts. By January we were home study approved and became a waiting family. I felt like my spirit could feel that our baby was close and already out there. I started dreaming of a biracial baby girl. She was small and sweet. I dreamt of holding her as a newborn and telling everyone how sweet she was. I dreamt of her standing up in her crib with fluffy, curly hair, and reaching up for me. I had so much trust in God and His plan but at times felt like it would never happen. The waiting is so hard.
I remember finding out that my sister was pregnant, and wanting to vent to coworkers about finding out the news. Before I could get out my news, my coworker told us she was pregnant. I had the most awful response – I blurted out, 'Well you and everyone else.' I went into the bathroom and cried on the gross floor. 'God why us? Why do we have to walk this road? Why?' And then, 'God if this desire to be a mom is not from you, PLEASE take it away! I want to be ok with YOUR will! And if that's to just be Louis and I forever, help me to trust your plan!' I then went to apologize to my friend. She gave me such GRACE. Even though God guided us and we felt called to adoption, we were always questioning if it was really going to happen for us.
One day I came home from work feeling so drained from the process. I was in tears and told my husband, 'Our baby is dead!,' as I slammed the nursery door. For about a week I couldn't look in that empty extra room that had a crib and a rocking chair… I didn't mean dead literally, but to me it felt like the dream of being a parent was so far out of reach that's what it felt like. We had been working so hard fundraising and God showed up at every event. We were tired and needed a break to recollect ourselves and reconnect as the infertility and the adoption process can put a lot of stress on a marriage.
In March 2014 my husband and I went on a trip to Seattle. We needed time away. Before our trip I had dreamt that we got the phone call! That we were matched and that our baby was in Seattle. In this particular dream, I was holding a baby who did not look like my previous dreams. It wasn't the biracial baby girl with big brown eyes and a head full of hair. I was holding a baby that looked JUST like my husband. I woke up feeling confused and laughed it off… it was just a dream. When we got to Seattle we talked about how the agency told us it could take 18 months to 2 years before being matched with a birth mother. We had heard about other agencies and thought we would contact others when we got home so we could have our name in with two to hopefully speed up the process. The next day we were eating lunch at a restaurant in Pike Place market. My husband was on his phone checking emails. He looked up at me and said, 'Audrey, they are showing our profile!' We were over the moon excited, but knew she could still choose another family, she could decide to parent and that this might not be our baby.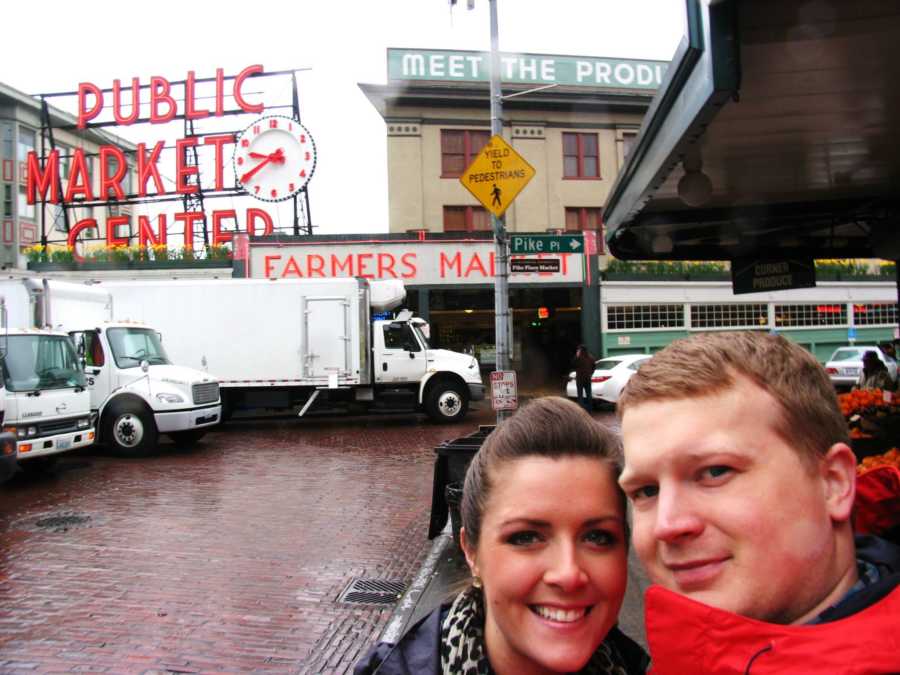 Matching With Our Birth Mom
We continued on our trip having the best time. We tried not to think too much about this birth mom, but at the same time, she was all we could think about. On our last full day of vacation, we were packing up and I spoke out loud to God. 'God, let your will be done. Grow our family the way you see fit.' Two hours later driving through Olympic National Forest, we stopped at a gas station to get snacks. I left my phone in the car and noticed I had a missed call when we got back. My husband then got a call… we looked at each other… 'answer it!' It was our counselor. 'Louis, are you with Audrey?' He said 'Yes, she can hear you.' 'You've been chosen! Congratulations!' The words she spoke stopped time for me. Everything she said next was hard to process. I was shocked. She was 30 weeks pregnant and was having a baby girl who is biracial. I said, 'That's her! That's the baby I've been dreaming of!' We called EVERYONE! My husband finally stopped me from making another phone call and said, 'Audrey, can you and I talk about this?' We still laugh about it. We flew home the next day and everything (life as we knew it) had changed. We were now parents to a baby due in just 10 weeks. We scheduled to meet our birth mom the next week. Our first meeting was at the agency's office with both of our counselors. Louis and I prayed together in the car before we walked in. I tried not to stare at the growing baby in her belly but to take the time to get to know our birth mom. It all felt right. We felt a calmness that can't be explained. This was what God had planned. Little did we know, God had more to the story.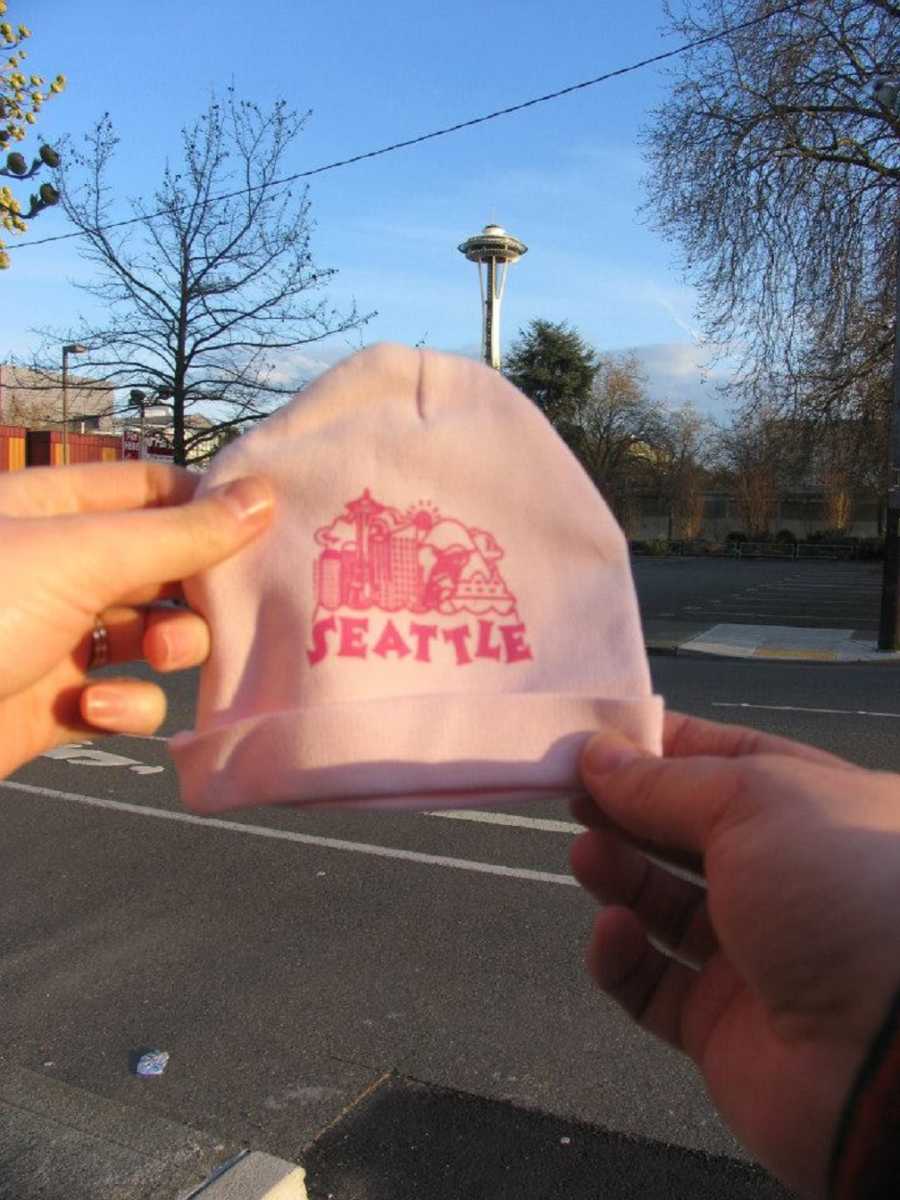 A little bit of back story – when we went to Seattle, I had packed items needed for my cycle because based on the timing it could show up. However, it was not uncommon for me to be irregular. I never got my cycle and figured it was due to the excitement of finding out about the birth mom, being matched and then meeting the birth mom all within 2 weeks of each other. It didn't cross my mind that I could be pregnant because we had tried and tried and then tried more with medicine. It wasn't until I had ANOTHER dream! This time the only thing I dreamt was that I was holding a stethoscope to my belly and heard a HEARTBEAT! I still didn't think a whole lot of it until I was on the phone with my best friend. She said, 'Audrey, GO TAKE A TEST!'
Finally Pregnant
I had taken many tests before and they were always negative. After each of those tests I would be so upset. But then I would thank God for not allowing me to become pregnant if it wasn't time yet. I didn't want to bear the heartbreak of loss. I had a random test in the bathroom so once I got off the phone, I told my husband what I was doing. From the bathroom all he heard was, 'BABE!!!????' Just 2 weeks after meeting the birth mom, we found out we were pregnant. I was just 5-6 weeks. I had never been pregnant. In all honesty, I carry guilt about my initial lack of excitement to being pregnant. I mean after all that time I should have been over the moon. I was actually mad. 'God why NOW? Why after being this far into the adoption, having raised almost all of our funding, after meeting the birth mom… Why now? When we could lose it all?' I was scared. What if I lost the pregnancy and what if our birth mom decided on a new family?
Our agency had a policy that if you became pregnant during the waiting stage, you would be put on hold until your baby was at least 6 months old. After my first appointment, we told our adoption counselor the news. She informed us that since the match meeting had been done, it would be up to us if we told our birth mom (but she highly advised that we did so), and it would be up to our birth mom if she decided to continue with us as the adoptive family or not. We decided we needed to be honest with our birth mom. We felt like withholding that information would hinder the open adoption we wanted. We scheduled another meeting. We told her our fear that she would change her mind about us. We told her the baby inside her belly was wanted and loved and that she would always be our first-born baby. Her response was, 'I'm so excited for you to go through this and I'm happy she will have a sibling!' Our sweet girl was born in June! Aria was indeed the baby I had been dreaming of.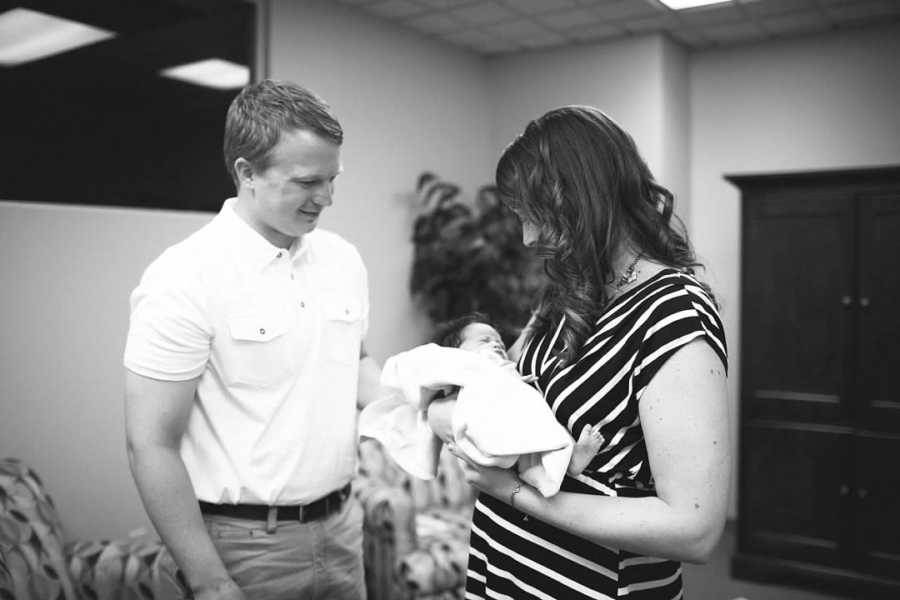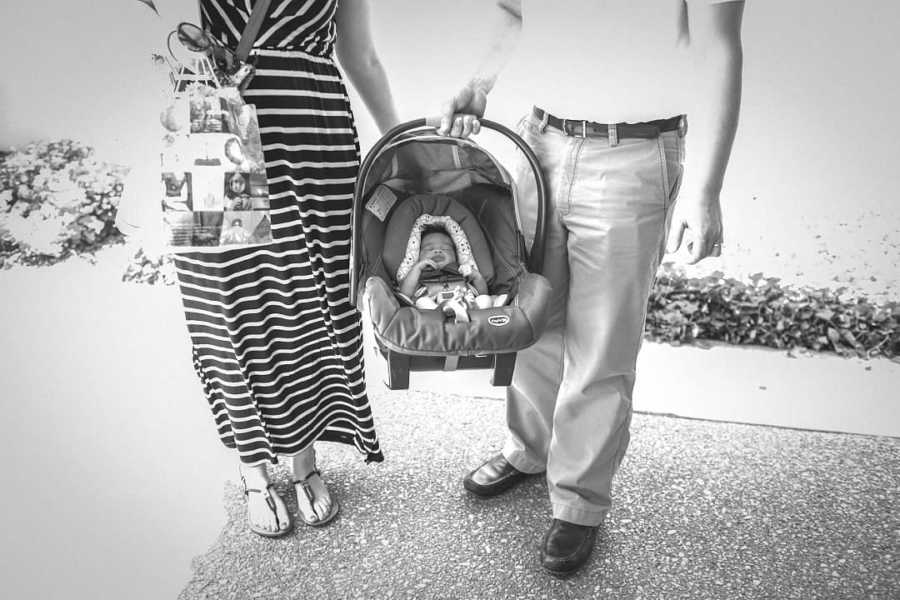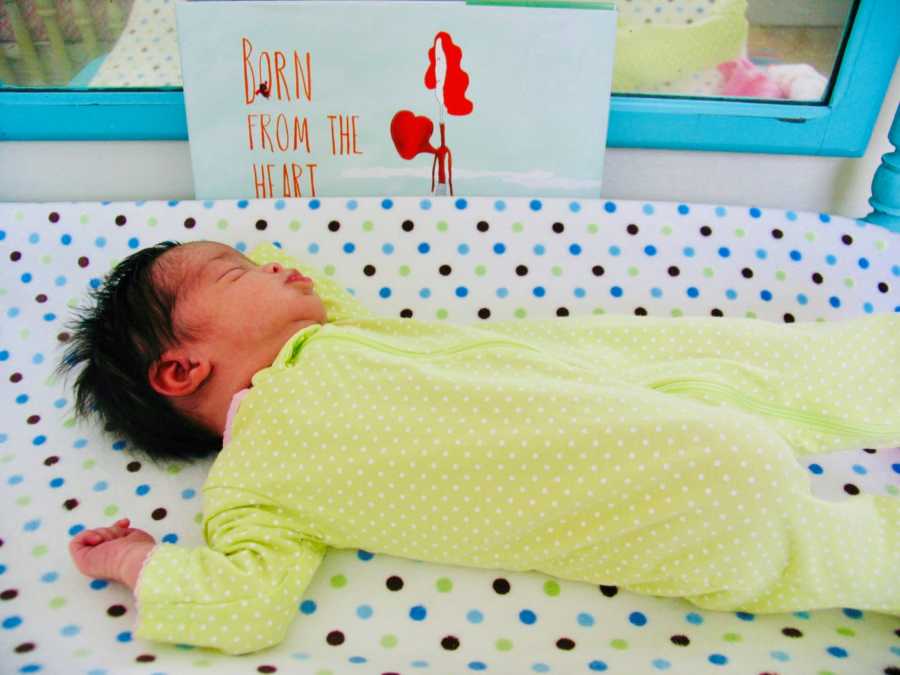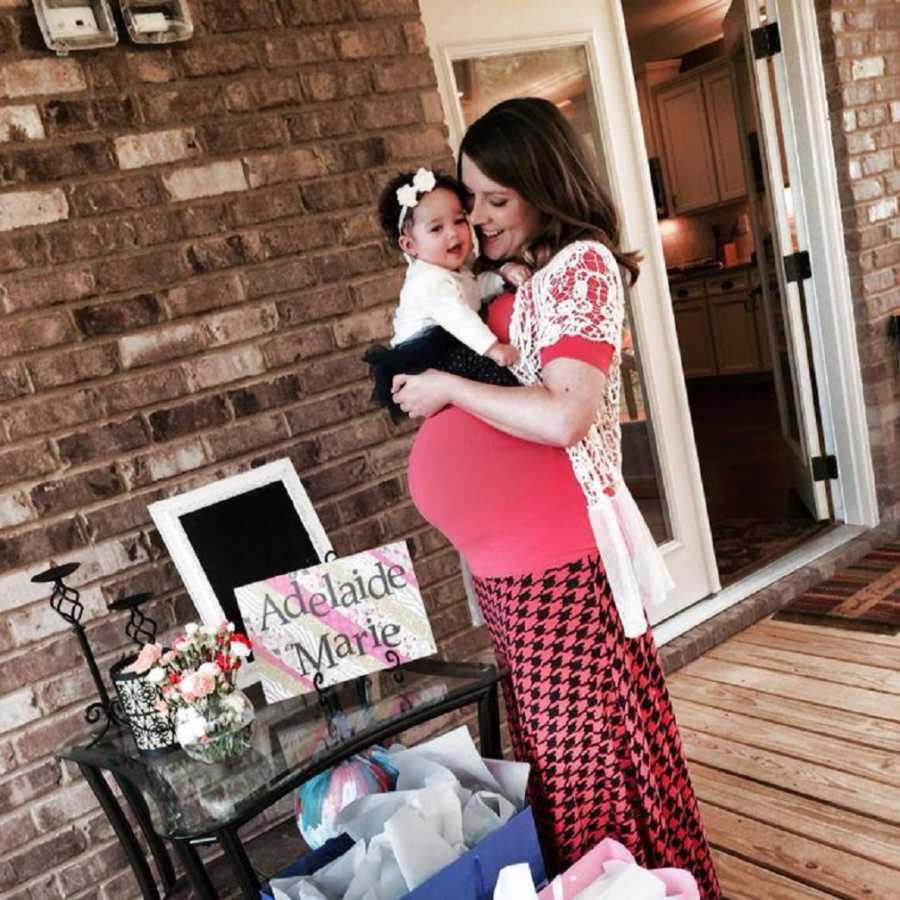 Just 5.5 months later we birthed our second daughter who looked JUST like her Daddy! God had been trying to prepare me for what he had planned (two baby girls in less than 6 months). He is faithful and His plan is way better than we would have planned.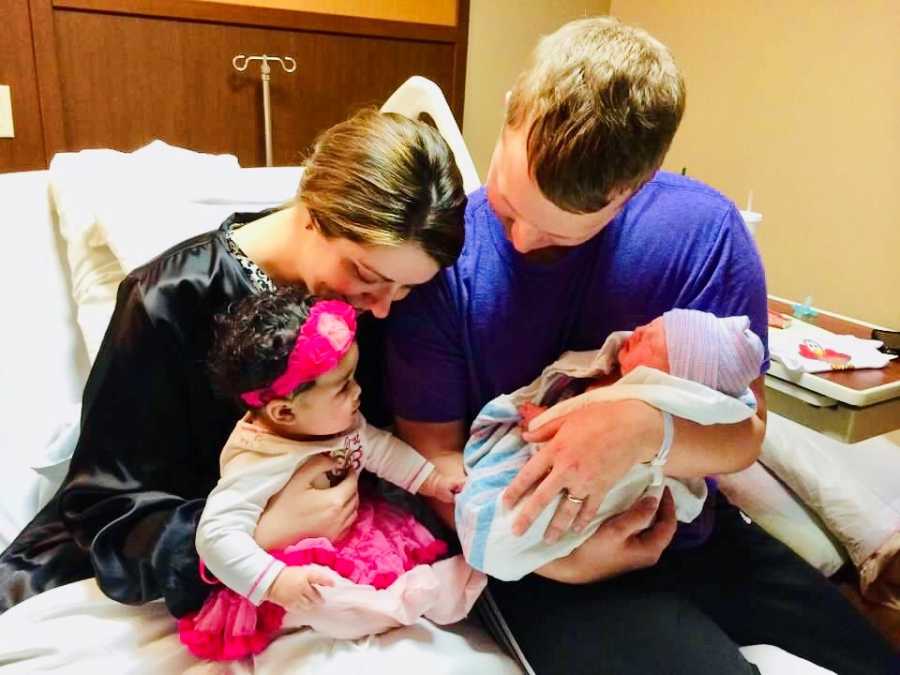 Growing Family
We attended our first meeting in August 2013, completed our home study and were a waiting family in January 2014, were matched in March 2014, our first baby girl was born in June 2014, and our second baby girl was born in November 2014! We call 2014 the year of the babies.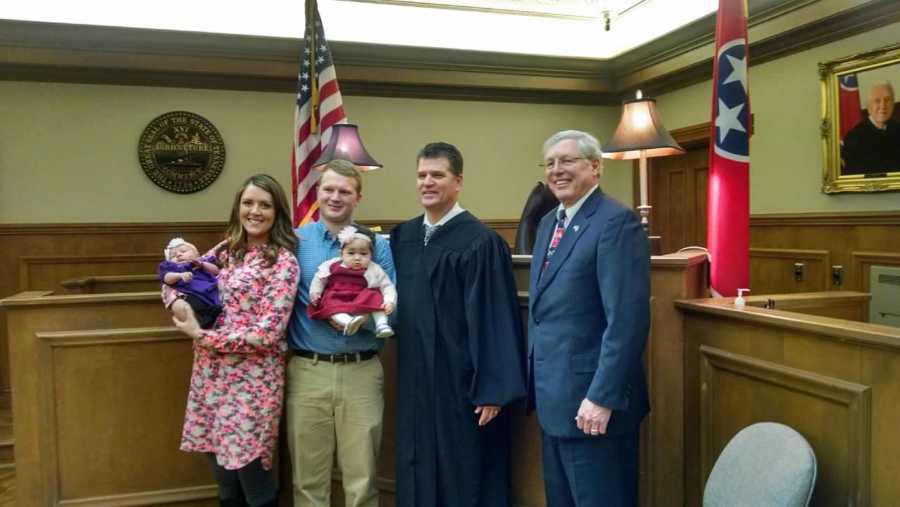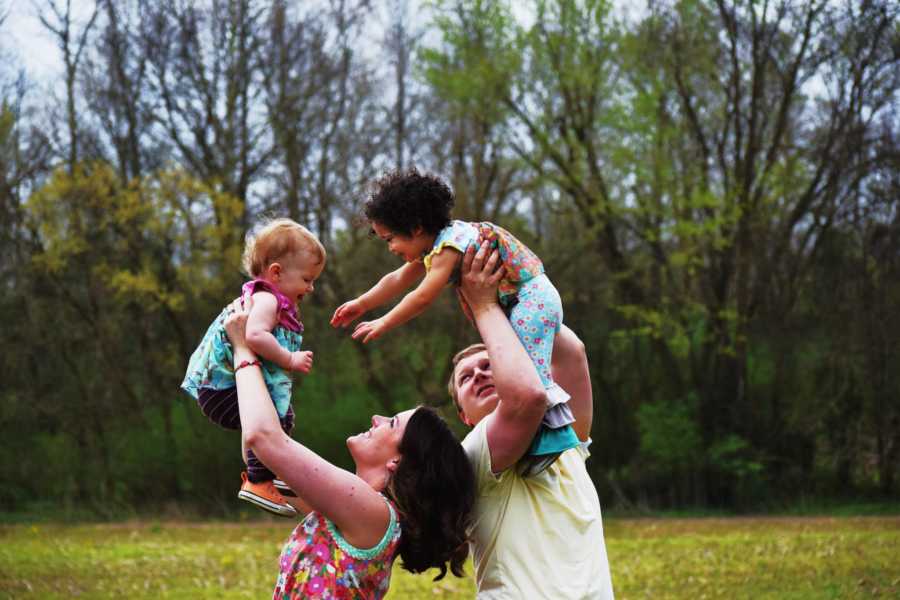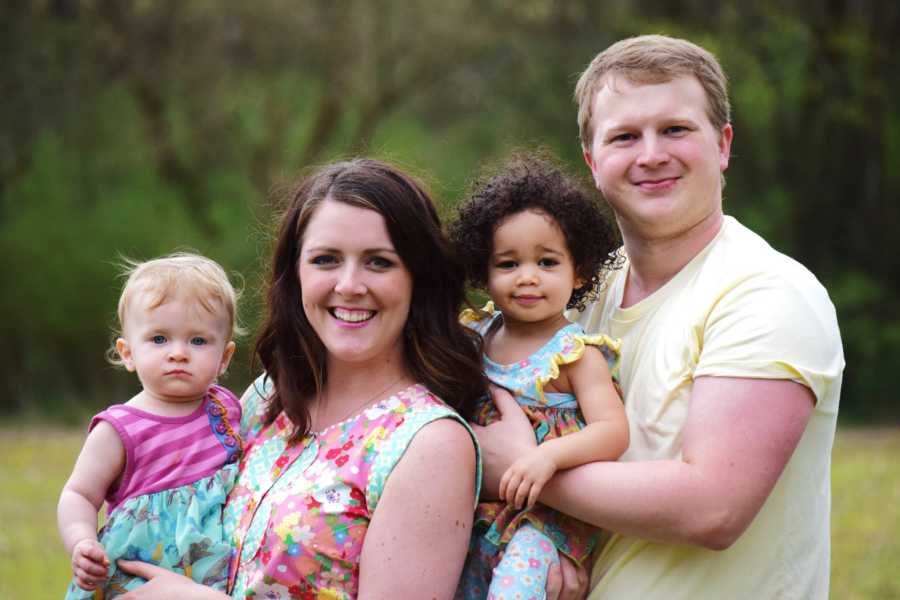 When the girls were 2 and 2.5 we reached an 'easy' (I laugh now) stage. We thought… 'hmm, we could have a third, let's just trust God and let him do His thing!' The girls are now 4 and 4.5 and the best of friends. They also have a baby brother named Anderson who is now 1. The girls are such great big sisters. They love their brother so much. Anderson is such a joy and the happiest little addition, but I would be lying if I said I thought we were totally done. Remember we said we wanted to birth a couple and adopt a couple? So we will see what God has planned next.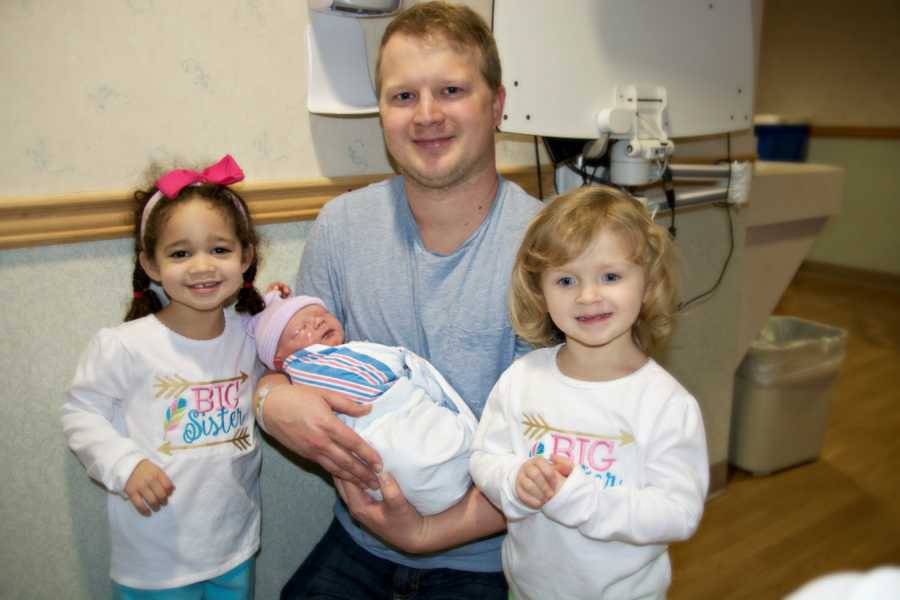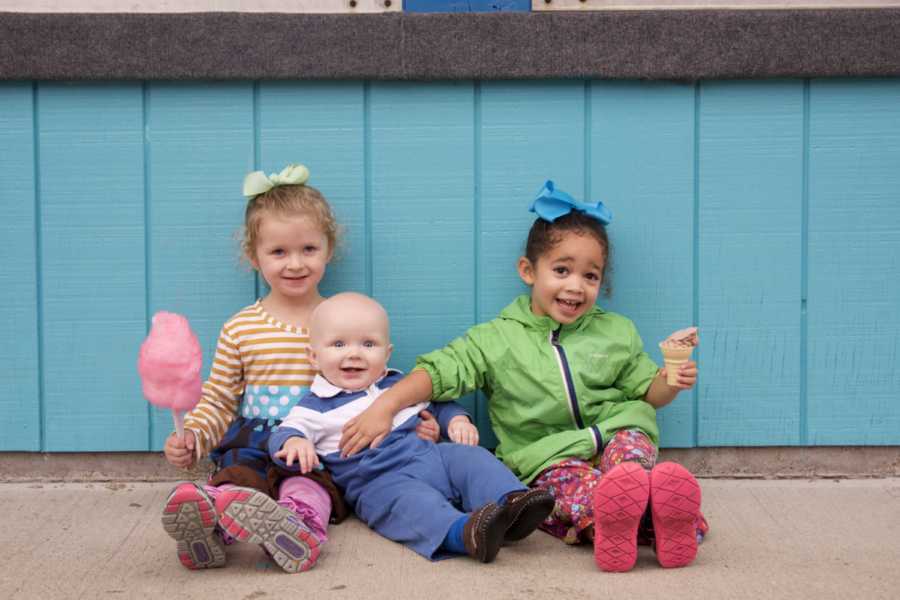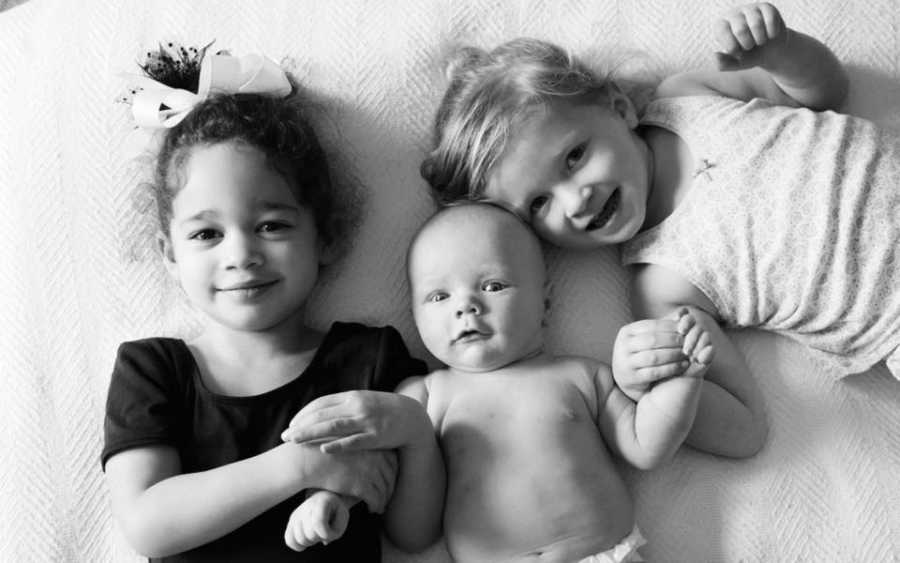 We have an amazing open adoption. We didn't know what an open adoption meant, and we were a little scared of it at first. We wanted the relationship with our daughter's birth mom to look as God intended it. Over the years we have grown our relationship with her into a beautiful friendship.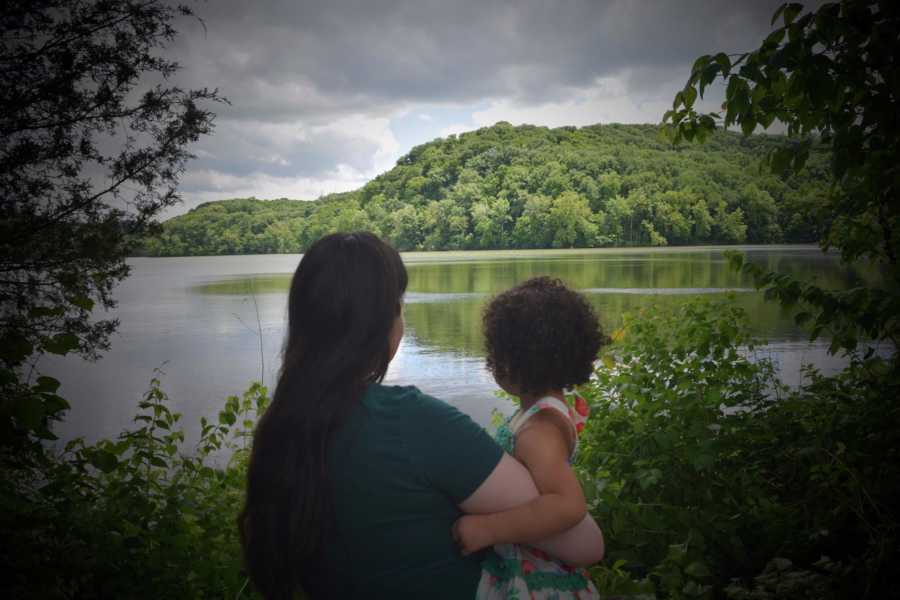 I think the best thing we did for our relationship with our birth mom was to hire a babysitter so just she and I could meet for brunch. We did this twice. We originally started with emails and visits with counselors, and now text, FaceTime and meet up as we want. We have even met up at Disney Land where we also met Aria's bio grandfather. We were blessed to have met him and make memories that I believe Aria will cherish forever."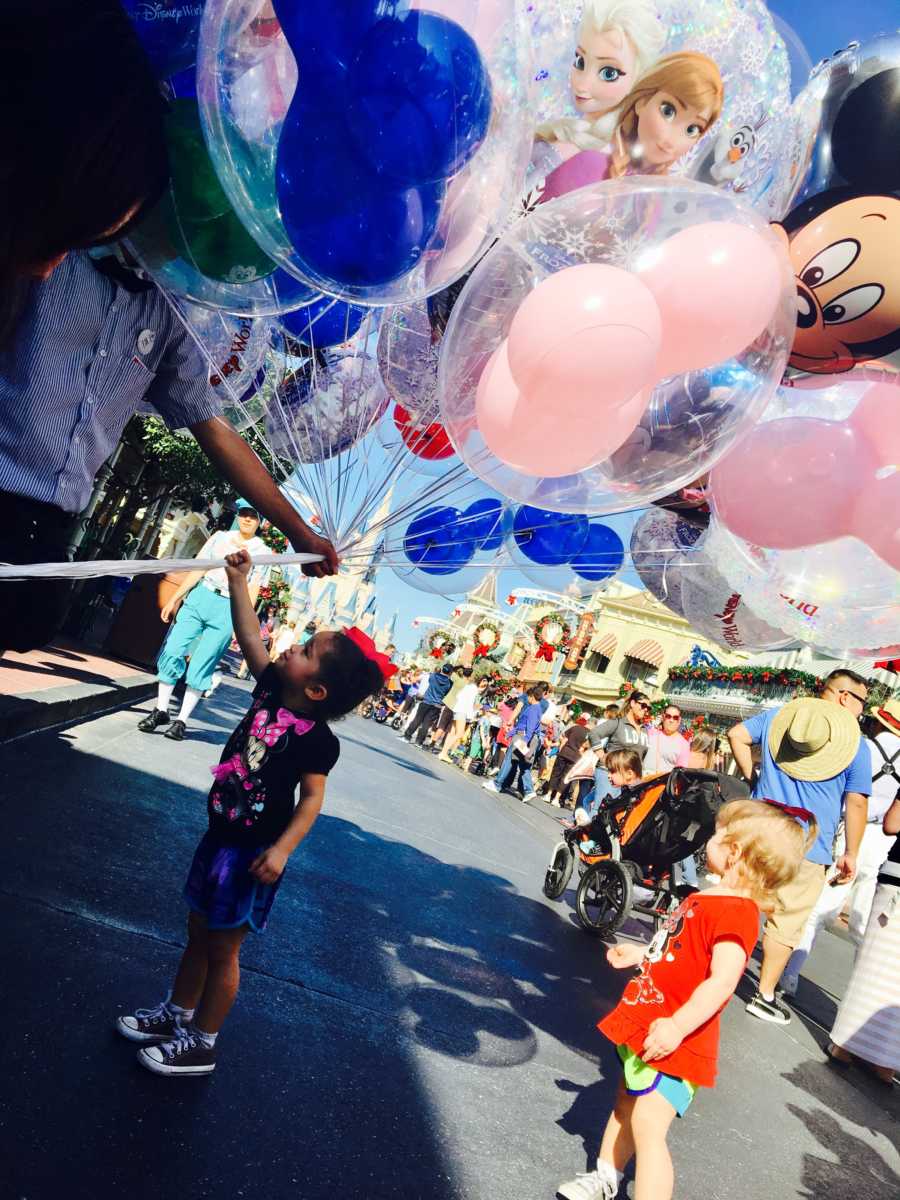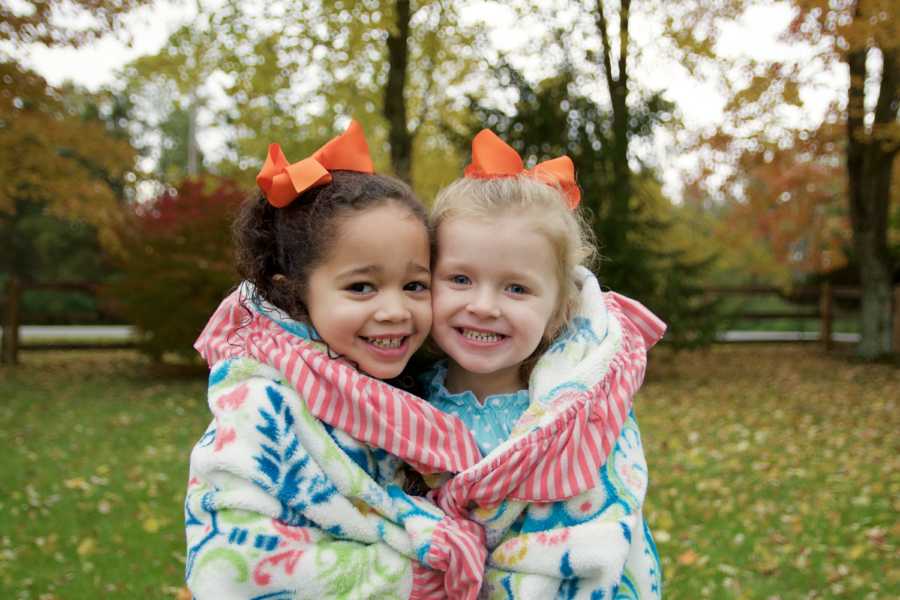 This is an exclusive story to Love What Matters. For permission to use, email Exclusive@LoveWhatMatters.com.
This story was submitted to Love What Matters by Audrey Turner, 32, of Ohio. Do you have a similar journey? We'd love to hear from you. Submit your own story here, and subscribe to our best stories in our free newsletter here.
Read more stories like this:
'If this turns positive, it is freaking baby Jesus,' I said to my husband as I finished peeing on a pregnancy test. He was holding our newborn baby girl we just brought home through adoption.': Woman has unexpected pregnancy right after adoption
'I stood there holding my 3-month-old baby boy as she sent me pictures of an ultrasound of the baby growing in her stomach. I was speechless. But I also knew. Deep down I knew.': Mom's breathtaking journey adopting 2 newborn babies only 4 months apart
'I vividly remember the crazy looks I got with my huge pregnant belly and a newborn baby draped across my chest. I would stare too. It's an odd sight.': Woman unexpectedly becomes mom, 'I will live the rest of my life trying to be worthy of the title'
Provide beauty and strength for others. SHARE this story on Facebook with your friends and family.