"I've been a size 0, and I've been a size 12. I've barely weighed 100 lbs and I've weighed…well, significantly more.
I was the saddest with life at my smallest, and I was the happiest with life at my biggest.
I was the proudest with myself after I lost the baby weight from my second child, and I am the most comfortable with myself now, somewhere in the middle – that place where I can still pull my jeans up if I lay flat on the bed, but barely. That place where I can hardly breathe and stuff spills over the top and I'm ready to yank them off and trade them for sweatpants at the end of the day. That place where Spanxx and over-sized graphic tees that cover my rear end are my best friends.
That place where you know I'm coming if chips and salsa and good times are involved, like you it's going down for real, and I'm not going to feel guilty one bit the next day; but I may just surprise you and show up for Barre at the gym next week as well.
That place where I am so dang content with who I am and what I'm doing and where I'm at in life, I'll lift you up and encourage you like mad crazy because I want you standing happily right here beside me. That place where I feel so at peace with my role in my family, I don't have too much time to sit and throw pity parties for myself because I have an extra chin now. In fact, the more the merrier. I'll just build a bigger table for you, for your friends, for myself, and that double chin that has decided to take up residency here.
But you know, on the other hand, you may not want to make me your workout partner or your calorie-counting partner, or your Macro partner, or anything like that either. (Macros/Micros/Mucros? Did I get that right? Should it be capitalized? Whatever, you know what I'm talking about. Macros, Keto, Intermittent fasting, kale. It all fits here.)
Your size doesn't make you. Your size doesn't break you. Your size won't ever be the most important or the most interesting part about you.
Your size. Well, it's just your size.
Your happiness, your heart, your health, your willingness to help those around you – no number on the scale can define those things; and no number on the scale can define you.
No tag on a pair of blue jeans can define your value, your significance, or how much you matter to this world. No small, medium or large label can define your weight as a mother, as a wife, as a friend, as a daughter, as a sister.
Don't waste any more time worrying about the size of your waist. Don't waste anymore tears stressing about the way you look under the harsh fluorescent lighting of the dressing room. Don't waste anymore ugly thoughts hating the girl in the mirror.
Life is short. Put on your favorite outfit, wear it with pride, and just live it up, girl. Maybe your jeans don't fit the way they used to, but your smile is always in style. And I promise, when you are having fun, when you are feeling good – spreading joy, handing out kindness – you always, always, always look beautiful. The end. No questions asked. No if, ands, or big butts about it."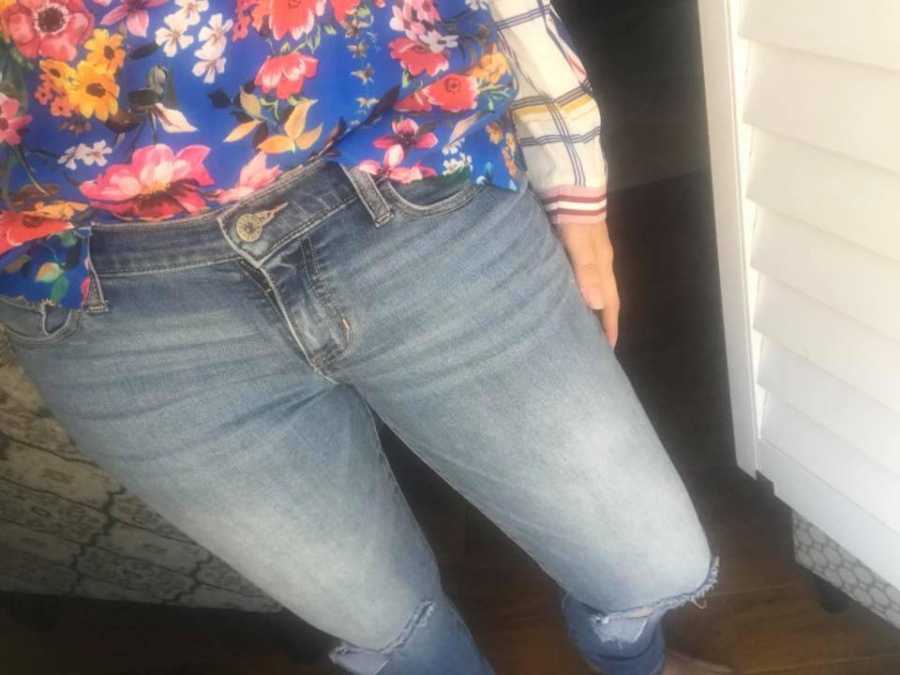 This story was submitted to Love What Matters by Amy Weatherly. Subscribe to our free email newsletter, Living Better—your ultimate guide for actionable insights, evidence backed advice, and captivating personal stories, propelling you forward to living a more fulfilling life.
Provide beauty and strength for other moms. SHARE this story on Facebook with your friends and family.