"Me with my first baby: I will never buy my kids tacky character tees. Evvvvvvver. Mark my words.
Me after three kids: Whatever. I wear the same clothes I slept in to the grocery store, so who am I to be picking out people's clothes anyway?
Moral of the story: If you don't have kids, or your first kid is still a baby, or you have 5 kids and you *think* you're a professional—keep your big ole mouth shut on what you will and won't allow, what they will and won't do. And don't you dare look down on another mom. Don't you dare. Because I promise life is gonna shove a whole lot of humble pie down your throat at some point if you do.
You'll change as a mom. You'll tighten up in some areas and loosen up in others. Good moms are particular about what their kids wear. Good moms let their kids wear their shirts backwards and underwear on their head and Spiderman costumes.
Good moms have kids who follow all the rules. And good moms have wild things who are nearly impossible to tame. Good moms feed their kids homemade applesauce. Good moms let their kids lick applesauce off the dirty floor.
Good moms allow screen time. Good moms taketh away. Good moms come in all shapes and sizes with all kinds of different rules. Good moms yell a little bit sometimes and good moms can use "the look" without ever saying a word. Good moms are just women who love their babies more than life itself, and always want what's best for them. The end.
Take those opinions and judgmental eye rolls and shove them deep down into the pockets on your sweatpants. You don't want somebody to be using them against you later on.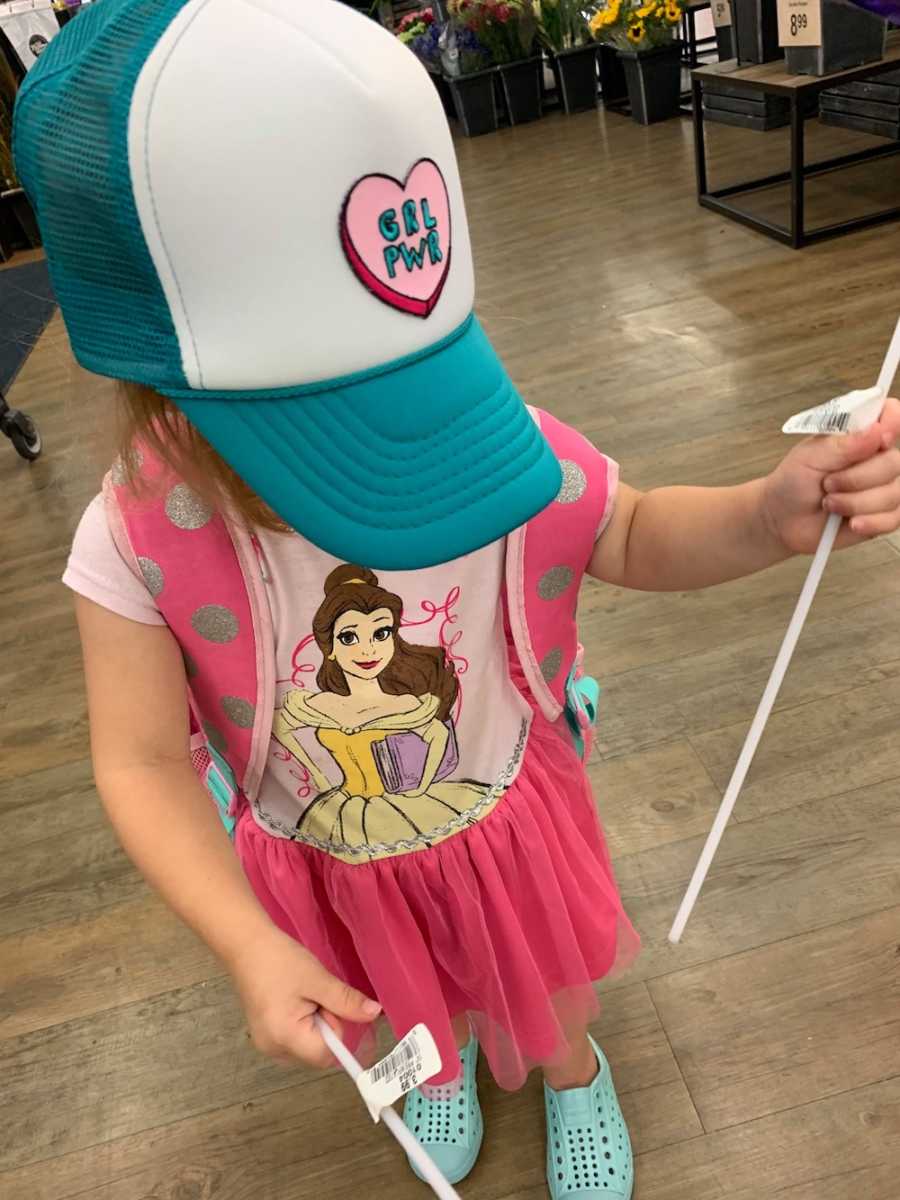 Oh and P.S. That's not even a normal dress she's wearing. That's part of a pajama set, but you know what? She dressed herself. She has her own style, and I could not be prouder."
This story was submitted to Love What Matters by Amy Weatherly. The article originally appeared here. Follow Amy on Instagram here and Twitter here. Submit your story here, and be sure to subscribe to our best love stories here.
Read more from Amy here:
'I don't fit in. They don't really want me there. I wonder why I wasn't invited. I walk up to a circle of people and don't know whether to force my way in, or hang on the outside, twiddling my thumbs.'
'Behind every successful woman is a tribe. A tribe of women who could choose to compete, but take the higher road of collaboration instead.'
Provide beauty and strength for others. SHARE this story on Facebook with your friends and family.