"Our two-year-old son, Charles, has loved watching trucks, cars, and all types of vehicles since he could sit up and look around. Fire trucks, ambulances, construction trucks, and garbage trucks — if it had a wheel, Charles was a fan.
Because of his deep love for anything with wheels, I always made it a point to take him outside to watch the garbage and recycle trucks drive up and down our little cul-de-sac. Charles loved watching the workers, and would get so excited when the drivers would beep the horn at him as they went by. He would wave and shyly say, 'Thank you.'
There was a particular waste management employee who was extra friendly and would go out of the way to get various recyclable materials out of the yard. Charles was mesmerized by him, and after we learned Lonnie's name, Charles would talk about him throughout the day. One day, at the end of April, Lonnie rode by and said, 'Charles, I promise when this pandemic is over, I'm going to let you ride in my truck.' I told Lonnie we were about two weeks away from moving out of state, and we were so disappointed. Charles would have absolutely loved riding on a big truck, just like his buddy Lonnie.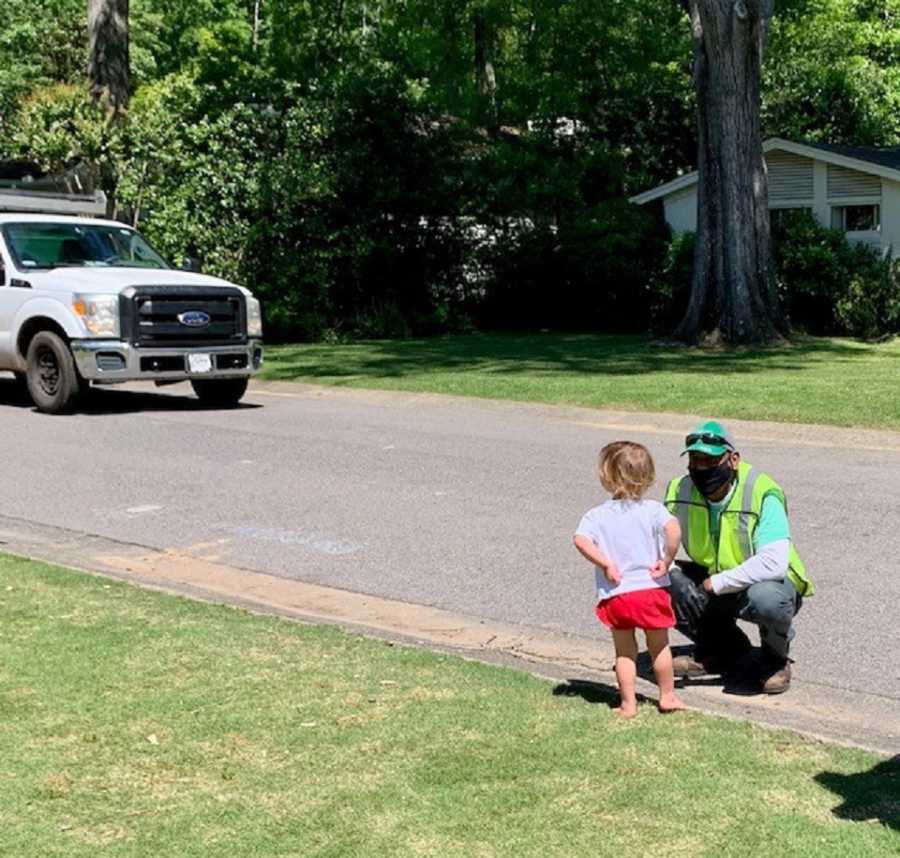 The next week, on recycle pick-up day, we waited and waited for the recycle truck to come. Finally, late in the afternoon, when we'd just about forgotten, I heard the loud rumble and clank of the truck. I put down the book we were reading and raced to the door, carrying Charles. We did not want to miss seeing Lonnie on our last week in Birmingham. As we were hurrying down the hallway, we heard the truck beep the horn, and I knew they could only be honking for Charles. On their way back down the street, Lonnie stopped the truck and got out. He told me he had some things for Charles, and pulled out a bag filled with waste management goodies — a hat, a neon yellow safety vest, two toy trashcans, coloring books, crayons, a cup, and a water bottle.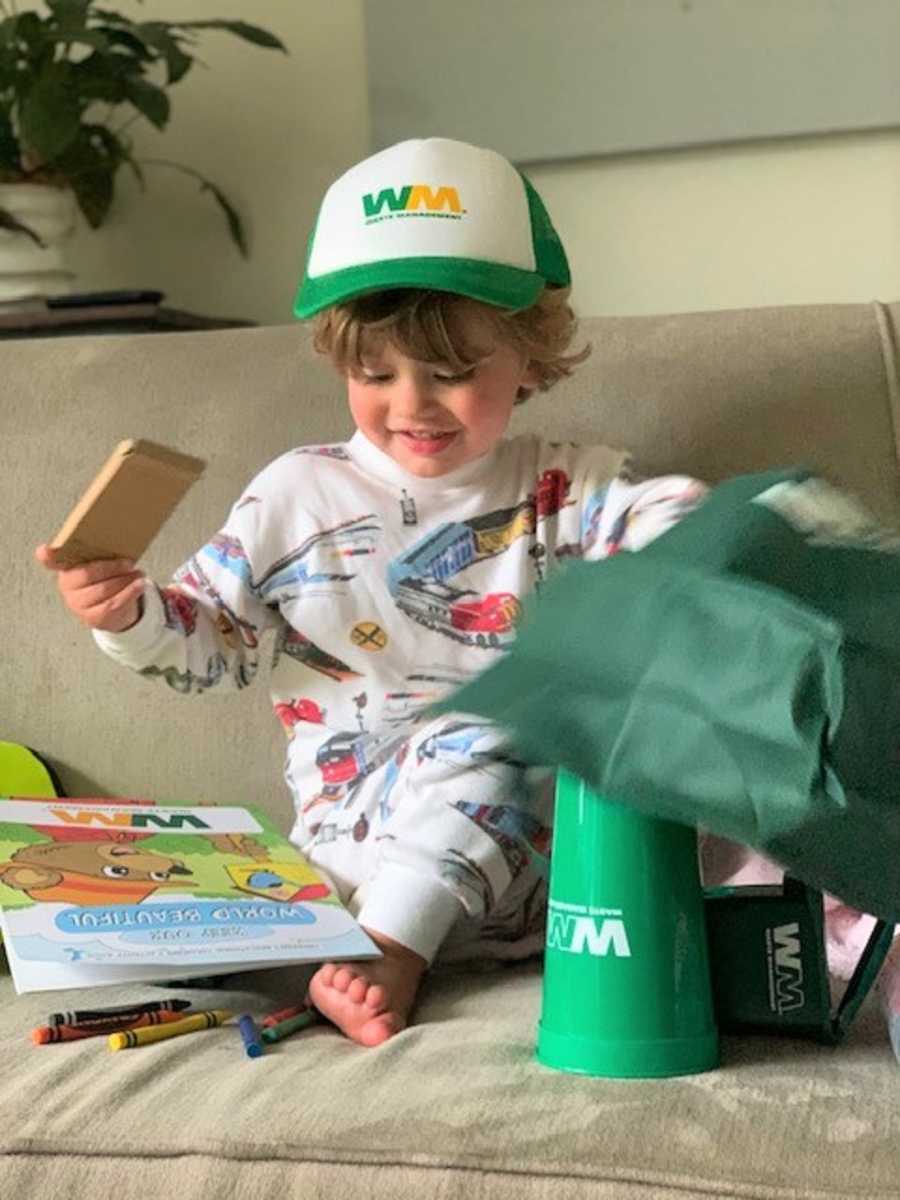 Charles was absolutely thrilled, especially by the trash cans, and I was so touched by this gesture. Lonnie told me he wanted to keep up with Charles as he grew and had birthdays, and he wrote down his phone number for us. We waved as they drove away, and after they were gone, it occurred to me I had not gotten a picture of Lonnie with his biggest fan. I was devastated because it was our last week in town, and we would be moving before recycle day of the following week. When my husband got home from work and I told him the story, he promised he would find a way to get a picture of Lonnie, but I didn't want to bother Lonnie while he was hard at work.
The next day, Charles and I were playing in the front yard when a man wearing a waste management uniform approached me and asked if this was my house. Curious, I said yes. He said, 'I'm Lonnie's supervisor, and he has something special planned for Charles. Are you going to be here around 11 a.m.?' I told him, of course we would, and I was so excited to see what was in store. I told all of the neighbors on the cul-de-sac to come to our yard.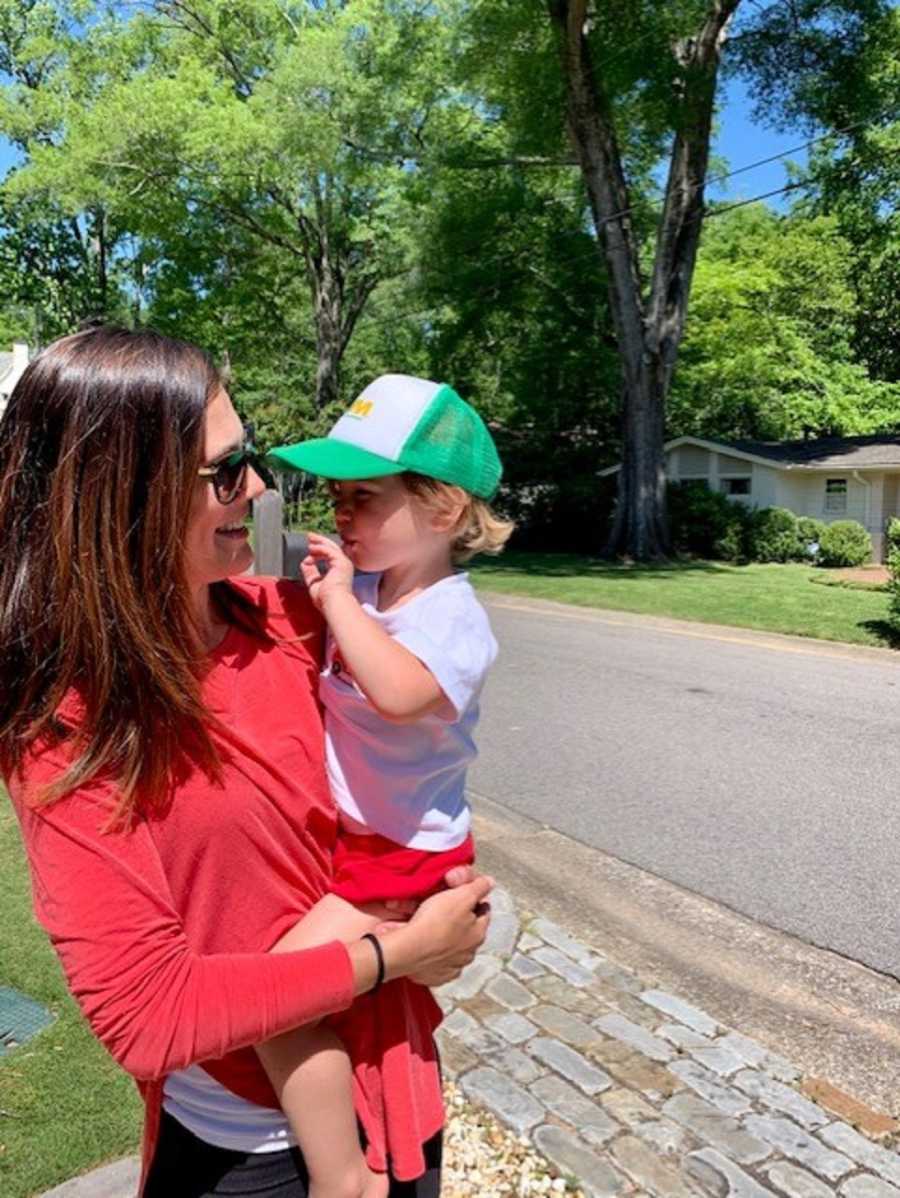 At exactly 11 a.m., a parade of five waste management trucks started driving up our street, honking their horns and waving at Charles. Lonnie jumped off one of the trucks and came into our yard. He knelt down, and Charles gave him a big hug and talked with Lonnie. Lonnie said, 'This is all for you.' All of the neighbors who were watching had huge smiles on their faces and tears in their eyes. We all knew we were witnessing something precious and wonderful. Of course, I had to share this story on Instagram, so all of my friends could enjoy this bit of good news during the uncertainty of the pandemic. I had not posted on Instagram since the week of Charles' birth.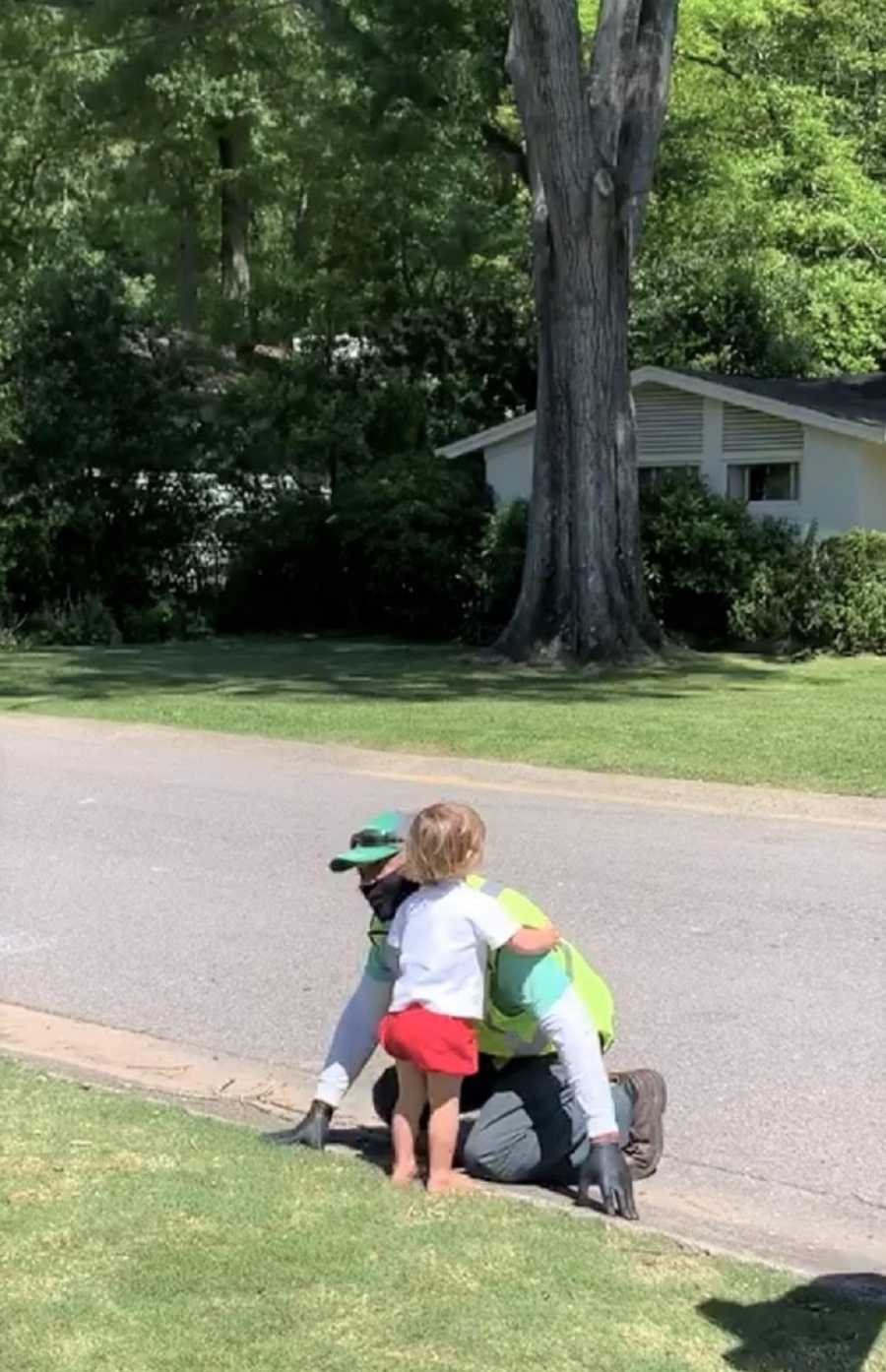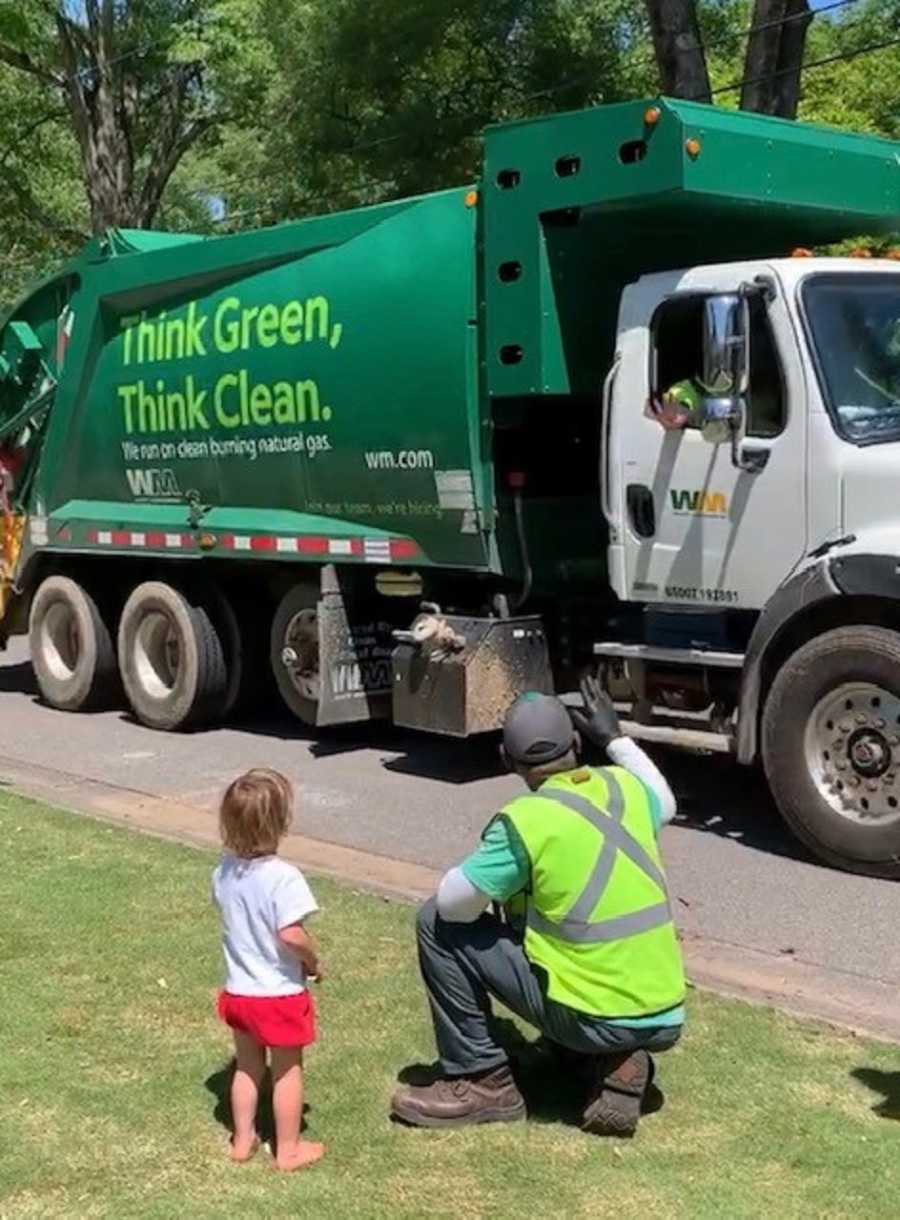 Eventually, the preacher from our church found out about it. He loved the story so much, he asked if he could use it in his sermon on kindness as courage. We were thrilled! We wanted everybody to hear about Lonnie's kindness, selflessness, and how he took the time out of his very busy, essential work, to delight a little boy. I don't think our little family will ever look at essential workers the same way. These are our real heroes — the ones who go to work in all kinds of conditions, under hardships and during pandemics, who enrich our lives in seen and unseen ways. The ones who keep our world going. We do not take them for granted and have a new appreciation for them.
A few days later, my husband called Lonnie to check in on him and let him know how special his gesture was to us and to everyone who had learned about it. He was happy to talk to my husband, and when he spoke to Lonnie's fiancé, she thanked him for calling and said Lonnie had been moping around, wondering if we would really call. We could never have let an opportunity like that go by!
Even though we moved out of state, Charles still talks about Lonnie constantly — pretending he's riding the truck with Lonnie, or helping Lonnie cart away the recycling. Any time he sees a recycling truck, he will tell me something about his buddy, Lonnie. He remembers to pray for him each night before bed. Recently, he put on the hat Lonnie gave him and said, 'I look like Lonnie.' We keep in touch with Lonnie, so he can watch our little boy grow up. I hope he grows up to be kind and courageous, like Lonnie.
After the parade was over, and we were still giddy from the excitement, Charles said it best when he simply said, 'Lonnie nice. I love him.'"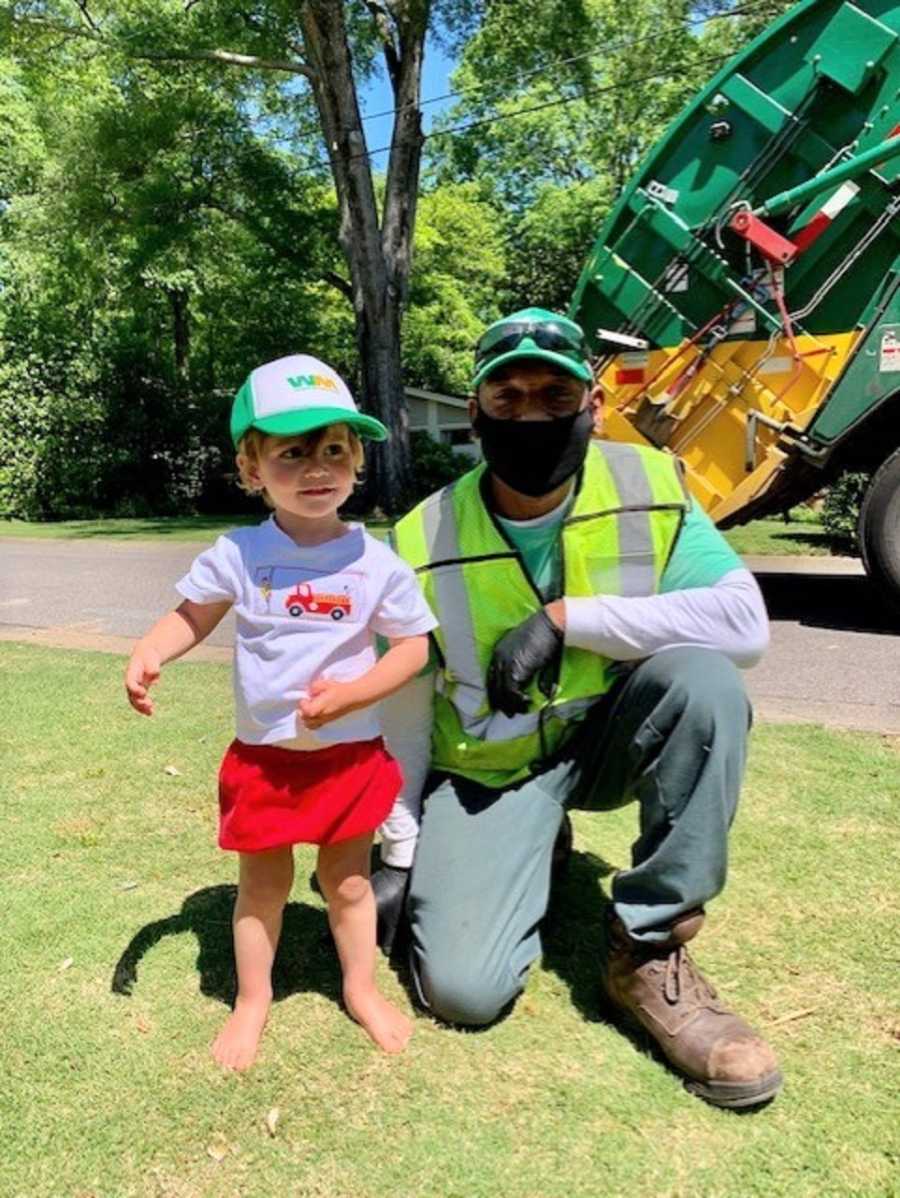 This story was submitted to Love What Matters by Ann Summerall Phillips of Charlotte, NC. Submit your own story here and be sure to subscribe to our free email newsletter for our best stories, and YouTube for our best videos.
Read more powerful stories like this:
'She looked up at me and said, 'Can I help him?' Shopping carts were scattered everywhere throughout the parking lot. She was irritated.': Little girl shares act of kindness for Walmart employee
'Is it illegal for me to go in and order my own dinner?' I almost held my breath the entire time. 'Stay six feet apart.': Mom shares Subway worker's act of kindness toward 11-year-old son
'I saw an elderly man with his walker at the corner. 'I'm trying to get to the 99-cent store 1.5 miles away.' His wife needed some chocolate bars.': Man shares act of kindness for 93-year-old man
'Listen, I was a having a really crappy day.' We finished our transaction. 'I want you to know your awesome attitude really cheered me up.': Mom surprised by act of kindness by local restaurant, 'The world needs more people like her'
Help us show compassion is contagious. SHARE this story on Facebook with family and friends.