"The system is not designed to support mothers and families.
I learned this the hard way after my first baby was born.
As I hit 6 weeks postpartum on Sunday with my third baby, it hit me that most mothers would be preparing to go back to work at this time.
Which to me, I can't even fathom at this point.
Me and my newborn baby have just barely established our own little routine.
Me and my baby have just gotten used to how each other operates and how to communicate with one another.
Me and my baby just started feeling settled with one another, and now it's time to disrupt and shake all that up, because I have to work to support the baby I love so dearly.
F–k that noise.
There has to be a better way.
The better way isn't going to come from some plan the Government sets up, either.
We know the Government doesn't understand or support mothers, we're constantly faced with those truths on the daily (especially recently).
6 weeks of maternal leave is a joke and is barely long enough to recover physically, let alone recover emotionally.
At 6 weeks postpartum with my third baby and fourth pregnancy, I can tell you hormones are still fluctuating and have me on a roller coaster.
You don't just go back to pre-baby normal at 6 weeks; I don't know who came up with that bulls–t timeline.
This being my third baby, I'm a lot more prepared and seasoned than I was with my first when I had literally never experienced any of this before and had no real preparation on what to expect.
I can see why my PPD/PPA got so out of hand after my first 2 babies.
It wasn't my fault or anything I did wrong,
It was a reflection of the system and lack of support and understanding of pregnancy, birth, postpartum and motherhood in general.
I plan to share more of what has worked for me and how I've created my own system of support outside the mainstream societal standards.
Motherhood isn't necessarily ever going to be an easy journey, but it doesn't have to be so hard.
If traditional norms of motherhood aren't working for you, there is a better way.
Be brave enough to create a way and pave that path for yourself, mama.
Best thing I ever did for me and my family."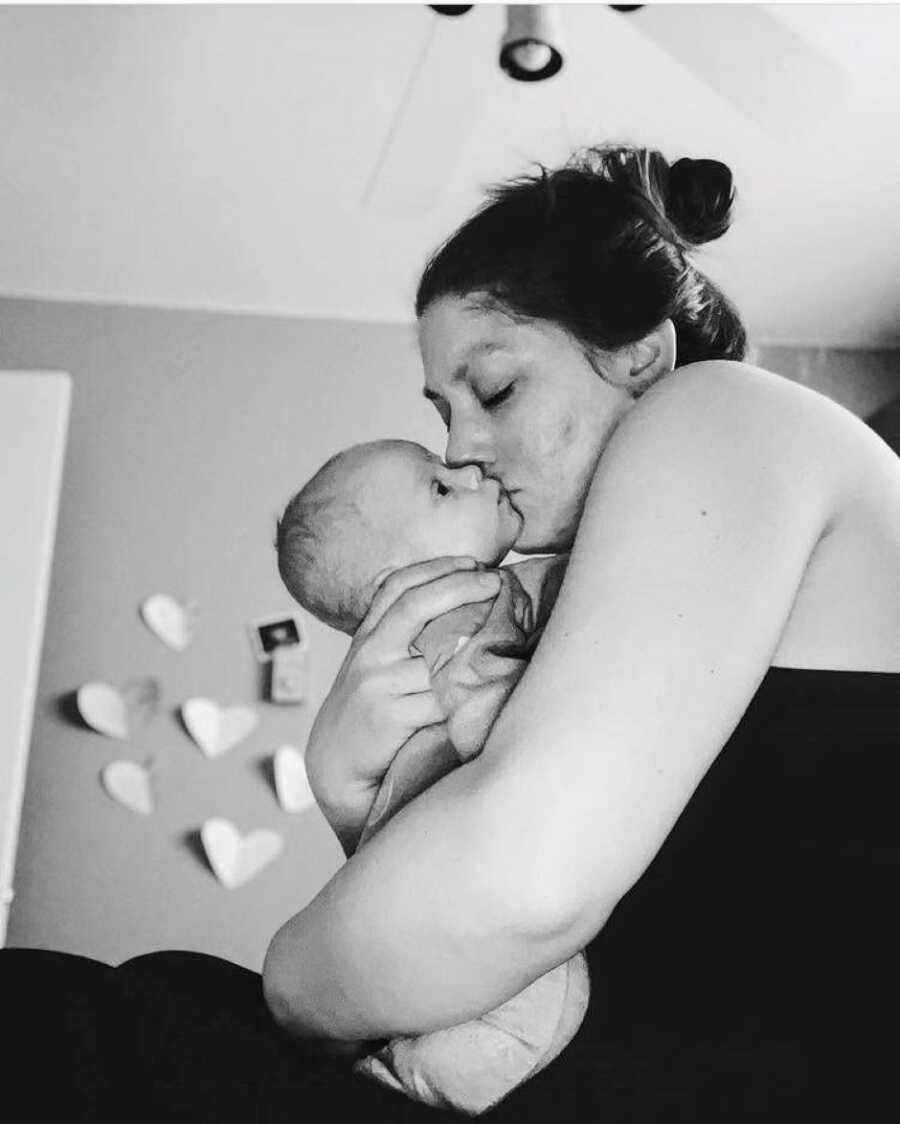 This story was submitted to Love What Matters by Brittnie Nicole of Idaho Falls, ID. You can follow her journey on Facebook and Instagram. Submit your own story  here, and be sure to subscribe to our free email newsletter for our best stories, and YouTube for our best videos.
Read more stories like this here:
'We live in one of the wealthiest nations in the world, but we're leaving women behind in mass.': Working mom advocates for paid maternity leave
'HR called me in, crying. 'Your coworkers donated sick time to you, but your employer is taking it away.': Bilateral breast cancer survivor finds light after workplace discrimination
'Please stop judging me for leaving the office at exactly 5 p.m. Being a full-time working mom with young kids is not easy.': Mom pens thank-you letter to those who have shown her 'grace'
'Can I help you?' I stopped at the door. 'Actually, I wanted to offer MY help. Would you like me to watch your child while you catch up on work?': Woman shares amazing act of kindness for struggling working mom, 'A little love goes a long way'
Help us show compassion is contagious. SHARE this story on Facebook with family and friends.