"I'm off to work, hanging out the car window waving goodbye to the 5-year-old I just stayed at home with every day for the past four years.
Four years, every day, all day. Then one day, you're back on the job, operating like you lost one leg and you could cry at any moment. But you stick your shoulders back, chin up, and think to yourself, 'This is what I worked for. This is what was coming for me. It's my turn.'
That's me, anyways.
The thing is, I want this.
I absolutely, totally want this.
I want a life where there is balance; a life where I can raise humans and also be one. A life where I have a choice to make and I choose to make it on my terms.
I was forced to wait for my turn in the world because my career wouldn't be as lucrative as the price of child care.
So. Many. Women. Are.
While I have nothing short of made sacrifices for my child, I mostly stayed home because society said I should. Because, 'You'll never make enough for that to be worth it.'
For YOUR DREAM to be 'worth it.'
Why do we do that? Why do we collectively condemn women for making a choice to work, or a choice to stay home, as if they even have one? And hell, why can't we start praising them for their role in doing both?
I went back to work, but it wasn't just for me. It was for the little eyes that see me do the big, awesome things I know I'm lucky to do.
It was for the little person, who someday, I hope does it all, too. When that little person grows to be a working mom, I hope she has the life moms now are only dreaming of.
One where there is balance.
One where the default choice is not the loss of her career, her normality, and yes – for the love – her sanity.
One where there is an equal amount of stay-at-home parents, not just an abundance of overworked stay-at-home moms.
I hope she leads with the mobility of modern man, just like her mama fights for.
There is no shame in how you parent or how you play the game. But the fact is… a lot of women worked hard to play it, rolling up the car window having just yelled goodbye.
I'm off to work hanging out the car window, turning up the radio volume, preparing for another day where it's my turn."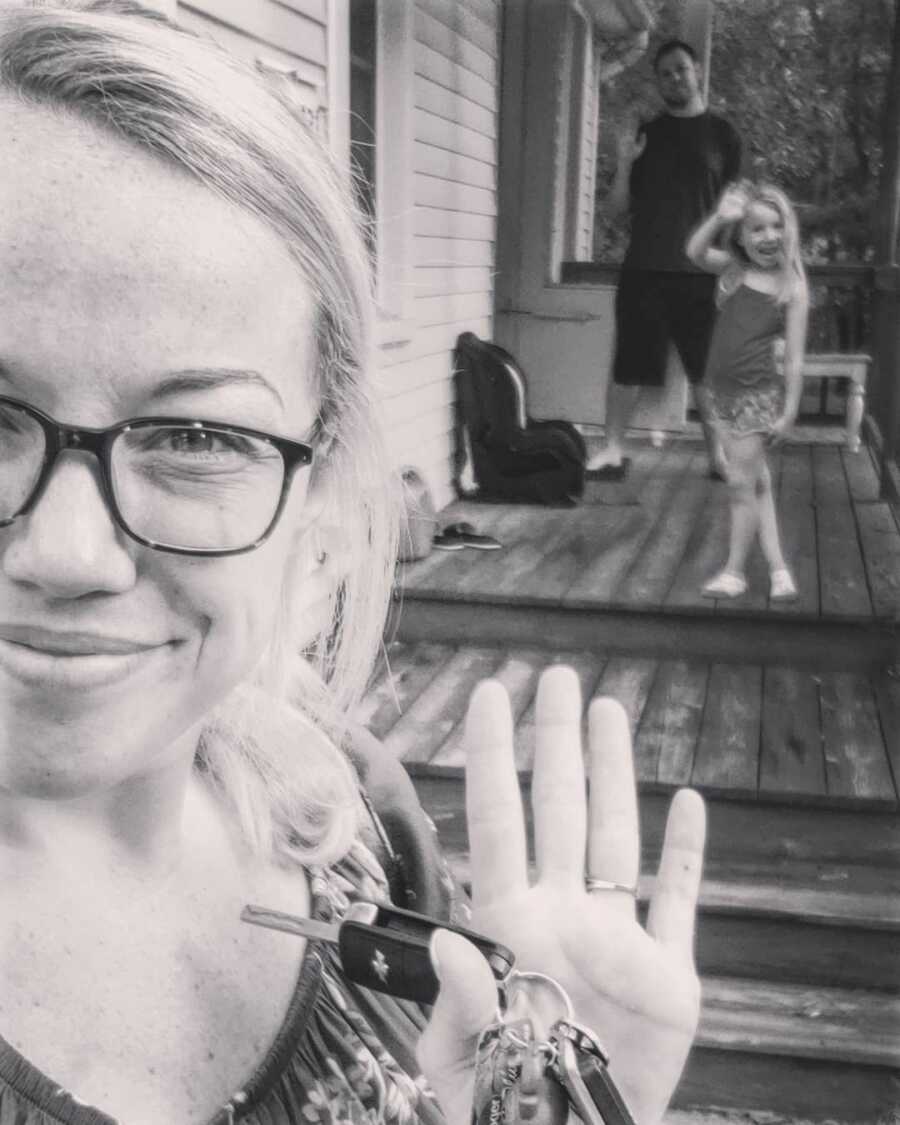 This story was submitted to Love What Matters  by Wallflower Writing at Detroit Moms. You can follow her journey on Instagram and her website. Submit your own story here and be sure to subscribe to our free email newsletter for our best stories, and YouTube for our best videos.
Read more from Wallflower Writing here:
Mom Guilt Doesn't Have To Be A Life Sentence
'This is not just love you easily or haphazardly fall into.': Wife pens beautiful appreciation letter recognizing husband's devotion
'She's not a tally on the task list. She's who I'm doing it for.': Mom shares turning mundane tasks into magical moments for kids
'It doesn't have to get ugly if you don't want it to. You have a choice in who you are and how you love yourself.': Woman shares important lessons in becoming your best self
Do you know someone who could benefit from reading this? SHARE this story on Facebook with family and friends.