Disclaimer: This story contains mentions of infidelity and abuse which may be upsetting for some. 
Repeated Heartbreak
"The pit of my stomach felt like a dagger had been lodged into it. I didn't know whether to throw up or scream. All I knew was my entire world had changed in just one revelation, and I was broken into pieces.
In my first marriage, I was devastated to find out my then-husband had cheated on me just ten months into our union. I was a virgin when I married him at 18 years old. I had written letters to my future husband as a young girl, wore a purity ring, and had all the dreams that little girls do about their future partners.
My parents had both passed away eight months prior, just three weeks apart from each other, so the grief felt that much more intense. I had formed a trauma bond with him, was a massive codependent, and felt like I had lost everybody who truly mattered to me in less than a year when he decided to move seven hours away with the woman.
I wish I could say I had the self-love to have never looked back at him. I wish this story of our marriage would have ended right there after he was unfaithful sexually and emotionally, but that is not how it happened. I ended up taking him back, and throughout our almost 15-year marriage, he would cheat on me many more times.
Each and every one of them, even if it was strictly emotional, felt just as painful as the first, and it was always me catching him. He never once came to me with the truth, and his apologies were more about being caught than true remorse.
There was nothing more embarrassing than finding images, texts bragging to his 'friends,' and screenshots sent to me by someone else where he was professing how much he couldn't wait to feel another woman's lips again… especially when I thought we were doing just fine.
People may judge for continually taking him back, and they may think I sound like an idiot to have been shocked each time he cheated, but that is the horrific cycle of abuse and gaslighting.
Healing After Infidelity
Once I left him, I had a lot of healing to do. I trusted nobody. How could I? I saved every part of myself for him, only to be humiliated and betrayed over and over again. I watched my parents also have a very toxic marriage that led the way to many warped views of what I believed love really was. I started to accept all men would cheat and I simply wasn't enough for any man to stay and treat me right.
The day I met my now-husband, Tim, I clicked with him instantly. We met online and talked for 8 1/2 hours that day. Even though it seemed as if we had known each other for years, and my gut told me this was very different from any other man I had talked to, my first thought was this was too good to be true.
I lived in constant hypervigilance due to posttraumatic stress from the abuse, and in my eyes, I didn't deserve him. I was waiting for the moment he would either stop talking to me or try to use me for sex. Neither happened. He was such a gentleman, took me on our first date to a beautiful restaurant, and continued to show me what love actually looked like. He wasn't perfect, but he was a breath of fresh air. Yet I still, deep down, couldn't fully trust him.
I can be completely honest and say, to this very day, I am still not at a place where I can say I trust any man 100%, including Tim. It isn't because he has done anything to make me believe he would cheat. He gets attention easily, and being a police officer when we met, many women noticed him, and that didn't help early on.
I will say I have never trusted anyone as much as I do him because he is the only person who has made me feel they genuinely love me with no strings attached. My level of trust has grown tremendously, as well as my self-esteem, but I am not sure if it will ever be 100%, simply because I know that temptation and sin can be fallen into by anyone. 
Infidelity in previous relationships can cause the heart to become callous. I believe it's a trauma response when those who are cheated on become super independent because of it. They are most likely fearful, and it's much easier to not get hurt when you refuse to let anyone in to begin with. It's a sad way to live, but I can't say I don't get it.
It is when we can begin to heal from our trauma that we can see the wrongdoings of others are more about them and less about the person they are harming. My ex-husband cheating on me multiple times wasn't personal at all. He needed a constant supply of attention and affirmation because of what he never healed from.
And as much as it hurt me, I was never going to be enough for him because he will never be completely satisfied with any woman. It wasn't because of the lie that I believed I wasn't enough as a person, and realizing that freed me from years of self-hatred and insecurity.
Finding Peace
There is love after abuse, divorce, and infidelity. If you have been cheated on and feel led to stay in the relationship through counseling, deliverance, and genuine remorse, I believe that restoration with Jesus is more than possible. If you are like me and end up leaving the relationship, just know every person is different.
It is not fair for me to punish my now-husband for things my ex did. I have absolutely learned from my mistakes of being too easy going in what I was okay with. My husband and I safeguard our marriage with more care and caution because of what we have learned from our two failed marriages. It's not about jealousy or control, but instead, we realize our marriage should be given the respect it deserves.
All fall short, and we are not too prideful to ever think we are immune to temptation. Having healthy boundaries set in our relationship helps ease the fears I once had about trusting him. Now, I can say I forget I was ever cheated on most days, and I feel peace with being in the union of marriage with the right man who loves me dearly. I can now also see my self-worth, and it's pretty incredible.
Trust is such a crucial part of healing from trauma. It takes time to rebuild when it has been violated, and that is okay. Find hope in the fact that restoration of your broken heart is available when you give it to Jesus. He is the only one you can trust without any hesitation. 
His love never fails, and you can trust that."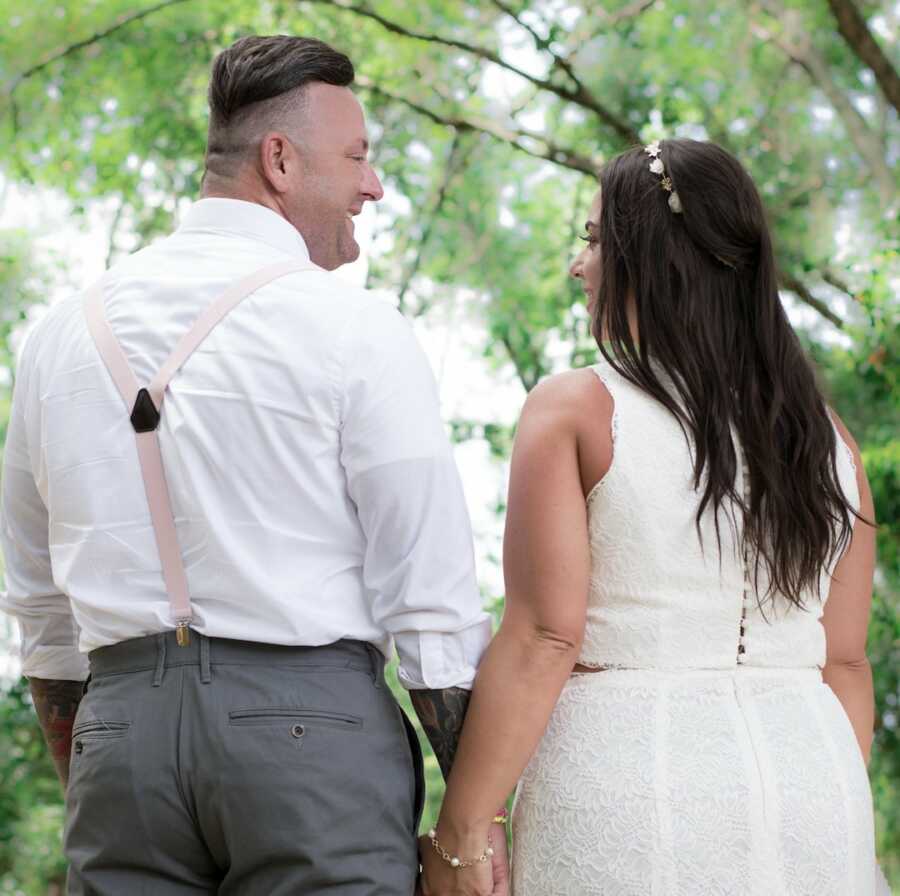 This story was submitted to Love What Matters by Dana Rutherford. You can follow her journey on Instagram and her blog. Join the Love What Matters family and subscribe to our newsletter.
Read more stories like this:
'At 22, I fell in love with a man who was eccentric and exciting. I felt life would never be boring. Boring it was not.': Young mom finds new love after escaping narcissistic abuse, 'I am worthy'
'Even in your darkest times, there is always a light.': Domestic abuse survivor marries bodyguard hired to protect her
Do you know someone who could benefit from this story? SHARE this story on Facebook.