"Tenley's story has been one filled with unexpected surprises, tears, fear, and unimaginable joy.
My pregnancy was normal and smooth sailing by all means. The only difficult part was that my husband was deployed with the Air Force and didn't return until two weeks before our daughter was born, but such is military life and I was accustomed to it.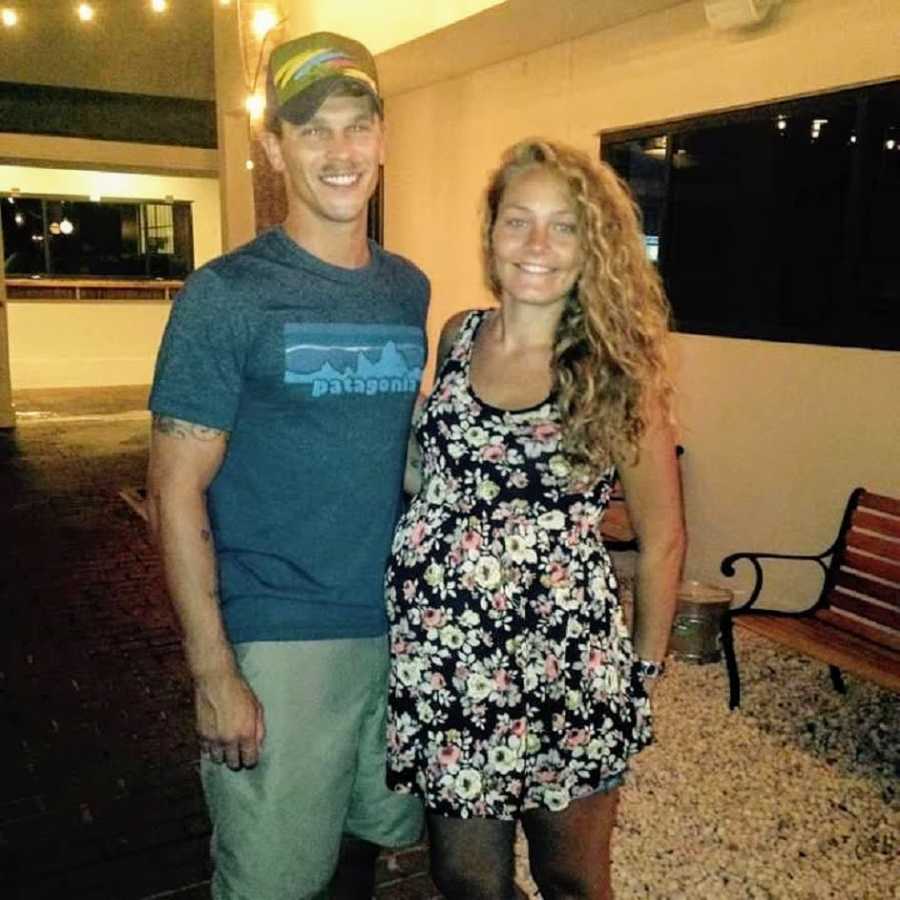 After the 20 week anatomy scan, we received the reassuring news that everything looked perfect for our baby girl, which was a welcomed relief as first time parents. I ended up needing to be induced at 41 weeks because she was not ready to be born yet. I can remember calling my mom when I was trying to walk the baby out crying, saying, 'I just feel like something is wrong but I don't know what.'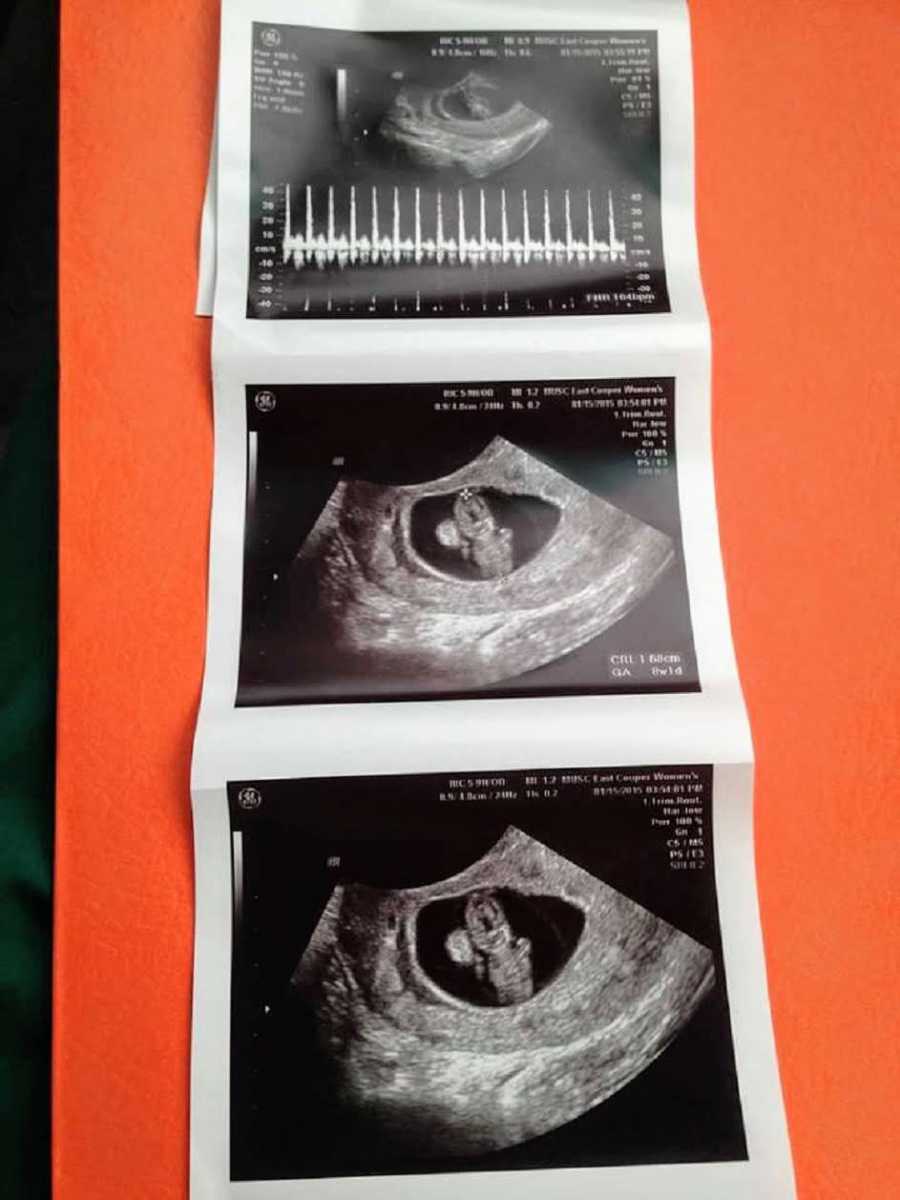 The induction was smooth, just like pregnancy, and we finally had our sweet Tenley with us. Doctors said she looked good and we were left in peace with just the nurse to recover. My husband kept telling the nurse, 'She has a lot of spit, can you suction her?' It was rather irritating to me as I just wanted to hold her and not have her messed with.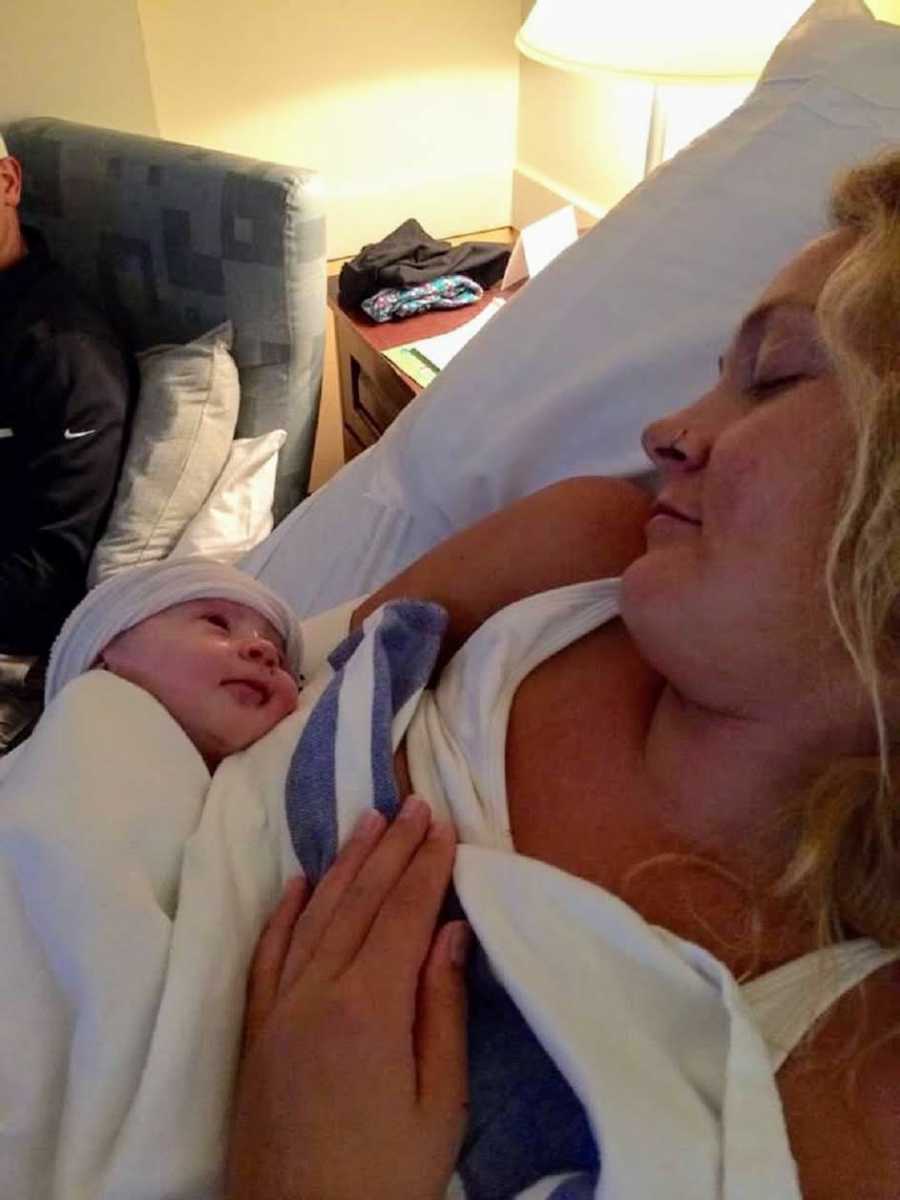 We moved to the postpartum unit and the new nurse wanted to take her just to check her over. We welcomed the opportunity to take a quick nap after the long night. When I woke up, I was surprised to see that Tenley still wasn't back in the room. We called for the nurse and they told us, 'Oh, she is just in the nursery. There is a shift change and the new pediatrician wants to look at her.' An hour went by and she still wasn't back so we called for the nurse again.
This time when she came in, we knew immediately that something was not right. The nurse communicated that her oxygen was low and she probably had fluid in her lungs, but we could go see her in the nursery. Off we went to the nursery. After we washed our hands up to our elbows for two minutes, we finally got to see her.
I was not expecting her to have an oxygen tube and immediately started crying. We got to see her and touch her but weren't allowed to hold her yet, so we went back to the room to wait for the pediatrician to come speak with us. We waited for what seemed like hours, and when he finally came in I could see he had papers with diagrams on it. I could sense this was not good and more complex than we thought.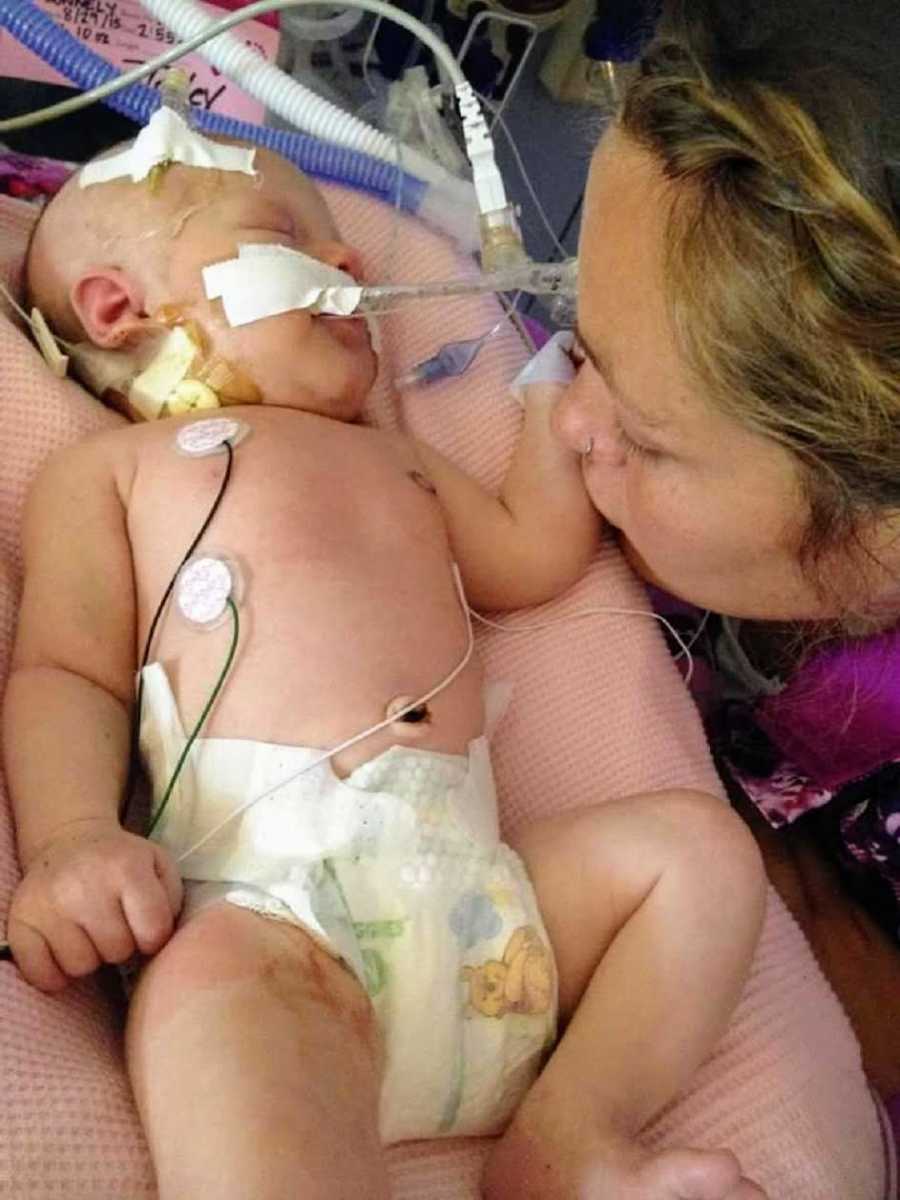 He explained Tenley had tracheoesophageal fistula and esophageal atresia, along with situs inversus but to what extent was not known yet. He explained her throat was basically a pouch and the 'tube wasn't connected to her stomach.' This explained why she had so much spit as my husband kept pointing out. Her organs were the mirror image of what they should be and were entirely flipped around. For example, her heart was on the right side, not the left, and so on.
She was going to be moved to the NICU and would need surgery as soon as possible to correct the TE fistula. When he was leaving and asked if we had any questions, I couldn't even muster anything out. I had a million questions, the biggest being how did they not see this and why were we told after our ultrasounds everything was prefect? We thought this was where our journey began, with the NICU, the surgeries that would be needed, and the complex medical case that Tenley was with her multiple congenital anomalies. Little did we know this wouldn't even be the ultimate journey we thought our lives were path for.
Tenley did excellent at three days old with her TE surgery. She exceeded everyone's expectations. I remember her amazing surgeon coming in after surgery just smiling ear to ear so excited to tell us how great it went. In those first few weeks, we learned not only did she have the fistula and situs inversus, but she also had an aneurism on her left ventricle, an extra cervical rib, kidneys fused together, and the sacral part of her tailbone was shaped differently.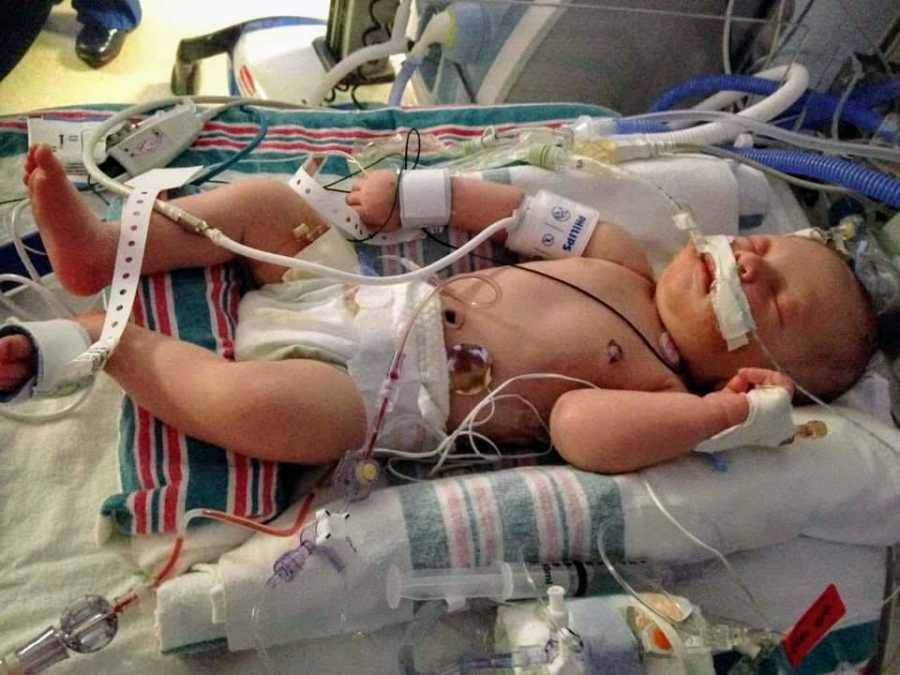 Being a NICU parent was hard. It was depressing, scary, lonely, and you have zero control of the unforeseen future for your child. You leave the hospital every day to return home without your baby. Fortunately, Tenley was discharged home from the hospital after only 17 days. I remember the social worker being in shock saying we were the last people she thought she would see getting out of there.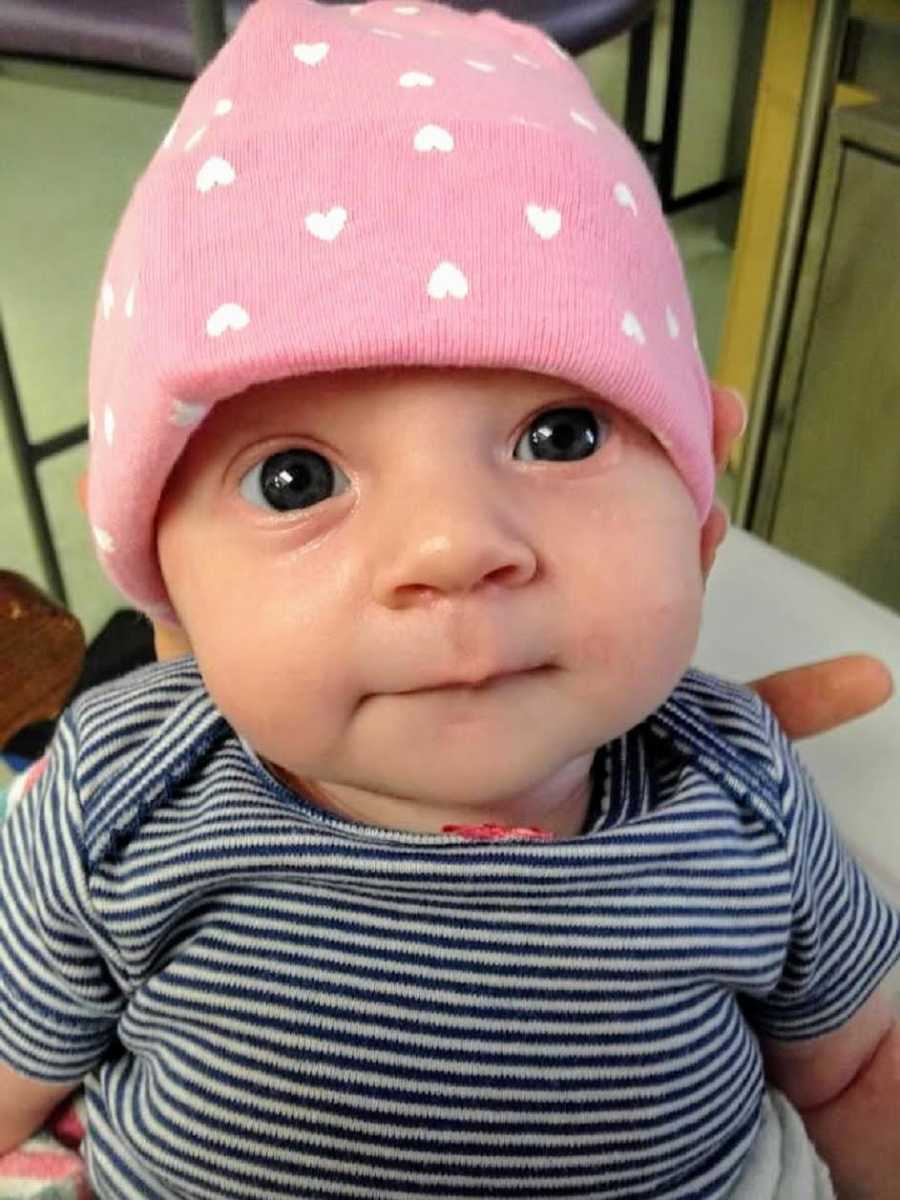 We were so excited to finally have our baby home that it was almost a last minute thought when we were leaving and going over the mountain of paperwork, that she had failed her newborn hearing test and would have to return in a few weeks to do a repeat test. The nurse assured us that it was pretty common for babies in the NICU with all the extra noises going on. I can honestly say I didn't even think of it again until her return appointment scheduled with an audiologist. Little did we know at this point our real journey would begin.
We returned for the appointment and they stuck electrodes to her head and played different noises and frequencies while she was sleeping. She didn't even stir let alone wake up, even I could hear the noises through the little earbuds in her tiny ears. That's when I knew we were not going to get the news we were expecting. With testing completed, the audiologist told us she definitely had hearing loss and was in the profound to severe range. We would need to come back for additional testing. I asked her what she could hear and she said, 'Probably not much. Maybe like a jet engine or if she was at a rock concert, but she probably can't hear any speech sounds.'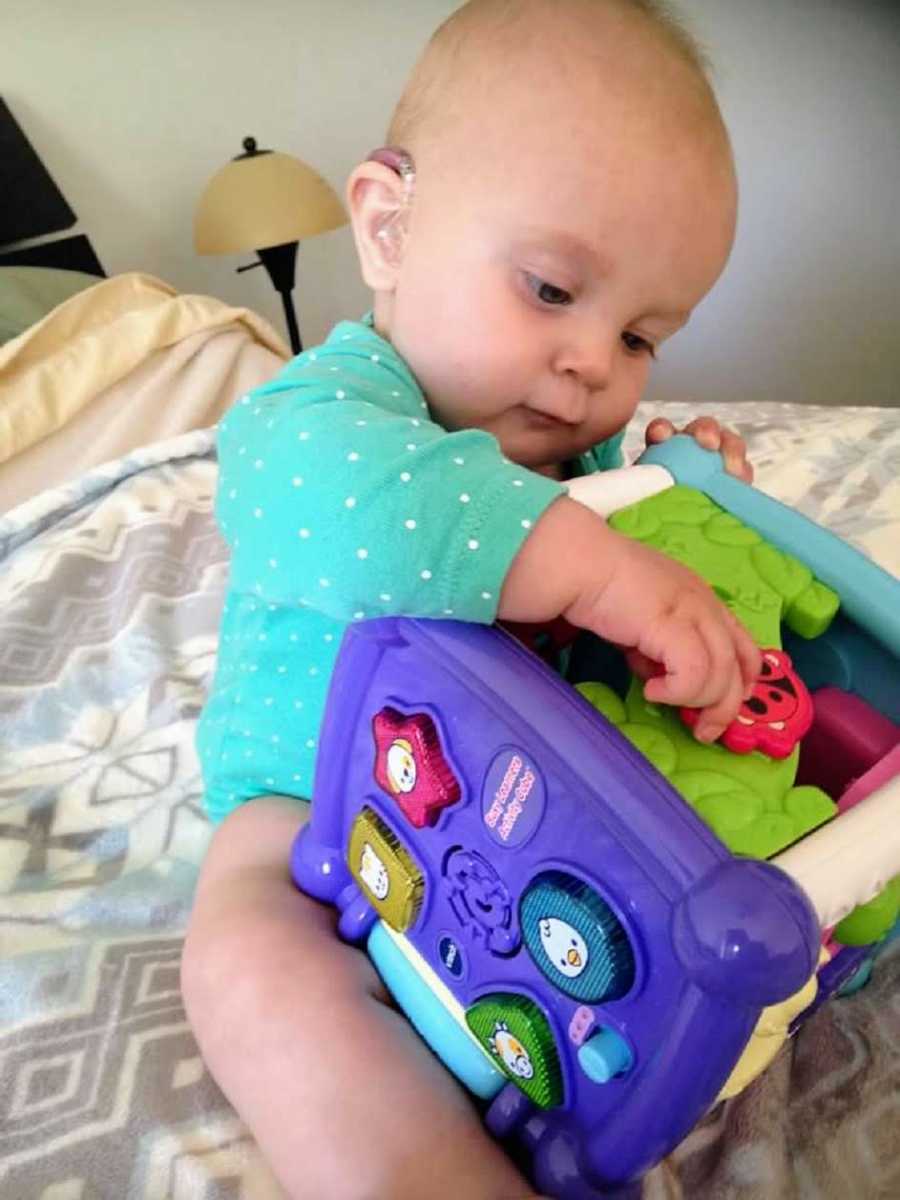 Holding back the tears, we left to go home and she was crying in her stroller as we walked out. An older lady so innocently told me as she passed by I was not 'shushing' her loud enough, and I just smiled through my tears when I really wanted to say it didn't matter because apparently she couldn't hear me anyways, so please keep your comments to yourself.
After all her other numerous appointments with other specialists, we finally returned to see her audiologist and retested, confirming what they initially thought. They said the next step would be hearing aids and they fitted her for ear molds. We picked out the cutest light pink hearing aids. At this point, I wasn't sure what to think of all this news, no one had actually said she was deaf and made it seem like hearing aids would be the answer. She got her cute pink hearing aids and we were told to watch for responses to noises and we would need testing with them.
Over the next few weeks, we would watch her when the dog barked, we'd vacuum right next to her while she was sleeping, friends would be over watching football and nothing seemed to disturb her. We knew they were doing nothing. So, back again we go and testing confirmed they didn't work. The next step we were told was to get an MRI to see if she would qualify for a cochlear implant. That is when things were put more into perspective to me. She would need surgery near her brain and have a permanent device inside her head to help her hear. Our sweet, perfect girl who had already been through so much in her short life, would have no input as we made huge life-changing decisions for her.
We decided to go ahead and proceed with the cochlear implant when she was 14 months old. Her surgery went amazingly well again and we were excited to hook it up after a few weeks of healing. We eagerly went to the appointment to connect everything and were secretly hoping for one of those precious moments you see on Youtube where the baby sees or hears her parents for the first time and just smiles the biggest smile. They turned everything on and she had no reaction to anything. We did not have our moment.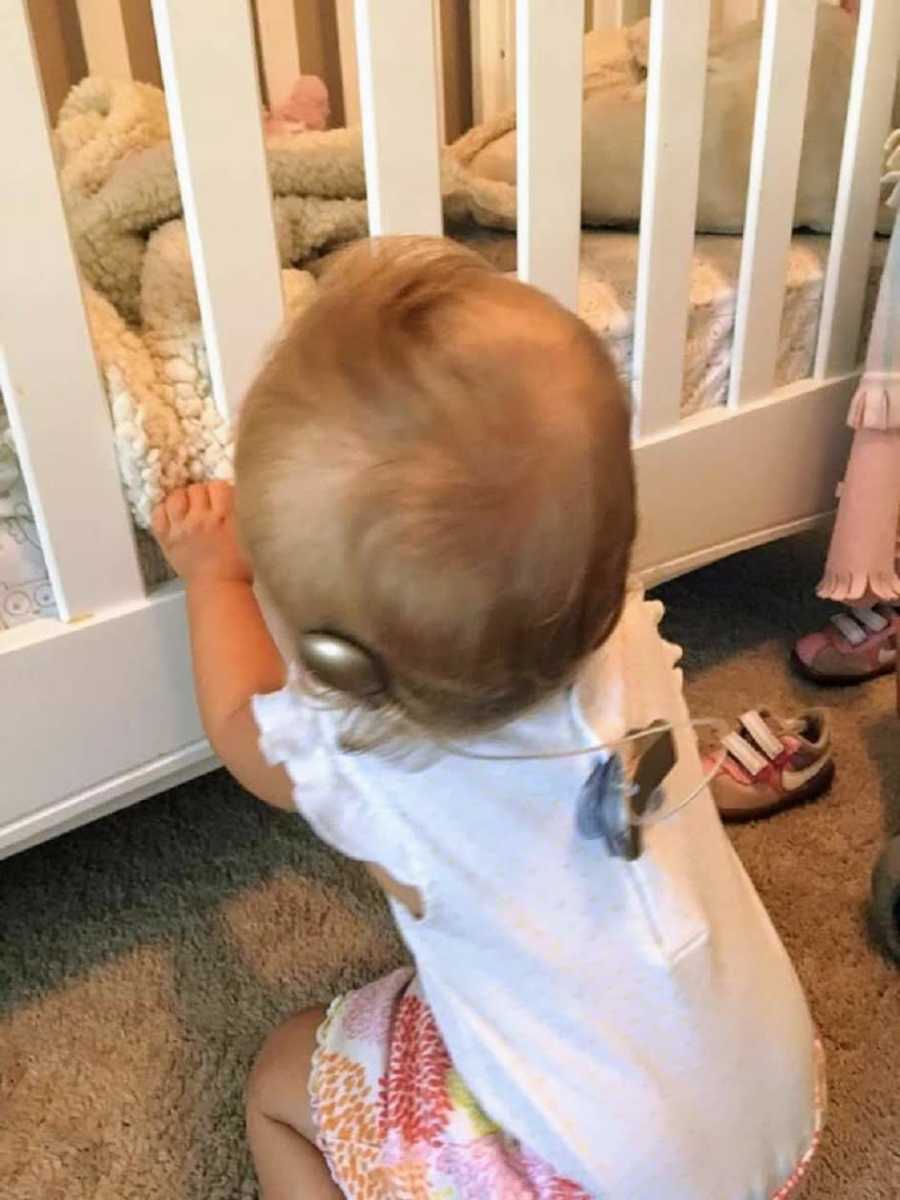 They said to watch her again and that we would be returning for testing and re-adjustments. During the next few months, we saw no difference whether it was on or off. She hated wearing it, and would rip it off her head almost immediately. Testing once again confirmed that she was not hearing anything even with the implant. They told us to try it out for a minimum of six months before exploring other options.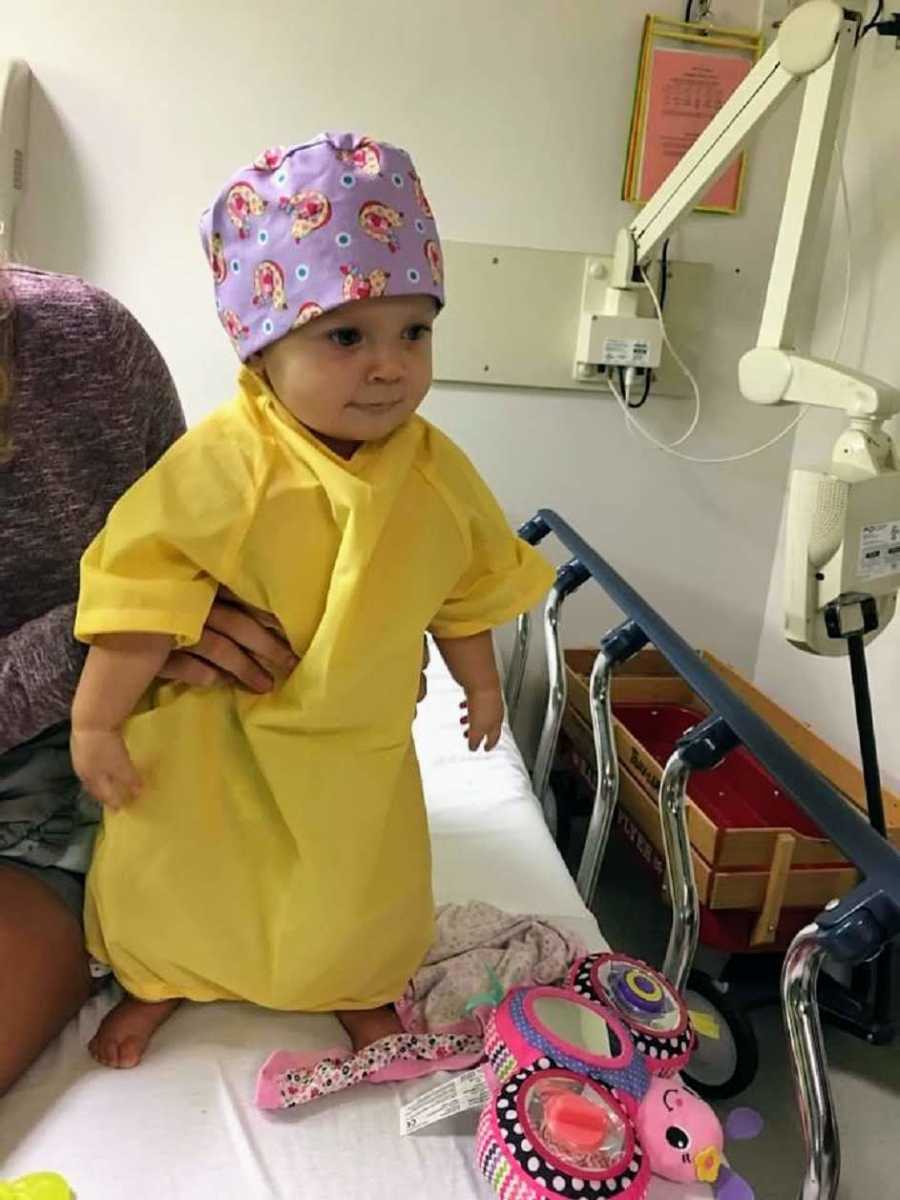 From the time we found out she needed the hearing aids, we started receiving state services for early intervention. We would have someone come to our house a few times a month and give us information on hearing impairments, options, statistics, and teach us sign language. At home, we used the sign language we knew with Tenley since we had a feeling her devices were doing nothing for her. She went to speech therapy and one day the therapist told me we needed to stop signing with her if we wanted the implant to work, if we wanted her to talk and hear. After all, that's why we got it, right? I went home after that appointment and that is when we decided we were done with all the 'trying to make her hear.'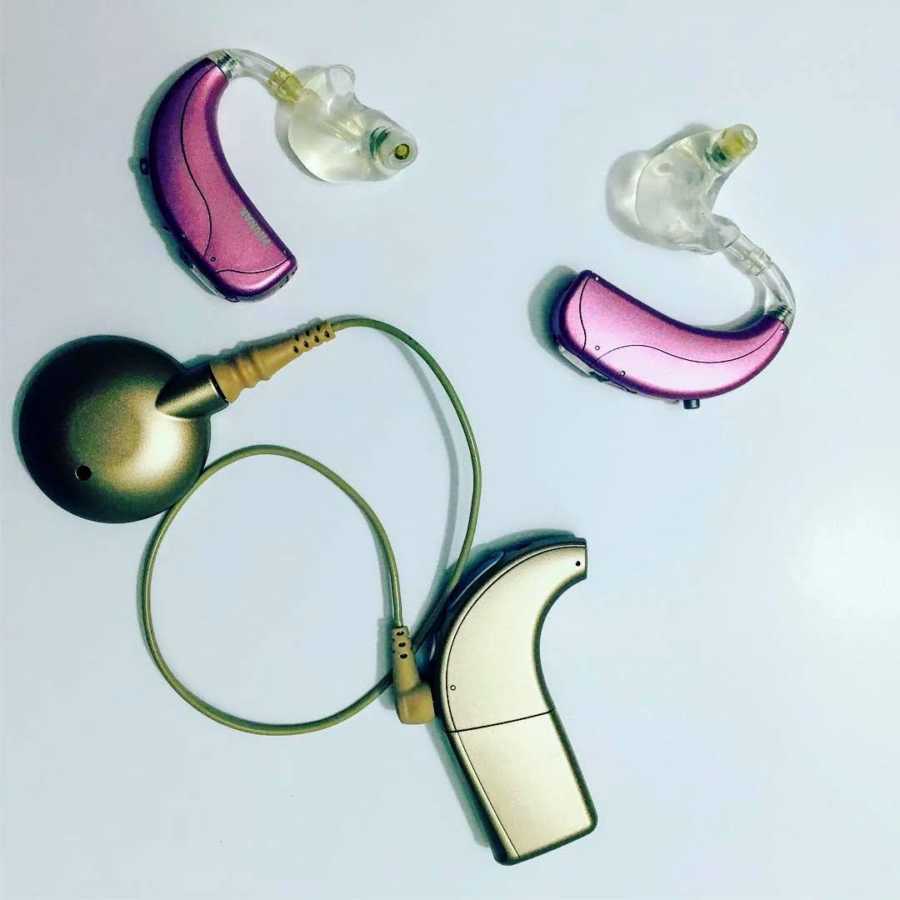 I emailed her audiologist, ENT, and speech pathologist to let them know we were done with her cochlear implant and would not be returning for further testing and appointments. We were learning as much sign language as we could from our early interventionist, Youtube, Instagram, DVDs, books, anything. We began learning about Deaf culture, ASL, what having a deaf child would entail, and the special things she would require. We were trying to soak it all in and learn about the new world we would be entering for our daughter.
When Tenley was almost 2, we started thinking about schooling and how that would go. We learned about the Deaf school she could live at by herself three hours away, going to public school with an interpreter, being in special education classes. As a family, we were not satisfied with those options. I was worried about her socially and her not being accepted. I wanted her to have friends, but I didn't want her to live away from me. With my husband being in the military, we didn't get to decide where to live. We lived in our dream location by the beach with the only problem being there wasn't a school she could attend and there was hardly any deaf community at all. We made the decision to apply to get relocated to a base that would provide a Deaf school in the area for her to attend.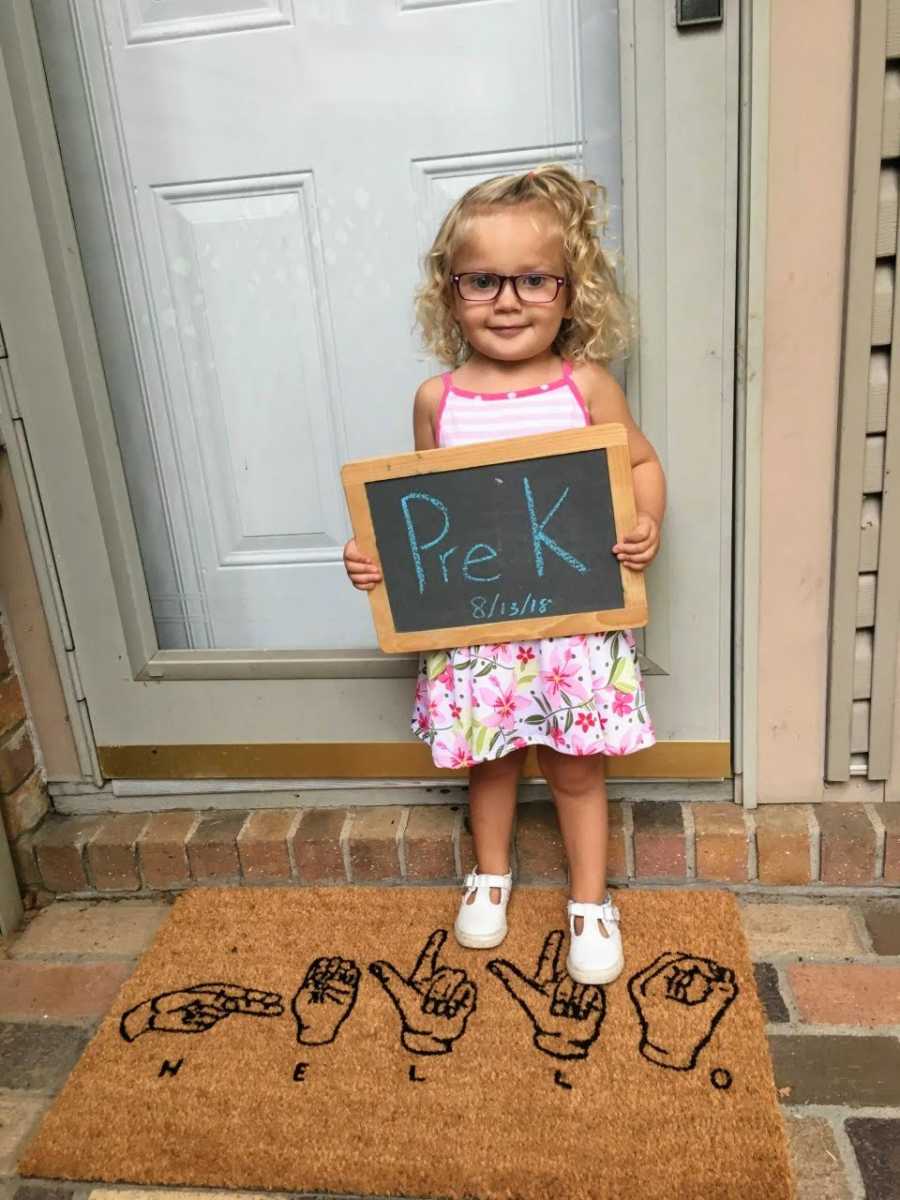 My husband told me it normally is about a year to get moved so we were preparing for that timeline. But we got the news shortly after applying that we were moving and had 60 days to report there! 2 months was all we had to sell our house in the middle of a hurricane evacuation, say goodbye to all our friends, and get everything else in order that is involved with moving 800 miles away. I was not happy about it and kept doubting all the choices we made. We had no idea what we were doing and whether it was right. No one we knew had been in our shoes to give us advice.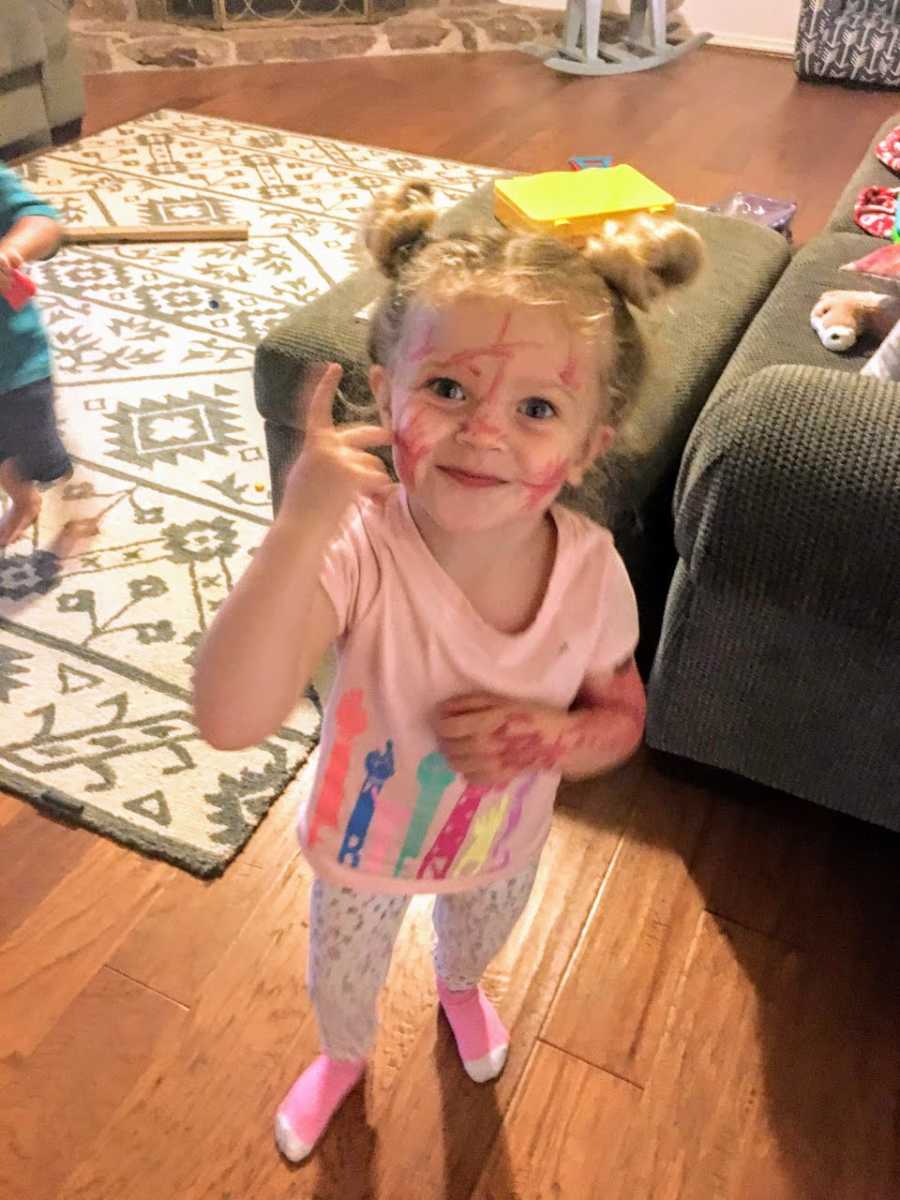 We now know that it was the best decision we could've ever made for Tenley. She attends a Deaf school with a preschool program, is thriving, and can already sign beautifully. We attend sign language classes at her school, try and be involved with the Deaf community, and spread awareness and try to educate others. September is Deaf awareness month and I always encourage everyone to learn something about what it means to be Deaf along with the culture, but to most importantly make efforts with her. Learning a little sign language goes a long way.
There is still a fear of her being bullied, and not being accepted into this harsh world for being different. She lives her life just like any other sassy 4-year-old girl would. She loves swimming, seeing her friends, playing with and bossing around her little brother. She is not impaired or disabled, she is Deaf. Being Deaf is who Tenley is, and she is amazingly fearless, courageous, beautiful, and kind.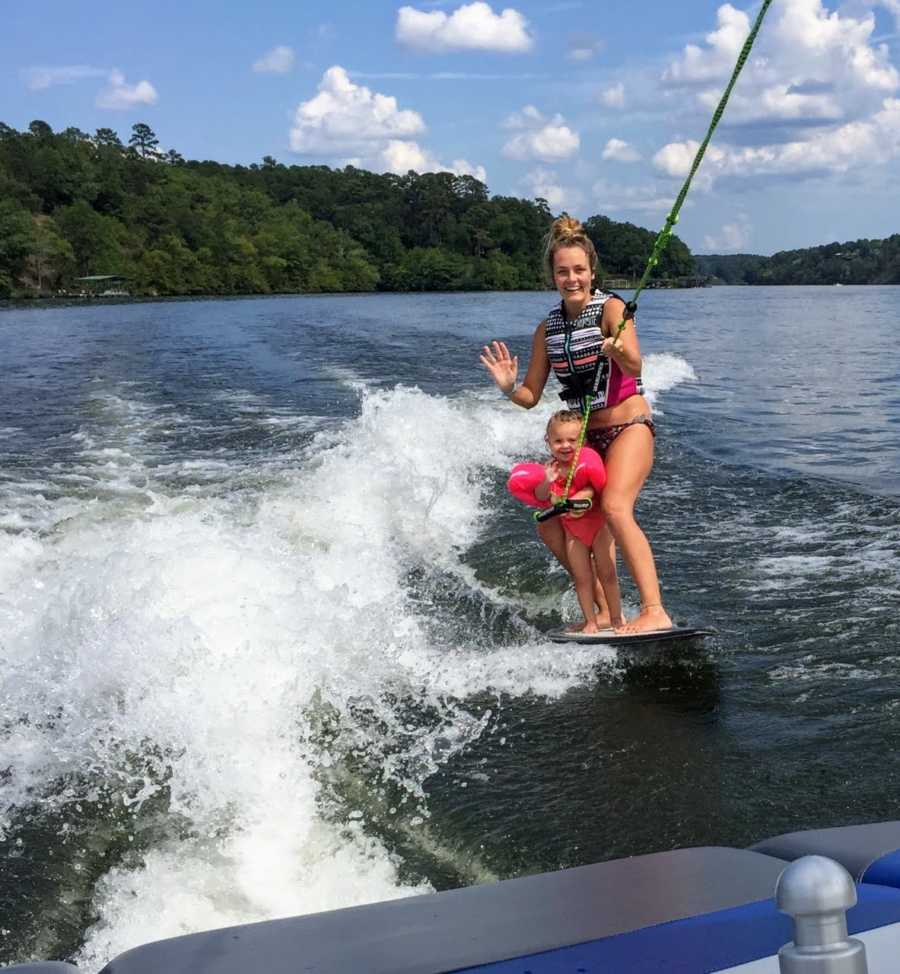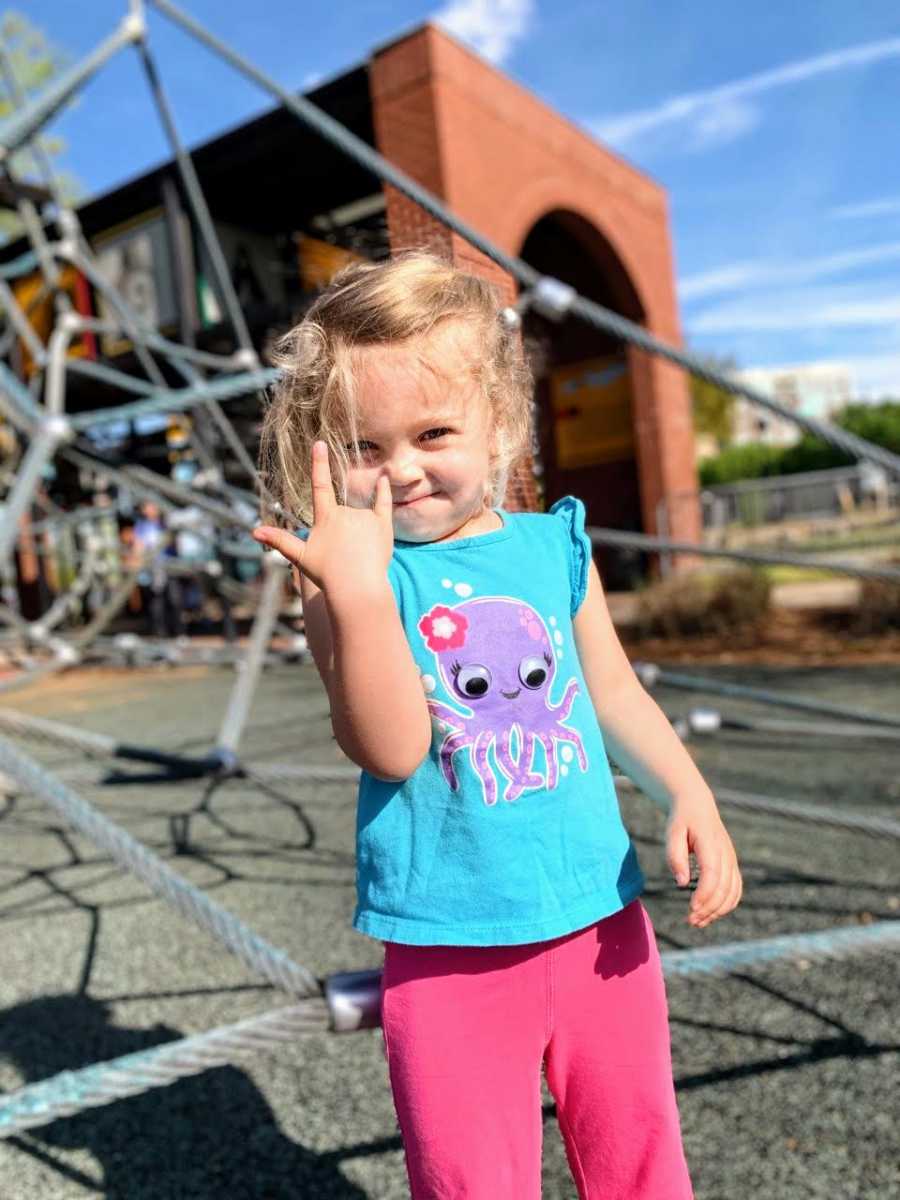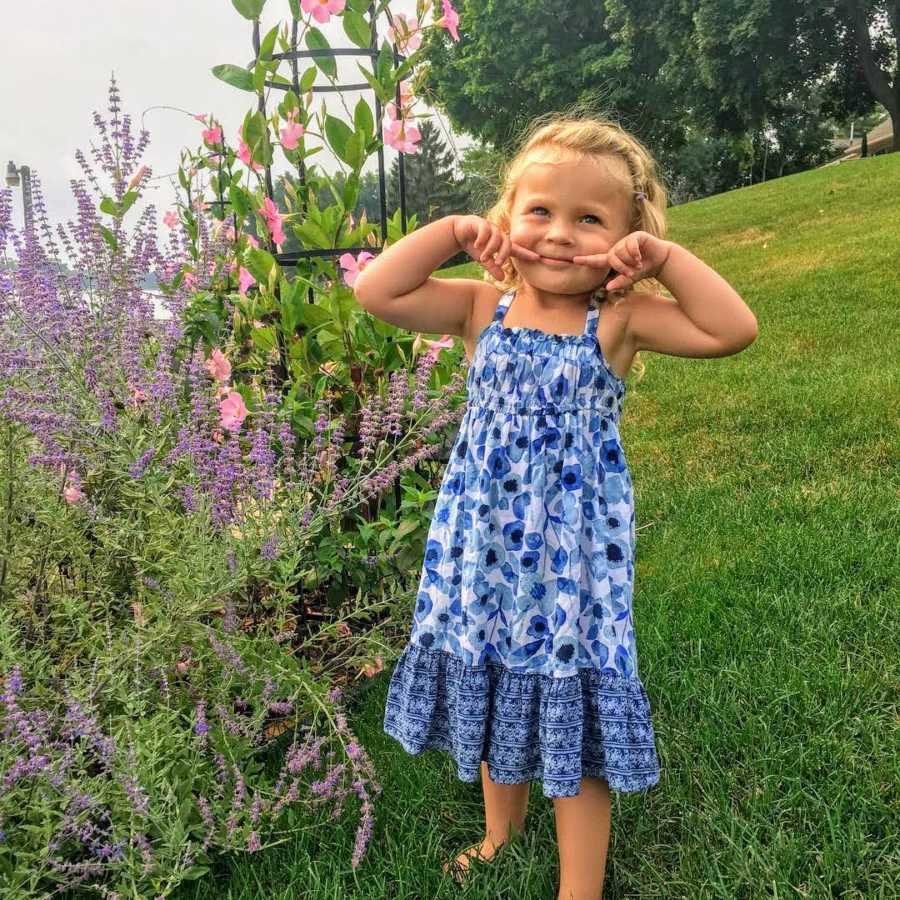 She will undoubtedly do amazing things in this world. We feel blessed to be able to lead her through this life where we never imagined we would be."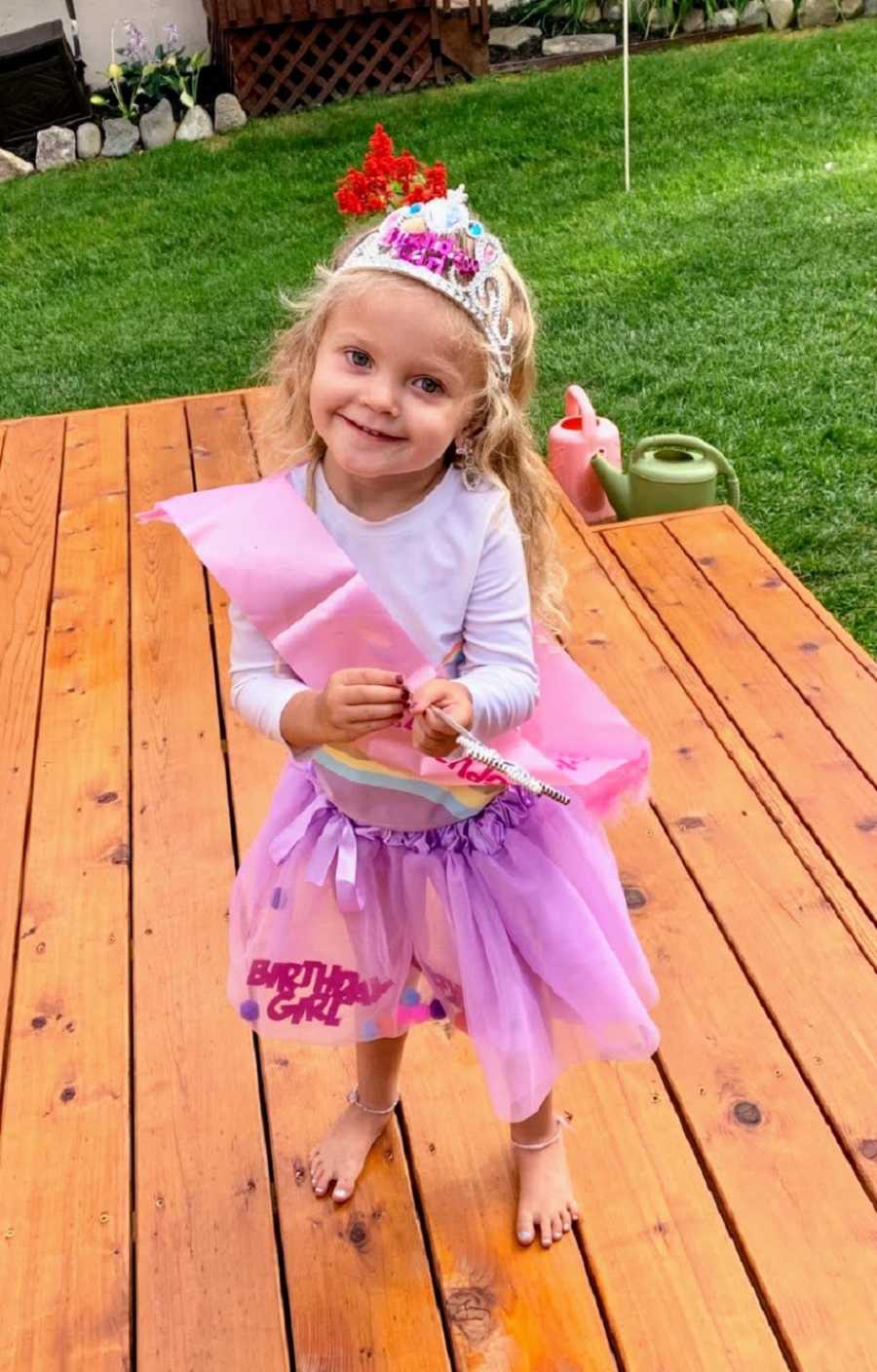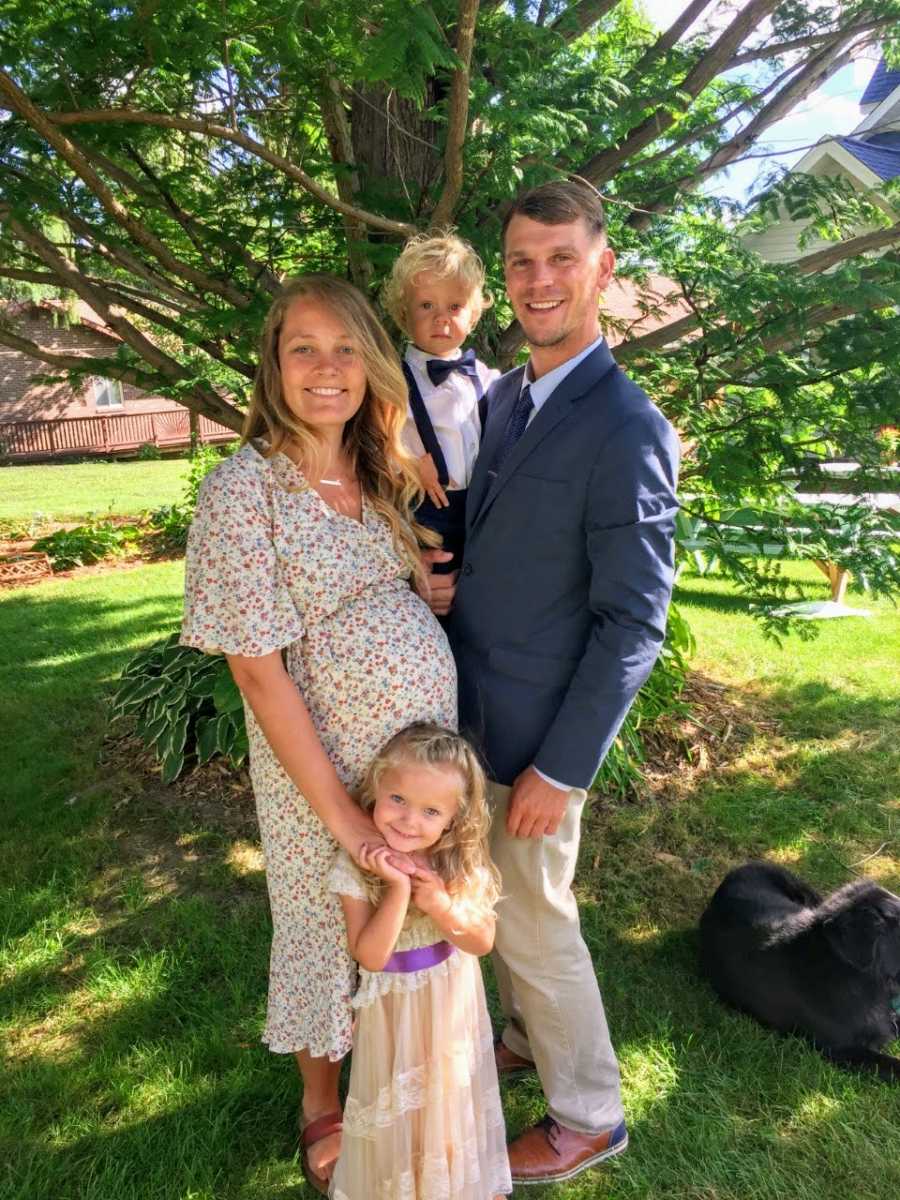 This story was submitted to Love What Matters by Connely L. You can follow her journey on Instagram. Submit your own story here and be sure to subscribe to our free email newsletter for our best stories.
Read more stories like this:
'I think Evely is blind,' my husband said. In my dreams, she had big, brown eyes. Turns out, she had NO EYES.': Mom gives birth to baby with Anophthalmia, claims 'my child who is blind is teaching me to see'
'I didn't just lose her the day she died. I lost her the day I gave birth to my son, but she was missing.': Daughter recalls late mom missing life moments, but how it's forced her to 'find her'
Spread beauty and strength for others. SHARE this story on Facebook with family and friends.