"My name is Sara Cunningham. I am a woman of faith who has been married over 30 years, and a mother of two boys. My youngest son Parker is gay.
We live in a conservative state and raised our family in a conservative church. Parker spent his whole life coming out to me and when he turned 21 he said, 'Mom I met someone, and I need you to be okay about it.'
That's the day he faced his biggest fear (me) and that's the day I faced the reality my son is gay. That day started a journey and along the way I re-examined everything I believed. I felt like I had to choose between my faith and my gay son.
We got plugged into the local church when the kids were little, raised them in the church, and were front and center for the better part of 20 years. I loved church life, learning scripture, and serving the community.
When Parker came out I had to re-examine everything I believed; my mind wrestled between law and grace. I lay in my bed worrying about the salvation of my son. I didn't know where to look for resources, and people in our church family did not know how to minister to us. It was brutal.
As I started writing my book, I found two books book. One by Justin Lee titled Torn: Rescuing the Gospel from the Gay's vs and one by Kathy Baldock called Christian Debate and Walking the Bridgeless Canyon. Those were the first books I read that had the words 'Gay' and 'Christian' in the same sentence.
I cried like a baby the day I found them. That was the beginning of understanding and reconciling my faith. About a year or so later I finished my book and the very day it was released on Amazon I found a private online Facebook group for moms like me. Oh the power that comes from finding out 1) I'm not crazy and 2) I'm not alone.
That journey took us from serving in the church for 20 years to standing on the corner of 39th and Penn at the 2014 Oklahoma City Pride parade without losing my faith. We lose our church families, blood family, and some even lose their children due to alienation, self-harm, mental health issues, or worse: suicide. The group has been a wellspring of support and resources.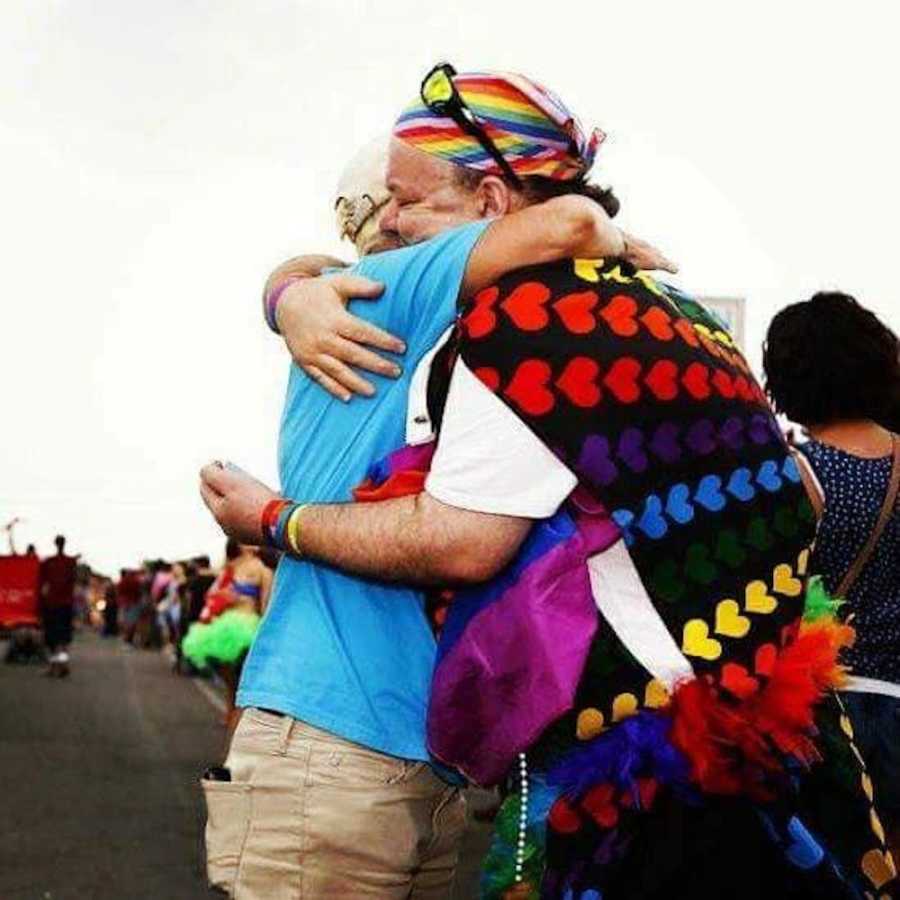 In 2015 I made a homemade 'Free Mom Hugs' button and went to the Parade Festival and asked anyone who made eye contact with me 'Could I offer you a Free Mom Hug or a High Five?' That day was pivotal for me.
I went home covered from head to toe with glitter and with horror stories that still haunt me today. That began Free Mom Hugs, now a nonprofit.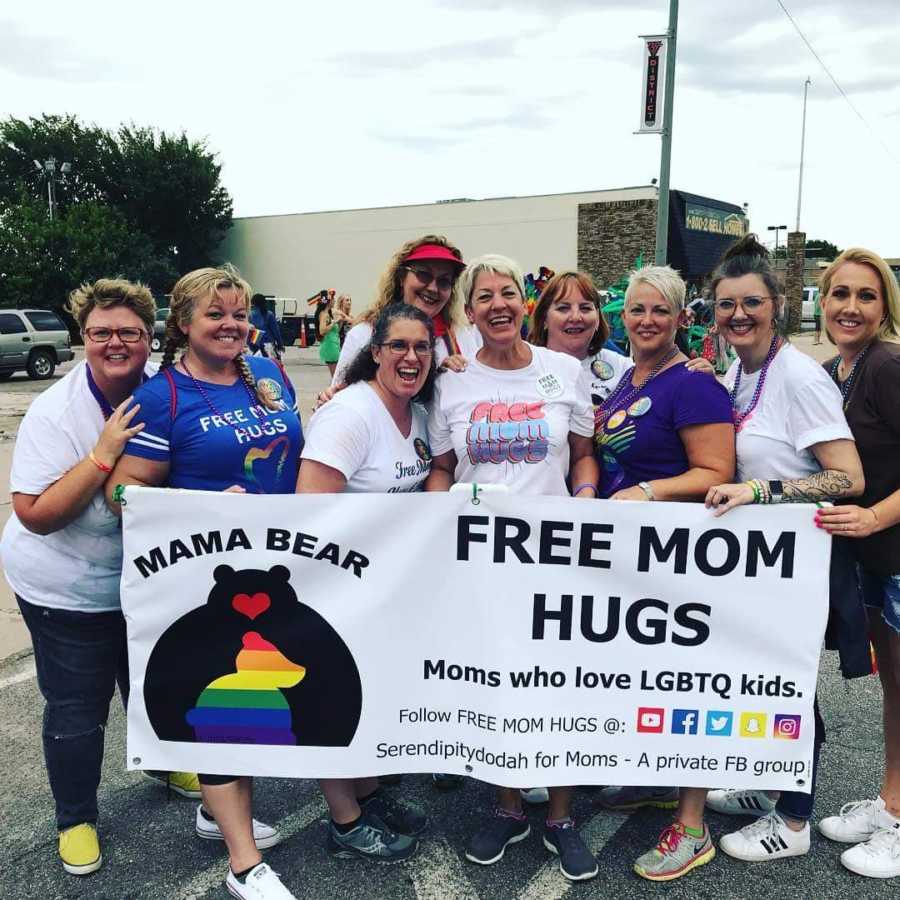 Free Mom Hugs; Embracing, Loving, and Empowering. We offer Parent resources to schools, hospitals and churches on how to encourage the LGBTQ community and their parents to have authentic relationships.
We travel across the country with a FREE MOM HUGS banner. In 2017 we traveled to NYC Stonewall Inn and in 2018 Laramie Wy c/o the Mathew Shepard Site. We have luncheons with civic, faith and business leaders during the day and at night we visit local gay bars and offer all the free mom hugs they can handle.
I began advocating with fellow Mom's, Dad's, friends and allies and soon same-sex couples began to ask if I could marry them. I got ordained and have officiated several same-sex weddings and am happy to do so. In preparing for a same sex wedding, I heard from a beautiful soul devastated that their mother refused to attend the wedding and out of frustration I offered to step in as a mom.
PSA. If you need a mom to attend your same sex wedding because your biological mom won't. Call me. I'm there. I'll be your biggest fan. I'll even bring the bubbles.

Posted by Sara Cunningham on Friday, July 20, 2018
I hope our story will encourage moms to have an authentic relationship with their LGBTQ kids, to celebrate our children even when we don't know how to or feel like it. We will either celebrate them or suffer with them. To call out parents and allies to get educated on the history of human sexuality and original language in scripture and by doing that we will find our voice and say enough is enough of shame ministry.
Together we will make the world a safer place for our children. Lastly to encourage the LGBTQ Community. You don't need to be saved, you're to be celebrated. In the end love is all that matters. Oh, and hugs help too."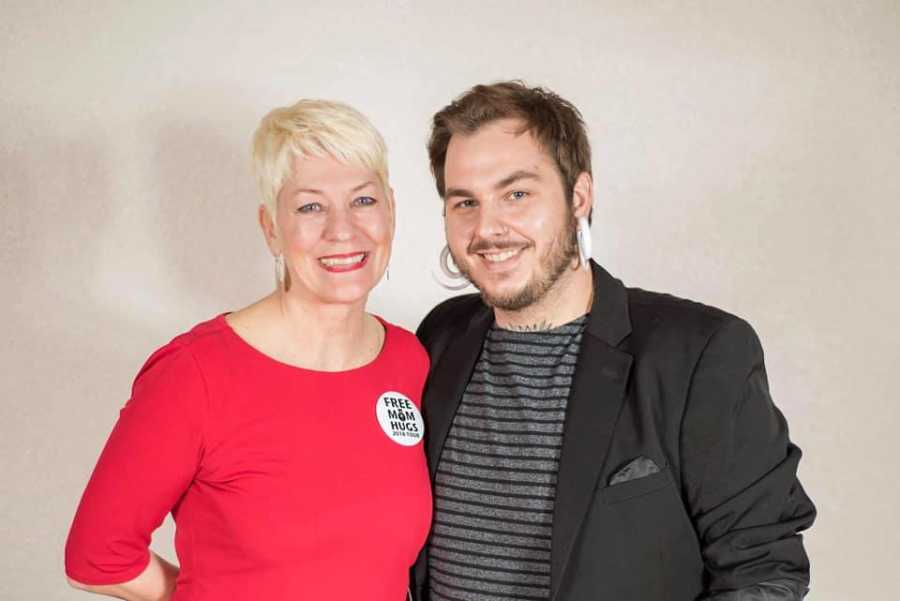 This story was submitted to Love What Matters by Sara Cunningham of Oklahoma. Subscribe to our free email newsletter, Living Better—your ultimate guide for actionable insights, evidence backed advice, and captivating personal stories, propelling you forward to living a more fulfilling life.
Help us show compassion is contagious. SHARE this beautiful story on Facebook with your friends and family.