"Humans are social creatures with a basic need to be understood through a shared worldview. So others could view our life circumstances through our eyes and understand us. 
When people on the street see my four-year-old son with a severe disability, who cannot walk, talk, or even feed himself, the usual reaction is fear. Can you imagine someone mortified by your precious, sweet, loving child simply because they are different? So today, I share our story partially so strangers will learn about children with disabilities and won't be scared of them, avoid them, or pity them. And in part, to share with other parents on a similar journey that we still have a lot to live for, that life doesn't end after the diagnosis, and that it can still be full of happiness. 
Sharing the Diagnosis
Of course, my account of life events wasn't always this 'wise.' In retrospect, three years ago, I started my Instagram account as an outlet to share the grief that was engulfing me when, at 10 months old, my son was diagnosed with Lissencephaly. The only outlet to share my devastation were strangers on the internet.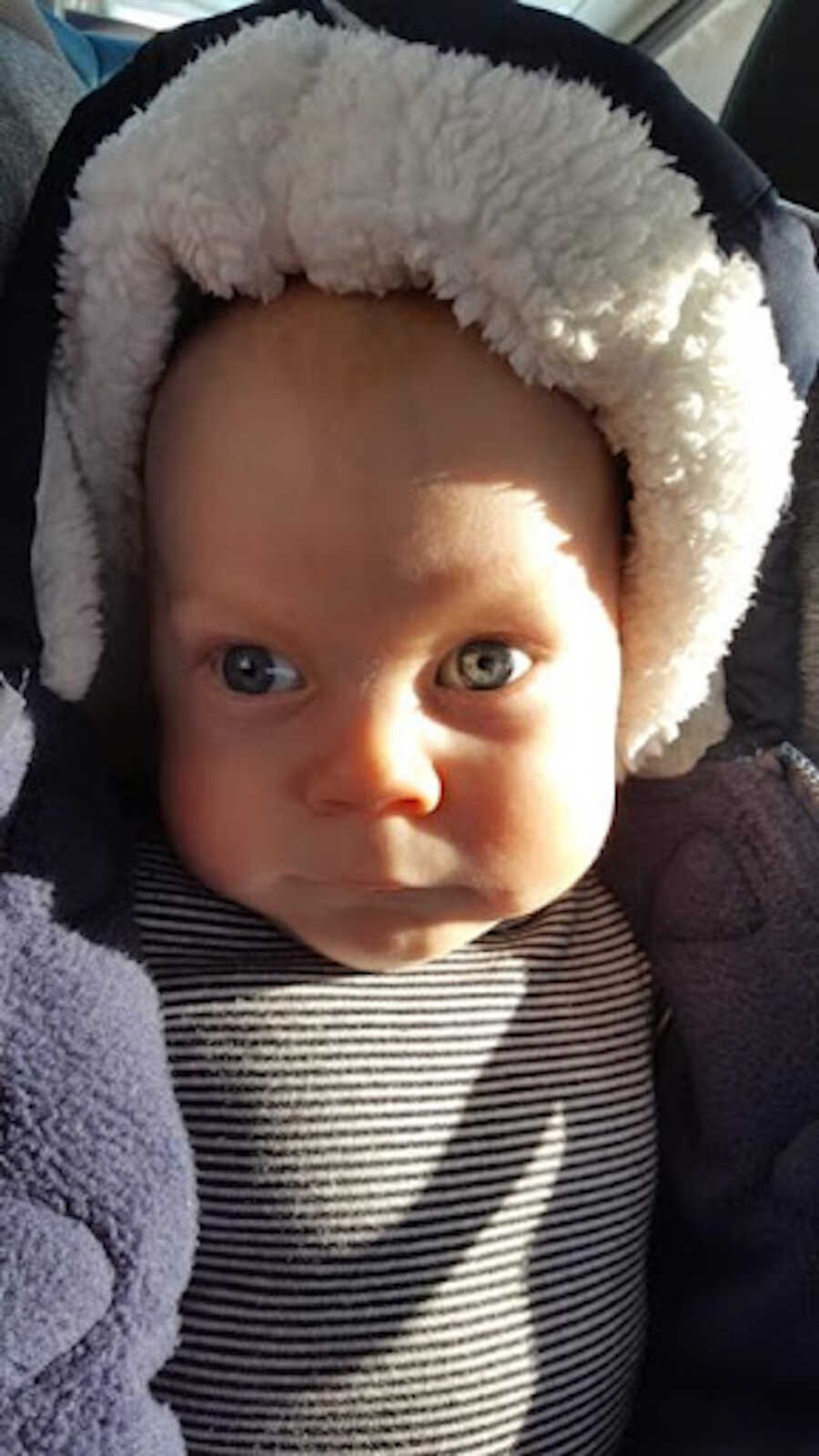 'Hello guys, yes, that's you; thank you so much for learning our story and supporting my love, Yaro, and me. For total transparency, my husband encouraged me to start the account and share my feelings since he saw how much I was struggling on the inside and had no support system in place. As he recently disclosed, after we moved into the bungalow house to accommodate our son's needs, he was mortified to leave us, Yaro and me, every morning he walked out the door of our condo to go to work. He wasn't sure whether I would jump out the balcony and if I would take the baby with me. We used to live on the 18th floor.'
It was a shocker to hear such an impression of myself, yet I can't say that I can wholeheartedly deny this claim either. Somewhere on a deeper level, I was having these life and death considerations and considering ways to erase the unbearable pain. Yet, I have never had an actual plan in place. 
Pregnancy and NICU
The account of Soybean's diagnosis is pretty commonplace. I was having a pretty normal pregnancy, yet at six months, an OB-GYN recognized concern with the brain ventricles of the little Soybean that was growing in my tummy. We had repeat ultrasounds, genetic tests, and even fetus cardiac assessments with many hours of discussions. Yet all results have come back normal, and with time the issue has seemed to resolve itself. So we breathed out and happily welcomed our Yaro-bean on May 2, 2018.
The NICU team met him for an assessment that cleared him as healthy and released us home with an APGAR score of 9, assessed out of 10. Due to his in-vitro history, at 1 month old, the pediatrician referred us to a local hospital for a head ultrasound to make sure that there were no concerns left with Yaro's brain. We got a clear report there as well. So for 6 months, I had a beautiful, healthy, growing, developing baby boy. We attended baby swim classes, and enjoyed camping trips and beach time, creating lots of beautiful memories. Almost like a gift from the above, before the mayhem came.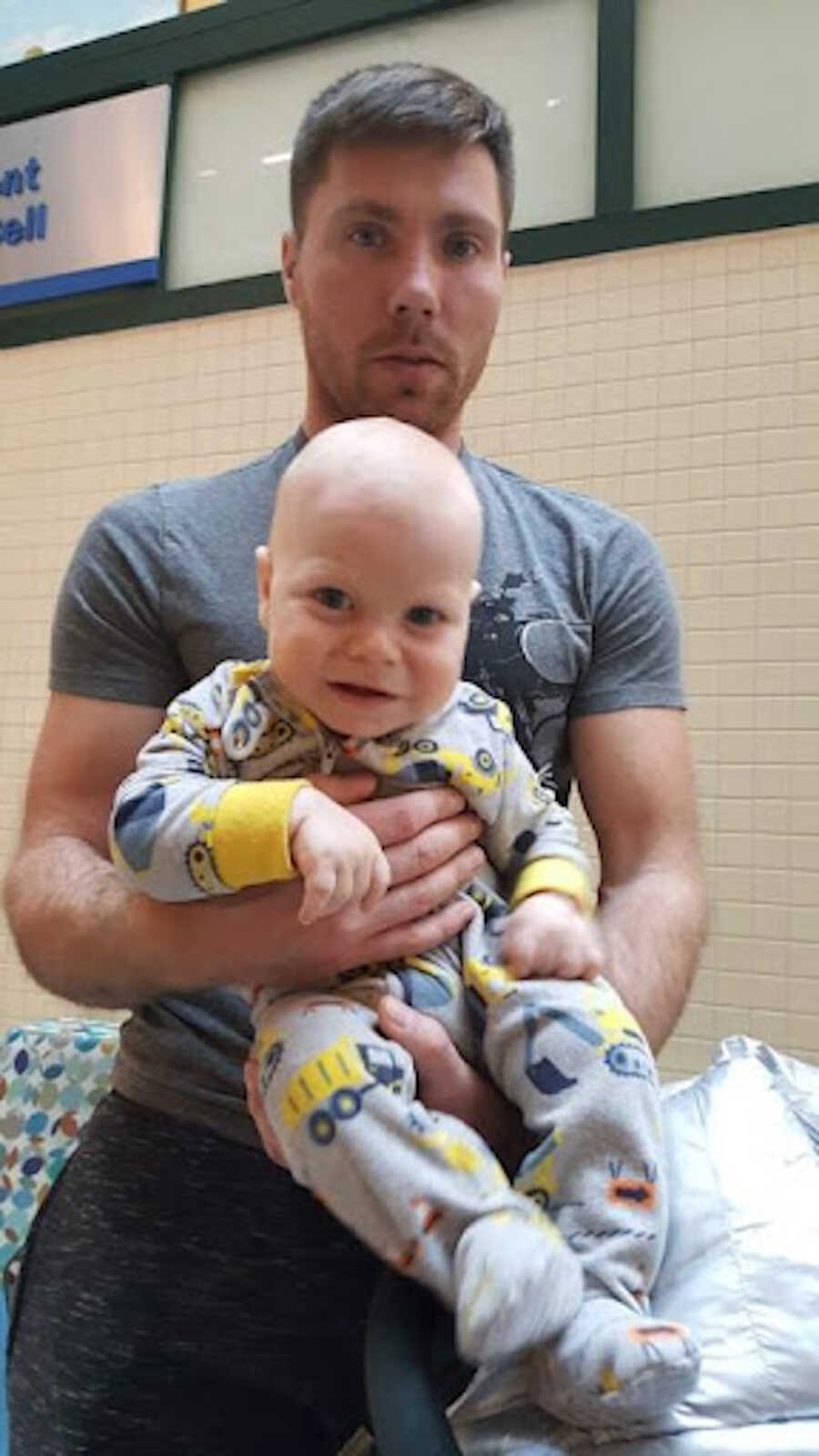 It started first 'in my head' when only I could see weird little drops. My husband accused me of wishing bad on the baby, and the pediatrician dismissed my fears. And I was hysterically crying under the blankets at night while searching for all possible explanations for my son's newly developed behavior. This research always resulted in severe childhood disability. When Yaro-bean's development stopped at 6 months, and my husband finally accepted these drop episodes, I visited the pediatrician weekly with concerns until finally, she referred us to a community neurologist.
Two weeks later, he similarly dismissed me. Of course, I felt relief at first, but then I came home to witness more episodes and watch the smile fade away from my son's face. That's when we started looking into alternative medicine for answers, chiropractors, massage therapists, energy healers, and international neurologists who, for 2 months, were taking my money and dismissing my concerns. While at home, my baby was growing quieter, more sleepy, and that sparkle in his eye started to disappear. Just before Christmas, a second neurologist, at the cost of dismissing me as an overprotective mother, has gifted our family one last 'normal' holiday season. On January 1st, with our baby in hand, we were standing in Toronto's Children's Hospital ER with a big concern that didn't have a name at that point, but we were ready to fight every single doctor and nurse to give us that answer, that name of concern. 
It felt surreal, like you know s**t will go down because there is something wrong with your baby. But you don't want it to be accurate, so you meditate to manifest for it to be not true, then you pray to all the Gods and plead with the Universe. 
Well, all that praying didn't work as from the beginning of the story, you know that our son has a disability. Yaro was first diagnosed with a rare form of Epilepsy, Infantile Spasms, which are devastating to development if left untreated. And these are treated very aggressively, with antiepileptic drugs that cause peripheral vision loss, combined with steroid treatment that compromise the immune system. The official diagnosis of Lissencephaly followed this further. A micro-deletion on the gene 17 caused upon conception a brain malformation in my Yaro-bean. But it is such a rare genetic disorder that it is never picked up during DNA screenings. In contrast, ultrasound screenings can only detect this condition during later stages in fetus development, closer to 7-8 months in vitro, only if technicians are trained.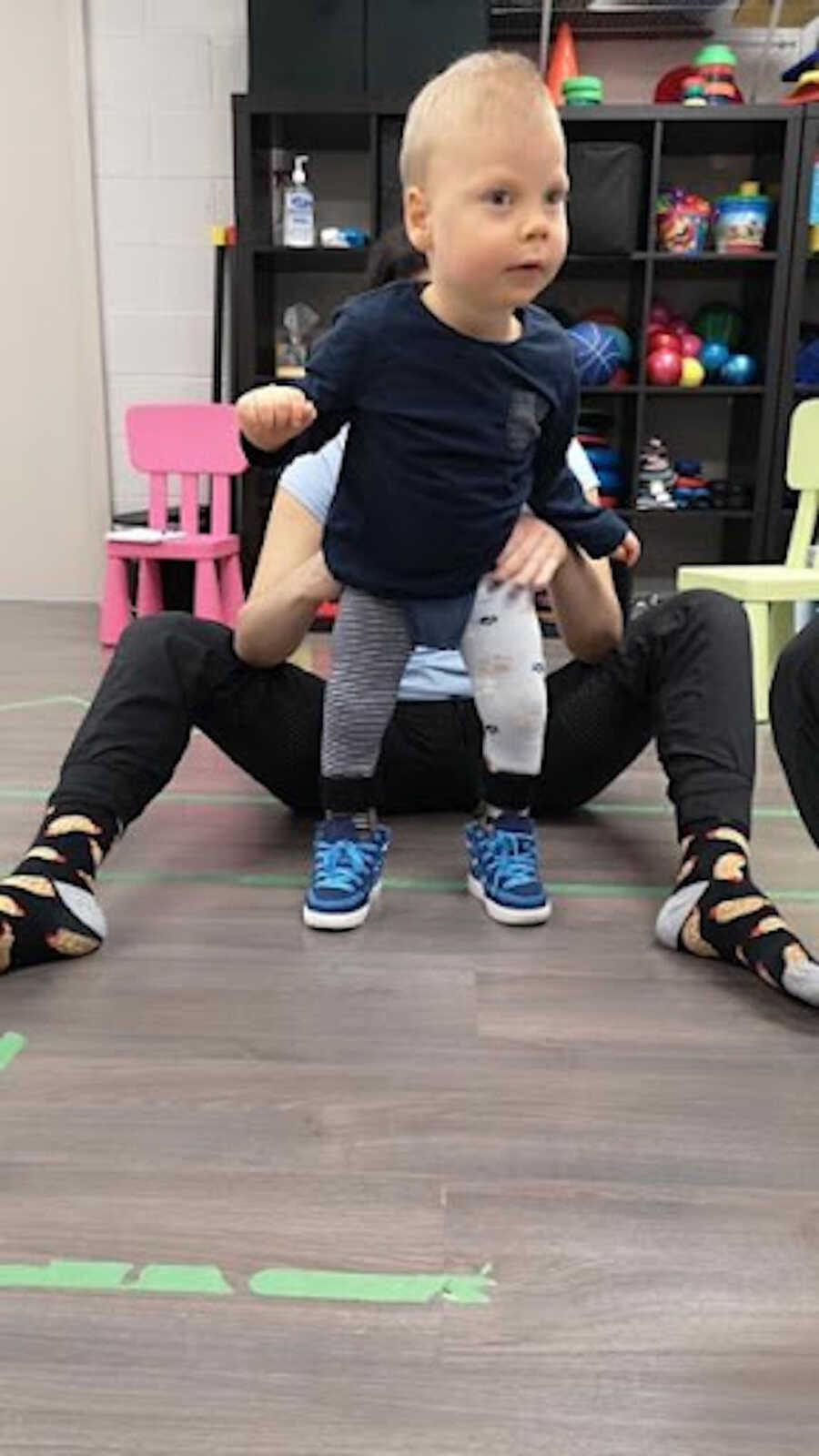 Grappling with Diagnosis
The diagnosis day was like ripping off a bandage. We knew that truth was hiding beneath the 'your baby is normal' that was masking all our fears. Yet, it was an unbearable pain to have your 'normal' child dying in front of you. The first year after Yaro's diagnosis was about if I do just enough research, if I raise just enough funds, if I find that perfect specialist, I will fix my child to be 'normal.' If I pray enough, if I follow all the religious holidays and fasts, if I am a good enough human, God will fix my child. If only I could formulate my wish correctly enough, the Universe would hear me. This magical thinking has got me through our first year. I have also shut down within myself, lost all my friends, and I still question how my marriage got through this phase. 
My self-identity plummeted. I didn't know who I was anymore, what needs I had, or when the last time was that I had proper sleep. My days were filled with all the therapies at home, therapy appointments, hospital visits and stays, seizure tracking, and medication research. It felt like a rabbit hole that didn't have a bottom. I felt heavy guilt for everything my son had to endure, only because I couldn't even do my primary function: create a healthy baby. I felt like a failure who didn't deserve to be happy and had to repay in misery for everything Yaro was going through. While on the outside, I was trying to show that we were good, we were managing; we needed no help;  inside, I was drowning. On the outside, I declared myself a Childhood Disability Advocate to fight all the inequality my son faces, but it also felt like I was fighting myself.
Accepting My Son
We had a baby number 2, Elias, for whom I felt the world's guilt. On the one hand, we are putting all this enormous weight in the form of his disabled brother on his future. On the other hand, I was mortified to love one son over the other. And at times, I still wanted just to be erased from this world, not to feel all this pain choking me.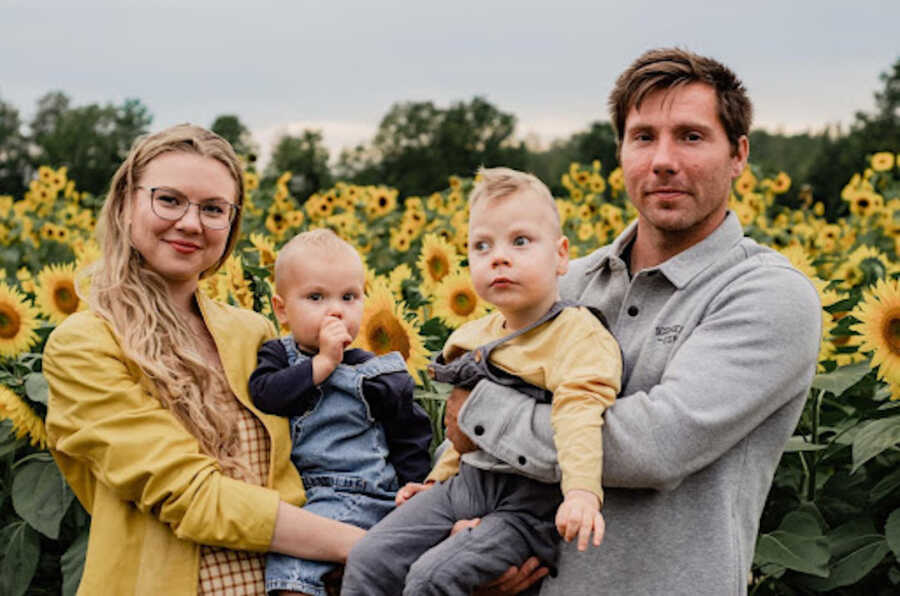 I do not remember any particular event that served as a trigger to get out of my stagnation, emotional pain, brain fog, or depression. I still do not have a word for all those complex feelings dominating my life. That occasionally still surfaces. I do not want to portray the idea that I got a magic pill, and all the life complexities disappeared. But I feel like I woke up and really accepted my son for who he is one day. I do not want you to think that I didn't love my son due to his disability. It is out of my enormous love for him that I wanted to 'fix' him. At one point, I just realized he doesn't need fixing. My ableist mindset needs fixing, and our ableist, prejudiced society needs to accept people who are different.    
He is still the same sweet little Yaro-bean who needs some extra love, and with his bubbly personality, people who genuinely love him willingly share that extra love. We still do many hours of therapy to reach his best potential and provide preventative care. Yes, at times, we push him slightly outside of his level of abilities, but he willingly picks that up to show off what he can achieve. If he starts walking, excellent; I will make sure every sidewalk within our town is freshly paved. If he doesn't start walking, fantastic; we will decorate the heck out of his wheelchair. I mean, Yaro loves LED lights, too.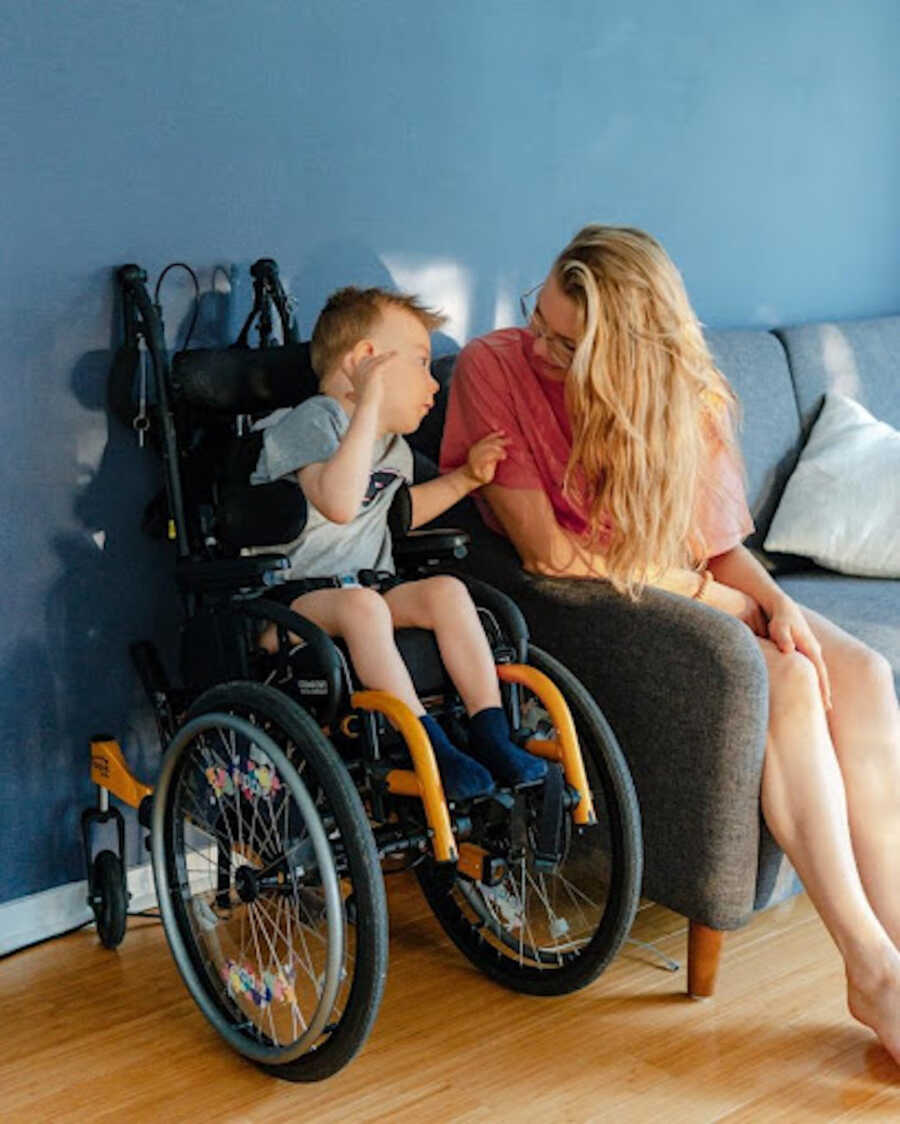 His wheelchair stopped being a nuisance, too. It's a safe means of comfortably getting around with the support he needs. But it is a shame on our 'free' Canadian medical system and social programs that do not make the environment around us accessible. My Canadian friends might be shocked to hear this, but our local public school where my son should have been attending JK location-based doesn't even have powered doors that are button operated, you know the ones available at every mall? Or a ramp to bypass two small stairs. Our playground doesn't even have an inclusive swing. But I am getting off on a tangent here.
When I learned to accept my son, I learned to accept this world with all the different people within it and their opinions. It was such a liberating thing. Thus, my Instagram account went from sharing all the suggestions to fix your child to learning to love life again. It is hard to come out of the dark moods; the old patterns and the old ways of dealing with the pain are still dominating. So I have to use conscious will to choose love, life, and joy, considering everything. Yes, raising a child with a disability and complex medical needs is hard, and that's okay. It means I will have to get in some more psychotherapy hours and look into nursing. And after all, we as a family will get to celebrate a little harder once we pass this hurdle."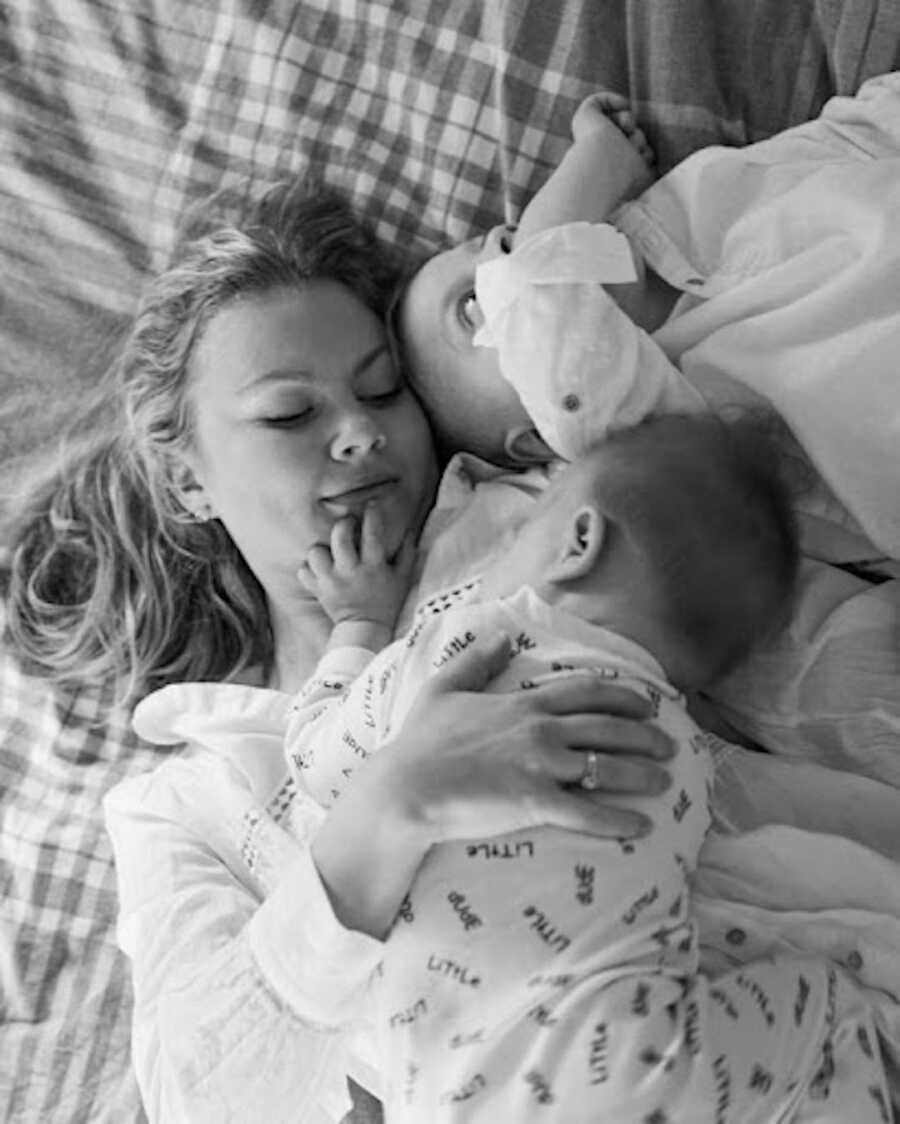 This story was submitted to Love What Matters by Valeriya Botova. You can follow her journey on  Instagram. Submit your own story here, and be sure to subscribe to our free email newsletter for our best stories, and YouTube for our best videos.
Read more stories like this:
'If my child starts to yell or act up, it's not because we don't know how to discipline.': Mom shares important plea for grace, 'Some disabilities are hidden in plain sight'
'Can't you control him?' People mistake his disabilities for a naughty child.': Mom shares autistic son with global developmental delay, ' We celebrate every little milestone like it's a lottery win'
'He gets to school DESPITE having crippling anxiety about it, but I see his misery when he isn't the star of the week.': Mom of son with 'hidden disabilities' urges need for support and acceptance
'Poor thing.' It's not something to avoid or pull your children away from at the playground. It's pure, unfiltered joy.': Special needs mom advocates for Down Syndrome acceptance
Do you know someone who could benefit from this story?  SHARE this story on Facebook with friends and family.