"We're physically ready for kindergarten.
We've got the backpack, the school supplies, the school clothes and the new shoes.
We've talked about it all summer.
We've practiced the skills he will need, and how to open everything inside of a cold lunch box.
We've talked positively about it and imagined all the friends he will meet and the places he will go, and how kind and caring the teacher will be.
We're physically ready for kindergarten.
But here's a little secret…
My heart?
My heart can't fully be ready for him to go to kindergarten.
I know what happens in the 1 year span of kindergarten.
The beginning of the 'letting go' happens.
On that first day, as tears sting my eyes, he will let go of my hand and warm hug and he will walk off on his own.
He will let go of the need to show me every single magna tile building, and every drawing, and every new science experiment.
Instead, he will look for affirmation somewhere else.
He will let go of a little bit of his innocence, as he tries to make new friends.
And I hope and pray that his heart doesn't break the first time someone hurts him.
I hope he can feel my love from afar when he feels that pain in his heart.
He will let go of his sole dependence on me, and instead learn to stand a little more firmly on his own two feet.
He will let go of spending more hours at home where our presence with one another has been constantly entwined, and trade it for more time away from home and with learning and challenges and friends.
By the end of kindergarten, I know I'll see it in his eyes.
I'll see a shift.
A little bit of sweet innocence will be replaced with maturity and independence.
And as I watch his oversized backpack and 5 year old body walk off into an unfamiliar new classroom in less than a month….
A little bit of my mama heart will whisper goodbye.
I'll whisper goodbye to the mundane everydays we spent together.
The sun ups until sun downs, with all of our spontaneous adventures, and slow days spent full of love.
I'll say goodbye to being the only one there to be able to comfort him when his heart has been hurt, or broken, or confused.
I'll say goodbye to being the only one to see the shimmer in his eyes when he does something for the first time that he's proud of.
I'll say goodbye to the slowness of our every day that we were so fortunate to experience together.
I'll say goodbye to the little boy who grew me and my heart in more ways than I could ever describe.
I'll hope and pray that it was all enough.
And I'll prepare my heart for the beginning of letting go."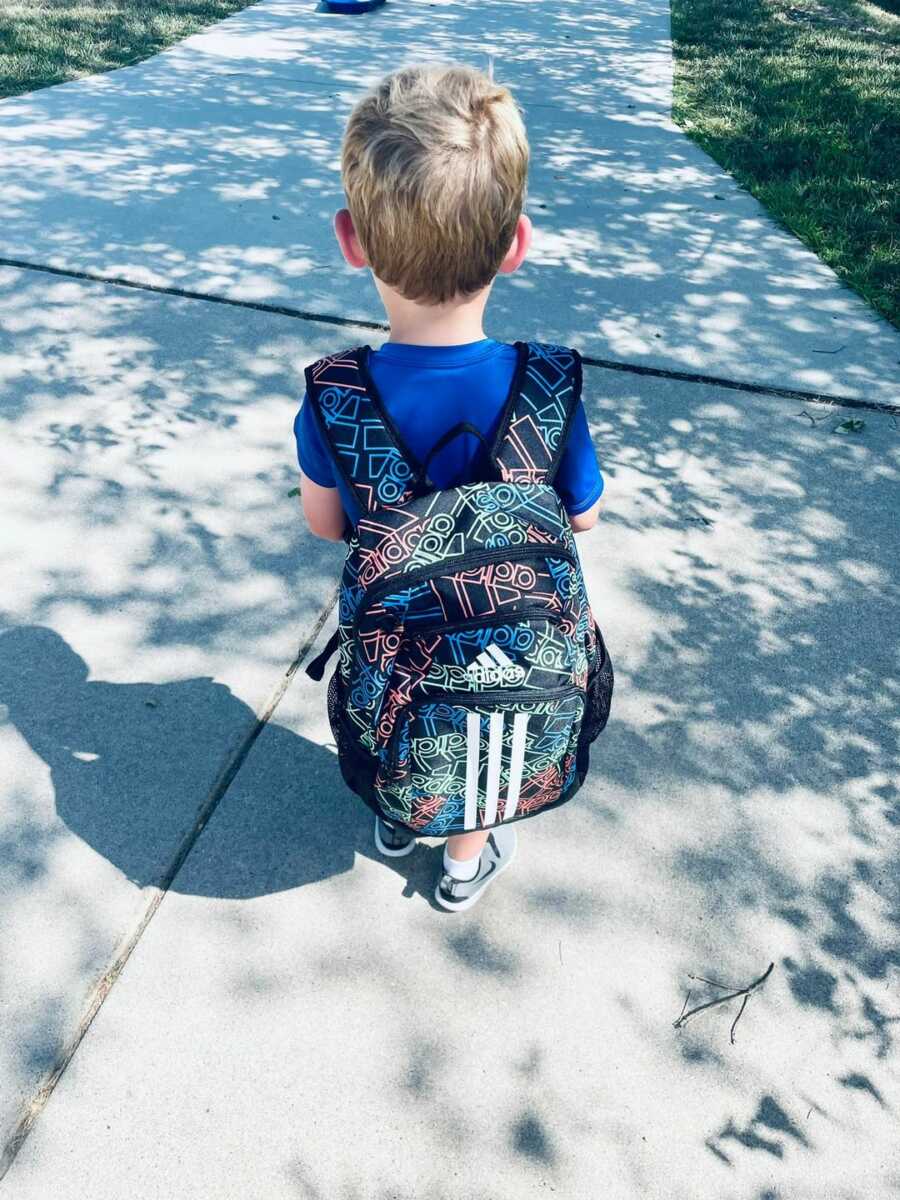 This story was submitted to Love What Matters by Kaleigh Christensen of Messy Footprints. You can follow her journey on Instagram and Facebook. Submit your own story here and be sure to subscribe to our free email newsletter for our best stories, and YouTube for our best videos.
Read more from Kaleigh:
'It's THIS stage, you first said the words, 'Lub you too, mommy.' You reach for mommy's hand, then give her a sweet smile. You sing at the top of your lungs in your car seat.'
'I caught myself telling my 2-year-old son today, 'You're just like your daddy.' I wanted him to act and look like me. I hoped he'd possess some of my qualities.'
'Wait for the heartbeat. Don't fall in love too quickly.' But sweet baby, I just can't help it.': Mom says 'no matter what happens, I'll always be your mama'
'I never got to see your face, but I'm still your mother. I loved you the moment I saw those 2 pink lines.': Mom pens heartbreaking letter to child lost, 'I hope you feel us, we'll never stop loving you'
Do you know someone who could benefit from reading this? SHARE this story on Facebook with family and friends.