"Last week, my elementary school participated in college colors day. When I told my students about this day a week before, this particular child came to me and told me he wanted to wear a University of Tennessee shirt, but he didn't have one.
We discussed that he could wear an orange shirt to show his spirit. He told me every day leading up to it that he had an orange shirt he was going to wear.
So, when the day finally arrived, he was SO EXCITED to show me his shirt. I was impressed that he took it one step further to make his own label. After lunch, he came back to my room, put his head on his desk, and started crying.
Some girls at the lunch table next to his (who didn't even participate in college colors day) had made fun of his sign he had attached to his shirt. He was DEVASTATED. I know kids can be cruel and I am aware that it's not the fanciest sign, BUT this kid used the resources he had available to him to participate in a spirit day (one I celebrated all week: Go Noles)!
I plan to get him a University of Tennessee shirt. I want to make it a little extra special for him!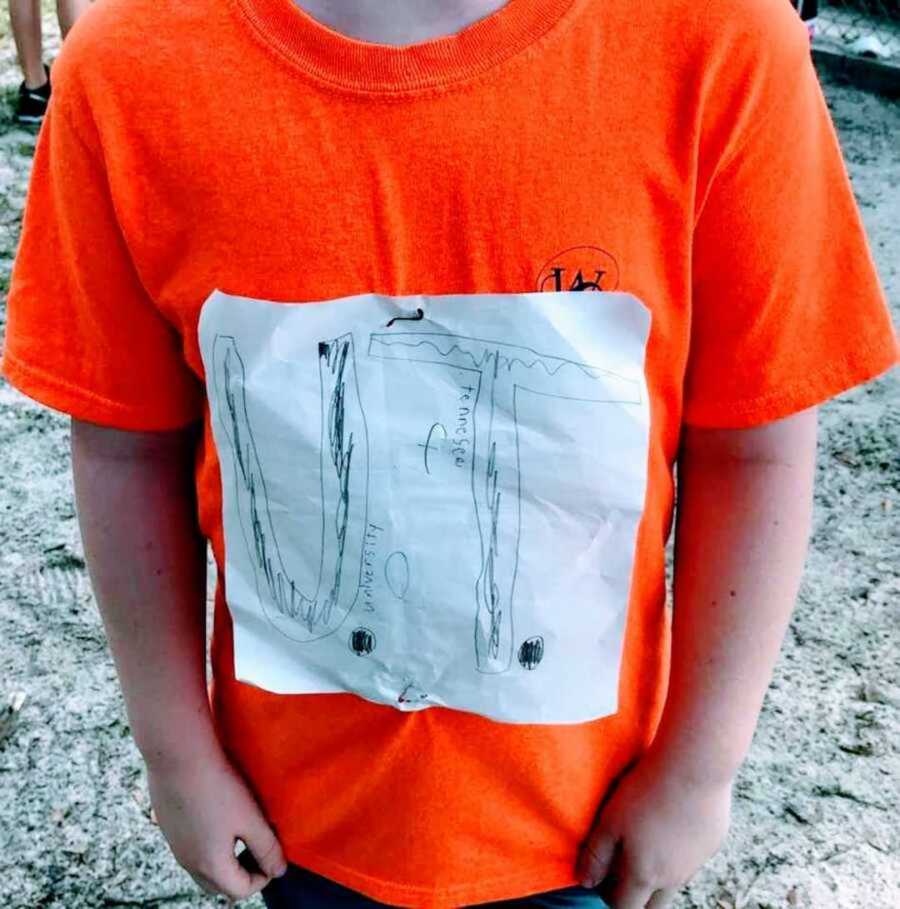 Update:
I don't even know where to begin. I am so incredibly amazed at the outpouring of love and support for my student! The news of what happened reached the University of Tennessee! Because of this, my student will be receiving an awesome care package from the University of Tennessee tomorrow morning!
I'm so excited to share this with him! (He doesn't know about any of this yet.) The Vols fan base has really impressed this Noles fan with their kindness.
By the looks of it, he will have enough to wear every day for the rest of this school year. That's so awesome to me!"
This story was written by Love What Matters by Laura Snyder. Her story originally appeared on Facebook. Be sure to subscribe to our free email newsletter for our best love stories. 
Read more stories like this:
'We found McKenzie in the bathroom. She hung herself. Get here now!' It was too late.': 9-year-old girl commits suicide after relentless bullying, family's grief inspires 'anti-bullying' foundation
'I would want someone to do it for me.': Girl stands up to classmate being bullied, proves how easy kindness can be
Help us show the world that compassion is contagious: SHARE this beautiful story on Facebook and Instagram with your friends and family.