For her entire life, Ally Orr has been taught to stand up for what she believes in, something that's often easier said than done.
But when this 22-year-old was presented with the opportunity to do just that, she didn't hesitate to make sure that her voice — along with the voices of countess other women — was heard loud and clear.
In the U.S., only 21 percent of engineering majors and 19 percent of computer science majors are women. They only make up 28 percent of the workforce in science, technology, engineering, and math. Despite these statistics, one professor at Boise State felt that those numbers were far too high.
At the National Conservatism Conference in 2021, political philosophy professor Scott Yenor gave a sexist speech that went viral. In it, he referred to independent women as "medicated, meddlesome, and quarrelsome," and insisted that men be encouraged to enter STEM fields rather than women.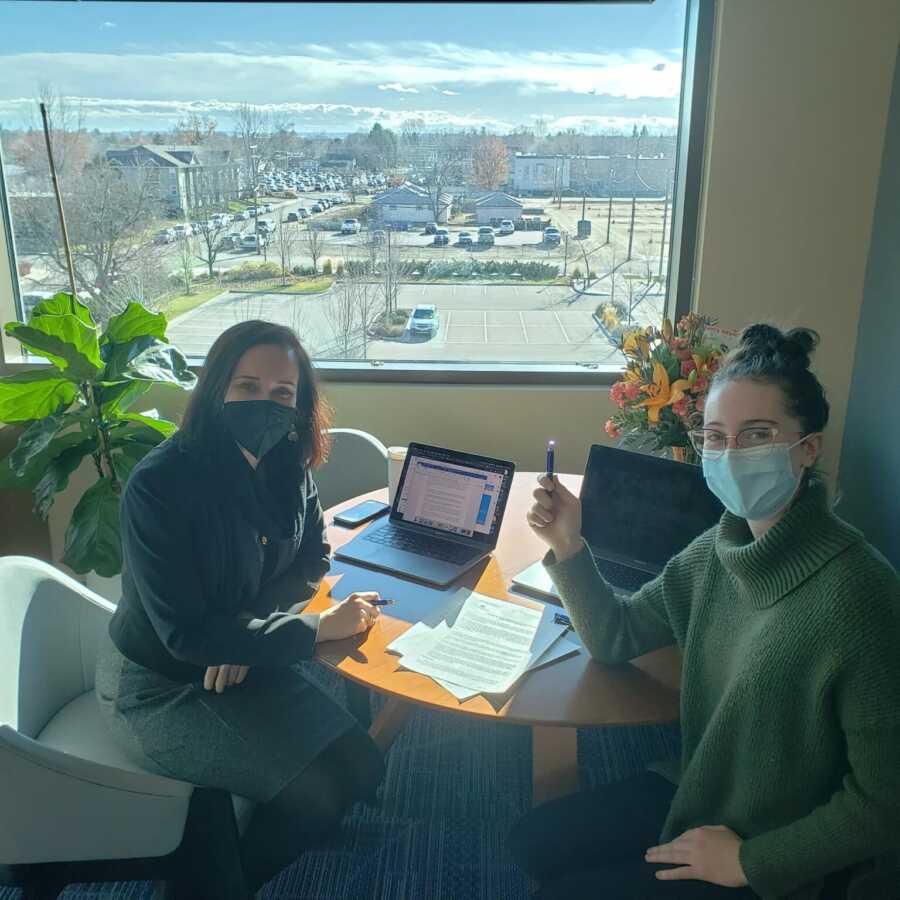 "Our culture is steeped with feminism; it teaches young boys and girls that they are motivated by much the same things and want much the same things," Scott said. "Every effort must be made not to recruit women into engineering, but rather to recruit and demand more of men who become engineers. Ditto for med school, and the law, and every trade."
Ally took to social media to share her thoughts on his speech, but she felt as though there was more she could do. In trying to find a more impactful response, she came across a comment suggesting that a women's scholarship be created in Scott's name.
So, like the powerful woman she is, that's exactly what Ally set out to do.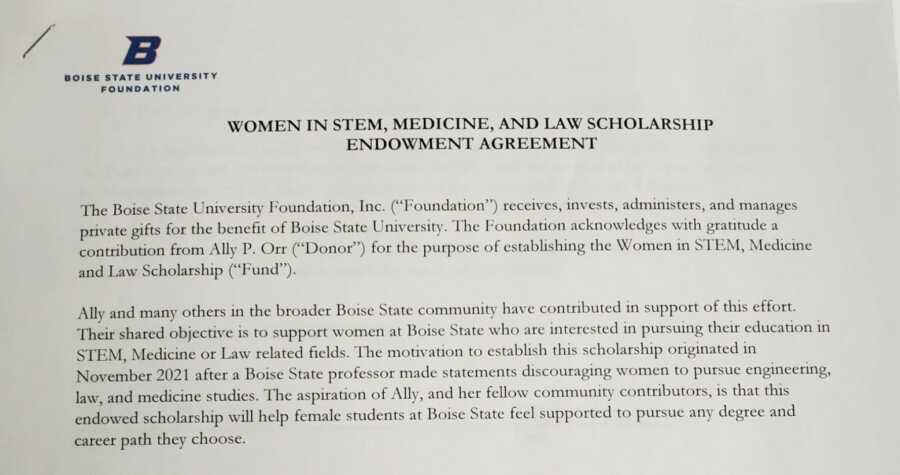 "I thought with the little that I can control about the situation, at least I can help the people that he's hurting, and those are the women at Boise State," she said. "This is something that makes me so mad and I can't just wait for someone else to do something."
This story originally appeared on InspireMore.
Ally started her lofty goal by creating a GoFundMe to help raise money for the scholarship. Next, she emailed over 600 professors, faculty, and staff and asked them to donate.
"And I thought, this is it, I'm doing it," Ally said. "But when I started sending those emails, I thought, wait, there are consequences for standing up to people like him, and I got really nervous."
Thankfully, her nerves were soon calmed by the overwhelmingly positive response her scholarship idea received. The morning after she shared the GoFundMe link, people had already donated thousands. What started as a stance being taken by the Boise State community had turned into nationwide support.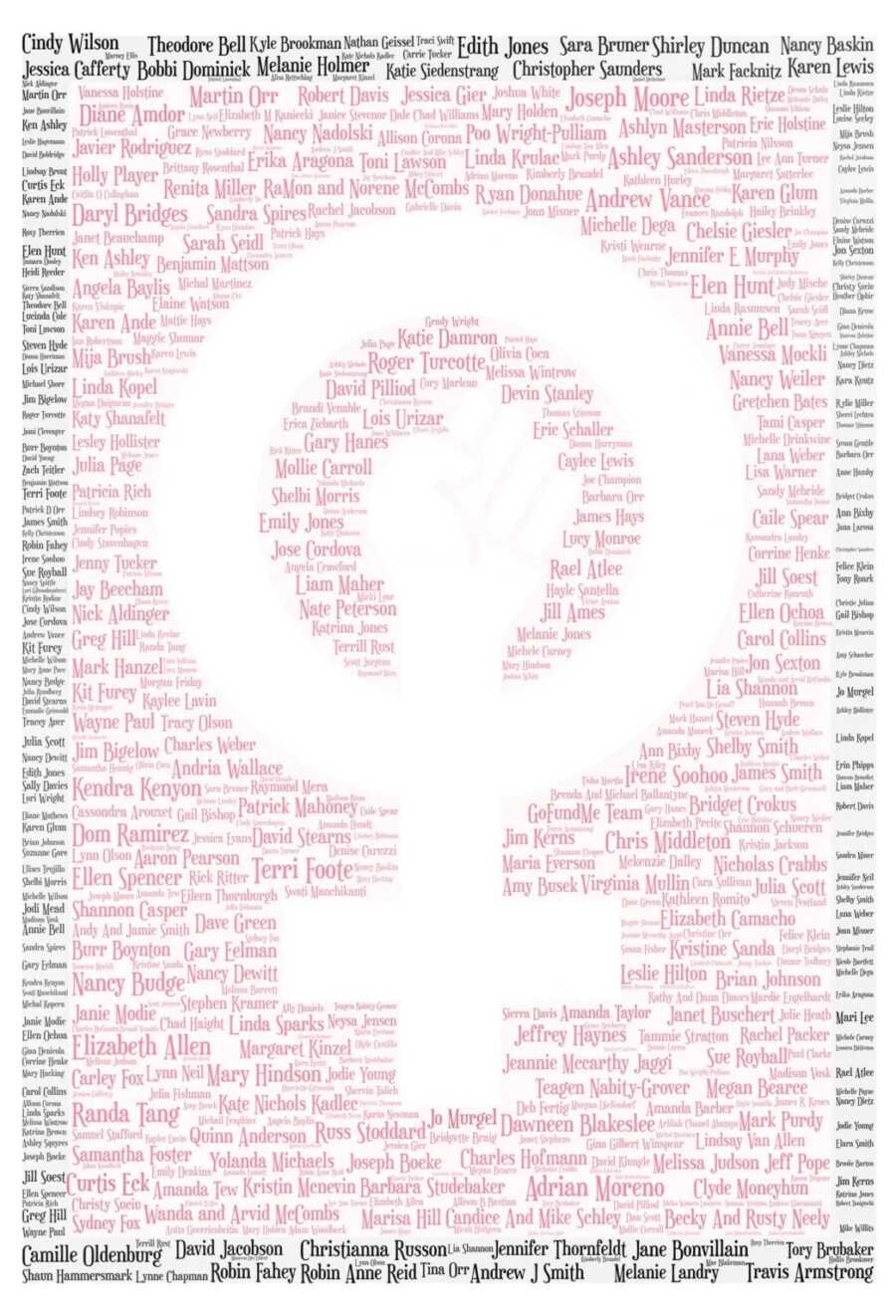 Now, with over $70,000 raised, the Women in STEM, Medicine, and Law Scholarship will be providing annual scholarships for women starting this fall.
"Based on the criteria I created for the scholarship, the Financial Aid Office will identify the student in the spring who will be awarded the scholarship and will receive 4% of the total funds in the scholarship in the Fall," Ally wrote on Facebook. "Because it is an endowed scholarship, the remaining funds will be invested, allowing the scholarship to exist indefinitely so a new student can benefit from your generous donations each year in perpetuity."
As horrible as Scott's comments were, Ally has been able to use them to highlight issues women have been dealing with long before his speech. Since starting the GoFundMe, she has received countless messages from women in their 40s, 30s, and even 20s who have felt unsupported in STEM fields. But thanks to Ally and the many scholarship donors, each of these women feels less alone.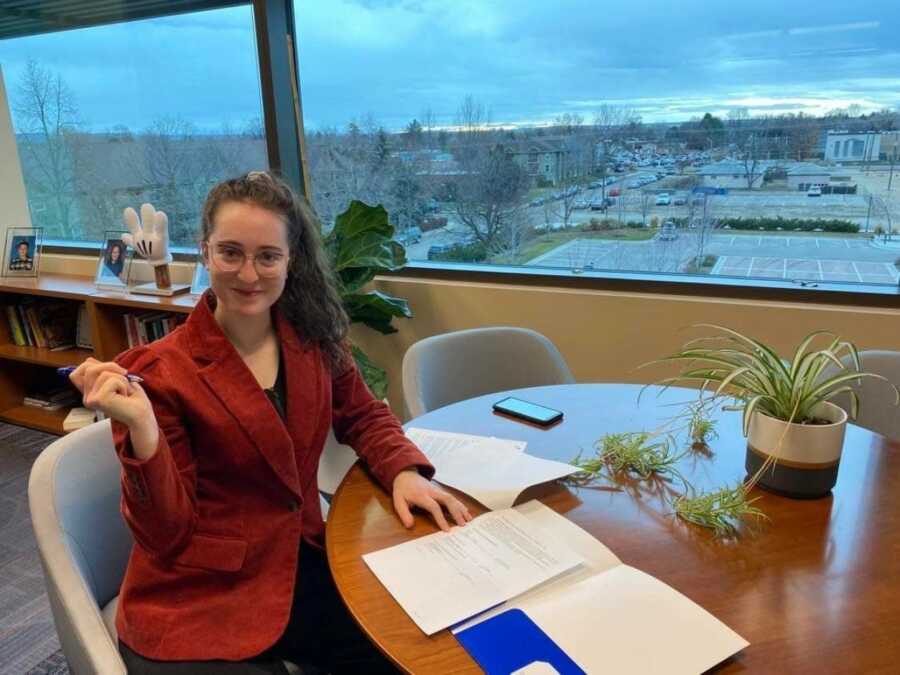 "I am in awe of the amount of people that have supported this endeavor and publicly stated their support for women at BSU. At every milestone this scholarship has hit I have taken a moment to cry and focus on the gratitude I have," Ally wrote. "We have shown Scott that women will be funded if they choose to pursue studies in STEM, medicine, and law. We will not stoop to his level of hate and control, instead, we will continue to create limitless opportunities for all."
Way to go, Ally! Keep up the incredible work!
This story originally appeared on InspireMore. Submit your own story  to Love What Matters here, and be sure to subscribe to our free email newsletter for our best stories, and YouTube for our best videos.
Read more stories like this here:
'As far as I'm concerned, they're three angels.': Brave teens rescue residents from burning retirement home building
Albino Elephant Calf Caught In Trap Steals Hearts With Inspiring Recovery
Firefighters Go Above And Beyond To Rescue Deaf Dog Trapped In Storm Drain
'How could it be?': Ex-prisoner turned hero proves 'you can do good' after rescuing runaway baby walking into busy highway
Help us show compassion is contagious. SHARE this story on Facebook with family and friends.