"I got no work done today, I told my husband last week.
I was home with a sick kid, with a mysterious illness that just wouldn't go away.
Later, I realized with that statement, I had slipped back into my old ways.
My old beliefs said I had to be productive to have a worthwhile day.
If I dig a little deeper, my old beliefs said that I had to produce to be a worthy human being.
I did not get any work done that generates my part-time income that day.
I laid down beside my kid who was so nauseated that even watching TV made him feel bad.
I did loads of laundry cleaning up the product of his illness.
I didn't open up my laptop once, but I opened up my day to be wholly devoted to the one who needed me the most.
I felt like I didn't work that day because I didn't do the work the world values most. Work, I value too.
I did work; I did the work of love.
The most important kind.
I have a feeling on days you feel you didn't get anything done, you probably did more than you realized.
God, please help us see value in every kind of work we do. And help us to know that our output level, can never add to our worth, nor take it away.
Amen."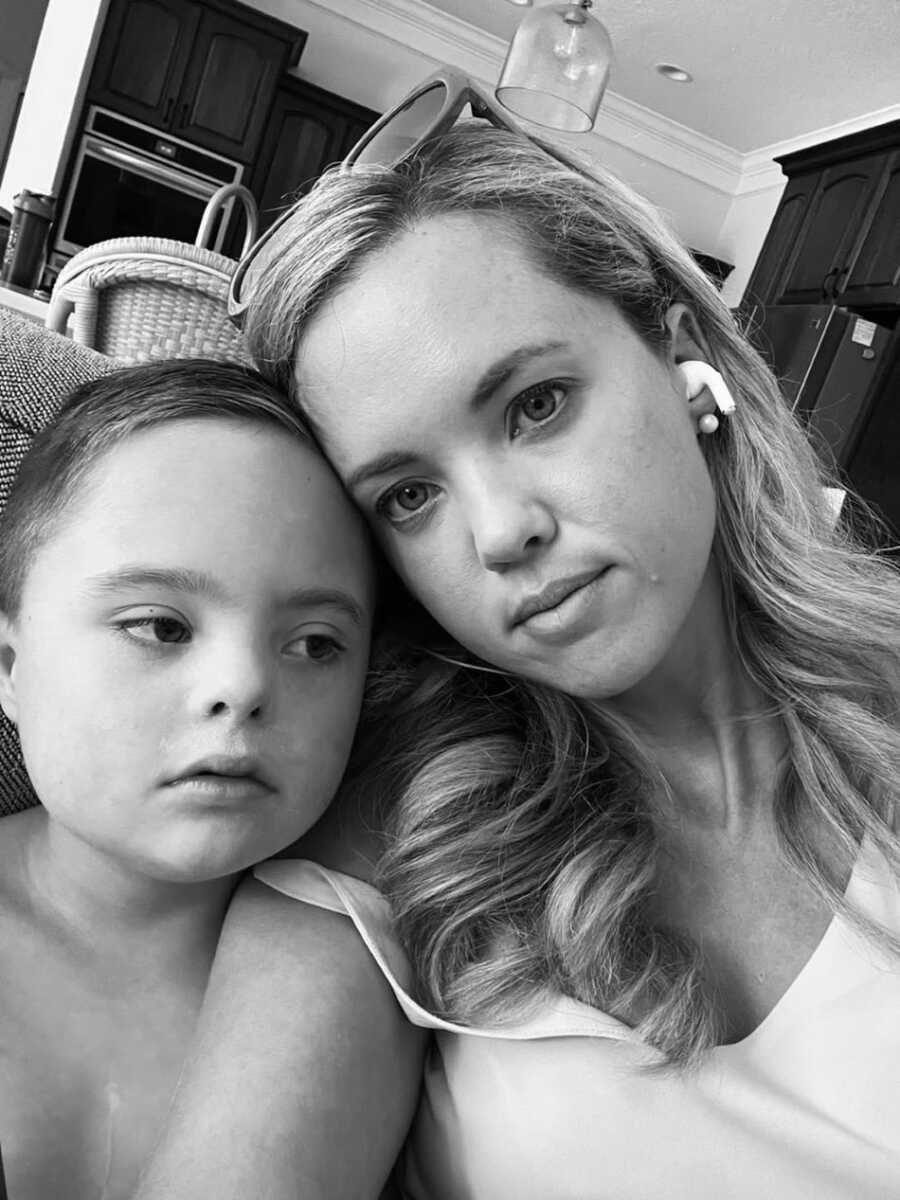 This story was submitted to Love What Matters by Jillian Benfield. Get her free e-book here. You can find her writing at JillianBenfield.com, Facebook, and Instagram. Submit your own story here and be sure to subscribe to our free email newsletter for our best stories, and YouTube for our best videos.
Read more from Jillian:
'I carry him. I know it looks silly. His toes dangle past my knees. But still, I carry his awkwardly long body against my own.': Special needs mom says 'he carries me, too'
'The doctor called…the blood screen came back, it's not good.' My heavy 22-week pregnant body fell to the floor. It's normally at this point people want to talk about their options.'
'My disabled child is not an 'angel.' He is not 'celestial' or 'heavenly.' He's just like you, fully human.': Down syndrome mom claims son 'wasn't sent here to teach you or me something'
'We don't get to hear how our child's day went. We worry parents haven't taught their kids about differences before they enter the classroom doors.': Special needs mom shares candid reality of school drop-off day
SHARE this important story on Facebook with family and friends.