"Even at 40 there is still hope. You too can find the love of a lifetime. He took me from a life of mediocrity to a fairytale world. He used to sing 'YOU'RE AMAZING JUST THE WAY YOU ARE' all the time. He called me beautiful like it was my name. My husband was bald. A very sexy bald man. He had to keep sun screen on his head at all times living in Arizona. My amazing, handsome, strong LOVING husband and I moved from Arizona to Tennessee about 3 years ago. We had an opportunity to move here and we took it. It wasn't our smartest decision. We have zero family or friends here. Thankfully, we were enough for each other. We absolutely loved spending every single minute together. We loved each other's company. We were so in love. My husband put me on a pedestal; he worshipped me and I was so in love with this man. We had the fairy tale marriage and Lee, along with our daughter were the best things to ever happen to me.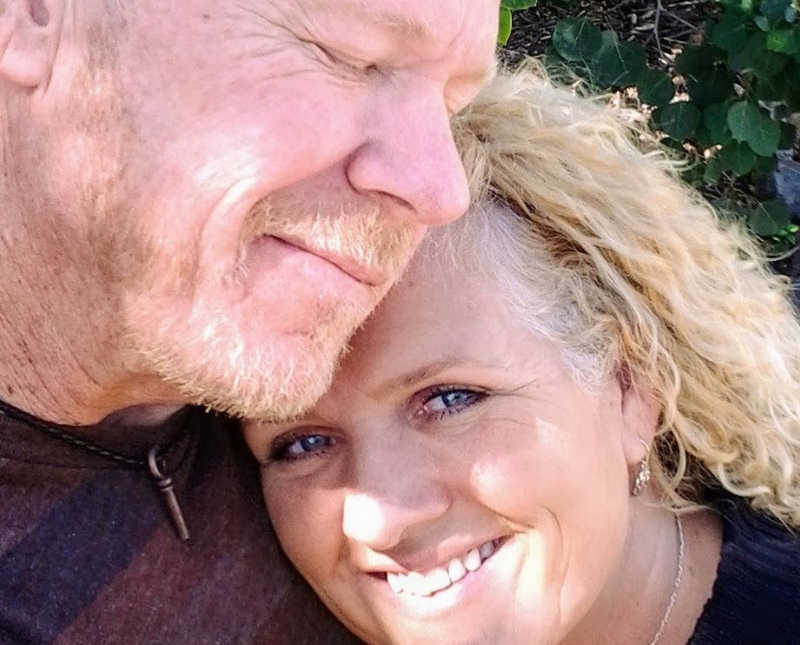 On October 30th, 2017 Lee was complaining of a rash on his bottom. We went to the doctor and they gave him antibiotics and creams. Nothing! Back to the doctor we went a couple weeks later. More creams and antibiotics. Still nothing. Back to the doctor… again more creams and antibiotics. The rash was only getting worse. We are now in December. The doctor finally said 'I'm sorry I don't know what this is, you need to see a specialist.' On January 2nd of 2018 Lee and I take off work early and head to Knoxville for the specialist. The doctor has Lee bend over, takes one look and says those words you don't EVER want to hear. You have CANCER! WHAT?? WAIT! NO! The doctor takes a biopsy just for paper work purposes and schedules us for a PET SCAN and colonoscopy the following day. The doctor tells us what our treatment plan will be and that it needs to start ASAP. Radiation 5x a week for 6 weeks then chemo for another 6 weeks and if this treatment doesn't work then surgery. But we want to avoid surgery at all costs because that would mean a colostomy bag. I would take that bag any day.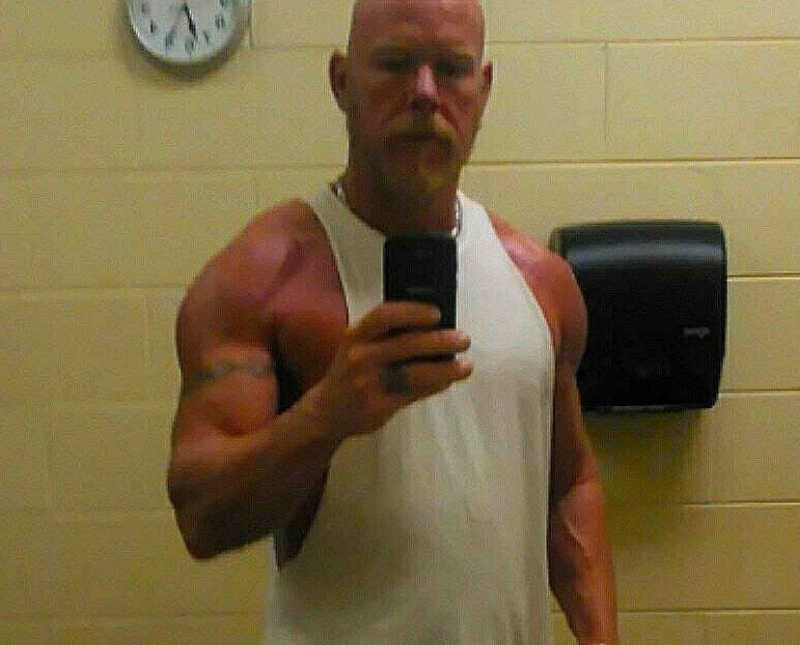 We see the radiation and chemo doctors the following week to schedule the procedures and go over everything. The radiation doctor tells us that this is going to be very painful and will take a long time to heal. He was preparing us for the worst. WHAT HAS HAPPENED? We were hiking just weeks ago! He also tells us that in order for the radiation to work and for Lee to heal we needed to quit smoking immediately. I scheduled an appointment for us to be hypnotized. One session. It worked! No problems. From here on out is pretty much fast forward and a big blur. Funny how your mind protects you by forgetting some stuff.
Lee started his radiation and we were doing normal stuff and living well. He was still working until week 2. Radiation was horrible. Lee was in so much pain. He said it was like pooping glass. It was like they put a torch to his whole behind. It broke my heart. Now we finally reach the end of radiation and it has taken a huge toll on Lee. After all the healing, it was time to start the chemo via a port that was surgically put in. Until now he had been taking a chemo pill until radiation was over. The very day that Lee was supposed to start chemo he got to the doctor and told him he was feeling incredible chest pain. His doctor sent him to the hospital for a chest X-ray before we started the chemo. Lee calls me at work to tell me he was heading up to the hospital and would come by my work afterward. He would come hang out with me almost everyday at work with Phoebe. The X-rays found fluid all around his lungs and it needed to be drained. Lee was so strong he did it right then and there NO anesthesia. They drained 2 full liters of bloody fluid. The doctor calls me on a Friday to tell me the fluid they found had cancer cells and that my husband now has stage 4 metastatic lung cancer and has about 8 months or so to live. That there is NOTHING that they can do. ARE YOU EFFIN KIDDING ME? I immediately fall to the ground crying my eyes out. We both cried all night. We had NO clue what to do. The next thing you know we are on a plane to the CANCER TREATMENT CENTERS OF AMERICA in Arizona. I don't even remember making those arrangements or the phone calls. CTCA is the most amazing place. You walk in and immediately get this feeling of love and healing and it's almost like God Himself had a hand in the place. We were even able to bring our golden retriever with us. She ended up being Lee's service dog. Our first appointment went all day. Pet-scans, colonoscopy, etc. Lee had a very long and extensive surgery on his lung. They basically took out his lung and scraped the wall and put his lung back. He was in so much pain. We were there for almost a month. We would fly back and forth from Tennessee to Arizona for treatment. Once a month in AZ and once a month in TN. We were going to make it work no matter what. Financially we were screwed but it didn't matter.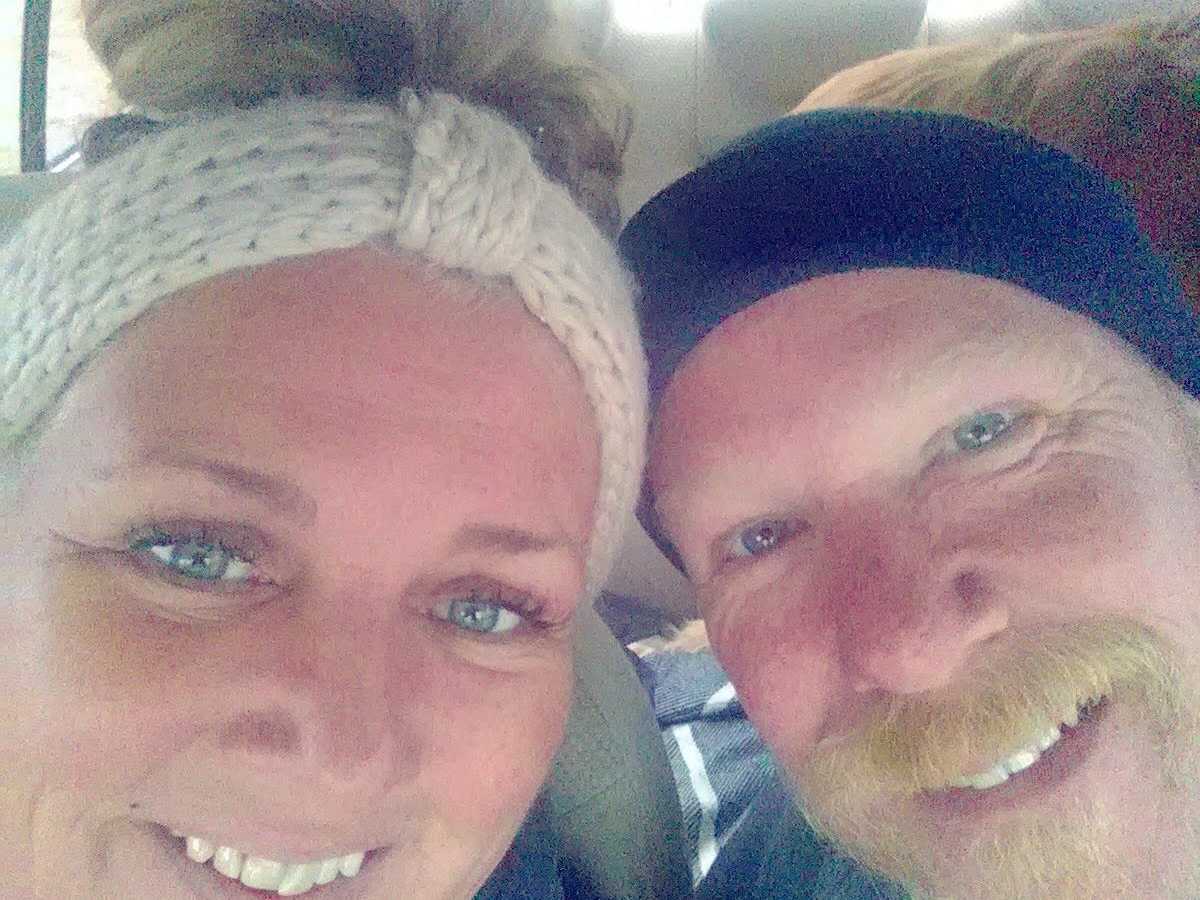 We make it home and start to settle back in. I return to work. Lee is bored out of his mind and he comes and hangs with me. My boss was amazing. We don't hike anymore, bedtime is a lot earlier, dinners aren't as good. It's more like cereal or whatever Lee can get down. Snuggling was all we could do in bed, and trust me I didn't let go. I held him as hard as I could, but even that caused pain.
July 1st, a Sunday. A day I won't ever forget. Lee and I decided to take Phoebe our dog to the lake and let her play. He would throw the ball for her and I'd watch. I'd give anything to watch that right now. We came home and I made him some scrambled eggs and toast for dinner. We ate pretty early for some reason. He fell asleep on the chair. About 8:30 or so I thought WOW he's been asleep for a while now and tried to wake him up. WAKE UP LEE! He wouldnt wake up! I PANIC and call 911. They get there and pick him up and I scream 'he just had surgery be careful' and they rushed him to the hospital. I follow and walk into the ER and he is sitting up and says 'HI BABY.' Are you kidding me? Apparently his O2 level dropped to 20 which is crazy low. He would've died if I didn't call 911. The doctors ran all kinds of tests again and moved him up to ICU. I didn't leave the hospital for the next 2 weeks. I planted myself RIGHT next to my husband! The doctor pulled me aside to show me the xrays. Like I know what I'm looking at. He proceeds to tell me Lee has about 5 days to live. Can someone PLEASE tell me why this is happening? So I have to be the one to go in and tell my husband he only has 5 days to be with me. Right about now is when our daughter walked in from Arizona. I lost it. We went in and told Lee. He just held me. We all cried and cried hard. I needed a breather and took a walk around the hospital. When I came back Alexy was laying with Lee and they were asleep. It was the most precious thing.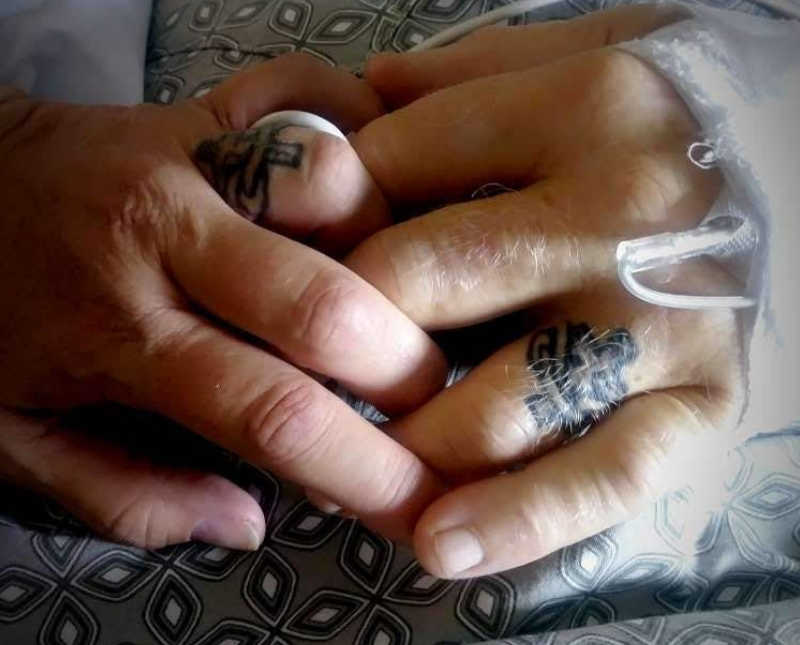 We decided to take Lee home with hospice. They come in and we made all the arrangements. Alexy goes home with them to help. Now it's time for us to follow. We get there and the nurse isn't there and leaves it up to Alexy to figure it out. In the meantime Lee is starting to panic and doesn't have enough O2 and we don't know how to get it setup. Neither did the EMT, it wasn't their job. So the EMT said screw this we are taking him back. They wheel him outside, the EMT rushes back in and says 'we're going to lose him, I need to ventilate.' I drop again to the ground HYSTERICAL! And back we go to the hospital. Where Lee is now ventilated and fighting it! I'm crying and trying to calm him down, he's trying to pull the tubes out. They finally sedate him. For the next 5 days. We are back up in ICU. His family fly in from Texas. I don't leave my husband's side! The next 5 days were spent singing to him, bathing him, praying over him and begging him to hang on. But in reality he couldn't. It was time for my husband to go home. And not with me. I had to tell the nurses that tomorrow we will take him off the ventilator. His family said their goodbyes and it's just Lee and his girls. The next day comes and I call the nurses and tell them it's time. I crawl into bed with my husband for the last time, my daughter covers my face with a cloth, just in case. And all I remember is him waking up and me saying 'why do you wanna marry me?' And him saying 'so I can kiss you whenever I want.' HE'S BACK! OH MY GOSH BABY!
The next 7 days were by far the best days of my life. They were the last days with my husband. I wouldn't let anyone touch Lee. I bathed him, I cleaned him. Alexy did his mouth care when I didn't. We were a team. Lee was so funny, so witty, so in tune to everything going on around him. Full of laughs, just like always! He made Alexy and I laugh constantly. The nurses moved us into a more comfortable room where I didn't have to sleep in a chair. I could sleep in an actual bed. We layed around and watched TV. Talked as much as lee could. He was very short of breath all the time. He could not panic; He had to stay calm. We made sure of it. This was such a precious time for the 3 of us. We took Lee home after 5 days with a great hospice company Avalon. This time the nurse was there. I drove home with Lee in the ambulance to make sure he stayed calm. We got home and everything was perfect for him. Alexy and I just did normal stuff, cleaned the house and watched TV. Lee just smiled and watched us. Saturday we all woke up around 7 and just laid around. About 3 PM Lee dozed off for a nap. That night I kissed Lee all over and I sang to him. I told him how much I loved him. And that I would be ok. Even though I wouldn't be.
We all fall asleep, around 4 AM I woke up and saw Lee was cold so I covered him up. Around 4:30 AM Alexy woke up and saw Lee was hot so she took the blanket off. About 7 AM I woke up and Lee was gone, holding my hand. He never woke up. My baby was gone. Life as I knew it, gone. My heart was instantly RIPPED out of my chest. Can someone please tell me how a healthy, fit man gets diagnosed with colon cancer, and dies from lung cancer 7 months later???
Losing your partner is gut wrenching, consuming, constant and debilitating. We cremated Lee and took him to Arizona for a service. It was beautiful. I flew back to TN to start my life without my husband. I am now in therapy and doing the best to live the best life I have. Because I will be with Lee again. I am closer to God then I have ever been. I want people to know that Lee was by far the most amazing husband, friend, and dad. He was a loving honest Godly man who worked hard. He lived by 'do the right thing regardless of the outcome.' He loved his girls more than life. He taught me so much. He made me better.
Our daughter has to now walk down the aisle without him. We both have to live without him. Grief is a process. It doesn't come with a manual. I am embracing every part. I have to. I cry more than I laugh. I miss Lee more than air. I will always be Mrs. Robert Lee Sinclair. Good days and not so good days. I will get through this. We grieve Lee well, We grieve with HOPE! 'TILL MY LAST DAY' Till I see you again baby!"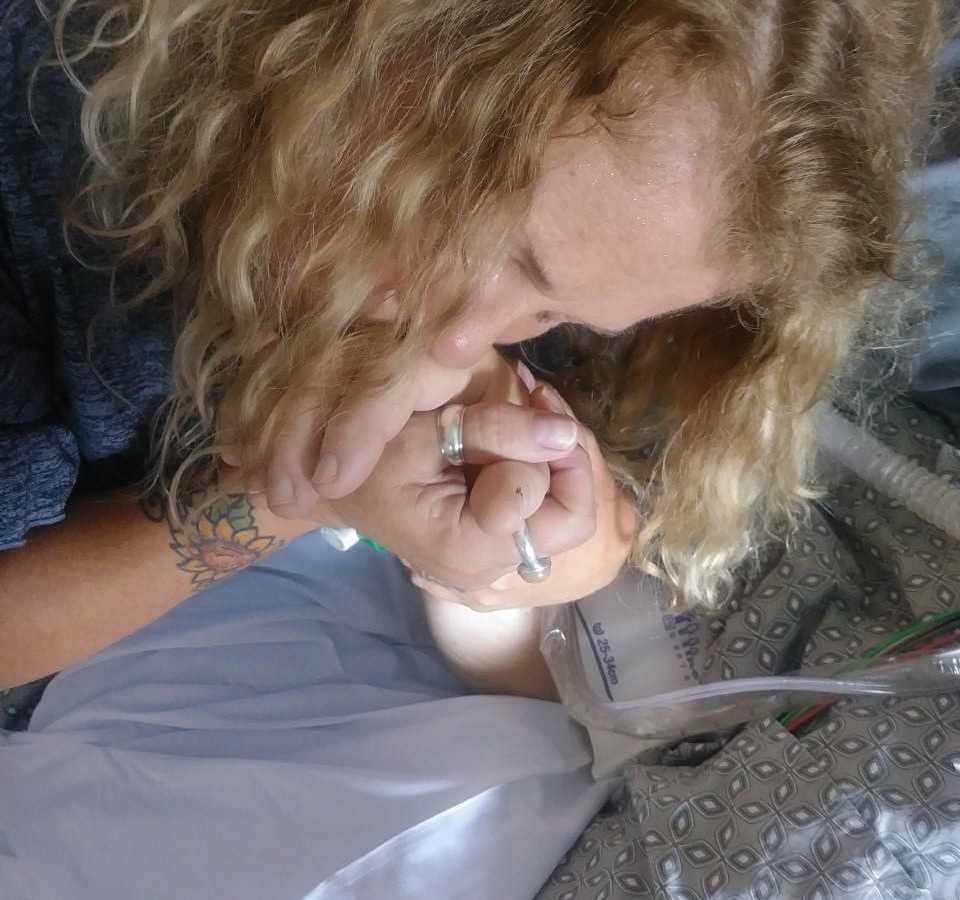 This is an exclusive story to Love What Matters. For permission to use, email Exclusive@LoveWhatMatters.com.
This story was submitted to Love What Matters by Alex Sinclair. Submit your story here. For our best stories, subscribe to our free email newsletter.
SHARE this story on Facebook or Twitter to support others experiencing grief and loss.