"Today I yelled.
We finished up the day's #Roadschool lessons and I let the kids go outside where I could see them to play. (Cool it, Karen, we live on a farm so no creepers and no cars.)
I just got back Sunday night from four days of traveling for work and we dove head first into our first week of school. I was buried in to-do's and grocery lists, errands and unpacking.
Last night I did eleventy loads of laundry at the laundromat and I was mostly just thankful for the quiet.
My in-laws are coming for the weekend. I know it will be great to catch up and spend time together. Our kids will laugh hysterically and eat all the delicious local foods, run at the splash pad and make a thousand memories.
But for right now, I am elbow deep in dishwater, staring at the floors I just cleaned as I have to break up a dirt fight between my kids who tromped dusty dirt all through my freshly cleaned hardwood and then filled our sparkling, sanitized tub with a thick coating of brown.
Friends, I yelled. I did.
#JesusBeAFence
And then I looked at my blue-eyed dirty-headed baby girl just smiling from ear to ear and I laughed.
This is what it is all about, right?
I don't have a single childhood memory of being impressed by my mom's clean kitchen or complimenting her ability to scrub the shower before I got in to wash.
I remember riding bikes and climbing trees. I remember tracking mud and creek water through my aunt and uncle's farm house after hunting crawdads.
I remember cracking up the time I tried to make dinner by baking chicken coated in flour because I didn't know you fried that kind. I remember the smiles on my parents' faces when they bit into it and a cloud of flour puffed out.
How did they not burst out laughing!? My mom didn't yell at me for making a disaster out of her flour-covered counters.
So, I apologized to my kids as I hosed them down, cleaned the shower again, and my son helped me wash the dirt from the floors. I complimented them on how well they'd played together and told them about how my brother and I used to love to dig up worms in the mud after it rained.
Sometimes, mamas, we must remember that what they value doesn't look like what we think is important. And people who love us understand that. (And if they don't–I'm talking to you Karen–they've got to go!)
Today it is about perspective, and adventure, and dirt fights."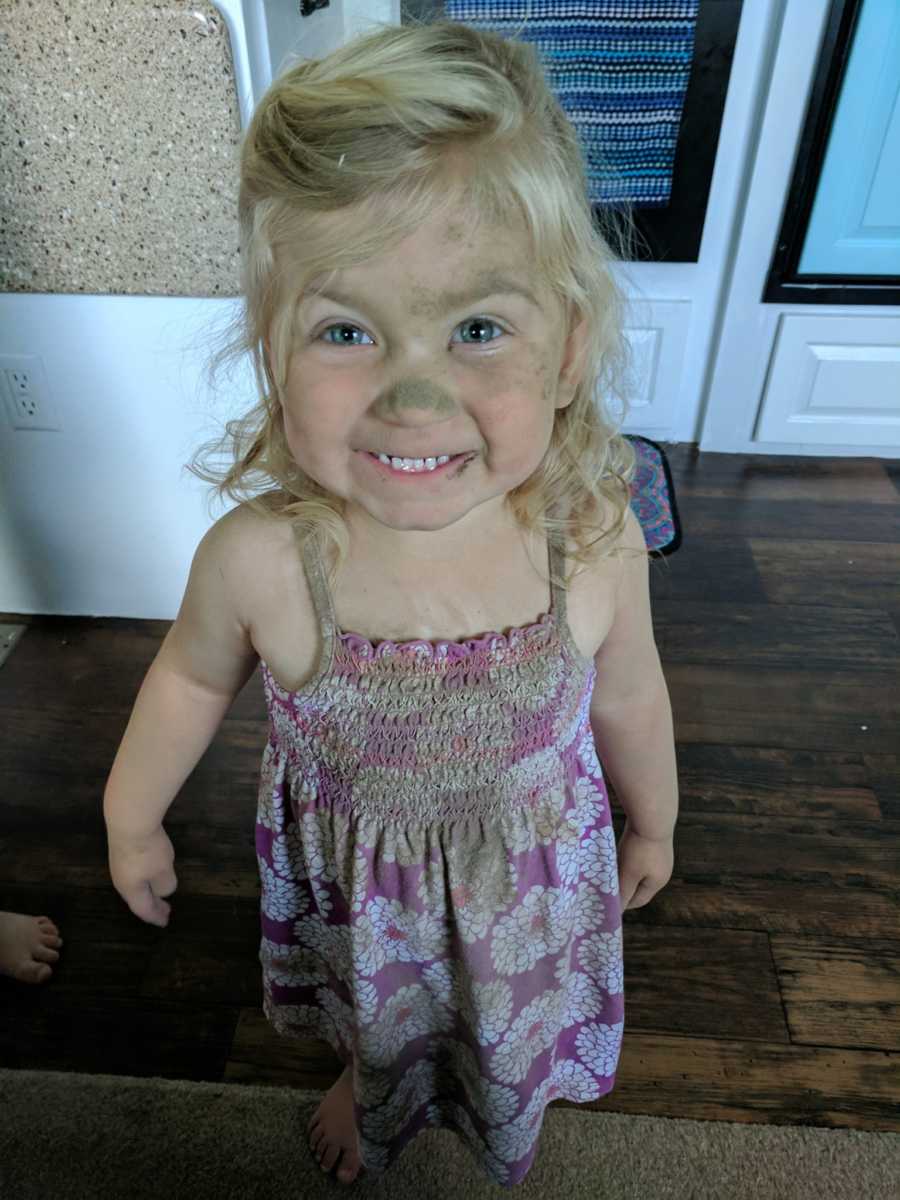 This story was submitted to Love What Matters by Brynn of  The Mama On The Rocks. The article originally appeared here.  Follow her on Instagram here. Submit your story here, and be sure to subscribe to our best love stories here.
Do you know someone who could benefit from this story? SHARE this story on Facebook with your friends and family.