"When I came out as trans in senior year of HS, I sent an email to all my former and current teachers as well as the administrators to let them know of my name change and pronouns.
(This was over 10 years ago).
The vice-principal emailed me, asking me to visit his office.
I was so surprised to find out he actually wanted to make sure my name was listed correctly for the reading of my diploma, and that since girls wore white robes and boys wore green, he wanted to see if we still had time to get me a green robe.
I was FLOORED by his kindness.
Trans folks weren't exactly everywhere.
I was the only out trans kid at the time.
This was a cis straight man, obsessed with our sports teams, friend to the jocks.
I was a nerdy art kid who sent a long ass email about my gender journey.
I hadn't even THOUGHT of robes.
My mom was terrified I was going to be bullied.
She accepted me, but she was scared of what others would think.
I told her about my vice principal and she was emotional that someone wanted to take the time to make sure I was respected at my graduation.
I had debated not going.
It turned out the robes had already been ordered…but he made some calls, found an extra one, and assured me I would get my green cap and gown.
While my name wasn't legally changed so my diploma read my dead name, he made sure my name was CALLED as Elliott.
When we talk about treating trans kids with respect, this is the stuff I think about.
Not every teacher remembered my name change or used the right pronouns.
But by my vice principal advocating for me, MANY fell in line to do the same who seemed reluctant before.
Sure, I got questions from some kids I barely talked to who didn't know about my transition.
'Wait, why are you wearing the green robe,' etc.
But I still got a boutonniere like the boys, wore green, and they called my true name.
All because he took the effort to include me.
Why am I talking about this?
Because I just saw a post of the new graduating class – and they've changed the robe colors to ALL be green.
They're not gender separated anymore.
I can't imagine how much easier this makes it for trans and gender-diverse kids.
It is not difficult to do the right thing for a trans kid.
There was an extra robe somewhere, it was easy enough to write my name down appropriately for the announcer to say.
It probably took him an extra 15 mins out of his day.
It made a HUGE difference to me.
So! How can YOU make a trans person feel more included at your function, at your school, etc.?
It takes so little.
We don't care about Minnie Mouse wearing a pantsuit.
We don't care about the fake-outrage posts like 'this cereal mascot is trans!'
We care about being respected.
When someone takes the lead, others will follow.
When you go forward in good faith to include with kindness, others will see that.
Just like how one good deed can start a chain reaction.
What little thing could make someone feel more included?
For me, it was a cap and gown."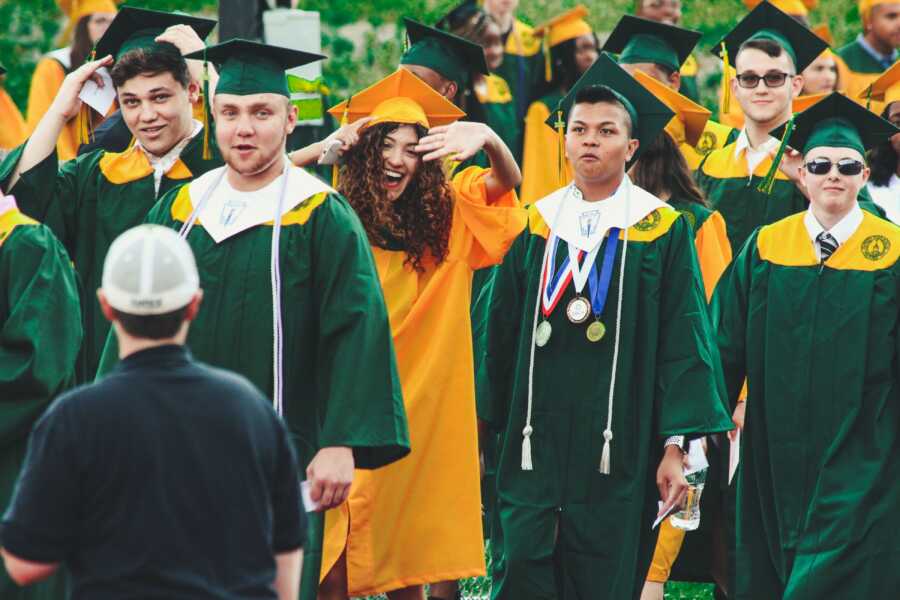 This story was submitted to Love What Matters Elliott. You can follow his journey on Twitter.  Submit your own story here. Be sure to subscribe to our free email newsletter for our best stories, and YouTube for our best videos.
Read more stories like this here:
'We met when we were married to our second husbands.': Lesbian couple share journey blending families, having transgender child, 'Find people who accept you as you are'
'She said, 'I am a girl in my heart and brain.' She had to be physically restrained for haircuts. I felt guilty.': Mom advocates for transgender daughter, 'She blossomed before our eyes'
'I want to be a girl, Mom! Just make me a girl!' Getting into the shower, she threw her fists down in anger. I could feel the air suck right out of me.': Couple throw second gender reveal party for transgender daughter
'Dad can I have 3 dollars?' My friend needs a chest binder and his parents aren't supportive.' My son came out as Trans at 11.': Father embraces transgender son's new boyfriend, lifestyle, 'our job is to love the kids we are given'
Help us show compassion is contagious. SHARE this story on Facebook with family and friends.