"'What do you want to be when you grow up?' Most kids answer this question with their dream job, their favorite superhero, or something far-fetched they saw on TV once. If you asked 1 st grade Taylor this question, she would tell you emphatically that she wanted to be a volcanologist. To be honest, I held onto this lofty—albeit random—dream until probably 5th or 6th grade, but by then, my outlook had taken a humbling turn: I just wanted to be like everyone else.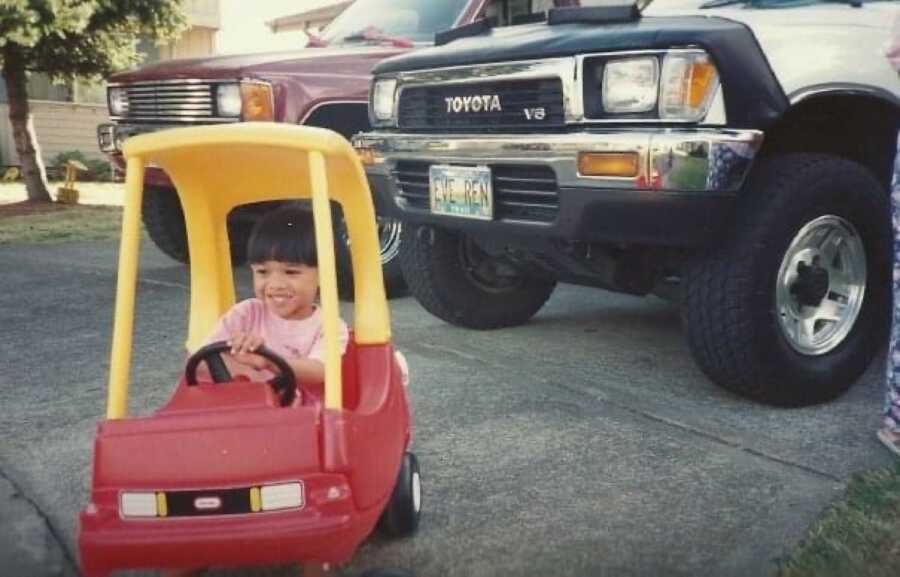 The desire to assimilate to those around me was the byproduct of my upbringing and the unfortunate reality of a cis, heteronormative world. It took decades of heartbreak, trials, triumphs, and perseverance to finally realize and liberate my entire being. I am an out and proud pansexual non-binary transwoman of color; a multi-hyphenated representation of everything that society told me was wrong. The years I spent suffering in silence are the reason why I choose to be visible because my life would have been filled with so much less pain if I just had someone to look up to. I strive to be the person that I needed growing up, and if I could talk to my younger self I would say, 'Keep going, even when the whole world is telling you you're wrong. You'll find your truth.'
I was raised in Springfield, Oregon, a mostly working-class town that was predominately white and conservative. I stuck out like a sore thumb. Both my parents immigrated to the United States from the Philippines—my mom in the 80s, my dad in the 70s. I grew up in a humble manufactured home while all my friends lived in nice houses, with matching décor, and oftentimes a stay-at-home parent. My parents did the very best they could to raise us so we could have the lives they could only dream of. Both my parents sacrificed themselves working labor-intensive jobs while raising kids in a culture they weren't familiar with. And as if raising 3 kids wasn't challenging enough, my middle sister was born with a developmental disability requiring extra care and supervision.
We often lived paycheck-to-paycheck, and I vividly remember the boxes of free food we would get from the church. I was grateful for the food, but the institution it came from contributed greatly to my inner turmoil. My mom loved to take our family to the LDS (Mormon) church because it taught us morals, gave us structure, and would instill the values that were vital to them as parents. Between our traditional Filipino parents and our conservative religious upbringing, my destiny was already written: get an education, get a good job, marry a beautiful wife, and bring up wonderful kids. Who knows? Maybe all of those things are still in my future but definitely not how my parents anticipated.
Looking back at my lifetime of identity struggles, it all makes sense if you look at my adolescence. For decades I struggled to figure out who I was because I never fit into any of the boxes I was supposed to. I wasn't religious enough for the Mormons, I wasn't Brown enough for the Filipinos, I was too Brown for the white folks, I was too effeminate to hang out with the boys, and well, you don't often see too many kids assigned male at birth at girls' sleepovers. I found solace in sports but was teased for being overweight and for having a body that was drastically different from my white and fit cohort. I struggled a lot through middle school and high school to figure out where I belonged. There was nowhere that I didn't look or feel out of place. All I wanted was to be like everyone else, I wanted to be 'normal.' But what does normal even mean, right?
Like many other queer people, I knew that I was 'different' from a very young age. I was always the mom when we played house, I pretended I was pregnant, I dressed in my mom's clothing, and I was so curious as to what those pads under the sink were for! (LOL). I even let my cousins dress me up 'like a girl' once, and it was the most amazing and terrifying moment of my life. I remember after a long night of karaoke (I mean hello, we are Filipino!) my cousins and I got the idea to dress me up with makeup and girls' clothes. I was absolutely exhilarated, and we had so much fun laughing and having…a girls' night. But, after we had gone to bed, I lay there wide awake, overwhelmed with shame. Boys didn't wear girls' clothing.
Boys didn't wear makeup. Boys didn't act like girls. Boys could never be girls. My brief moment of liberation was gone, and in its place was enough anxiety and guilt to render me powerless. I kept that night locked away for years, never revealing my truth. My deepest darkest secret, my gender identity, would remain suppressed until nearly 20 years later. Like many other trans people, I thought that maybe my inner turmoil was rooted in my sexuality. So while my gender queerness lay dormant and unresolved, I entered a 'Spring Awakening' of sorts as I entered middle school.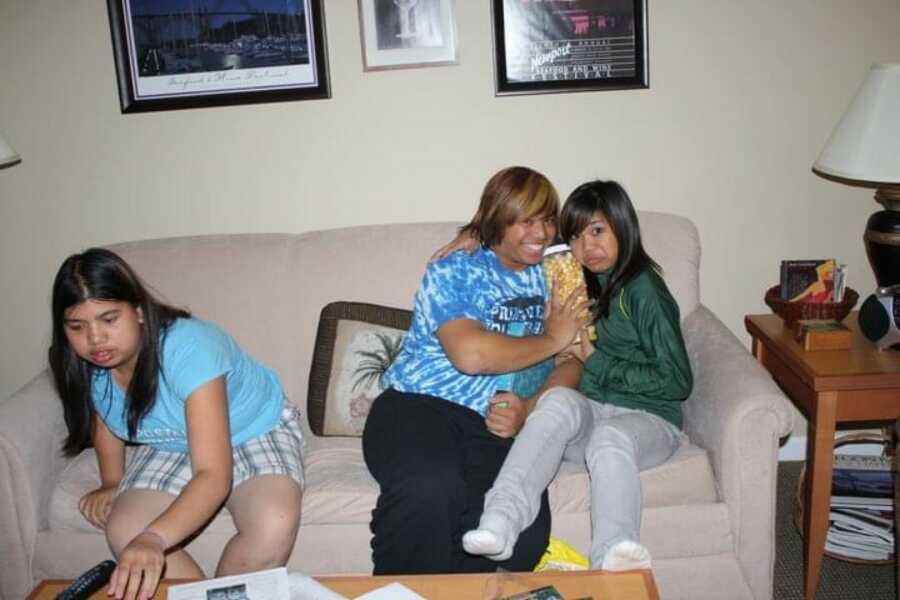 Ah yes, my gay era. Actually, it started out as my bi-era, and now today I identify as pansexual—so I guess my sexuality journey is more or less circular. Although my family often teased me for having lots of friends that were girls, I hadn't really paid attention to anyone 'in that way' until 5th/6th grade. I had plenty of crushes on girls, and I can still remember the rush of holding hands and the sting of an unrequited middle school love. (My brokenhearted Limewire sourced CDs were second to none!) That was all fine and well because hey, liking girls is what I'm supposed to do, right?
All of that changed when I met one of my teammates on my varsity 6th-grade basketball team. (My dad was my first hero, and he named me after his favorite basketball player, so this was a big deal!) Never in my life had I ever been struck with love so fast. It was that stereotypical middle-school-girl crush kind of vibe, and I was smitten. It was then that I was hit with another wave of anxiety, shame, and fear. Why was this happening? I was doing just fine, I liked girls, I was playing sports, I was going to church, I was on the right track. And then from the very first practice, I was completely derailed. There was no way I could like a boy. Boys don't like boys. Boys can't be with other boys. Boys who like other boys are going to hell. Boys who like boys are sick. Boys who like boys shouldn't be alive.
My world was turned upside down and I was tormented day and night by my schoolgirl crush on this boy. Those messages were constantly hurtled at me from every direction: from the church, from my parents, from my family, from my friends, from the entire world. I was depressed and I dabbled in self-harm, but I tried to hide my shame and pain by focusing on school, sports, and music. I figured if I was successful in other things, no one would know how deeply troubled I was.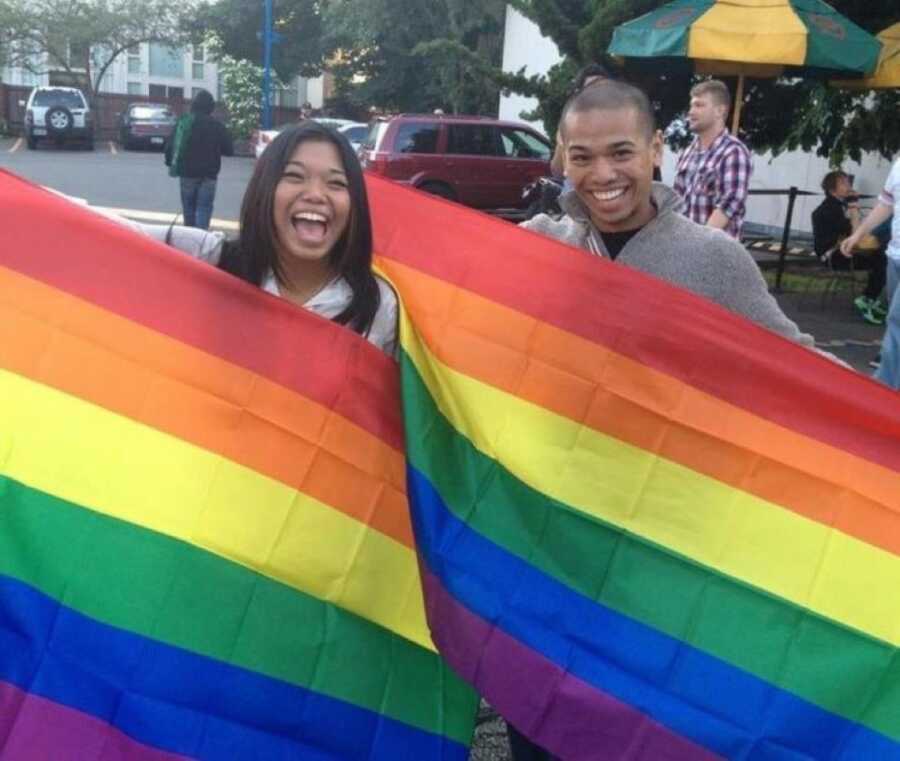 This all came to a head the summer before freshman year of high school. I was listening to Hollaback Girl, 1,2 Step, and of course the instant classic Mr. Brightside. I was dead inside, but my soul was screaming to be let out. That summer, I finally decided that I needed to tell someone. I needed to relieve this burden from my chest or else I would succumb to the voices telling me I should cease to exist. Luckily I spent those months with one of my closest cousins who lived in Portland. (Okay, Forest Grove, but it was close enough for me!) We didn't have cell phones back then and I was too mortified to even verbalize that I liked boys so I did what I did best: I wrote a note, folded it into an ornate bird, and slid it to her, shyly. I don't know how I mustered the strength to come out, but I hoped she would understand. She was older, cooler, and wiser. She was also raised Mormon but had started to rebel against the Church.
She listened to cool music, knew queer people, and she was my saving grace. She welcomed me with open arms, took me under her wing, and loved me for who I was. That summer with her saved my life, and although the closet door wasn't completely open for another year, she was the first person that validated my existence.
High school was pretty good for the most part. I came out to more family during my freshman year and then came out to everyone in what I'm sure was a very dramatic speech on MySpace. (What I would GIVE to have access to my MySpace account!) I had aunts and uncles question my 'lifestyle,' but my mom was supportive. (If I remember correctly, my uncle claimed that 'there were no gay people in our family.') I never actually officially came out to my dad.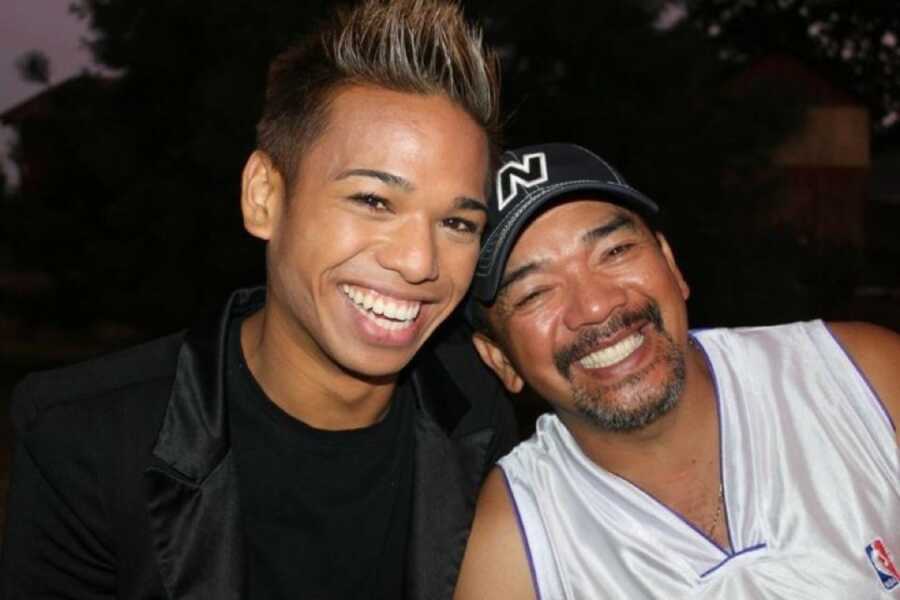 Growing up I knew his distaste for gay people and I was too ashamed to tell him myself, so I had my mom tell him. I left the church and was doing my best to not let my parents completely down by doing well in school and sports. I was an honor student, captain of swimming and tennis, manager of the volleyball team, student director for band and choir, and I was even the president of our Students Opposed to Drugs and Alcohol club. I really tried to do the most to win back my Dad's love and approval. Despite my successes, I still had to deal with homophobic teachers, classmates calling me slurs, people keying my car, and my own inner chaos.
By and large, I came out pretty unscathed. (Insert slight sarcasm). My dad eventually adopted a 'Don't Ask Don't Tell' policy and tolerated me as long as I didn't act 'too gay' or 'too girly' or 'too much' around him. This really hurt me because he was always someone I loved and looked up to. There was a lot of familial turmoil about my sexuality and my relationship with my father. I moved out my sophomore year of high school, unable to handle the toxicity. I agreed to come back only after my dad moved out, but eventually, he returned as well. We cohabitated but never healed the wounds we had inflicted on each other. I made it to high school graduation but was completely burnt out from my excessive extracurriculars. I lacked any sense of direction because I had spent my entire high school career doing the things I was supposed to do, things my parents wanted me to do, things that would bring honor to them despite my queerness. I entered adulthood completely clueless as to who I wanted to be and what I wanted to do with my life.
A couple of years later (after I had dated every gay male 18-21 in Lane County, lost 80 pounds, and abandoned college) it was time for me to leave the nest. My relationship with my Dad hadn't improved, but it hadn't declined either. (I considered that a win) I packed my 2001 two-door Civic and hit the road to Seattle. Freshly 21, I moved to Capitol Hill (Seattle's 'Gayborhood') and eagerly skipped down the Yellow Brick/Rainbow Road, thinking that I had finally found the community, belonging, and acceptance that I had longed for since childhood. Despite my high hopes, I was met with familiar foes, racism, and misogyny. Even though I had conformed to the body standards of 'The Gays' (trademark), I was still brown and feminine. I developed an eating disorder that would ravage my body and psyche because I so desperately wanted to control something.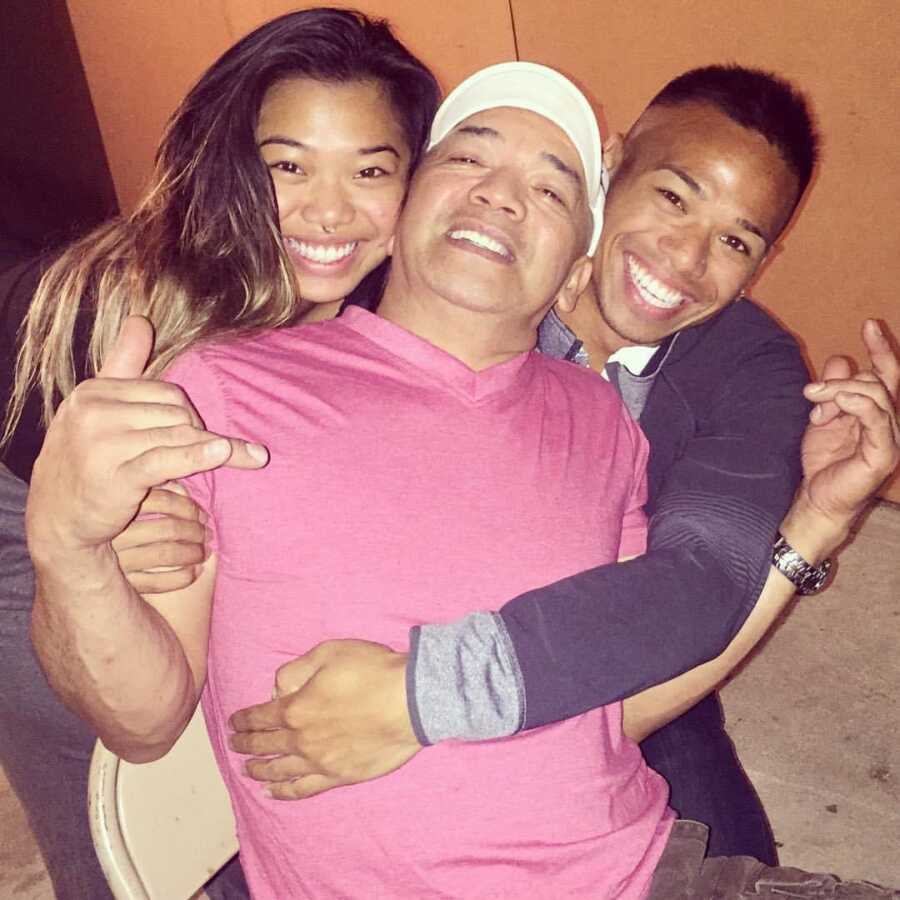 I felt powerless and at the mercy of the judging eyes of mainstream society and the queer community. Gratefully, I eventually found remarkable, beautiful people that would become my chosen family through the pain and uncertainty. I learned quickly that the easiest way for a femme brown queer kid to be accepted and seen was to do drag. I utilized drag to escape from 'real' life and to create a fantasy where I was beautiful, celebrated, and confident. Local legends took me under their wings and I really started to blossom. I befriended other queer athletes of all walks of life, races, body types, and even gender identities. I traveled the country playing in the North American Gay Volleyball Association (NAGVA) and also performing in drag, even winning the title of Miss Gay Washington. Drag gave me my first dose of representation. Thanks to a little show called RuPaul's Drag Race, I saw femme Asian people like myself on TV.
I saw beautiful artists emulating their take on femininity. I saw all the things that I had been ostracized for being celebrated. Doing drag allowed me the freedom to express the girl—the woman—that I had been suppressing since that fateful night with my cousins. Even so, I still had my identity as a transwoman deeply stifled because I finally felt like I belonged and I didn't want to rock the boat, so to speak. Transness still wasn't (and still isn't to be honest) widely welcome or seen in the gay, cisgender-male dominated, LGBTQIA+ scene. I didn't have a lot of trans visibility. All I knew was that cis gay men were on top of the queer hierarchy. I knew something still wasn't quite right, but I attributed it to my damaged self-image. I was content feeling incomplete so long as I was 'one of the guys.'
Now don't get me wrong, although my life has been full of identity crises and uncertainty within society, that doesn't mean I didn't also have amazing times. The friends and chosen family I met through NAGVA are people I continue to hold near and dear to my heart (I'm even a board member now!). I got to play for the University of Washington Men's Club Volleyball team (CONFERENCE CHAMPIONS, BB!) and I finally graduated college. But hands down, my biggest accomplishment was rebuilding my relationship with my dad. It turns out that moving out of state was the best thing I could have done for us. The time apart allowed us each to grow as people and appreciate each other more.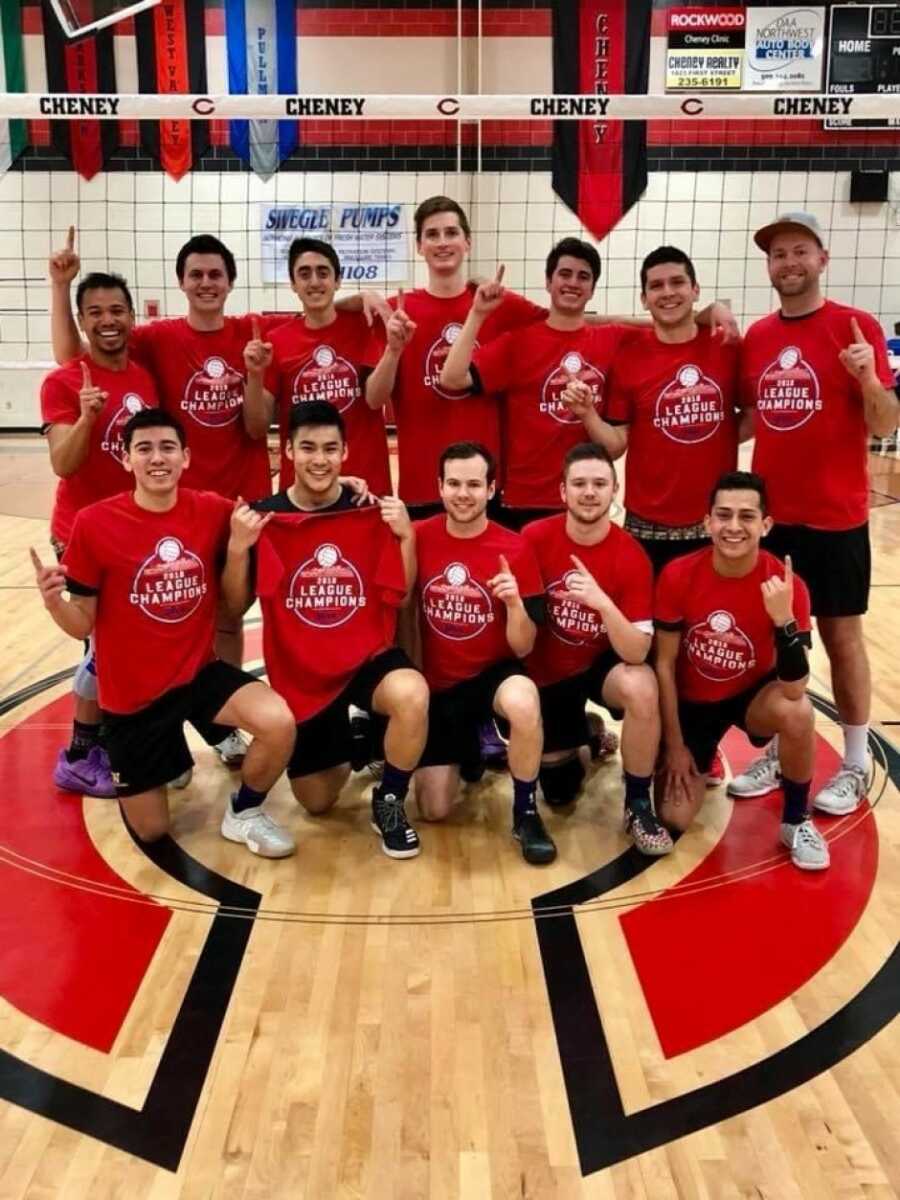 As the years went by and the miles between us remained, my dad and I worked to rebuild our relationship. I grew emotionally and spiritually while my dad grew to understand who I was. It was a slow burn but eventually, our light shone brighter than the 4th of July fireworks at the Space Needle. The more we shared with each other, the more our bond grew. Before I moved, our conversations were relegated to awkward and shallow small talk, or arguments where we talked at each other, but never listened. After I left Oregon, our conversations eventually evolved into discussions about hopes, dreams, regrets, and always ended with an 'Ingat, I love you.' (Ingat means 'take care') My dad became one of my best friends and biggest fans. I'll never forget the time he surprised me at one of my drag gigs when I was visiting Oregon. The joy and love that I felt that night was surreal. We had closed our old chapter and started the chapter I had always wanted to write. We would call each other weekly, text each other about how work was going, who I was dating, or if the Lakers or 49ers would ever win another title. We partied, vacationed, and laughed like we were making up for lost time.
My dad finally saw me and loved me unconditionally. I know that many queer people do not get such a blessed relationship with their parent(s), and I never once took it for granted. This chapter culminated at one of my drag shows a few years ago when my friend caught a glimpse of my dad at my drag show in Seattle. He was live-streaming it on Facebook! Being the curious person that he is, my friend snapped a photo of my dad typing to his group chat. He wrote the words I had been waiting my whole life to hear: 'I am so proud of my son.' I'm proud of you too dad.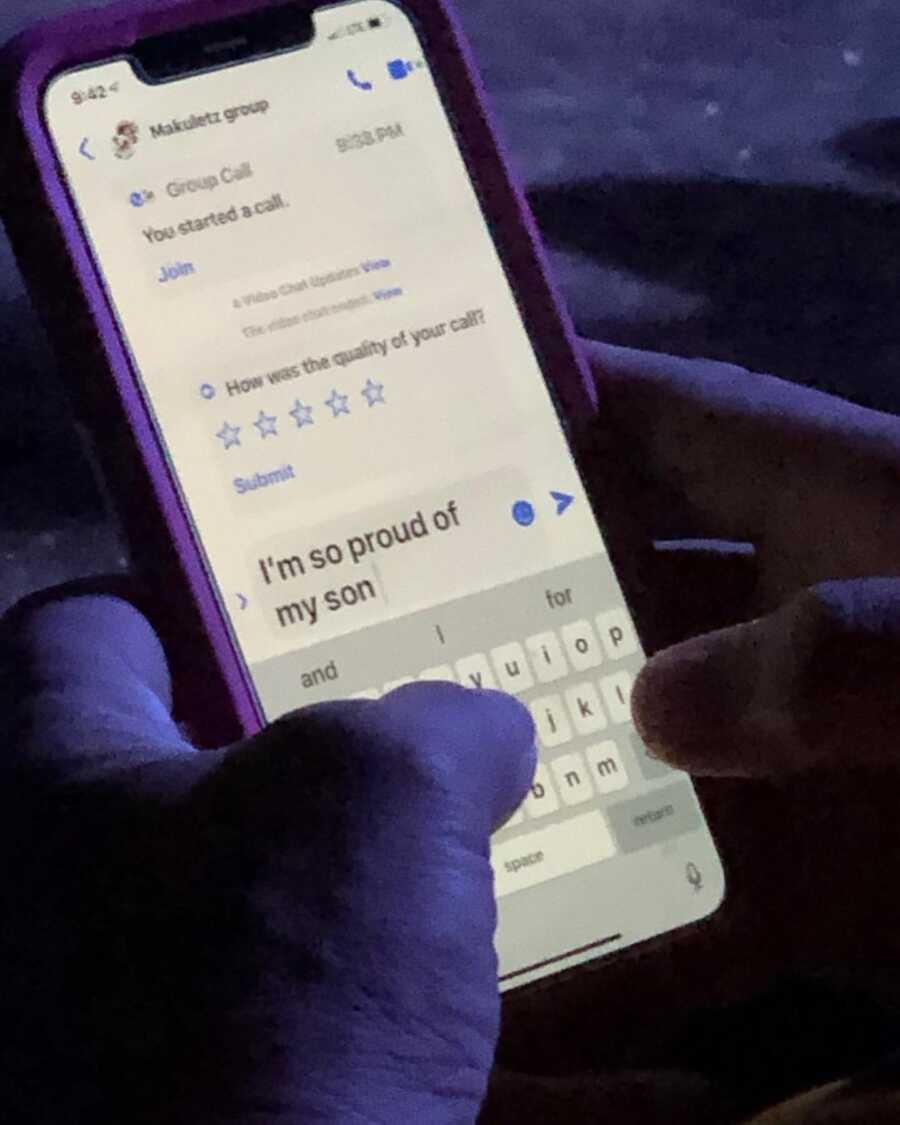 A few months after that show I got a phone call that would change my life forever. 'Your dad is gone,' my mother worded softly to me. Out of nowhere, my world came crashing down. I crumbled into my chair and collapsed into my hands sobbing. Everything was caving in and there was nothing I could do. I went into trauma mode and went on autopilot. I drove down knowing I had to make all of the arrangements since my parents were divorced. My youngest sister was stranded overseas so I had to carry this burden on my own. I had never felt more alone despite my friends' and family's outpouring of love. 'I know how close you were,' they all said. 'He was like a dad to all of us,' his friends confided. I was a zombie running on fumes, unable to sleep for more than an hour or two in between crying spells.
I spent my days listening to his favorite music and watching home videos, just so I could hear his voice again. I ate the last of his leftover food that was in his fridge. I sobbed realizing that I would never taste his cooking ever again. I missed his hugs. I missed the way he would kiss my head. I wrapped myself in his winter coat to imitate the warmth I missed. His spirit was gone and everything felt cold no matter what I did. I thought about all the things my dad wouldn't get to do. He would never meet his future grandchildren, never get to see me as a parent, and never get to walk me down the aisle. Four days after his sudden passing, I donned his favorite 49ers leather coat and delivered his eulogy. I was angry. I was devastated. I was absolutely fucking gutted. My dad and I had worked so hard, and been through so much together. We had the relationship that I had always dreamed of. Now he's gone.
It was mere days after I got back from the funeral that the world completely shut down. Not only had I lost my pillar and foundation of strength, but COVID-19 was spreading like wildfire. Soon I would be faced with a layoff while trapped in my apartment with no way to escape. No sports. No friends. No chosen family. No dad to call and console me. I spent those months in deep mourning. I listened to his voicemails, scrolled through our chats, and cried over photos and fond memories. 'This isn't real,' I thought to myself. Despite seemingly living in an alternate universe, my dad's sudden passing and the looming threat of coronavirus forced me to look at myself in the mirror. After almost 30 years I stared at myself and asked, 'What do you want to be when you grow up?' I spent hours thinking about who I wanted to be and what I wanted to live for.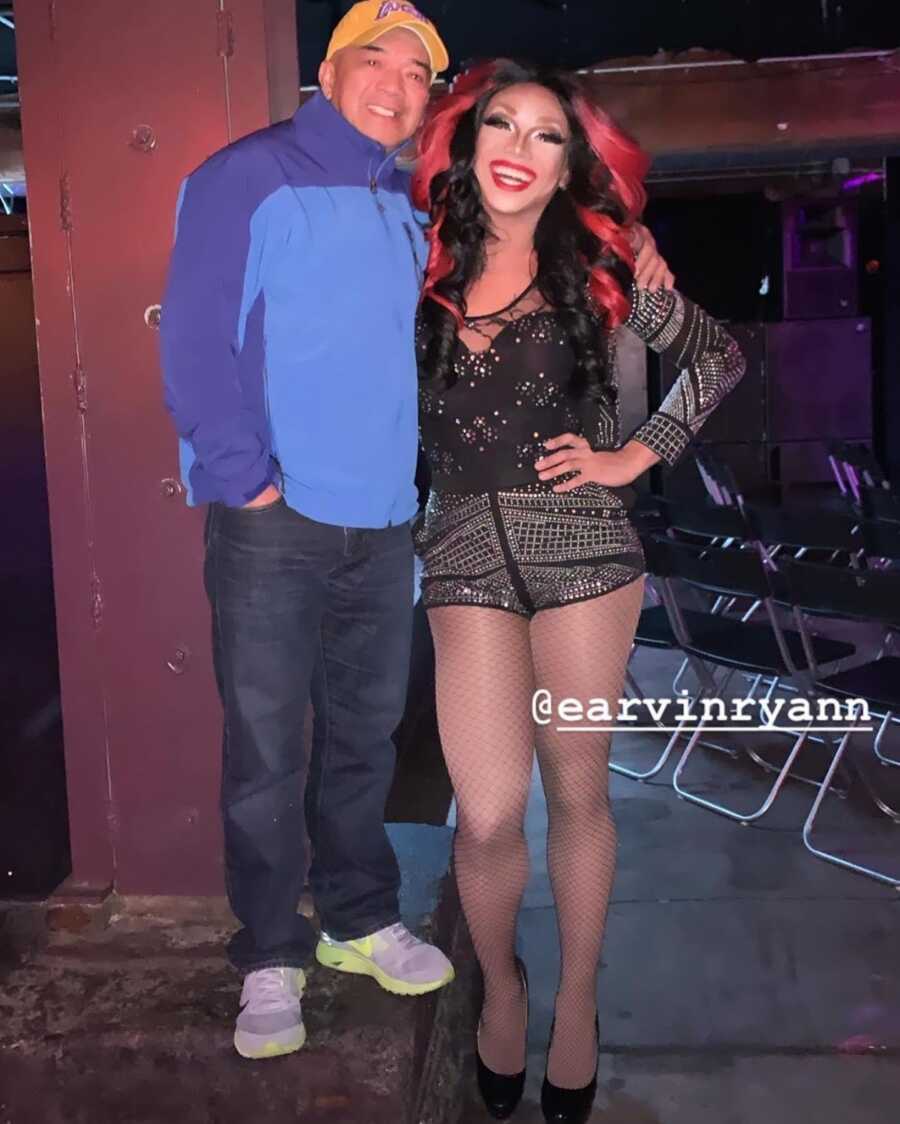 After months of Zoom hangouts, job interviews, and an obscene amount of self-reflection, my answer came to me in a Zoom Taco Tuesday happy hour. I was with my weekly crew hanging out on Zoom, as we did every Tuesday to keep morale up. This week's theme just happened to be 'wigs.' Being a drag queen, I had it covered! I was giving you Chad Michaels in Snatch Game, wigs on wigs! It was towards the end of the Zoom call when I slid on a red wig with black roots that the little girl who'd been begging to be liberated greeted me. As I saw my reflection, it dawned on me: I'm a woman (queue Reflection from Mulan). Okay okay okay, maybe it wasn't that melodramatic, but something clicked in my head, and I started to come to terms with my transness. I saw this gorgeous, beaming person on that computer screen and thought, 'That's her, this is it.'
A few months later, while celebrating our Dad's first birthday since he had died, I came out to my sisters. I told them I was figuring out my gender and identified as non-binary. We laughed, we cried, and we wished our dad was there because we knew he would have been celebrating with us. It was a beautiful milestone for me, but I knew that my journey was not up yet. Although I had spent a lot of my late 20s and early pandemic months trying to unpack beauty standards and gender roles, I still struggled to have confidence in my gender journey. Was I non-binary? Was I a trans woman? Was I somewhere in between?
Those questions are exactly why I am writing this today. There was no guide for me, or anyone, for liberating our gender. It's been almost two years since I came out as non-binary, and I now know that I am a non-binary transwoman. I am a transwoman, but I do not subscribe to the binary of male and female. I believe that sexuality and gender identity are fluid for some, and that's beautiful. It is these same beliefs that lead me to me realizing my pansexuality. I am attracted to people and their personalities, not how they express or identify within the gender range. For some, the binary is very important, and I respect that, but I do not live in that rigid world. I still work every day to learn to ignore what the world says I can and cannot be. I could not be the woman I am today if not for my arduous journey. I had to tap into my own wants, needs, values, and desires. I had to allow myself to explore, unapologetically. It took me losing my dad and the world stopping in order to have the time, energy, and freedom to break myself down and rescue that little girl who used to stomp around in her mom's heels at home. Now I proudly exclaim what was once my deepest secret, 'I am trans, I am queer, and I am proud.'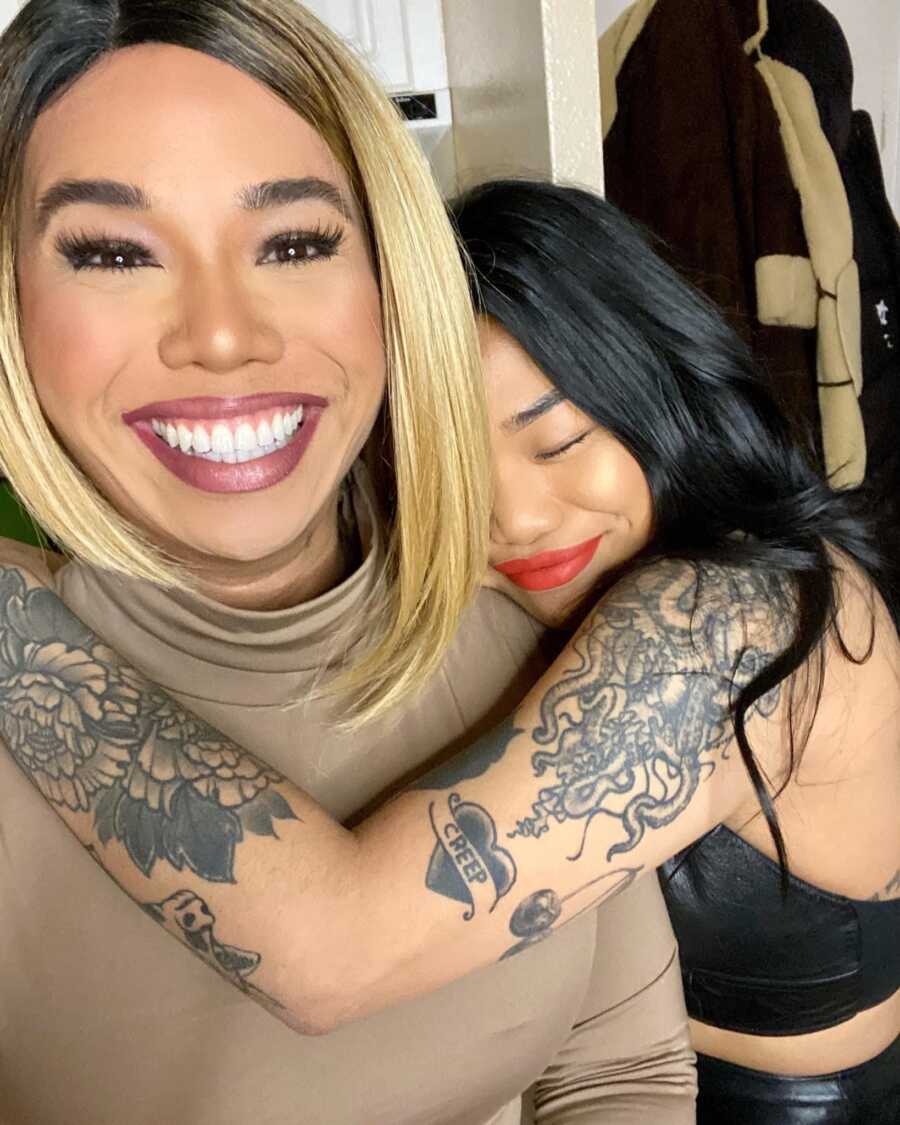 So, for those of you who know you are different, who are maybe thinking about exploring their identity or sexuality…you got this. You are allowed to be whoever you want to be. Find community, choose your family. And if you can't find any, I am your chosen family.
Whether you are out of the closet or not, your existence in a world that is built to tear you down is a testament to your strength and power. Every journey is different and uniquely yours, but I hope that by sharing mine I've helped you to see that you are valid and beautiful. You are not alone.
The Rainbow Road has many destinations, but there are no right or wrong ways to get
there–just your own. So keep going…even when the whole world is telling you you're wrong.
You'll find your truth.
Dedicated to Reynaldo Narvasa, 7/9/1959-3/9/2020."

This story was submitted to Love What Matters by Taylor Rey Narvasa from Seattle, Washington. You can follow their story on Instagram, Facebook, and TikTok. Submit your stories here, and be sure to subscribe to our free email newsletter for our best stories, and YouTube for our best videos.
Read more stories about the transgender experience:
6 Simple Ways To Be A Trans Ally
6 Positive Affirmations For Every Trans/Gender Non-Conforming Individual
'What if I'm a boy?' I felt a tremble shoot down my spine. The thought was petrifying… because it was the truth.': Transgender man says 'it takes courage to be who you are'
'You need to be the MAN of the house.' I realized my life was no longer my own.': Transgender woman finds self love, 'I'm at peace with who I've become'
Do you know someone who could benefit from reading this? SHARE this story on Facebook with family and friends.