Family Plans
"My husband and I met when we were 16. It was a story for the books. Two young teenagers that were just trying to find their place in this world. Two people who had no idea of the road life would take them on.
Throughout the years, we have seasoned many happy times and many sad times, times of joy and times of loss. After we both lost a parent, you could say we had been through what felt like plenty of hardships.
Having a family was always on the radar. Coming from two small families, we knew we wanted to start one of our own. We were excited to experience that new life. We had experienced so much loss, thinking of bringing new life into this world made us so excited for the future.
Ten months ago, on a day I vividly will never forget, I found myself staring at a positive pregnancy test. I stared at the two pink lines for what seemed like hours before my husband came home from work. I had no idea the amount of life change that stood behind those two little lines.
So there I was, waiting for my husband to tell him the news, staring at the pregnancy test, picturing our life with a baby, picturing our families finally meeting a new bundle of life. I thought to myself, 'Finally, a light at the end of this tough road we have been on.'
Labor & Delivery
Fast forward through 9 very emotionally difficult months–months that involved never-ending morning sickness, a baby shower without a mom, working full-time while trying to balance many doctors' appointments and ultrasounds due to some pregnancy complications. Those nine months seemed hard, and I often thought to myself, 'I just want a pregnancy that is calm and not so stressful.
There are so many appointments and so many concerns at the appointments…I just want to enjoy this time and I feel like I can't.' The appointments deemed the baby was healthy, however, I continued to have to be monitored closely.
The pregnancy eventually got to the finish line in December of 2019. The Pitocin dripped into my body, hour by hour, as I imagined this new journey we were about to embark on. At this point, we had kept the sex of our baby a surprise. I figured it would be the icing on the cake, the last hoorah during tough labor, giving me that little extra piece of motivation to meet my baby and find out a boy or girl surprise.
I watched the clock in the hospital room tick. I envisioned life with a baby girl and life with a baby boy, both equally as exciting. We tossed the names we had picked out for each gender back and forth, wondering what name would be announced.
Fifteen minutes before midnight, our little baby boy, Henrik, came into this world. My husband announced the baby was a boy and cut the cord, as I'd imagined. We did skin to skin for a few minutes and then he was taken to get an APGAR score.
Maternal Instincts
During this time (although I don't remember, due to blacking out from pain), I asked my sister if he looked 'healthy' and asked specifically–in a whispering voice so no one would hear–if she thought he looked like he had Down syndrome. She, of course, said, 'No! What are you talking about, he is healthy!' My husband was five feet away with Henrik at that exact moment. He had no idea my maternal instincts were clicking into gear, questioning the health of the baby I had just birthed.
'9.9!' the nurse shouted. I asked what that meant. The nurse indicated 9.9 was Henrik's APGAR score. A very high score at that, which was considered rare.
Against my initial instinct and questioning of his health, I reassured myself…this was good. He is healthy. Finally, the light after 9 hard months of pregnancy.
After about an hour or two post-birth, they wheeled us down to the postpartum wing. We went to bed, feeling a little delirious after a long day. Henrik was next to our bed in a bassinet.
We slept for a few hours and I remember thinking to myself, 'Is this normal? Shouldn't we be doing skin to skin or attempting to feed?' I had never had a baby before, so I kinda had to be told what to do. I felt like I did not even know how to hold him.
Genetics Testing
By morning, I started questioning again if it was okay our baby was still sleeping. He wasn't very alert and no one was helping me attempt to hold him or feed him. The shift change came around and I heard whisperings at my bedside. I asked my husband if he had heard what I heard and he indicated he did not.
I told him, 'I think something is wrong.' My husband reassured me everything was fine and he was okay. We talked about how excited we were for our future as a family of three. We envisioned this new life together, staring at him in awe of the last 12 hours.
An hour or so later, during the pediatric rounds, all of a sudden there was a prominent level of concern mentioned to us. 'He has hypotonia and he isn't showing signs he wants to feed. We are sending genetics up to take a look at him.'
There I was, crying in the corner of the room, knowing the severity of the situation if genetics needed to be involved. Mind you, we had just spent the last 12 hours under the assumption Henrik was healthy and okay.
And then, boom, out of nowhere, my world felt like it was crashing down on me. I have felt that shocking feeling before in life. It's a feeling I never wanted to feel again, but there I was, feeling it again.
The nurse walked in and asked my husband why I was crying. He mentioned to her I was feeling overwhelmed. The nurse said something along the lines of, 'Well, everyone wants a perfect baby, but not everyone gets a perfect baby.'
I remember asking my husband, 'What does that mean?' His shocked face could not even come up with words to respond to me. 'Okay, this is very very serious.' But also, what the heck? Who says that to new parents, regardless of what condition their baby is born in?
After what seemed like hours and hours, but was probably only ten minutes, genetics arrived.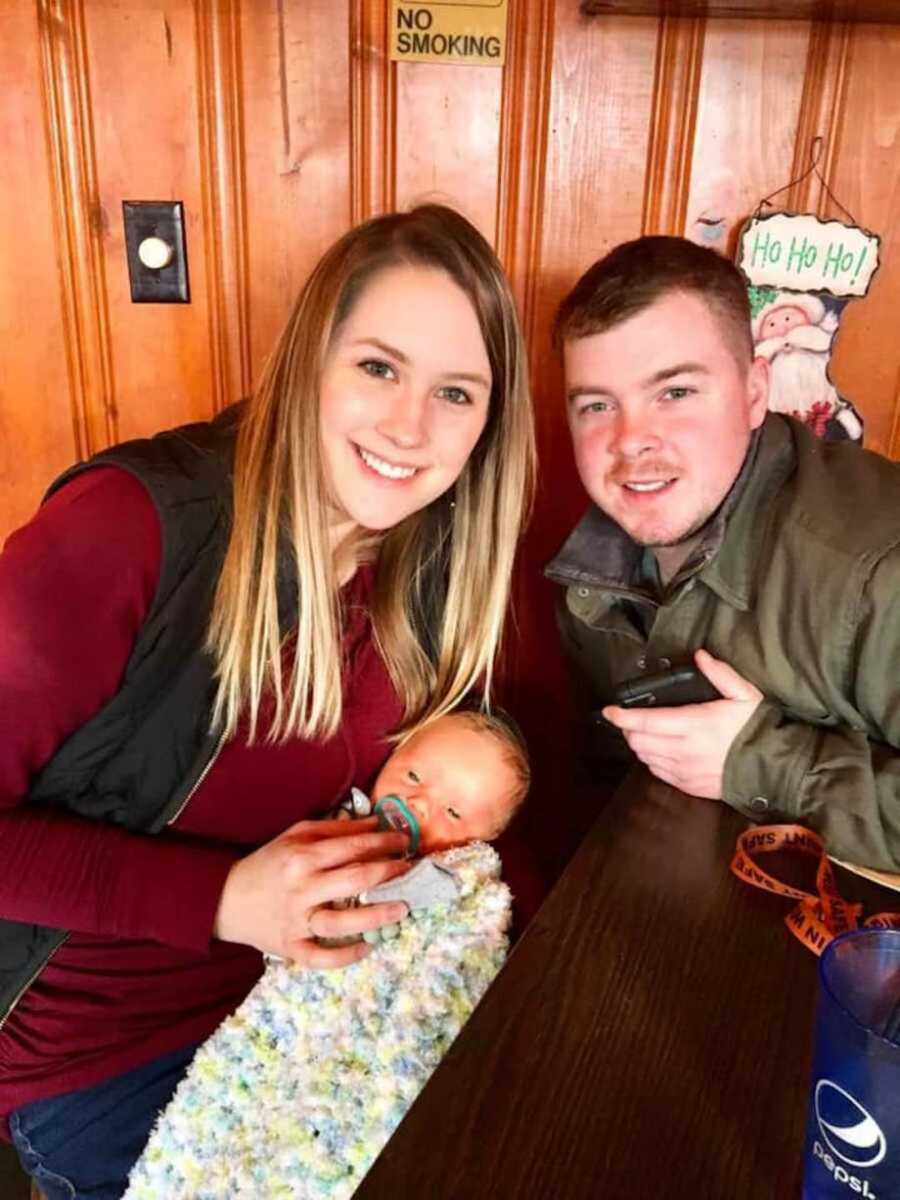 Down Syndrome Stigma
They looked little Henrik up and down, lifting him and setting him back down into the bassinet. The genetic doctor said, 'I suspect Down syndrome.' I stared blankly at her in disbelief. Then I looked over to my husband, who had his face covered.
'What? No, it can't be,' I stated. The genetic doctor then went on to explain how Henrik needed to complete a few blood draws to send labs out and confirm the suspected diagnosis. My husband still was speechless.
The hours following the visit with genetics blended together. We didn't eat. We didn't really talk. We just stared at Henrik, wondering if it was true and what exactly it meant for him and our future.
We cried together. We held each other. We called family into town to be with us.
We were scared. We were confused. We were worried. We were grieving the life we had just envisioned. We were resentful.
We were angry, but bottom line, we were scared–scared because of how society had portrayed Down syndrome to us throughout our lifetime, scared because Down syndrome seems like the one thing they focus on during pregnancy to 'prevent.'
Scared because of the papers they give you stating all the 'deficits,' all the 'differences,' all the 'limitations,' and all the 'characteristics.' Even the word 'Down' syndrome has a negative connotation. So how could someone, hearing that term, not be scared?
By the time we were discharged from the hospital, we still did not know for sure if Henrik had Down syndrome. We were waiting for the phone call from genetics for what seemed like another lifetime. For four more days, we waited, constantly checking our phones to make sure we did not miss the phone call that would inevitably change our world.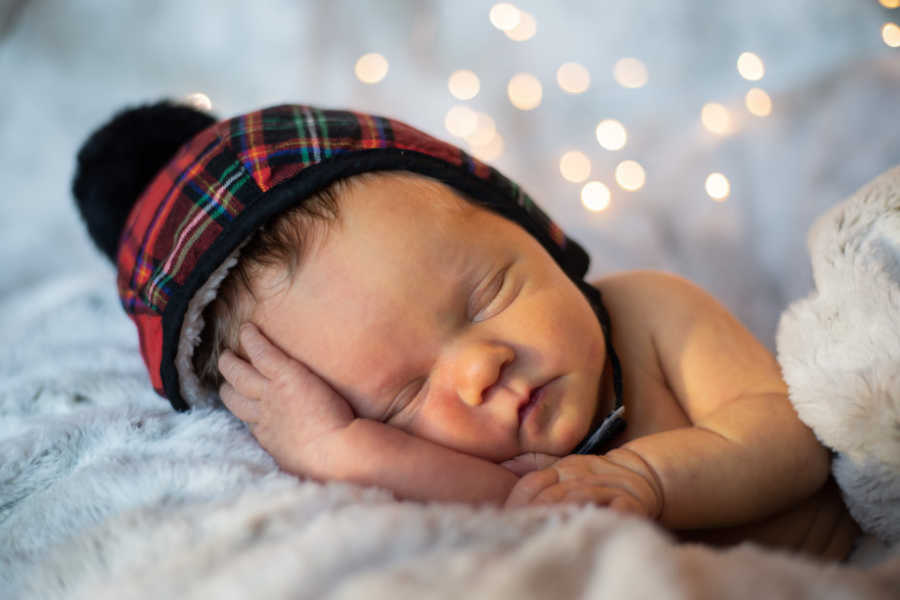 Down Syndrome Diagnosis
In the meantime, we continued to go to many doctor appointments for Henrik. Many doctors expressed varying opinions on if they thought Henrik had Down syndrome. Some indicated they did not think he had Down syndrome, others indicated that they thought he did. We continued to ride an emotional rollercoaster for four whole days, not knowing, just waiting, holding our breath while trying to take care of a newborn with some specific needs.
Sure enough, by Tuesday afternoon, the call came. He had Down syndrome. An episode of Planet Earth on National Geographic was on the television at the time of the phone call.
As those words left the doctor's mouth, a huge iceberg crashed into the ocean on the television. I felt like my world was crashing down around me.
After hours and days and days of processing this news, we slowly started to feel okay. We slowly started to focus on the positives and on the things NOT listed on the papers and informative handouts they send home with you.
Rather than focusing on the differences, we focused on the similarities. Rather than talking about what he might not do, we talked about what he will do. Rather than focusing on his ears, eyes, toes, and hands that are a little different, we just focused on the beauty that he was.
You see, the dialogue that was presented to us with Henrik's diagnosis was not the greatest. The information the doctors give you and the way your baby is talked about makes it much scarier. The 'floppy' nature of his muscle tone, the weak neck that might not pass a car seat test, the risk of heart complications, the risk of feeding difficulties, the talk of a suppressed immune system–all really scary things, really really scary things for brand new parents.
It felt like all the negatives and scary things were the only focus when we were in the depths of this brand new world when in reality, there are so many positives that could also be talked about.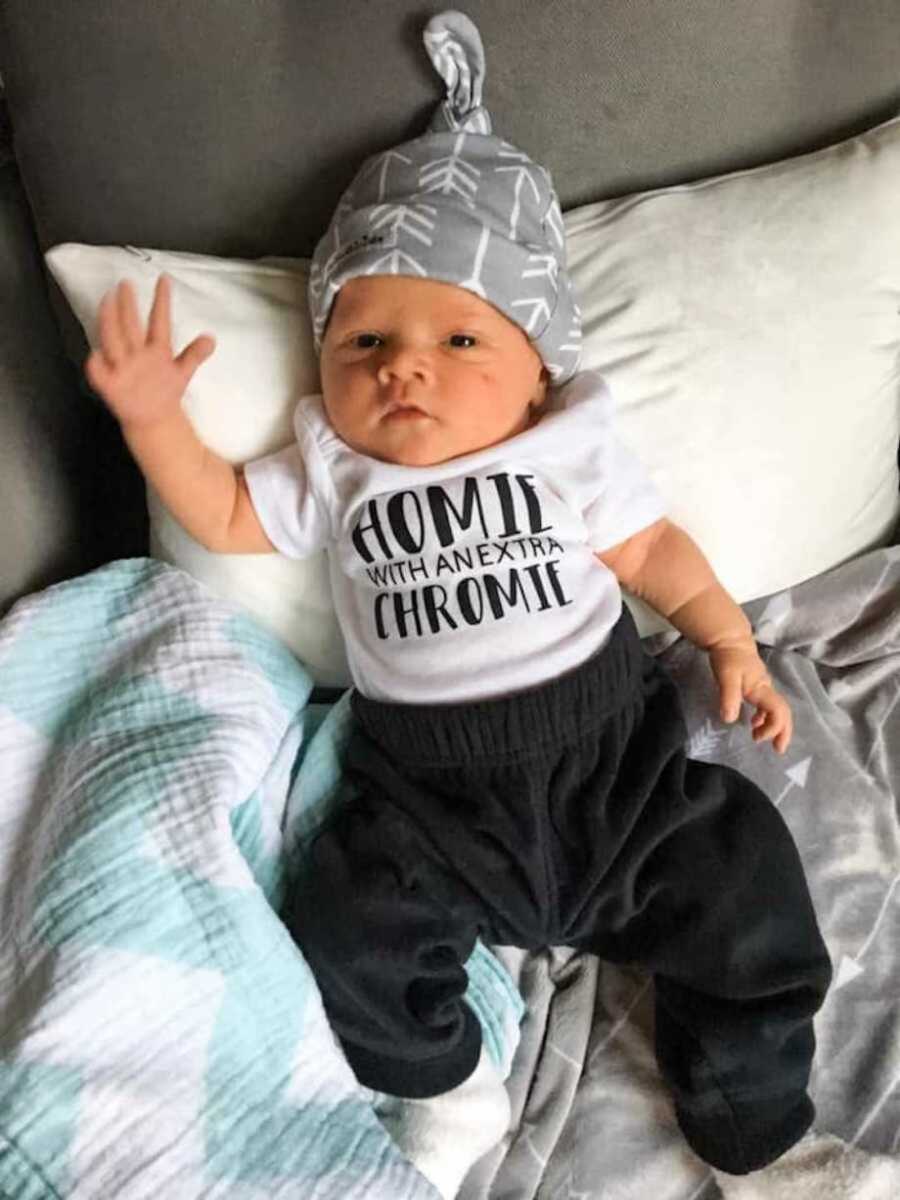 The Positives Of Down Syndrome
There are positives such as how joyful and happy kids with Down syndrome usually are, how flexible they can be, how they can live very purposeful and functional lives, and how, even though milestones may take longer, you get the privilege of savoring each moment even longer than other parents. Many positives and stories of hope could have been told to make the beginning of this journey less scary.
At the end of the day, I just wanted to be told it would be okay. I just wanted to be told my baby is beautiful, rather than different. I genuinely just wanted someone to come and hold me and tell me it would be alright. The initial dialogues related to Down syndrome could have definitely been better.
I have hope one day, birth diagnoses and prenatal diagnoses can be presented in a not so scary way. I have hope one day, Down syndrome will be presented with celebration and community from the second that extra chromosome is discovered.
With that said, Henrik was put on this earth for a reason. We were also made to be his parents for a reason. I truly believe the reason is to advocate for others with Down syndrome, educate society, and make the world a better place for people with Down syndrome and families involved.
If you are a parent who just received a prenatal or at birth diagnosis of Down syndrome, I want to be the person who grabs you, hugs you and tells you it will be okay. I want to be the person who swipes the papers out of your hands and tells you all the things you get to look forward to. I don't want you to feel like your new world will be 'worse off.' I don't want society to make you feel like you are alone.
You are joining the luckiest club there is. You will experience more joy, hugs, kisses, smiles, and laughter than you ever knew was possible. Your world did not change for the 'worse.' It just changed to be a little different.
Not bad, just different. You will find the 'different' world you just entered, is just as beautiful as the world you envisioned. I promise."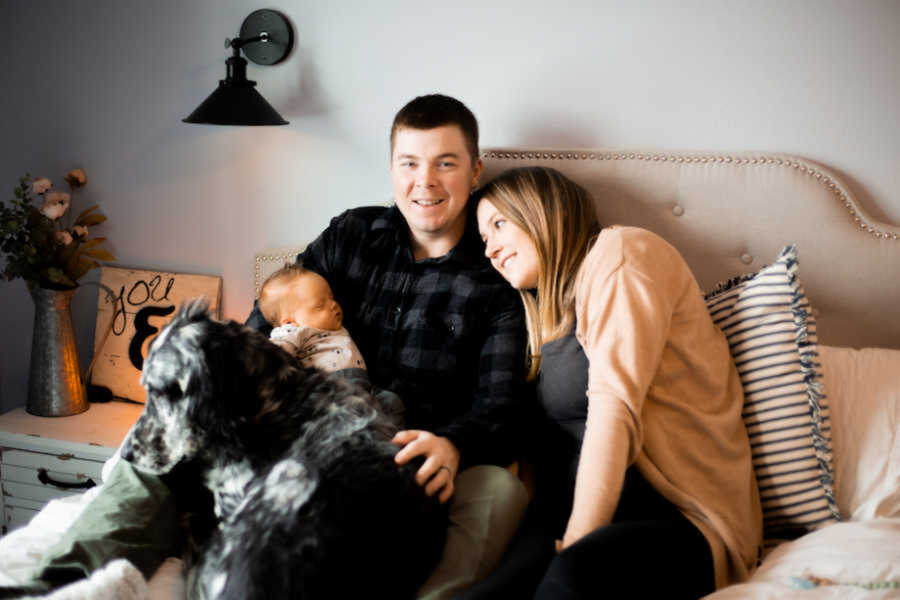 This story was submitted to Love What Matters by Krista Lynn Tracey. You can follow their journey on their blog. Be sure to subscribe to our free email newsletter for our best stories.
Read more touching stories like this:
'How could this happen?!' I found myself unexpectedly pregnant at 40. Then the doctor said, 'Syndrome.' I held back tears.': Mom births baby with down syndrome, 'The minute I saw her sweet little head red hair, I fell in love'
'Wait, you're not kidding? 30 seconds ago, our life was perfect.' I suddenly needed him in my arms. 'This is not your fault. You are just a baby.': Couple shocked by son's Down syndrome diagnosis, 'You're not the baby I thought you were, but you're still MY baby.'
Do you know someone who could benefit from this story? Please SHARE on Facebook to let them know a community of support is available.