This special World War II veteran, and Purple Heart recipient, received an outpouring of love for his 96th birthday — nearly 100,000 cards from every state and about 16 different countries!
It all started with a Facebook post from his daughter, Sue Morse. "I knew Dad had outlived all of his friends and college buddies, and that he wouldn't be getting any birthday cards in the mail," Sue said. "So I put on my Facebook, 'My dad is turning 96. He's a World War II Purple Heart veteran, and he's not going to be getting any birthday cards. Could anybody please send some birthday cards?' And then I put my personal PO box."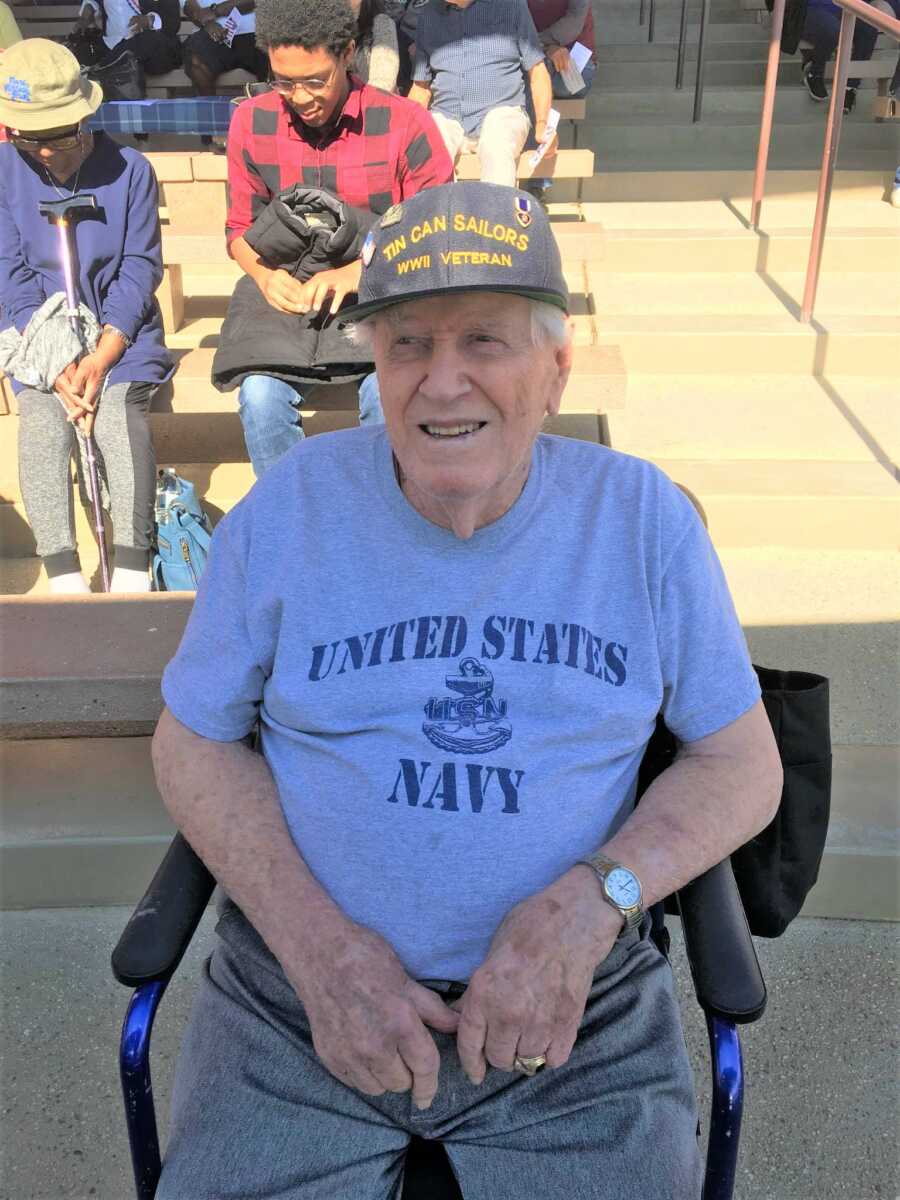 Hoping for a few people to take notice and a handful of cards to arrive in the mail, Sue was shocked to hear that just a few days later, friends in New Jersey were seeing her now viral post. News stations were scrambling to interview father and daughter and share their story.
Cards started pouring in in the thousands, and the pair were overwhelmed by the love and appreciation being shown for the old vet. With Mr. Sherman being almost completely blind, Sue took on the task of opening, reading, and sorting through the mountains of cards. But not without the help of some dear friends!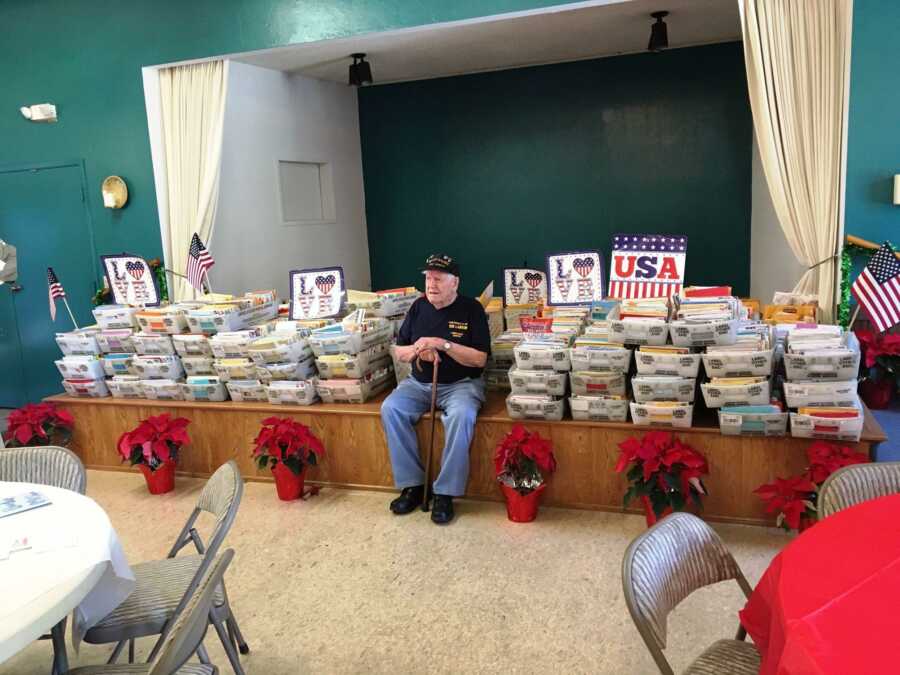 "We called ourselves the card squad. And every week we would meet at my friend's house to open anywhere between 5,000 and 7,000 cards in a day."
Cards with personal stories or heartfelt sentiments were saved and read aloud to Mr. Sherman. Sue kept many of them and estimates she still has about 4,000 cards at her house. To these cards, and any sending some kind of birthday gift, Morse sent a personal reply on behalf of her father. Many people had generously sent t-shirts, sweatshirts, baseball caps, gift cards, or special memorabilia from the war.
"It was the most heartwarming gesture that told me America still cares about World War II vets," Sue told Love What Matters. "They're few and far between."
Duane, a young 19-year-old from a small town in Kansas, entered the U.S. Navy in January of 1942, right after the attacks on Pearl Harbor. Sherman had been wanting to join for awhile, but his mother had a feeling he should wait.
"She said, 'You know, I don't think it's a good time right now,'" Sue shares. "And then Pearl Harbor happened." Soon after the attacks, she felt like it was okay for him to go. Within less than a month, he was enlisted. Duane did end up spending some time at Pearl Harbor, but thankfully, it was after the attacks.
Duane would be stationed on the U.S.S. Lamson, DD 367, and spend three and a half years in the Navy. On December 7, 1944, off the coast of the Philippines in the Battle of Ormoc Bay, the ship was hit by a kamikaze pilot. Sherman, along with many others, jumped from the ship and floated in a life raft, waiting for rescue. He received shrapnel from the plane in his back, for which he was awarded the Purple Heart. But thankfully he never had any major issues because of it. Sue also reports that while the event definitely shook him up, her father never believed he suffered any "shell shock" or PTSD from it.
"Looking back on his naval career and his time in the Navy, he said, 'You know, we just did what we were supposed to do. We knew the nation needed us,'" recalls Morse. "There was no draft back then. Everybody wanted to join because they were upset about the Pearl Harbor attacks."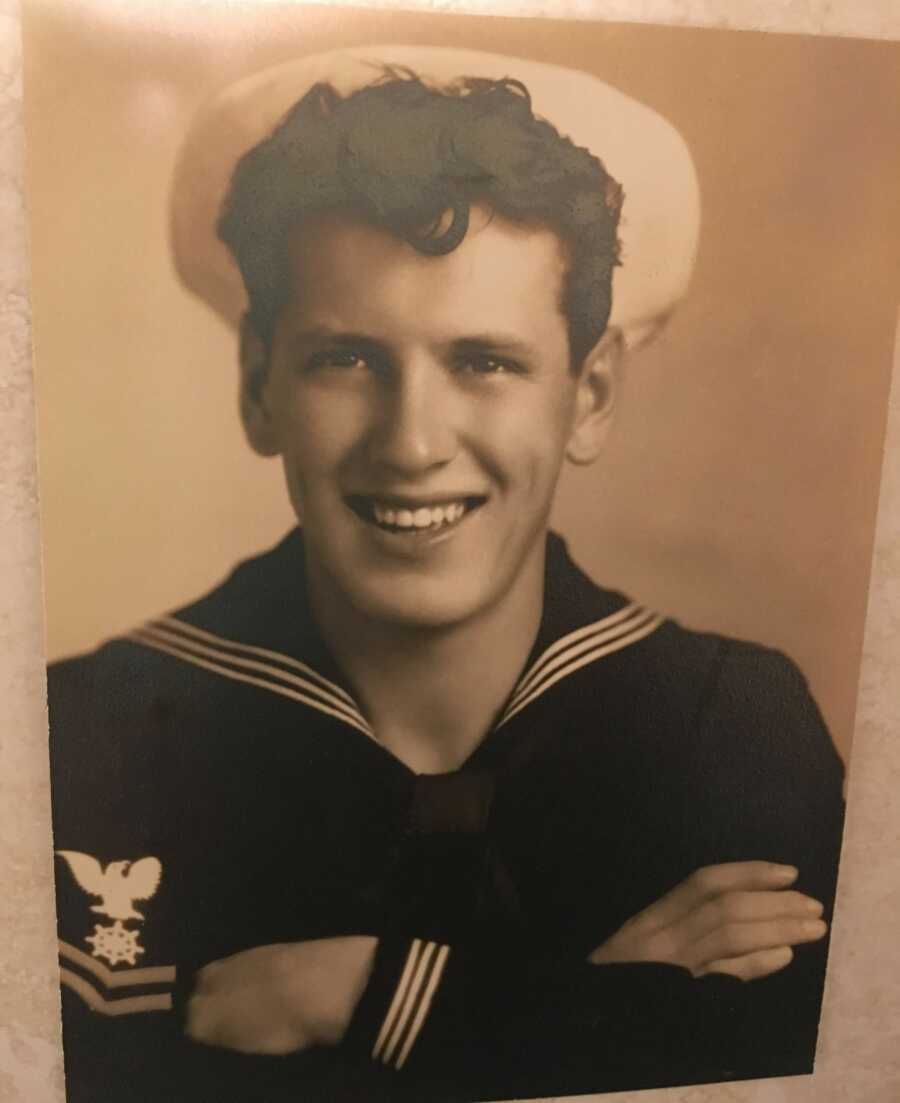 Sherman left the Navy in 1945 when the war ended, but went into the Naval Reserve during the Korean War and taught sonar at the "sound school" in San Diego.
On his birthday, Sue threw a special party for her father, and 10-15 of the Chief Petty Officers stationed at the sonar school in San Diego made the two-hour drive to come celebrate with him, listen to his stories, and honor him.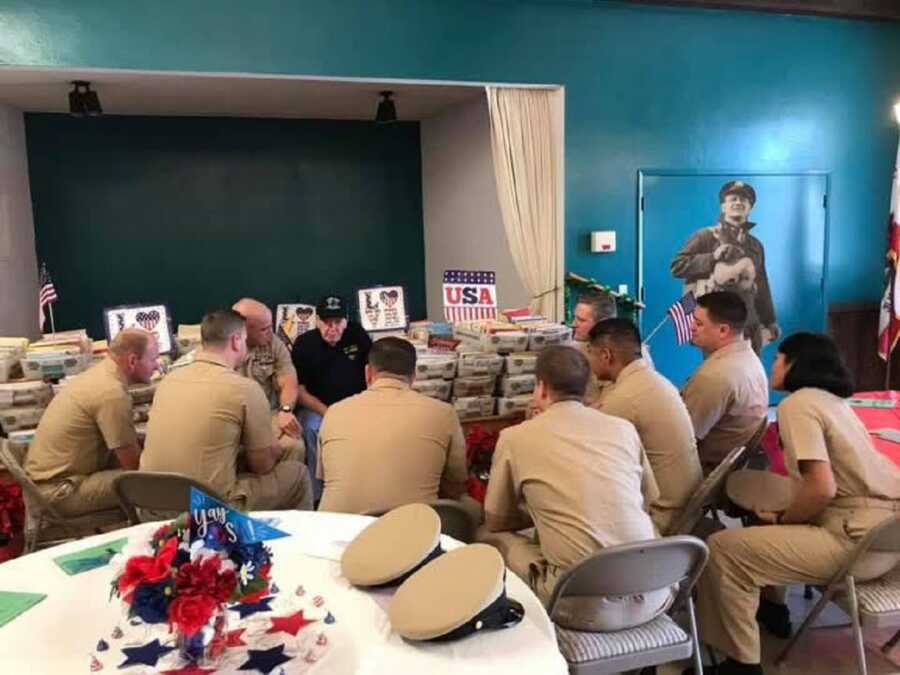 What might be even more heartwarming than the bins full of birthday cards, was the continued sending of cards well past Duane's December birthday. Morse said her father was getting cards for Valentine's Day, St. Patrick's Day, Father's Day, and the Fourth of July. So many kind-hearted people wanted to make sure he was remembered and loved, not just on his birthday but every day.
Slowly the flood started to trickle in more slowly, but Sue said there were 10 to 12 people who remained regular card writers. She appreciated the continued interest and appreciation, and would try to send postcard replies with updates on how her dad was doing.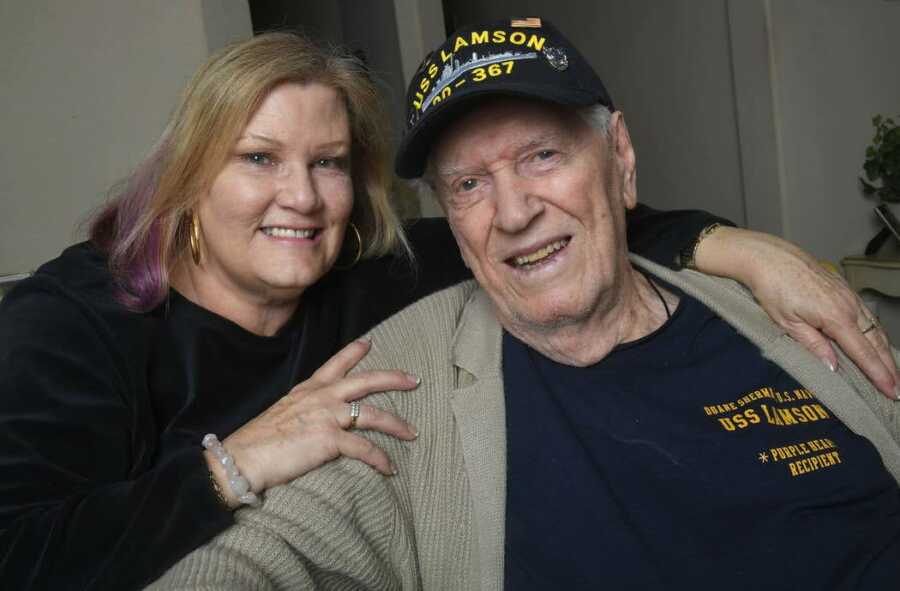 Sadly, Mr. Sherman experienced a series of small strokes and passed away in May of 2021 at the age of 98. One couple who were regular card senders even came to his funeral. A few of the CPO's who had visited on his birthday also attended the service.
"For the last almost six years of his life, I put my furniture in storage and moved in to take care of him," Sue tells Love What Matters. "I was honored to do it. I got to know all of his war stories, and it was just an absolute delight for me."
Because of her father's service, Sue makes an effort to show appreciation for the veterans she comes in contact with. When she sees an older gentleman wearing a sweatshirt or a baseball cap indicating their service, she tries to stop and talk to them for a minute — showing interest in their story and thanking them for their sacrifice. She'll pay for their meal when she can, and she sends cards and messages to many of her friends who served in Vietnam.
"At the end of my voicemail, it says, 'If you see a veteran or know one, just stop and thank them and talk to them because they're living history," Morse says. "I really think that's still so important."
As the number of remaining World War II veterans  continues to diminish, Mr. Sherman's story serves as a sweet reminder to not forget our veterans and to take the opportunity to love on them while they're still with us. It meant the world to him to know people still cared, and after their selfless service for our country, they more than deserve that.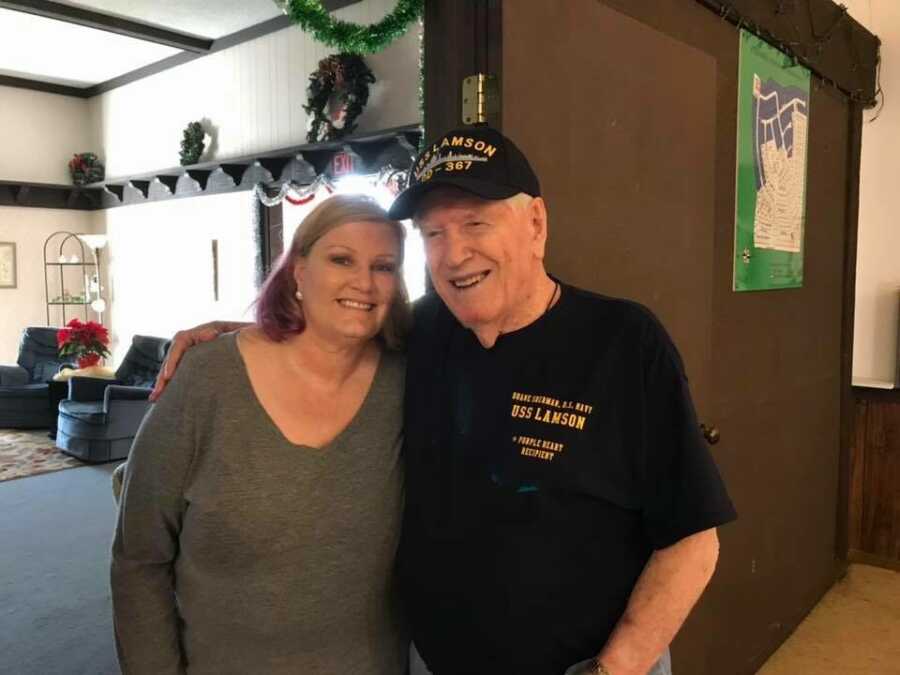 This story was submitted to Love What Matters by Sue Morse. Submit your own story here. Be sure to subscribe to our free email newsletter for our best stories, and YouTube for our best videos.
Read more stories about veterans here: 
'We've looked for you for 12 years.': WWII veteran reunites with little girl who wrote him sweet letter in 3rd grade
'It has to be done.': 84-year-old plays honorary 'Taps' tune at more than 2,400 veteran funerals
'The elderly woman's voice started to break: 'You saved us and I just wanted to say…THANK YOU.': Woman shares heartwarming moment with veterans, 'We are ALL Americans'
'Was your husband in the service?': WWII soldier's lost letter finds its way to widow after 76 years
'Me and my buddies lost our wives. This trip is our last hurrah.' I couldn't shake the feeling of sadness. I had to do something.': Travel agents surprise veteran, friends with touching act of kindness
SHARE this story on Facebook and Twitter to remind others to show appreciation for our veterans.