"The hospital room smelled of gauze and alcohol. As my body was scrubbed clean with a harsh orange soap, a nurse walked in twirling a Sharpie. I changed positions on the bed and fidgeted with my bright green bracelet. Donate Life, it said. I'd been wearing it for a month; a badge of honor I hadn't yet earned.
'You are donating your right kidney, correct?' Sharpie Nurse asked without really needing an answer.
'That's what my kidnappers said,' I cracked, as she pulled aside my hospital gown. She scrawled a big YES on my right side and a NO on my left. I felt cold. The color was draining from my face. The nurse snapped the marker top back on and paused to look me in the eye.
'Honey, are you sure you want to do this?'
Was I sure? I had prayed and fasted and cried and wrestled over this decision. From the day my mother was ruled out as a possible donor, there was a tug at my heart. A silent whisper that spoke to me saying, 'Step forward. Have faith.'
Stepping forward, it turned out, was the easy part. Having faith…?
'Yes, of course I'm sure,' I croaked, sounding anything but.
I was terrified. I knew exactly what God was asking of me, but still doubted every part of His plan.
I hadn't even started a family. Would this cause risks to my future pregnancies? What if I got sick in adulthood? What if my husband did? What if I needed this kidney I was giving away? What would the scars look like? Could I handle the pain?
In pre-op, Ian hovered over my bed. His blue eyes held a sea of worry, but he offered only assuring smiles and a kiss on the forehead. He told me he loved me, how brave I was, and how proud he was to have married me.
I smiled, drooled a little, and asked if he would go buy me a double cheeseburger. The drugs were kicking in. My husband's floating head was the last thing I saw.
When I woke up, there was a hole where an organ used to live. It screamed inside of me. The inflation gas from surgery had dissipated and settled in my shoulders, burning like coals beneath my skin. I'd never known such pain. For 12 hours, I drifted in and out of a narcotic sleep, crying for my mother.
There was a knock at my door.
'MK, there is somebody here to see you. He wants to know if you can go for a walk.'
'No freaking way,' I grumbled, reaching to press the button that released meds into my blood stream. Then I noticed something. A lime green bracelet had found its way back on my wrist. Donate Life, it said.
And holy crap, I had done it.
My heart filled with gratitude as I recalled God's voice encouraging me. 'Step forward. Have faith.'
Slowly, carefully, I hung my legs over the side of the hospital bed. I placed one foot in front of the other and I walked toward my uncle, whose cautious smile hinted at something he hadn't known in a while: Hope.
We shuffled our way around the Nephrology unit, making small talk between gasps of pain. Uncle Mikey had a new craving for Starbucks. The very idea of coffee disgusted me.
'Must be the kidney!' we laughed.
My uncle had a new lease on life. I had a new set of scars. He had a new kidney. I had a lime green bracelet.
But in that moment, walking around the hospital wearing IV bags and puppy dog slippers, I learned a powerful lesson about God and giving.
Because it wasn't my Uncle Mikey who had received the greatest gift that day.
Through all of my fear and doubt, my anguish and physical suffering, God was leading me to one of the most rewarding experiences of my life. Not because I had done something to be proud of. Not for the accolades or the gratitude of my family.
The gift, you see, was in the giving. And all I had to do was step forward and have faith."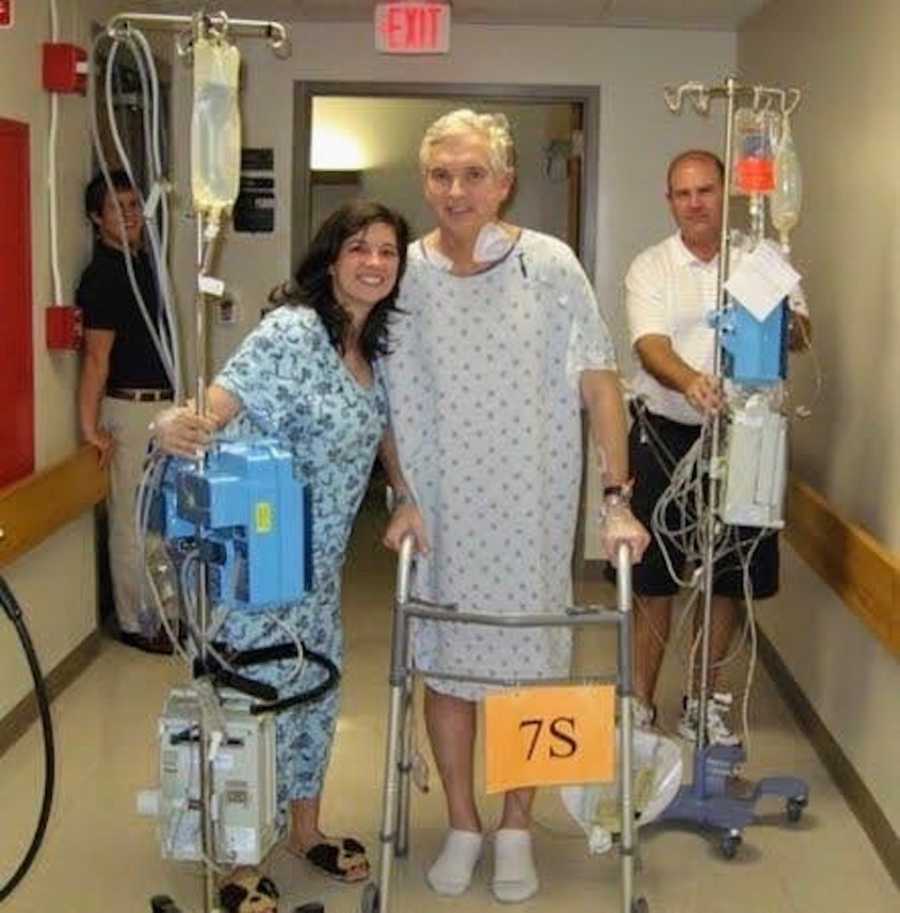 ***I implore you to consider becoming a donor. For more information visit Donate Life America. Please share this message in any way you can***"
This story was submitted to Love What Matters by Mary Katherine Backstrom. The article originally appeared here. Follow Mary on Instagram here.  Submit your story here, and be sure to subscribe to our best love stories here.
Help us show compassion is contagious. SHARE this story on Facebook with your friends and family.