"'The days are long but the years are short.' It's a quote moms hear over and over again, and with the past four years spent raising kids, I can agree. It seems like it was just yesterday I held my little girl in my arms and became a mom for the first time. But, it also seems like a lifetime ago.
Now, I don't feel like I have an identity besides being a mom. When someone asks a question about who I am, the first thing I will say is that I'm a mother. And that's not a bad thing. Not at all. I absolutely love being a mom. The love for my kids is so overwhelmingly strong that sometimes, I cry thinking about how fast they're growing up.
However, there's a trade-off to this overwhelming love. I'm tired. Really freaking tired. And I'm not entirely sure how I can explain just how tired I am. Truthfully, I don't even know why I'm tired sometimes. I'll look back at my day and wonder what I really did. Sometimes, it's not a lot. And yet, each night, I'm so exhausted I just need some time alone.
Maybe it's the constant sticky hands touching me at all hours of the day. Perhaps it's the fact both of my kids are at home and don't go to school, which doesn't give me a break. Maybe it's the fact I'm worried I'm doing something wrong, and I don't want to screw my kids up. Or possibly, it's the fact they rely on me for everything – from eating to playing with them.
I know how important it is to give my kids my undivided attention. But truthfully, sometimes I wonder if I'm all alone in my feelings. Do other moms go to bed and wake up refreshed? Do I need to stop working (which seems to be the only thing I do for myself) just so I can dedicate more energy to my kids? Was I just not cut out for motherhood like I thought I was?
I'm just tired. I don't need someone to fix it, or tell me it gets better, or that these days are short. I know. I know I'll wake up one day and my child will be grown, and I'll wish I could go back to see them as little babies again. I know that.
And maybe, just maybe, that makes it all worse. Because I don't want to miss out on these little moments when they're young. When they wake up in the morning and smile at you. When they run in the backyard as you chase them while playing tag. Or when they tell you they love you.
There is nothing I'd rather do than be a mother. But, it makes me more tired than anything else in the world. Do I think it's the hardest job in the world? No. Absolutely not. But, do I think it's the most important and emotionally draining job in the world? Yes. I absolutely do.
I can't explain why being a mom makes you so tired. All I can tell you is that when a mom says she's exhausted, don't try to argue why you're more tired. Just validate. Tell her she's doing a good job. Tell her you appreciate her. Tell her  her children are amazing and you know it's difficult."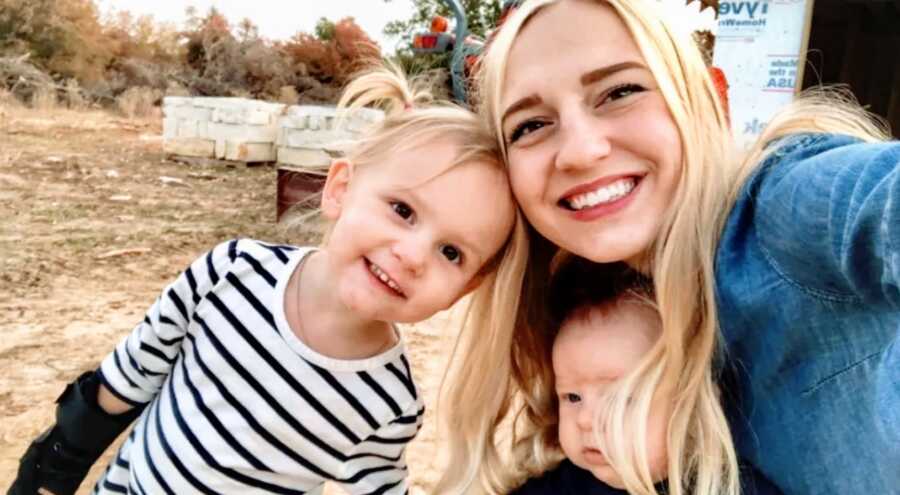 This story was submitted to Love What Matters by Jess Carpenter. You can follow her journey on Instagram, TikTok, and on her website. You can visit Jess' author page here and buy her new book here. Submit your own story here and be sure to subscribe to our free email newsletter for our best stories.
Read more from Jess here:
'You don't have to look at your life through someone else's hardship-lens. Your feelings are valid.': Mom shares importance of accepting emotions, 'It's OK to be sad'
'I've had their adorable sticky hands grabbing at me for 12 hours. I just want to sit in a dark room so I can think.': Introvert mom urges there's 'nothing wrong' with how you recharge
'Love your partner's family like you want your partner to love yours.': Wife shares importance of healthy in-law relationships
'After 5 months of taking care of a baby, stacking credit hours, and barely seeing each other, we insisted on not walking for graduation.': Wife talks sacrificing for marriage and family
SHARE this story on Facebook to remind others to love what matters most.