"I like to write at night. You know, it's quiet. Calm. I can concentrate. I can really think about what I want to say with no interruptions. Well, I guess that's not totally true. Sometimes the dog snores. Sometimes I hear a noise. Sometimes I can hear my teenager in the kitchen microwaving pizza rolls. And when that happens, I always call out to her. She's the nicest that time of night. Well-fed, well-rested. Cuddly, even. Kinda like a gremlin. You have to take advantage of the sweet times before they go absolutely nuts.
So, just the other night as I was writing, I heard the accustomed sound of the whirl of the microwave and I did what I always do. I called her name. Not once, not twice but five times with no answer. A meek, 'it's me' came from the kitchen. A familiar voice, but unfamiliar at the same time. Clearly, it wasn't my kid. I sat up, yet before I could jump out of bed with my billy-club to beat down the intruder, a teenager appeared at my bedroom door. I knew her, of course, but I didn't know where she came from. It appears my 'open door policy' has been taken literally, and to be honest, I am ok with that. I am ok that kids feel like they have a safe place in my home and can use the microwave whenever they want.
But, let's be honest. I don't hate it when they leave.
Just a few weekends ago, they did just that. My daughter went away for the weekend with friends. I came home from work, and everything was just as I left it. My make-up wipes were still in my bathroom. I knew where the remote was. Nothing was stolen or moved or used without permission. There were no dishes in the sink or crumbs on the counter. The pillows on the couch were still in the same place and there weren't ten half-drunk soda cans or water bottles strewn around.
I heard the angels singing as I walked around the house and there was nobody there to demand anything from me. I changed out of my work clothes and channeled my inner 'Risky Business'-era Tom Cruise and slid around on the floors with wine glass in hand. I played MY music and danced while I ate ice cream out in the open that I normally have to eat in the closet so nobody will ask for a bite. I talked on the phone without interruption and took a bath without locking the door. I stayed up and watched TV and didn't once have to yell at anybody or check my watch to see if they made it home by curfew. I slept until noon and sipped coffee on the porch while singing off key with nobody complaining. Well, except the dogs. They might have given me a few dirty looks. Did I mention my neighbor is a saint?
I know what you're all thinking. That someday, I'm going to miss it. Someday, I am going to miss the sweet sounds of thumping and big feet running around the kitchen. I'm going to miss the bad rap music, hair in the sink, sarcastic responses and shirts on the laundry room floor.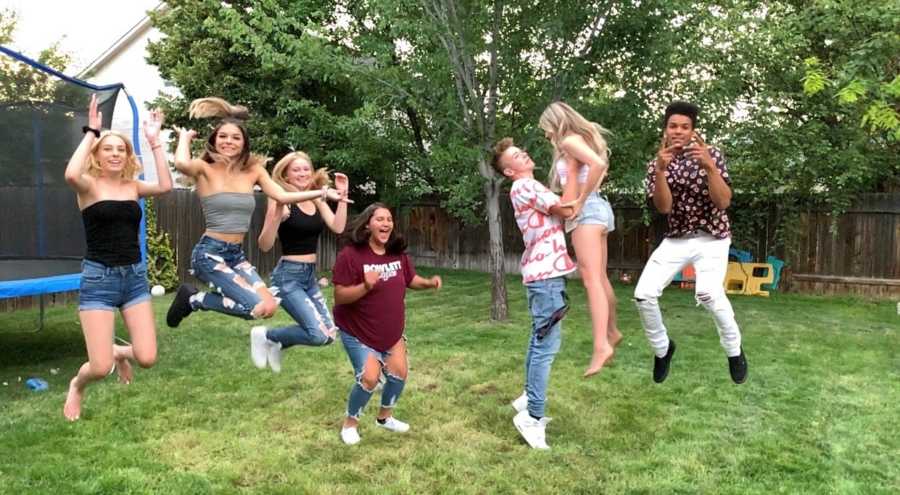 Yeah, probably. But, what I miss more is the life I was supposed to have. I've already sent three adult kids out into the world. They're great. Two in the military, one in college, and I just have the one hanging on at home for a few more years. To be honest, I think she likes having all her friends at the house because it reminds her of what family is. It reminds her of what beautiful chaos is. I've written before about how that all changed when my husband died from pancreatic cancer. We had plans after the kids flew the coop. We were going to travel and retire and laugh and love for the next 50 years. And, now he's gone and our daily family of six has dwindled down to just me and her.
So, as much as I love my peace, and as much as I love the quiet and things being in their place, I think I love the craziness more. When my husband was alive, I was sure I wouldn't have 'empty nest syndrome.' I was going to hold the door open and shove them out one by one until he and I were alone, blissfully watching Netflix and eating takeout. But now, I don't know. Now, I just want to feel it again.
So, I'm going to keep my doors open, and the fridge well stocked. I am going to do my best to laugh at the shenanigans and give them lots of gas money so they can leave sometimes. Because, while I want to enjoy every crazy moment of every upside-down day, I also want to eat my ice cream in peace. I guess life is all about balance, right?  Even with it being completely different than what I thought it would be, it's still amazing. And while I wish my husband was here to see it, I know that he would not want me to waste my time here wishing he was. So, nobody tell him that I do – and I'll just keep living.
I hope you do, too."
This story was submitted to Love What Matters by Diana Register of Meridian, Idaho. You can follow Diana on Facebook and Instagram.
Read more stories like this:
'She looked at me with tears in her eyes. 'Are you just having a draining day?' She hugged me. 'I'm just tired mommy.': Mom realizes mental health is top priority.'
'They showed up. They took over. They didn't ask.' Friends swoop in to help depressed woman when she needed them most
Provide strength for someone struggling. SHARE this story on Facebook to let them know a community of support is available.