"Being at Walt Disney World this week has caused me to think back to the first time my husband and I brought the girls to the resort. We had only been their foster parents for a few months when I had a conversation with the oldest child that sent a chill down my spine. Only nine years old, she looked into my eyes and, with sadness breaking through her voice, said 'I don't think I will ever feel joy.' She told me that living with us for the past few months had allowed her to feel safety, security and love but that she couldn't imagine that she would ever know what it would feel like to experience joy. In that moment, watching a child I loved assume that joy was too far gone for her to grasp, I knew exactly what to do.
I booked a trip to the Walt Disney World Resort.
I made hotel and ticket reservations as fast as I could. I combed through the lists of rides in each of the theme parks and made a coordinating list of Disney films to have the girls "randomly" watch so that they would recognize characters that, at that time, were foreign to them. I stalked dining reservations until I finally secured breakfast with the princesses and booked two spots at the Bibbidi Bobbidi Boutique. Finally, one October evening with our video camera rolling, my husband and I handed them bags containing personalized t-shirts and Minnie Mouse ears and told them to put their shoes on because we had to catch the first flight of their young lives – to Walt Disney World.
The Magic Kingdom had the desired effect on my youngest daughter from the time we walked through the front gates. She looked like any other five year old girl experiencing Walt Disney World for the first time as she ran from ride to ride and gathered princess autographs. But my heart felt a little heavy as I watched our oldest daughter quietly walk down Main Street. I felt disappointed and silently chastised myself for believing that a theme park could be what brought this child the feeling of joy. She expressed gratefulness that we had brought her but she wasn't overly animated or expressive as she watched the magic unfold around her.
What I didn't know was that the magic wasn't unfolding around her – it was unfolding inside of her.
I didn't know it then, but joy was waiting for her when our log went flying down Splash Mountain. Joy was hiding behind the curtain that the princesses came out from; joy was in Elsa's arms as she hugged her while cameras flashed. Joy was floating all around us when I leaned over to her during It's A Small World and whispered that the ride looked the same as when I rode it as a little girl. Joy looked an awful lot like her first Mickey Mouse ice cream bar as it dripped down her hands. Joy chased her through Space Mountain and helped her score points with Buzz Lightyear's help. Late that night, joy lit up the night sky much brighter than any fireworks ever could. As I watched her face in the glow of those fireworks I knew that, even if she didn't know what word to assign to the emotion she was experiencing for the first time, I did.
After the fireworks ended, we made our way to the parking lot and took our place in line waiting for a bus back to our resort. We had been in line for a few minutes when I felt a tug at my shirt and turned to see her quietly crying next to me. I quickly bent down to her level and asked her what was wrong as I brushed the tears off her face only to hear her say words that made my heart soar:
'I think this is what joy must feel like.'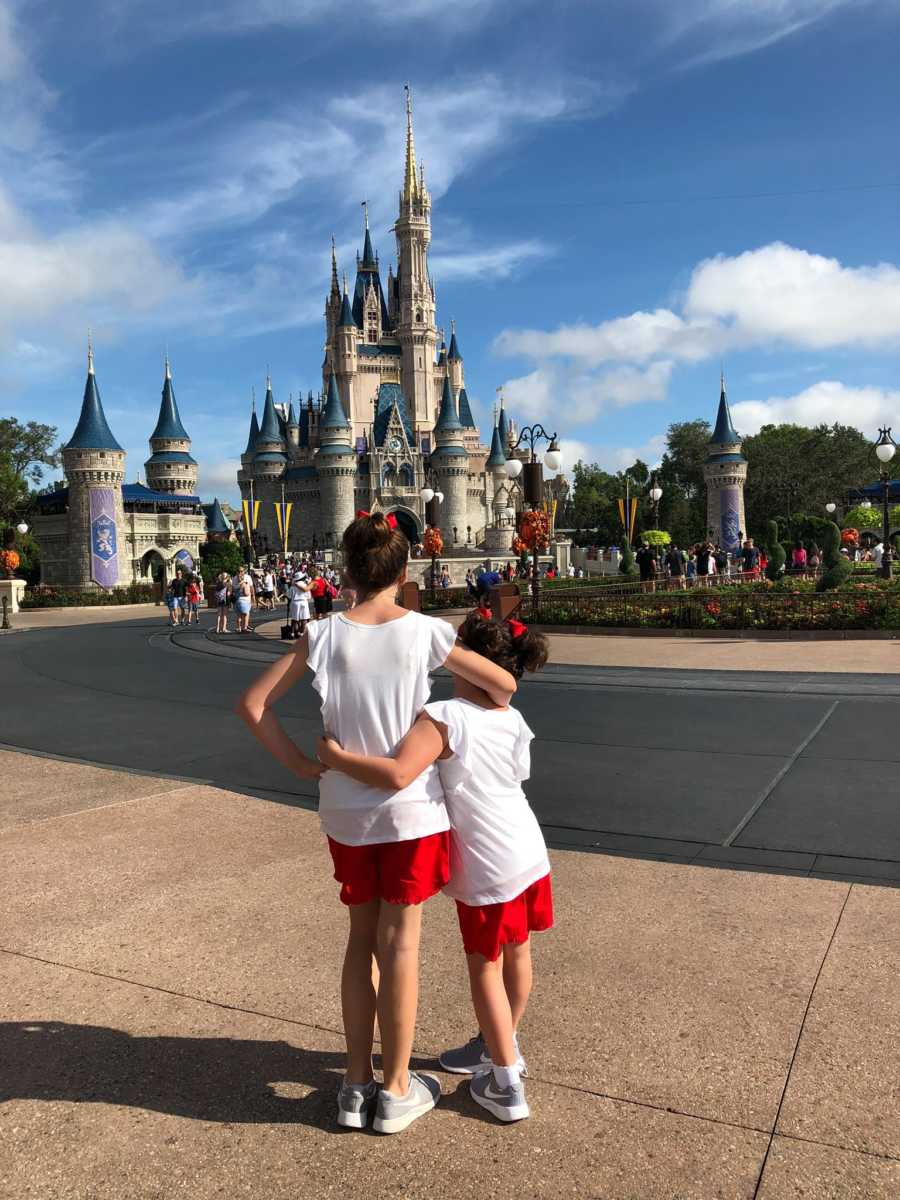 Critics might say that a parking lot is the unlikeliest of places for Disney magic to happen but they don't know what you and I know – that the real magic of Disney isn't found on Main Street or in a gift shop or even on any ride in the parks. The true magic of Disney is what happens inside of you when wonder and hope begin to take root and you start to believe that anything can happen with a little bit of magic."
This story was submitted to Love What Matters by Amy Beth Gardner. Submit your story here, and subscribe to our best love stories here.
Please SHARE this story on Facebook or Twitter to encourage others to cherish every moment and love what matters most.
SaveSave
SaveSave
SaveSave