Meeting Her Best Friend
"When Abigail was a preschooler she met a boy in her speech therapy class named Chad. While in the waiting room they enjoyed playing together by swinging on the arms of the chairs and hiding from each other. Their friendship has blossomed over the last 14 years and they are now very close. It was so nice to be able to talk with another mom who had a child with Down syndrome. MaryAnne and I would share their milestones and any information we found that might help our kids.  She was a great source of information and someone I learned to love and trust. Not only did Chad look forward to his weekly therapy so he could see Abigail but I looked forward to visiting with MaryAnne, Abigail's mom. They attend different schools and each have many friends, some differently-abled and others neuro-typical.
As the years went on, Chad and Abigail had play dates, and attended each others birthday parties.  The more time they spent together the better friends they became. They loved going out to eat and the movies. They have an annual tradition of going to see the Singing Christmas Trees at First Baptist Church Orlando. As Chad and Abigail got older it was considered a date night with meeting for dinner before the program. For many years they both have participated in Special Olympics swimming. Abigail also played SO soccer and Chad did SO track and field. They would watch each other compete and hang out together as much as possible before, during and after each event.
A Prom To Remember
For years, Chad had been looking forward to his senior prom and asking Abigail. Promposals are a big thing at Boone High. When the invitation came out, and Chad found out the theme was Disney's 'Be Our Guest' he was excited because he knew Abigail would be happy. He kept telling us he wanted to spend time with Abigail. Because they live about 20 miles apart they don't get to see each other as often as they would like but recently they got together for what Abigail describes as 'the best day EVER!'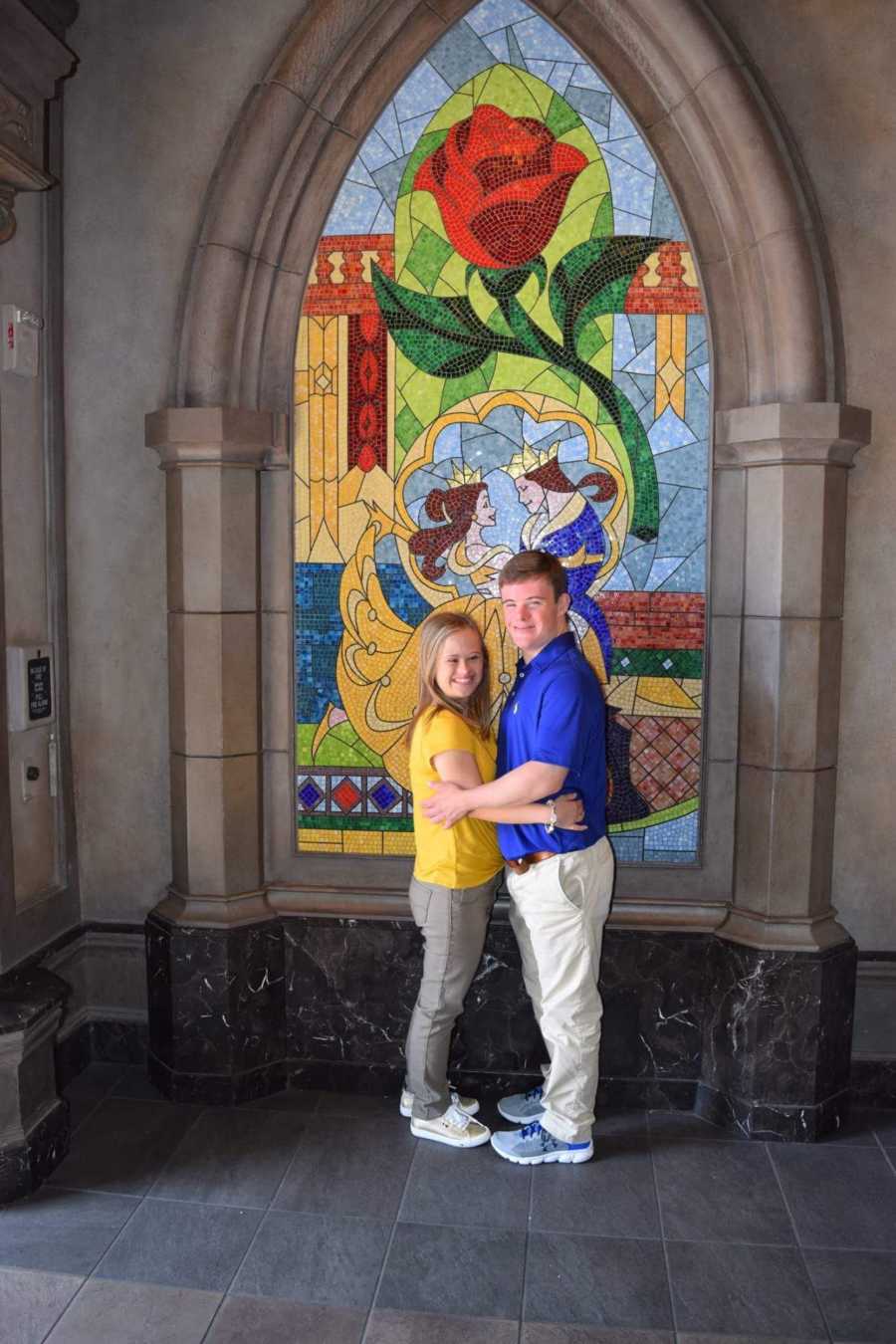 It was a Saturday and Abigail's mom had purchased her a beautiful yellow dress which they agreed Abigail should wear for their planned day of shopping in a south Orlando mall. But they weren't actually going shopping, it was really a surprise trip to Disney World! A dear friend gave me Disney passes for Abigail and Chad so they could spend all day there.
Upon arrival at the entrance to the park Abigail was even more surprised to see Chad and his mom waiting for them! It was a wonderful moment. The four of them then went for lunch at Disney's Beauty and the Beast themed restaurant, 'Be Our Guest.' The perfect location for the biggest surprise of the day. Abigail thought the surprise was going to Disney with Chad but the real surprise was his amazing prom-posal. As she soon learned, the theme at Chad's high school prom was also 'Beauty and the Beast!' The location was very romantic. The custom decorations, her tiara, and even their clothes which were color coordinated to match those of Belle and the Beast, made the moment magical. Chad thought he was only going for lunch. He was so happy because he knew he would now spend the entire day with her. They rode several rides together before lunch. When we arrived at the restaurant and told the servers the occasion, they were so excited to do what they could to make it a very special dining experience. After they were served lunch, Chad very sweetly asked Abigail to 'be his beauty' at prom.
On the evening of the prom the magic continued through the night for Abigail and Chad. The party began at a beautiful Lake Conway estate in historic Orlando for a pre-prom photo shoot. After weeks of shopping Abigail had found the perfect dress. Chad wore a tuxedo with a tie reflecting the gorgeous blue of Abigail's gown. Following the photo shoot, they were chauffeured to the Hilton ballroom at Disney's Lake Buena Vista, the ideal setting for the 'Beauty and the Beast' themed prom! The magic seemed endless with the fun filled festivities including a delicious 4 course dinner and dancing into the wee hours of the night! According to Abigail it was 'A dream come true!'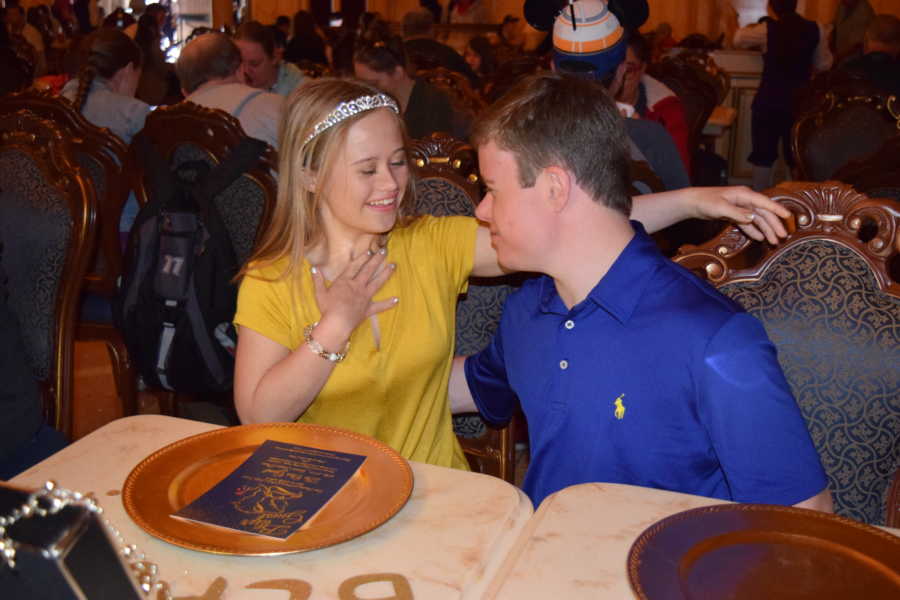 Disability Inclusivity
People who are differently abled can, and should, lead lives that are fun-filled and exciting.
Abigail and Chad have had many opportunities because of inclusion and they lead extraordinarily happy lives by any measure! Chad received a senior superlative 'Most likely to brighten your day/class sunshine.' Everyone knows Chad and Abigail. Chad tells everyone about Abigail and writes about her in many of his school assignments, with the most recent subject being 'a special relationship.' One of Chad's greatest joys in life has been his friendship with Abigail! Abigail is a successful actress and fashion model who advocates for her friends on Facebook @AbigailtheAdvocate, and on Instagram as @abigail_the_advocate. She also cheers with; the varsity squad at her high school games, the cheerleaders in the 2018 NFL Pro Bowl, the 2017 New York Macy's Thanksgiving Parade Cheerleaders, and for the Special Olympics Dream Team at the International World of Cheer.
Chad was part of his high school football team and ran out on the field with the team at the beginning of each game. He swam on the high school swim team all four years. He was crowned Snowflake King his senior year. He was awarded a 4-year letterman SO award from his high school. He also received a senior superlative 'Most likely to brighten your day/class sunshine.'
Everyone in this world has unique talents. If someone has just come into your life who society has labeled as disabled, be prepared to be amazed by what they CAN do!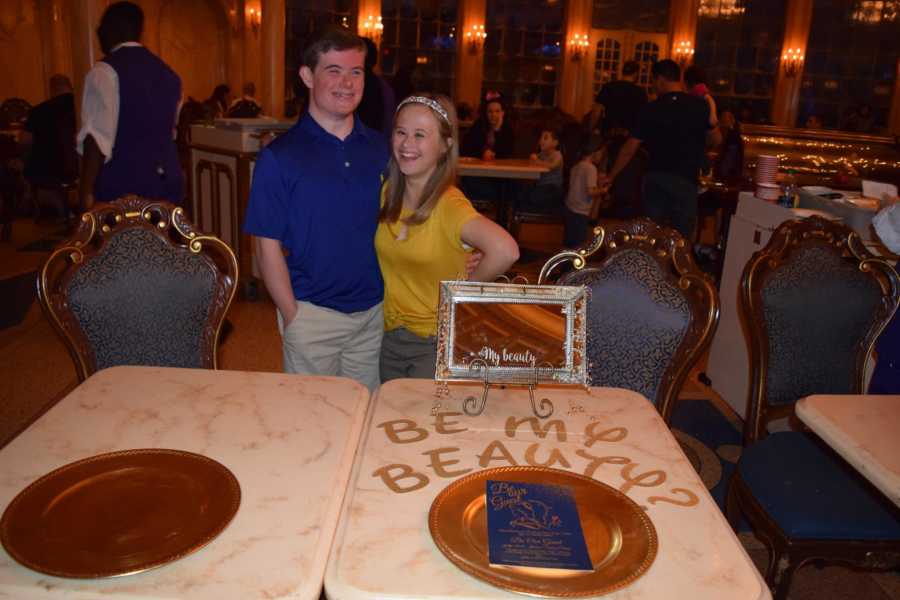 At prom they were welcomed, included, and embraced by all. Chad was happy to have spent his senior prom with his beauty!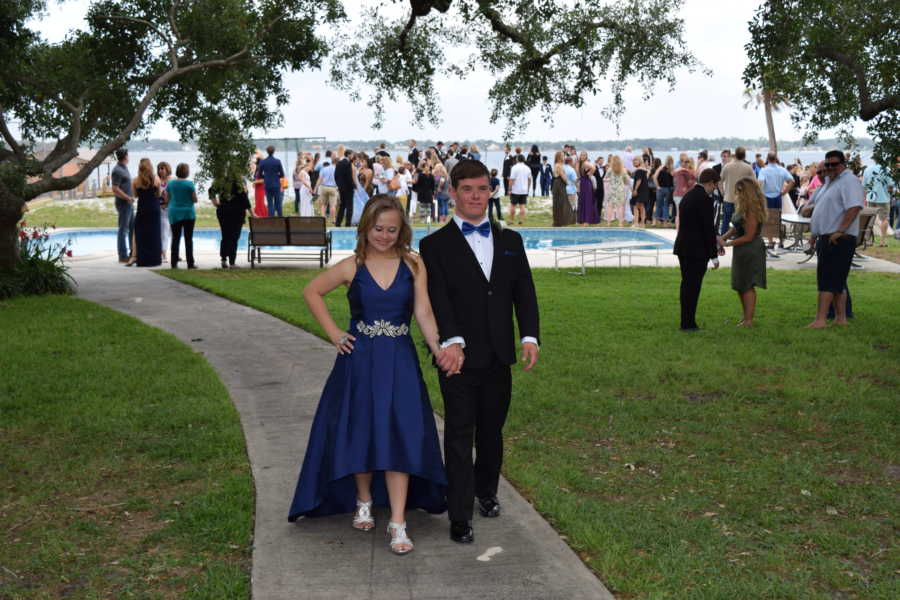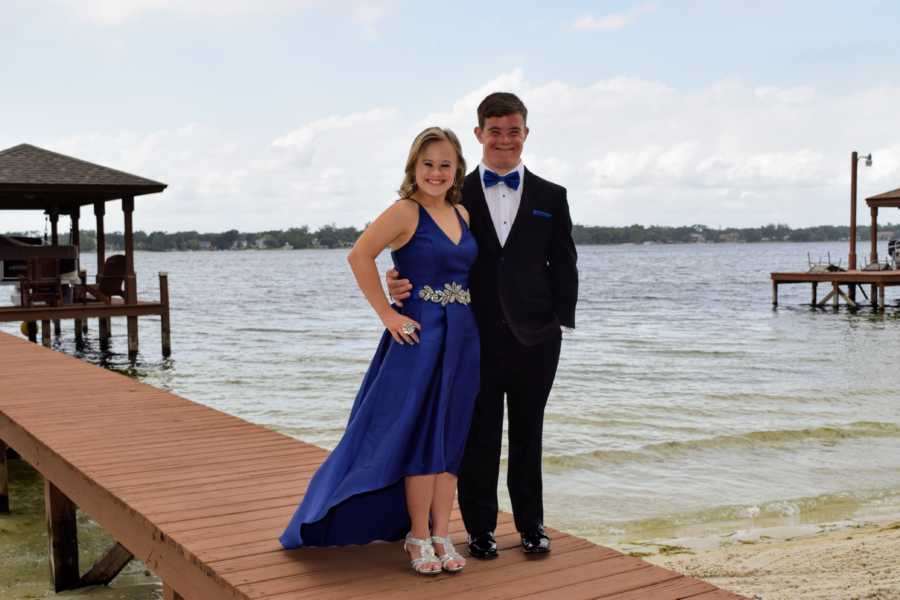 This story was written by Steve Adams & Kathy Vanscoter of Florida. You can follow Abigail's journey on Facebook. Be sure to subscribe to our free email newsletter for our best stories. 
SHARE this story on Facebook or Twitter if you believe in inclusion and that love always wins.
SaveSave