Breast Center Call
"It was late Friday morning on a cool December day when my phone rang. The kind of day where comfort comes from having chicken soup and a blanket wrapped around you. December 17, 2021, to be exact. It was the breast center calling. I had a routine mammogram 2 days prior. I took a deep breath and hesitantly answered the phone. Maryann, the nurse on the other end, introduced herself and told me in a kind, warm voice that the doctor saw something of concern on my imaging and asked if I could come in for a biopsy.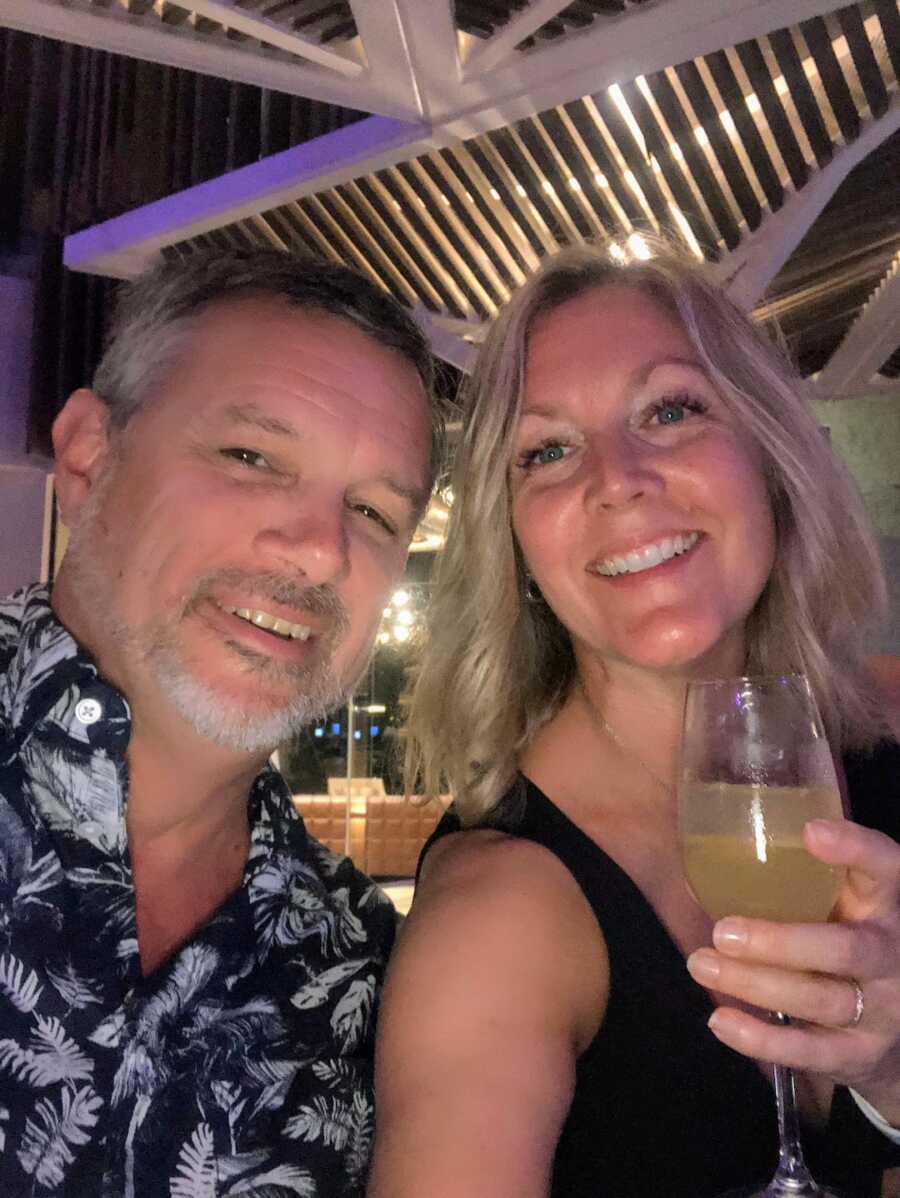 It was one week before Christmas. Her call interrupted me creating the final list for Christmas Eve dinner. With the busy holiday season approaching, I thought they would schedule me after the New Year. To my surprise, she asked if I could be there within the hour. I said yes before I even had time to exhale.
Biopsy
I drove to the breast center alone. All sorts of thoughts were running through my head. With a mask on, I walked into the hospital and up to the reception desk. Shortly after arrival, I was escorted to the sonogram area by a friendly woman and was given a warm gown. I undressed, wrapped myself in the warm, pink gown, and sat in the waiting room. My mind was on overdrive as I recalled my last biopsy. It was a stereotactic biopsy done in 2014. I developed a hematoma and infection, was on antibiotics and in pain for days. I hoped this biopsy wouldn't have the same result. I began to count all the biopsies I had up to that moment. The final count was 6 since I was 26, with my first surgical biopsy on June 22, 1994. At that time, I had half the milk ducts removed from my left breast due to 'atypical cells.' I decided at that moment if this turned out to be something, I wouldn't hesitate to get a bilateral mastectomy, as these 'girls' had seen too much action over the years, and I wasn't sure I could handle another biopsy.
A few minutes later, I was called into the sonogram room. The technician, whom I had met on several occasions, was lovely. The doctor was the same one who did my last biopsy. She explained to me that 6 tissue samples would be taken from my left breast and a clip placed next to the one previously inserted 7 years prior. I lay down on the table and rolled a bit on my right side. The technician began to scan the area of concern. Once the exact spot was located, the doctor numbed me.
I HATE needles, which made the numbing process horrible. With the extraction of each specimen there was a relatively loud click and my body automatically jumped. A few minutes later the biopsy was completed. The specimens would be sent to a lab, and I could expect to hear back in a few days. In a very clinical and matter-of-fact tone with a sprinkle of warmth, the doctor told me whatever the results, we would devise a plan together.
On Tuesday, December 21, 2021, the breast center called. I felt my heart plummet into my stomach and knew my life was about to change forever. As if in slow motion, I answered the call. If I close my eyes, I can still hear Maryann's voice saying they received my biopsy results and asked if I could go to the breast center. I wasn't surprised when she asked me to come in right away. This time I didn't want to go alone. My mother-in-law, a breast cancer survivor, went with me (my mother, also a breast cancer survivor, lives in Georgia). I don't remember what we spoke about in the car, I just remember our mouths moving and hearing voices. My eyes were focused on the road and at the same time I was fighting back tears.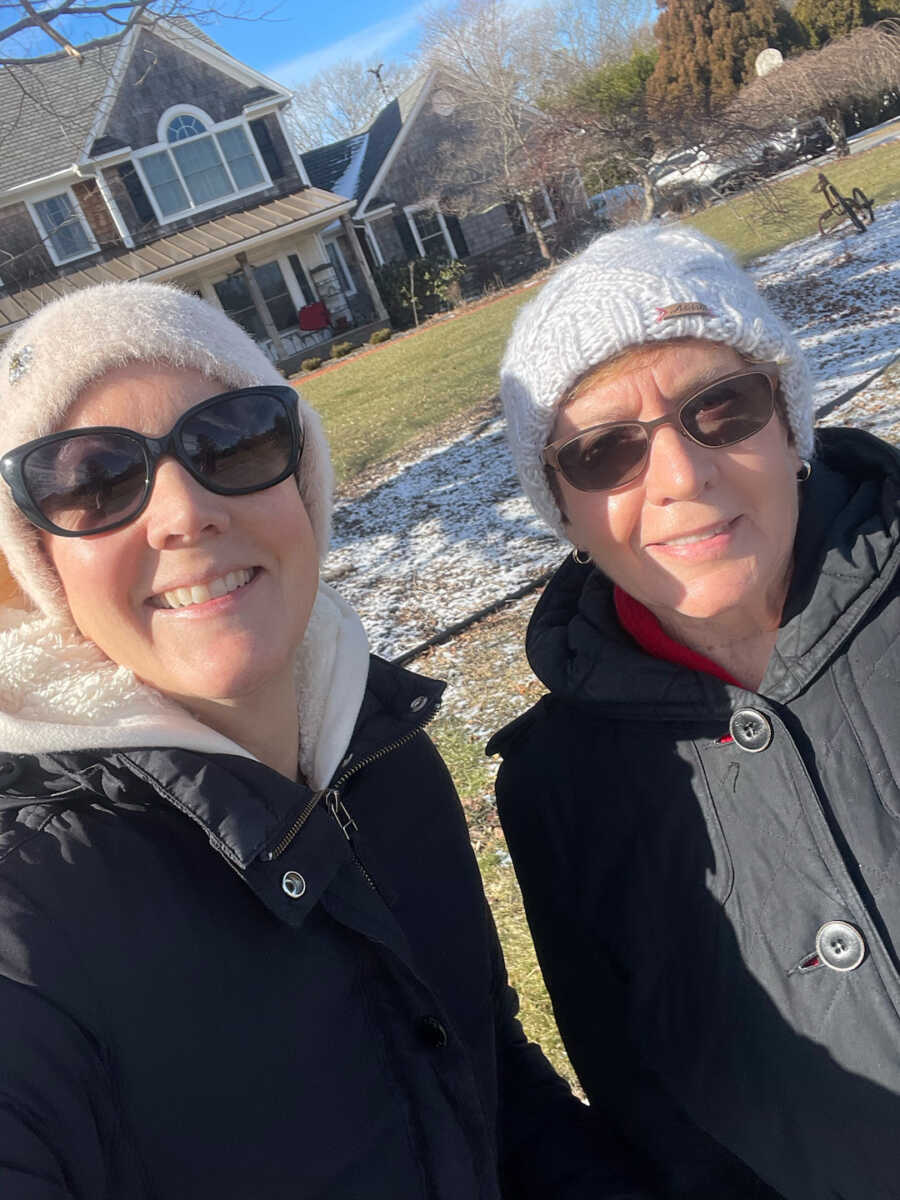 Diagnosis and Treatment Plan
With masks on, we walked into the breast center and were immediately brought into the office. It was warm and inviting. We were asked to sit down in comfy chairs and invited to take a drink from the water bottles that had already been placed on the side table prior to our arrival. My mother-in-law sat to my left; Maryann was in her desk chair to my right. The doctor came in, introduced herself to my mother-in-law and sat in a chair at the end of the desk, almost directly in front of me. I could feel my eyes welling with tears.
I don't remember the exact words; however, I was told my biopsy was positive for IDC (Invasive Ductal Carcinoma) breast cancer. It was stage 1, estrogen positive, and Her2+. Relatively speaking, it was a good scenario. Though Her2+ is a more aggressive breast cancer there were specific treatments that had been proven successful for a long time. Maryann held up a pretty, clear box of pearls ranging from 2mm up to 20mm. She took out a 10mm pearl, placed it in my hand and told me this was the approximate size of my cancer. As I held the pearl in my hand, I thought what a nice, kind, warm, and non-scary way to confirm a woman's fear.
Maryann, having years of my personal information in front of her, explained how she already called and made appointments with the doctors I would need to see. After Christmas I would see the surgeon who performed my last two surgical biopsies and the plastic surgeon who did my breast reduction in 2011. In a sweet voice she apologized if she was out of line, however explained if she were sitting where I was, she would like the appointments to have been scheduled so she wouldn't need to think about it. Somehow, I found humor in that moment and can remember saying, 'All it took was a breast cancer diagnosis for someone to plan things for me.' Everyone laughed.
With butterflies in my stomach, I called my mom from the office. I really needed to hear her voice. I asked her to get dad and put the phone on speaker. Telling my parents, from hundreds of miles away, their eldest daughter had breast cancer was not easy. I got choked up, but wouldn't allow myself to cry, as I knew if I did the flood gates would open and I would have an ugly cry right there in the office. My crying wouldn't benefit anyone at that moment, especially my parents who were so far away. I had been faced with this possibility for years and now here it was, right in front of me. Is it strange I felt a sense of relief? The moment I knew would eventually come was here. I needn't worry about it anymore. I found myself standing at the entrance to a new path, and I wasn't quite sure how to take the first step. One thing I knew for sure was I wouldn't have to take the first step alone. I already had a great team in the making. After hanging up with my parents, I was escorted to have an MRI. A few hours later and completely emotionally exhausted, we headed home.
On the morning of December 30, 2021, I saw my surgeon who would remove the cancer and sentinel lymph nodes. He's such a kind man with a sunny disposition and warm bedside manner. He made me feel comfortable and relaxed and gave me the confidence I had nothing to fear. In the afternoon I saw the oncologist who had done genetic testing on me 2 years earlier (all of which were negative). He explained my cancer and the treatment it would require. I would need 12 weeks of Chemotherapy and Herceptin infusions once a week for 3-7 hours followed by an additional 13 Herceptin infusions every 3-weeks and once those were finished (anticipated finish date: 2/8/23), I would need 10 years of Tamoxifen. With my head spinning it was my turn to ask the questions I had come prepared with. I took notes as he answered the questions about my health and prepared me for what was to come. The same evening, I had a PET scan. Thankfully, there were no surprises.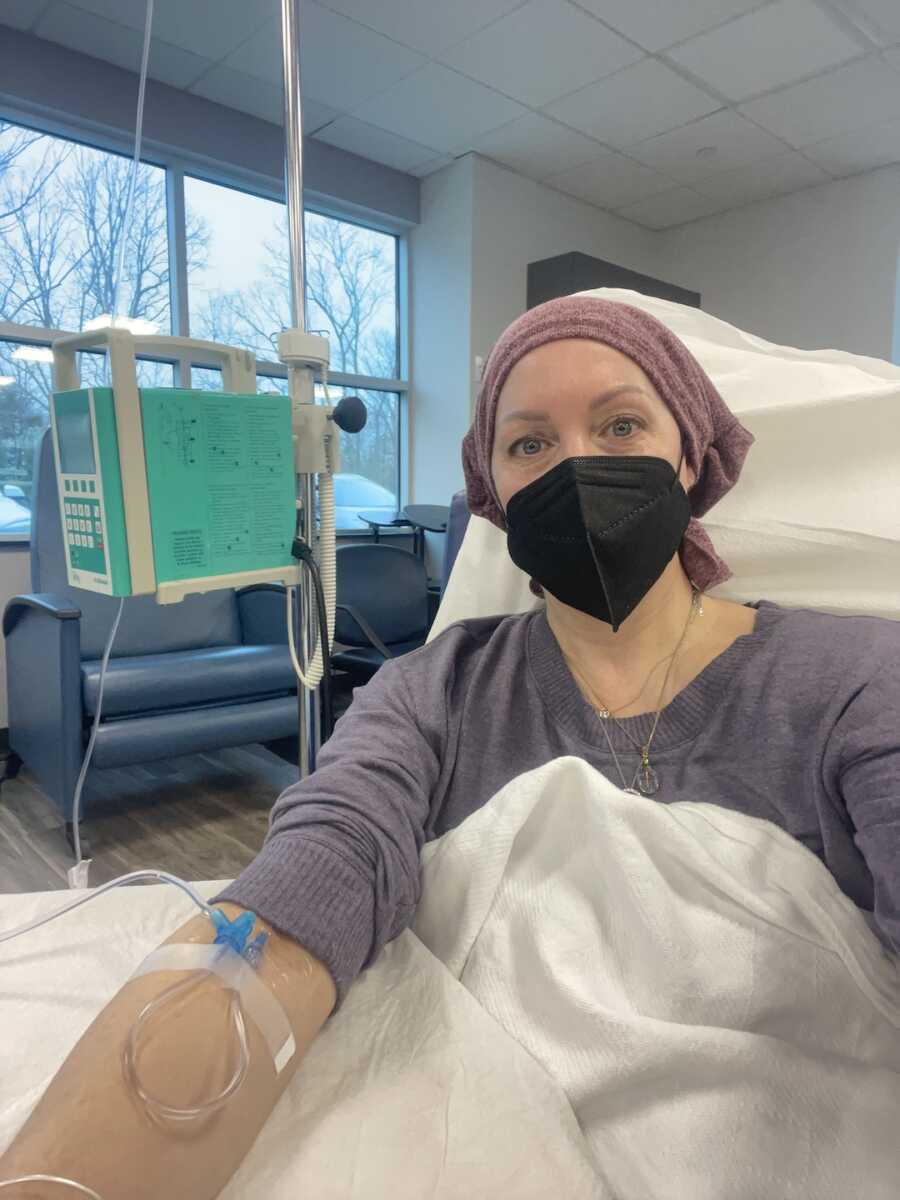 Community Support
At Church that weekend I told my priest the news. He immediately added me to the prayer list and had some words of wisdom for me. I was in the process of converting to Catholicism and had started classes 4 months earlier. Being a praying woman, I continued with my daily rosary and prayers. They took on an even greater importance as beginning each day with prayer calmed my soul and set me on a positive course for the day.
I hired a cleaning woman to clean every other week knowing it would be a while before I had the strength and energy to clean the house. I cut my hair short in anticipation of it falling out and had my eyebrows tattooed. I believed I could handle losing my hair but would have a difficult time if I lost my eyebrows as well. My sister-in-law and I made the best of a challenging situation by going wig shopping together. We tried on every wig, hat, and scarf in the gallery and quickly determined what looked most natural on me. Somehow, we turned the reality of hair loss into a fun and memorable day.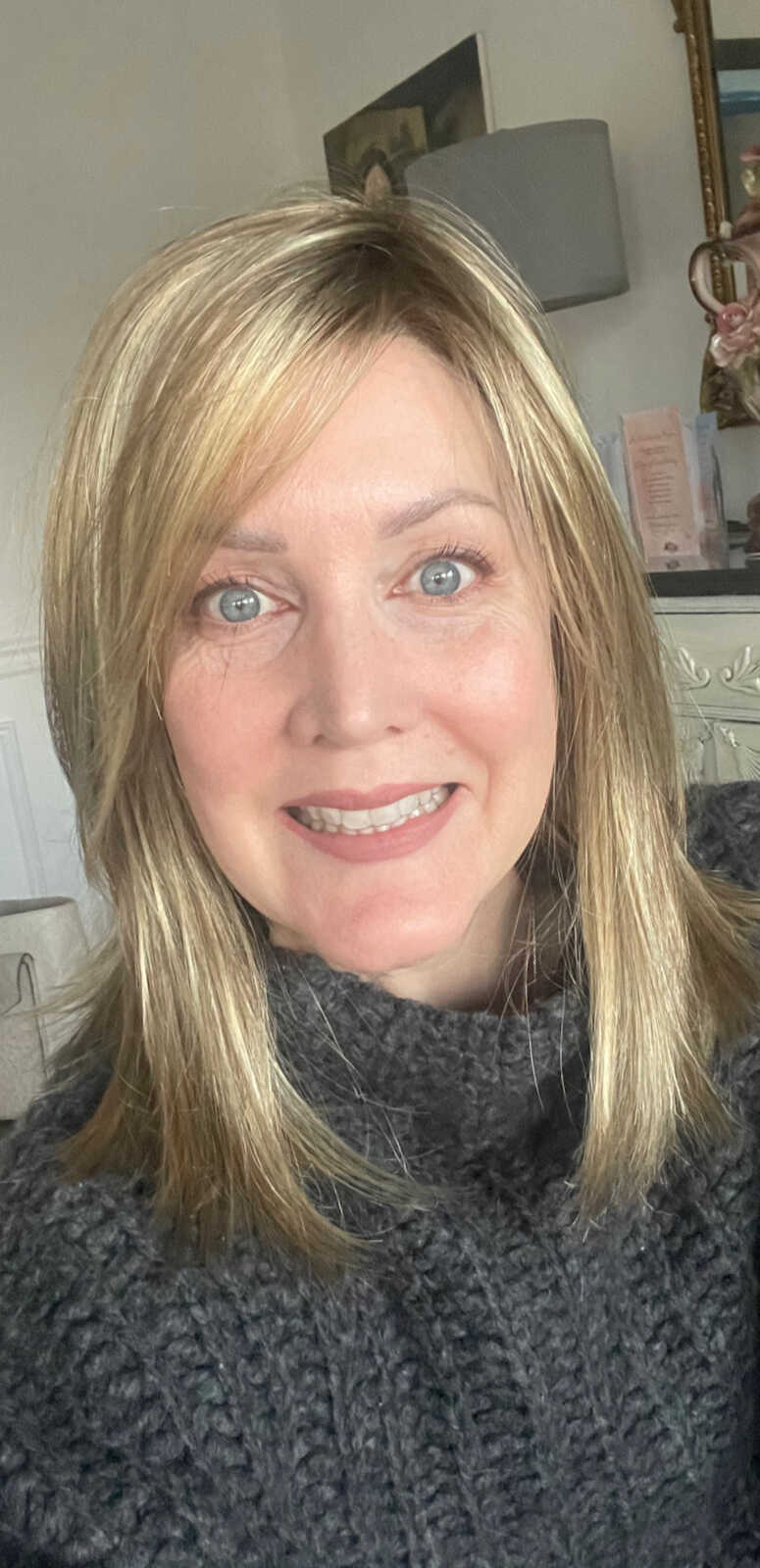 Around this same time, I started to tell family, friends, and colleagues of my diagnosis. I was immediately touched by the outpouring of love and concern. Many people came forward visibly upset and sorry about my news. I was surprised by the amount of people who kept me in their thoughts and prayers and reached out. I was equally surprised with a few people who I thought would be there, but were absent when I needed them most. That truly hurt, however cancer changes a person and dwelling on that hurt was not something I was willing to do. I consciously decided to move on in a positive direction and not look back.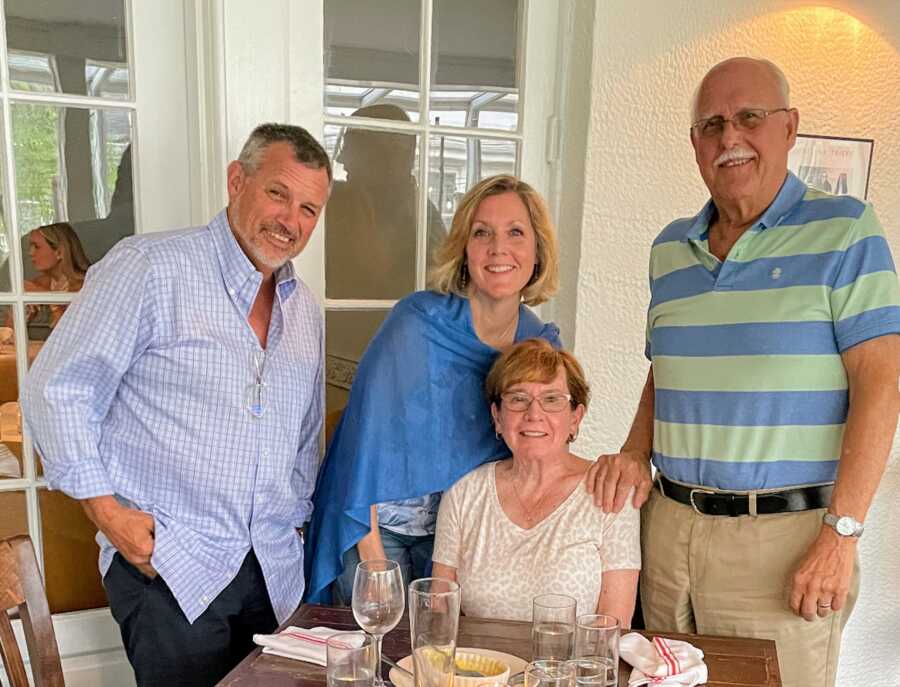 Helpful gifts began to arrive. Just when I finished writing a round of thank you cards, more gifts were delivered. Baskets of everything I would need and things I didn't know I needed for treatment, recovery, side effects, surgery, etc. I received home-cooked meals and gift card after gift card for restaurants and door dash in anticipation of surgery, chemo, and Herceptin treatments, and not having the strength and energy to cook. The best gifts of all were the arrival of my parents a few days prior to surgery. They stayed with us for 4 weeks to help with everything. In addition, my pastor had received special permission from the Arch Diocese for me to receive the sacraments of holy communion and confirmation on Sunday January 23, 2022, before my surgery in hopes of giving me additional strength to face this new journey.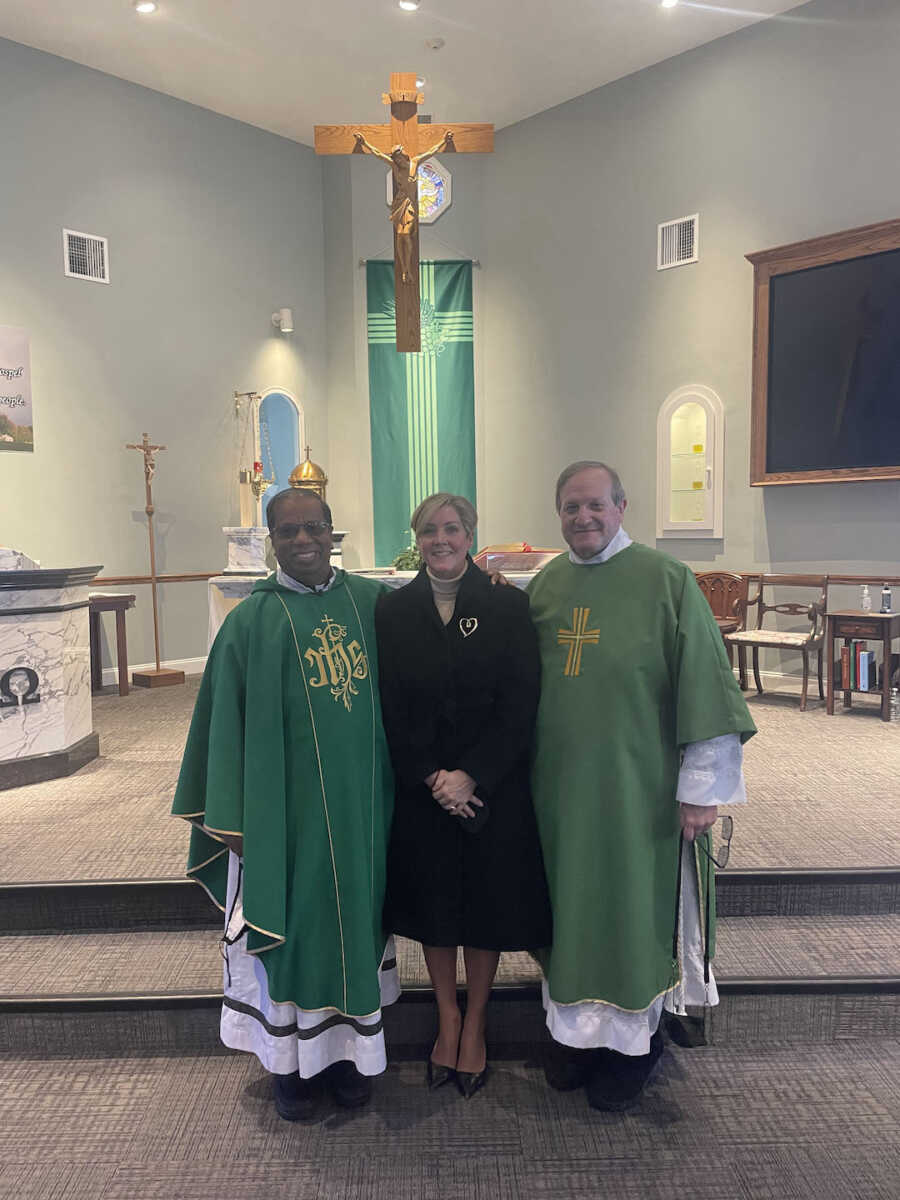 My surgery was scheduled for January 25, 2022, which at the time of diagnosis felt like years away. In the back of my head was a little voice wondering if my aggressive cancer would get larger and spread during those weeks of waiting. To keep my mind positive, my mantra became 'focus on what you know.' Doctors' appointments upon doctors' appointments filled the weeks leading up to surgery and gave me a glimpse into what my life would look like for the foreseeable future. A visit to a nutritionist confirmed I had been eating well for years. She advised me on foods I might want to stay away from during treatments. I continued to do my daily workouts and focus on my health. I started an online journal and invited those closest to me to follow. I thought this would be a nice way for me to update everyone without me having to repeat the same information over and over. It has proved a wonderful tool for an adventure such as this.
I carried my notebook to each office visit and jotted down everything I was told. Early on in my diagnosis I decided not to be a victim and with advice from my Oncologist, consciously stayed away from online cancer groups. In his experience, he felt some of the groups focused on the negative and not on the positive. I'm sure for some people they are very helpful; they just weren't for me. The warrior in me began to take charge of my treatment, familiarize myself with my cancer, mastectomy options, implant options, and read from cover to cover the amazing book the breast center gave me at time of diagnosis. I reviewed all possible side effects one time only. After that I never looked back. I didn't want to fill my head with too many negative possibilities and decided to address any side effects if they presented themselves.
Throughout all of this, I was granted permission by the Superintendent of Schools to work remotely in my role as arts administrator. This helped me to keep my distance from the more than 7,500 students and staff at a time when NY's Covid numbers were skyrocketing and my immune system was plummeting. It also gave me purpose and helped me to focus on something other than having cancer.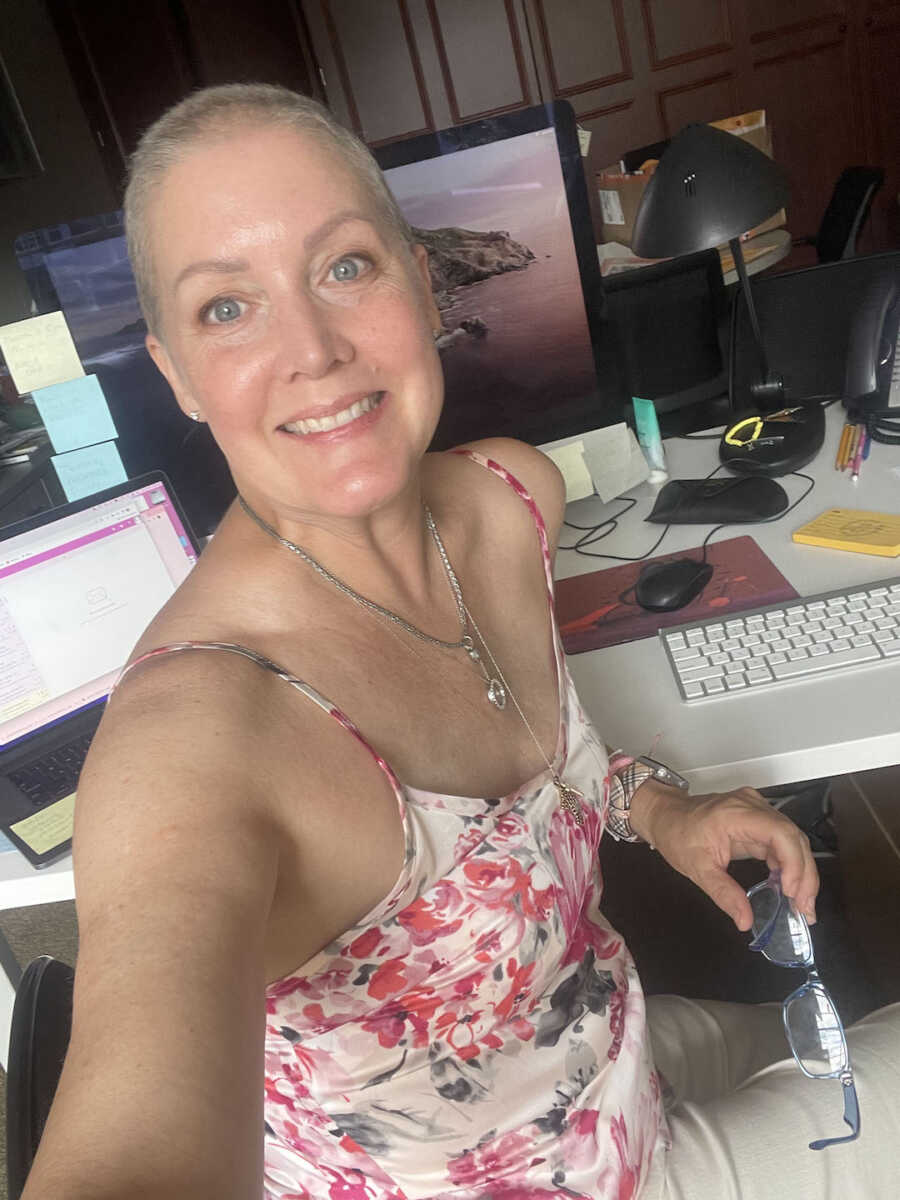 Surgery
On the day of surgery, I arrived at the hospital anxious, nervous, and prayed waking up after surgery was God's will. I worried about what would happen to my husband and adult children if I didn't. With the pandemic, we weren't sure if I would be dropped off outside the hospital on the day of surgery. The thought of having to walk into the hospital alone was upsetting. Gratefully my husband was granted special permission to sit with me prior to surgery but thanks to COVID, my parents had to wait in the car, on a cold day, in January on Long Island. None of them were permitted permission to enter the hospital after my surgery or the next morning for pickup.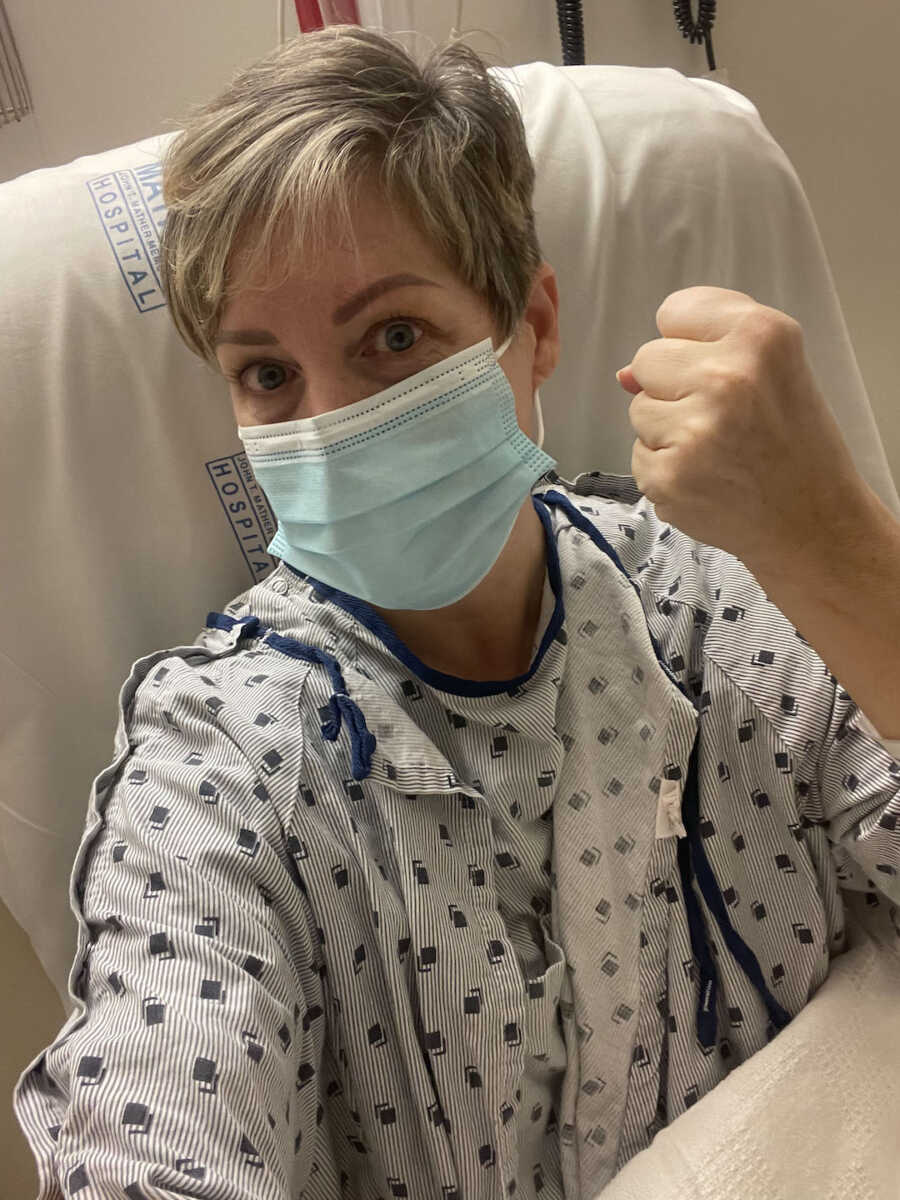 I walked into a large operating room. There were a few hospital staff waiting for me. Both surgeons walked in moments after I arrived. I fell asleep within seconds of speaking to the anesthesiologist and woke up 7 hours later in recovery. I spent the night in the hospital where I experienced some edema in my hands. The nurses were wonderful. Two of my former students, now nurses working the night shift, visited me bringing with them my favorite sweets, Swedish fish. Seeing familiar, friendly faces that night made my heart happy. My roommate and I got along wonderfully, and at 4 a.m., I convinced her to walk slow laps around the nurses' desk on our floor. I am not one who does well sitting down and knew moving would help my recovery both mentally and physically.
Post-surgery meant resting. Laying on the couch, sleeping, taking antibiotics, sleeping some more, and visiting doctors. Mom and I measured, tracked, and emptied the drain bulbs 4 times each day for two weeks until the drains were removed. Less than 2 weeks later, with doctor approval, my mom and I began to take daily walks outside in the cold February air. I was surprised how slowly I walked and how winded I got. It took us almost an hour to walk a half mile. Once the drains were removed the plastic surgeon began to add fluid to the expanders. This proved to be uncomfortable as the skin began to expand. Some women decide not to have reconstruction; however, I knew from the get-go I would opt for reconstruction.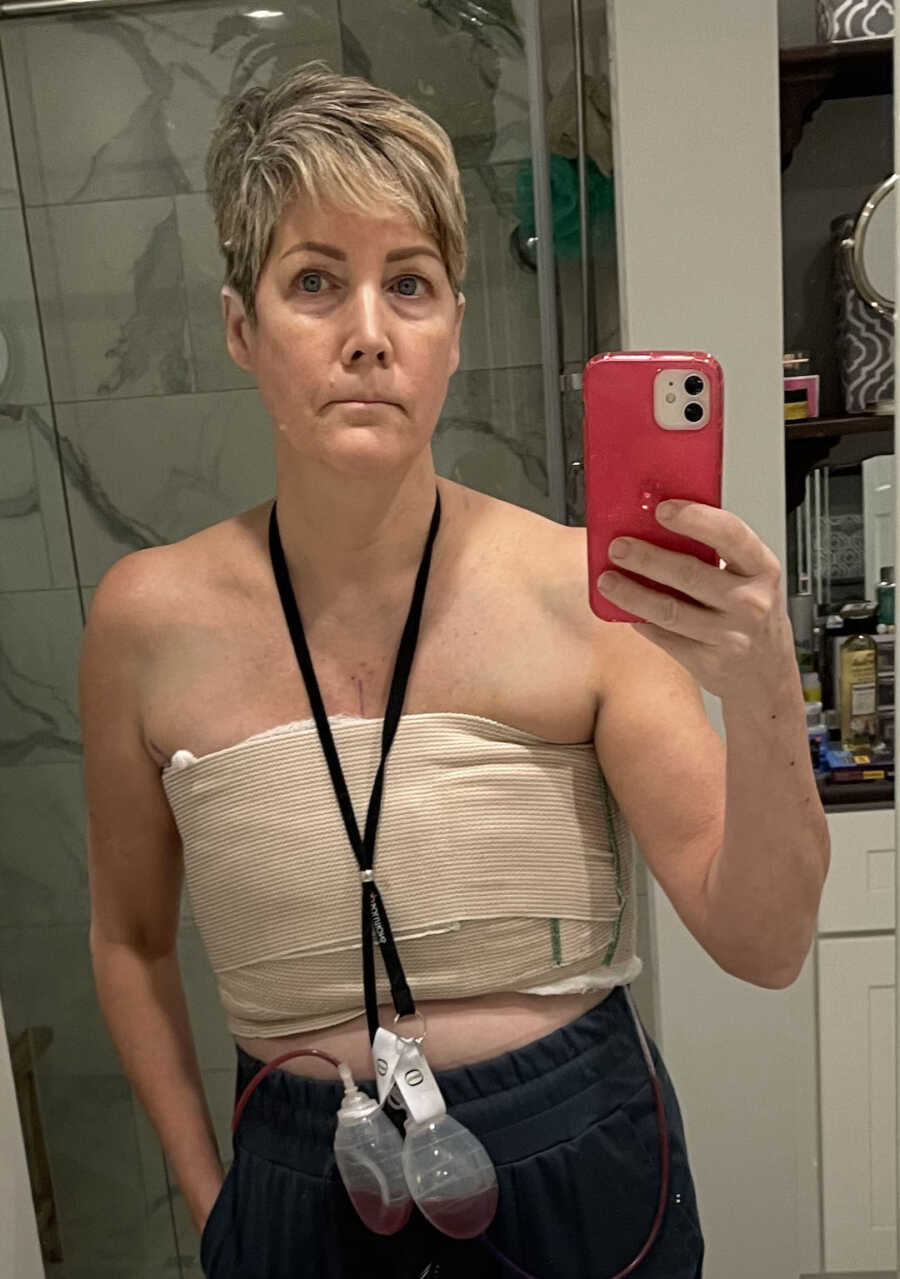 Life After Surgery
Since my surgery, life has had many challenges. Ups, downs, twists, and turns. The first two weeks post-surgery I spent on the couch with my parents taking care of all household things while my husband went to work. Resting is not something that comes easy to me. I am always on the go. I quickly learned listening to my body was going to help me recover quicker than if I tried to do more than I could. Chemo and Herceptin treatments began on February 26, 2022. Around that time, I also had my baseline echocardiogram done. Herceptin can change the heart muscle and as a result, monitoring with an echocardiogram every 3 months is required. April 14th, I tested positive for COVID which I think I caught from the wind as the only places I went to were church and to my in-laws, and I always wore a mask. Covid set me back a week in treatment and thankfully my oncologist prescribed an antiviral. It helped with my recovery and got me back on track with the infusions.
I had a few side effects from treatment that continue to this day. Diarrhea, constipation, headaches, a bit of nausea, some neuropathy, weight gain (17lbs), and worst of all for me, recurring multiple mouth sores. Each Saturday, my husband and I would pack my bag with a blanket, snacks, water, cold socks and gloves I ordered to stave off neuropathy, a hat, a book, my rosary and religious trinkets to give me strength among other items. Treatments began with inserting the IV needle, blood work, Herceptin, a bag of Zofran, a bag of Benadryl and lastly chemo. I would start each session reading but once the Benadryl began to drip, sleep came quickly. By treatment 6, my hair was very thin, so I decided to take control and shave what was left. I shaved my head the weekend my daughter came to visit. I believe she provided additional strength for that step. The last day of Chemo was May 21st, and on May 28th, I began my tri-weekly Herceptin infusions.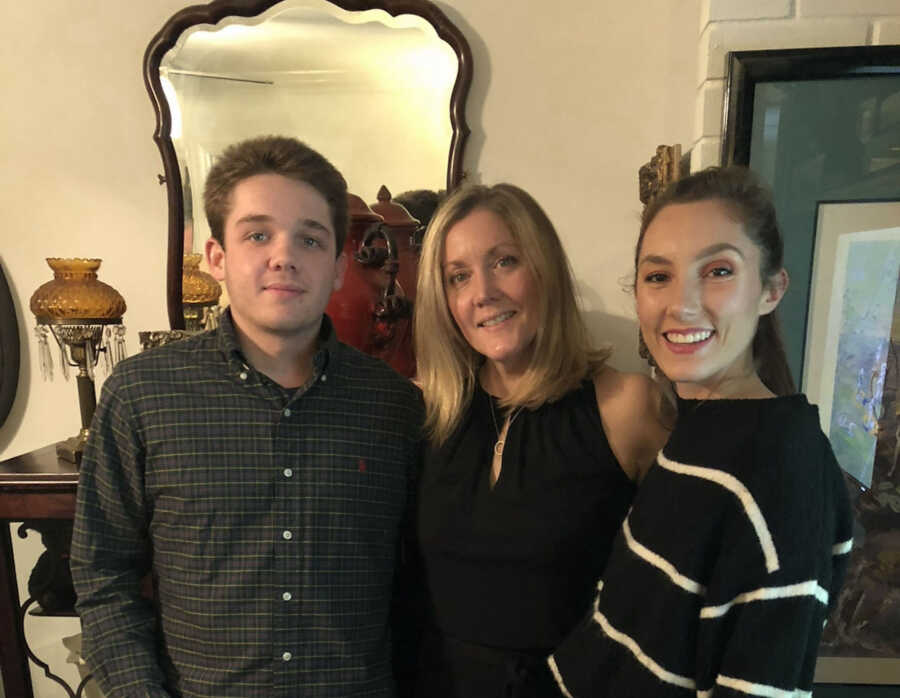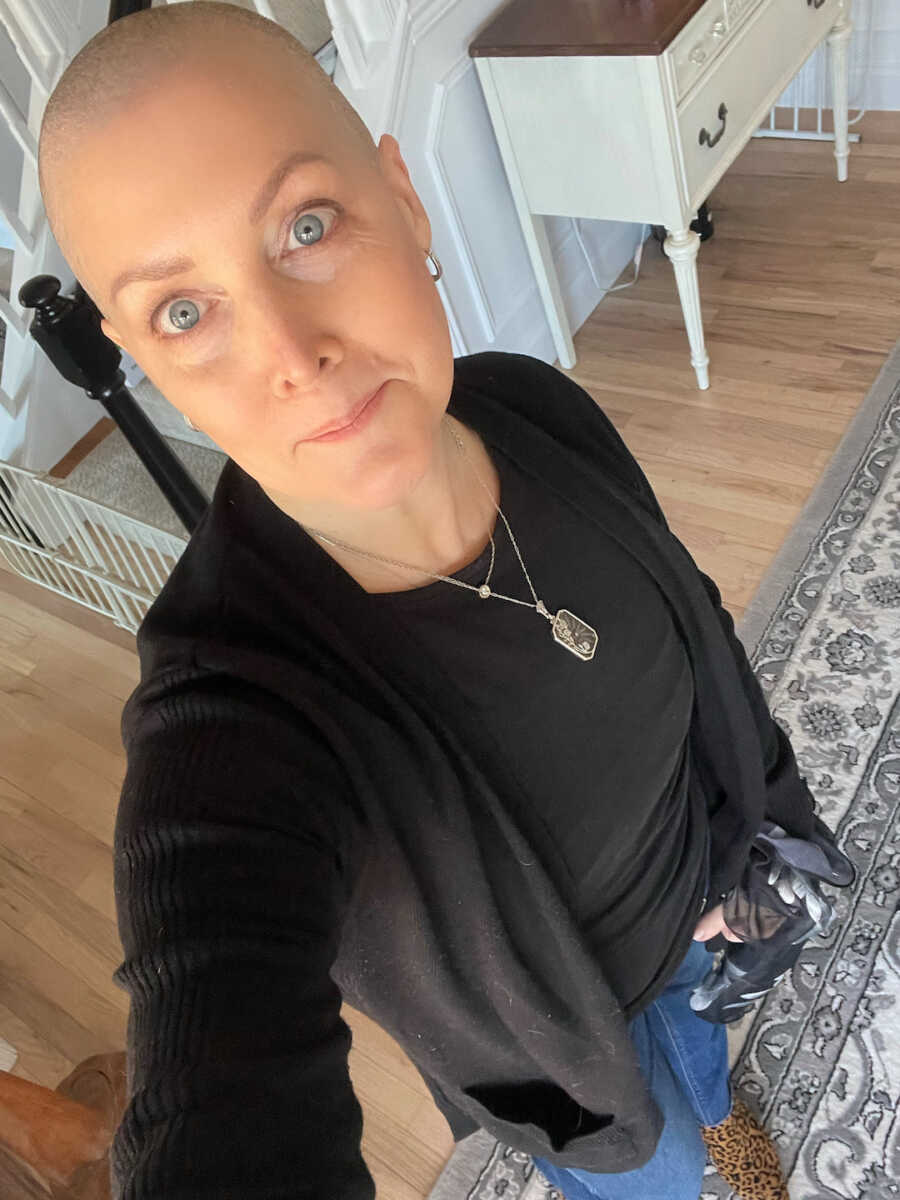 Throughout this journey, I have posted consistently on social media. I was born a teacher, and as such I felt it important to share my journey with anyone who wanted to follow. I believe it's important for me to show my strengths and weaknesses, to be real, raw, and honest. I aim to be someone relatable who can give hope to another person about to take the first step on a similar path. This is a club no one wants to join, however in the United States breast cancer affects 1 in 8 women, and on Long Island it's 1 in 6. I am a strong woman and much of that strength comes from faith and family. I have always been that person who focuses on the positive, however that doesn't mean I haven't had moments of weakness. On a few occasions, I was stopped in my tracks wondering how this is my life. But my life it is, and I plan on living it on my terms. 5 minutes at a time, 1 hour at a time, 1 day at a time, all while focusing on what I know. I know I have cancer. I know I am strong. I know I have a support system like no other and I know I will get through this.
In similar situations I'm sure people ask God, 'Why me?' I never once asked that. Instead I asked, 'Why not me?' I feel, through this process, I have grown into a stronger, kinder, more empathetic version of myself with a new direction, which includes helping others who find themselves on a similar path. Oh, yeah, and I still HATE needles. That's one thing that, no matter how many infusions I have, will never change."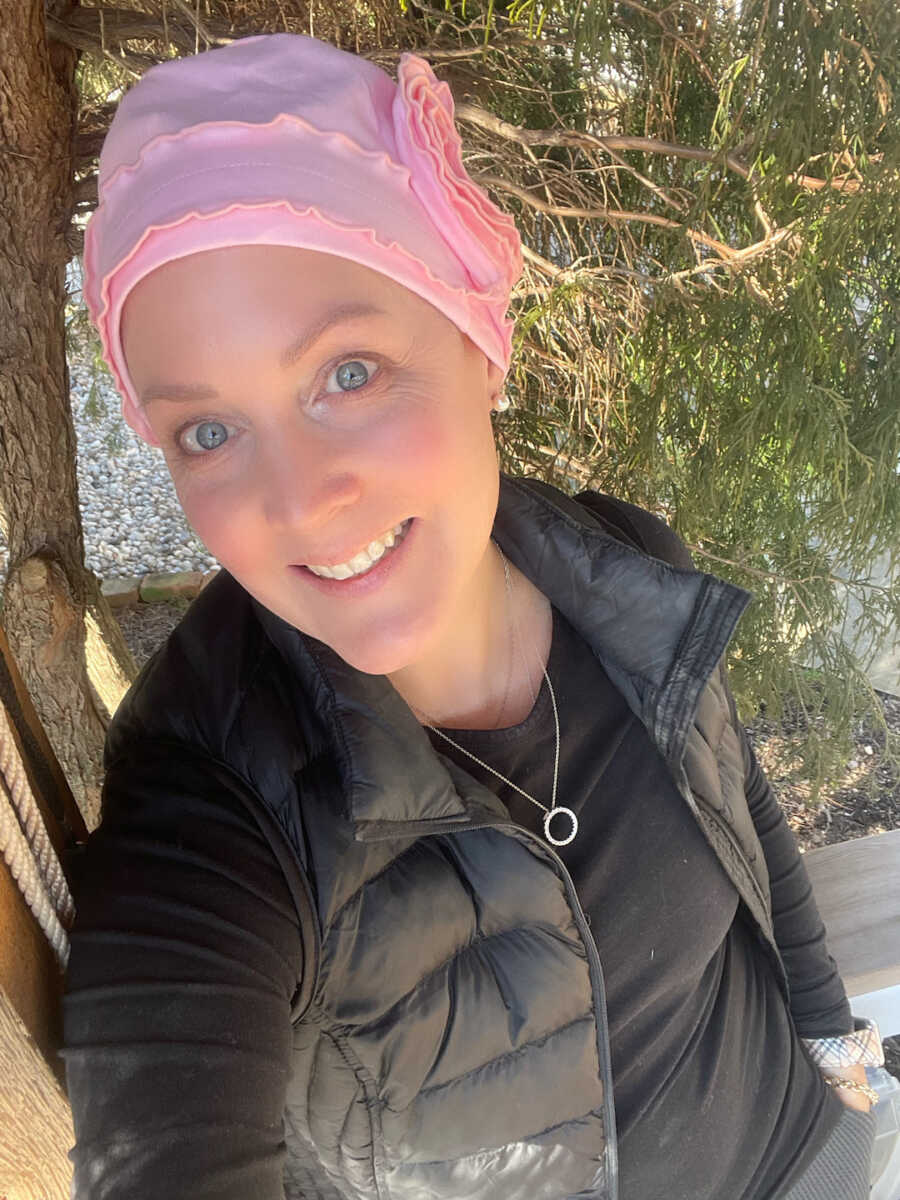 This story was submitted to Love What Matters by Jennifer VanName Trettner of Wading River, New York. You can follow her journey on Instagram and Facebook. Submit your own story here, and be sure to subscribe to our free email newsletter for our best stories, and YouTube for our best videos.
Read More Like This 
'At 30 weeks pregnant, he put down the wand, took me into his office, and began to talk about a recurrence.': Three-time cancer survivor delivers miracle baby during chemo
'Selfless and determined, he put his all into keeping me safe.': Woman finds true love during breast cancer battle
Breast Cancer Survivor Talks Radically New Outlook On Life, Finding Purpose, & Navigating Post-Cancer Life
'The ultrasound tech said, 'What an absolute mess your breast is.' All I could think was, 'This isn't good.': Young mom shares journey to Triple Negative Breast Cancer diagnosis
Do you know someone who could benefit from this story? Please SHARE on Facebook to make them aware there is a community of support available.