"A conversation with my mom, a breast cancer survivor, at Christmas 2020.
Me: 'Hey Mom, do you remember Breanne? My old friend from back in the day? I was thinking about her recently and looked her up. She just went through some really intense treatments and surgery with something called Triple Negative Breast Cancer. I googled it and it's this really aggressive cancer with no targeted treatment options because the cancer tests negative for hormone receptors, and hormone therapies don't work on it. It's more likely to spread and the recurrence rate is high.'
Mom: 'That's awful. She's so young. I'll keep her in my prayers. I haven't heard of TNBC either. It must be pretty rare, especially if I just got through breast cancer and it was never mentioned. I didn't even know there was more than one type of breast cancer.'
…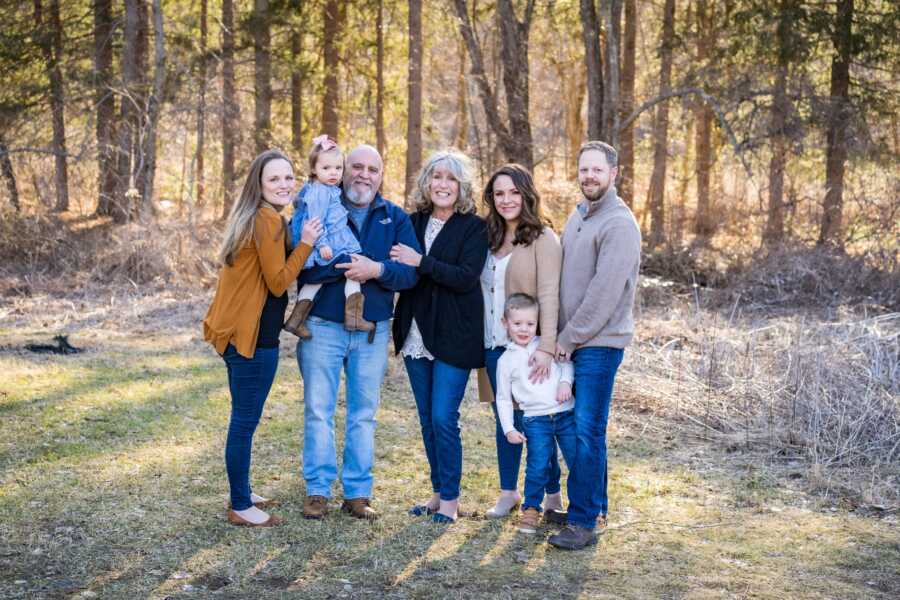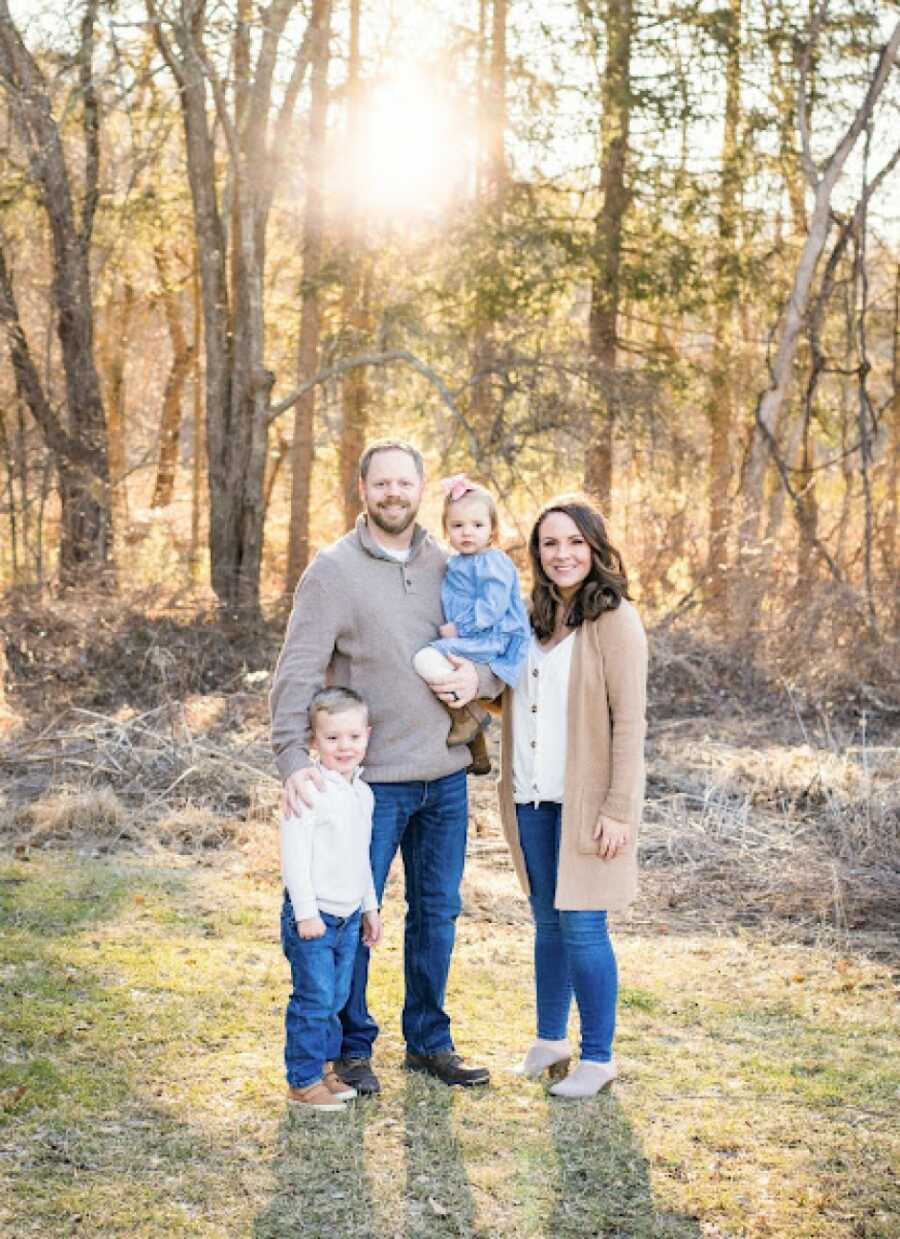 I remember vividly the day I found out something serious was wrong with my health. It was a chilly morning in February. My husband had just gone off to work and the kids were at my in-laws. I made my way into the city to meet with a lactation consultant. I had called for an appointment with my OBGYN the week before and mentioned I had seen some blood. Having just finished breastfeeding my baby girl a month prior, the receptionist assumed this would be a lactation-related appointment, and did not give me an urgent appointment spot. With this in mind, I was confident the symptoms were a clogged duct, and perhaps an abscess from mastitis, and I'd be given some antibiotics and sent on my merry way.
The LC examined my breast and seemed quite concerned when I showed her that this was deep red blood and not milk being expressed, and I showed her the hardening on my breast which I assumed was the clogged ducts. She quickly left the room and returned with a doctor who gave me a breast exam. 'Don't panic,' the doctor said after examining me, 'but this type of bleeding is never normal. I'm referring you to a breast surgeon and need you to get imaging ASAP.' I was shocked. I knew I had lumps, but I just had a mammogram over the summer and a physical in the fall, and none of the medical professionals were concerned about the lumps and bumps I kept mentioning (along with the recurring mastitis).
You see, the problem with large and dense breasts is the standard 'lay back on a table examination' isn't effective and mammograms don't always pick up tumors in dense breasts. My OB couldn't even feel the lumps until I showed her by sitting up and leaning forward. All I know is no antibiotics were given, and the serious look on their faces as I cracked jokes and tried to keep things lighthearted still haunts me.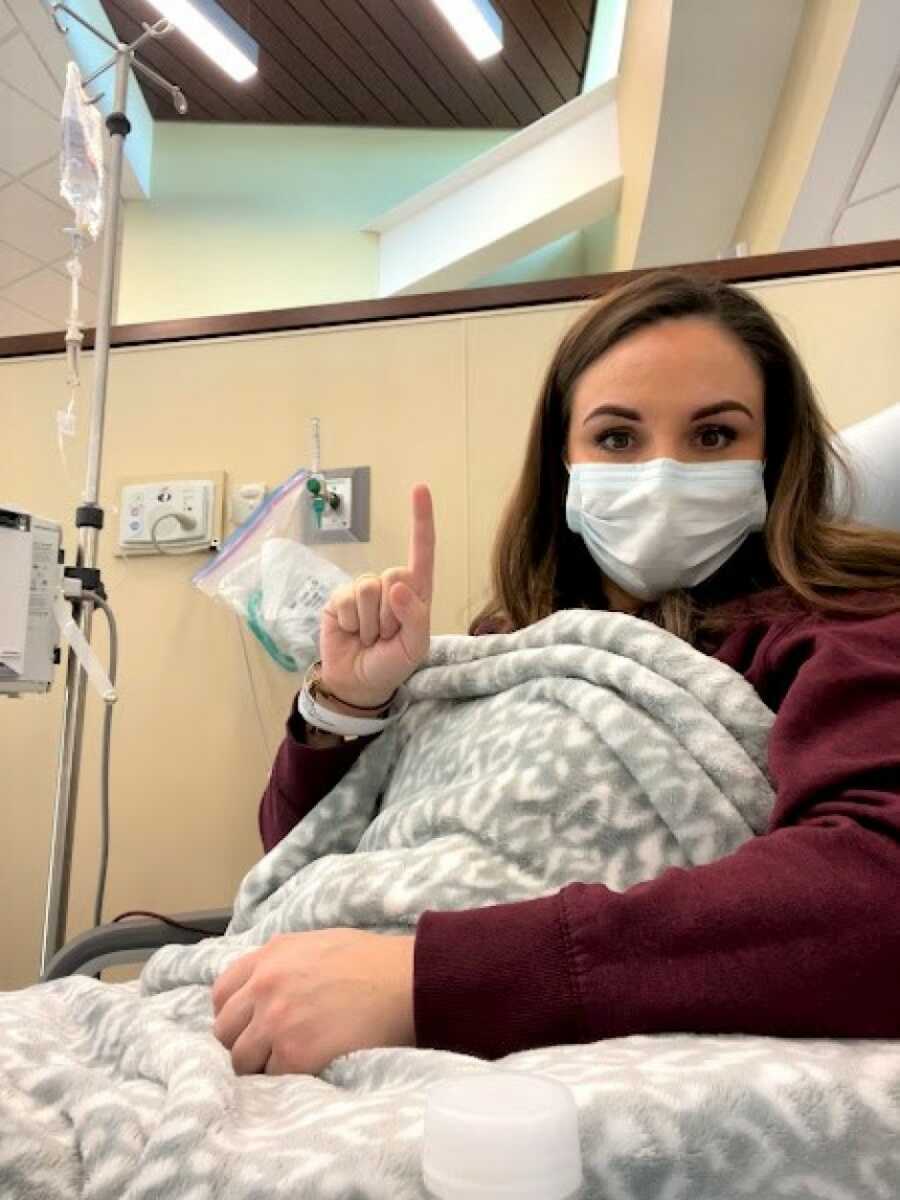 The following week I went for a mammogram and ultrasound. As I waited to be called in, I posted a photo reminding people to still get mammograms even in the pandemic. I was still trying to keep things lighthearted. My mom had just gone through breast cancer a year prior to when my daughter was born. She had a double mastectomy with reconstruction and is able to take oral meds and completely avoid chemotherapy or radiation. It was a tough recovery for her, but she is thriving now. Surely, being only 35, I could get through it too.
I had the mammogram and laid down to make small talk with the ultrasound tech as she got me prepped. We had gotten to know her over the summer when I came in for imaging due to pain in my other breast. Having just turned 35, insurance approved me for imaging of both breasts, but I was only given an ultrasound of the non-cancerous breast because that's the one I had pain in.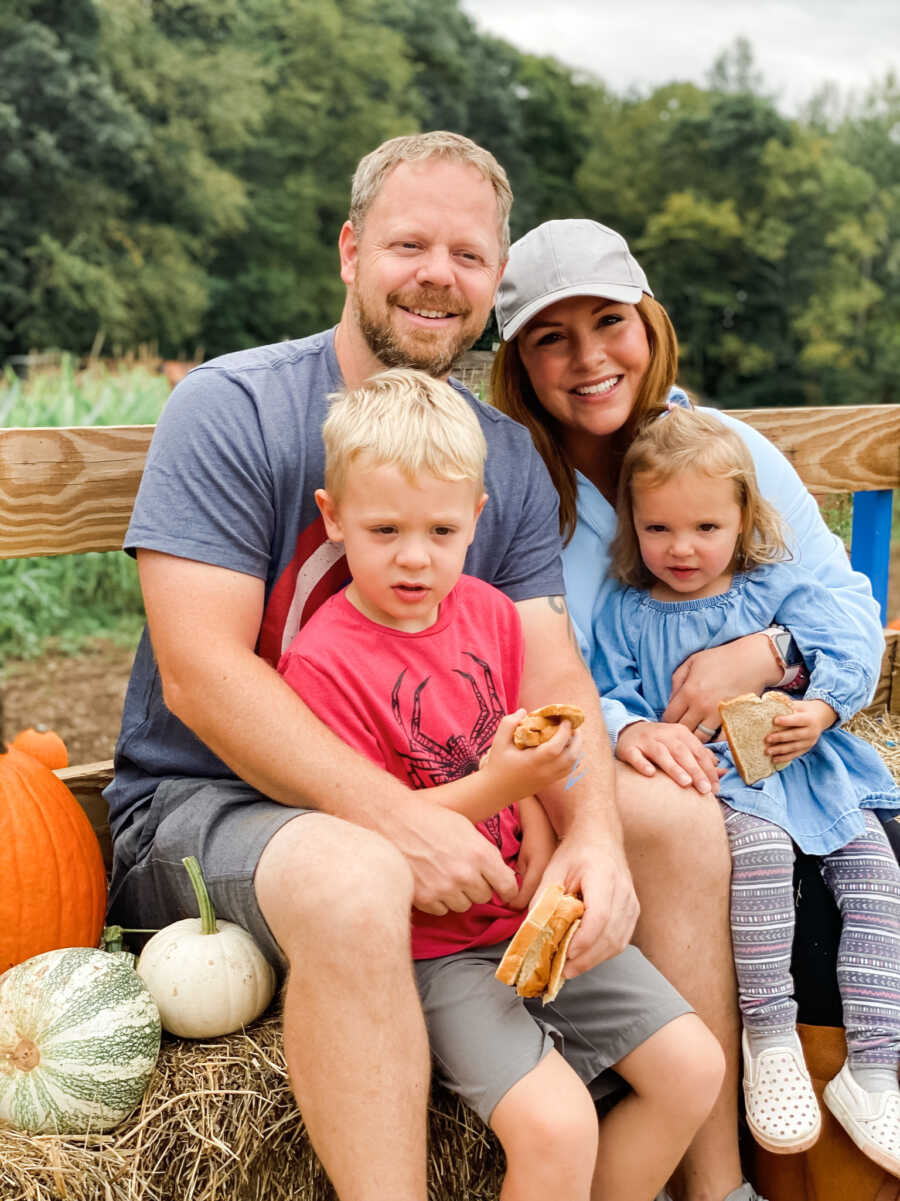 It's important to note here that women with dense breast tissue should always have ultrasounds of both breasts following mammograms. This should be the standard of care. If you are not offered an ultrasound, I urge you to request one.
The tech and I chatted for a good 20 minutes about what a crazy year 2020 had been, but what I remember most from that conversation is her telling me what an absolute mess my breast was. The head of breast imaging came in to take over the ultrasound and recommended biopsies of three different areas of my breast and a swollen lymph node under the arm. I would have to make an appointment at the office where they perform the biopsies and surgeries, and they were booked almost two weeks out. The thought in my head at that time was, 'My mom didn't have that many suspicious areas… this isn't good.'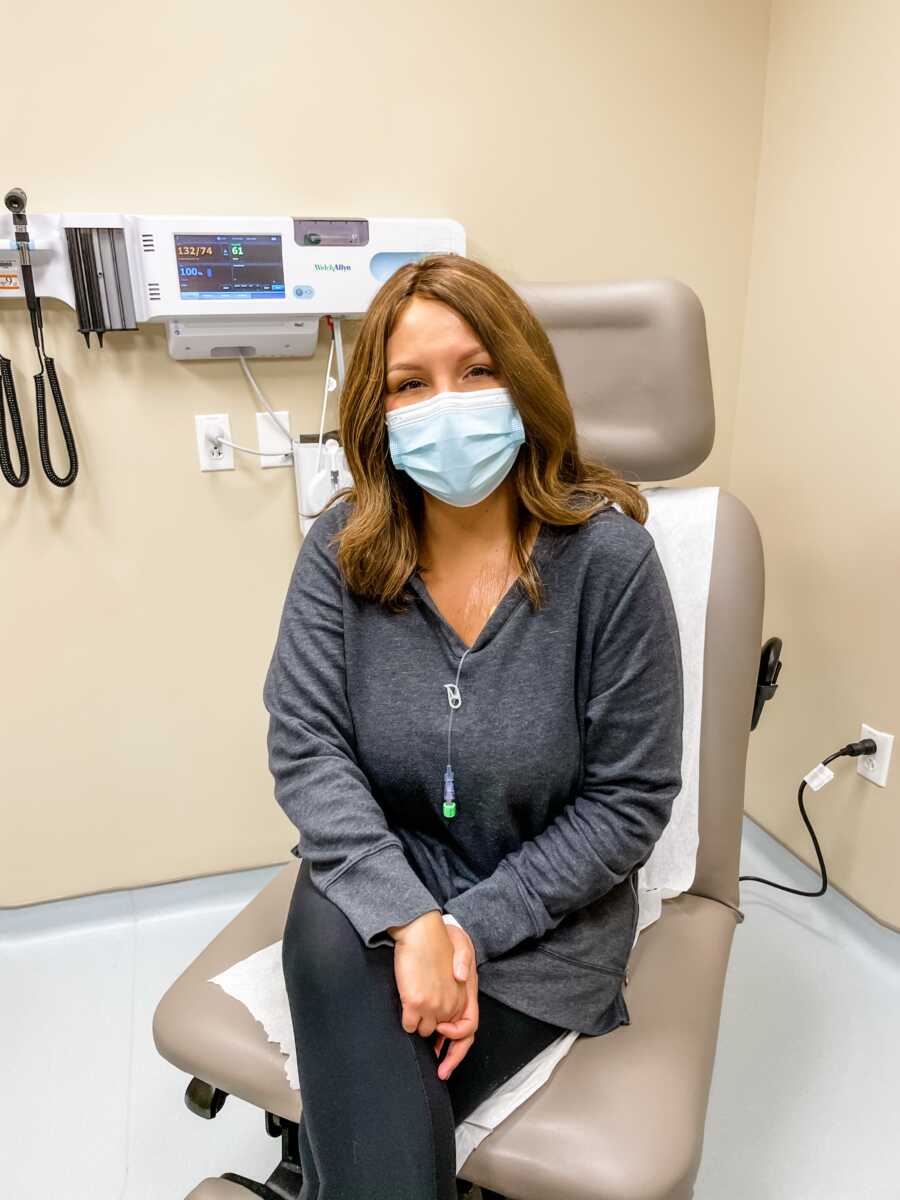 It was another long week until I could finally meet with the breast surgeon. I went alone to the appointment thinking it would just be a quick consultation until I could get the biopsies done. She was, however, able to do a biopsy of the largest suspicious area right in her office, and told me the results would be back the next week. I was told this was likely cancer, alone during a pandemic, holding the hand of a stranger while they stuck a needle in my breast. She sent me for genetic testing that afternoon, and then I met my sister for a much-needed shopping date to get my mind off of everything.
It was our first time really doing mindless shopping since the pandemic started. We went to some home goods stores and ended our night at TJ Maxx, where I bought a scalp shampoo massager, a new shower cap, and some hair ties. It clearly hadn't crossed my mind that this might be the type of cancer that requires chemotherapy. I shake my head in disbelief every time I look at that darn shower cap now.
It was late afternoon when I got an email from the lab that my results were ready. I had signed up to get results on bloodwork directly from the back when we were going through infertility treatments. We didn't know my pathology report would also be done by them and I'd have the results of my biopsy available before I could hear from the surgeon. This wasn't the way it was supposed to work.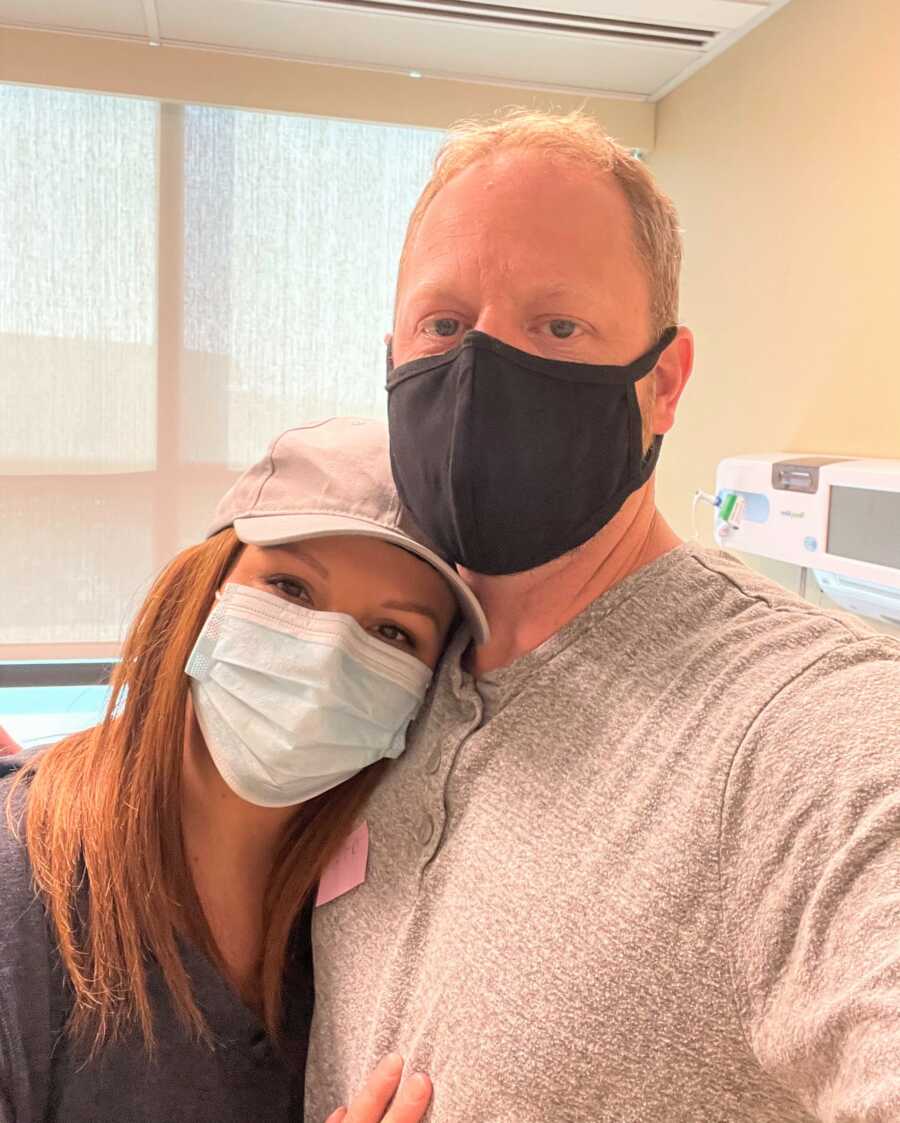 I was finishing up work (from home) for the day and my husband was heading to pick the kids up from his parents' house. I called him immediately and asked him to stay at his parents' house with the kids. I knew getting these results at home by myself was something no one should have to go through, but I didn't want my children to have to see me break down and I simply could not wait until the doctor's office opened the next day. Our 4-year-old had been picking up on too much lately with all the stress the year had brought, and I couldn't bear the thought of him seeing me upset, nor did I think I could put on a brave face through dinner and bedtime.
All too familiar with lab reports, I opened them immediately and scrolled down to the diagnosis, already knowing in my heart it was cancer. 'Invasive Ductal Carcinoma' it read, but it was followed by a lot of NEGATIVE testing and for a moment I had hope this was a good thing. I dialed the breast surgeon's office and explained my situation to the after-hours answering service, asking if ANY doctor could call me back. I was told she'd relay the message but they did not usually call back after hours in situations like this. I never heard back from anyone.
I made some phone calls to two friends in the medical field and had to put one of them in the terrible position of telling me I had breast cancer, and the negative tests were Triple-Negative Breast Cancer.
Triple-Negative Breast Cancer.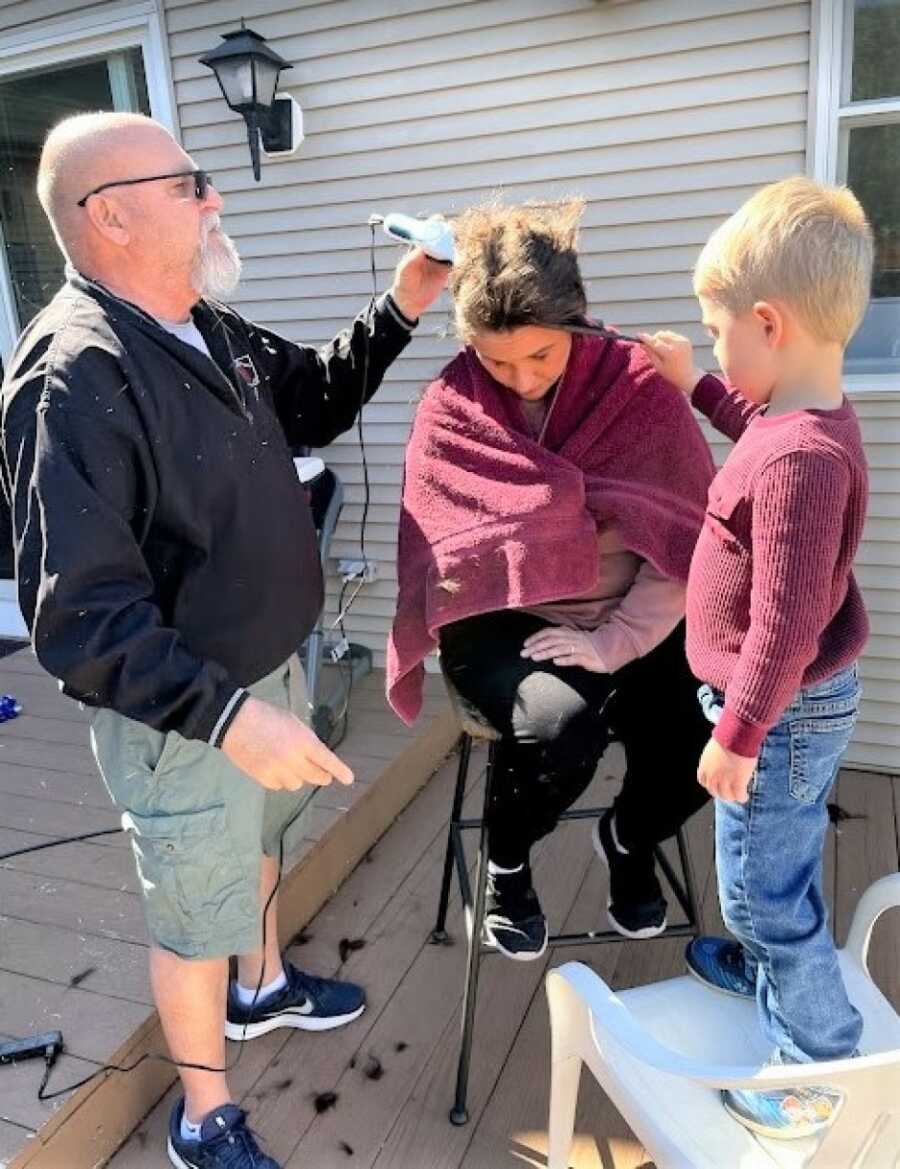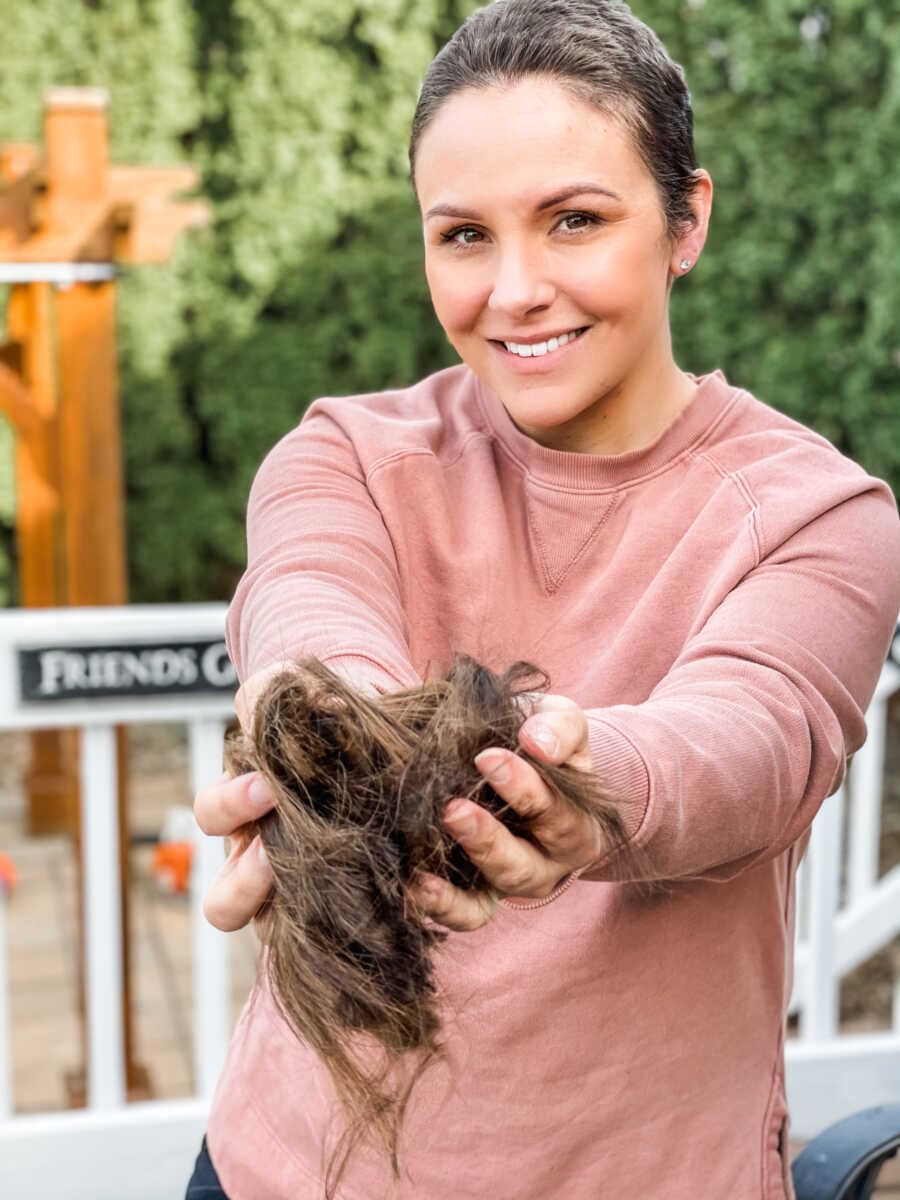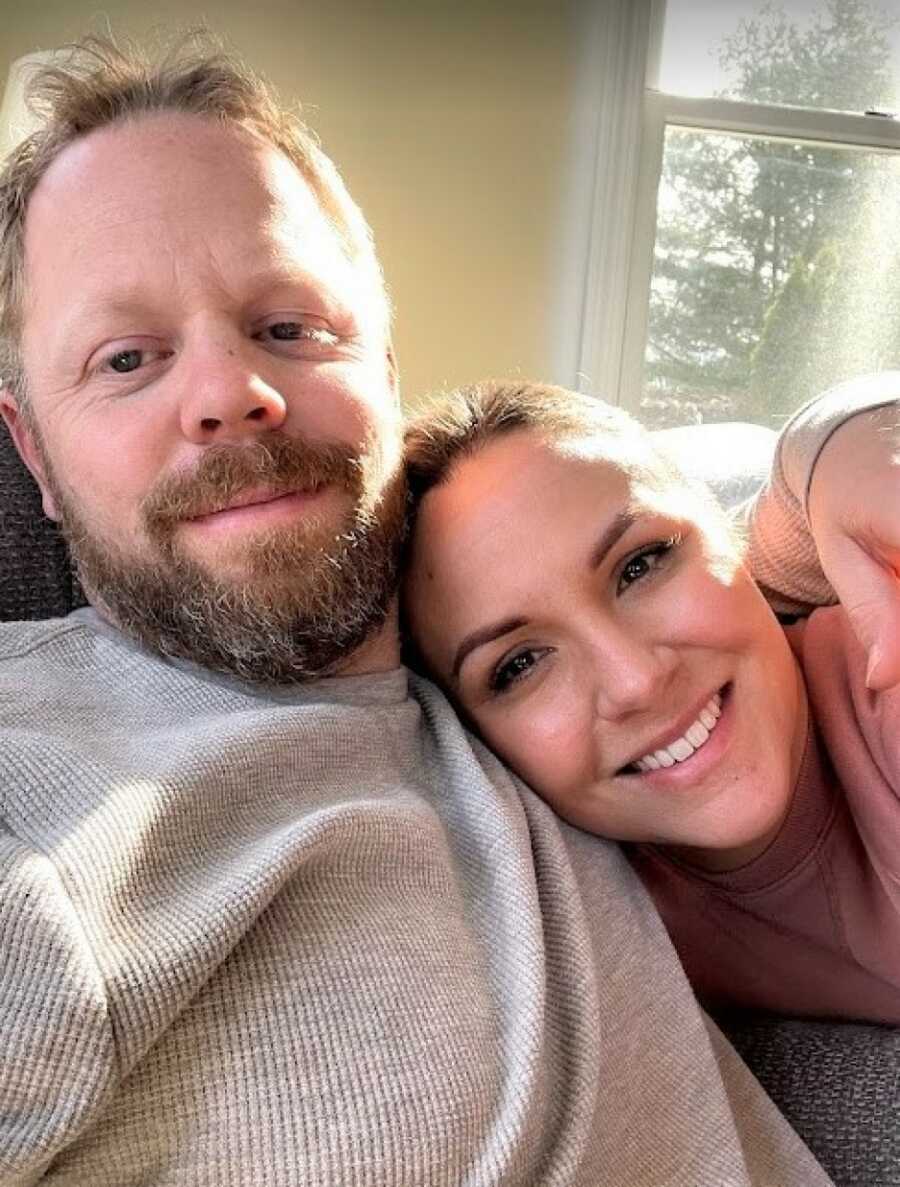 I knew all about Triple-Negative Breast Cancer now. I called Mike to break the news to him and asked that he stay with the kids at his parents' for dinner. My dad was calling on the other line and I could barely breathe as I told him the news in between sobbing. He and my mom showed up at my house a little while later to sit down and interpret the pathology report, line by line with the help of Google.
To say this has been an emotional journey is an understatement. I've been fortunate enough to be surrounded by the most amazing village of friends, family, neighbors, and medical professionals. My husband drove me to every chemotherapy appointment (I had to go in alone thanks to COVID), my friends threw me a boob-voyage party pre-surgery, and my father drove me to daily radiation for 28 days.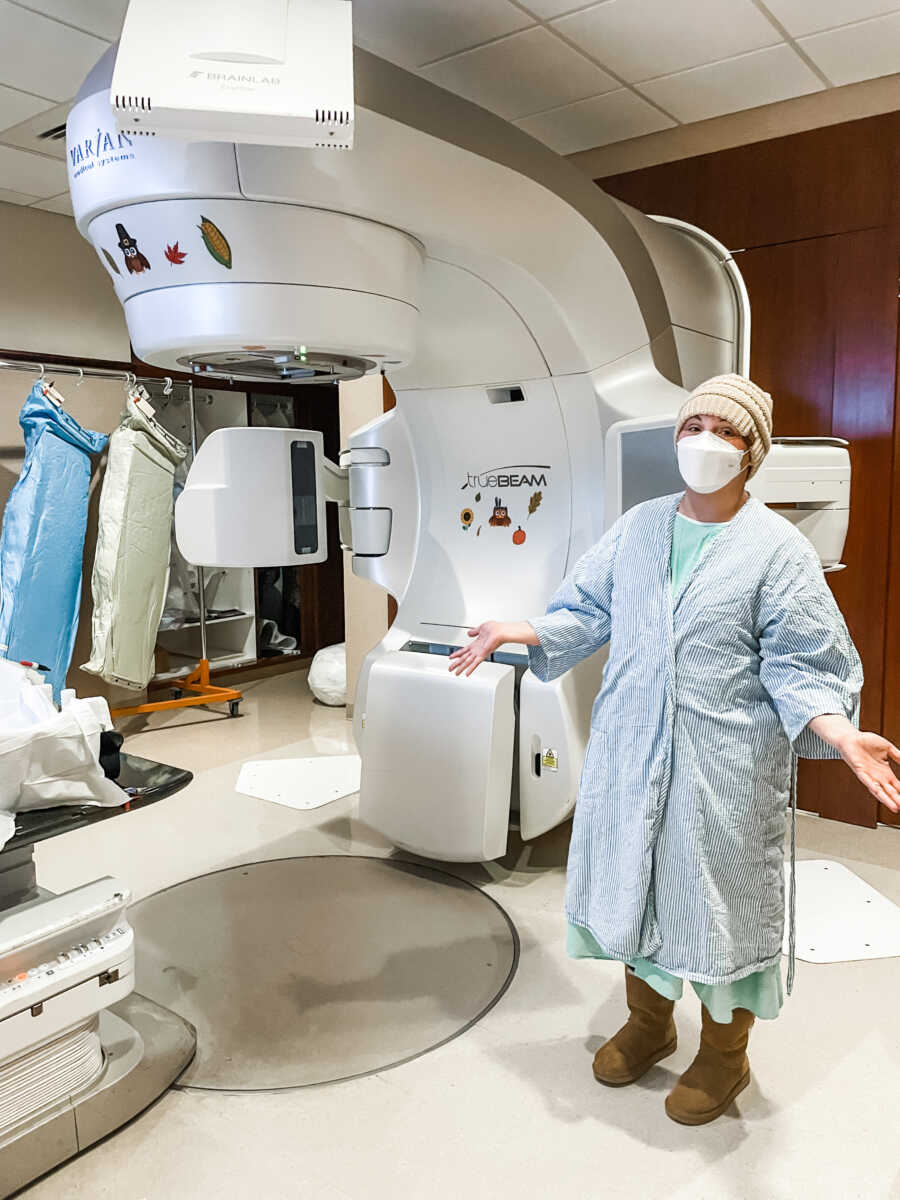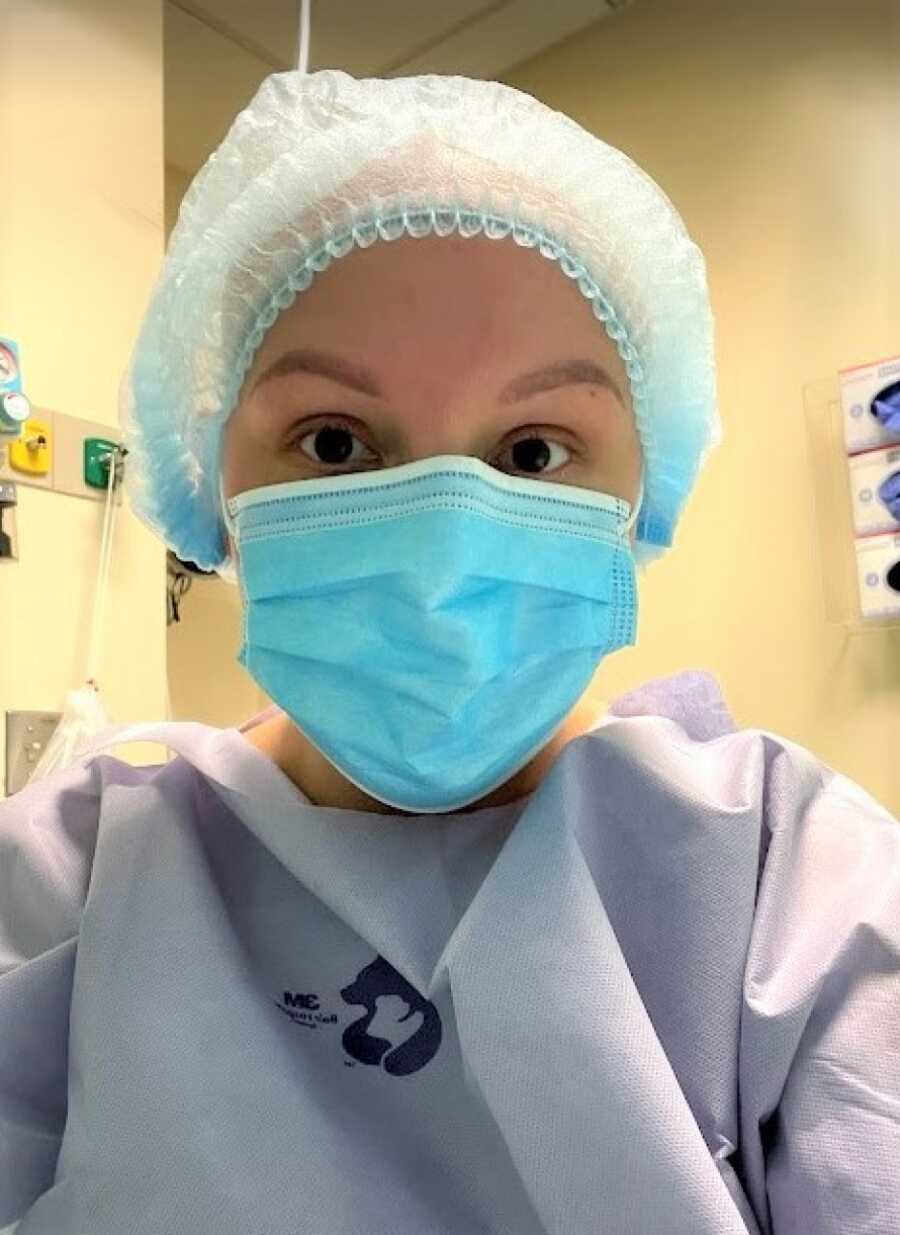 The daily drive with my dad was full of some of the most wonderful conversations and stories I probably wouldn't have had the opportunity to hear if I hadn't spent this much time with him. His outlook and perspective have kept me going and the one thing I'm most grateful for throughout this fight for my life is the relationships that have strengthened and the perspective I've gained. During one of our car rides, I cried to my father about how difficult it was to nurse my kids for so long and all the sacrifices I had made thinking I was doing the right thing for both them and myself. (Breastfeeding is supposed to decrease your chances of breast cancer).
My dad said something so simple, but I think about it all the time: 'How do you know it didn't save you? Maybe things would have been worse if you hadn't breastfed.' It was that perspective I needed to dig myself out of sadness. When I started oral chemo, I was dreading the idea of forcing myself to take medicine that would make me feel crummy. My PT suggested that each morning I thank science and the medicine for saving my life. I do this each morning while taking the medication and it has been so helpful.
I'm very much a dark-humored realist and dislike all the toxic positivity that floats around in the cancer world (encouraged largely by people who have never been in our shoes, who we call 'cancer muggles'). I do, however, think we can often talk ourselves off the ledge by practicing gratitude and shifting our perspective from time to time, and these lessons have helped me immensely throughout this emotional year. I've learned it's okay to cry, it's okay to feel all the emotions, but it's also important to be grateful for those who have been by my side, for the science saving my life, and the small silver linings. To quote one of my favorite songs by Kacey Musgraves, 'If you're ever gonna find a silver lining, it's gotta be a cloudy day.'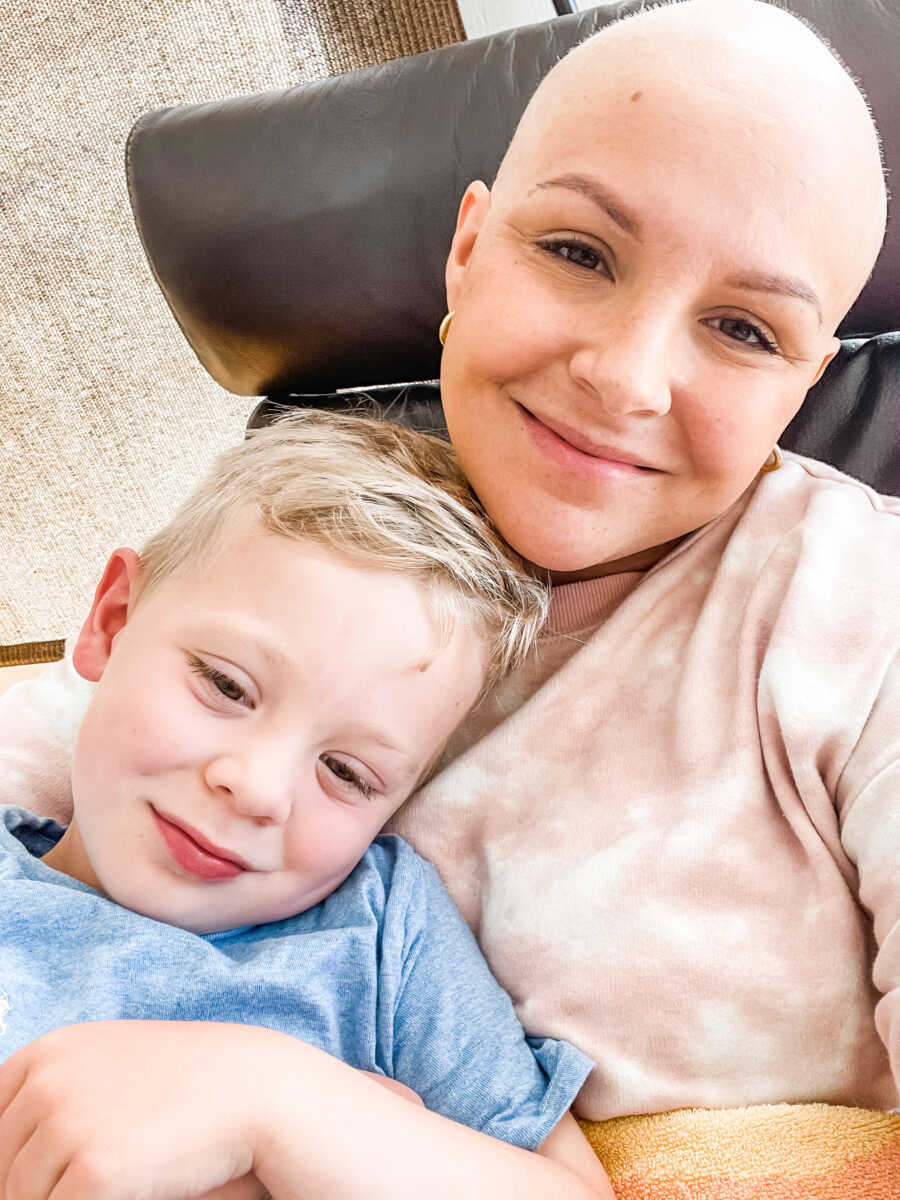 It's been 10 months since I was diagnosed. I went through eight rounds of aggressive chemotherapy, a double mastectomy with immediate reconstruction, and now oral chemotherapy and radiation simultaneously. It will be a full year before I've completed all active treatment and I then hope to look into some trial treatments for TNBC. We hope and pray I will never need treatment again, and in the meantime, I stay vigilant. I urge you to stay vigilant on your breast exams as well."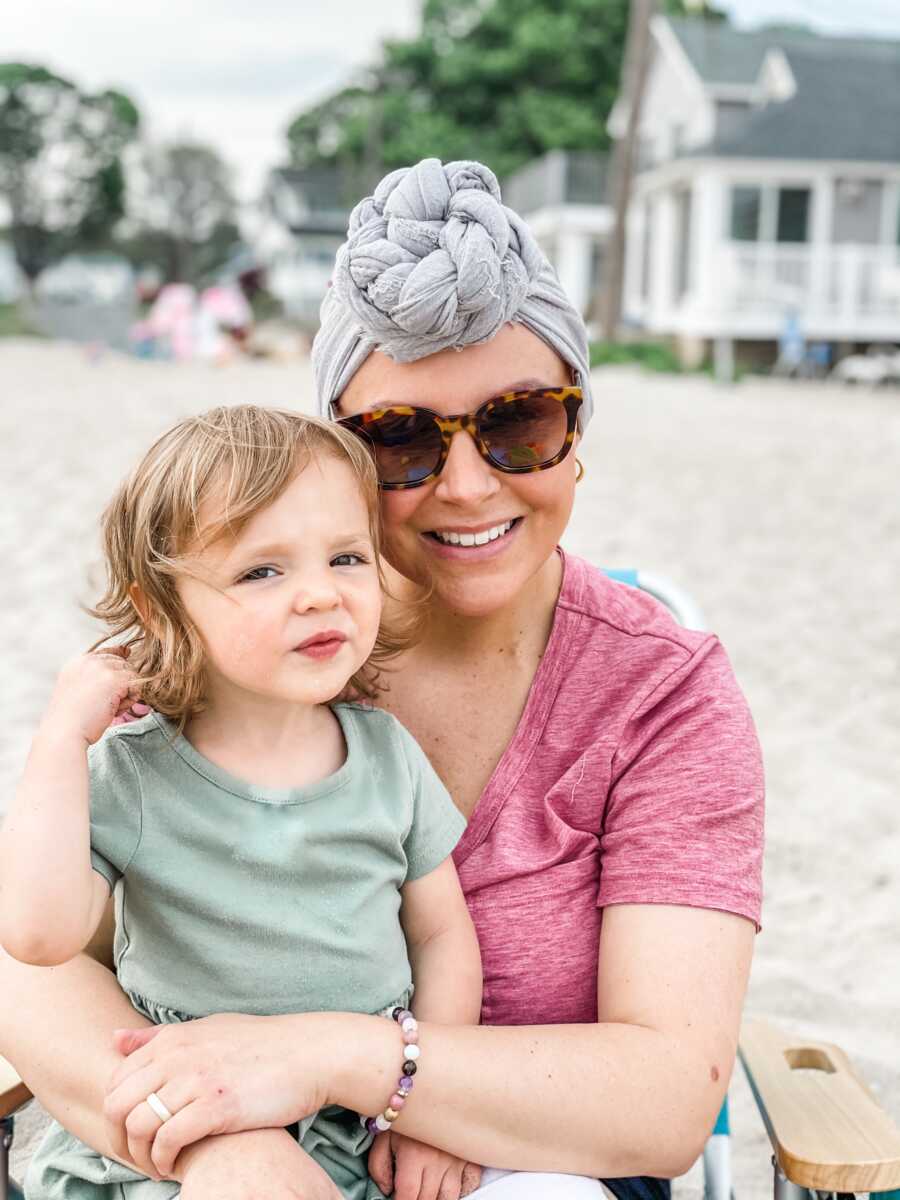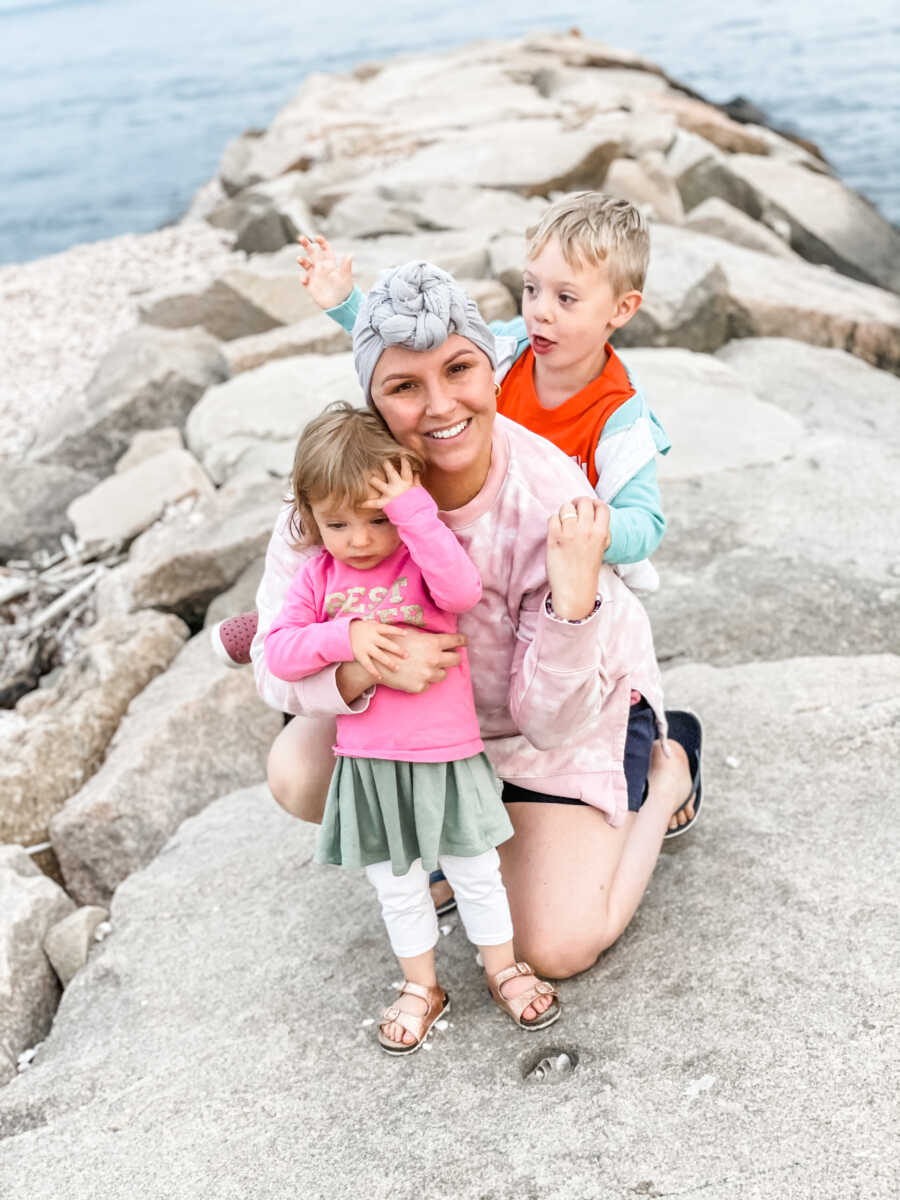 This story was submitted to Love What Matters by Jayne Caron. You can follow her journey on Instagram and her website. Submit your own story here, and be sure to subscribe to our free email newsletter for our best stories, and YouTube for our best videos.
Read more stories like this here:
'HR called me in, crying. 'Your coworkers donated sick time to you, but your employer is taking it away.': Bilateral breast cancer survivor finds light after workplace discrimination
'Just 5 months after having my third baby I heard, 'You need to sit down. I don't know how to say this. I'm so sorry.': Mom of 3 beats triple negative breast cancer
'I'm really sorry.' I had 2 babies at home! I soon wondered how staying alive could feel so much like dying.': Woman beats invasive breast cancer, 'All we have is today'
After Battle With Breast Cancer, Woman Finds Joy Building Sets To Photograph Chipmunks
Please SHARE this story on Facebook to encourage others to cherish every moment and love what matters most.