"I remember the day I found my lump like it was just yesterday. I rolled over in bed and felt a distinct pain in my right breast from the pressure of my arm. I thought nothing of it and went back to sleep. The next day, I was still experiencing pain and for the first time in my life, at the age of 32, I performed a self-breast exam. There it was, clear as the morning sun on a bright summer's day, a definite lump that certainly didn't belong. Fortunately for me, I already had an appointment scheduled that afternoon with my midwife for my annual GYN exam.
Anxiously, I brought up the pain in my breast and the lump I had noticed just that morning to my midwife. She also felt the lump. However, based on my history and her physical exam, she did not feel the need for any further testing or follow-up. You see, there was no family history of cancer. I was only 32 years old. The lump was painful (unusual for breast cancer), and it was in a location in my breast that was also pretty atypical for cancer. On top of all of this, I had only just weaned my youngest daughter from breastfeeding a couple of months prior, so we assumed I was dealing with a clogged milk duct. The lump was only about the size of a pea at this time.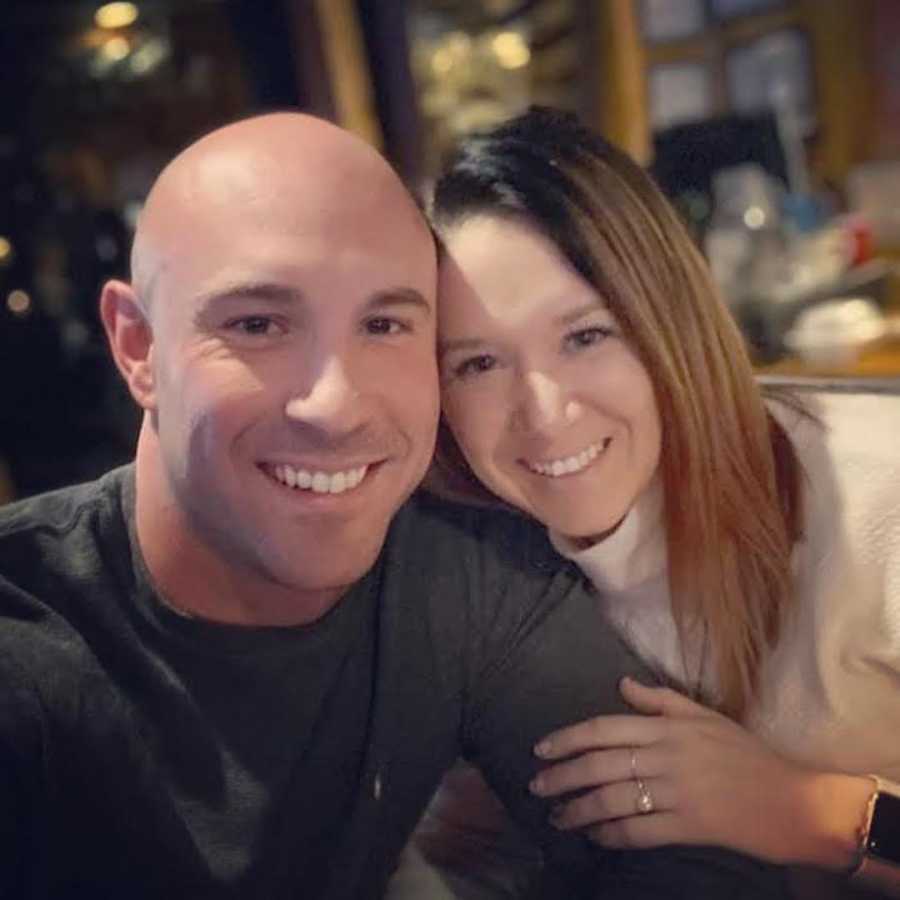 Nervously, I shared this information with my husband. Needless to say, he was not pleased with what my midwife had to say. He wanted, no, he NEEDED more than just a 'brush off' from my midwife. He needed to know I was okay. He pushed me for days, weeks, even months before I began to consider seeking out a second opinion. I mean, the professionals said it was nothing to worry about, right? There was no way I had cancer. No one in my family had ever had cancer of any kind. My husband was just being paranoid.
However, he persisted, and I felt the need to appease him. While driving home from a family camping trip one day, I called and made another appointment. You see, by now it had been 2 months since I originally felt the first pain. The lump had continued to grow, and the pain had never subsided. I still never wavered. I was fine. The midwife said it was nothing… I had to be fine.
They scheduled me that same week to come in for an exam. By now, it was April of 2020 and COVID-19 was in full force. My husband wanted to come with me to this appointment, but as we all know, he was not allowed. He waited anxiously in the car while I was examined. As soon as I laid on the exam table and opened my gown, the midwife could see the deformity in my breast. It had grown significantly since my last visit and was now not only palpable but visible.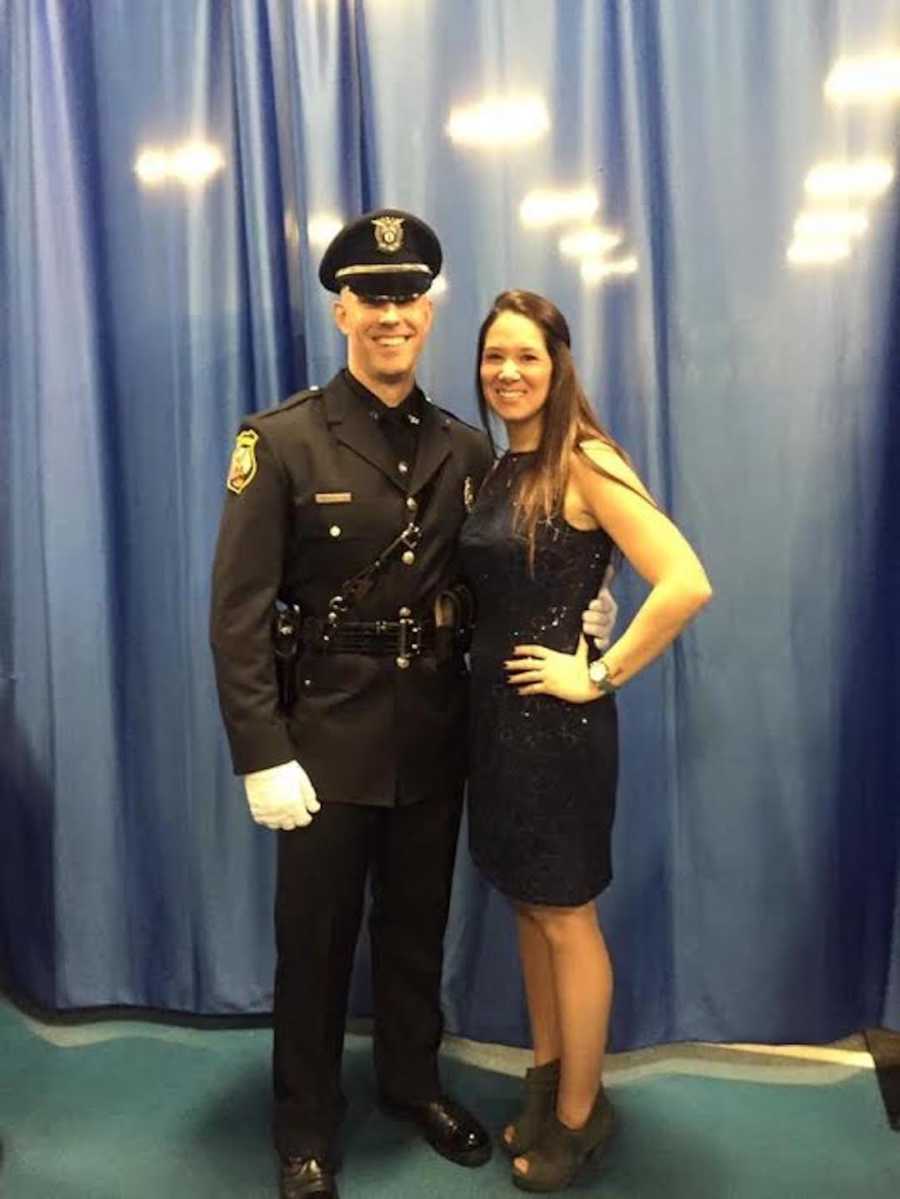 She immediately called the local breast and wellness center and got me scheduled for a mammogram that same afternoon. Things were starting to get scary, but again, I still never thought in a million years I could have cancer. It had to be a cyst, that's what I kept telling myself.
In a whirlwind of an afternoon, I received a breast exam I agreed to only to appease my husband. It was an immediate mammogram and an ultrasound with a stat biopsy scheduled in 2 days.
At this point, I was starting to get nervous. Why was all of this happening so fast if it was nothing to worry about? Just that morning, I was fine and then, I had a radiologist telling me what she is seeing on my scans is 'highly suspicious.' I couldn't even process the information at this rate. All this time, my poor husband had been anxiously waiting in the car while I was trying to take it in all by myself.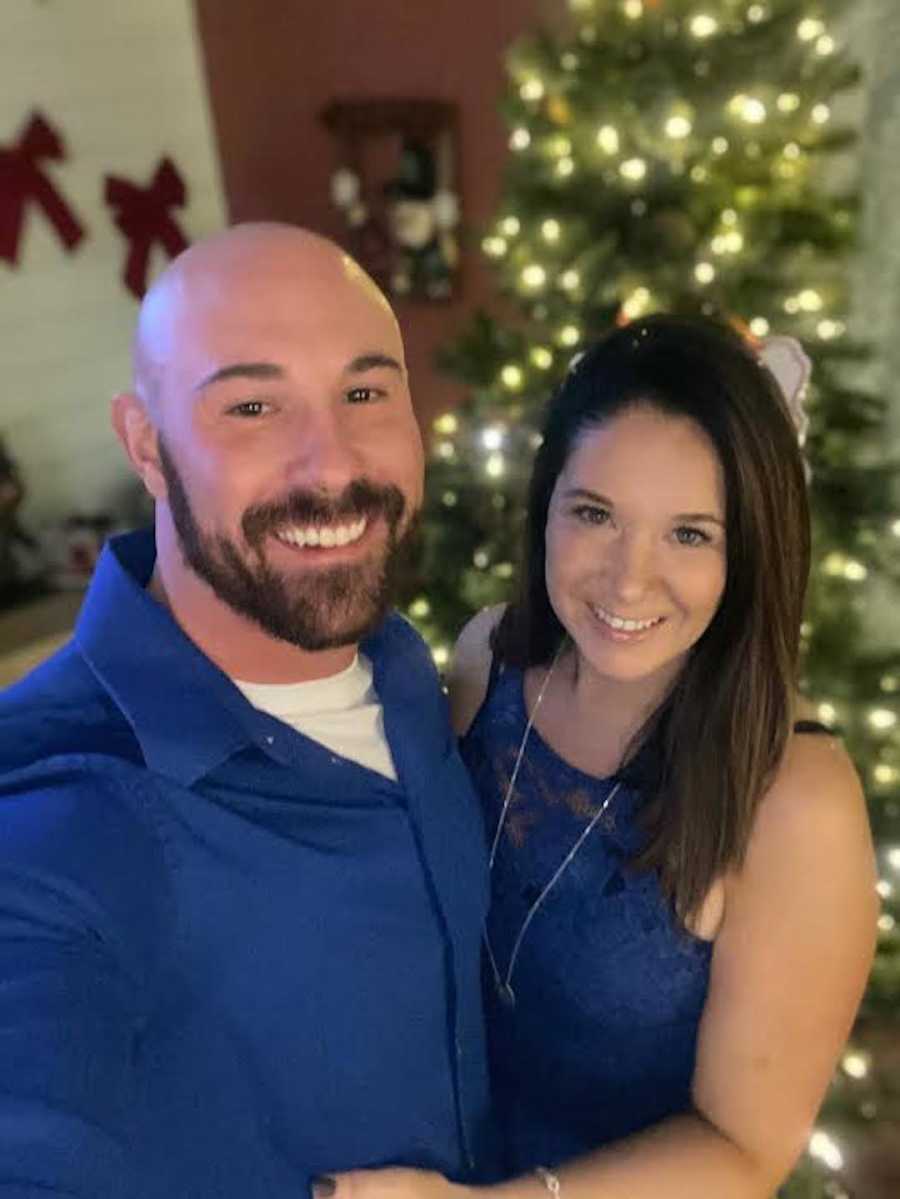 I had my biopsy on a Thursday, so we had to wait for the weekend before getting results. I was told due to COVID-19, I would receive my results via a phone call sometime the following week. How was I supposed to prepare for that? The only thing I could do was go about my life as if there wasn't the thought of impending doom in the back of my mind. I continued going to work and seeing patients for teletherapy as part of my graduate school practicum internship.
It was in the middle of a teletherapy session when the phone rang, and the caller ID notified me it was the breast center calling. I had warned my preceptor this may happen, so I hopped off the session to attend to the call. It was the radiologist herself calling. I knew that couldn't be good.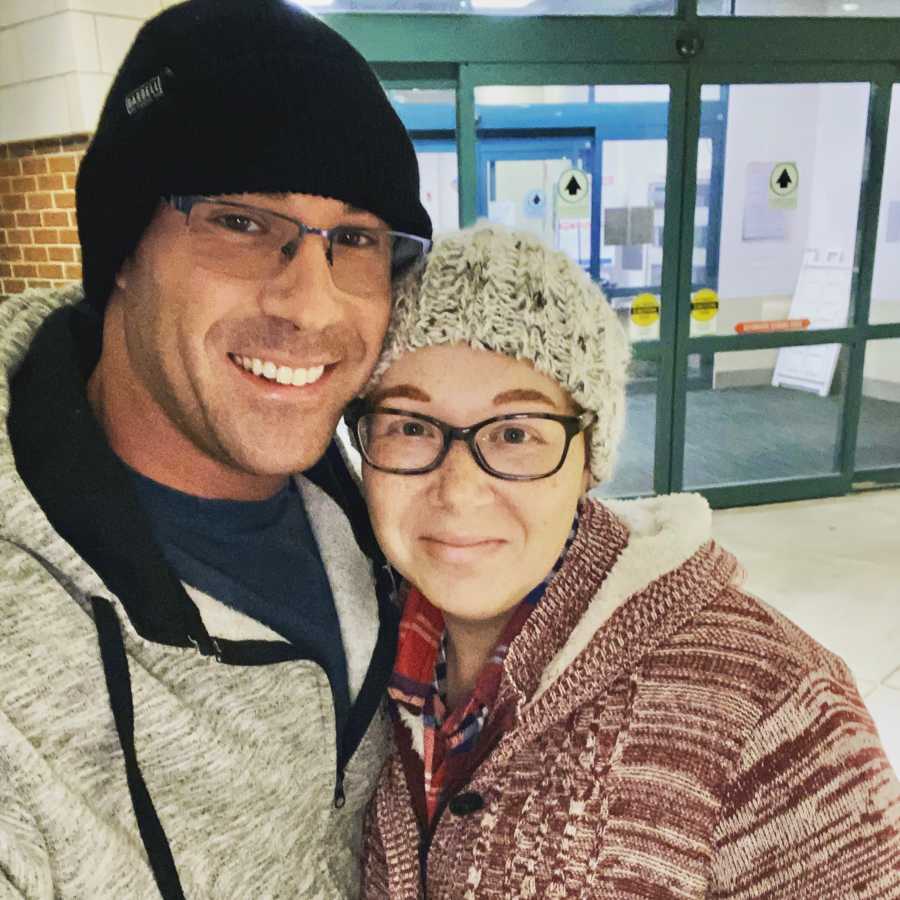 She stated, 'The biopsy results show you have cancer.' I went numb. I was in shock. I tried to ask questions, but I didn't even think my mouth was working. She went on to say, 'It was identified as triple-negative, grade 3, invasive ductal carcinoma. A highly aggressive form of breast cancer.' She said she was referring me to the best breast and medical oncologists in the region.
The next several weeks were a whirlwind. I met my breast oncologist, my medical oncologist, my radiation oncologist, and my plastic surgeon all within 2 weeks of diagnosis. All of these appointments were on my own. Remember, COVID-19 doesn't care about cancer and cancer doesn't care about COVID-19.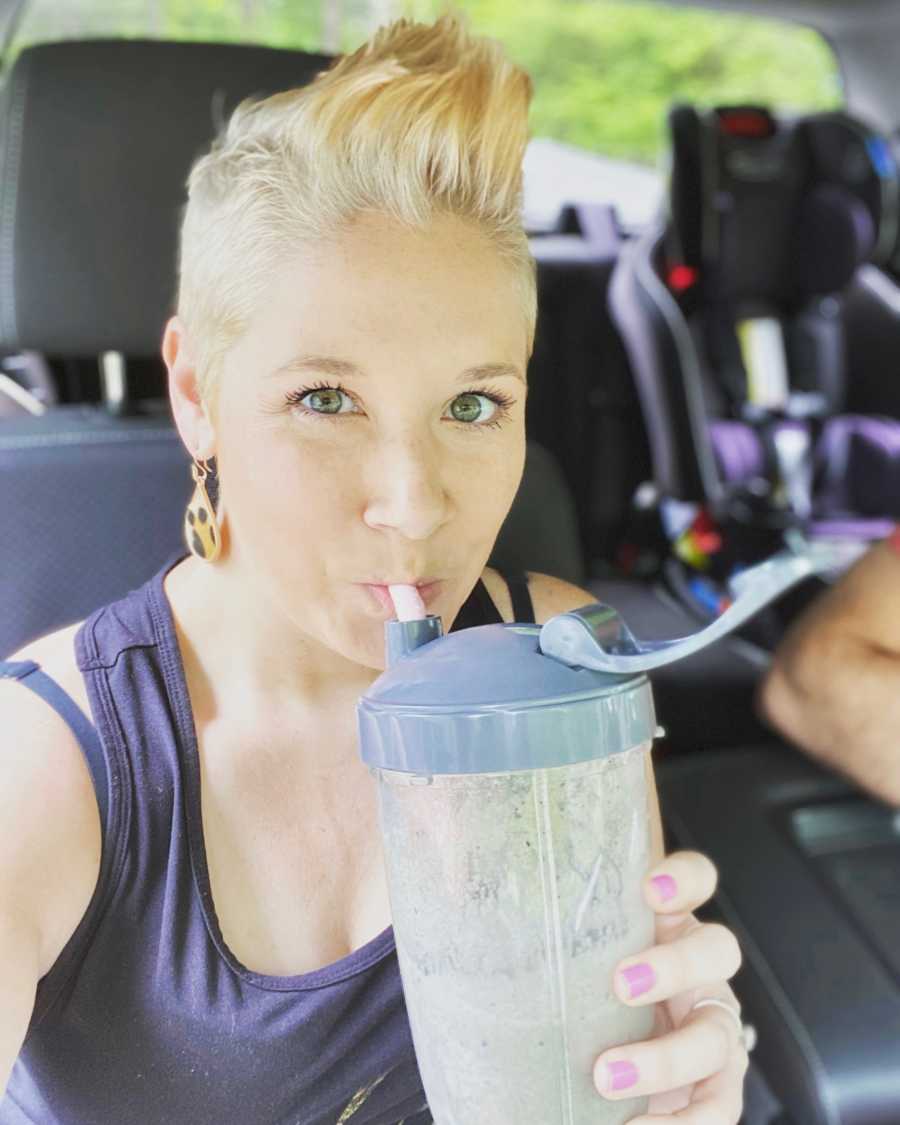 I had surgery to get a port-a-cath placed in my chest, again, all alone, and started chemo just 2 weeks after getting my diagnosis. The aggressiveness of my type of cancer doesn't allow for anyone to twiddle their thumbs.
I remember having to make the calls to all of my family members. You see, I live in Massachusetts with my husband and our two young daughters. My family, however, lives in Florida and Georgia. I remember the anxiety of having to make those calls was almost as bad as the anxiety of waiting for the results of my biopsy. Somehow, I got through it. We flew my mom up to be with me while I started chemo. She is my rock. I needed her.
Chemo started in May of 2020. As I was warned, my oncologist threw everything she had at me. She put me on four different chemotherapies, each with their own side effects. The first couple of months didn't seem so bad. I had pretty bad fatigue, I lost my hair, everything tasted crappy, I gained a lot of weight from the steroids, I had some nausea here and there, and I required a blood transfusion for my low blood counts. But overall, I was feeling better than I expected.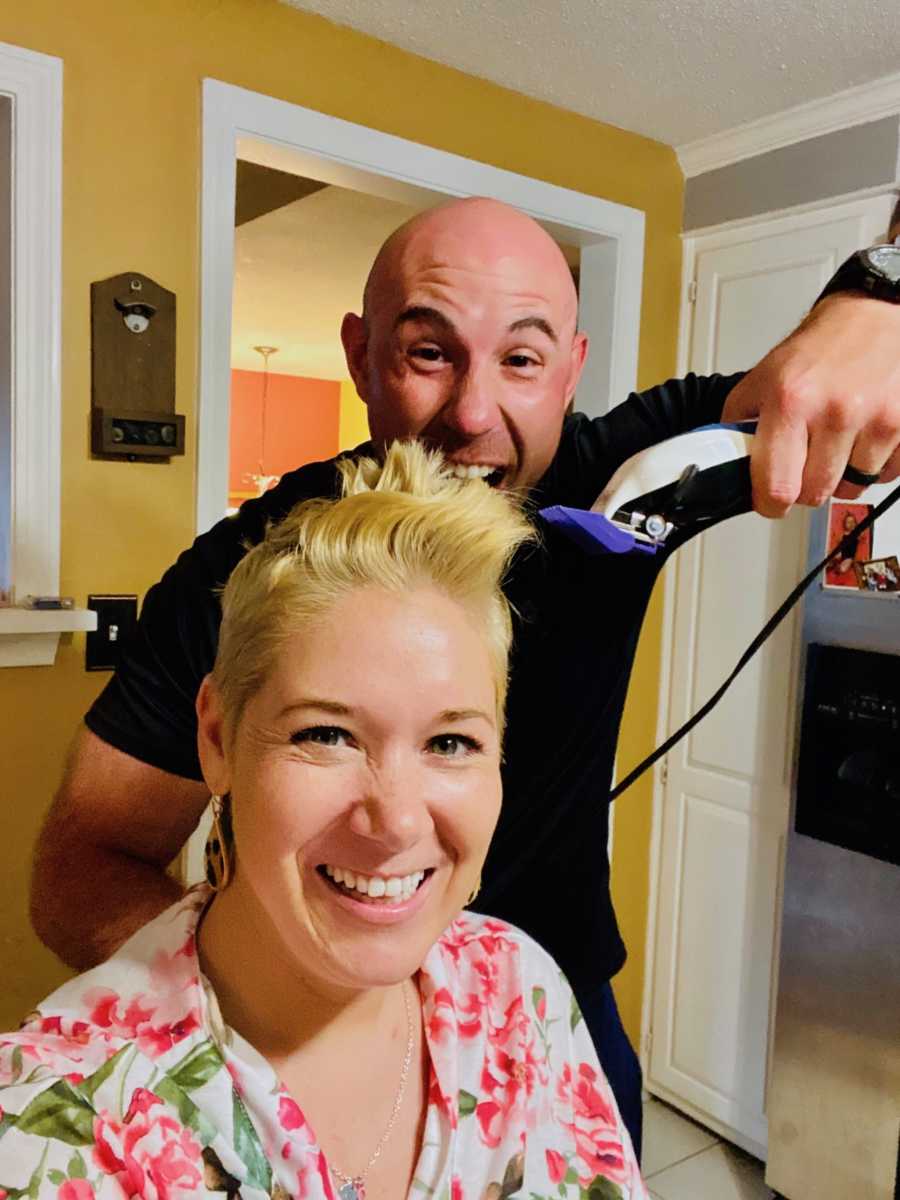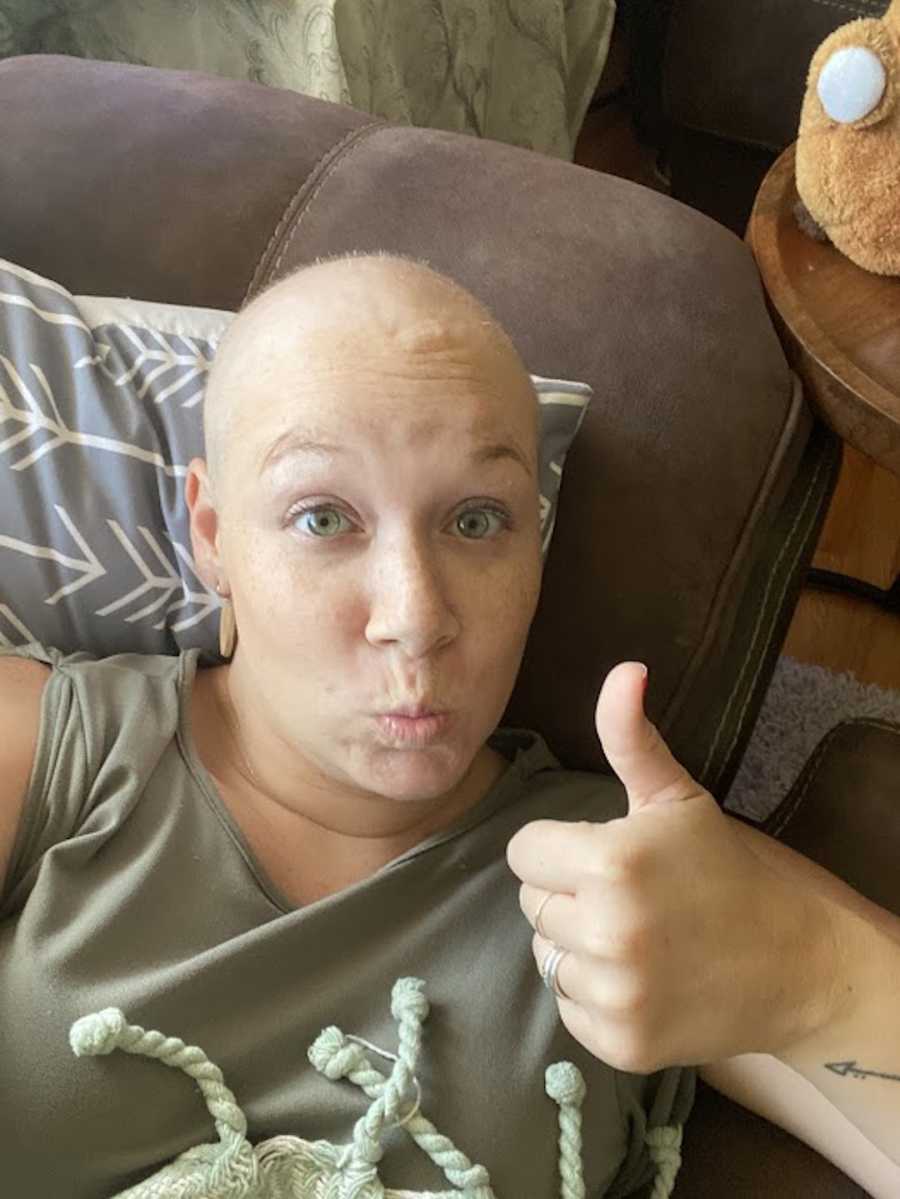 The support my family received since diagnosis had been unreal and totally humbling. My husband is a local police officer in the town we live in. His department of brothers and sisters have rallied so hard around us to support us that I don't know how we will ever be able to appropriately show our appreciation and gratitude. From meal trains to gift baskets to taking our daughters for playdates/sleepovers to even giving up their own personal time so he could spend those first few weeks of chemo at home with me and our girls. It truly is a brotherhood and we are so thankful for our police family.
It was around round 9 or 10 when I started getting pretty sick. My numbers were dropping week after week and I was becoming more and more fatigued, short of breath, and neutropenic to the point I could barely walk from my bedroom to the bathroom without needing a break to catch my breath. Things got so bad I called my husband at work one night to come home and take me to the hospital.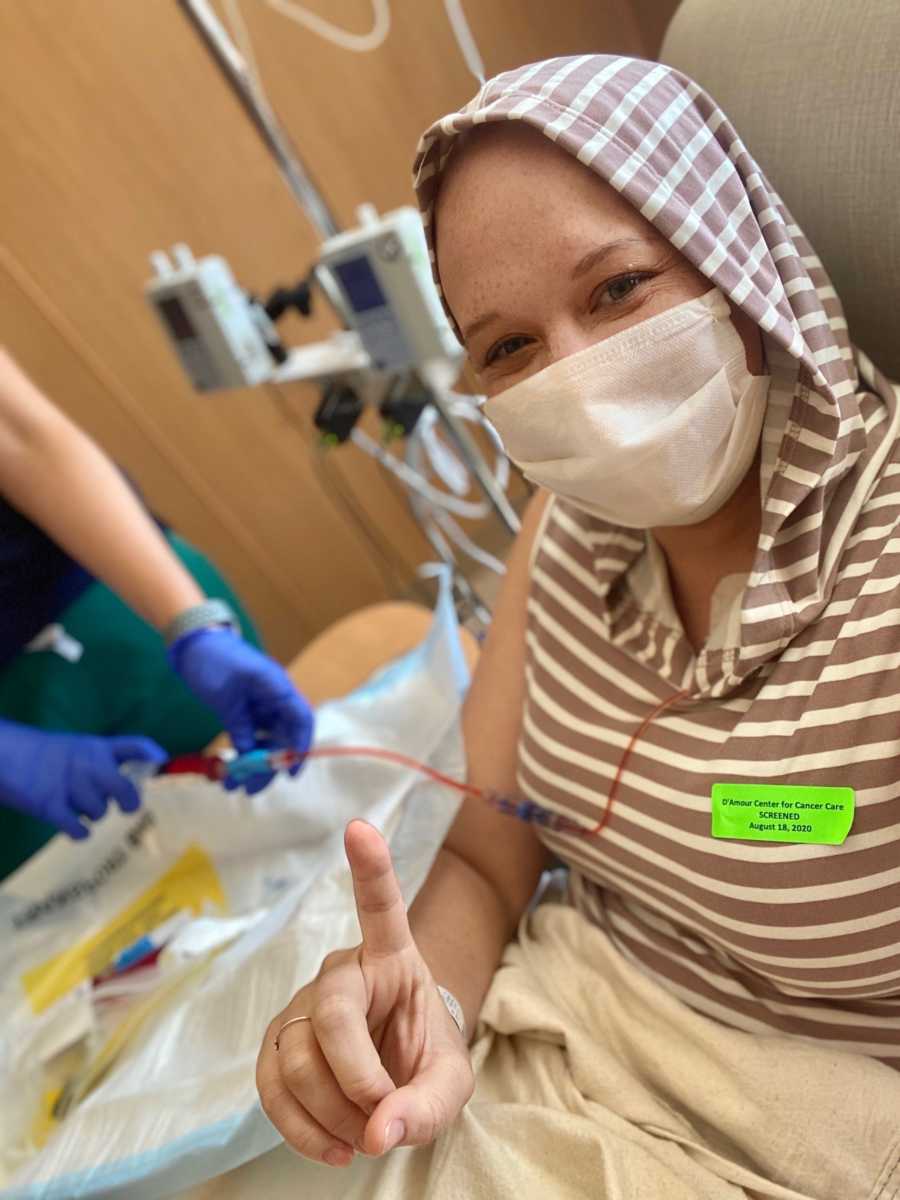 My oncology team was sure I had COVID-19. I had several chest scans and nasal swabs, as well as blood work all showing negative for pulmonary embolism and COVID-19, leaving my team somewhat befuddled as to why I was becoming so ill. The ER physicians thought my COVID-19 test was surely a false negative and considered treating me as a COVID-19 patient anyway.
Little did I know, I had a massive infection brewing. First thing the following morning, I was taken back to the operating room to wash out the infection. I spent a couple of days in the hospital and was sent home to recover from surgery. I was told I had to take a couple of weeks off from chemo to allow my surgical wounds to heal and give my body a chance to bounce back.
This setback felt devastating. I was already struggling so bad the last few weeks. It got to the point I required emergency surgery to clear out an infection I didn't even know I had. How was I going to continue on with the next phase of chemo drugs, the combination that has been so eloquently nicknamed 'the red devil' due to the horrific side effects? I felt defeated.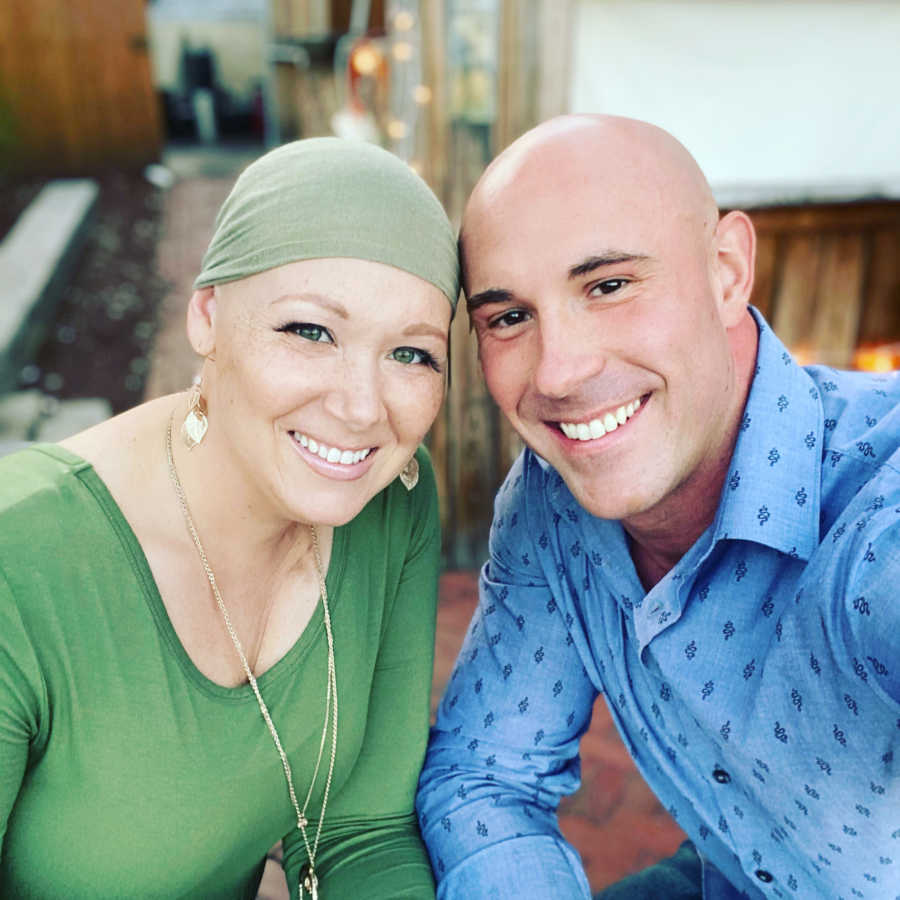 I continued on. I recovered from surgery and marched back into that infusion suite ready to finish my last four rounds of chemo strong. These last four rounds would take 2 months to complete and were a different combination of drugs than the first 12 rounds, so I wasn't sure how I would react. These drugs weren't supposed to deplete my red blood cells as much as the last ones, so I was grateful for that.
Unfortunately, I had to be the anomaly. During the last 2 months of chemo, I required two more blood transfusions and three rounds of IV fluid hydration per week, for each week I had an infusion. To say things were tough would be an understatement. But I did it. I completed chemo with two small children at home and made it through my online graduate school classes while still maintaining a 4.0 GPA, and I am so damn proud of myself!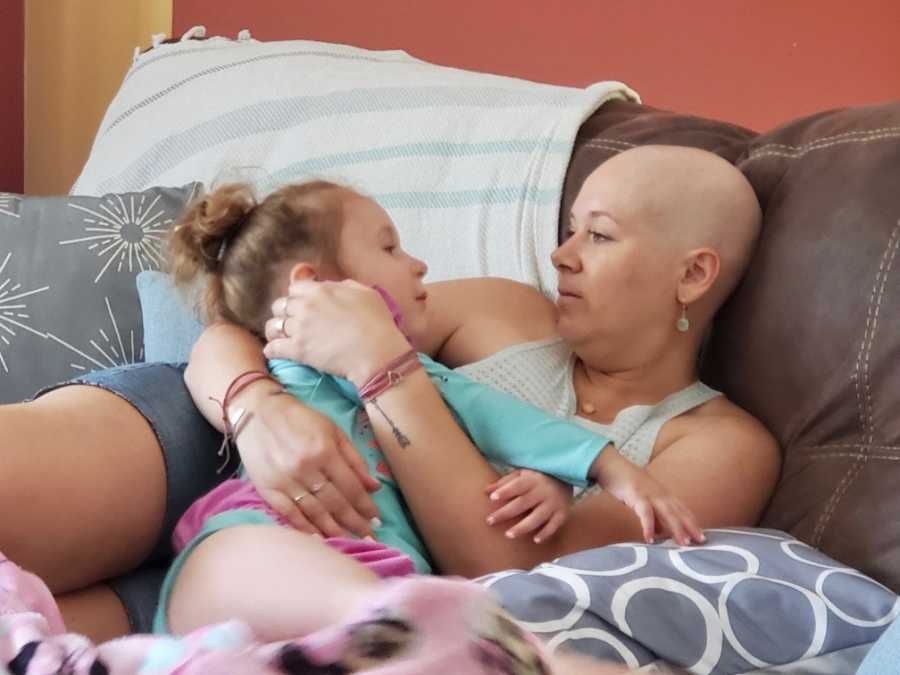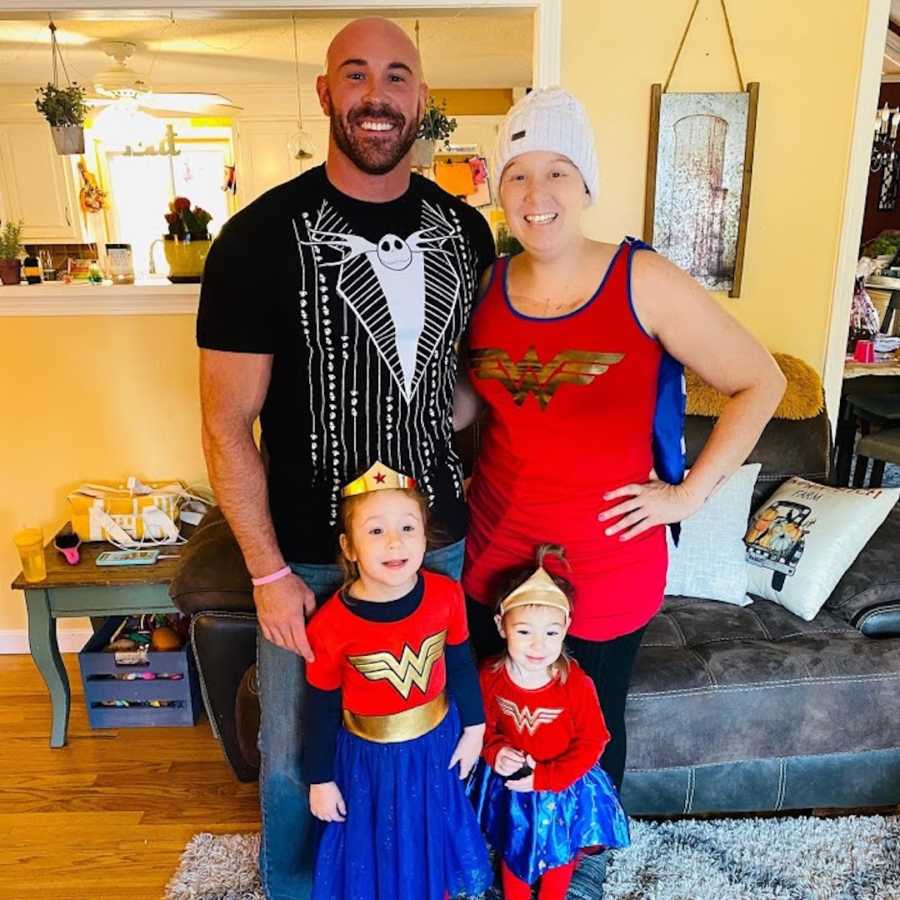 Now comes the time to have surgery. How is someone supposed to decide which surgery is best for them? Based on all my post-chemo scans, the chemo had done its job. My tumor had shrunk to an undetectable size. I had the option of lumpectomy, single mastectomy, or double mastectomy.
Every woman who is faced with this choice will give you different reasons for making their decision. For me, from the day I was diagnosed, I have felt a complete detachment from my breasts. It's as if they became foreign objects that were attacking me, my livelihood, and my family. From the moment I got diagnosed, I never let my husband touch them again. I never looked at them, and in fact, the only time I ever even felt for my lump again was in the presence of a medical professional. I NEEDED them gone. For my own peace of mind. For me and my husband, it was an easy decision. We chose to have a double mastectomy.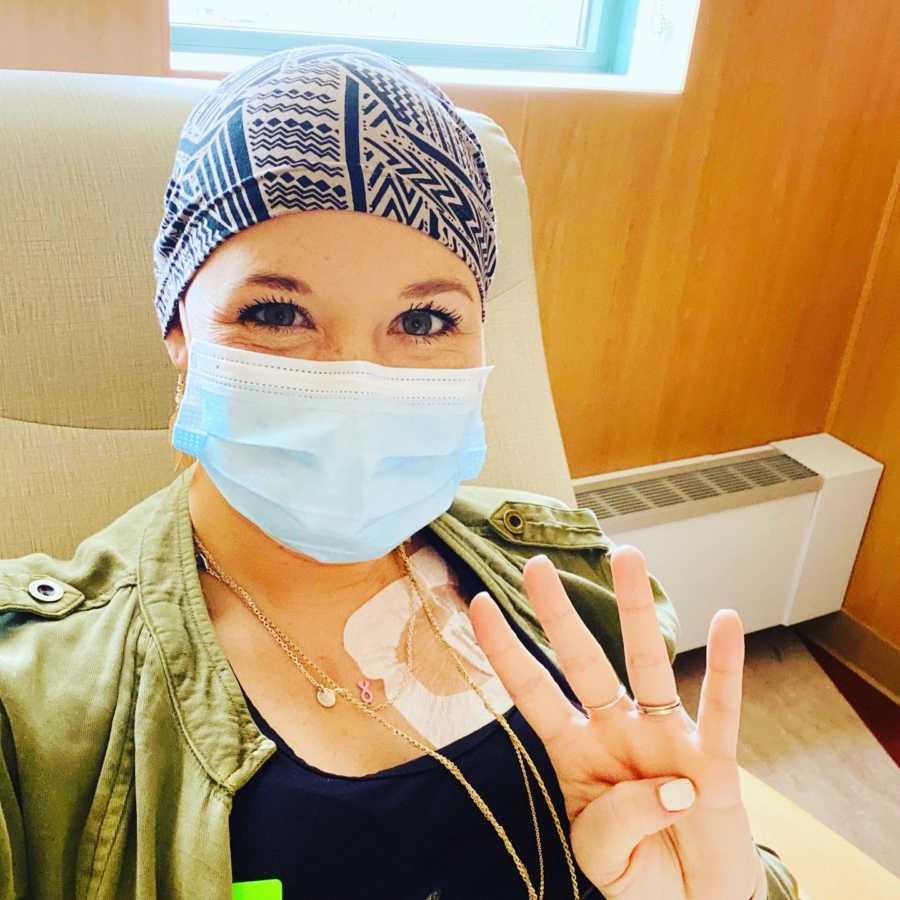 Since the surgery about 4 weeks ago, I have been recovering pretty well at home. I was fortunate enough to have great support. My best friend, who is also a nurse, came to stay with us for 2 weeks. My husband also took 2 weeks off of work and my mom has been by my side throughout this journey as well. Like I said, the support has been overwhelming! I was also insanely fortunate as I was given great news following my surgery with the review of my pathology. My lymph nodes all came back clear and I had clear margins in my breast tissue. In fact, the only remaining cancer left behind in the breast tissue (since removed) the chemo did not kill, was less than 1 mm in size. I can officially say, 'I am CANCER FREE!'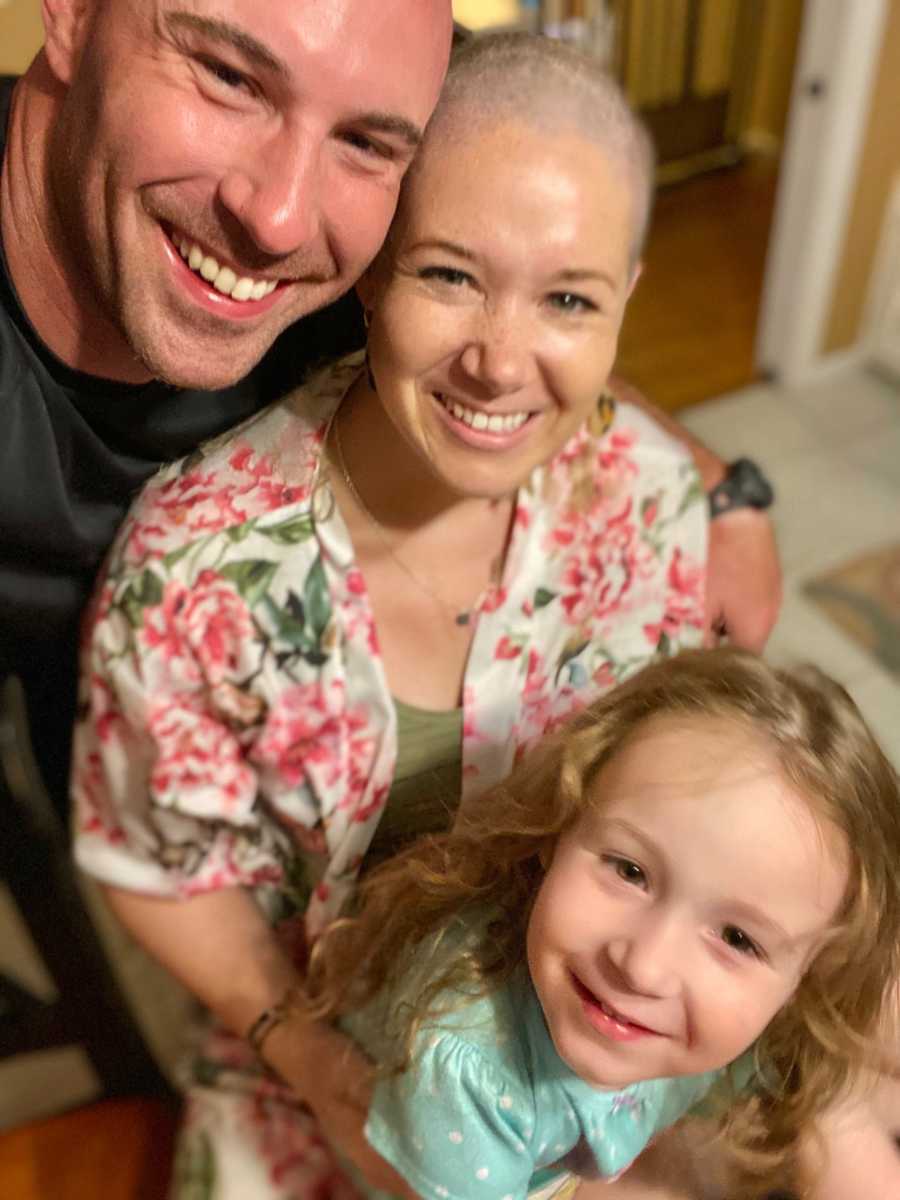 With this great pathology report, came even better news. There is no indication for radiation therapy or continued oral chemotherapy. It feels like the weight of the world has been lifted off my shoulders and I can finally breathe again.
The biggest part of my journey and the reason I've been able to overcome the obstacles of facing cancer in the middle of a pandemic is because of my support team. I decided from day one I was going to share my journey with whoever wanted to follow along. I was going to be an open book and let people into my life. I've shared the ups and downs on my social media accounts and have been overwhelmed with the outpouring of love from friends, family, acquaintances, long lost friends from high school, and people from all over the world.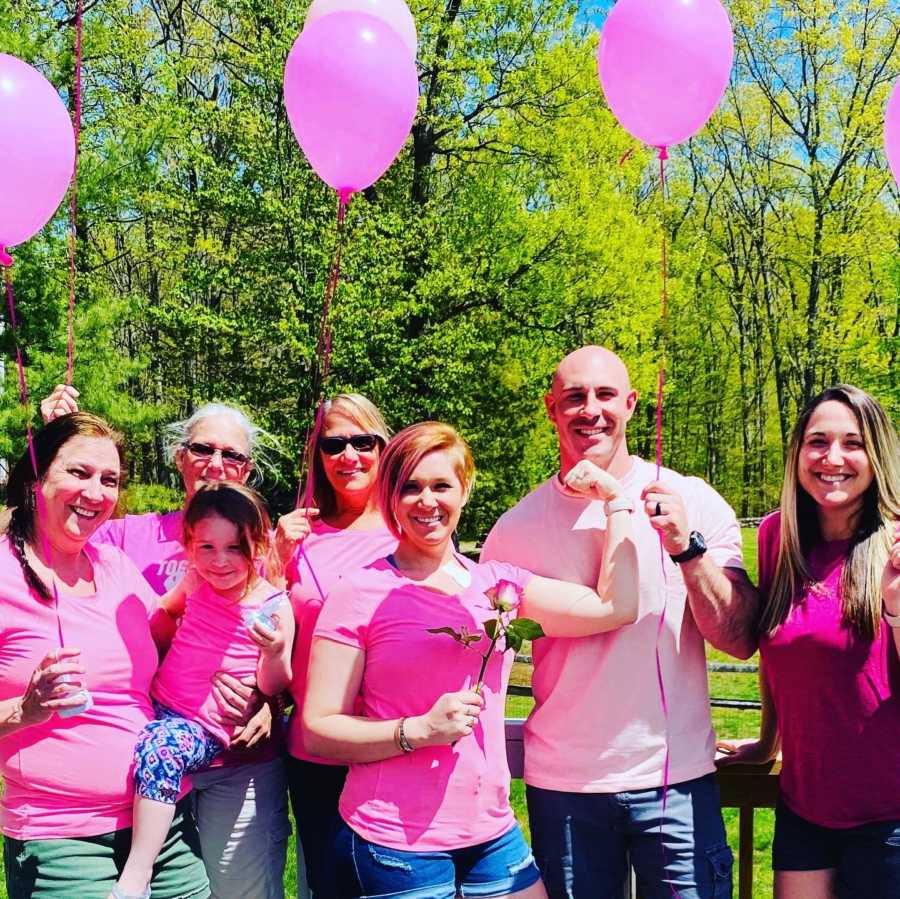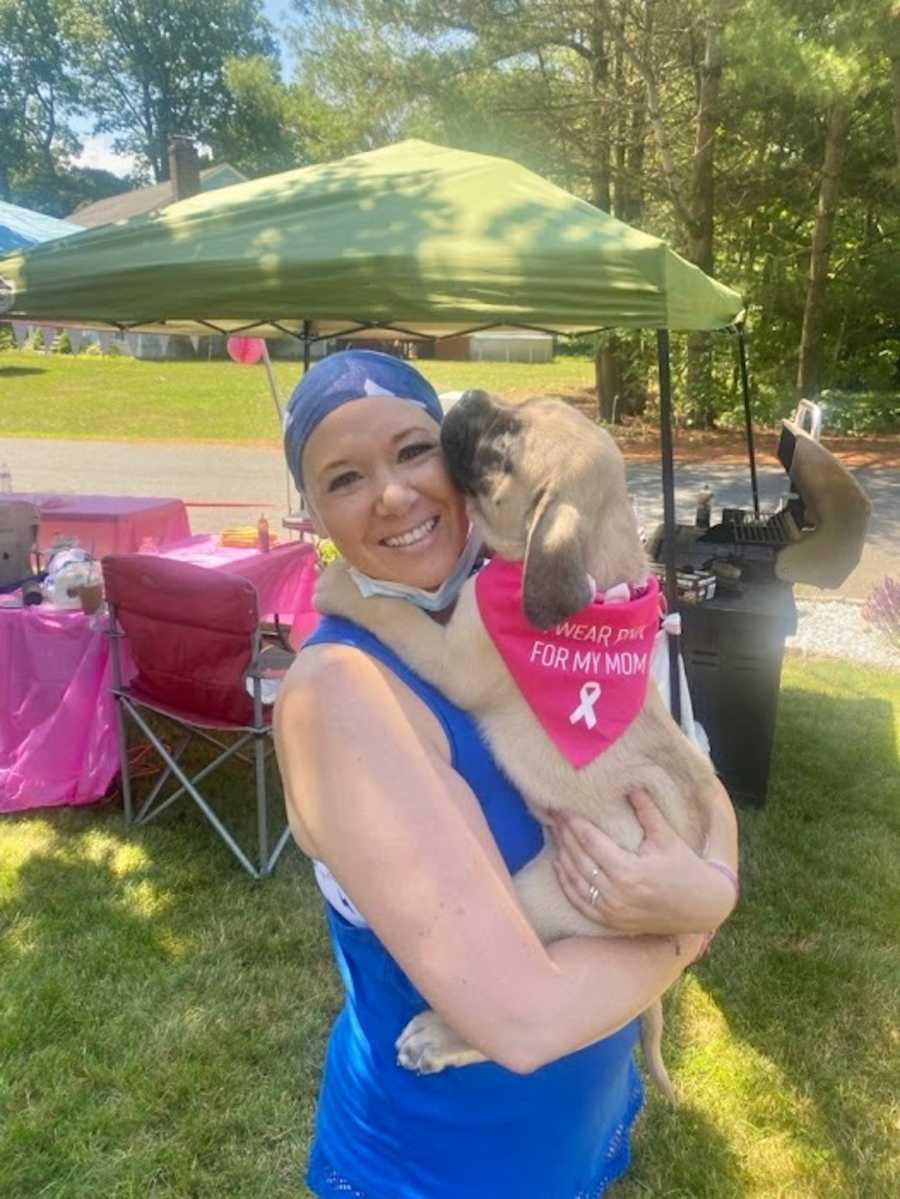 I've maintained a positive outlook throughout my journey and will continue to do so as I spread awareness and inspiration to other young women facing the same mountain I've climbed. I'm a firm believer in manifestation and the healing power of positivity. I hope by sharing my story of success, it will inspire other breast cancer survivors to keep moving forward and thrive as I have."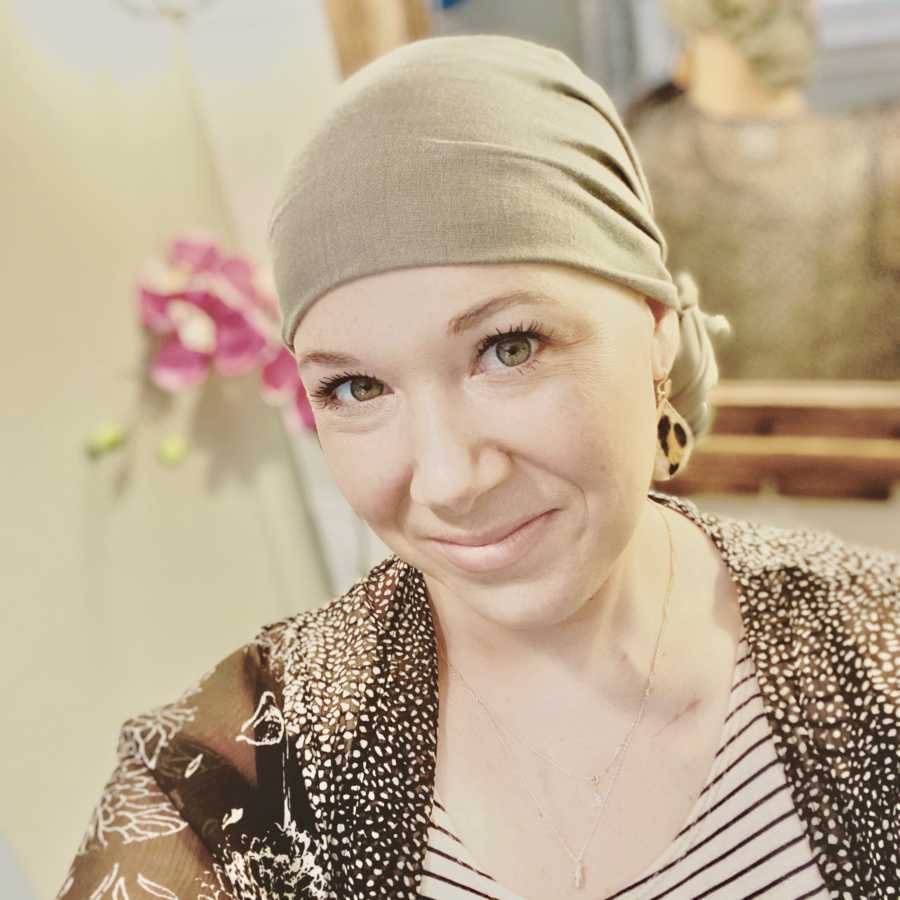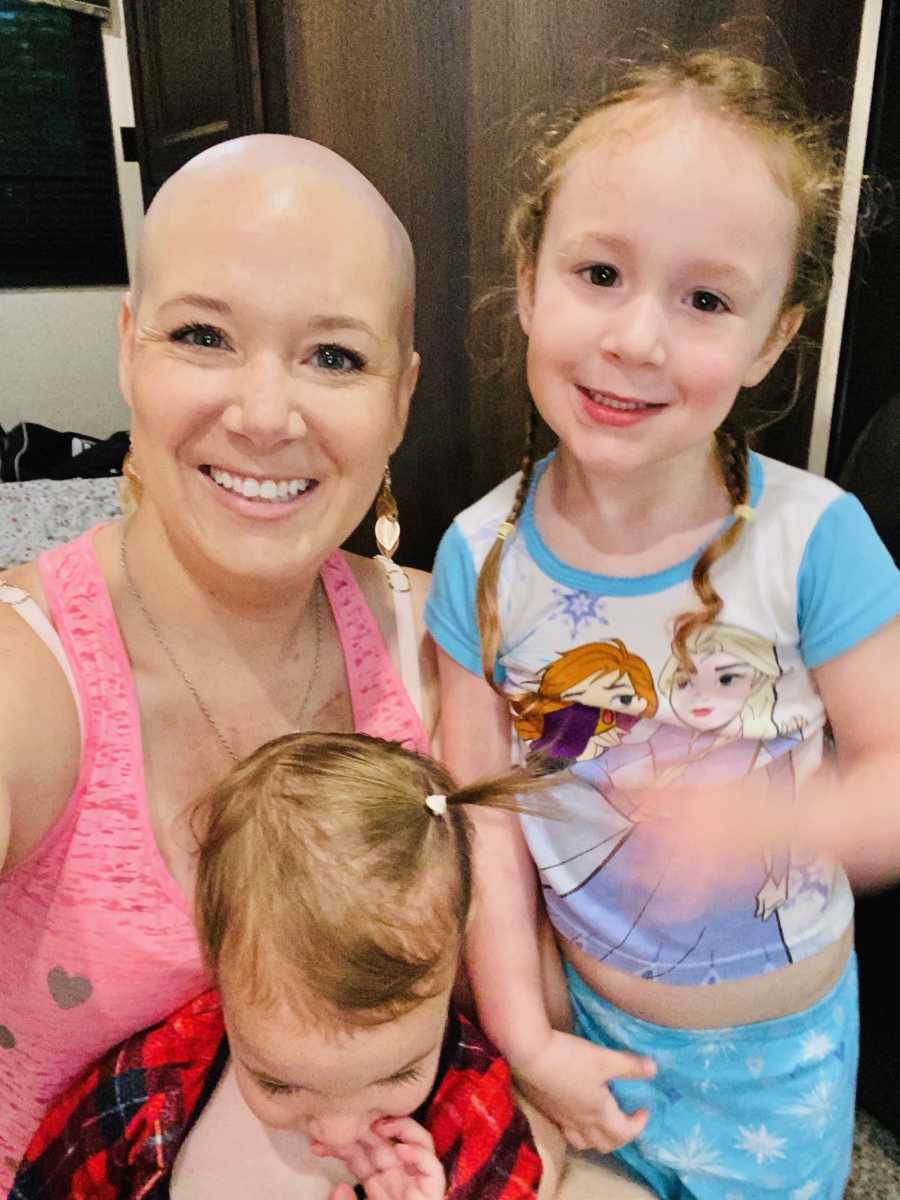 This story was submitted to Love What Matters by Brandi Lynn from Westfield, MA. You can follow her journey on Instagram. Do you have a similar experience? We'd like to hear your important journey. Submit your own story here, and be sure to subscribe to our free email newsletter for our best stories.
Read more touching stories like this:
'She didn't even say hello. 'I hate to be the one to tell you this.' I was too shocked to cry. What if he gets tired of my 'sick' body?': Newlywed diagnosed with stage three breast cancer, beats it twice, 'We find ways to celebrate'
'Go have a good weekend because it's not good news.' Deep down, I was freaking out. I was so new to cancer.': Woman beats breast cancer, welcomes 2 miracle babies, 'I am a survivor'
Provide strength and encouragement for others and SHARE this story on Facebook with your friends and family.