Pondering Adoption
"Tucked in the quiet countryside of Northern Minnesota, our home was usually a place of rest for me, but as I tried to get comfortable on my living room sofa, I couldn't find peace. My heart thundered loudly in my ears as I faced an impossible invitation that would change my life forever. I wondered whether the pounding volume would wake my two children asleep in their beds; it certainly affected my four-week-old baby trying to sleep in my arms. Holding her close, I gently rocked her back and forth, as if the swaying would help bring me peace too. Searching for an answer in my husband's expression as he took a seat beside me, I realized his heart was just as restless as mine.
His hands held the picture he received earlier that day from a friend in West Africa, working with an organization there to establish a care center for orphans. The faces of three siblings stared back at us, their kind eyes piercing right into our hearts. We first heard about the children a few days before, but this was the first time we saw a picture of them together. They were orphans, brought to the center in hopes for a better future after both of their parents died in the Ebola epidemic two years earlier. But because the boy was twelve, and more likely to age out of orphan care than be adopted, he was going to be separated from his sisters so they could have a better chance of being adopted together. The boy would be established with a program that would help prepare him to be on his own once he aged out of orphan care at sixteen. The girls were nine and five, and their older brother looked too young to be their protector, but the way he stood with his arms around them told me he was. I couldn't look away, and neither could my husband.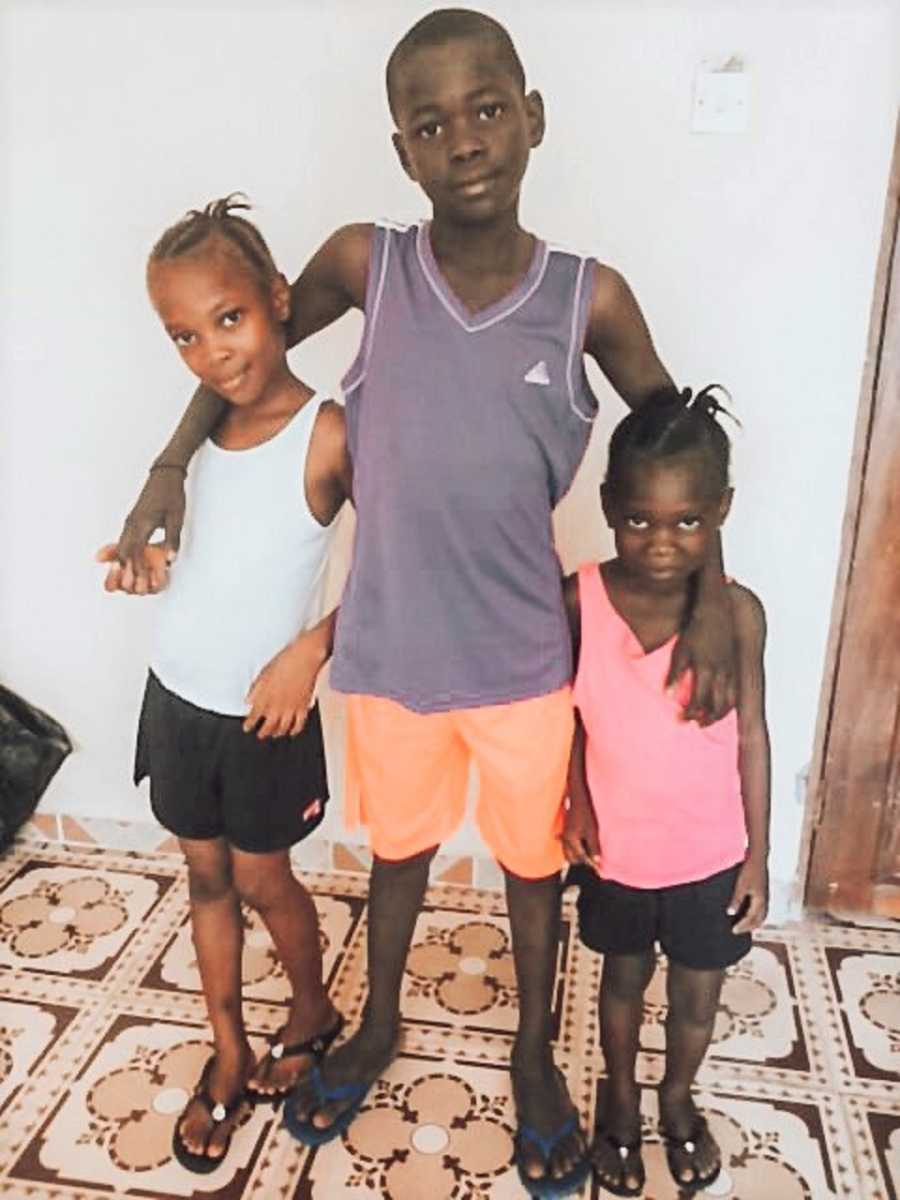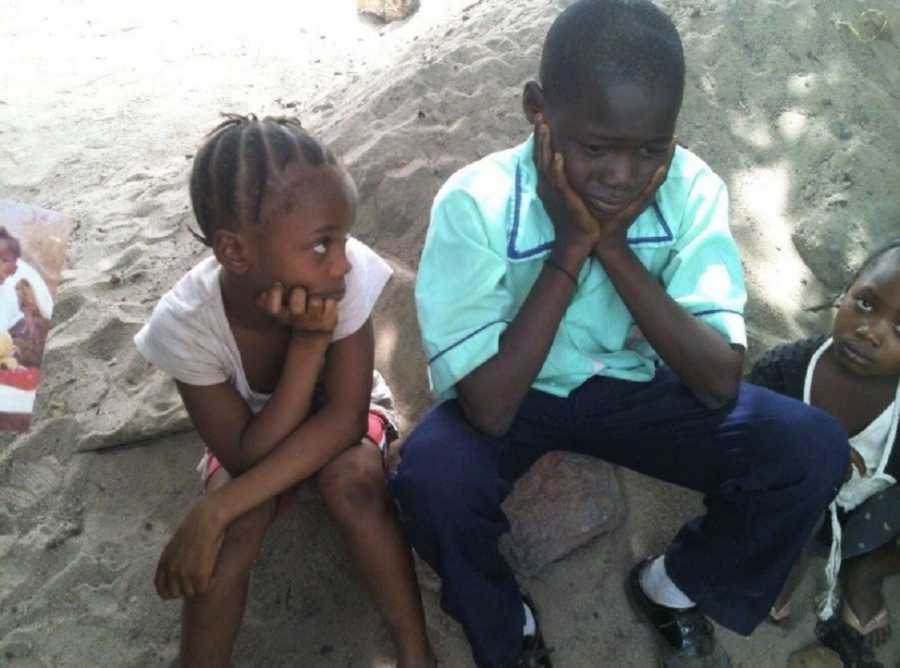 Adoption was a thing of the past. We wanted to pursue it back when we struggled with infertility for nearly five years at the beginning of our marriage, and we actually began the adoption process before we became pregnant with our third child. But in addition to having a newborn and a full house, my husband's job was unstable. He was transitioning to full-time ministry and beginning the process of replanting a broken church. Whatever income he received would be uncertain for quite some time, and already it was barely enough to support our family of five. I was a stay-at-home mom who had barely gotten her feet wet with three kids, and the idea of adding three more was crazy. Now, more than ever, adoption wasn't an option. The mere idea was absurd.
Logic and reason screamed no, and we tried to push these children from our minds, as we knew how impossible it was to even consider it. Yet, here we sat, unable to deny any longer the way our hearts were pulled towards these specific children. The stirring, that had always been there towards adoption, had surfaced like a mighty wave, impossible to ignore. How could we possibly help these kids? We may have love in our hearts and a little bit of room in our home to give, but even those were insufficient for their needs. How could we say yes to being their parents?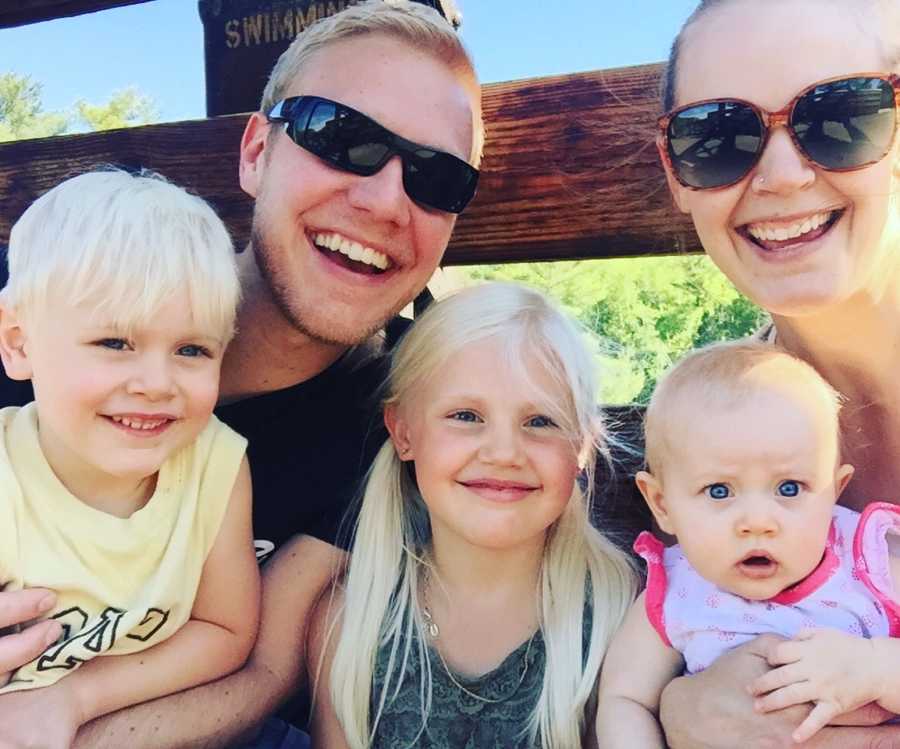 The idea of adopting was terrifying, like a raging tide threatening to drown me if I stepped out of the safety of my comfortable boat. The reality of its difficulty screamed in my face. It wasn't just the impossible journey of the adoption process, financially and otherwise, but the lifetime afterward to consider. The effects of unknown trauma and the guarantee of hardship ahead. Could I even love these kids the way I loved my biological children? What if this only caused them more suffering than what they already experienced? If we pursued their adoption, there was no guarantee they would ever come home. What then? Would they be left abandoned again?
My stomach flipped as my newborn stirred in my arms. I wanted to help these kids, but I didn't know how. Another part of me wanted to walk away, but I couldn't. The invitation to be their parents felt like a weight that would only get lighter if we picked it up and carried it.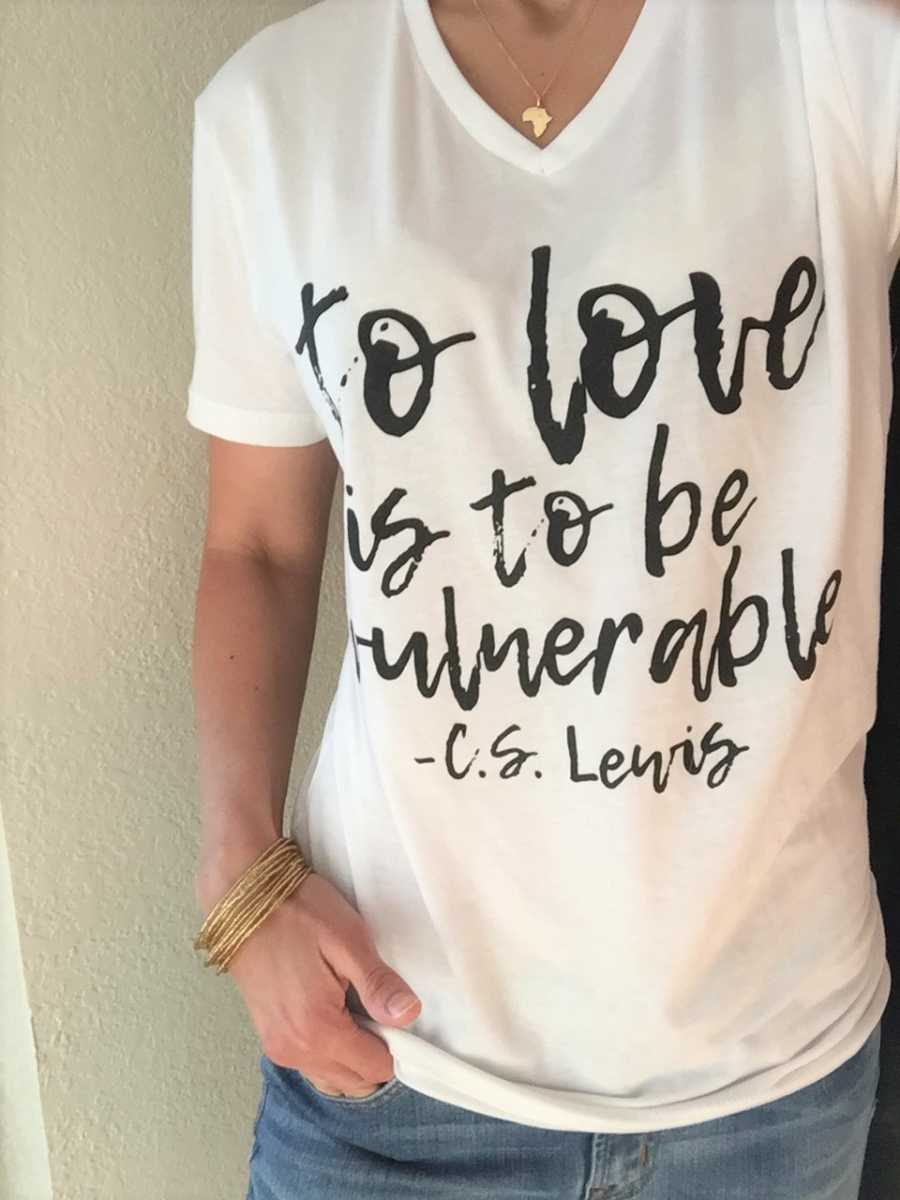 As I recognized God's call to pursue these children, I knew this wasn't about us and our limited resources; it was so much bigger than that. This was an invitation into a story greater than ourselves. It wasn't about us and what we could do, but about God and what He could do. What He was already doing. If He was inviting us to be their parents, He was already making the way possible. All we had to do was say yes.
Adoption Process
Filled with fear and uncertainty, we took a step of faith and walked into the raging tide. We weren't saying yes to being these kids' parents if they came home; we were saying yes to being their parents regardless, even from afar. If God wanted to bring them home, He would make it happen. If He didn't, He had a plan and a purpose. We didn't didn't know what it was, or what it would look like. All we knew was saying yes was right.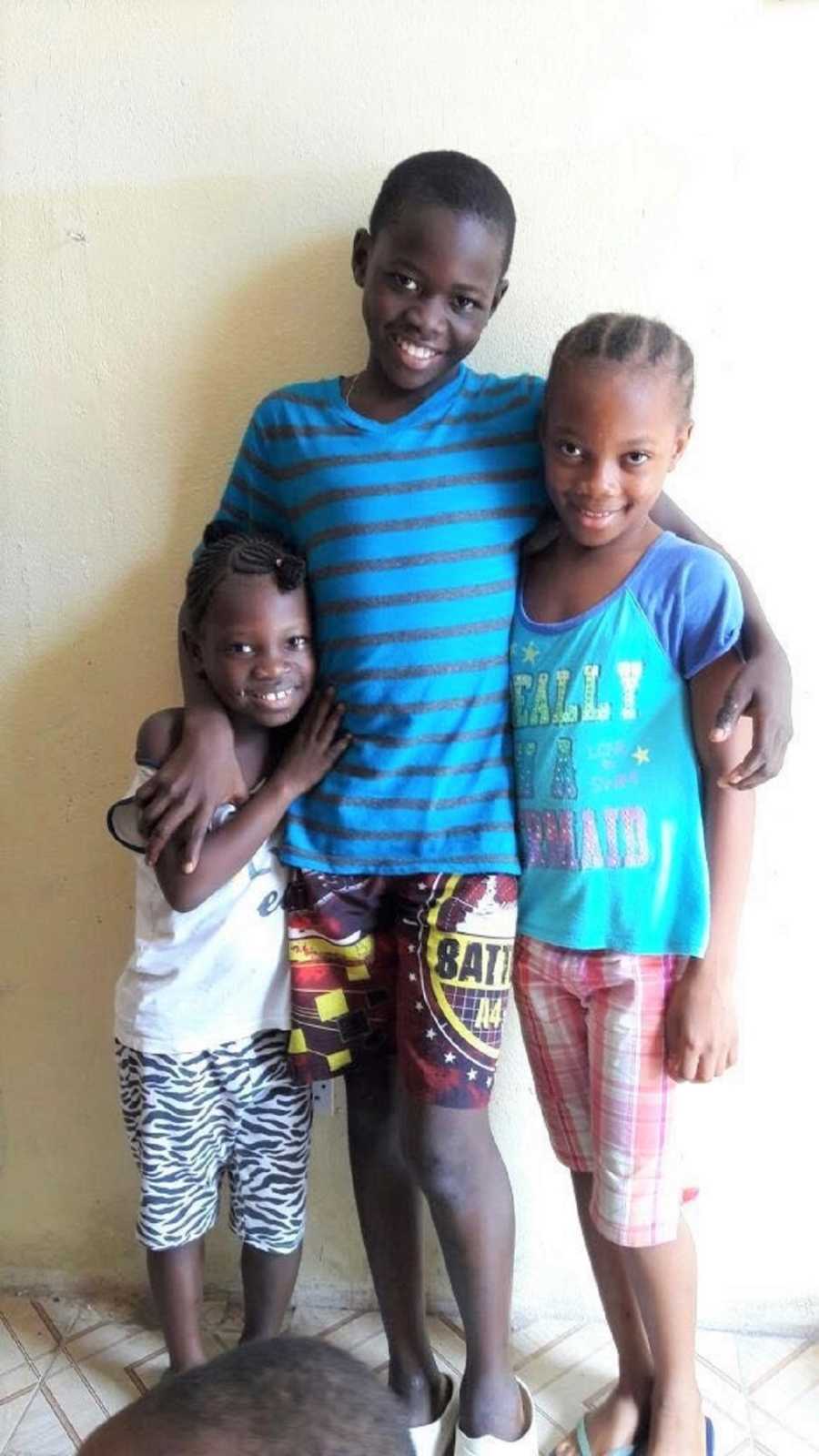 Giving our answer was surreal, like realizing you're walking on water and having no idea how you're doing it. My husband did all the paperwork as I nursed our baby and finished recovering from giving birth. The five-inch pile of home study and Dossier documents sat completed on our kitchen table within six weeks. Two weeks after everything was signed and notarized, my husband traveled to meet the children for the first time.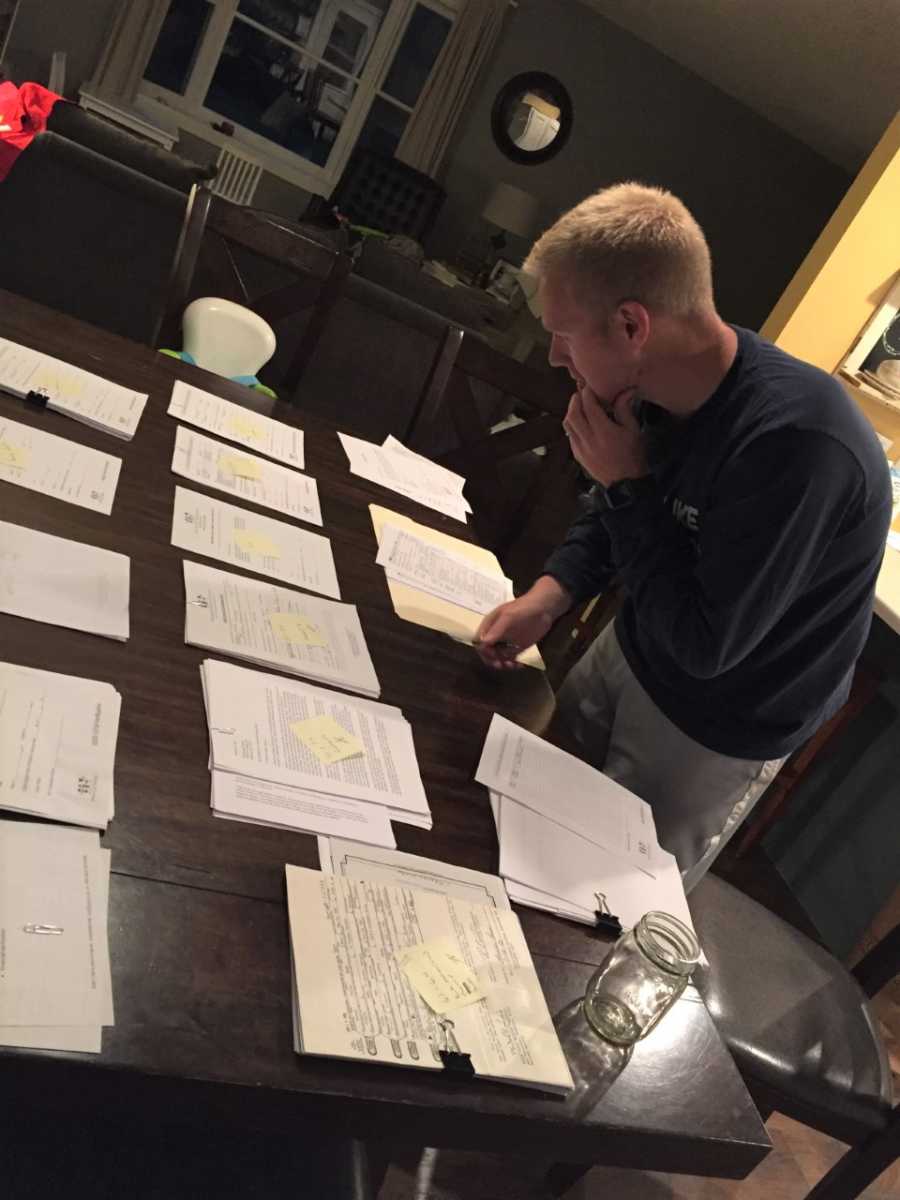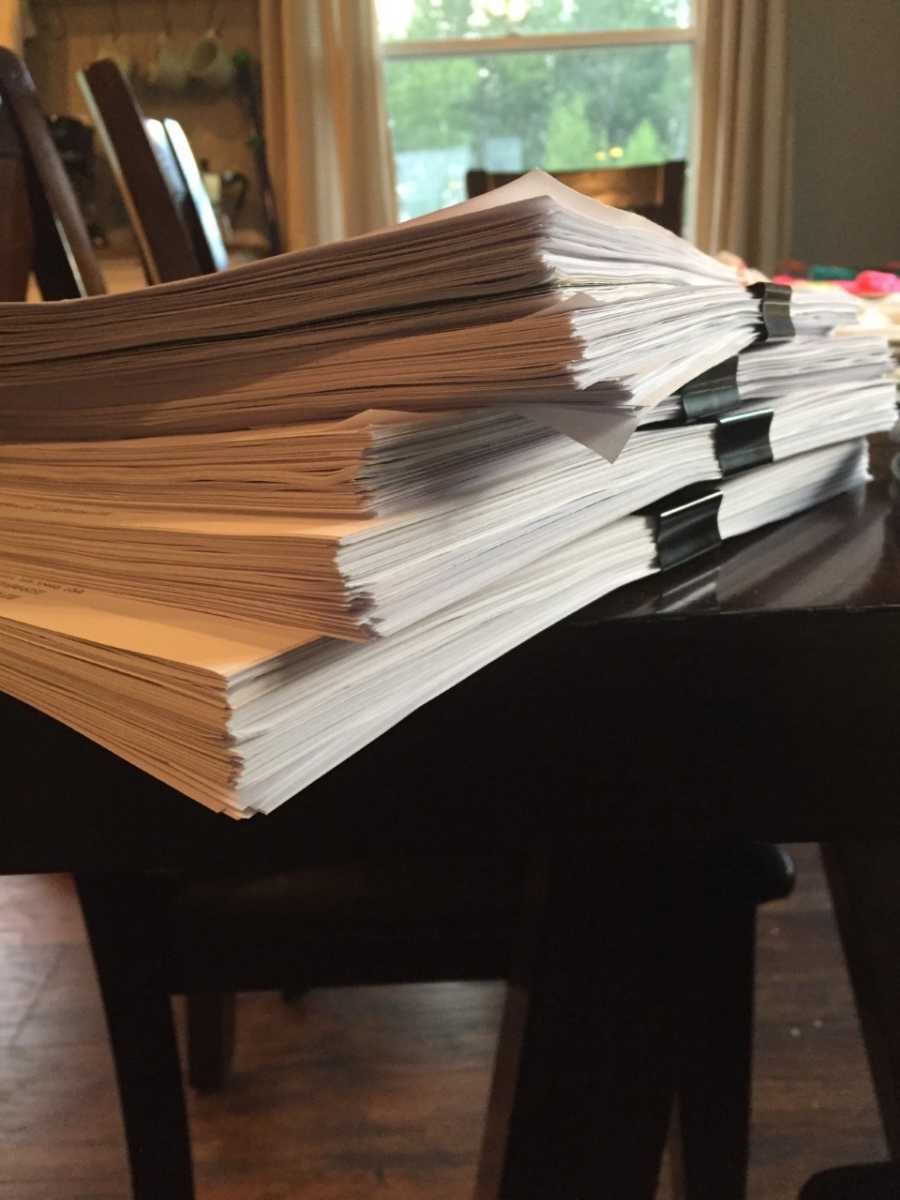 When fees were due, money appeared. Sometimes in the form of us selling possessions, sometimes in the form of checks in the mailbox, or sometimes even from thin air through donations online. I started a business with another adoptive mom making bibs, bonnets, and headbands for children. We sold and shipped these items at a steady pace over the next several months.
I knew we looked crazy, and I wish I didn't care, but I did. I was hesitant to talk about our adoption and afraid of the questions and judgment we'd receive. On the flip side, I didn't want to be praised either, for something I wasn't doing. I couldn't actually do much for these kids, nonetheless save them, even if they came home. I was just a participant in this story, holding on for dear life and wondering how it was going to unfold. It never felt easy. It felt hard to trust, hard to rely on others, hard to be vulnerable, and hard to let myself love kids I might never meet. But it was also exciting and a wonder, a joy to be part of something so far beyond me. I was struck with awe, over and over, by the impossible becoming possible before my very eyes. I never had all the answers, and every time I started to doubt, God was faithful to save me and pull me back on top of the waves.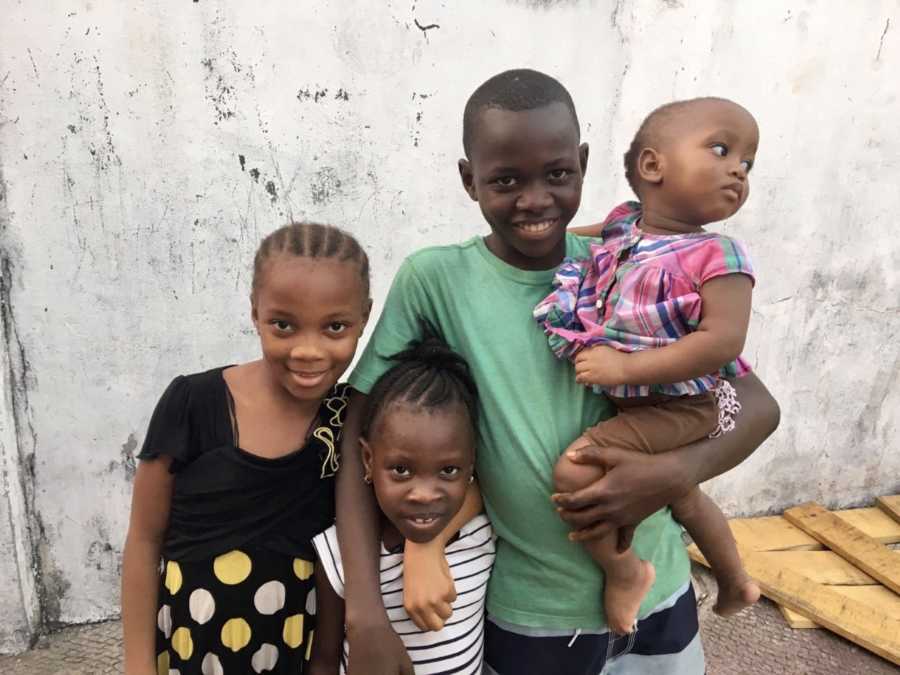 However, nine months after our adoption process started, it all came to a screeching halt. Complications between the adoption agency and the country arose. Before we knew what had happened, we lost all contact with the children, as well as $12,000 set aside for our upcoming court fees. The agency collapsed with the funds and so did our hearts.
It was a dark time. From Thanksgiving through New Years, we wondered what it was all for. We had promised to be these kids' parents regardless, but we didn't know where they were and had no way to contact them. Part of me felt like the process wasn't over, while another part of me wanted to believe it was. I didn't know whether to be angry or relieved. I didn't know whether to hope or to grieve. Adoption was a fighting pursuit, and I was tired. This battle was clearly done, but I couldn't determine whether the war was over or not. There was nothing left to do but wait.
When we received notice of where the children had been relocated, we were able to start communicating with them again. Two months after being told our adoption was over, the country decided to work with the families already matched with children in the adoption process. This time, we had to pursue an independent adoption and began the procedure of filling out more paperwork, hiring lawyers, and paying more fees. It was scary to say yes again, knowing to a fuller degree the reality they may never come home. At any given moment, we could lose everything again.
Meeting Our Kids
Receiving a court date within weeks of beginning an independent adoption, we traveled and I finally got to embrace my kids for the very first time. I will never forget that moment, and their expressions, when they ran to meet me and I scooped them up in my arms. A court order didn't get to decide if I was their mom, I was already. And regardless of whether I could ever bring them home, I knew I wouldn't stop pursuing their hearts as my children.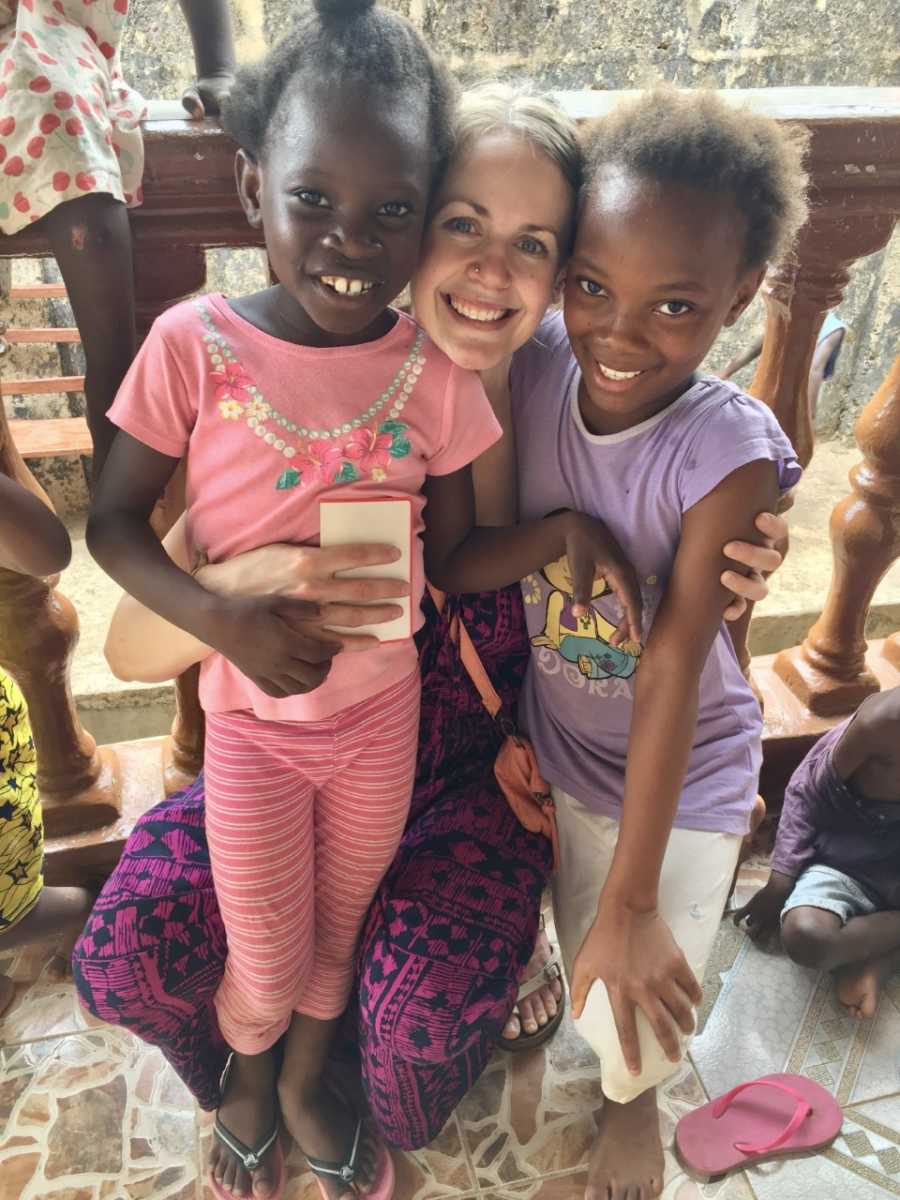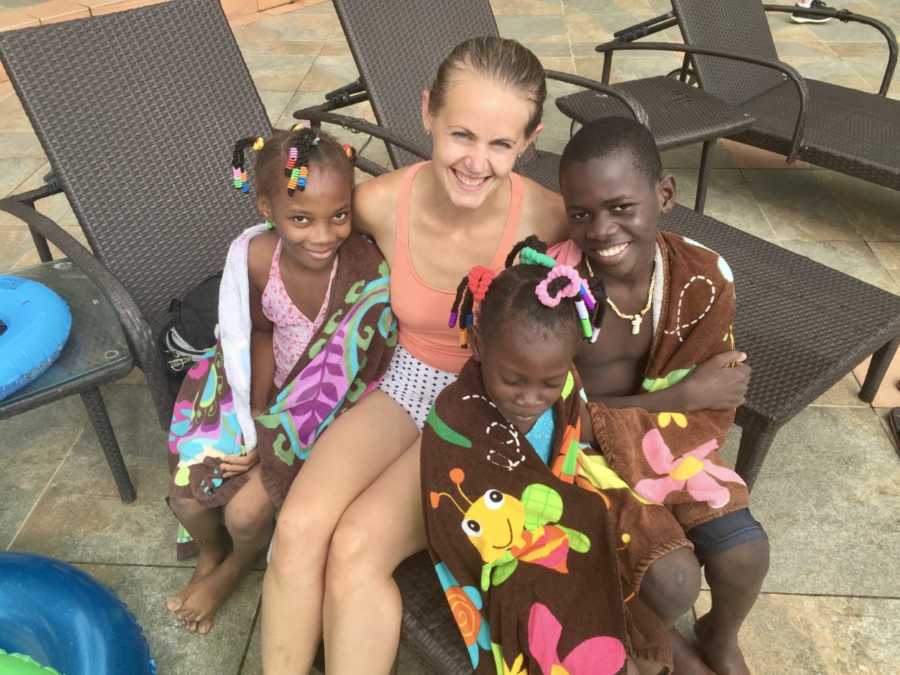 Thankfully, our court order was approved within twenty-four hours after our hearing, and we officially became their parents. We were now a family of eight. We joined hands with the children and wrote our names on the sand along the coast of West Africa, celebrating all that had happened to get us there.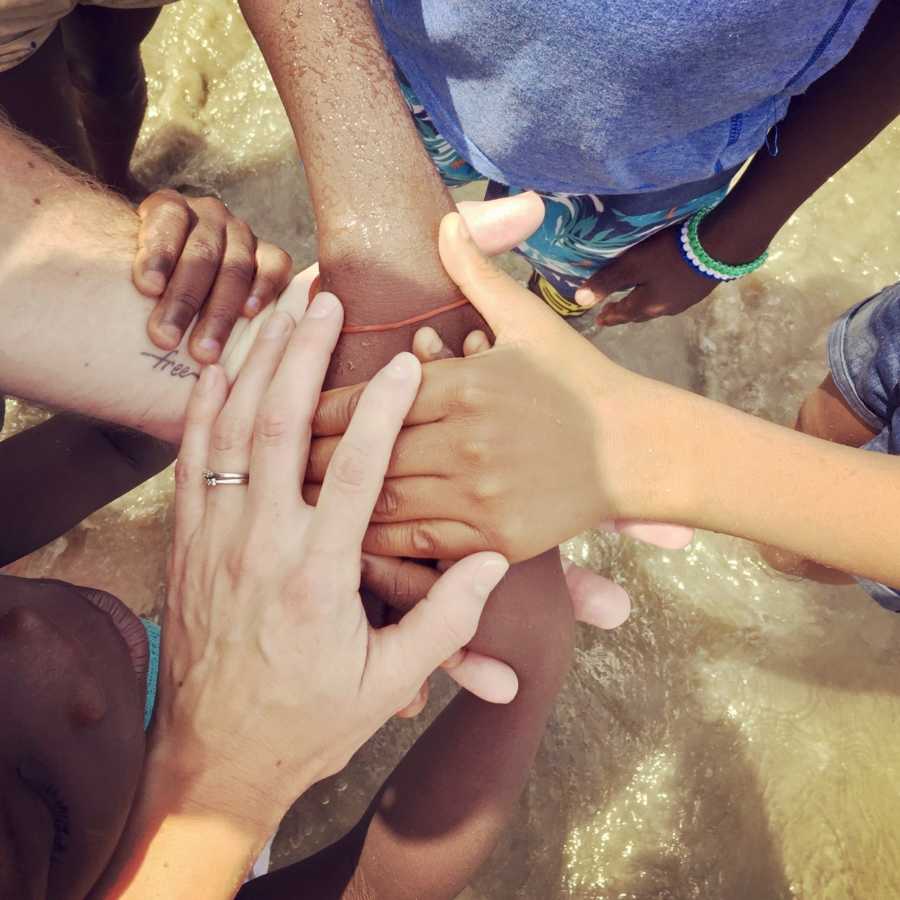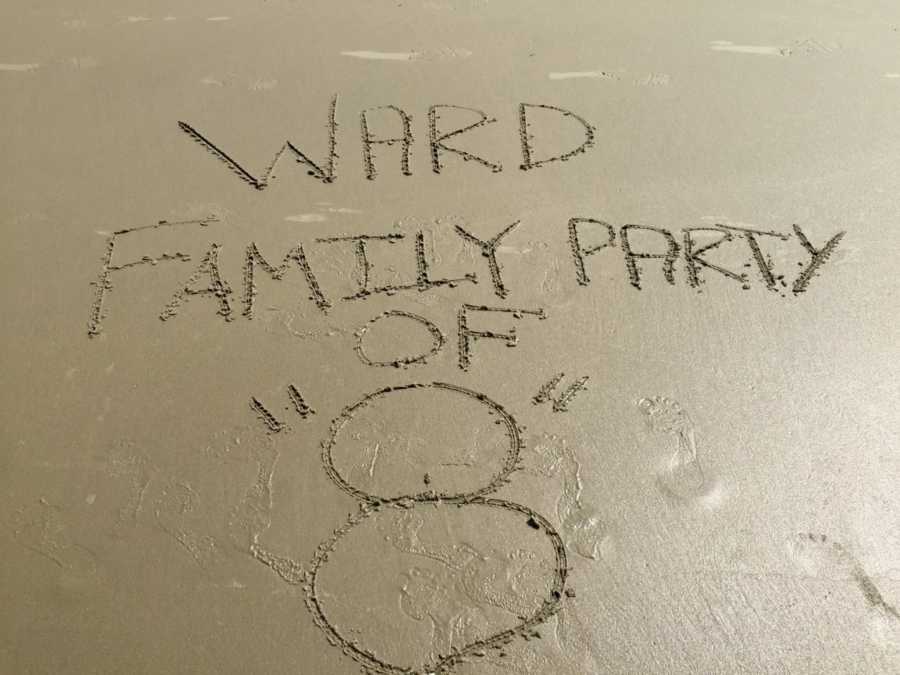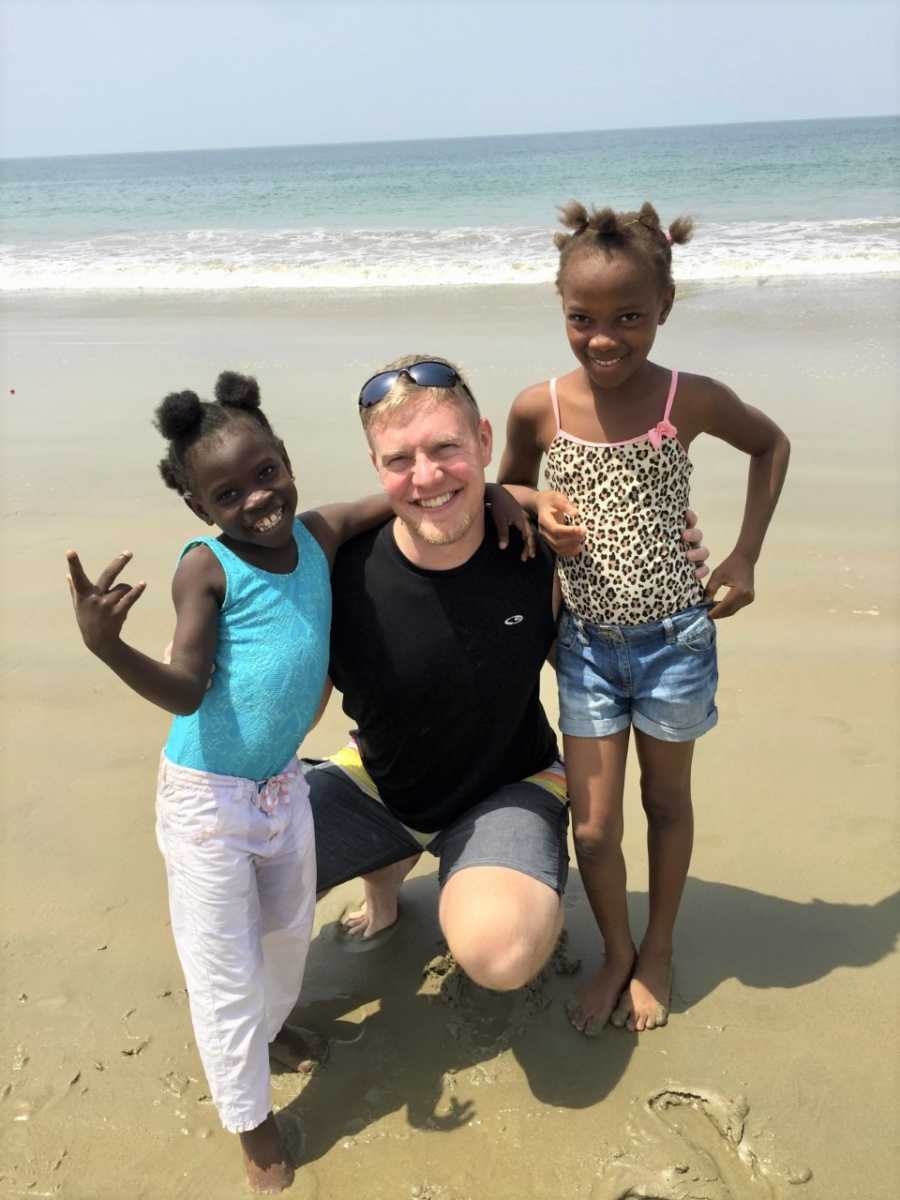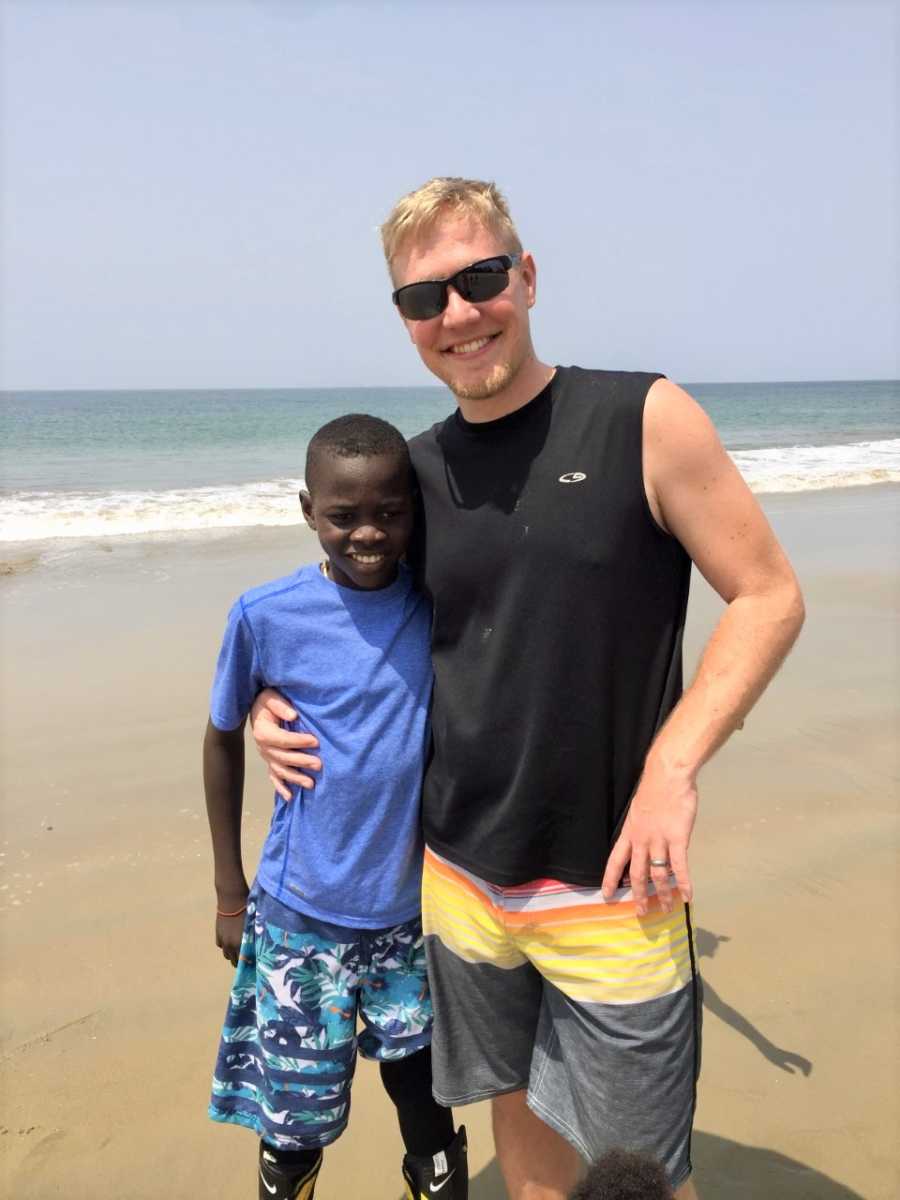 Adoption Complications
But, the journey was far from over. Bringing them home was another hurdle. We knew there was still so much that could go wrong, and we already exhausted every financial resource we had. We traveled home, finished up the rest of the paperwork, and threw a massive benefit dinner where we raised an unexpected $8,000 from the support of our local community. Then, we waited for our visa appointment to be scheduled.
Complications came up with the country's embassy, and several adoptive families weren't issued visas. As we waited, we hoped this wouldn't be the case with our adopted kids, but despite my follow-ups and inquiries, our interview never got scheduled.
Five months felt like a lifetime.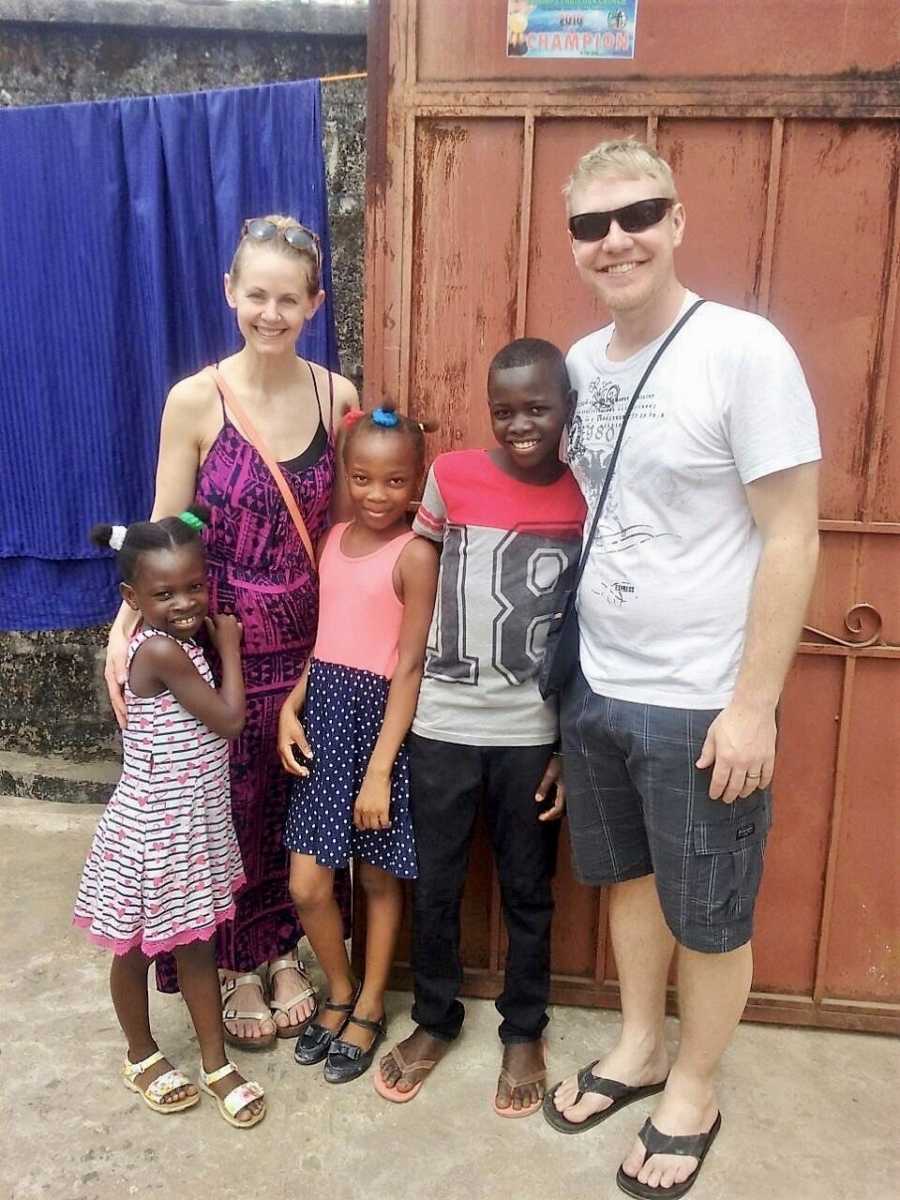 Our case was lost in their pile of paperwork during a transition in embassy officers, but finally after five months, our interview was scheduled, and we had a week to make our travel arrangements. Leaving our three biological children in the states with family, we arrived to greet our three adopted children who were eagerly waiting to see us. When I saw their faces and gathered them into my arms, I knew I couldn't leave them again. I prepared myself to stay in the country until their visas were approved, however long it would take. Up to this point, the average time for everyone else was a month.
Much to our surprise, the children were issued visas three days after our interview. A complete miracle. We flew home with them beside us a couple days later.
Finalized Adoption
As we arrived at immigration customs in the Minneapolis airport, I held my breath. We were almost home, but it was a very real possibility our documents wouldn't pass through immigration, and we'd have to return with the kids back to West Africa. I will always remember the moment when the clerk stamped their papers and passports, and said, 'Welcome to America.' I could hardly believe the impossible had actually happened, and here we were, on our way home to introduce our children to each other.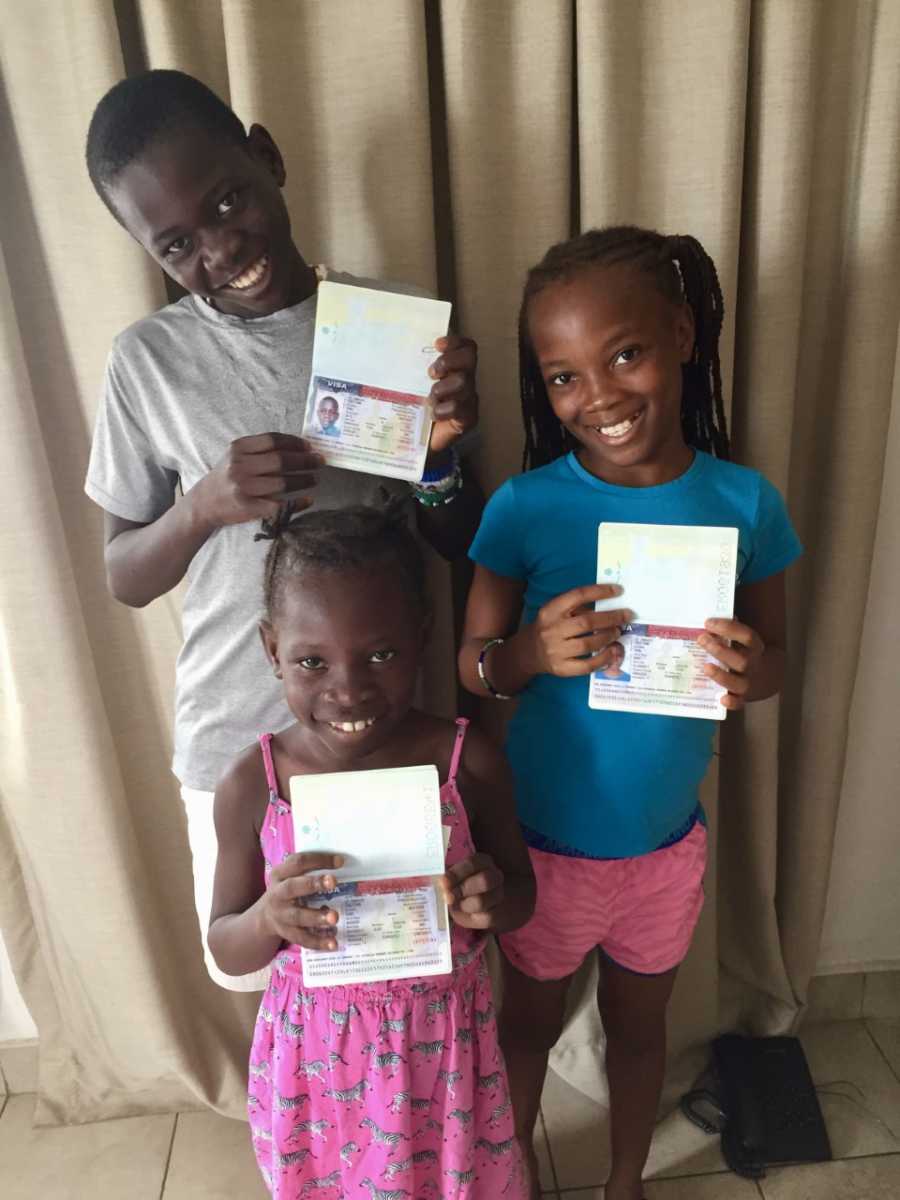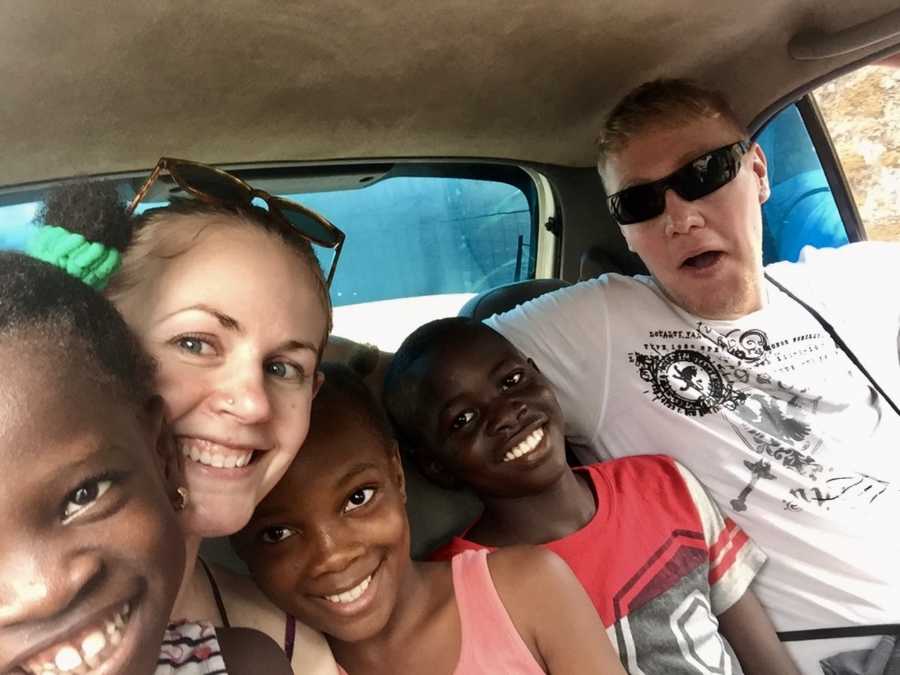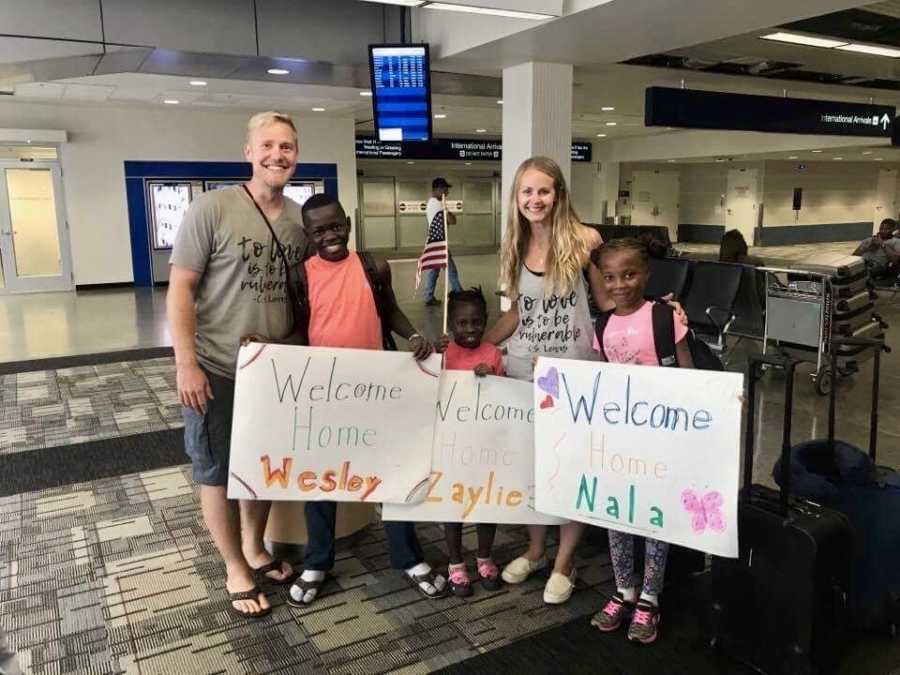 I am so glad it wasn't me who orchestrated my family. Though it has and will continue to have its pain and difficulty, it is so much richer and more beautiful than I could have ever imagined. We may have blessed these three siblings with love and a home, but the greater blessing is ours by them being part of our family. Only three years have passed since we walked across that immigration line in the carpet at the airport, but I couldn't imagine our family without them. In so many ways, it feels like they have always been a part of it.
And in some ways, they always have.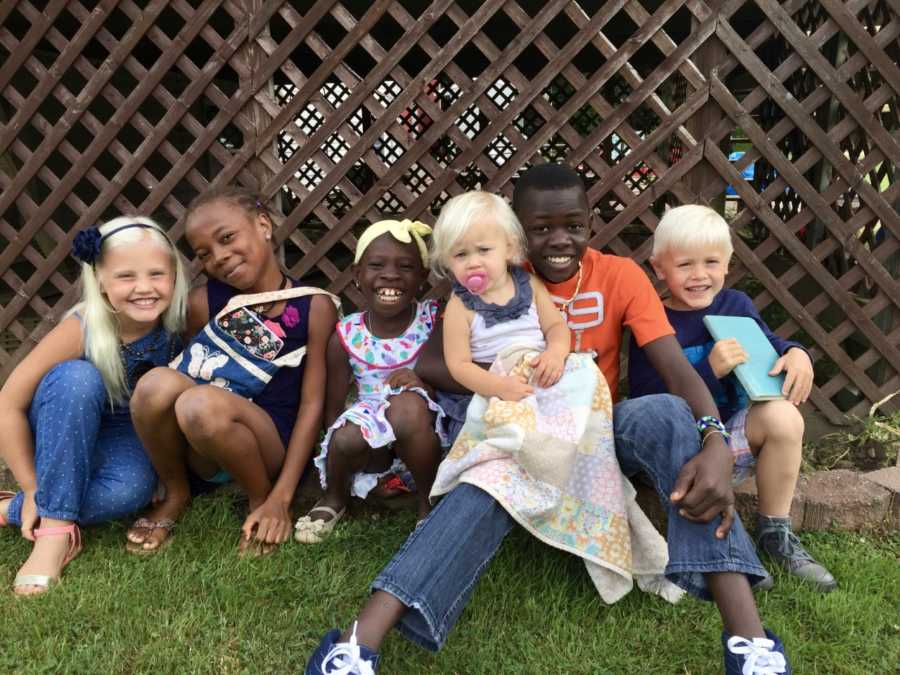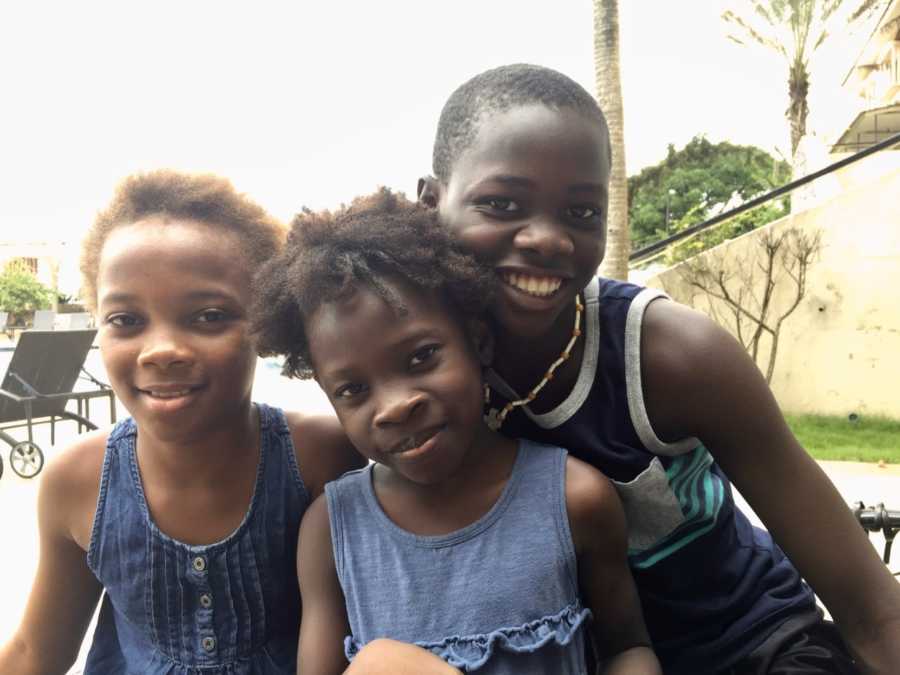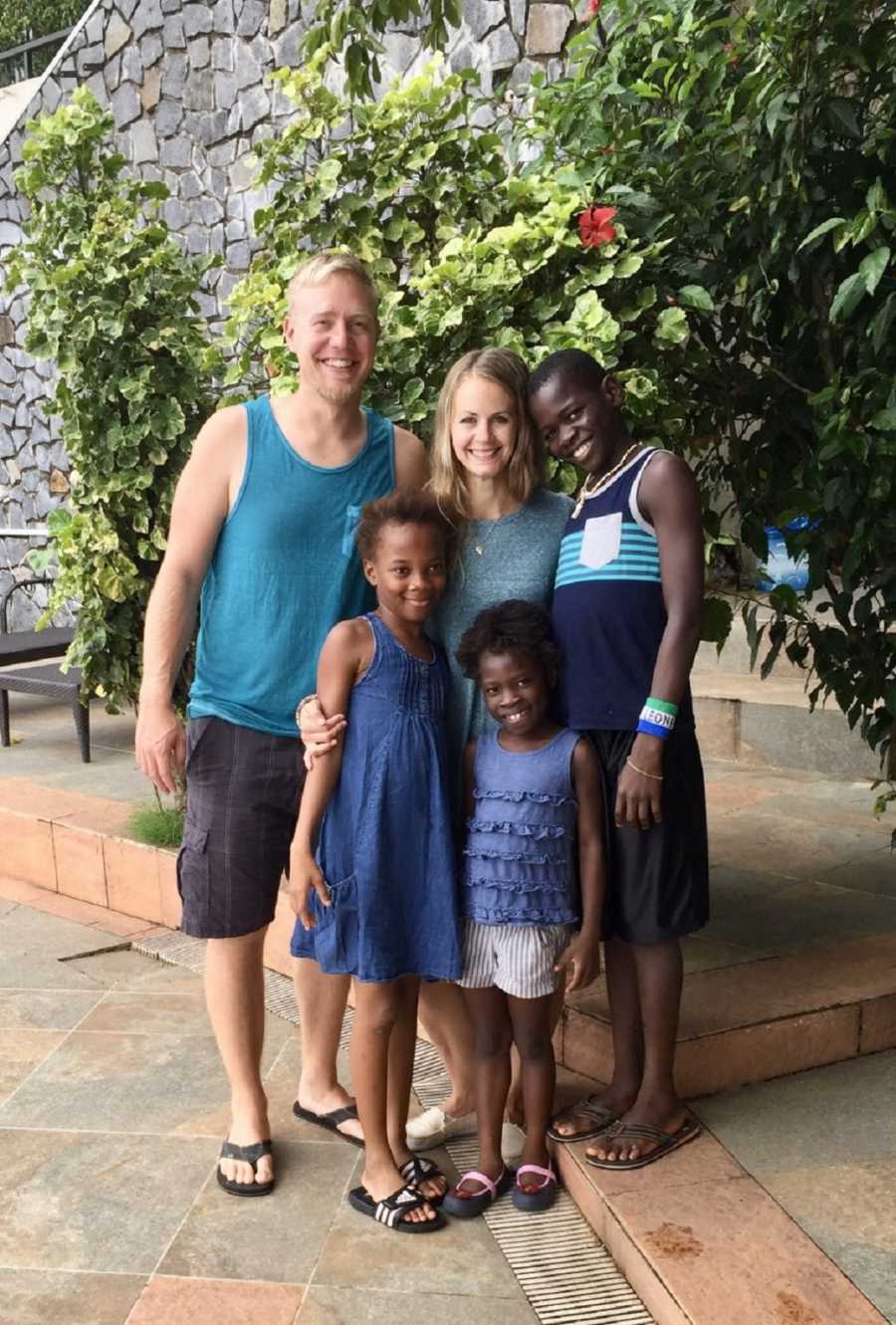 Family is so much more than blood, and adoption has taught me that. Getting to witness God's hand at work in His design for our family, and watching the way our kids have accepted and love one another, has shown me a fuller picture of what heaven will be like. And because I have this tangible and ongoing process of pursuing my kids' hearts, I can know the fuller depths of God's relentless pursuit of mine. Because I have the security of being adopted into His family and have tasted and seen the saving love and grace that continues to rescue me, I can extend it a little more fully to the children He has given me to nurture and shepherd. It might not look perfect, and I get it wrong a lot, but I have found there is a rich abundance to delight in within the mess, and a breathtaking and becoming beauty to behold for us all.
If I have learned one thing through adoption and stepping into the unknown, it's this: no matter the length of uncertainty, a leap is always worth taking when God is the one inviting you to jump."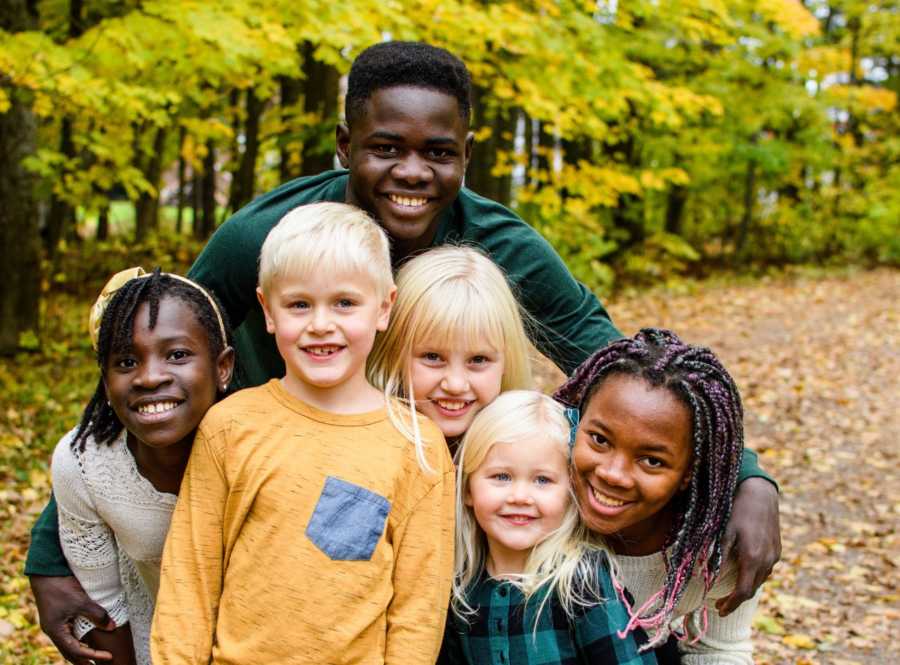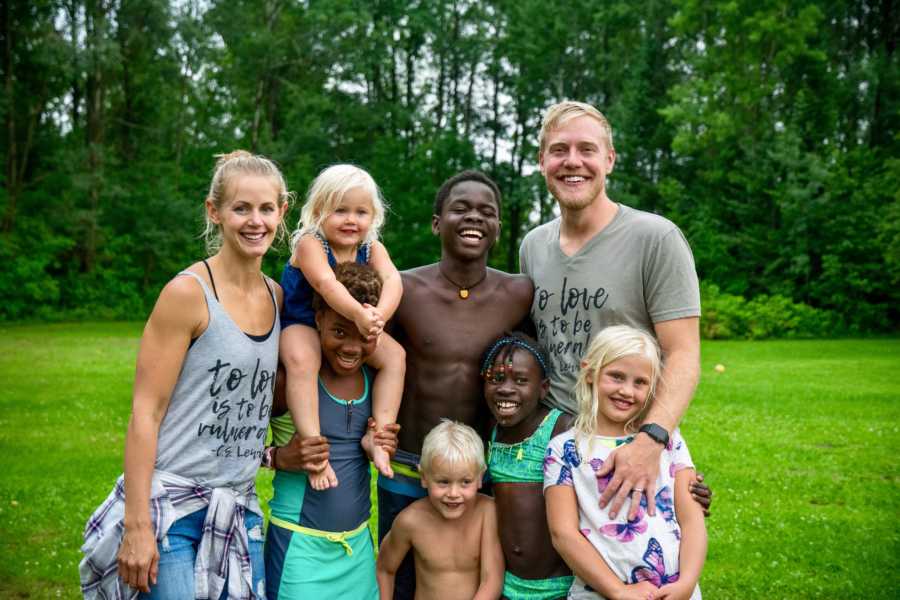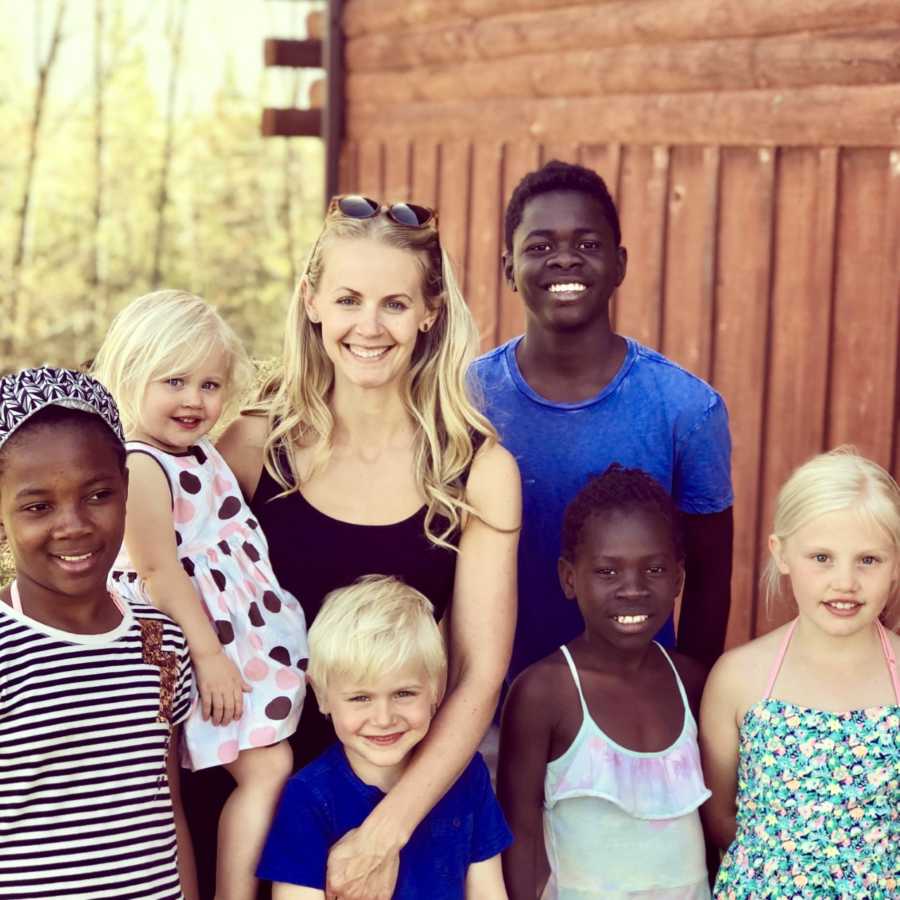 This story was submitted to Love What Matters by Kristina M. Ward of Duluth, MN. You can follow her journey on Instagram. Be sure to subscribe to our free email newsletter for our best stories.
Read more stories like this:
'At 11, his adoptive parents abandoned him at a hospital, never to return. 'Mr. Peter, can I call you my Dad?' I began to cry uncontrollably.': Single dad adopts 11-year-old boy from foster care after biological, adoptive family abandon him
'We have a 3-year-old boy. His mother is homeless. No one will take him.' Our jaws fell open. 'We'll be at your house in 30 minutes!': Couple adopt 4 children from foster care, co-parent with birth mom
Spread the love. SHARE this story on Facebook with family and friends.