"It was Friday, March 13th, 2015. I was 33 years old and a few weeks away from my 34th birthday. I had two little kids. A husband. A great job. A house. But none of that mattered. Two months earlier, a massive lump appeared overnight in my left breast. It was big. I waited for it to go away but it didn't, so I went to get it checked out. That's when it all went south very, very quickly. A routine ultrasound became an emergency mammogram, which became a referral to a rapid diagnostic clinic at the cancer hospital. I had had a breast biopsy that Friday morning to confirm or rule out breast cancer.
By 4 p.m., I would know my fate. Sitting in a very small hospital room with my parents and husband, the doctor entered to confirm my worst fear, 'You have breast cancer.' This moment was a whirlwind. Many people I didn't know entered the room, telling me how the next few weeks would go. I would need more tests. They planned on starting chemo ASAP. I was just worried about my 3.5-year-old and 1.5-year-old.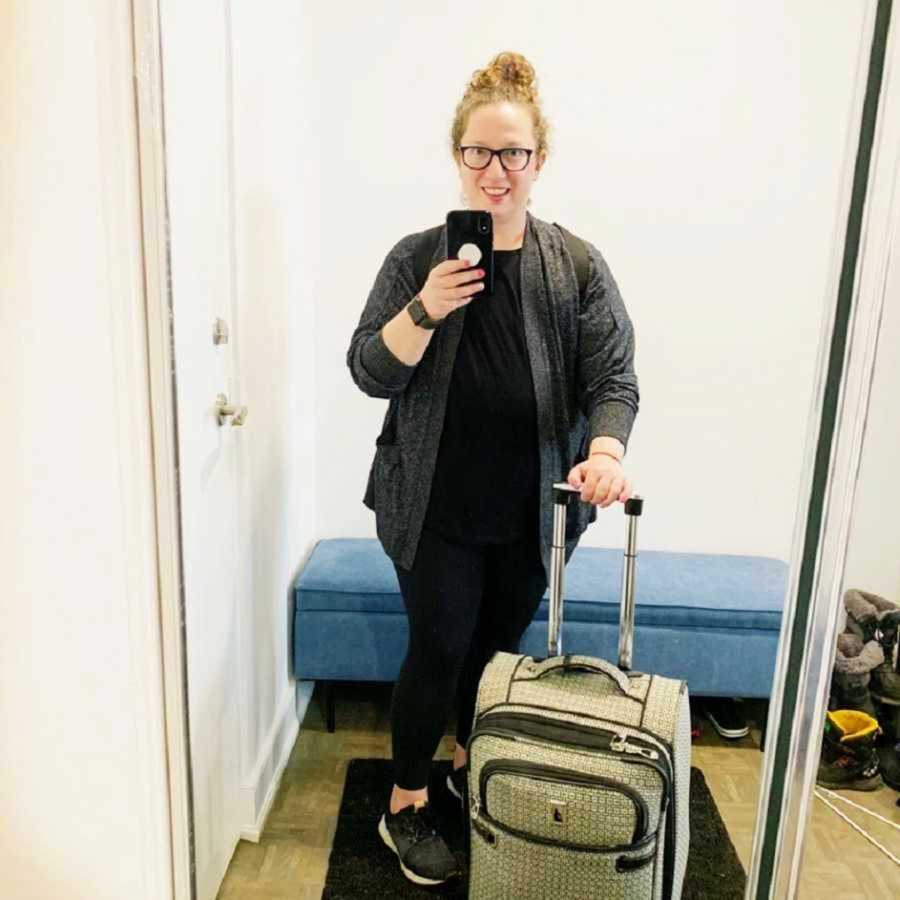 The following two weeks were a massive learning curve for me. It was filled with a variety of doctor's appointments and tests. I had gone from being a healthy young woman to being told I was sick and had cancer. I now had a crew of physicians, which included a medical oncologist, a surgeon, a radiation oncologist, and a social worker. Suddenly, I had to learn lots of different cancer-related terms. I always knew I would have three kids, and a few days after my diagnosis my husband and I found ourselves in a fertility clinic.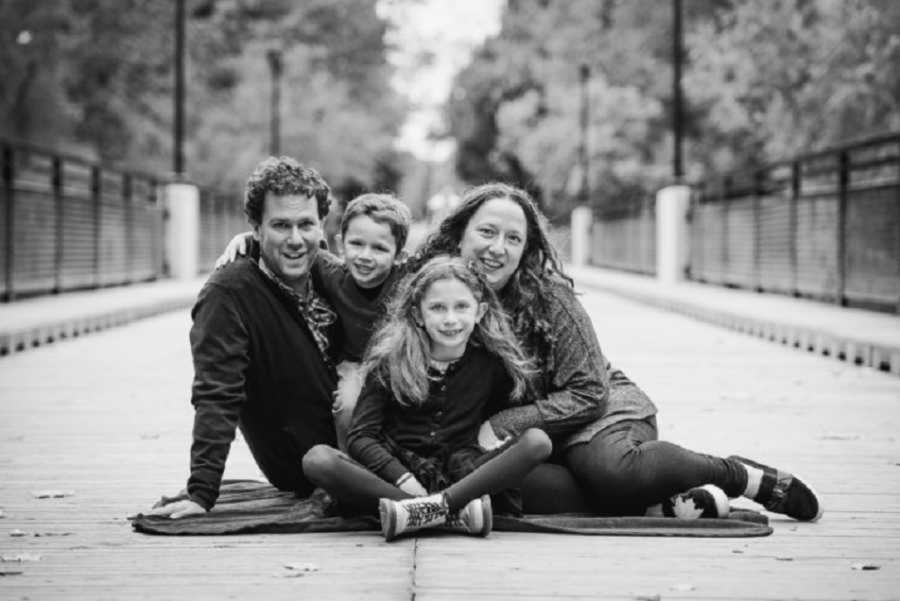 My husband met with fertility specialists to decide what to do with my eggs. I had two healthy kids, but knew I was meant to be a mom to three. We learned about our options, and had five days to make up our minds, as chemo had a very good chance of damaging the quality of my eggs, or killing them altogether. In the end, my husband and I decided not to go ahead with fertility treatments—the cost, the time needed to start as soon as possible would delay my chemo treatment, and my cancer was hormone-driven.
In order to do these treatments, I would have to pump my body with hormones, which worried me about my cancer spreading. This whole time I wasn't worried about myself. I was worried about my young kids. The night before my first chemo treatment, my husband and I sat our daughter down and told her, 'Mommy has cancer and I'm starting to take medicine to kill the cancer.' I read her a book and she hugged me. We were so worried to tell her, but somehow, she knew what to say even at her young age.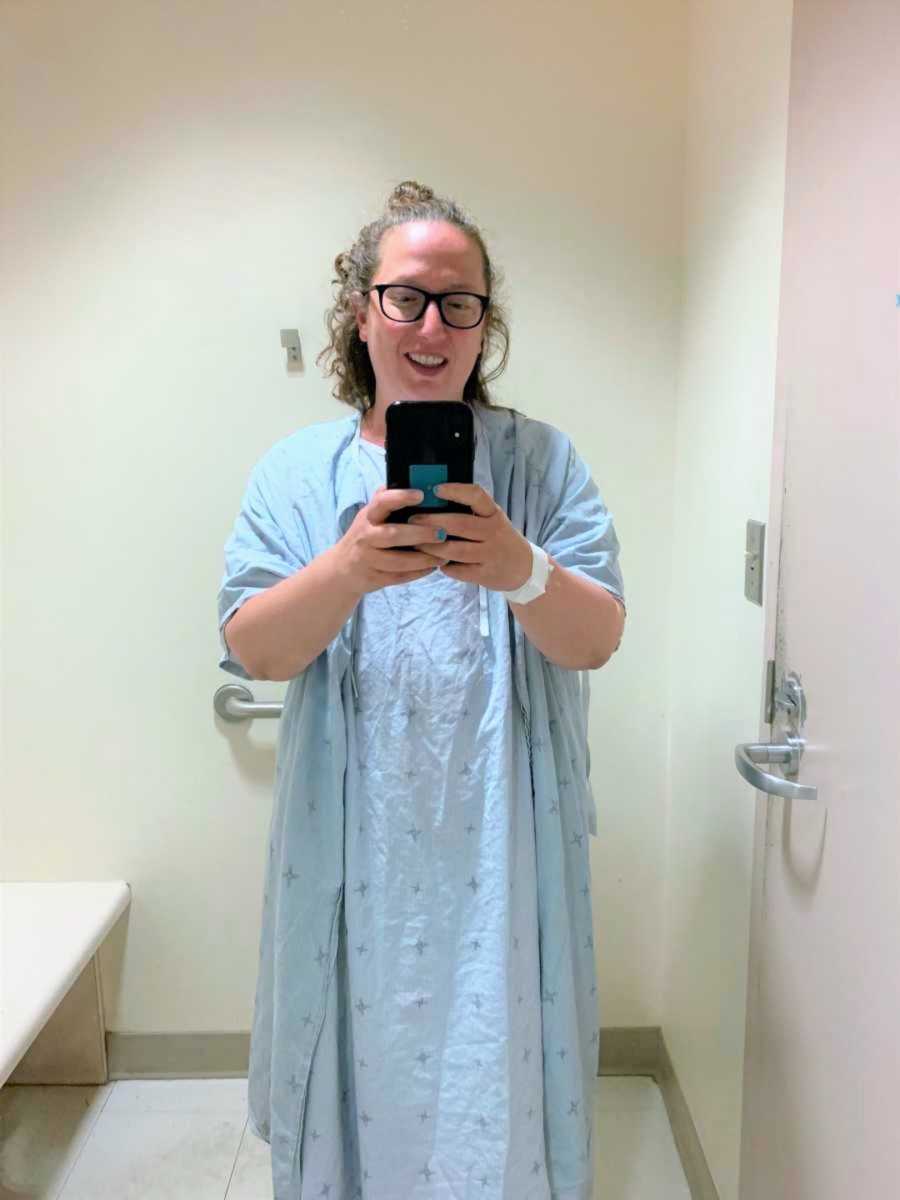 On April 1st, 2015, I had my first chemo treatment. Oh, how I wish it were an April Fool's joke, but it wasn't. I would have six chemo treatments every three weeks. About ten days after my first chemo treatment, my hair started falling out. It became a big knotted ball and started to fall out in clumps. My husband and I taped him shaving my hair. We both cried. I was so sad to lose my hair. In August of 2015, a month after finishing chemo, I had a double mastectomy. I cried as they put me under, but I was so happy the cancer would be removed.
When I woke up, I was gifted a beautiful knit beanie that was placed on my head after surgery. I remember being in a hospital room, opening my eyes, seeing a banana on the table in front of me, and eating it. Then closing my eyes and going back to sleep. I was sent home the same day with my chest wrapped up, and four drains coming out from different points from my chest. Can you believe I got a body part amputated, and I didn't even get a night stay at the hospital?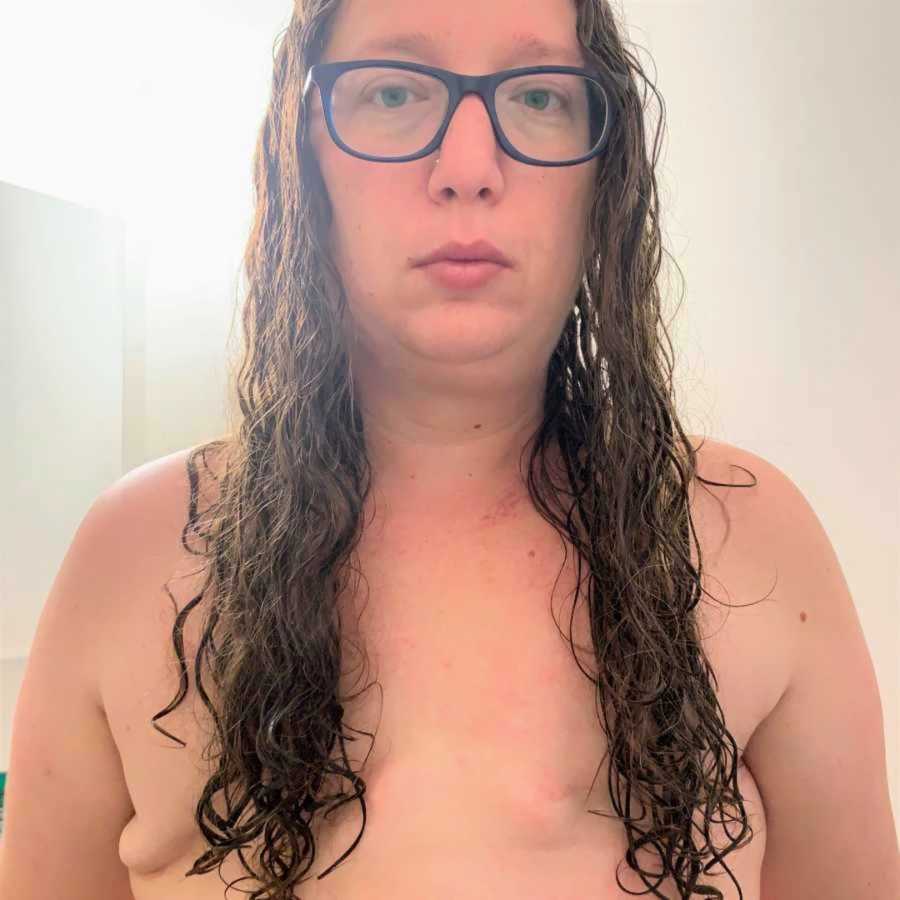 The next few weeks I spent healing and getting used to my new body. Clothes fit differently now, and all my V-neck shirts needed to be replaced with round necks as it would show my scars on my chest. Two months later, after I healed, I started radiation on my chest in order to kill any remaining cancer cells, even though I had great margins from my surgery. I wanted to make sure I did everything I could for this to never return. I had 25 rounds of radiation, and by round 21 my skin near my clavicle started to char and open to what would become a gruesome burn.
Those nine months were grueling, but once those three treatments were done, my oncologist put me on hormone therapy and told me to, 'Go live your life.' Putting the pieces back together was more challenging for me than being in treatment. I felt lost. How was I supposed to process and move on from what I just experienced? But I did it! I started going to therapy. I started doing a mindfulness meditation class. I started to connect with other young women who also had breast cancer, and I went on a trip for other young cancer survivors and thrivers. After a year of putting my life back together, I started to apply to new jobs and was hired for the most perfect job! Everything was going so well.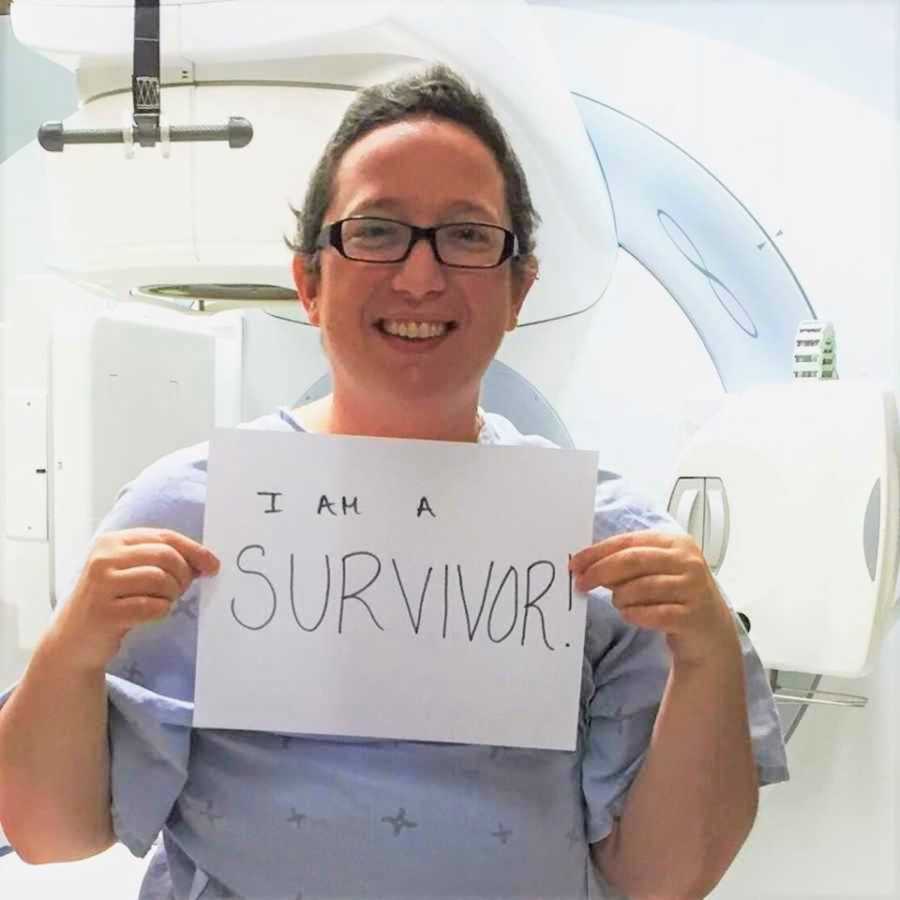 Until it wasn't again. In the summer of 2017, I started getting random back and leg pains. I chalked it up to sleeping on old beds at the cottage, or going for a three hour walk in my Birkenstock sandals. The pain wasn't all the time, nor was it in the same place. I was told if my cancer had spread, the pain would be consistent and it would get worse. At my regular follow-up appointment that September, I casually mentioned these random pains to the doctor. I was told it didn't sound like my cancer had spread, but they would do their due diligence and send me for a few tests to figure it out.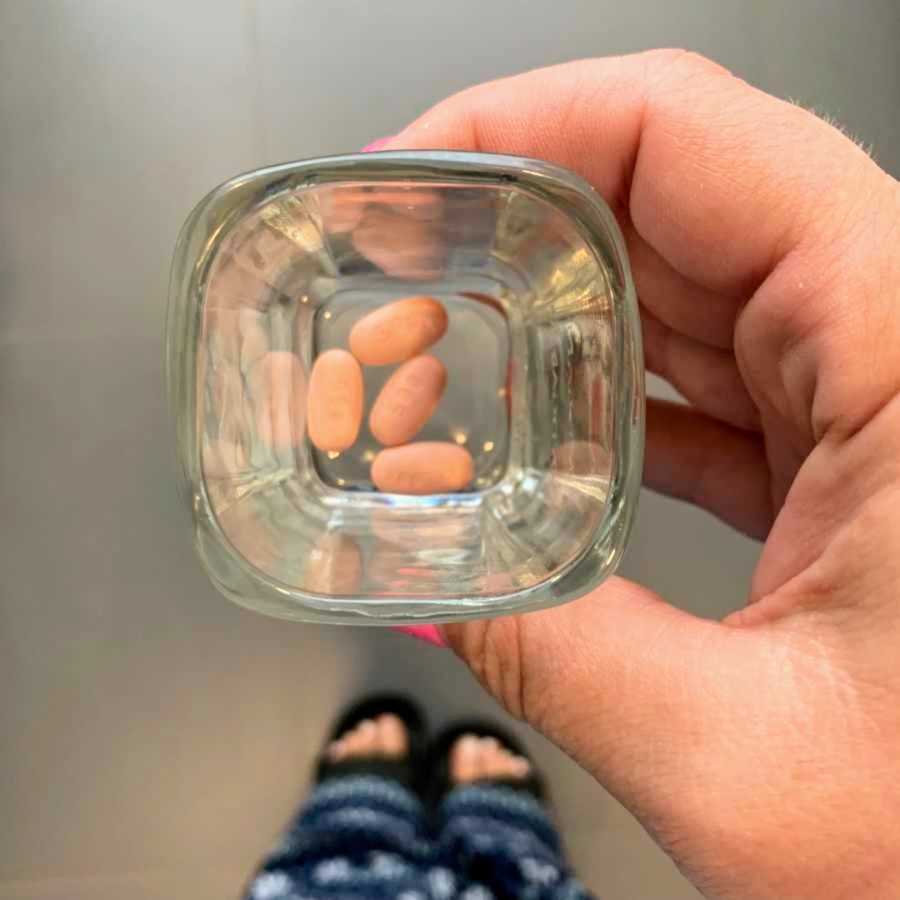 On October 10th, 2017, I walked into a doctor's appointment with my husband, assuming I'd be told I have arthritis or something, but instead I was told my cancer had spread to my bones. I had metastatic breast cancer, which is terminal. No cure. My ears started ringing. I couldn't tell you what the doctor said afterward. To me, it meant my life was over. My kids were now six years old and four years old. I was told it was only in my bones and it was very treatable. My doctor mentioned we were now talking about my life as in quality of life over quantity of life. It was crushing. I was 36 years old.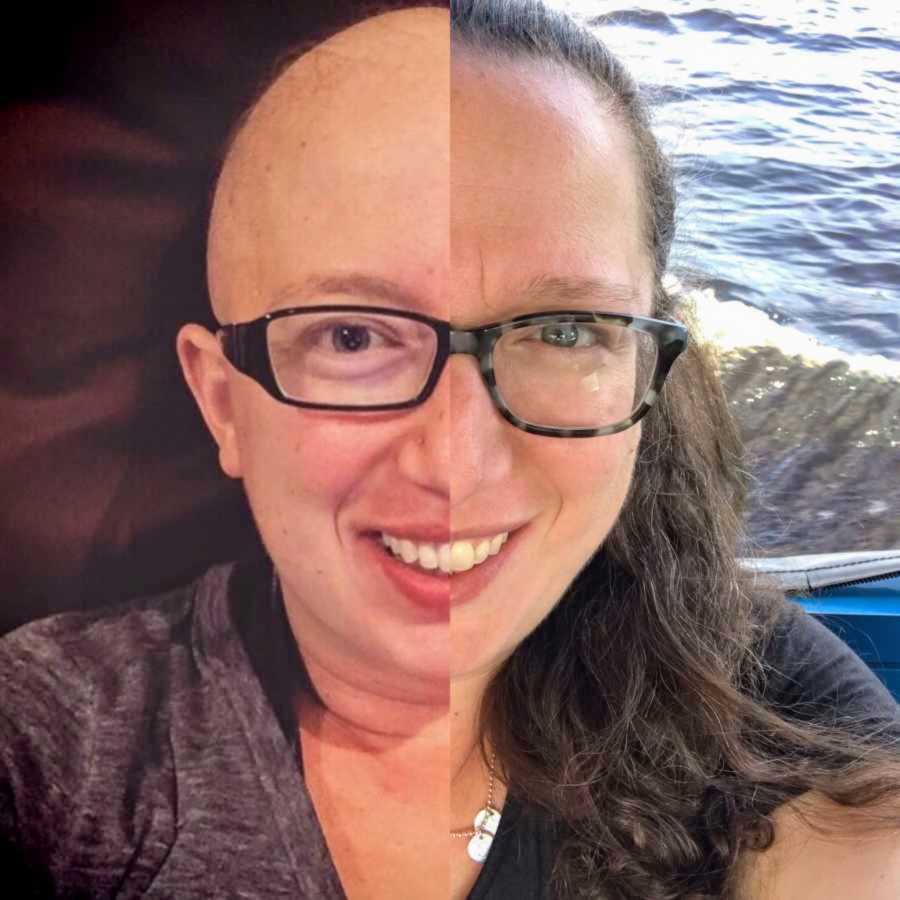 We told our immediate family and a few of our close friends, but chose not to publicly share this news of my terminal diagnosis for one year. My husband and I had to make some difficult decisions about our lives and how I wanted to live out the remainder of my time. We sold our house, bought and renovated a condo, and I have been crossing items off a bucket list, or f*ck it list, as I call it. I started to live my life much more intentionally. My focus became making memories with my family and friends and doing things that make me happy.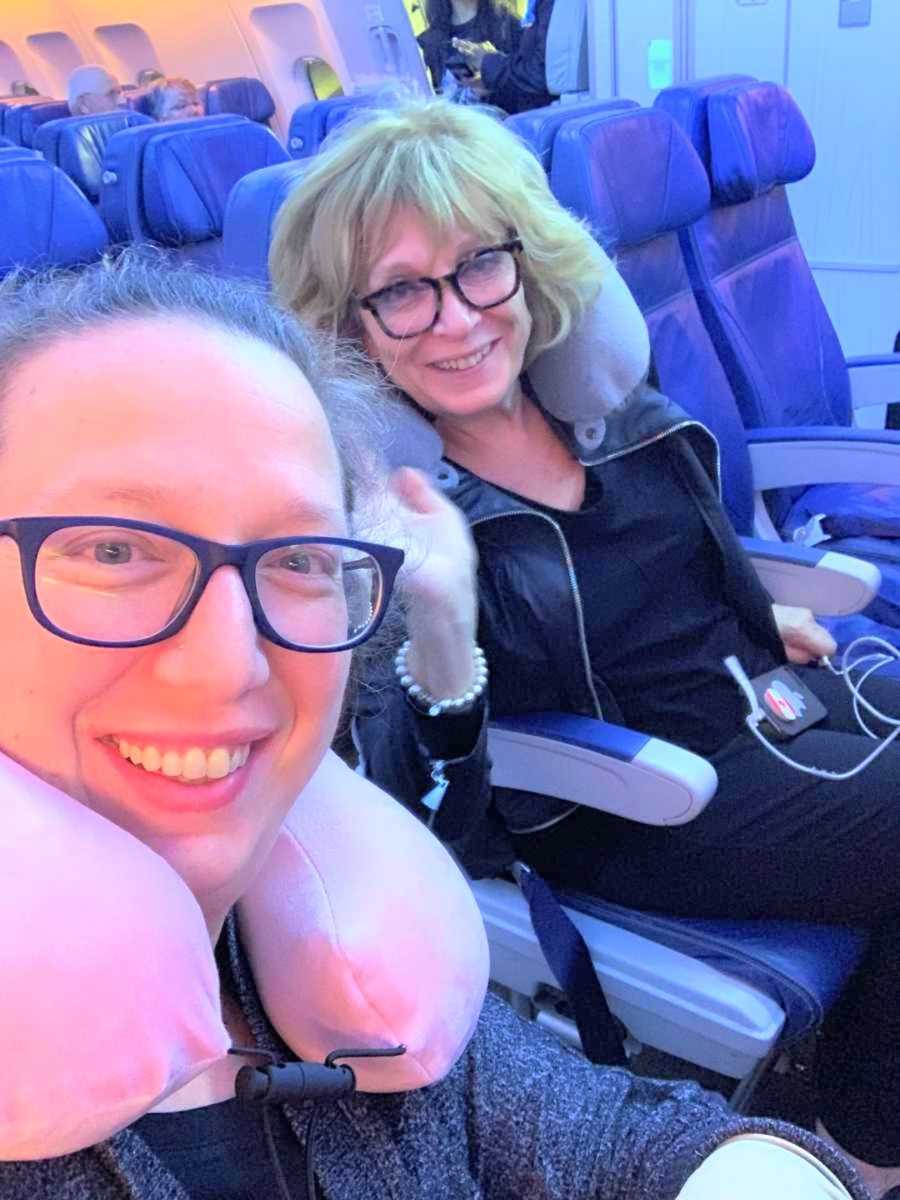 I have now been living with terminal cancer for almost three years. I have had ten rounds of radiation on my femur and pelvis and I am currently on my second type of chemotherapy. In July of 2019, I was shocked to find out my cancer had spread to my liver. I had zero knowledge, as I was feeling great and had zero side effects. I don't know how much time I have. No one does. But one thing I do know is even in the face of a terminal diagnosis, there is so much beauty in the world and around us if we open our eyes to see it."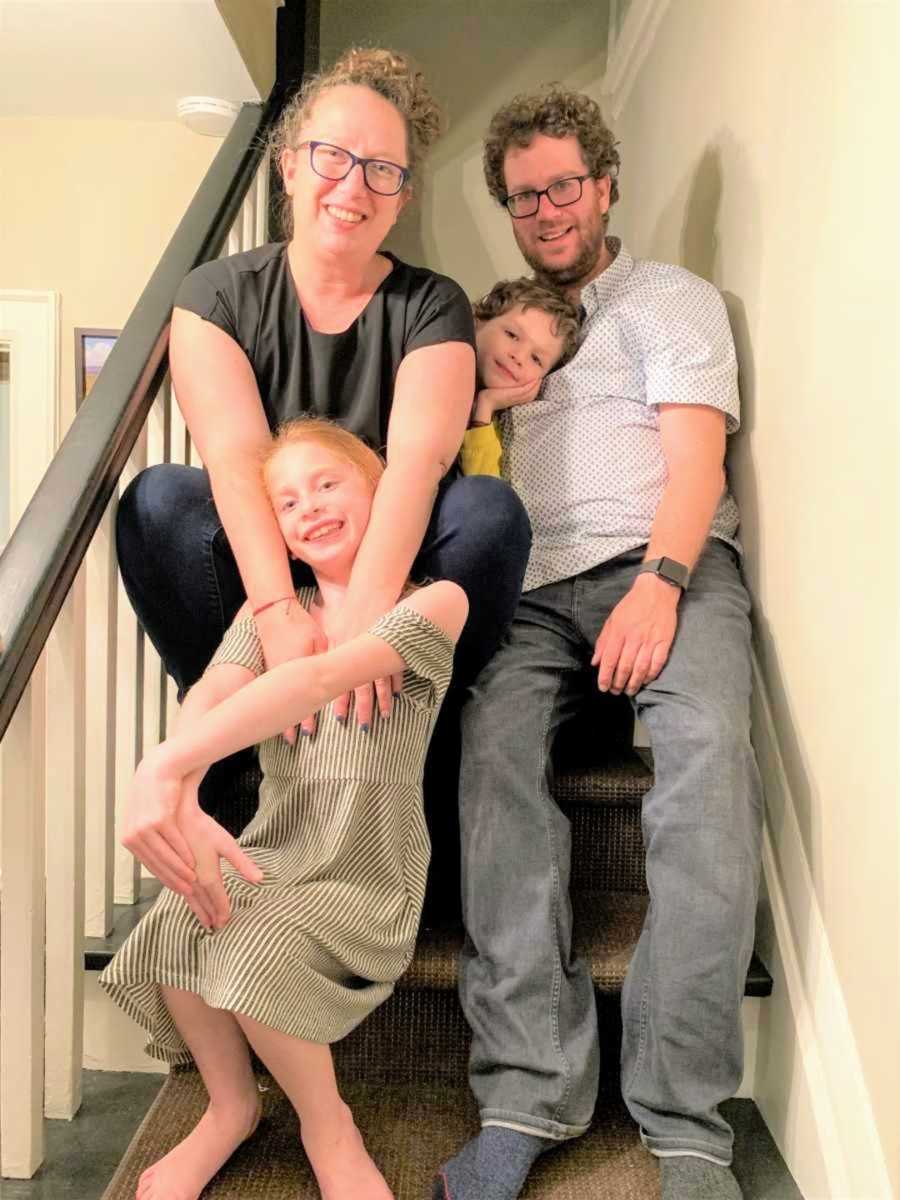 This story was submitted to Love What Matters by Renee Kaiman. You can follow her journey on Instagram. Submit your own story here, and be sure to subscribe to our free email newsletter for our best stories, and YouTube for our best videos.
Read more stories like this:
'I'll be back in two hours. Wait for me.' I squeeze you one last time, kiss your cheek, tell you I love you, and leave. I hate myself for going. I was supposed to BE THERE.': Woman shares heartbreaking last days of mother with terminal illness
'I'm lying on the ground crying. 'I can't bear this.' His life will be over before it really begins.': Mom advocates for son's terminal illness, Duchenne's Muscular Dystrophy, 'Strength is more than muscle'
'He never complained; he just chugged along. It wasn't easy. It almost felt like I was running.': Wheelchair user with terminal illness thanks friend for his act of kindness
'I don't really know what to say. Would you like tea?' I'd just found out my boy wasn't fine, he'd never be fine, and our life was forever changed.': Mom's son diagnosed with rare Vanishing White Matter terminal illness
Please SHARE this story on Facebook to encourage others to cherish every moment and love what matters most.