"I figured it would be appropriate to share about how and when our journey started using the blog I wrote when we initially shared what was going on with our family and friends on January 10, 2017:
'Life right now. There are a lot of questions and few answers. There are a lot of worries and little peace of mind. Prayers are appreciated as we have begun a medical journey with Fritz. It's been a concern of ours that he is a bit behind physically, with a lack of crawling and inability to pull to stand. I knew I wasn't leaving his 9-month check-up without further research or resources to figure out what, if anything, was going on. So after many rounds of blood work, an ultrasound, a visit to a GI specialist, more blood work, an echocardiogram, and an upcoming visit with the neurologist… we still have many questions and are anxiously awaiting answers. To be real here, my heart has never experienced such worry. Anxiety at times has consumed my entire body. Tears come often and unexpectedly. Just when I think this is all possibly a dream, a train filled with reality, steaming at super high speeds hits me. Its fear-filled cargo explodes all over the tracks of our life. I'm left laying on the ground, bruised and motionless from the blow of the train. 'I can't, I can't, I just can't. I can't do this, I can't fathom this, I can't bear this.'
In our home, we often use the phrase 'sharing is caring,' whether it be in regards to a bite of ice cream or a toy. I write this because I know most people who read this little journal about our family's journey care about all the things we are up to. I share this information about Fritz because sharing is caring. We care for him so deeply and we believe when we take the time to share, it can allow others to care. I know when the fear train comes driving toward me and I can't escape the realities of being tied to the tracks, there are so many people who care for him and for our family. We need your care now more than ever. As we spend time processing the term 'muscular dystrophy,' we are currently at a loss. We are desperately searching for strength and for peace, for answers and for understanding, for patience, and ultimately for a miracle. These past weeks have just been the beginning of a life-altering reality, and I feel like if I didn't share, I'd be breaking one of our family rules. So there it is. We have an important doctor's appointment next week with a neurologist, in which we hope to learn more. More about what happens next, more about how this disease called Duchenne Muscular Dystrophy could very well be affecting our sweet little Fritz. Processing and sharing this unimaginable reality has been one of the most difficult things we've had to do yet. But if we didn't share there'd be no way for people we love to care.'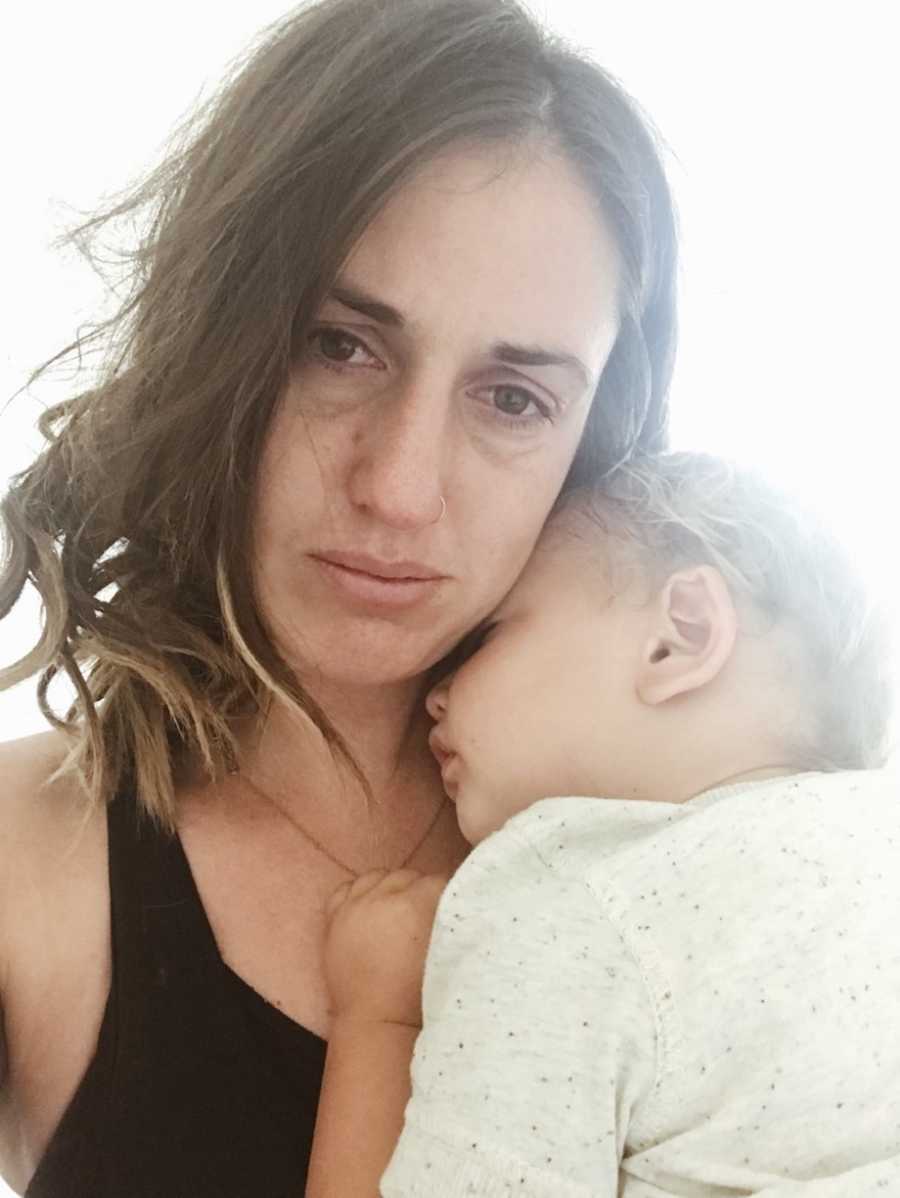 I can remember in between the days of sharing this news and an upcoming doctor's appointment, spending hours googling the words Duchenne Muscular Dystrophy. The diagnosis hadn't been confirmed but the neurologist had shared many things that were pointing to it. One night in particular after reading about this disease, I quietly opened the door to Fritz's bedroom, stepped up onto the rocking chair, climbed into his crib, and curled up next to him. For hours, I listened to his sweet little breaths, and the sound of his spit slosh around as he sucked his tiny little thumb. I tried to imagine what life was going to look like with this potential diagnosis; for him, for me, and for our family. I remember staring at his sweet little face and thinking: How am I ever going to be able to watch him gain the ability to walk all while knowing in a short time he will lose the means of doing so? How can I watch him learn how to feed himself, knowing all too soon he won't be able to move his arms? How in the world can I watch my son live, knowing a prognosis of Duchenne says his heart will fail and his life will be over before it really begins?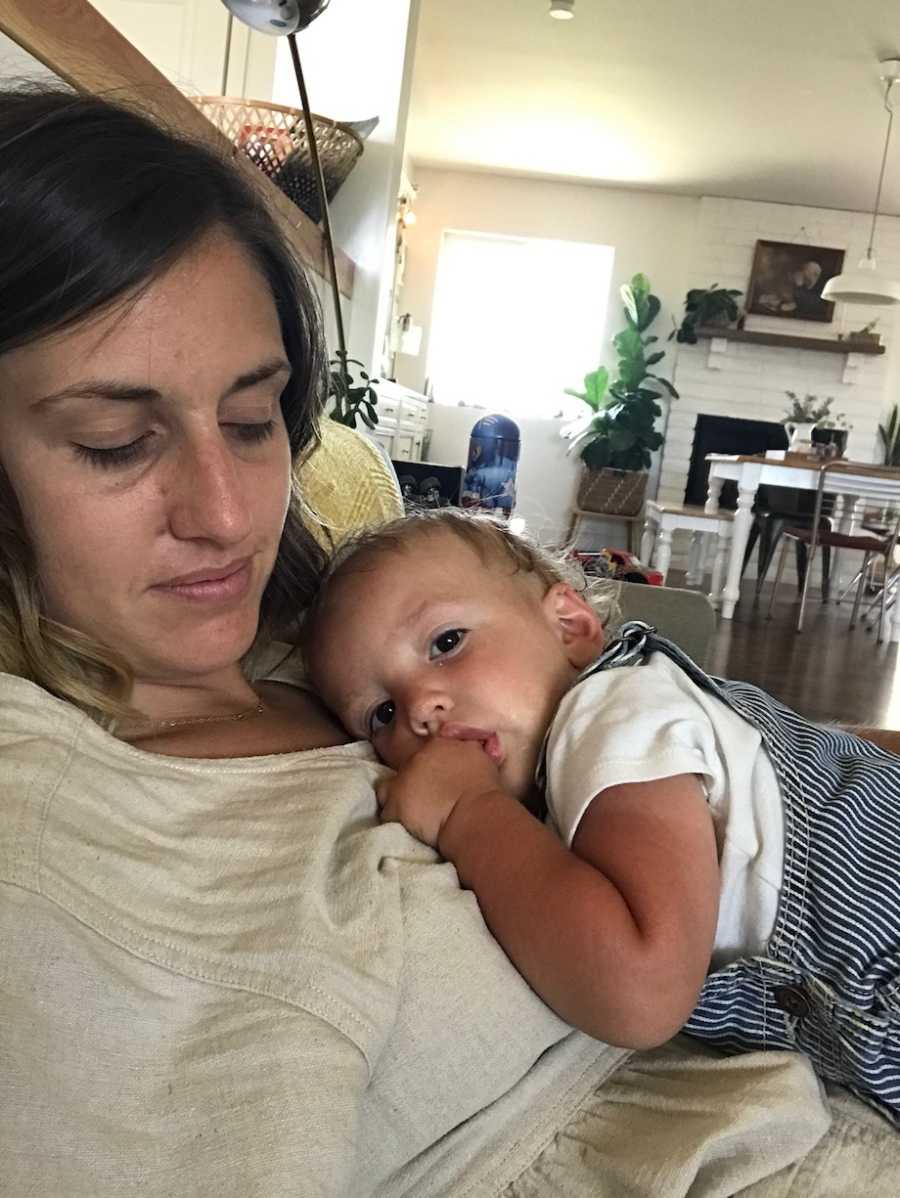 With each thought, feelings of intense sadness and fear like nothing I've ever felt before would increase. They became so intense I started this convulsive-like sobbing. My body began to shake and I started dry-heaving. I remember just wanting to be with him, but I couldn't without such extreme levels of anxiety taking hold of me, I feared waking him.
On February 9, 2017, Fritz was officially diagnosed with Duchenne's Muscular Dystrophy. Although we knew the phone call was coming, it didn't take away from the harshness of the words spoken, 'There is a deletion of 3 exons on the dystrophin gene, confirming it is Duchenne. I'm so sorry.'
As I hung up the phone with the neurologist, I found myself curled up once again, this time on the rug of our patio, convulsively crying, shaking, and wondering if I'd ever be able to stand again.
In a matter of time, Fritz managed to find his way outside. He scooted toward me and laid his body over mine as if to give me a hug, and he communicated to me (in his own little way) he wanted me to pick him up. I really just wanted to continue laying there, but he insisted. So I reached for him. As I stood, I lifted him with me, still crying. I held him close and it was at that moment I started to realize maybe I could do this because ultimately, I didn't have a choice. I was going to be able to stand again, because Fritz needed me, both at that moment and for the rest of his life.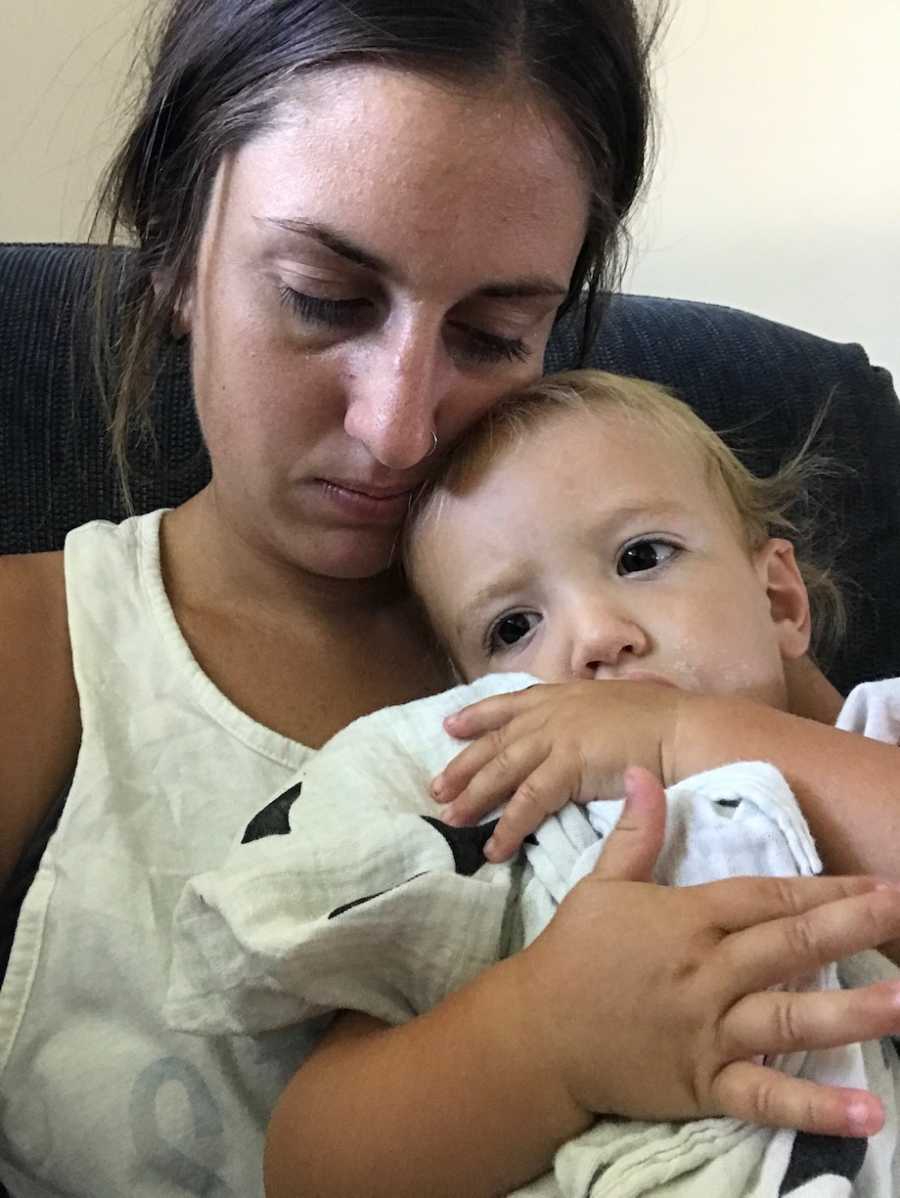 As we moved forward into the rest of that day and really that week, I can remember grieving but doing so differently, doing so with hope. At Fritz's follow up doctor's appointment we were given a hand out about an upcoming 'Muscle Walk.' Thinking there was no way we'd be up for participating in something like that so soon, we shoved the paper into our diaper bag without much thought.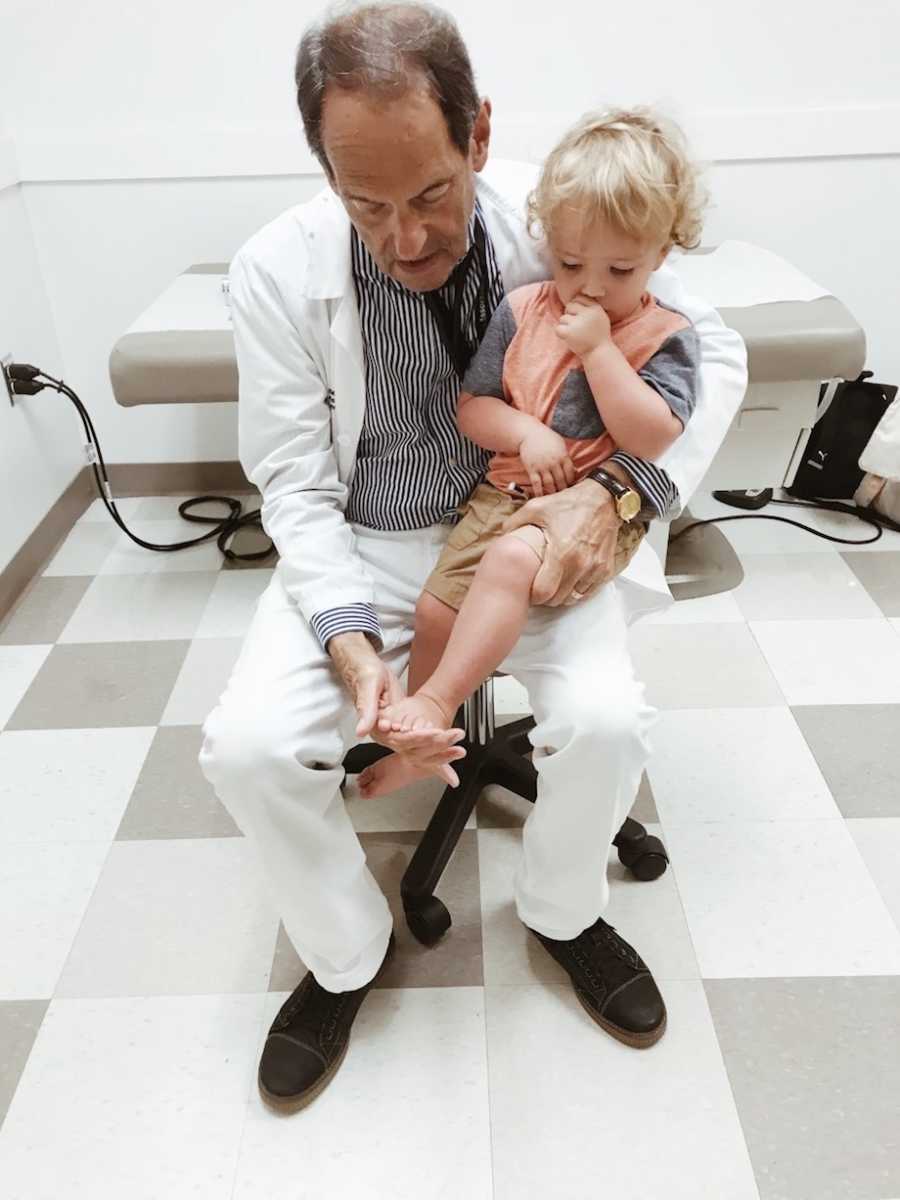 I can recall later that evening receiving yet another text from someone asking how they could help. At this point, I had almost become frustrated with the fact so many people had reached out to our family, but we really had no idea how or in what way they could help us. I then remembered the flyer we received and brought it to my husband. 'What if we just sign up for this so when people want to help we can tell them to donate or sign up to walk with us?' I posed. 'Sure, why not,' he said, 'at least it makes us feel like we're doing something.' So I went downstairs, quickly created a team called 'Fritz&Friends,' shared the link on social media, and went to bed.
What our community did after that was nothing short of incredible. Within a matter of weeks of creating this last-minute Muscle Walk team, we raised $17,000 and had over 100 people signed up to walk with our family. This event did more than raise a lot of money and reassure we weren't alone, it sparked a whole new way of thinking.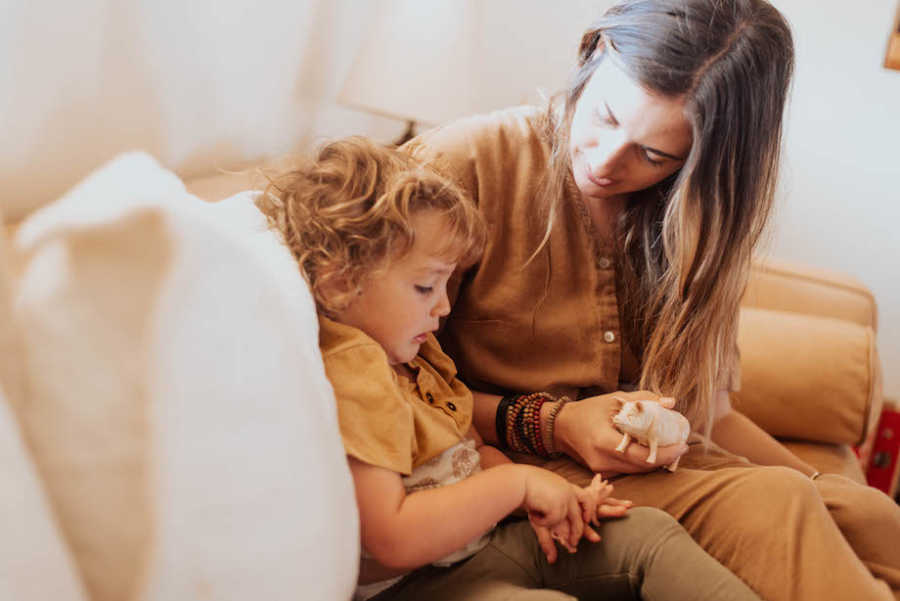 I remember taking a shower following the big Muscle Walk and having a phrase pop into my head. After getting out, I grabbed my phone and typed the string of words into Google to see where I had possibly heard it. I was certain it sparked from something I saw or read. But as I searched, nothing came up but a light bulb over my head. I walked out of our bathroom, hair still wrapped up in a towel, and said, 'Hey Bry, what if Strength is More Than Muscle?' He looked at me confused, 'What do you mean?'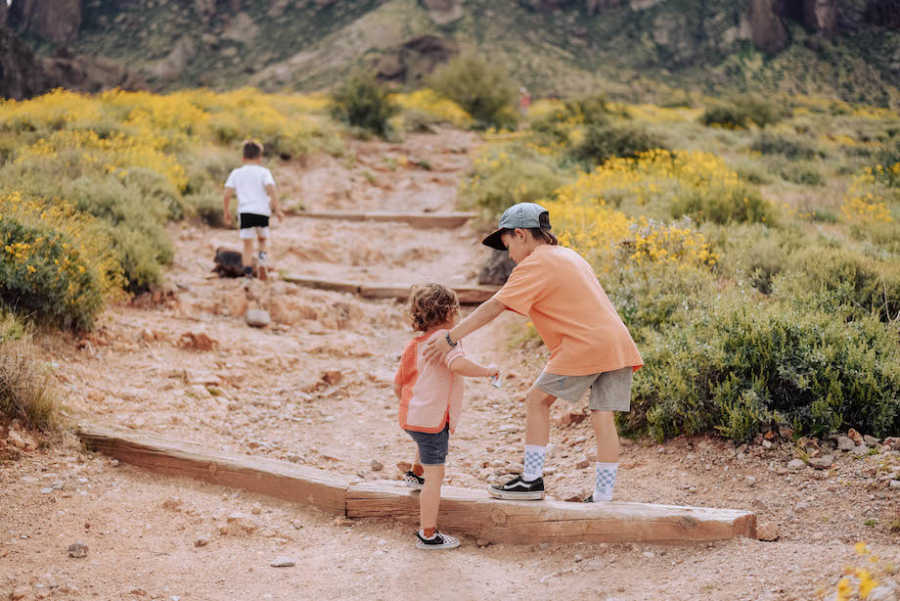 As I reflected in the shower about what had happened in the last month, this phrase came to mind. In a single month, our life had been completely turned upside down with the diagnosis of a progressive, muscle degenerative disease of our baby. Yet here we were, feeling strong. We cried so hard we couldn't even stand, but here we were, standing (albeit often still crying) but ready to fight. I wrestled to make sense of this strength I was feeling. More importantly, I wanted to figure out how I could ensure Fritz grows up feeling this way, even when his muscles start to fail him. That's when it hit me: true strength is a whole lot more than muscle. I realized although we felt weak, we actually were strong when we convulsively sobbed because we didn't deny what we were feeling. I believe it takes more strength to face the hard truths than giving them no attention and pretending they'll just go away. We were actually strong when we chose to share this hard news with our friends and family because it would've been easier to not speak the words fearing more tears.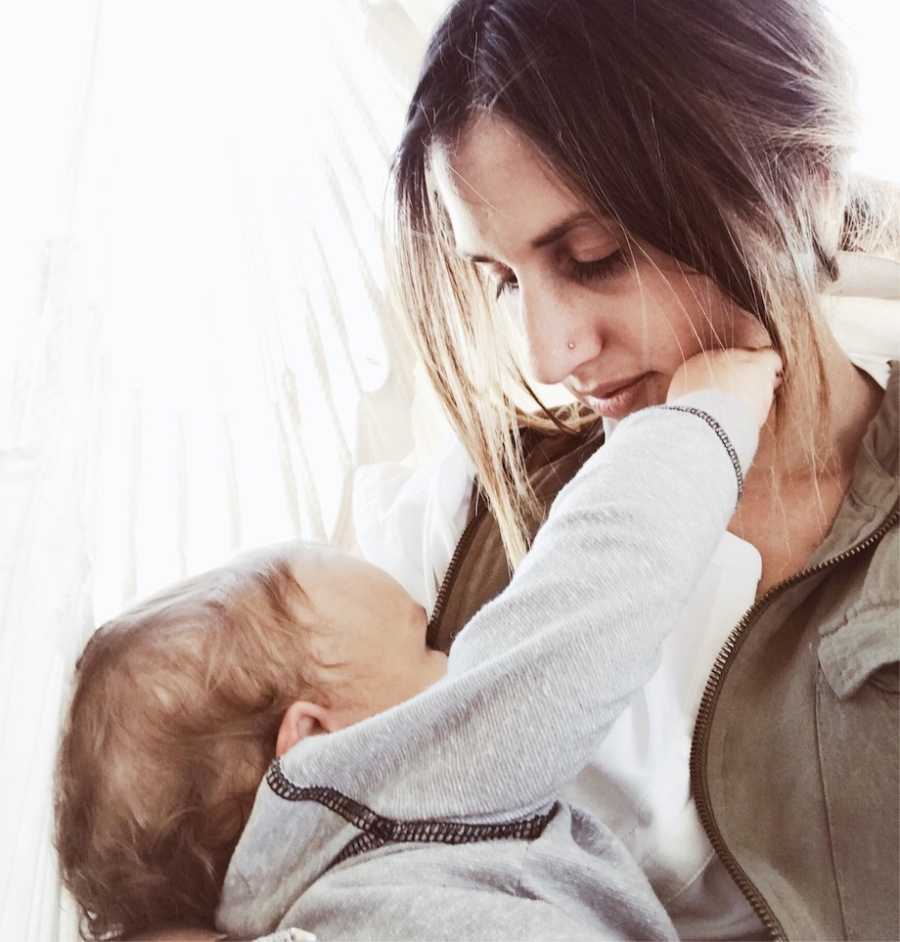 I noted family and friends shared strength with us when they sent kind texts and handwritten letters because it would've been easier to get busy and not take the time to say anything. Our community shared strength when they signed up and/or donated to our muscle team because giving of one's time or resources takes more strength than prioritizing their own agenda.
These moments made me realize Strength really is so much more than muscle. After expounding upon my thoughts with my husband and taking into account his perspective, we decided to make this our family's motto, our battle cry, our platform for moving forward.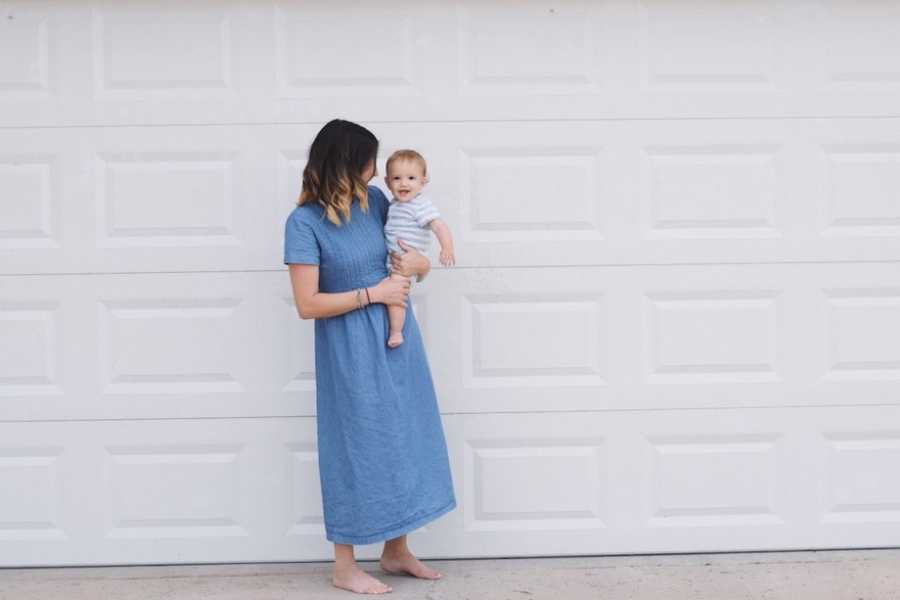 It was imperative to us Fritz, and all our kids, know they ARE STRONG, not because they can run fast or are good at a particular sport. They are strong because strength is more than muscle! We are intentional about letting them know they are strong when they share what they are feeling, when they are kind, when they help others, when they do the right thing, when they are open to new ideas, when they work together, when they apologize, and when they include others. We want them to see they have the power to make others stronger when they share their strength because sharing is caring.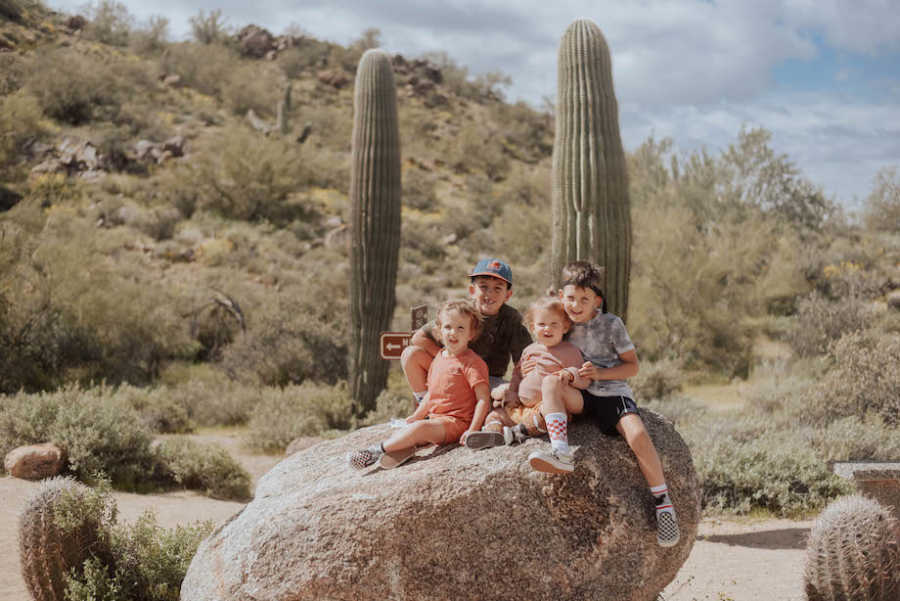 Being an ex-college soccer player, this diagnosis completely uprooted my perspective on strength, on parenting, and really on life.
From there, opportunities and circumstances aligned in a way in which it only made sense for us to start a non-profit on behalf of our son to continue to fight for him, and many others living with Duchenne. Our organization, Fritz&Friends, has had two goals from the beginning. One, share with everyone our belief that strength is more than muscle. Two, find a cure for Duchenne Muscular Dystrophy.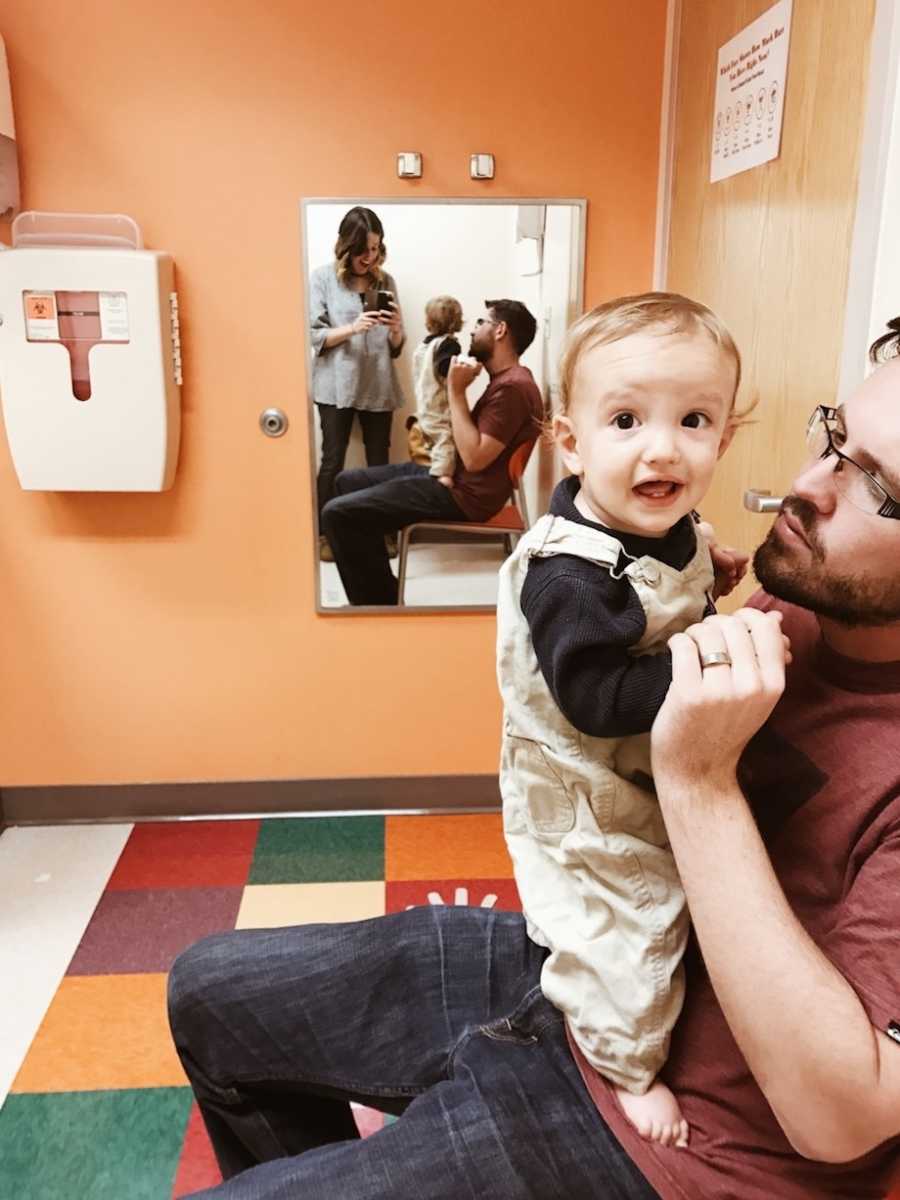 Flash forward to now, June 2020. Fritz has recently turned four, and we are still living in what many refer to as the 'honeymoon' days of this disease. Fritz is still gaining skills, however, he's typically about 1 to 2 years behind 'normal.' He really can't run or jump, but he is able to walk short distances. (Boys typically lose the ability to walk between the ages of 7-12.) He does fall often and as parents, we regularly have to adapt and think of creative ways for him to feel involved in what his two older brothers are doing. Duchenne can also affect the brain, leading to cognitive delays. For Fritz, that means extreme speech delay. At four years old, he can be very difficult to understand and speaks a language that really only our family comprehends. It takes a lot of patience (another form of strength) from both him and others, to figure out what he is talking about, but he is very persistent in making sure he is heard and understood. Currently, Fritz takes four pills every morning he swallows like a champ, completes a series of stretches every night, and wears night braces (he's so strong!). We also travel to Ohio and Boston two times a year for doctor's appointments.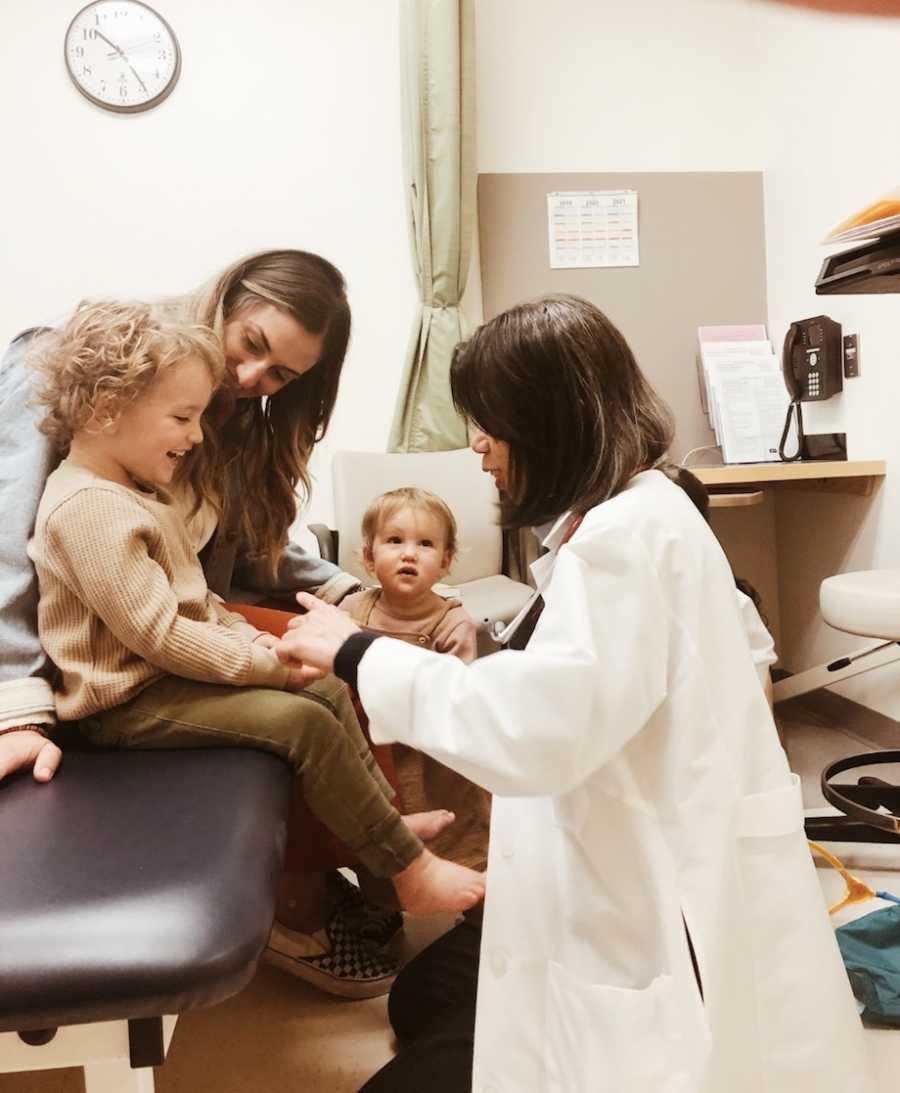 We still run our nonprofit and in just 2 years, have raised over $70k to fund life-changing research for Fritz and others living with Duchenne, as well as share our message with hundreds of people across the country.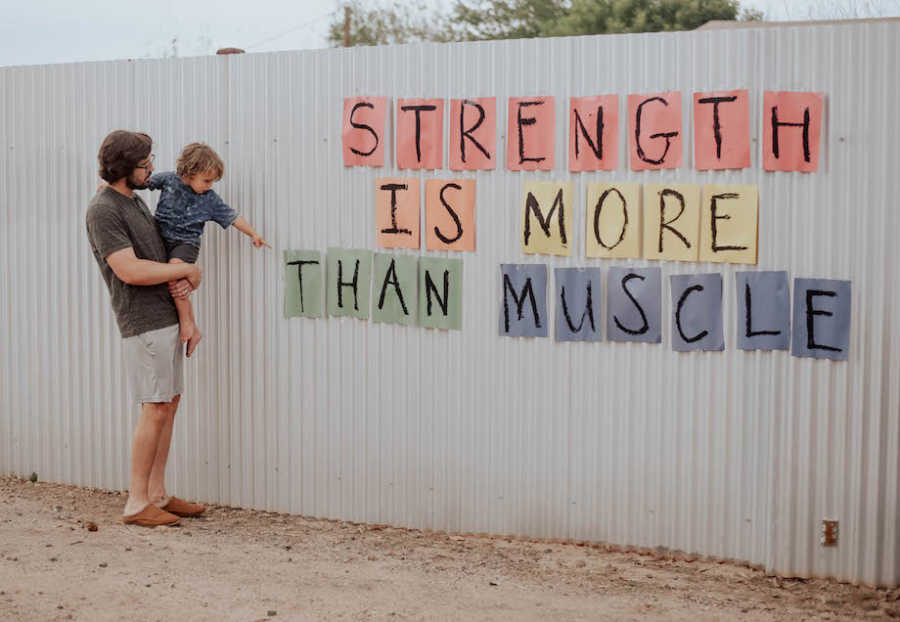 Granted, we are now a couple of years post-diagnosis and view strength very differently, we still have heavy days. I don't know if there is really ever escaping difficulty and grief after your child has been diagnosed with a terminal disease. The diagnosis is typically just the beginning of a long arduous journey, the tip of the iceberg so to speak.
Shortly after his diagnosis, our insurance let us know they were no longer in contract with the children's specialty hospital here in Phoenix. Fritz has been ineligible for a variety of clinical trials not allowing him to benefit from potential life-changing therapies currently in the pipeline for Duchenne. We have had to fight tooth and nail with insurance about well, practically everything. Let alone navigating new friendships and the constant need to inform others about why he's different. Daily, we have to watch him continually try to do what other kids do but fail and often fall, and fear the day he will start asking why that is the case.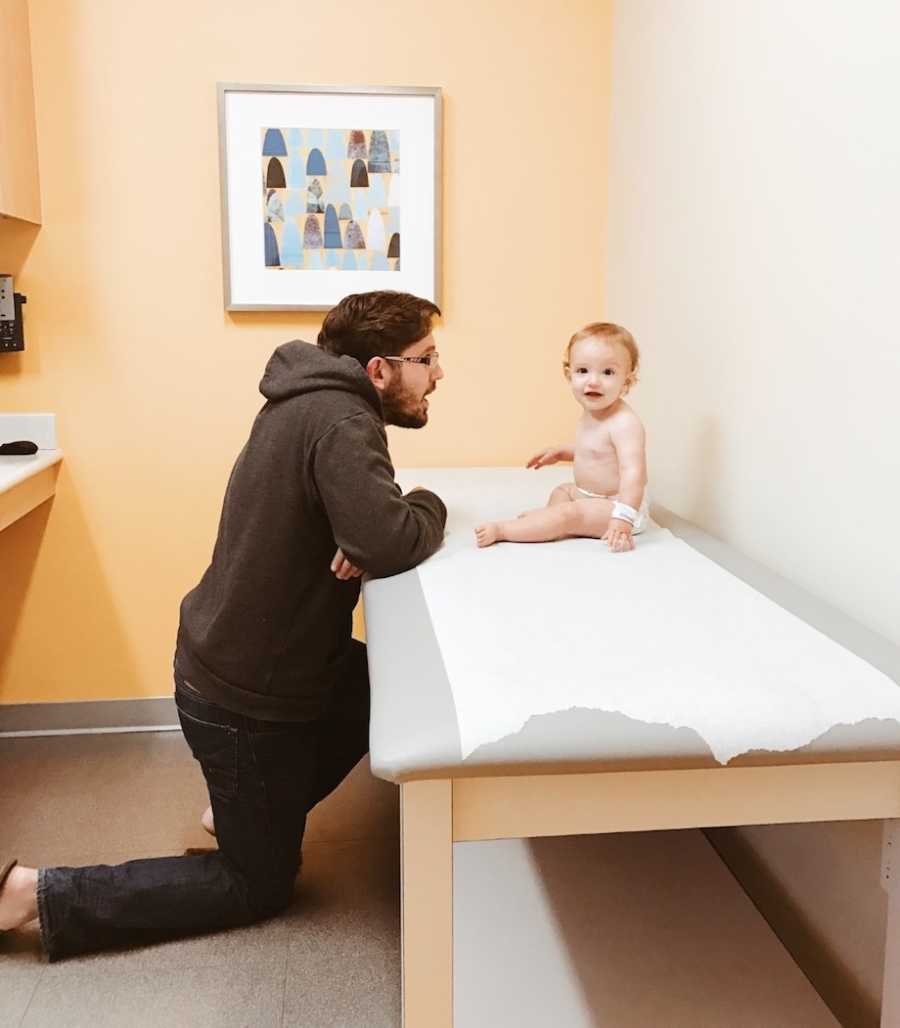 The night I lay curled up next to him in his crib as he slept definitely wasn't the last time I've done that. However, confidently believing strength is more than muscle has allowed us to be okay with the hard days. We are always mindful of what we've learned since diagnosis and recognize strength is present even in the times we feel weak. Strength is taking the time needed to grieve difficult moments, as they do come all too often. We are confident that feeling the difficulty while still believing good still exists is strength in its truest form. We would give anything to cure our son, to take this horrible disease out of his body, but we also concede this muscle-wasting disease has oddly made us stronger.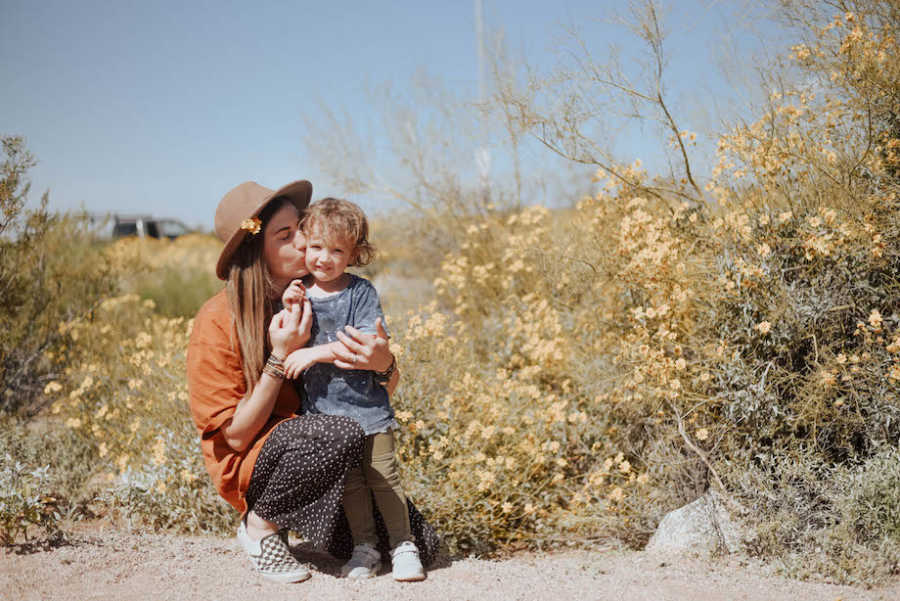 We want to encourage those reading and hearing our story today they ARE strong; not because of any amount of weight they have lifted, trophies they've won or the number of abs they have popping out of their core. Don't get me wrong, those things do take strength, but our experience has led us to believe that strength is those things but also SO MUCH MORE. In fact, those reading this today have shown strength by simply listening to our journey. Thank you for taking the time to share your strength with us. We'd ask you'd honor Fritz today by taking time to share strength with the people you see, as you never know what diagnosis or other difficulties they may be facing. After all, sharing is caring!"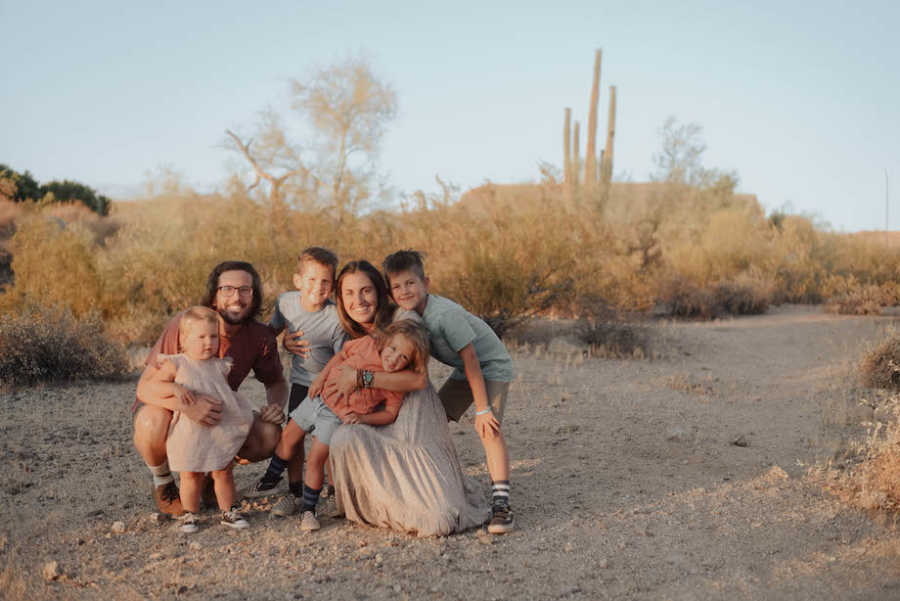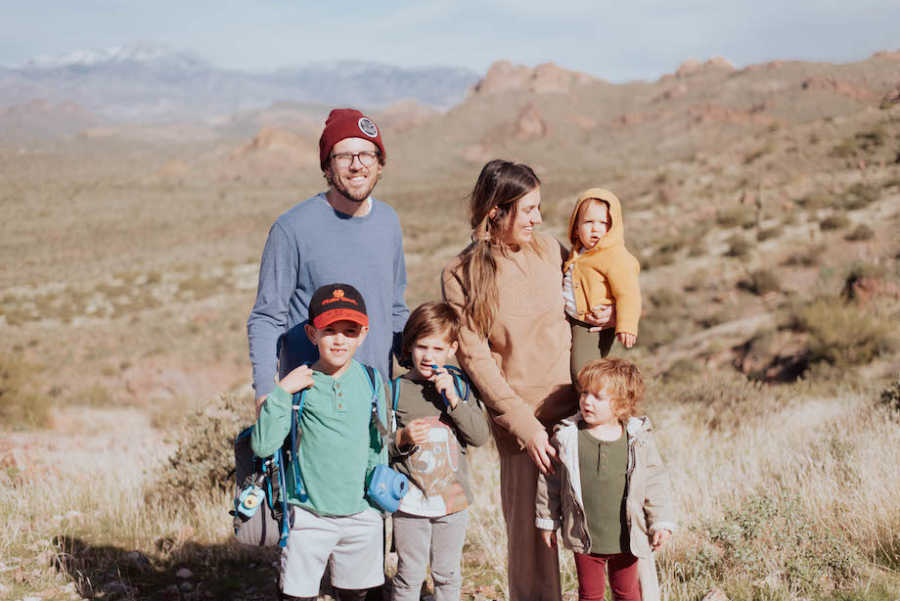 This story was submitted to Love What Matters by Sarah Krieger from Mesa, AZ. You can follow their journey on Instagram and Facebook. Do you have a similar experience? We'd like to hear your important journey. Submit your own story here. Be sure to subscribe to our free email newsletter for our best stories, and YouTube for our best videos.
Read about other rare forms of Muscular Dystrophy here:
'I went on countless job interviews, but I didn't 'look the part.' The second they saw me, the whole vibe changed.': Woman with Nemaline Rod Myopathy embraces disability, 'I want to be seen for the smart, fun, boss babe that I am'

'One boy said, 'Why is she even in here? She's f—king crippled!' I ignored it, but it would get worse. My mom and I got into a huge argument. She stopped, and looked at me in shock.'
Please SHARE this story on Facebook and Instagram to encourage others to live life to the fullest.