"They said, 'Your son has the highest needs of anyone in the school.' And as a mother, what I heard was, 'Your son is the most challenging child we have.'
Like an almost 'admission of irritation' on their part. Or so it felt. That statement wasn't necessary.
In a meeting I called… me, myself, as a concerned parent, as a special needs mother, those words didn't need to fall from anyone's lips.
Because it's a statement made without a practical solution. Unnecessary. 'Your son has the highest needs of anyone in the school…' A statement that rings true, yet rocked me.
It felt as if we were reliving our first days of researching the possibility of an Autism diagnosis all over again.
Like we were somehow stranded on a helpless, uneducated island, and starting from scratch looking for resources to help, alone. Isolated.
Let's get something out there right off the bat… everyone in the world needs a Beckett in their life.
A person like my son, who makes everything brighter, and more colorful. More creative, and without judgment. More exuberant, and more honest.
My autistic, nonverbal, six-year-old son does have a higher level of need. His instruction is specifically tailored. We are made aware of the beautiful differences everyday. And we choose to celebrate them. To celebrate him, daily. Because it's what he deserves.
We know of his needs. We are his biggest advocates. And to all this I say: so, tell me what you can do to help him.
Tell me YOUR next step. Tell me where you see that YOU fall short, so we can pick up those pieces and run to the next available resource.
My beautiful boy is not failing your system by fitting into his own mold. Your system is failing him, and others like him, by drawing a line.
Because my son, my Beckett, is a gift. He's a day-maker. And the inventor of smiles out of tears. We've been told on more than one occasion, 'Everyone will know just who Beckett is.' And it couldn't be more true.
If you work in (or attend) his school, you'll know his name. You'll hear his enthusiasm for life radiate through the halls. You'll see his smile, and watch him skip from place to place.
And you'll recognize one day, that this little boy was a ray of sunshine in your life, in one form or another. And you're right. Everyone will know who Beckett is. In the best ways possible.
Everyone should get the chance to know and love someone just like my Beckett. To be given the opportunity to feel that second-hand, infectious joy.
Your lifted heart and spirit will thank you for it."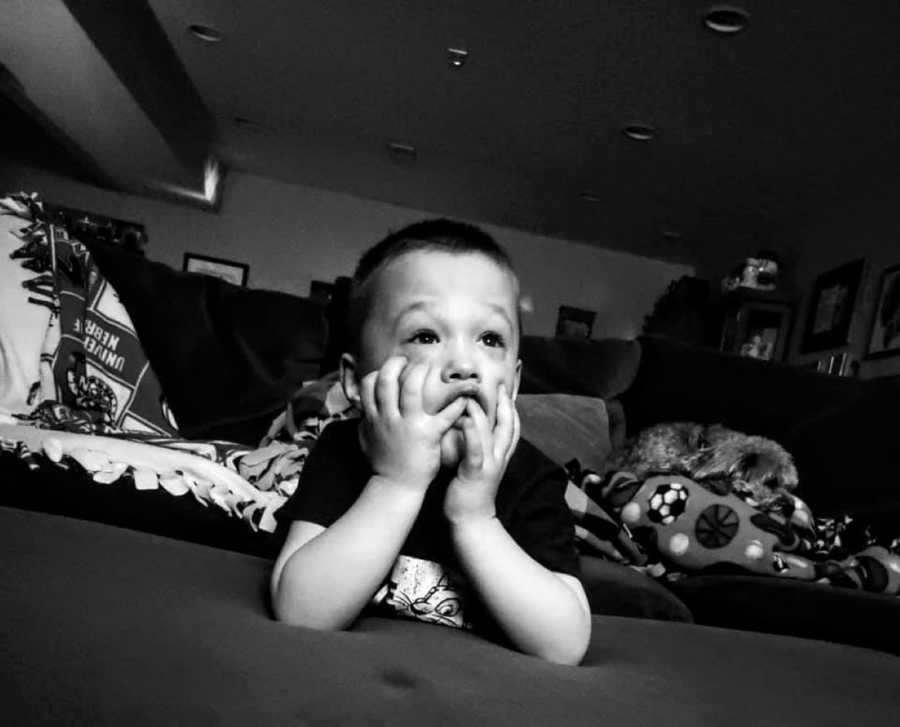 This story was submitted to Love What Matters by To Infinity & Beyond Words and originally appeared here. You can follow their journey on Facebook.  Submit your own story here, and be sure to subscribe to our free email newsletter for our best stories, and YouTube for our best videos.
Read more stories about autism here:
'He looked right at me. 'Mama, do you hear how happy he is?' He couldn't hear the TV over your happy sounds, but he didn't care.': Mom to son with autism shares sweet sibling moment
'I whipped around fast. 'You leave him ALONE.' He covered his ears, flapping his arms. The man snickered under his breath.': 70-year-old woman thanks special needs mom for opening her eyes to autism, 'You taught me patience and kindness'
'He gave up visions of Little League for IEP meetings and speech therapy. He avoids the stares, holding his teenager's hand, and his entire heart.': Woman pens appreciation letter to Autism Dads
'Your son has severe autism.' I became a divorced mother of 2 post-diagnosis. Josh welcomed him with open arms.': Special needs mom, bonus dad urge 'our love knows no bounds'
Do you know someone who could benefit from reading this? SHARE this story on Facebook with family and friends.