Every once in a while, your exes can be of use to you. This Valentine's Day, select Burger King locations in New York City, Los Angeles, San Francisco, and Boston will give you a free Whopper in exchange for a picture of your ex.
This hilarious, yet genius marketing campaign is offering "breakup boxes" themed after the new Birds Of Prey movie starring Batman's villain Harley Quinn (Margot Robbie).
All you have to do is dig up a printed photo of your ex (preferably where the head isn't cut off and there are no hand-drawn devil horns), stuff it inside one of the breakup boxes, and you'll receive a free Whopper.
You can't miss the boxes, they are black and pink and feature hearts, a crown, and "who needs The Joker when you can have the King" saying on them.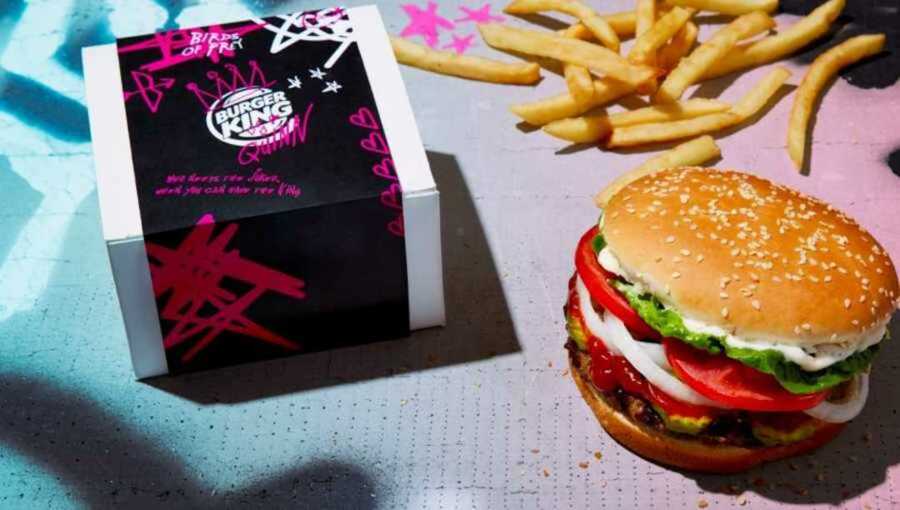 If you've thrown away all pictures of your ex or used them as the bullseye in a dartboard, have no fear. I'm sure you can stalk their social media and find at least one decent picture to print off and bring with you.
If you're a New Yorker and just can't look at their face One More Time, the fast-food giant will even let you bring in letters, stuffed animals, or a specified piece of clothing to claim your burger.
If you don't live near one of the breakup box locations, Burger King has you covered there, too.
Simply download their app and you can take a five-question quiz. If you answer four correctly, you can get a $3 Whopper.
If you've never had a Whopper you're in for a treat. It's a quarter-pound beef burger topped with tomatoes, lettuce, mayonnaise, ketchup, pickles, and white onions on a sesame seed bun.
Unfortunately, the vegetarian-friendly version, the Impossible Whopper, isn't a part of the breakup box deal, so you'll just have to order the Whopper and take the burger off. Hey, anyone can eat a mayonnaise sandwich when it's free.
Make sure you call your local Burger King to make sure they are participating. Most cities listed will only allow you to claim your free burger on Valentine's Day itself but New York is extending their picture exchange for all of Valentine's Day weekend.
No word on what Burger King plans to do with all the pictures of exes they receive but I'm envisioning some sort of giant bonfire where employees can roast marshmallows, sing bad love songs at the top of their lungs, and blow off some steam.
One final note, no matter how many exes you have, customers are limited to one Whopper only, so choose wisely.
Be sure to subscribe to our free email newsletter for our best stories.
Read more Valentine's Day stories like this:
'A population forgotten.': Community rallies to surprise widows with Valentine's Day flowers
I May Not Get Chocolates And Flowers On Valentine's Day, But My Husband Pre-Opens My Water Bottles For Me
SHARE this story on Facebook to encourage others to make the most of Valentine's Day.