"A dear friend and I were in D.C. to witness the promotion ceremony of our mutual friend's husband to brigadier general. We'd squeezed in a visit to The National Portrait Gallery to pay homage to RBG, Michelle, and Barack Obama, Maya Angelou, and Ice T. It had been a perfect day and I was dreamily anticipating noshing on traditional Middle Eastern food at Kebab Palace with old friends for dinner.
Later, back at the Americana Hotel, a call came in from the radiologist who'd recently performed a core needle biopsy on a lump in my right breast. She'd known I was traveling and had not wanted to wait until I returned home if the results were positive for breast cancer. She was careful with her delivery but made it clear I would need to be seen by an oncological surgeon upon my return.
Honestly, I'd not been concerned, as the lump had been present for at least three years. It felt like a lemon seed under my skin, close to my areola, and hadn't hurt at all. It just 'was' and I'd no other symptoms typical of breast cancer. Repeatedly, doctors told me it was 'a blocked milk duct.' Previous mammograms and an ultrasound in 2017 had missed it, and no biopsy was ever ordered.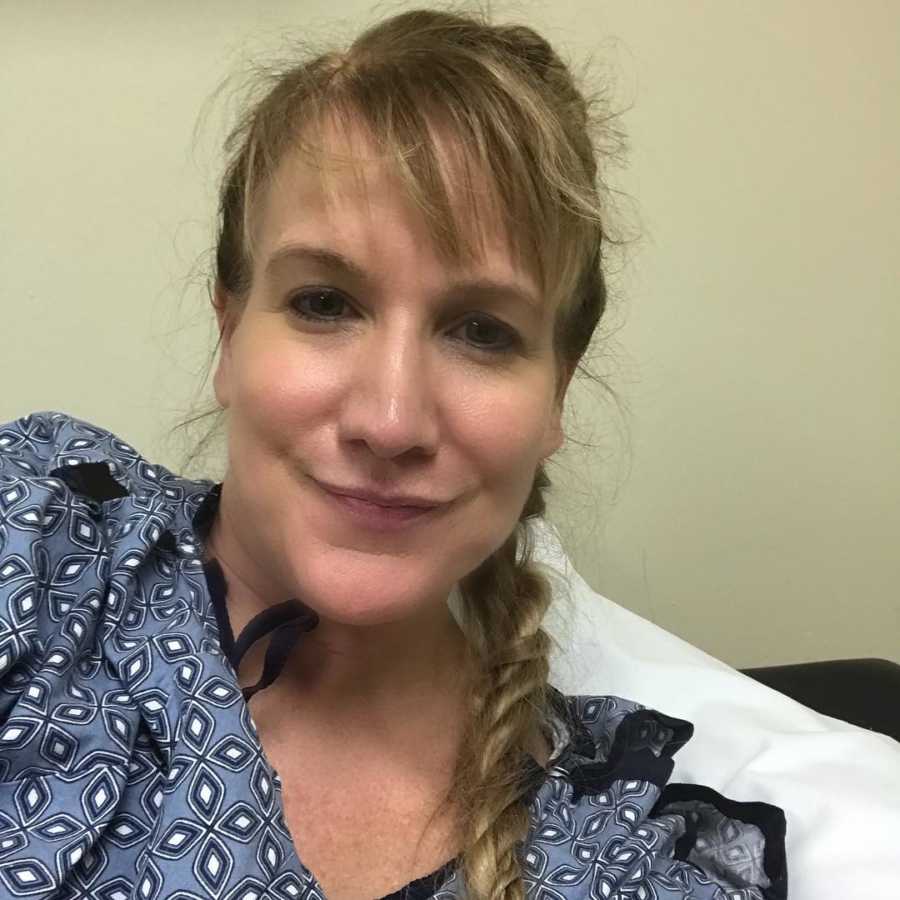 Instantly, I thought of the breast cancer survivors in my circle and they all had one thing in common: they are all extraordinarily positive people! So, in that moment I told myself, 'I've got this. Everything will be okay. I have to get my sh*t together quick!' Besides, I was in the company of good friends. My mind repeated the mantra, 'Be calm and present.' The news spoiled my appetite, but didn't ruin karaoke at Freddie's Beach Bar! In fact, I channeled my inner Erykah Badu and performed a throaty rendition of 'Tyrone.' That night, I fell asleep with my mind on a loop.
Fun Fact: Breast cancer cells can present elsewhere in the body. This is why it is SO important that protections for pre-existing conditions need to stay in place!
My annual mammogram in 2018 had been suspicious and an ultrasound had been ordered, followed by the biopsy of the lump. The biopsy had to be performed one week later, because the scheduler had never instructed me to stop taking aspirin, vitamins D and E, and fish oil the week before my ultrasound. I could have had the biopsy performed on the same day.
When we landed in Charleston, I was in full-blown 'figure it out' mode. (I wish I'd known of Marie Forleo's book 'Everything Is Figuroutable.') With a printed copy of the pathology report, I drove directly to my childhood home seeking the advice of my father, a retired OB/GYN.
Since my diagnosis on November 6, 2018, ten friends and acquaintances (that I know of) have been diagnosed with breast cancer. These are women of differing ages, ethnicities, religions, and sizes. One thing I can assure you of is breast cancer does not discriminate.
My diagnosis came when I was a 48-year-old, post-menopausal woman with no biological children. There was no history of breast cancer in my family.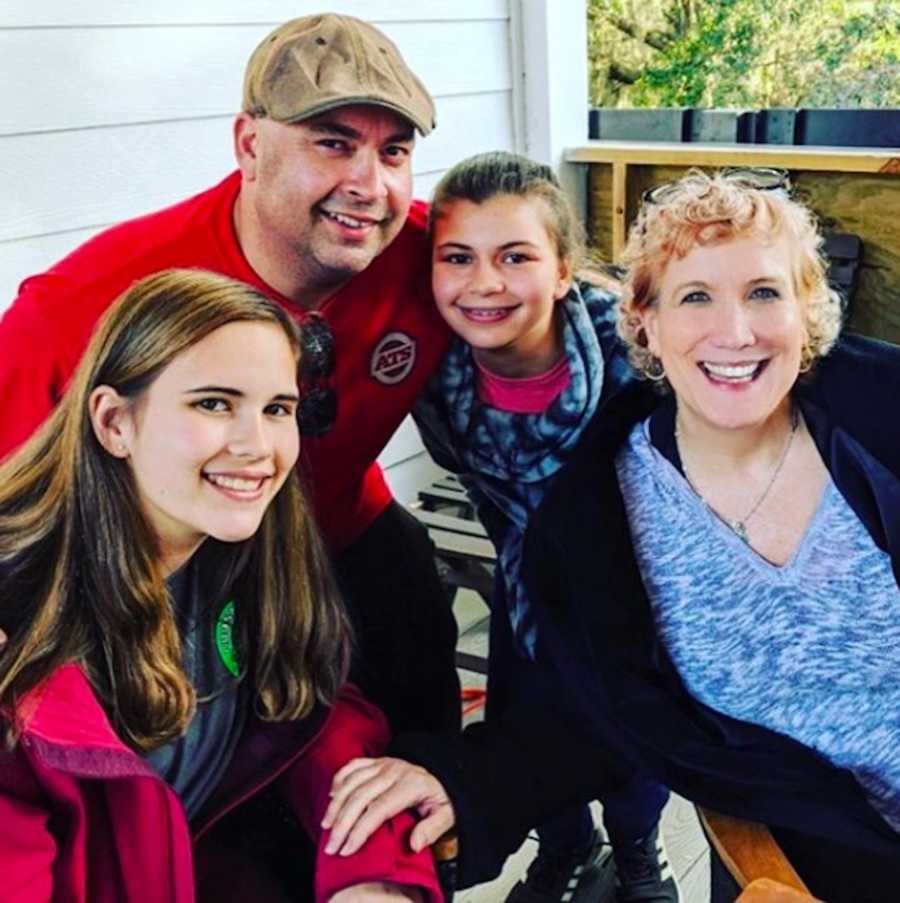 I have two incredibly amazing bonus daughters, a super supportive husband, and the most supportive mother, friends, and sisters in the world! They have been my rocks throughout this journey. I mustn't forget how helpful my father was in the beginning when he scheduled an appointment for me to be seen by Dr. Chris Hawk, a highly-skilled surgical oncologist. A childhood friend accompanied me to the appointment. Whenever possible, take someone with you to medical appointments, write down any questions you would like to ask your doctor (otherwise, you may forget…it's an overwhelming process), and record your appointments. It's so easy to get things wrong and forget what was communicated, making the recordings truly helpful.
The treatment plan he proposed was to perform a lumpectomy and sentinel node biopsy (to determine if the cancer was spreading), followed by radiation of my right breast. He informed me that I would be losing my right nipple, given its proximity to my lump. It was his opinion, after reviewing the initial pathology, that chemotherapy would likely not be necessary to treat my cancer.
Initially, I was afraid I'd need a bilateral mastectomy. However, Dr. Hawk explained that radiation is equally effective and breast conservation is preferable whenever possible. I was happy about the prospect of keeping my natural breasts. Dr. Hawk sent me for BRCA gene testing, which was thankfully negative.
Almost immediately, I shared news of my diagnosis on Facebook and then began seeking the advice of women in my circle who'd walked this journey before me. They were my Sherpas!
Two weeks later, Dr. Hawk successfully performed a lumpectomy of my right breast and removed three sentinel nodes on November 28, 2018. He managed to preserve (rather artistically, I might add) a tiny portion of my areola to create a mini-nipple. That was the day I technically could say I was cancer-free, although it would be months before anyone would tell me this and yes, I had to just straight up ask!
The final pathology classified my specific type of breast cancer as Stage 1-A, Grade 2, Invasive Ductal Carcinoma, and ER+, PR+, HER2-. Thankfully, it had not metastasized. However, it was aggressive. The cancer cells had tentacles, and cells were present in one of the three lymph nodes Dr. Hawk removed during the sentinel biopsy. Those new details led Dr. Hawk and the Medical Board reviewing my case to reach the conclusion I would benefit from adding four rounds of chemotherapy to my treatment plan. This was when I had to accept I was going to lose my hair.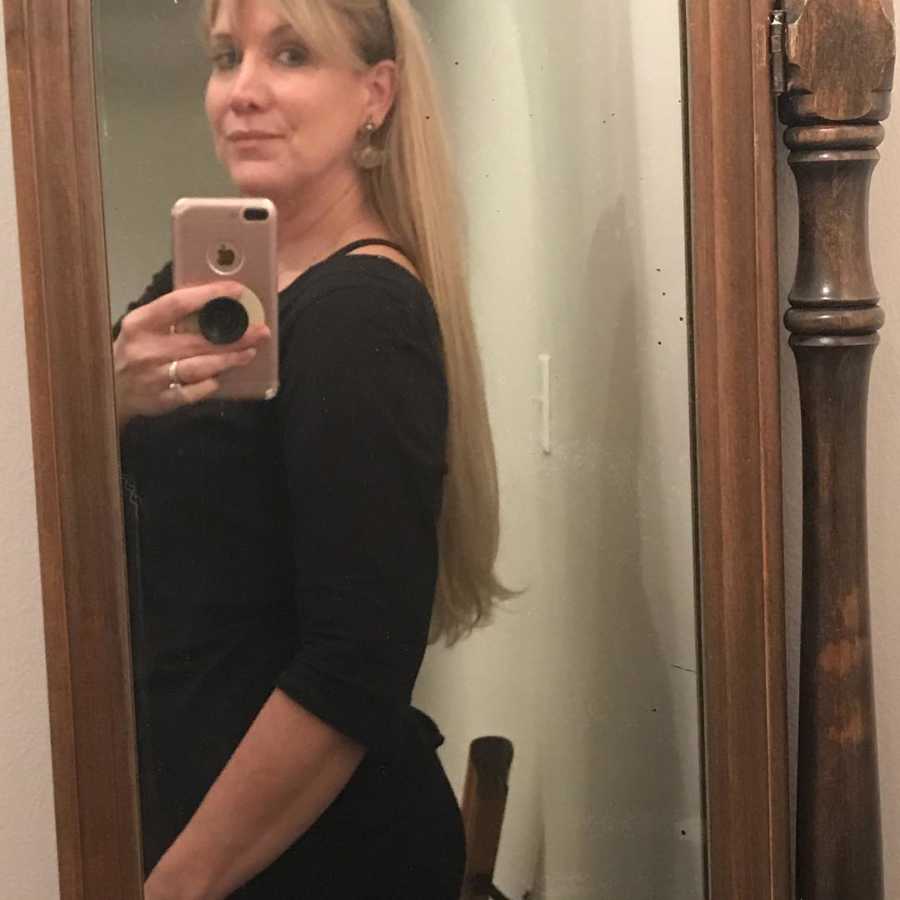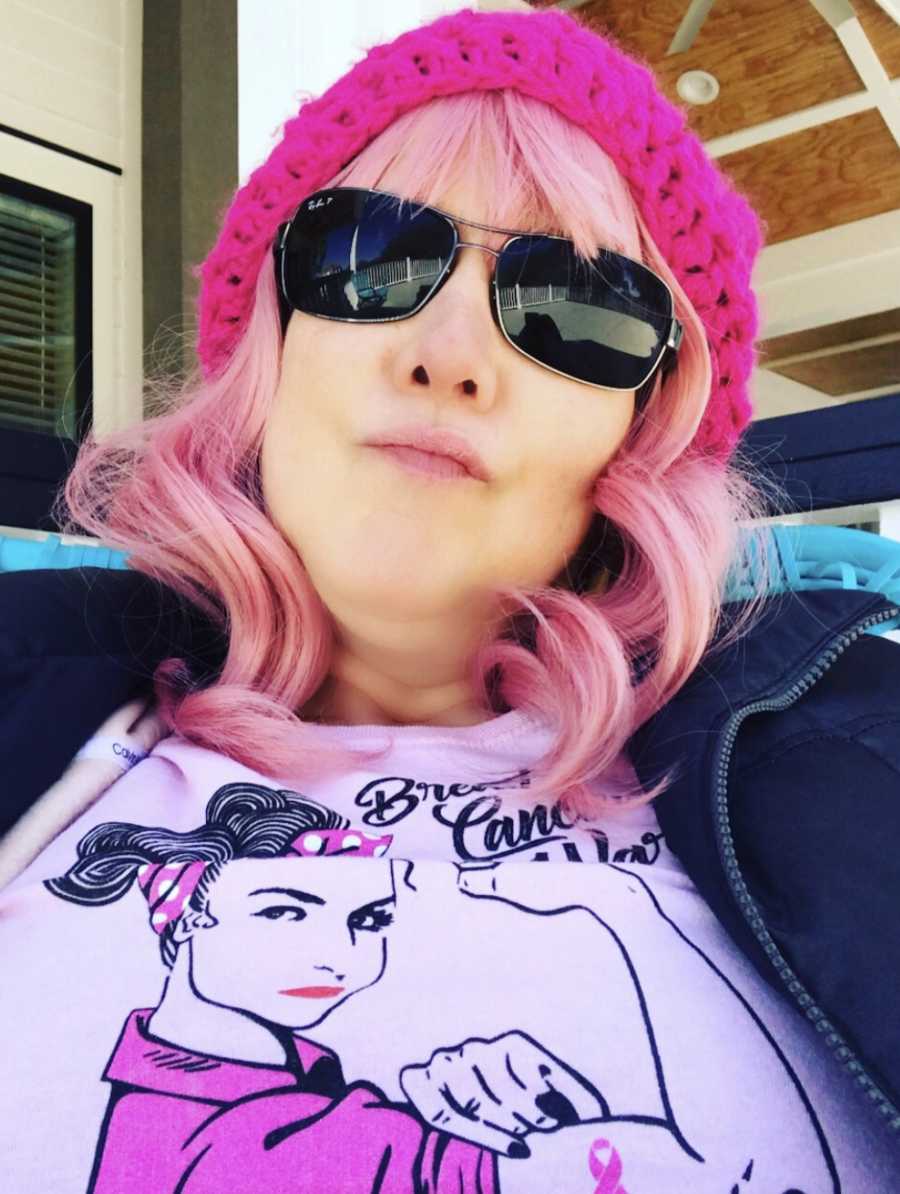 Fortunately, I'd read Melissa Ambrosini's book 'Mastering Your Mean Girl' and had already been working on my positive self-talk. Cold-capping was available, but not covered by insurance. At 600 dollars per infusion, coupled with how poorly I deal with cold temps, there was no way I was paying out of pocket on something I'd likely not even be able to tolerate. 'It's just hair,' I reminded myself and decided I could move through hair loss with grace and could serve as a beacon of hope to other breast cancer warriors.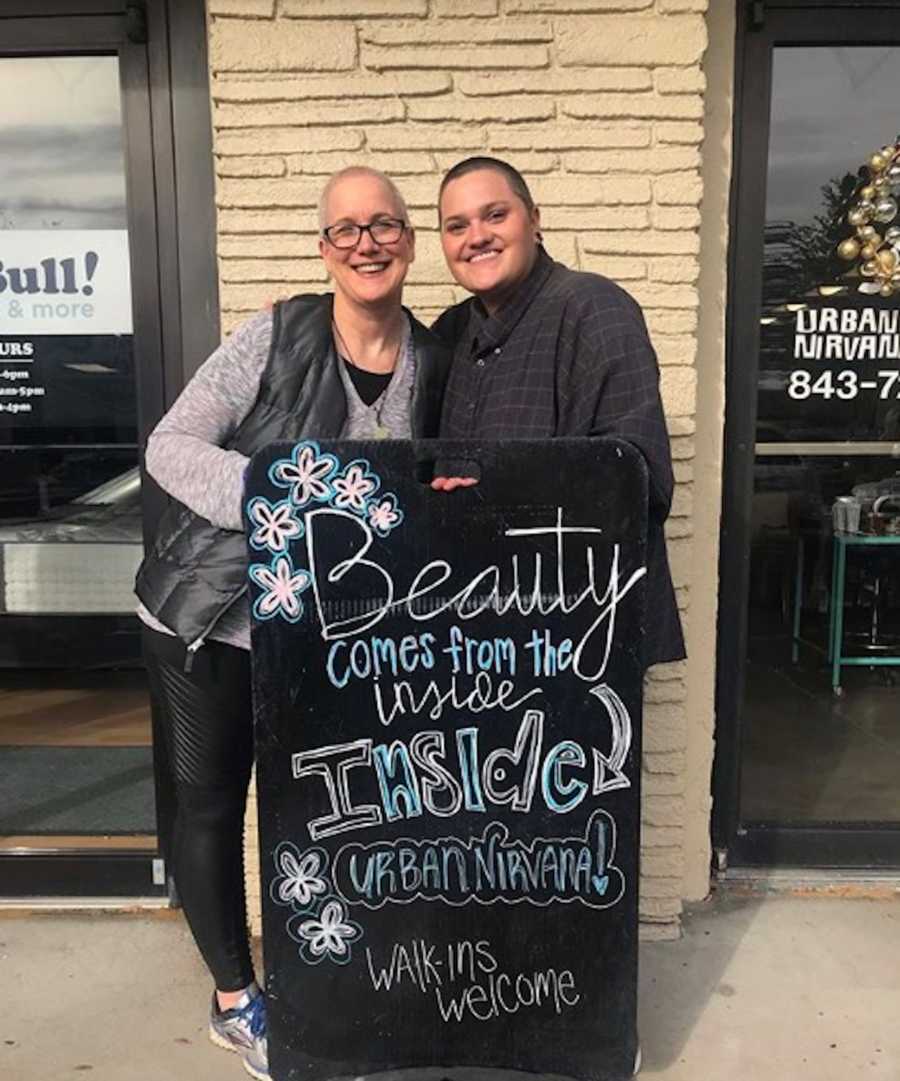 Losing my hair turned out to give my self-esteem a HUGE boost and truly built me up big time. This amazing woman shaved her head just before shaving mine, in a show of solidarity! And this sign outside of the salon that day was more like a sign from the universe, reminding me true beauty Resonates from within and it's just hair. Those were my mantras for a few days. My favorite mantra is, 'I AM cancer-free!' Being bald straight-up had the opposite effect on me than I'd imagined. Previously, I had long, thick, straight, blonde hair (color-treated, and unusually healthy for long hair). When the reality set in and I realized my hair would fall out, I instantly made peace with it and decided I would go bald on my terms. Amor Fati!
My first round of chemotherapy was on December 14, 2018, and my treatment plan called for four rounds of chemo C4D1 Docetaxel and Cyclophosphamide Q21D (TC). This is quite a strong 'chemo-cocktail.' It's like the 'Long Island iced tea' of chemo and it takes the body 3 weeks to recover between infusions. Chemo was not at all what I'd imagined and the side effects were greatly diminished by the Neulasta OnPro Auto-Injector.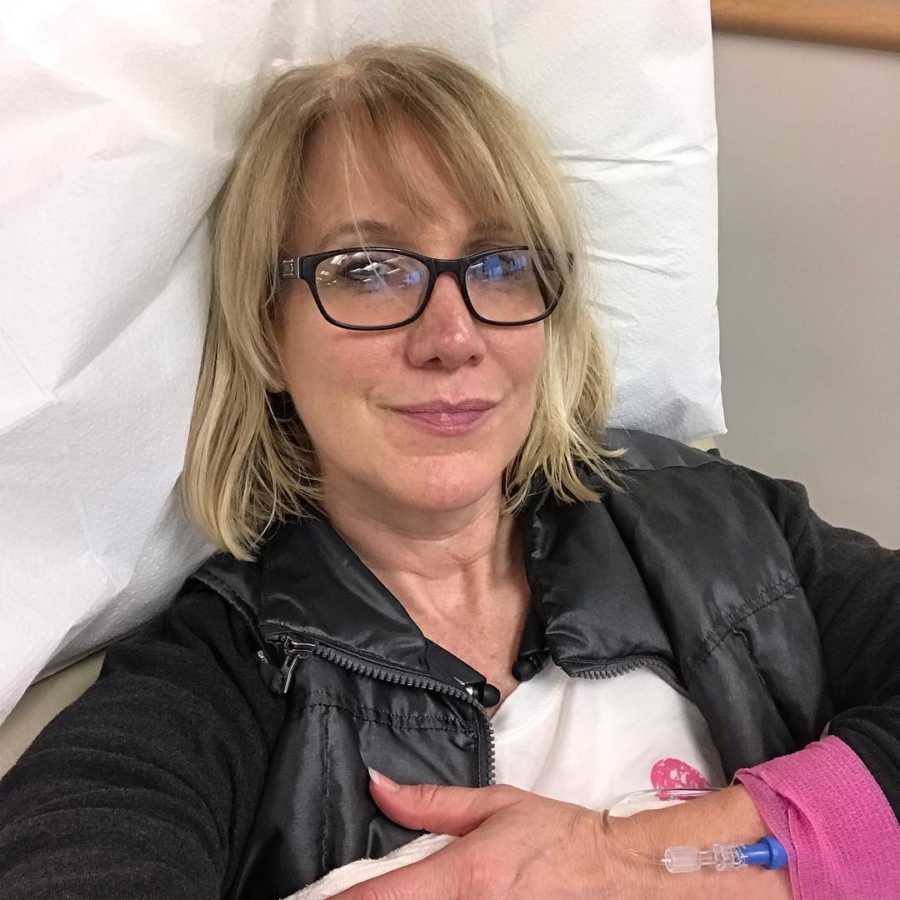 When they checked me out at the end of an exhausting first infusion, they did not send me home with the medications I needed. It was Friday at 4:40 p.m. and my husband had to race back to the Cancer Center to get the medication. Very scary–but we got through that. My first chemo infusion was directly through my vein because I didn't think having a port would make much of a difference, but it truly does. It hurt going through the vein in my arm and I had problems afterward with streaking. I had a port placed on January 2, 2019, to be used for the remaining chemo treatments and I was stoked to ring the bell on January 22, 2019, after my last infusion.
My fears of chemo and subsequent side effects were based on scenes from Hollywood films depicting cancer patients: sweating profusely, whilst projectile vomiting out one end, and spewing diarrhea out the other end. This was not my experience, quite the opposite, in fact. Following a humiliating conversation with the on-call oncologist about an 'emergency constipation issue,' I found suppositories work quite splendidly.
Things were progressing well until a few days after my second round of chemo when we moved into a new home. Things steadily declined after we moved and I was experiencing severe shortness of breath, which I'd mistakenly attributed to chemo side effects. Long story short, 840 gallons of propane leaked into our home and by the time the leak was discovered, my treatment plan had been modified. I decided against radiation and instead had the bi-lateral mastectomy. Originally, the plan was a lumpectomy, sentinel node biopsy, radiation, and possible reconstruction. The plan was amended to include chemo after the pathology report. Radiation was to follow chemo. The leak wasn't discovered until March 25, 2019, and by then, the surgery had been scheduled and was performed on April 2, 2019.
The radiation oncologist had explained radiation would have the same risk for recurrence as a bi-lateral mastectomy. Had I known then what I know now, I would have had radiation and preserved my breasts.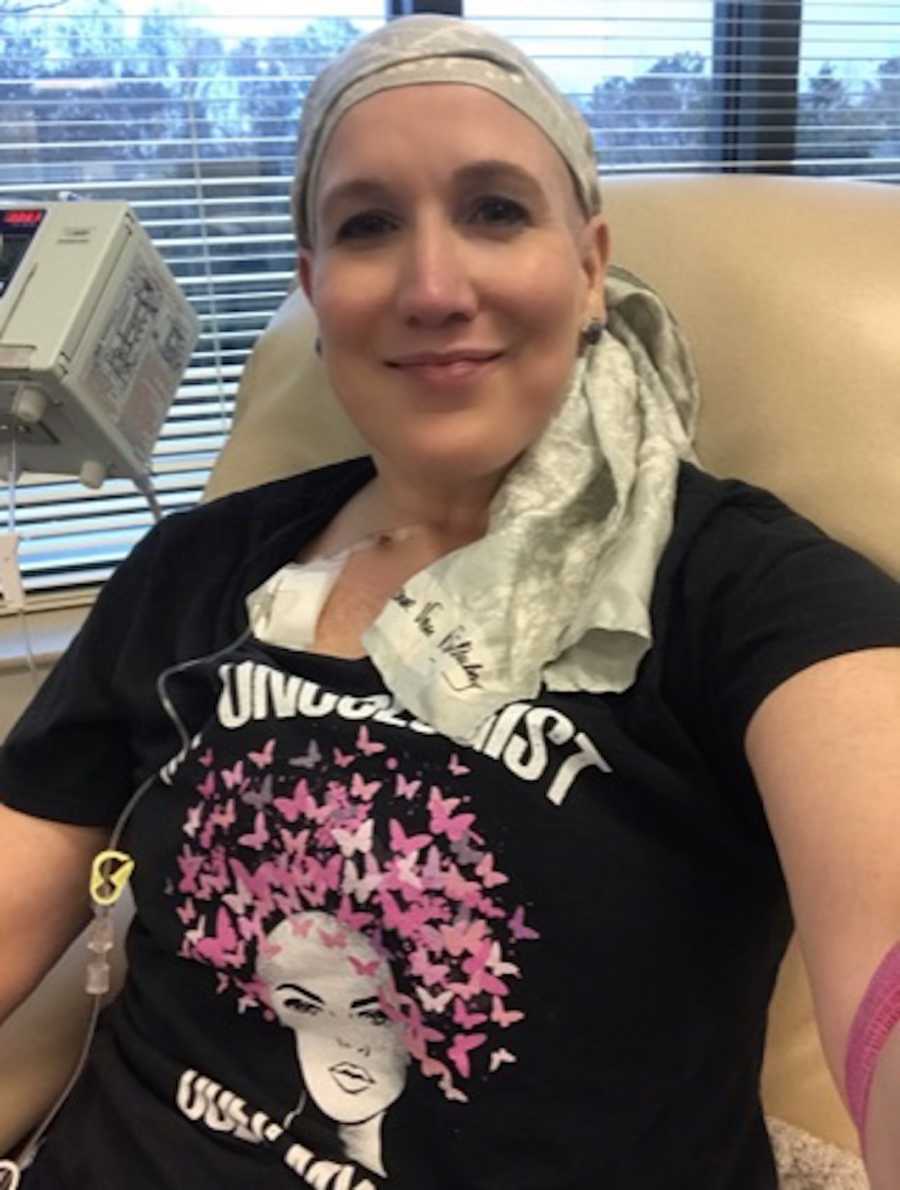 Dr. Megan Baker performed the mastectomy. She's an incredible surgeon and has performed mastectomies and lumpectomies for a few of my friends. This surgery was psychologically a bigger deal for me, so I preferred to have a woman remove my breasts. My plastic surgeon, Dr. Richard Kline with the Center for Natural Breast Reconstruction, is truly gifted and at the top of his game! He and his team have been doing an incredible job!
Surgery number two was the bi-lateral mastectomy on April 2, 2019, and phase one of reconstruction with tissue expanders. Expanders were used in my case and were swapped out in surgery three on July 22, 2019. There is always a risk of necrosis of the skin after mastectomy and I am so grateful not to have had issues with my skin. Surgery four was on October 30, 2019, and surgery number five will take place on January 30, 2020. This is a final round of fat grafting to protect my implants. My surgeon described it as, 'Spray foam insulation for the implants,' as the rest of the breast tissue was removed in the mastectomy.
My oncologist has prescribed Exemestane 25 mg, which I will continue taking for the next 5 to 10 years to prevent recurrence. The medication makes my joints and bones ache, gives me hot flashes from hell, so much worse than my natural, cruising through menopause hot flashes I experienced at age 42!
My method of birth control was a hormone-releasing IUD and there is a possibility it may potentially have not only likely caused early menopause but may have contributed to my invasive breast cancer. Ladies, consider having your husbands/partners have a 100 percent reversible and highly effective vasectomy as an alternative birth control option. Hormonal birth control causes a myriad of health risks: stroke, heart attacks, and cancer, not to mention the weight gain, hormonal imbalances, etc. Honestly, women deserve better!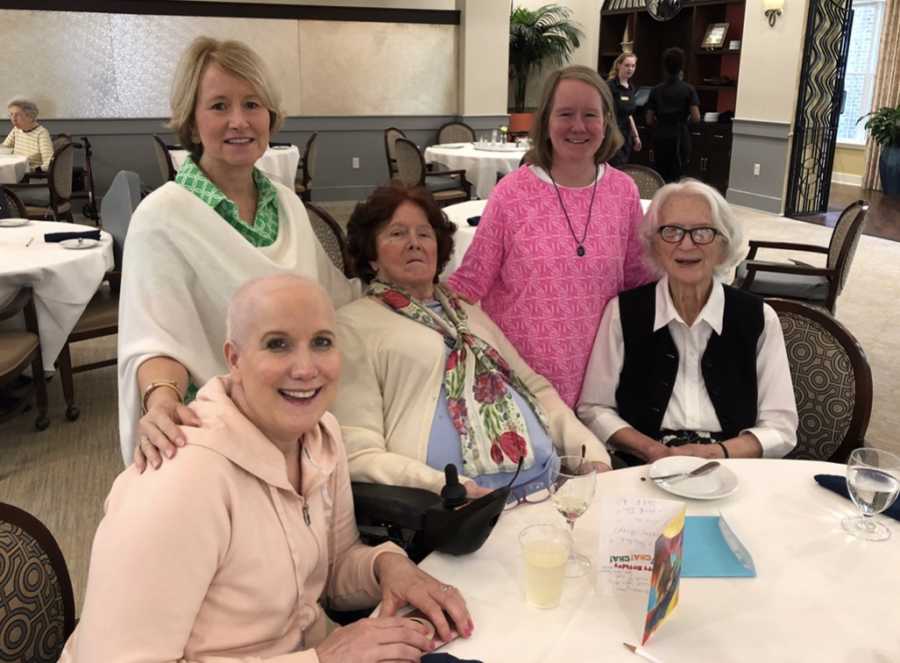 If you get diagnosed with cancer and chemo is part of your plan, update your IDs and have new passport photos made. When I checked my license in December, I realized it was due to expire in March of 2019 and I would be completely bald at that time. So, the day before my first round of chemotherapy, I headed directly to the DMV and renewed it 4 months early. It's the new Federal ID required by October 2020, so I'm set!
Stay hydrated! Maya Chia kept my skin quenched, and I drank about 90 ounces of water daily! Taking Immune Zoom kept me healthy during chemo, so did masks!
Don't forget the SPF for your head, if you do go through chemo and lose your hair. Please know you are beautiful. It will grow back, and your hair is not you!
One of the best pieces of advice I received right after my diagnosis was to get the Audible version of 'Dr. Susan Love's Breast Book.' It explains the different types of breast cancers and treatment options in easy to follow language. This book was an immensely helpful crash course on breast cancer, my anatomy, how to self-advocate, and how to access supportive community and research resources.
Get a blowout before surgery and braid your hair down each side to keep it out of the way. Chemo brain is real! Be patient.
Let people help you! Immediately after my diagnosis, I shared on Facebook and 10 minutes later, I received a message from a friend stating that she had just been diagnosed, too. We were able to support one another. All of the people lifting me up in prayer, supporting me, suiting up and showing up–it was amazing and soul-nourishing. My tribe got me through my darkest hours and my very best friend from high school flew in from New York to meal prep on two separate occasions. It was seriously amazing!
Enjoy the special things, like my husband's best friends from his childhood in Brazil, who shaved their heads in a show of solidarity. Most of them I'd only met once the year before. How amazing and cool are these guys?
Be present. Stay positive. I'm convinced a positive attitude is paramount to ending up in the Winner's Circle and beating cancer. Be kind and be grateful for every precious day and every single thing in your lives. Visualize beating cancer. Mediate. Be kind to yourself. You are worth it, so put up the good fight, beautiful warrior sisters!
Lastly, try to find the silver linings, keep as positive as possible, and keep your sense of humor! Those things helped so much on my journey and still do."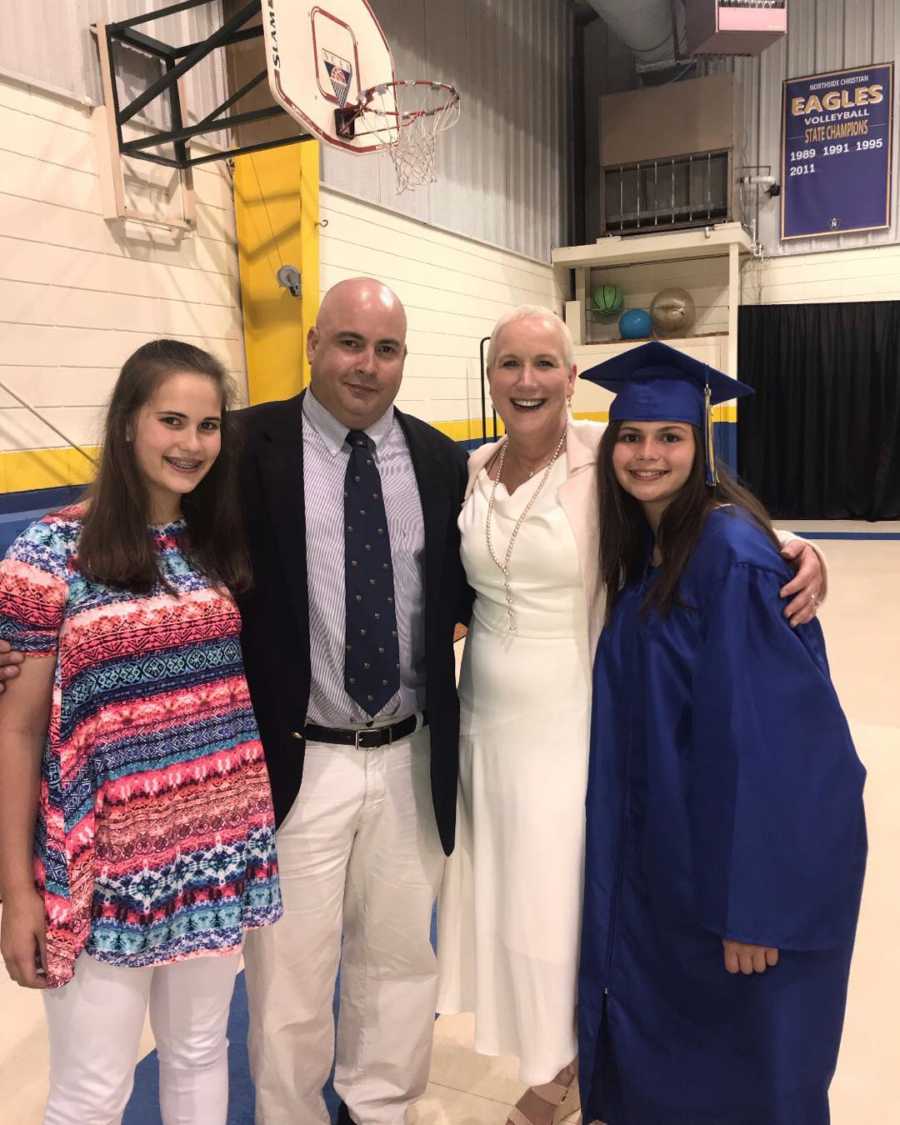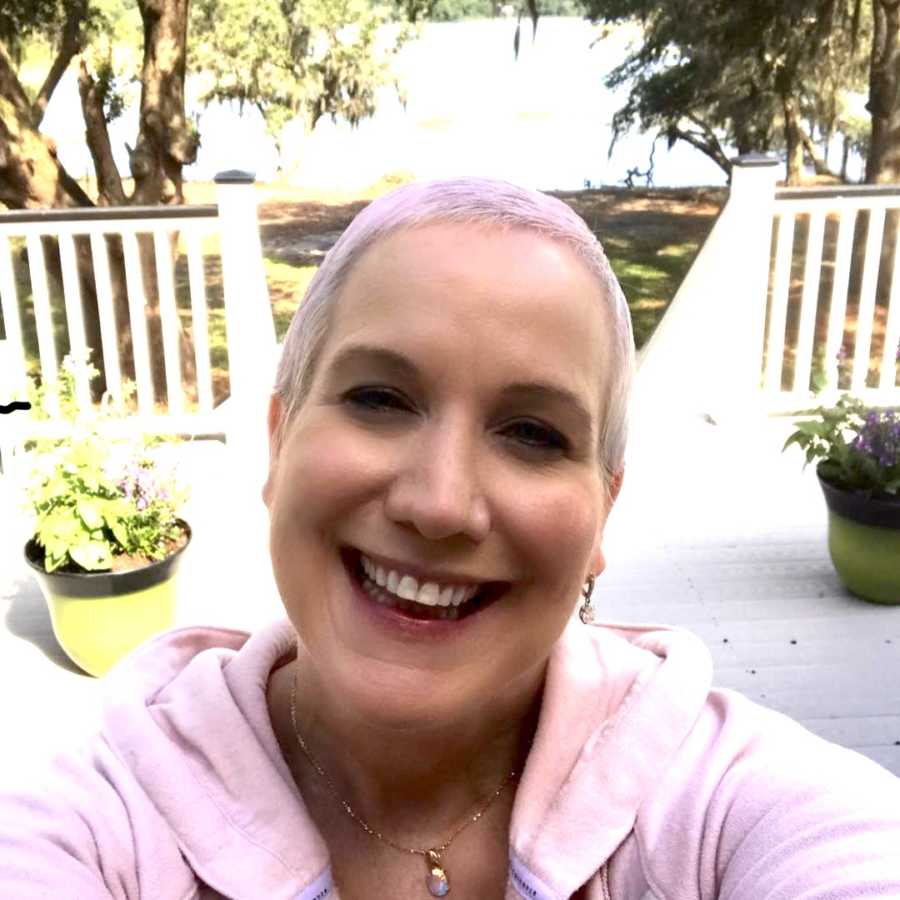 This story was submitted to Love What Matters by Llewelly Negreiros from Charleston, SC. You can follow her journey on Instagram and YouTube. Do you have a similar experience? We'd like to hear your important journey. Submit your own story here. Be sure to subscribe to our free email newsletter for our best stories, and YouTube for our best videos.
Read more powerful stories like this: 
'I stepped onto the bus and felt a 'release.' A warm sensation and then a POP. I lost my balance, my eyes closed shut.': Woman beats breast cancer after losing her mother
'It was a glorious, sunny day at the pool. I scratched and felt the lumps.': Mom with terminal breast cancer afraid to miss the 'little moments' with daughter: 'Light-up shoes, ice skates, bra straps'
'I thought I had a clogged milk duct. 'Ash, go get it checked out. What will it hurt?': Mom receives cancer diagnosis after thinking she had a clogged milk duct
SHARE this story on Facebook to help spread hope and raise awareness for early detection of breast cancer.