Accident & Amputation
"On March 6th, 2022, my life was changed forever. It was a beautiful day out, one of those days where you get a hint of summer approaching. On days like those I love to take the t-tops off of my Jeep wrangler, which is what I did. A few friends and I were celebrating a birthday. As the day went on, I got tired and decided to leave the restaurant we were at, leaving my friends behind. The valet opened my car door for me, I hopped in, plugged my phone in, blasted my music, and started heading home.
In the blink of an eye, the accident happened. I was told I veered off the road, hit a tree, then ran into a telephone pole, resulting in my jeep flipping and me getting partially ejected. Thankfully, there were two men on the scene who were there to help. One of the men called in my accident as he heard it happen. The other man ran out of his house, got me out of the Jeep, and put a belt around my shoulder as a tourniquet. These two men are my angels. If they hadn't been there, I would have bled out. When the police and fire department showed up, I was able to give them a number to call. The EMS first brought me to Greenwich hospital to stabilize me, then transferred me to Stamford trauma center. I remember nothing about the actual accident.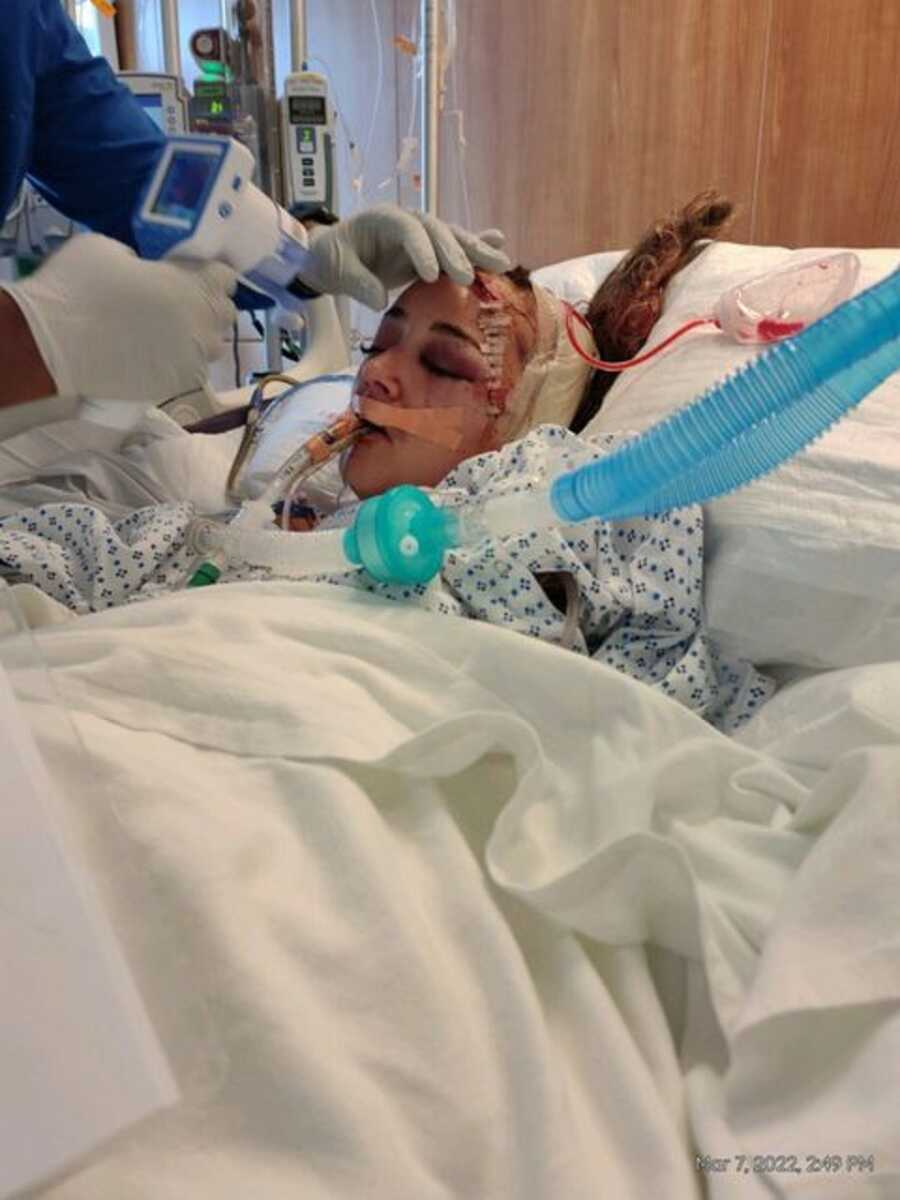 As a result of the accident, I suffered a left upper arm extremity amputation, multiple skull fractures, facial fractures, Intracranial epidural hematoma, wrist fracture, scaphoid fracture, laceration to the left ear and complete loss of the right ear, respiratory failure after trauma, sixth cranial nerve disease, S/P craniotomy, and more. Because of all my injuries, some people thought I wasn't going to make it. Some thought I'd be in the hospital for months. I fought for my life. I was out of the hospital in exactly 16 days. I was healing at rapid speed. And still am!
My first memory of being awake was FaceTiming Sam while pointing at my left missing arm and kind of laughing. Not once had it made me sad I lost my arm. I don't remember being told it even happened. I just remember knowing and being thankful to be alive and having my three other limbs. I'm very lucky to be here.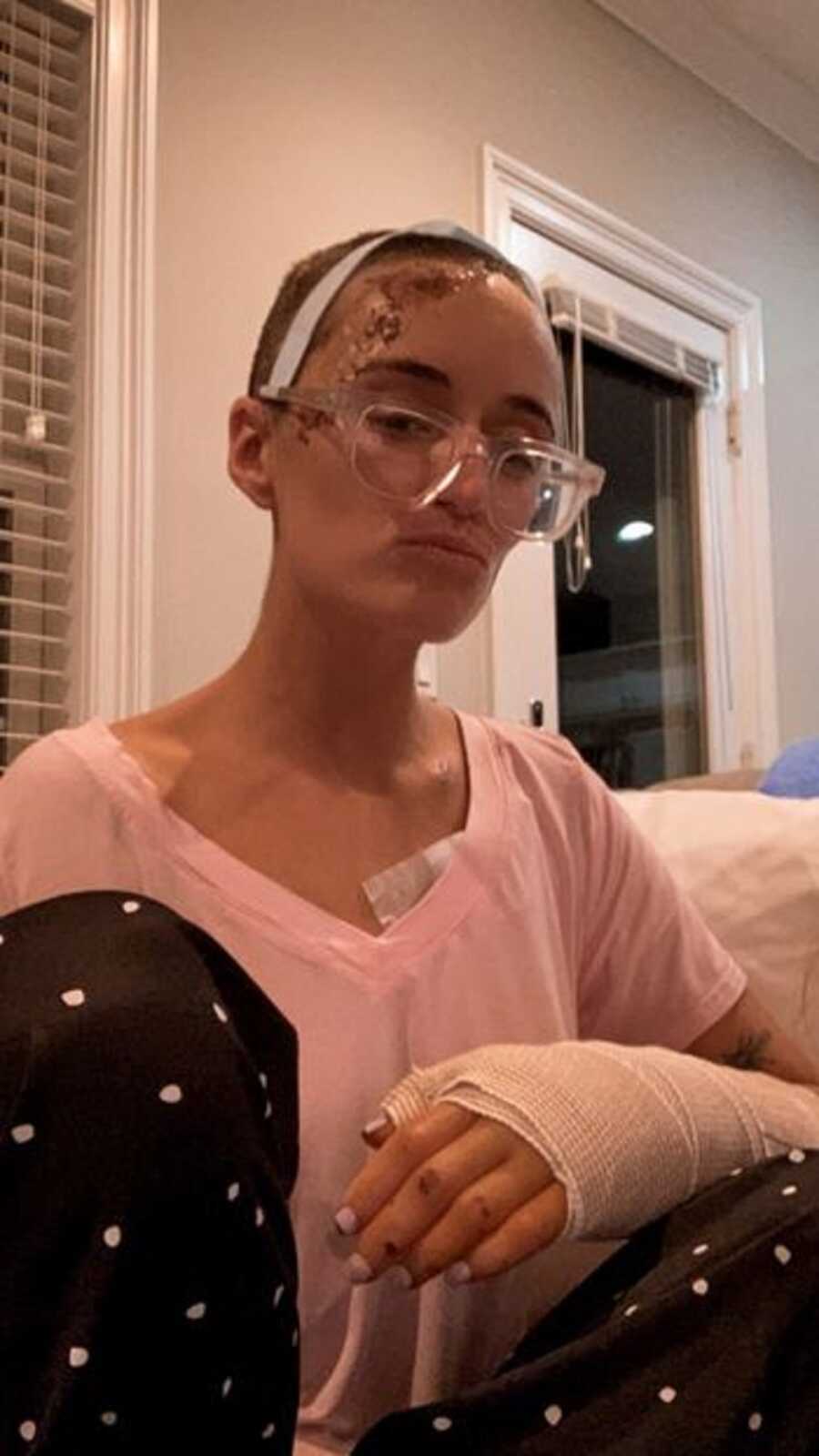 I'm only four months post amputation. I can't speak too much on 'life as an amputee' because, my life just started. So far it's been a crazy but enjoyable ride. That's probably weird to hear. But this accident and having the injuries and amputation really brought a new perspective of life. It won't always be easy. But I'm strong and can handle it.
It's all about learning to adapt. In the beginning, for the first month, I couldn't do anything alone. I've never been the person to ask for help or take the help from others. This was the biggest adjustment for me mentally and physically. Having my left arm amputated and my right arm in a cast, I couldn't even use the bathroom alone, shower, feed myself, open a door, get dressed, and more. My friends and family were there for me every step of the way. And I will be forever grateful for them.
I wish being an amputee or 'different' was normalized. People either see me and accept me or stare at me. Staring makes me so uncomfortable and I think it's rude. Those who stare I know are curious, but personally I wish they would just talk to me and ask questions. A person with any disability should never be made to feel uncomfortable. I want to bring more awareness and normalcy to not only the amputee community but any diversity community.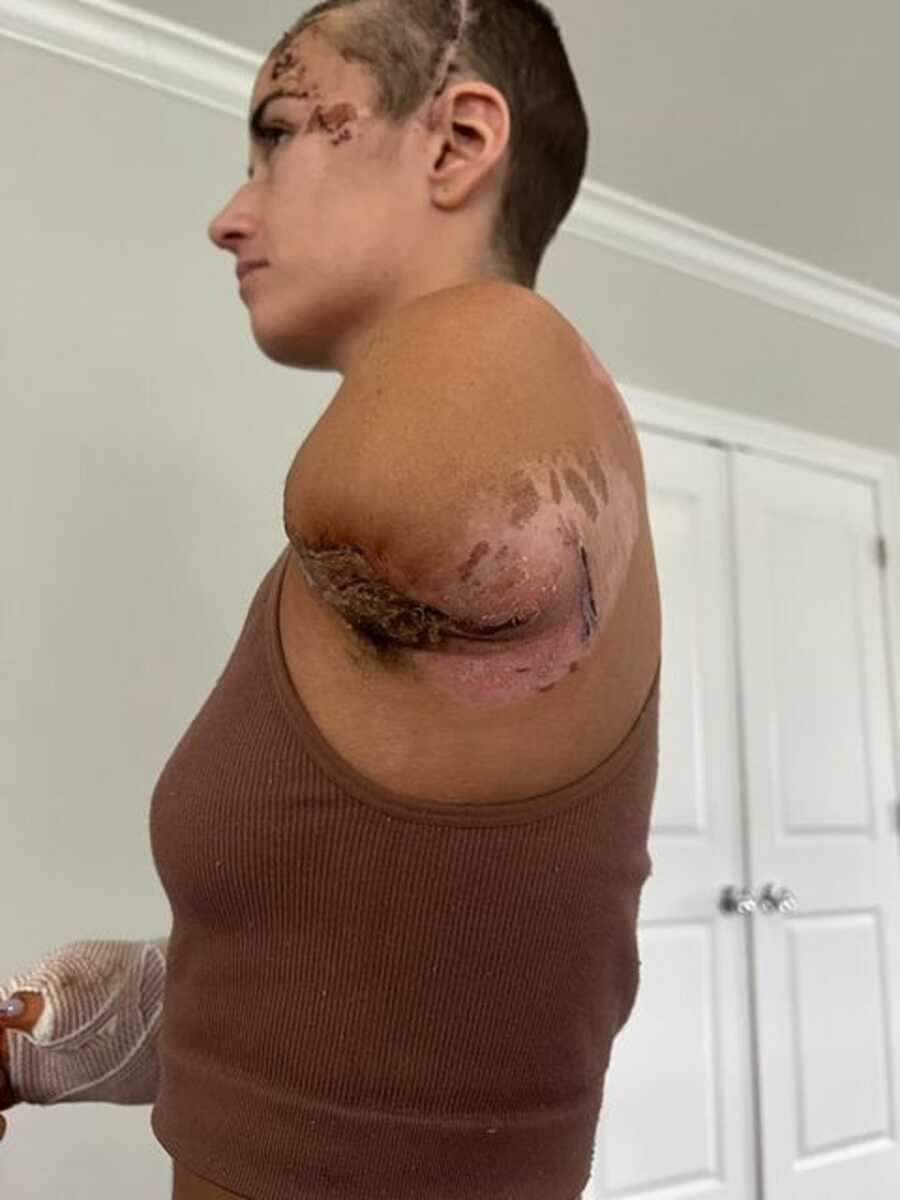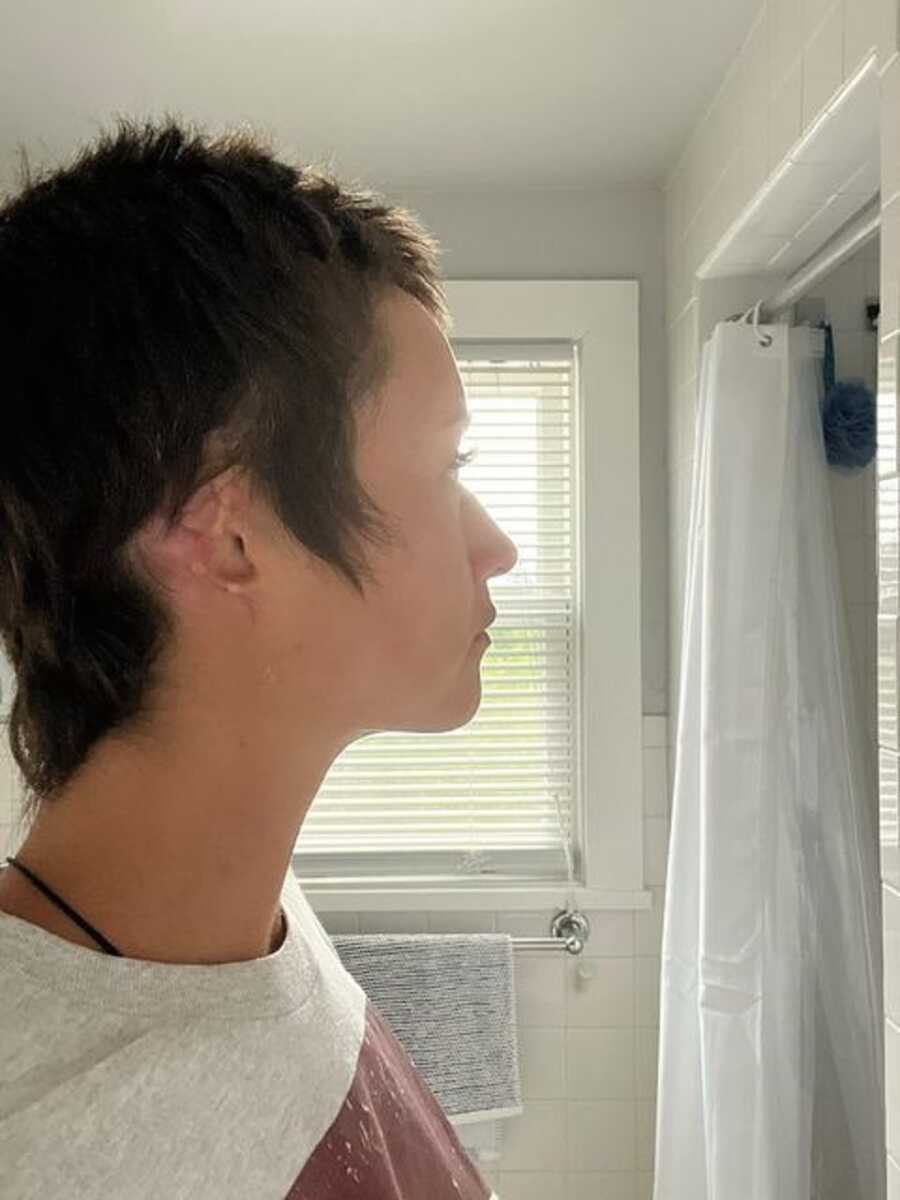 My Advice For New Amputees
As far as the amputee community, I want any new amputee to know their life isn't over. Focus on your healing. Healing your mind and body. It's the most important part of your journey. Surround yourself with a good support system. Understand your life isn't over. It's really important to try and stay as positive and optimistic as possible. The universe can feel your energy. Put out positive energy and you'll be a magnet for everything good. I know every situation is different. I understand it may not be easy for everyone. It doesn't hurt to try; you're stronger than you think. Keep reminding your self there's a lot to be thankful for, you're still here.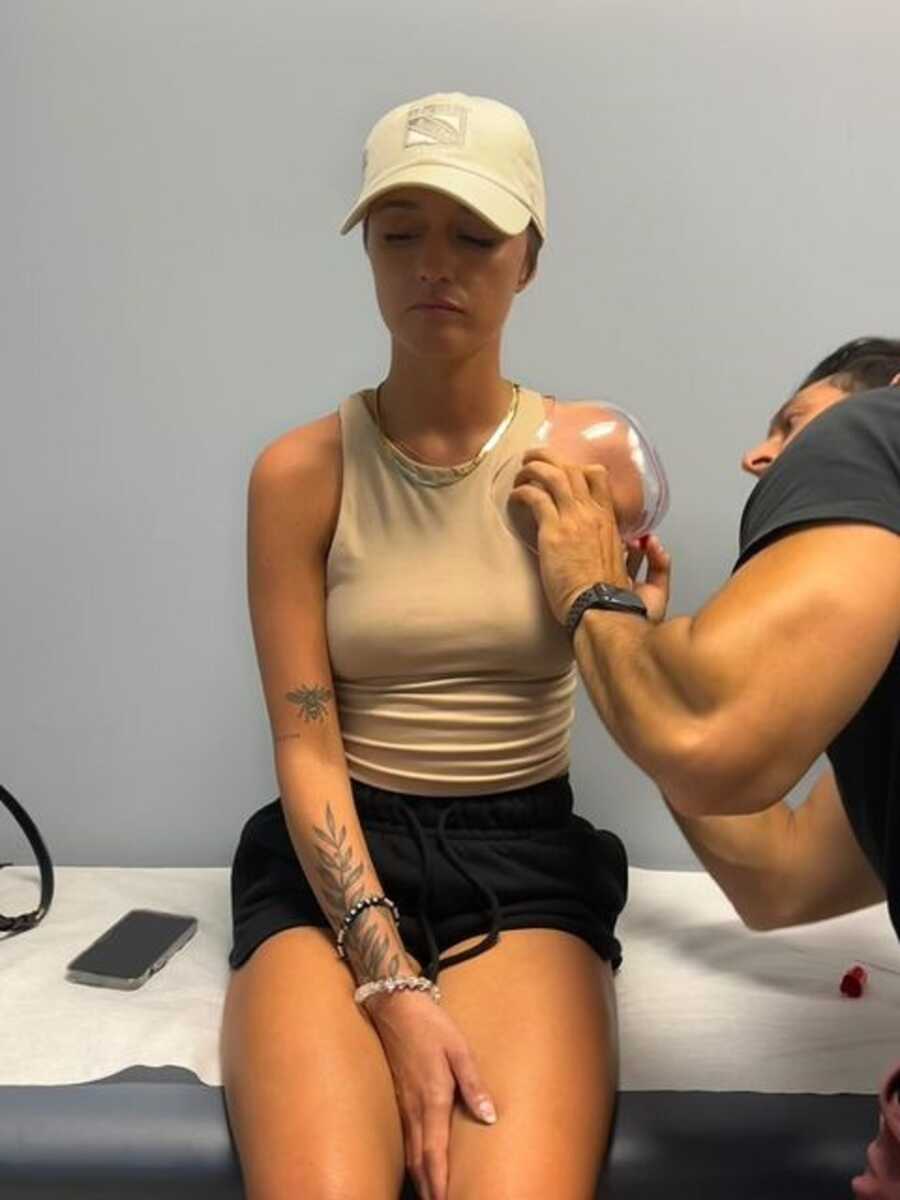 When I got out of the hospital, and after my cast was removed, I started spending a lot of time alone, now being able to finally do things by myself. I started to attempt doing things for myself, getting dressed, showering, tying my shoes, feeding myself. I couldn't sit and feel bad for myself. I wanted to heal, I wanted my independence back. I took the time to learn about myself. I started to journal every day, went for walks, listened to podcasts, and did a gratitude list. During this period of time it really helped me understand myself. I started to figure out what triggered me, what drains my energy, and what/who simply doesn't have a place in my life anymore. Life is short and there is no room for any type of negativity.
Something else that's really helped me on this journey is patience. Patience is key. Be patient with yourself, the healing process, other people, and the entire situation. Be kind, empathetic, and patient with yourself. Your journey may just be starting and you do have a long way to go, but that is okay. You will get there. Let this new journey help create a new more powerful life. Keep growing and empower yourself. You got this."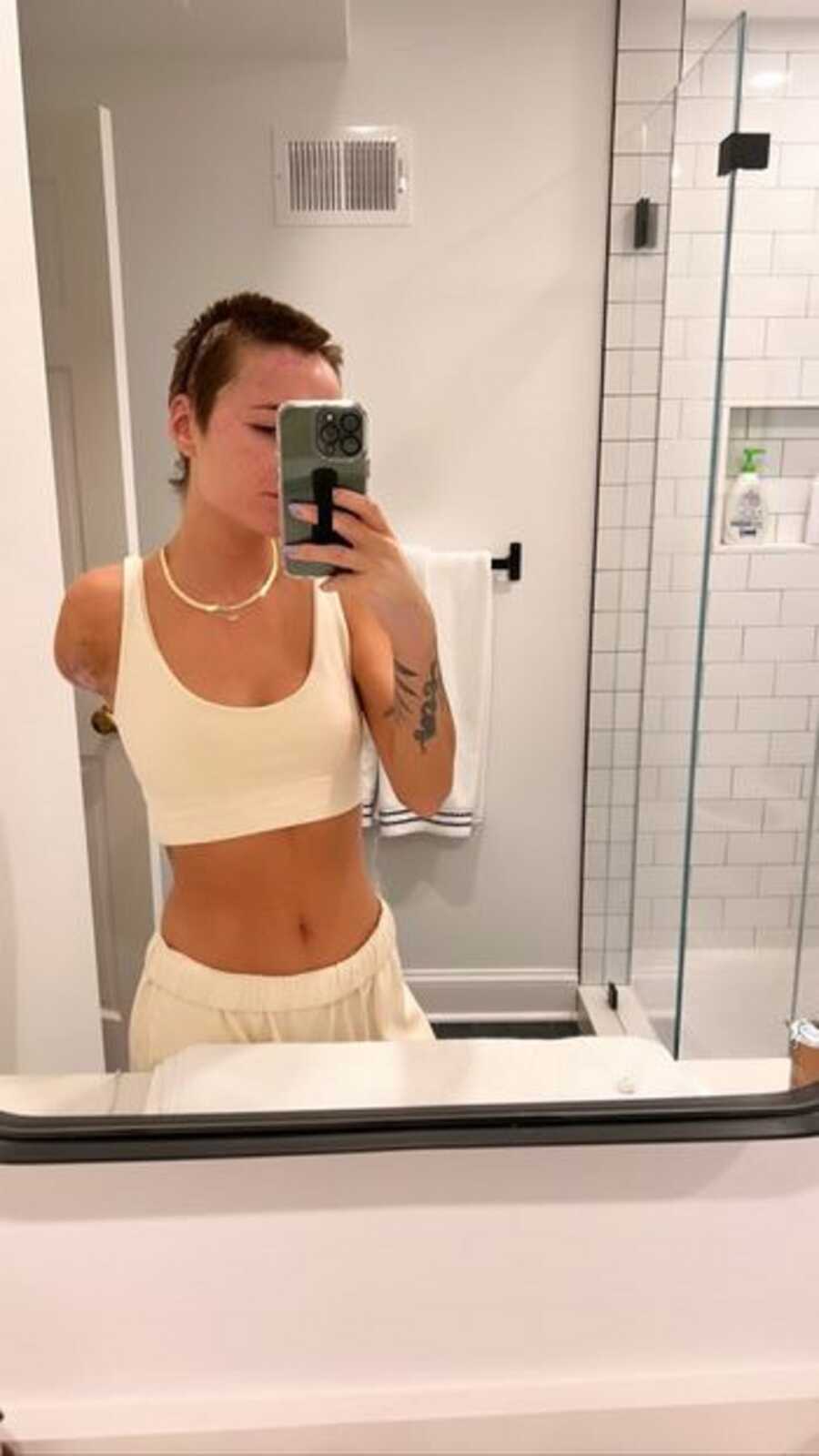 This story was submitted to Love What Matters by Heather Rodrigues of Greenwich, CT. You can follow her journey on Instagram and TikTok. Submit your own story here, and be sure to subscribe to our free email newsletter for our best stories, and YouTube for our best videos.
Read more stories like this:
Suicide Survivor, Double Amputee Shares Powerful Message Of Hope And Determination
'I closed my eyes to remember the sun's warmth on my knee, because I'd never feel it again.': Amputee shares recovery journey, urges 'life does not stop after limb loss'
'At 2, they decided amputation was the best option. But NOTHING could have prepared me for adolescence.': Amputee shares experiences with athletics and modeling, 'My leg is a work of art'
'I got pregnant 4 MONTHS after my leg was amputated.': Mother recounts journey as amputee, 'I'm happier now than I've ever been'
Do you know someone who could benefit from this story? SHARE this story on Facebook to let others know a community of support is available.