Finding A Tumor
"On December 21, 2012 we welcomed our second beautiful daughter into this world. For the first three months, everything seemed fine, and our biggest issue was deciding what brand of diapers to buy. At four months old, we started to notice that her soft spot looked different and slowly started bulging from her head. May 7th, 2013, was the day our life changed forever. As we walked into the ER, our heads were filled with terror, questions, and disbelief. After a cat scan and MRI, the doctor came in with the news no parent should ever hear. 'Your daughter, Ellie, has a brain tumor, one third the size of her brain.' I can't describe the feeling of hearing the words 'your child has a brain tumor.' It's a roller coaster of emotions, and all I remember is crying, and asking God 'why?' A question I still ask to this day.
We were seated in a tiny room, as the neurosurgeon told us that our 4-month-old daughter would need brain surgery right away, and that her chances of survival were slim, and if she managed to survive this surgery, she wouldn't be the 'normal' girl we knew. May 8th, 2013 ,Ellie underwent a 9-hour surgery to remove the tumor, and on May 9th our daughter was still alive! Within the next few days, Ellie would undergo another surgery, this time to place a shunt that would help regulate the fluid in her brain.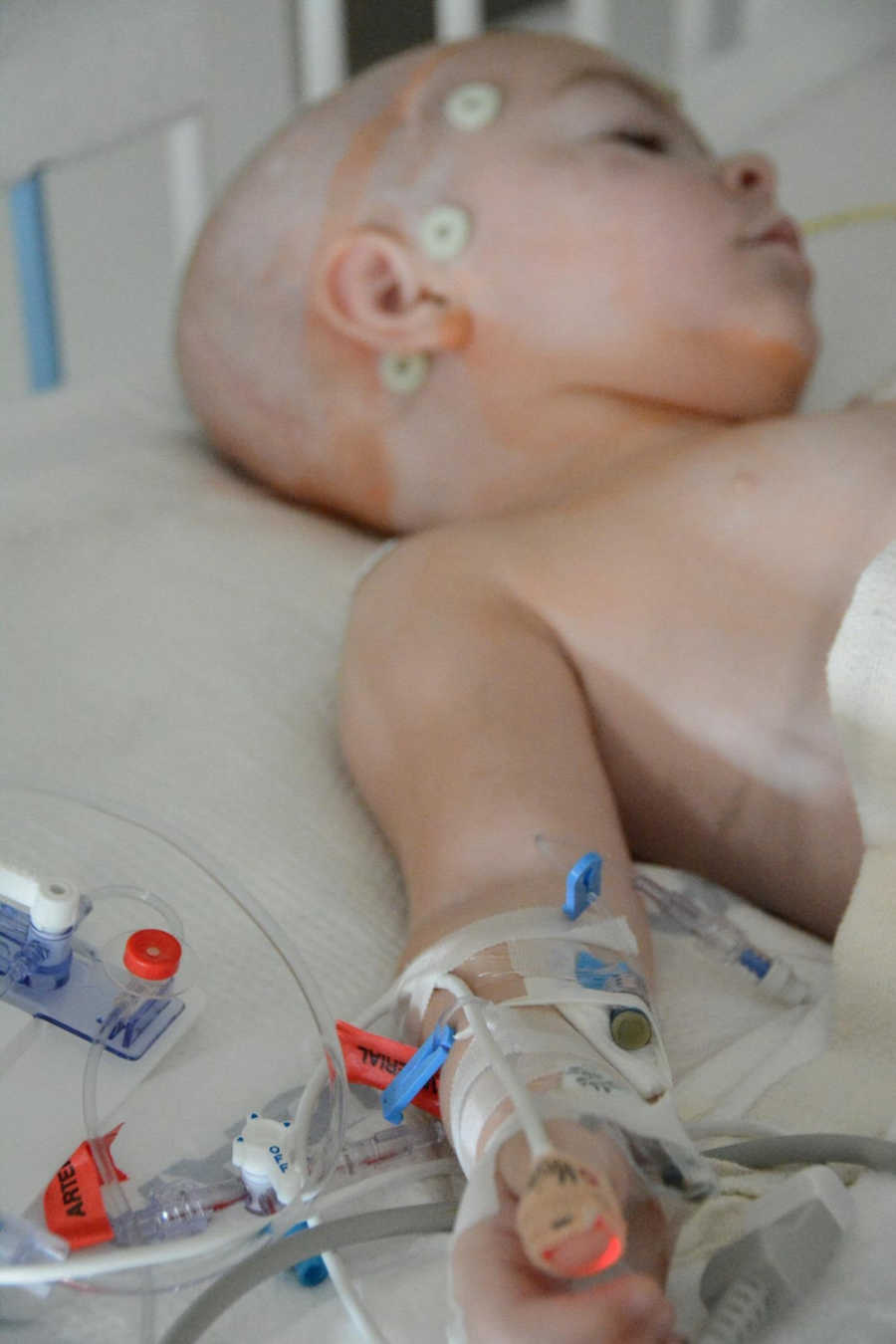 Later that week, we got the results of her biopsy; Desmoplastic Infantile Ganglioglioma/Astrocytoma. We were told this was great news, as this type of tumor is not cancerous, and she wouldn't need any other treatment, except scans every three months just to 'watch' it. Well, three months later, Ellie's tumor had grown so much that at just 8 months old our little girl would undergo her third 7-hour brain surgery. By now Ellie had surpassed every statistic, she rolled over, started crawling; proving every doctor wrong! She is a miracle, by the grace of God, a walking, talking miracle.
Starting Treatment
Three weeks after her third brain surgery, scans showed more tumor growth, it was then that we started Ellie on chemotherapy. By now we had already been through hell and back, but I would walk through hell a million times for my girls. Chemotherapy was a rough road as Ellie developed neuropathy as a side effect of one of her chemotherapy meds. This left her in constant pain, she was always sick, but that never stopped her. Ellie was known for showing up to Chemo with her crazy hats, upside down sunglasses, and pickle in hand!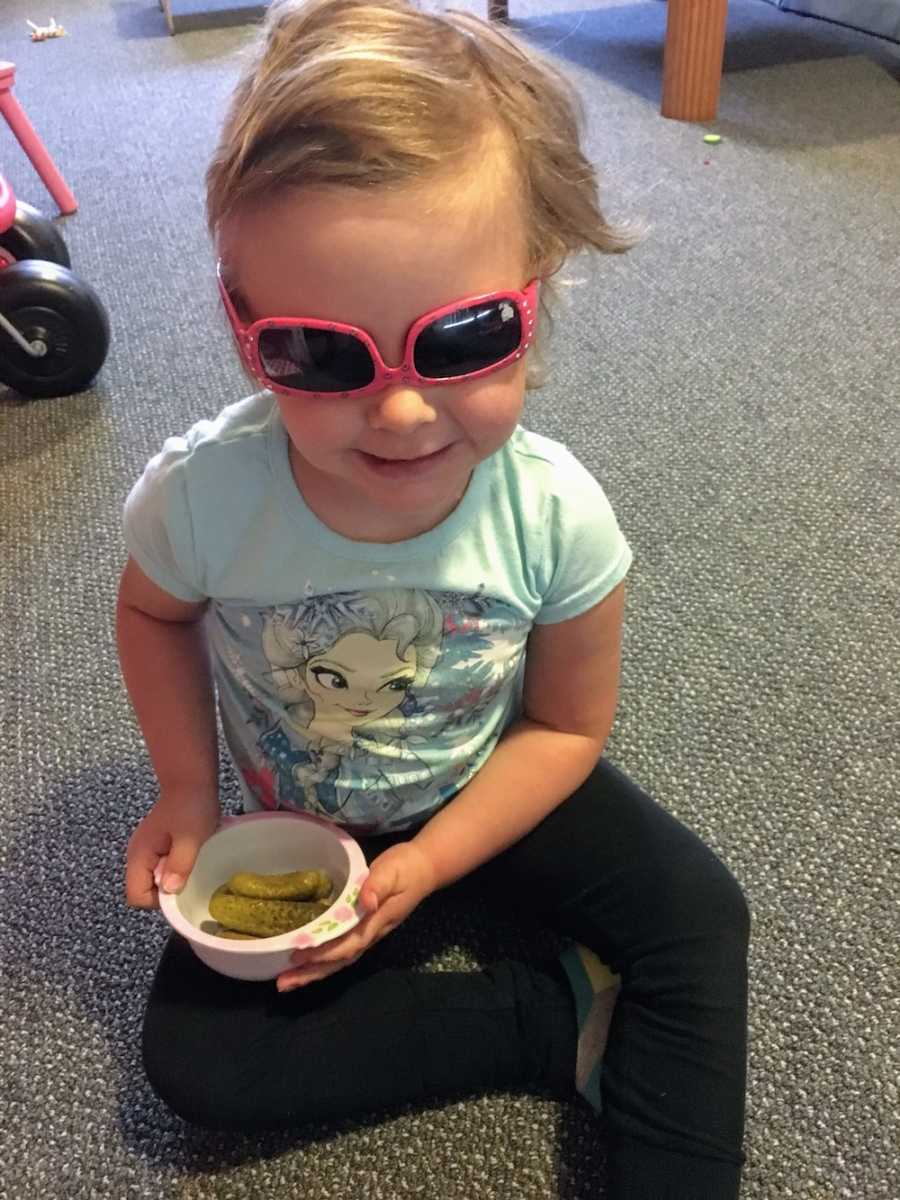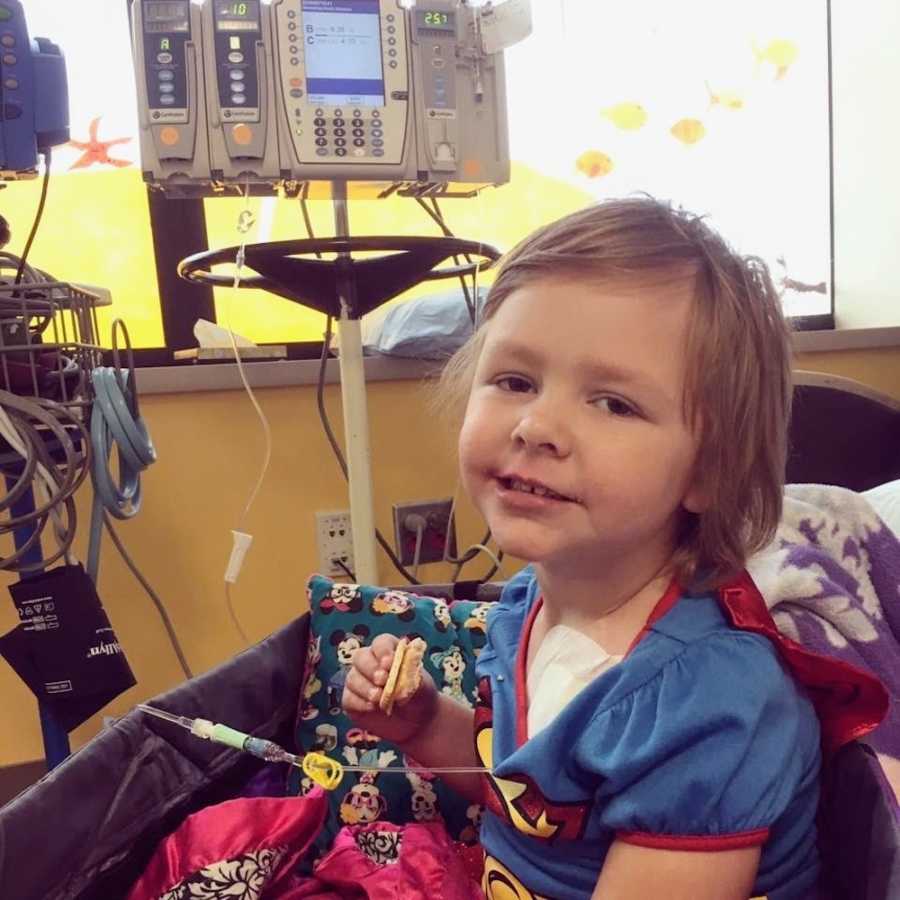 It never gets easier to hand her off to doctors and nurses. It never gets easier to watch her in pain when all you want to do, in your job as a mom, is take their pain away. The next few years would prove to be the hardest yet. Ellie continued to have problems with her shunt, leading to multiple surgeries. By July of 2015, Ellie had already spent most of her young life in a hospital. We would soon hear more bad news. Ellie's tumor, yet again, had grown, and this time mutated as well. The once 'benign' brain tumor was now highly malignant, the biopsy showed that Ellie's tumor was now Glioblastoma Multiforme stage four. The doctors gave her a 5% survival rate.
By now Ellie has had a total of 17 surgeries. Then, on October 1st, Ellie started radiation, five days a week, for six weeks. Soon following that Ellie would go onto do another year of chemotherapy. The upcoming year threw us for a loop, as Ellie went onto being diagnosed with sensory disabilities, pituitary dysfunction, brain necrosis, and because of that, she was now unable to walk. It was around this time that we reached out to our community. Ellie had one wish. After her Make-A-Wish trip to swim with the dolphins, Ellie wasn't done seeing the world.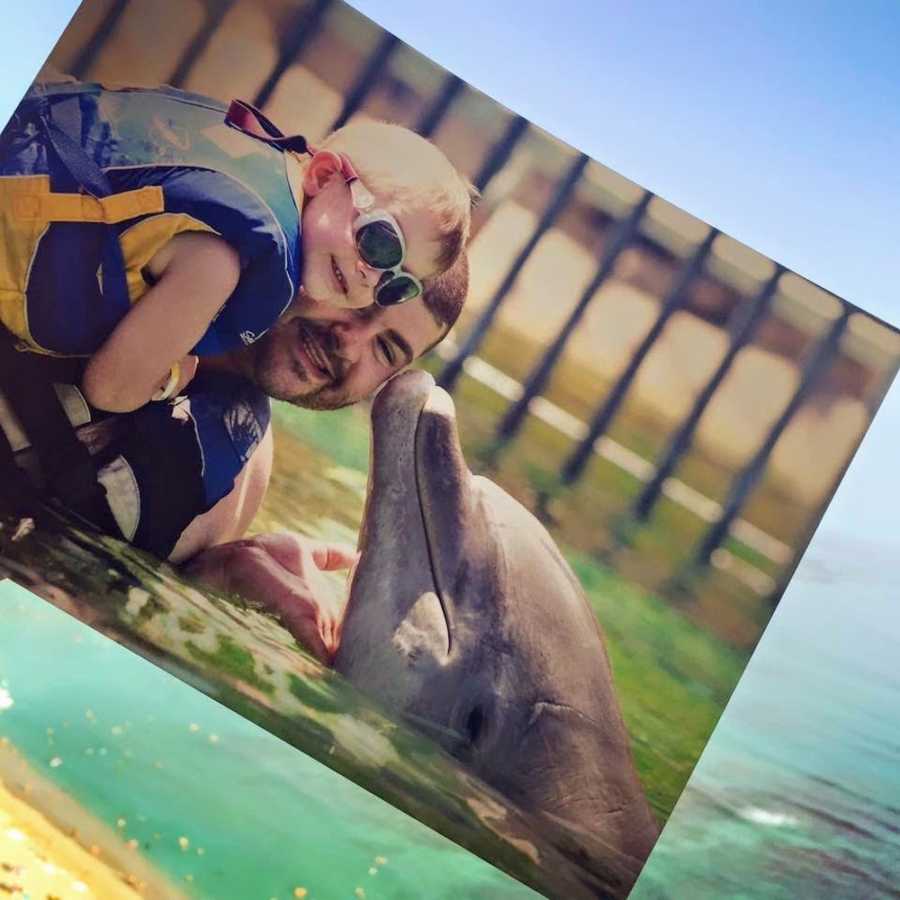 Ellie asked to receive postcards, and BOY did she receive postcards! They started coming in from all over the world, with notes that moved my heart.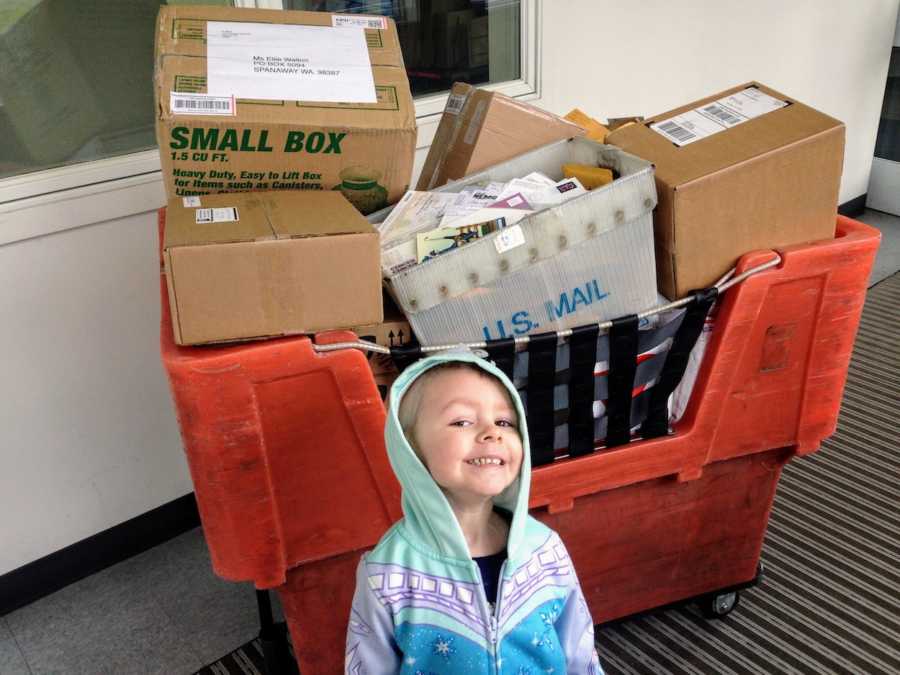 Right after this, Ellie finished her last dose of chemotherapy, making it through 28 rounds of chemotherapy before the age of 4. Even though Ellie had been through more than most adults, you would never know by looking at her, as she would sing 'Let It Go' from the top of her lungs.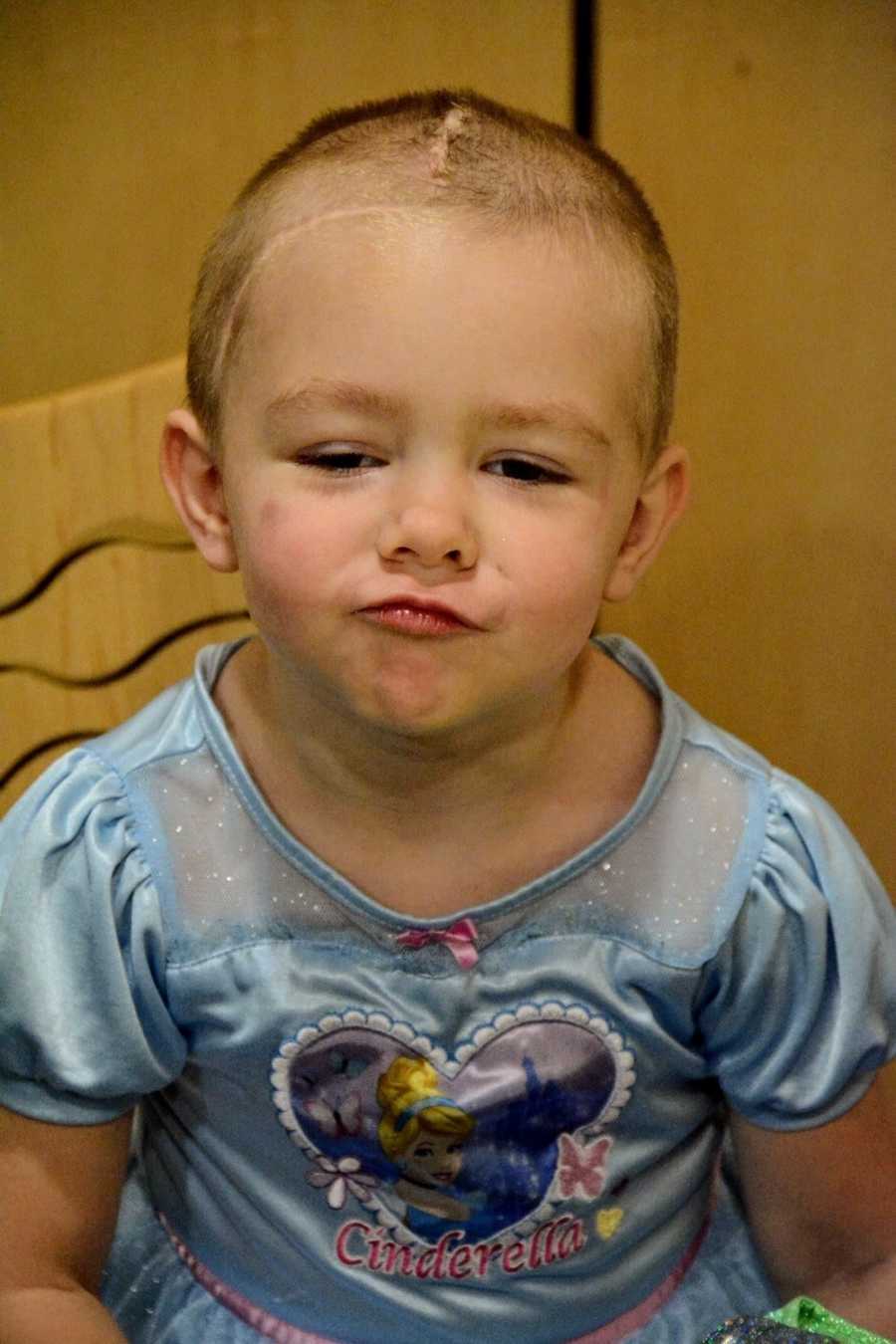 Palliative Care
On the morning of November 27, 2016, Ellie woke up in extreme pain. We rushed to the ER. The MRI would give us news that would completely devastate our family. They saw a tumor, this time on her brainstem, this time, fatal. Ellie was sent home on palliative care, we had no options left for our baby girl. We started Ellie on an immunotherapy drug to try and prolong life, but even by the time of starting it, she was sleeping 23 hours a day. We spent the next month right next to her. Singing to her, telling her about the lives she had changed, and holding her hand. Even sleeping, she managed to smile, and to bring smiles to those around her, as the world watched her fight, and prayed for her miracle.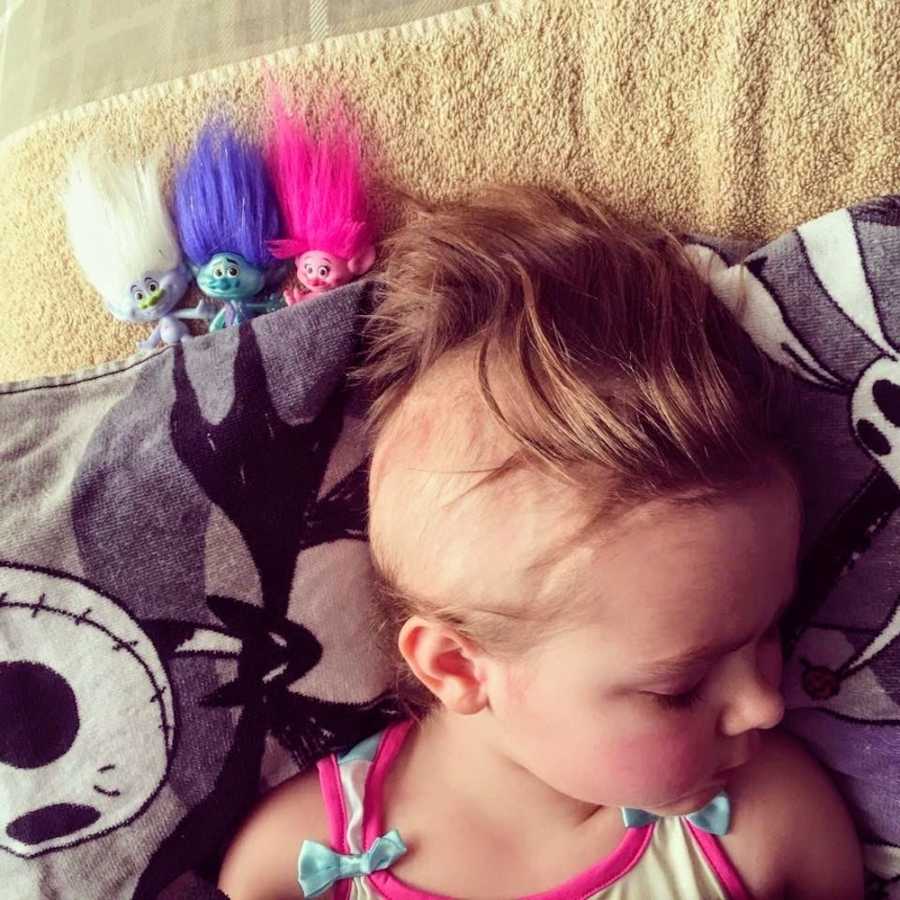 Ellie passed away on January 15, 2017, just a few weeks after her fourth birthday. Our hearts are forever broken, but our community lifts us up every day. That same community that came when they were called. A community that stopped everything to send one little girl pictures from around the world.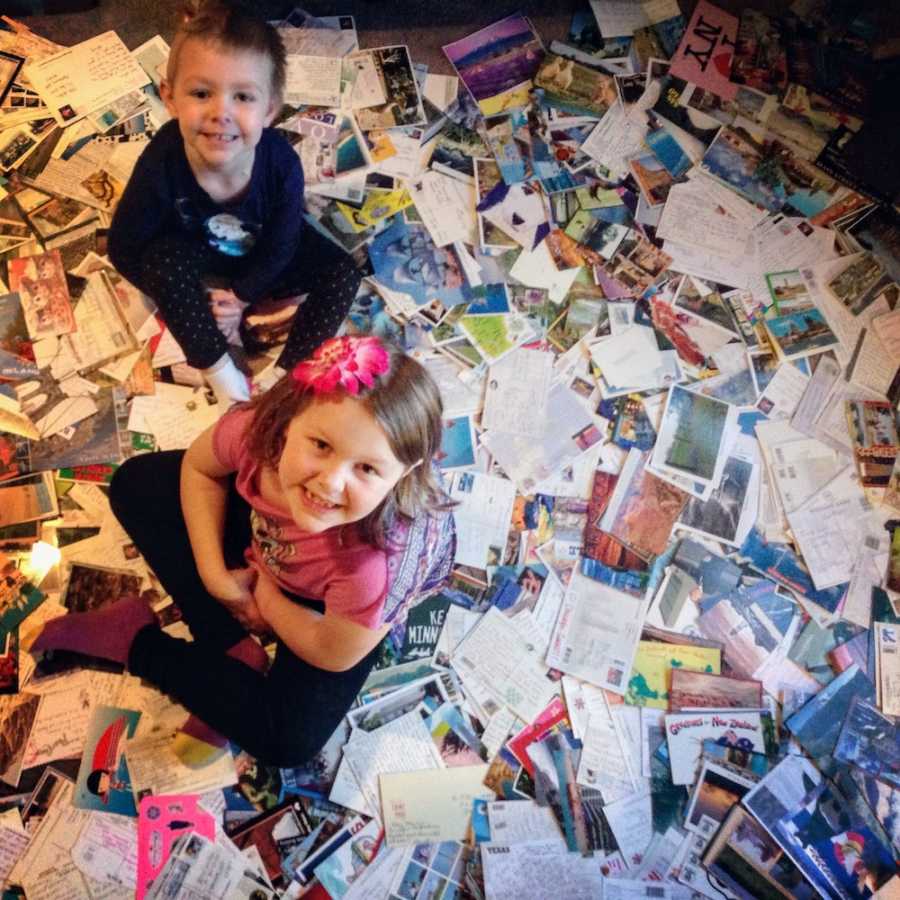 Living After Her Death
The same community that, to this day, helps us move mountains for other families. The same community that still sends us reminders of how much one brave little girl has changed their life. As I continue to write to her, our community continues to allow me to share the thoughts in my head, and instead of criticizing me, they lift me up.
'You should be here. Death is so selfish baby girl. My heart is broken. I'm literally hurting and torn, I know you're in a better place, and yet no place is better than in my arms. I know you're happy and pain free, and yet I want you here. It's been 2 months since I last kissed your cheek or played with your hair. It's been two months of pure torture, agony, and despair. All I want back is our daily life, whatever they entailed, I want it back. I want hospital visits back, and chemo back, I want your laughter, and your joyous heart back. The things that brought my heart so much pain, only a few months ago, I so desperately want back today.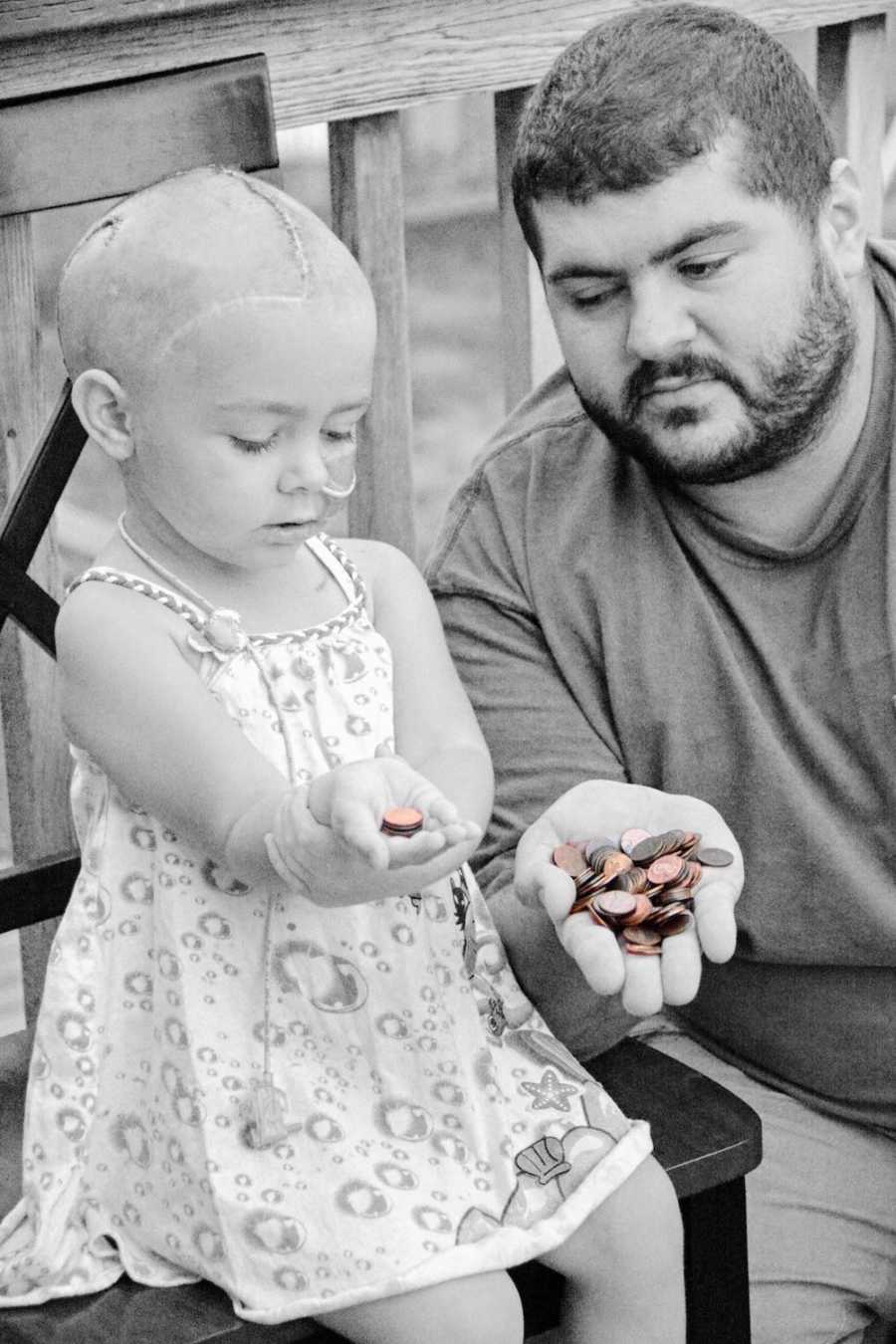 Life's not fair baby girl, you know that better than anyone. I do know that your life brought me so much joy, and looking back, I'm thankful I made sure to tell you every single day just how much I loved you. I will forever be grateful to have been your mommy.
Baby girl I don't want you watching over me thinking that your passing only causes me pain. You see baby girl, I would gladly take this pain over and over again, if it meant that I got to be your momma. Cause had I never known you, I would have never known pure happiness, I would have never known to live every moment as your last, and I would have never known what true bravery, strength, and courage looked like. This will change baby girl, I will make it change. I never want another mom to feel this way, and I will fight for these other kids so that no other mom has to buckle in ashes of their babies. Because you have always been worth #morethan4
I thank God every day for the amazing people that stood behind us, that continue to help. Even now, with the start of LOVE LIKE CRAZY, Ellie's Legacy, we can help other medically fragile and grieving families. This community is why I am still surviving, they have lifted me in my darkest moments, and managed to keep my daughter's name alive. That to me means more than words could ever express."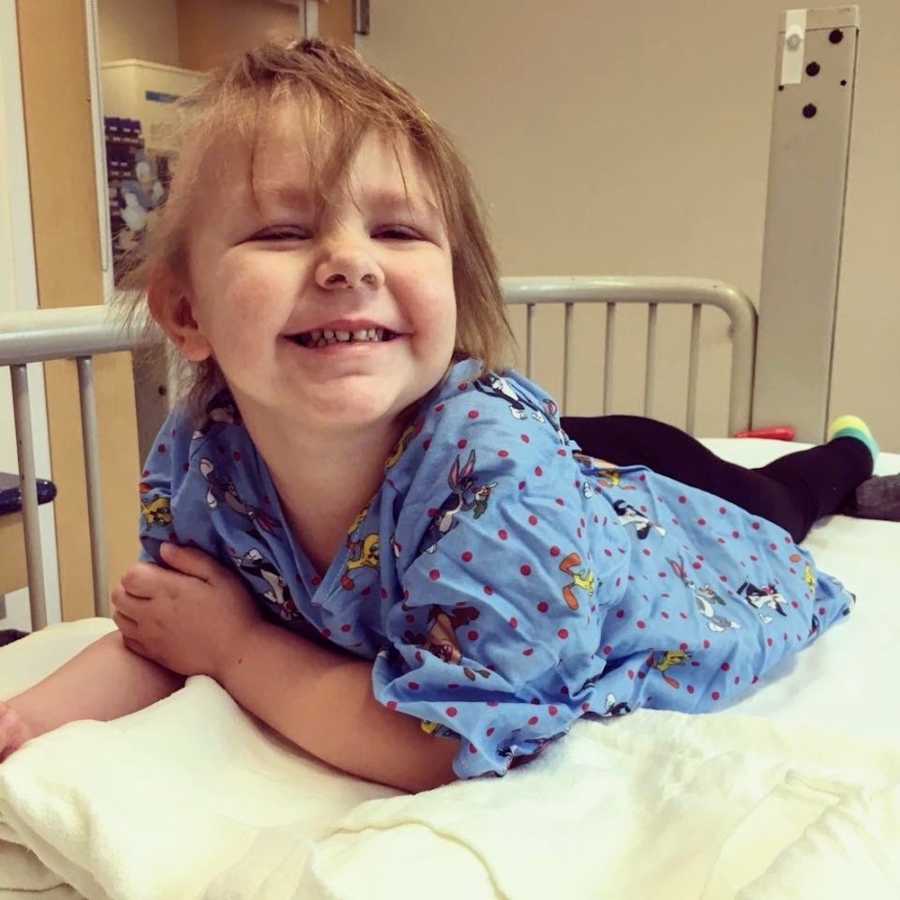 This story was submitted to Love What Matters by Sarah Walton. Follow Prayers for Ellie on Instagram here. Submit your own story here, and subscribe to our best stories in our free newsletter here.
Provide hope for someone struggling. SHARE this story on Facebook with your friends and family.