"As a child and all through my teens, I never dreamt of my wedding day or what dress I would wear. I never thought much about my career, or biological children. The one thing I had always dreamed of and known without question, was I would adopt someday.
After my husband Ben and I started dating at a 19 and 21, one of the first questions I asked him was 'Are you ok with adopting in the future? Because that's a deal breaker for me.' I knew dating someone without that desire would be pointless and I wasn't going to waste my time. I knew without any doubt that it was in my future. I still to this day have never been so sure of something that was meant for me.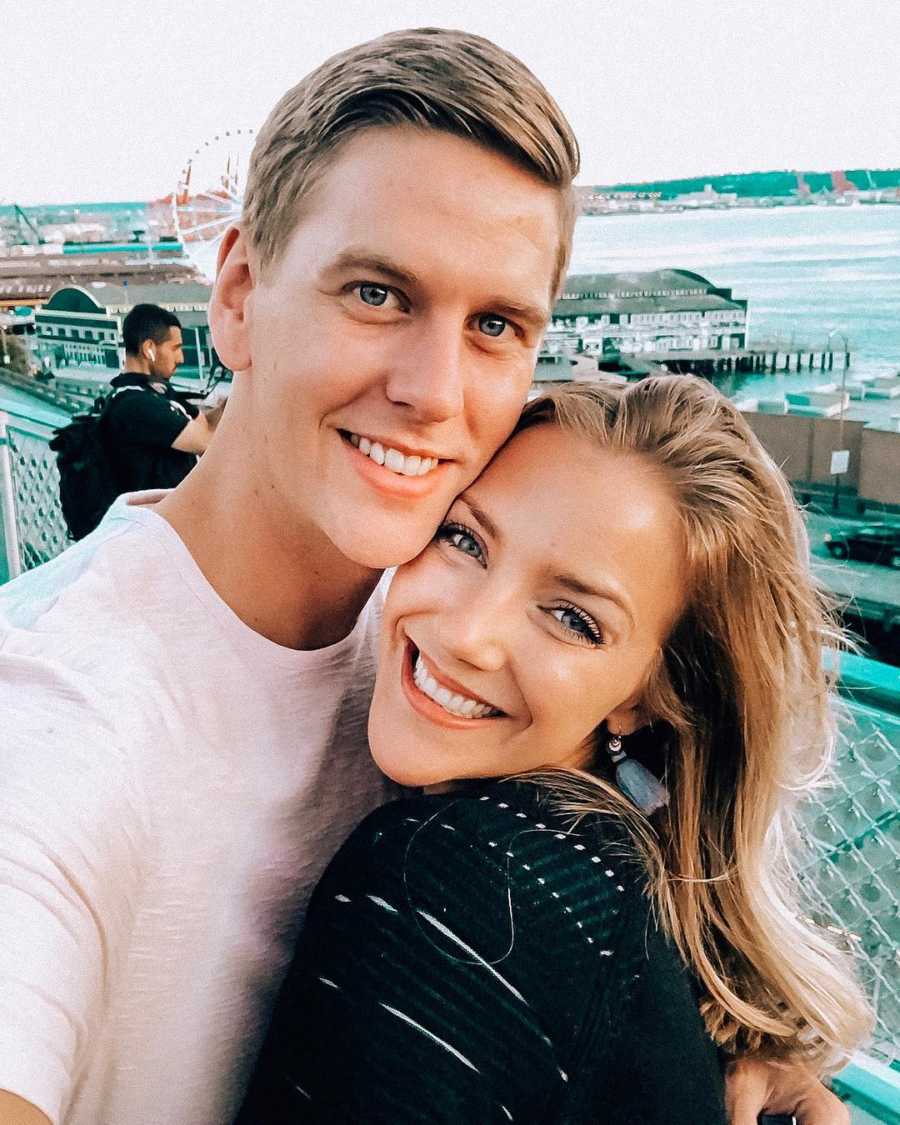 After we got married, I wanted to adopt before having biological children. I was set on the idea, it's what I had always envisioned for my life. But when I brought it up to Ben, he didn't feel like it was the right time. I was conflicted, torn and a little upset. We went back and forth and he had valid points. We both already knew there was a heightened chance of me not being able to carry biological children, so I figured why not try? If we couldn't get pregnant then I could have what I envisioned and adopt! But God had other plans and within the month, we were pregnant. I celebrated that pregnancy and honestly was SHOCKED because it wasn't what I thought God had laid out for my life. Where was my adopted child who had been in my heart for so many years? This wasn't the plan! I decided I needed to give it to both God and to Ben. I needed Ben to be 100% on board just like I was. I started praying diligently that God would give Ben the desire in his heart to lead us to the right time and to the child God already knew was going to be ours.
After our daughter was born, I was flooded with a love I didn't know could exist. I felt this deep need for another child right away and we got pregnant when she was just 3 months old. After our two kiddos were born only 14 months apart, we both felt we needed a little break. A year later, I was still praying for our adopted child and had an early miscarriage, but eventually got pregnant with our son Lawson.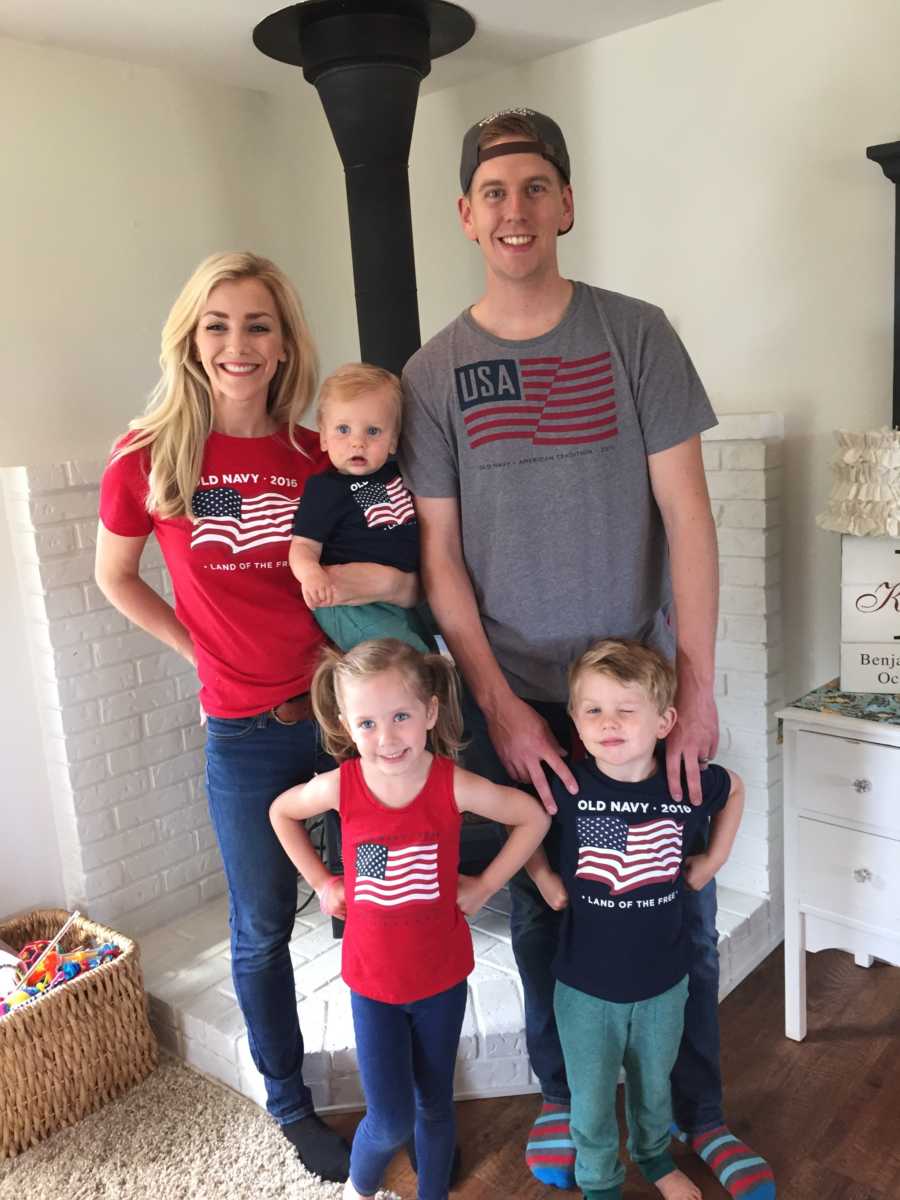 Looking back on those years of growth, I see now so clearly why it wasn't the right time to adopt first. I see my immaturity and how I was completely clueless about parenthood. I see our family now and how perfectly everyone fits together in the right order. But more importantly, I see how I have changed. Our marriage has grown and my heart has changed. I am softer now, more compassionate towards others, and I'm able to put others before myself and their needs before my own. I am no longer a 20-year-old thinking I know the challenges of motherhood, but a mother of 3 who walks in those challenges every day. I know the reality of self-sacrifice and the deep unfailing love that comes with it.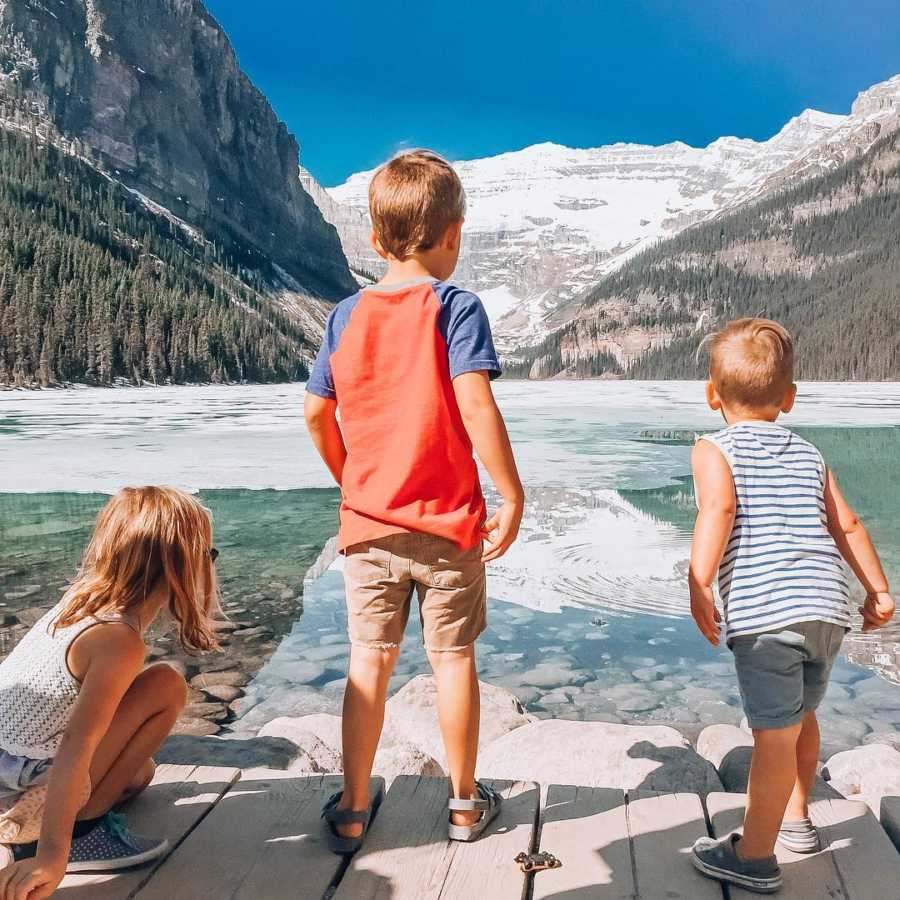 Ben and I had been casually talking about another child in our day to day life. However, one night as we were out on a much-needed date, Ben reached across the table, took my hand and told me he thought we should adopt. I about died, right there in public. It had been 5 years of me praying that God would lead him to choose when we should adopt. I hot flashed, almost passed out and kissed him! I had to ask, 'Are you sure you're ready to do this?!' He said yes!
I got home and immediately started researching agencies and interviewed over a dozen in one week.  After two weeks I settled on American Adoptions. We started the home study process, and Ben and I did all of the classes and mountains of paper work in a little less than a month. We had such intensity to get it done as quickly as possible, because I KNEW our baby was out there. When our file was complete, we went 'live' with the agency at the end of August. Our profile was shown to 30-some expectant mothers every month, and it was painful knowing that any unknown number on my cell could be 'the call.' But on December 15, almost exactly 6 months after that life changing date night, we got the call.
I remember sitting on the couch after I had gotten all the kids to rest time, enjoying the quiet and thinking to myself what a great day it has been. When my phone rang on the counter, I walked over, saw an unfamiliar number and knew immediately it was the call I'd been waiting for! I answered the phone and a woman proceeded to tell me a birth mom had picked Ben and I to parent, and she was due TOMORROW.
I almost fainted right there. My stomach was doing flips and my brain was going a million miles an hour trying to figure out all the details. How we would get to the birth mom's location in one day, who would babysit our other kids, how much money in legal fees do we now owe?! These were just a few of the questions running through my brain. But I was trying my best and keeping my cool on the phone. She said she was going to conference call Ben into our call so we could hear the details together. At this point, I panicked. At the time, Ben was working a job where he was so swamped, he never answered his phone. I threw her on speaker and I texted Ben 50 times in 2 minutes saying 'ANSWER YOUR PHONE! ADOPTION CALL!' I was praying he would answer because I was running on adrenaline and knew I wouldn't be able to relay all the information correctly. Ben answered on the 4th ring. A huge sigh of relief flooded over me as the woman proceeded to tell us about our son and his birth mom and asked if we accepted the match. Without hesitation, we both knew he was the one and we said YES, simultaneously, miles apart. She asked us what we wanted to name our son, and I told them Miller, after my grandfather and all the men in my family. We were told there would be more information soon, and the call ended. Hanging up that call and sitting in my living room by myself was surreal. A phone call just changed my life completely, forever.
This is when the biggest emotional roller coaster of my life began. We were told not to book a flight until the birth mom was admitted to the hospital. We had 3 other kids at home and it was just days before Christmas. We went on with life and the planned Christmas parties but our bags were packed and ready!  The baby was due on a Friday, but that day came and went, Saturday, Sunday, I was about to burst with anticipation. Finally, Monday morning we got the call that she had her C-section scheduled and we needed to get on a plane right away.
We were on a red eye flight out of Seattle that evening, heading to Houston, where our son was to be born. We knew from the beginning that God's hand was in our adoption. We were working with a Nationwide agency, and we could have been matched literally anywhere in the Untied States, yet we were matched just 2 1/2 hours away from all of my extended family and my parent's house. Not only that, my parents were in town to celebrate the holidays with us so they were able to watch our kids while we were gone. Everything was falling into place!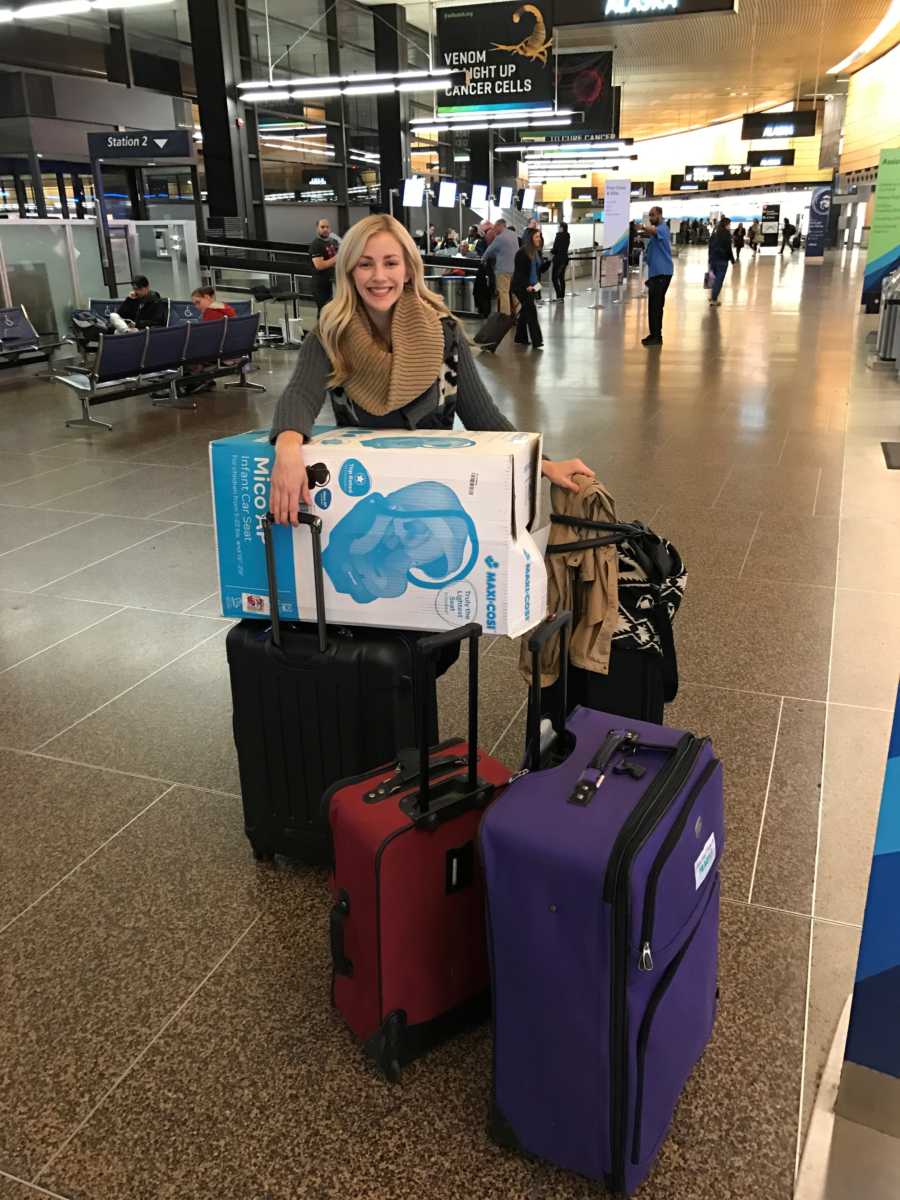 We arrived in Houston at 5 a.m. completely exhausted. At baggage claim, we got lots of looks and even more questions as we loaded up boxes with a pack 'n play and an infant car seat, but no baby.
We rushed straight to the hospital where I was to call the agency to let them know we were there. They then communicated with the birth mom, and she gave permission for us to go in. When we first arrived, I thought there was going to be someone from the agency there to introduce us and help us with the process. I hadn't realized we were walking into a room to meet the birth mom, and possibly our son, ALONE.
I had never been so nervous in my life. I was physically shaking and holding onto Ben's arm. We buzzed the door to be let into the maternity ward, and as the doors opened, a nurse met us there to walk us to her room. We nervously, softly knocked on the door. When we heard a 'come in,' we entered the room and saw our son's birth mom for the first time. She was laying there in bed holding a beautiful baby boy. It hit me again in that moment, this baby is not yet mine.  He is hers, she is holding her heart in her hands, her son and the love was overwhelming. I instantly gravitated to her, and she said, 'Do you want to meet your son Miller?' I took him in my arms and stared down at the cutest chubby-cheeked baby. But I still couldn't detach my heart from his birth mom. She originally had told the agency that she wanted us to come take Miller and go to another room. But once we met, we clicked, and Ben and I were able to get to know her over the next 2 days. We spent 12 hours each day in the room with her and Miller. We would snuggle Miller, but I still felt that he was hers. I could see the love she had for him and I began to love them both.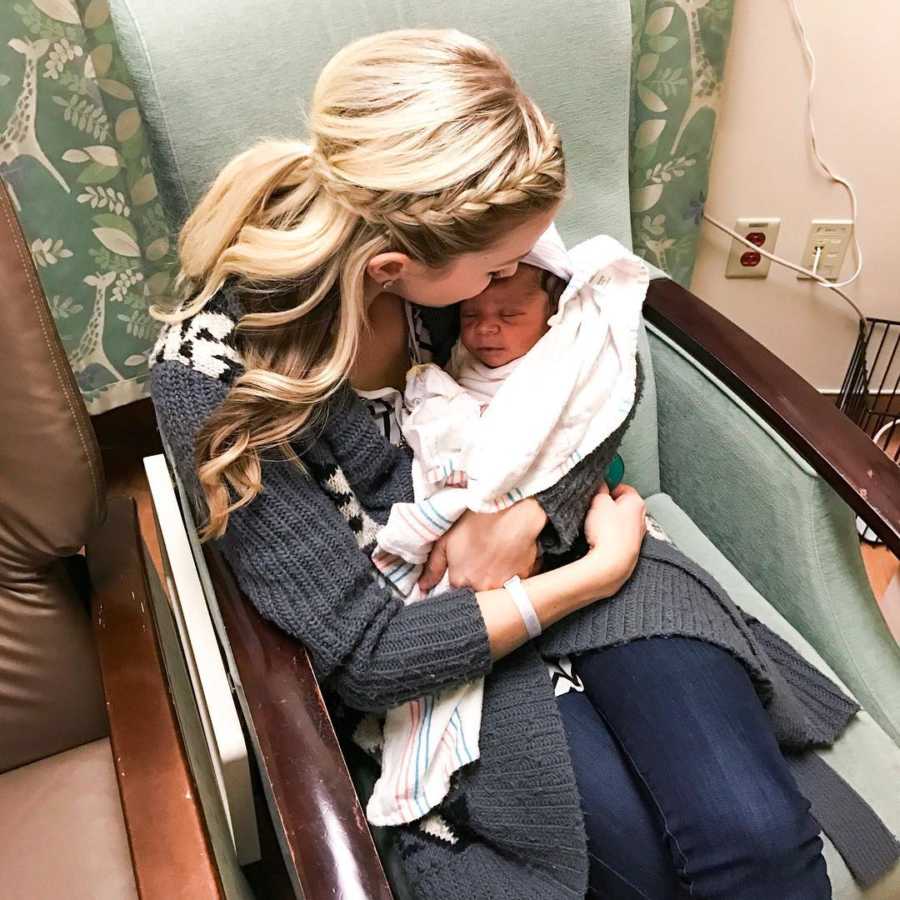 It wasn't the grand scene I had made up in my head that someone would place my son in my arms and I would feel this motherly love sweep over me like I'd always dreamt of. I had unconsciously shut myself off to protect my heart and I was almost completely void of emotion the whole time. I didn't want to love him as my own and then have her change her mind, so I just decided to love them both. I just felt deep down I needed to be there for her and if she chose us to be Miller's Mom and Dad, we would have years to love on him, but she would only have these 48 hours left. I also knew that it was so healthy for newborns to feel and hear their Mama's touch and voice, and I wanted Miller to have that. So we sat in her room, taking turns holding Miller, and all fully loving on him.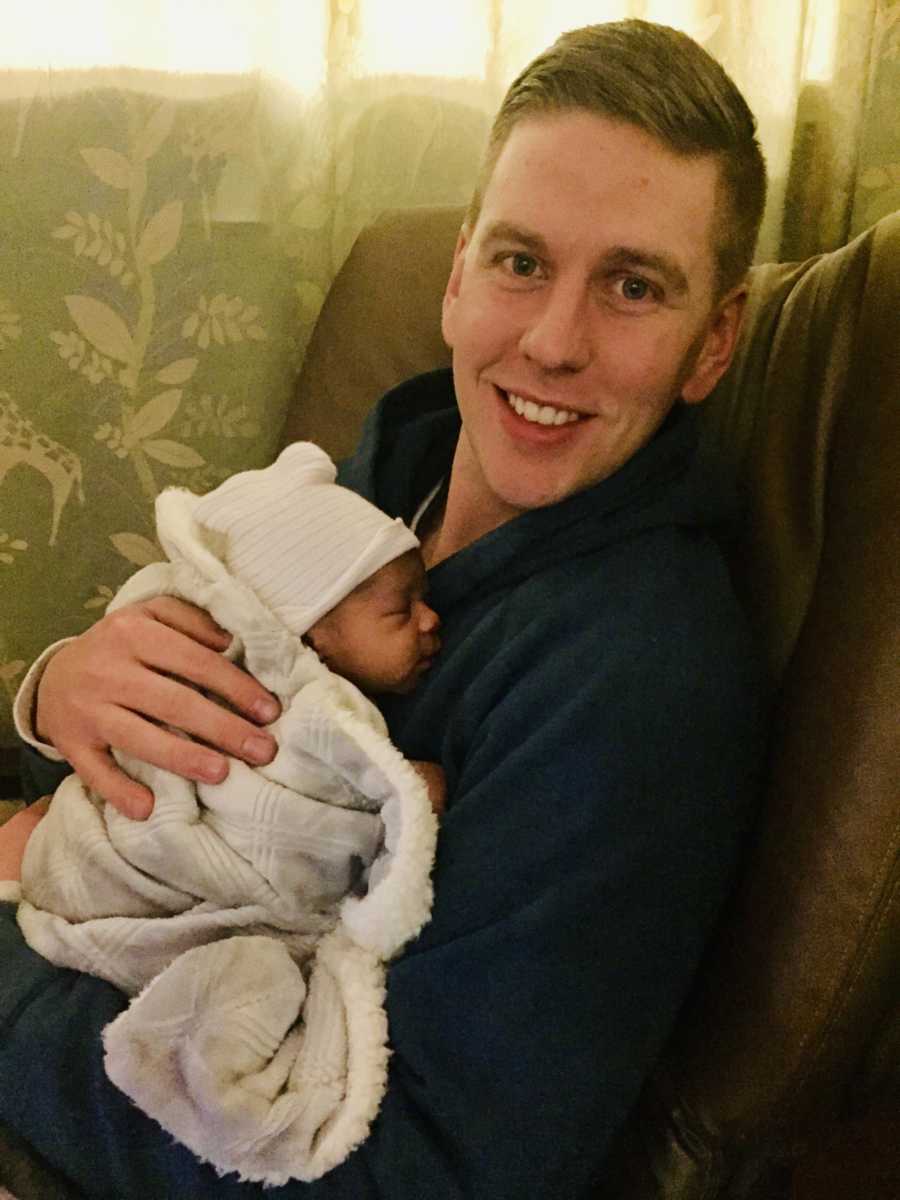 We would chat about everything; Stories about our past, expectations about Miller's future, siblings, etc. She taught me how to take care of his skin and hair and I soaked it up like a sponge.
The days passed, and I felt this divine peace, and knew he would be ours. I felt deep down that she would still choose adoption and us to parent, but I felt a deep pain and sorrow for her. After the 48 hours had passed, we were asked to leave the room so she and her attorney could go through the paper work. Once again, Ben and I were nervous, but I knew she was going to do what her Mama heart felt was best for Miller, despite her own pain. And that's what motherhood is. It's putting your child's well-being and future before your own.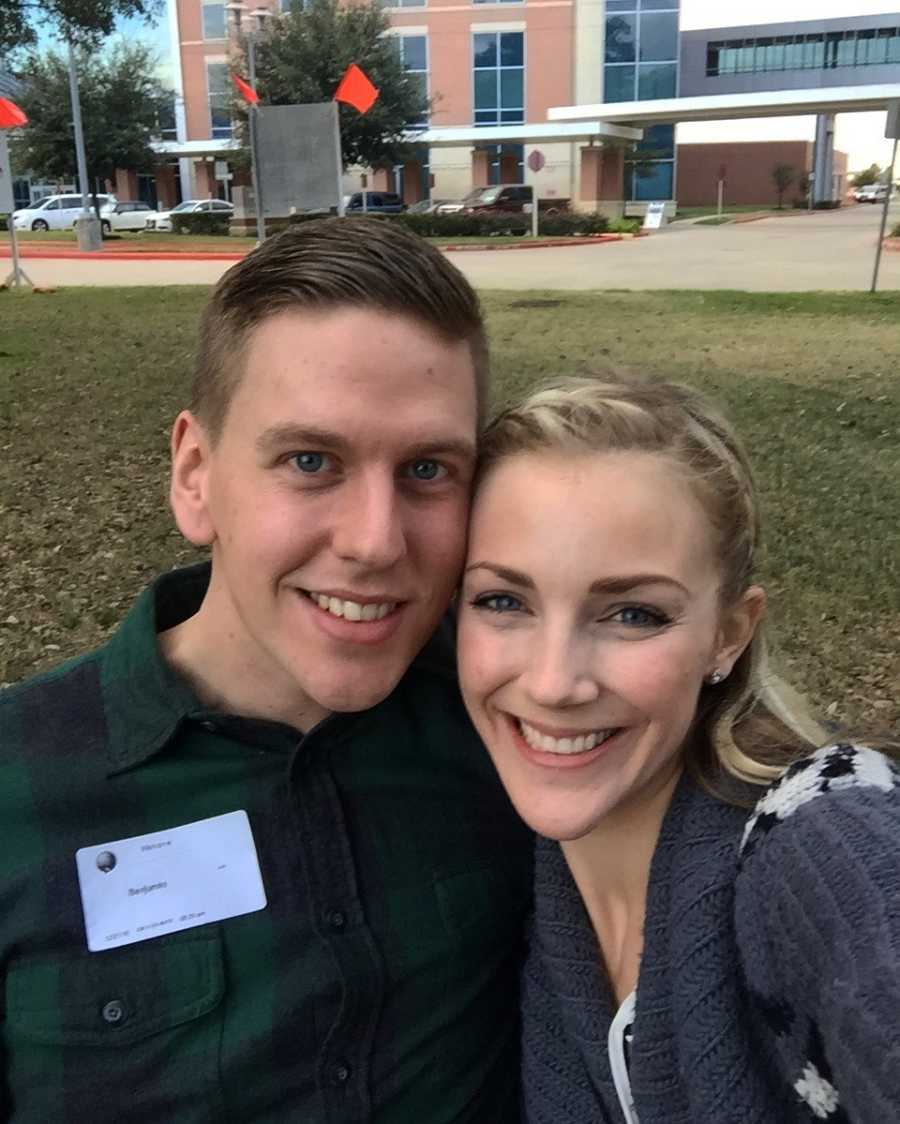 I knew that I already loved Miller. This was the child I had been praying for, for over 20 years. Love wasn't a question for me. But what I was unprepared for was the deep unfaltering pain I felt. We were sitting outside on a bench on December 22, and we got the call that Miller's birth mom signed the paperwork and we could come back in. I began to cry, not because Miller was ours, but because I knew her heart must be broken.
We walked back into the hospital and buzzed the door. I was even more nervous to see her, because I knew it might be for the last time. We walked into her room and there was Miller's birth mom, sitting there once again holding not only her son, but now ours as well. She saw us, got up, kissing Miller and we all started to cry. She placed him in the baby carrier that the hospital required to roll the baby out of the room, turned and hugged me. I tried to stay strong as she sobbed in my arms and tears rolled down my face. She then turned to Ben to hug him and we all began to cry a little harder. Before we knew it, it was time for us to go. We wheeled Miller out of the room, told her we loved her and that we would talk soon.
As she stood there watching us, sobbing uncontrollably, we had to push our son out of the room and down the hall away from her. In that moment I lost it. During my births, I never shed a tear. I'm not a crier, but I cried more that day then I ever have in my life. We were put into another room while we waited for Miller to be discharged. The nurse closed the door and I swept up Miller into my arms. I began to uncontrollably sob with the joy I had waited and prayed for, for almost my whole life. But more so in that moment, I felt something so unexpected. I was overwhelmed with a deep heartbreak for his birth mom. I sobbed and sobbed for the both of us. It was the first time I had felt the responsibility of being an adoptive Mom and the first time I realized that so much joy and sorrow could live in the same moment.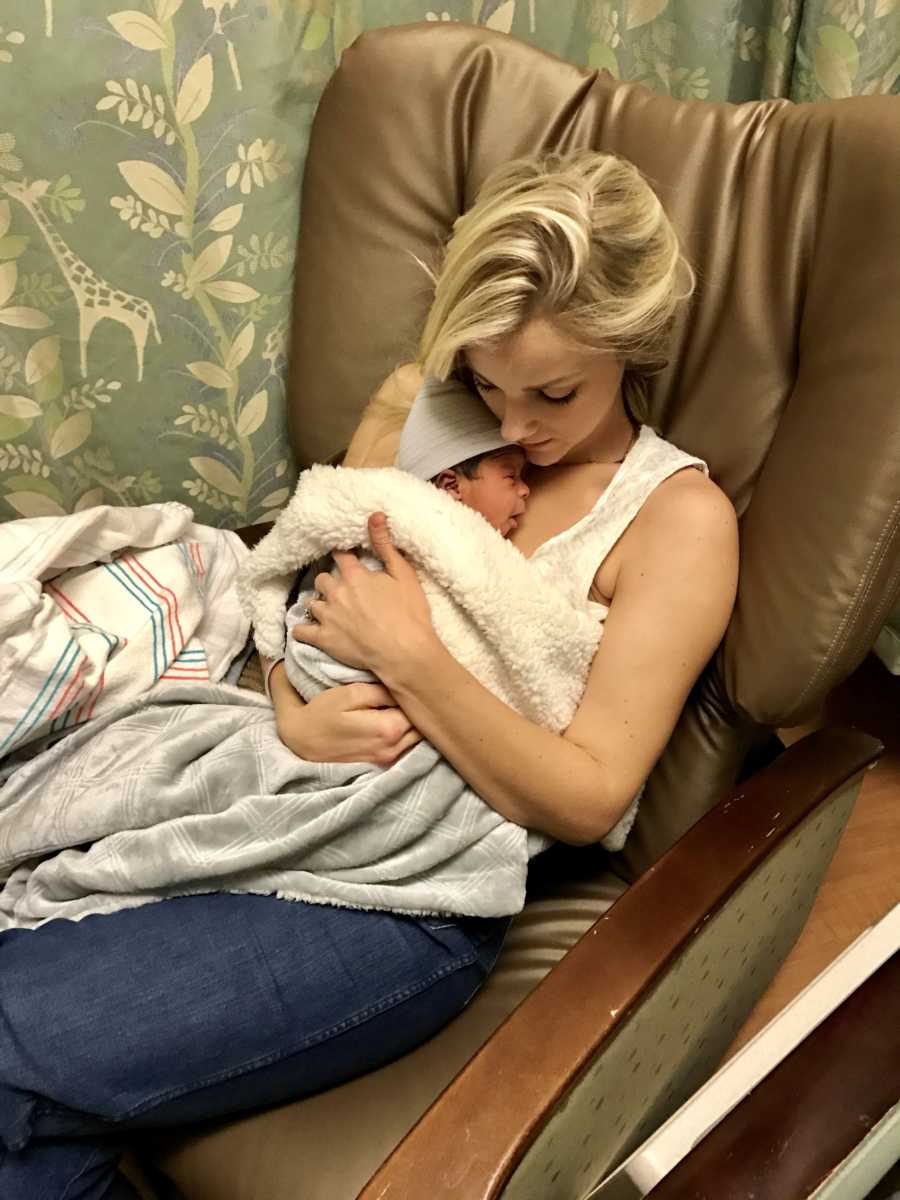 Once we left the hospital and got to our hotel, I just wanted to take my baby home, sleep in my own bed and start our life together. But because it was so close to Christmas, we were told it may take a month or longer before we could leave the state with Miller. The agency told us to get comfortable because it was going to be a long wait. We decided to drive to my parent's house and stay in an environment we were familiar with. We could make our own meals and protect Miller from more germs.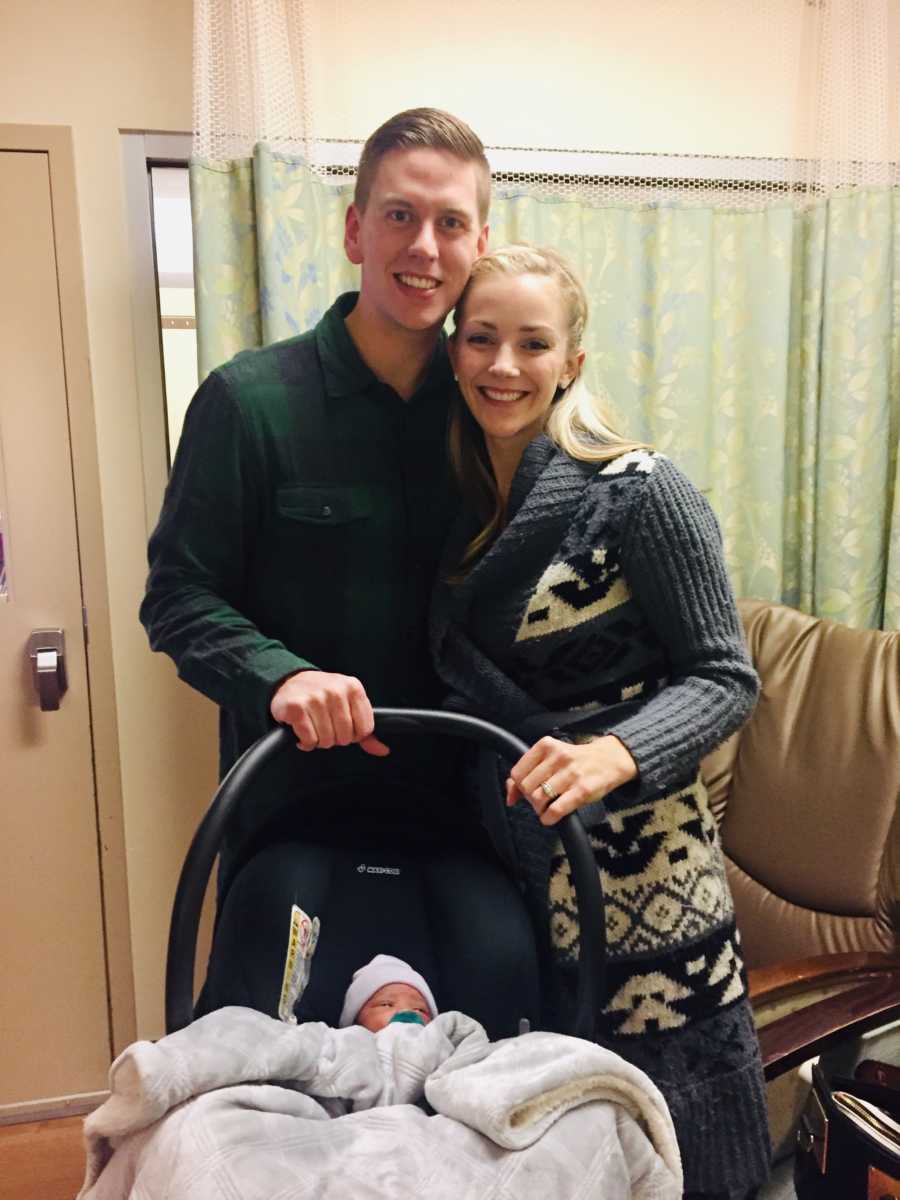 Once we arrived at my parent's house, we settled in and enjoyed our time bonding with Miller, while doing hours and hours of skin on skin, loving him fully and getting to know each other. Christmas Eve arrived and the day my parents planned to fly home was quickly approaching. We had to scramble to find sitters for our kids back home, and started planning on Ben going back to Washington to take care of them while I stayed in Texas, waiting for the state to clear us. But God had a different plan. We got a call late Christmas Eve from our agency with news that we were cleared to take Miller home! A process that was supposed to take a month took only 4 days! We couldn't find a fight out on Christmas Day so we booked a flight for the day after Christmas. We were able to celebrate Christmas with my parents and my Texas family. They were eager to meet and love on Miller, showering us with baby clothes and gifts.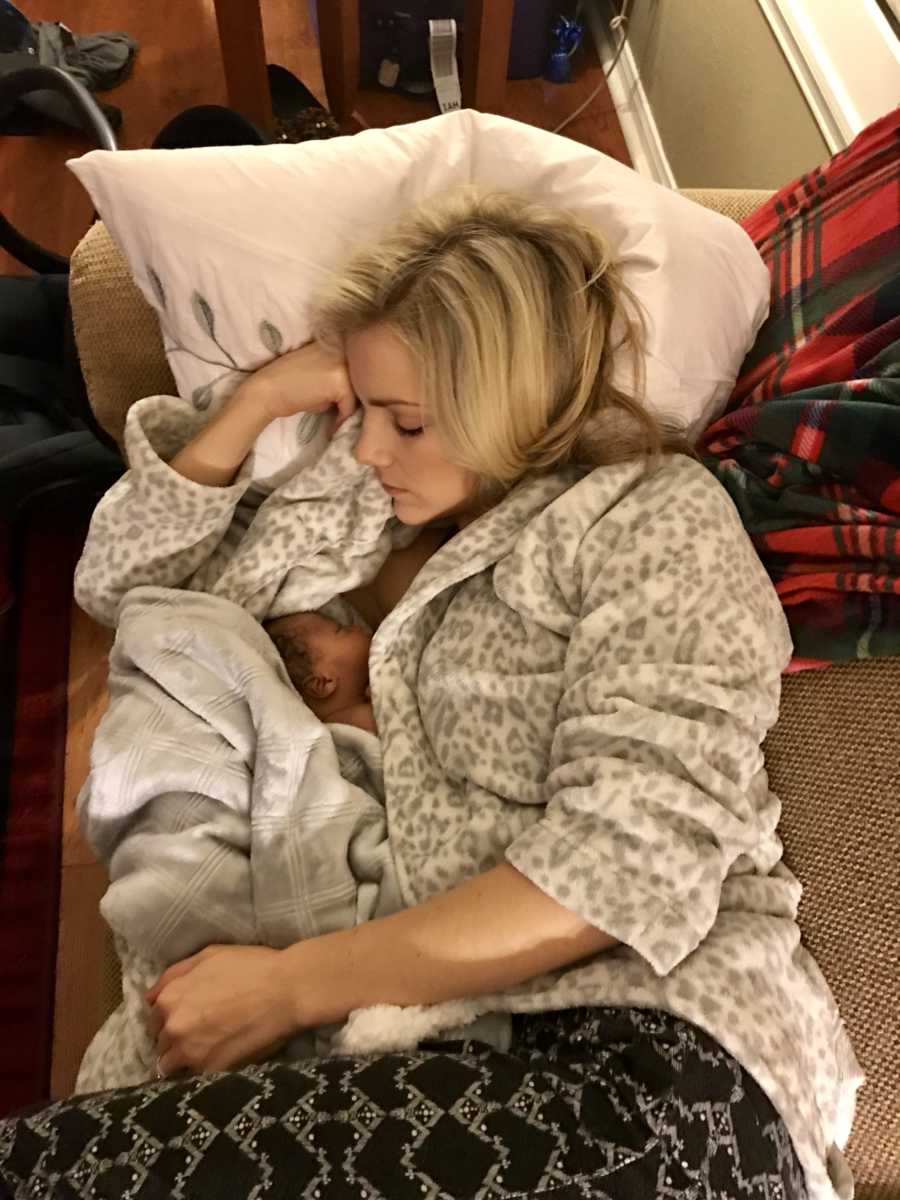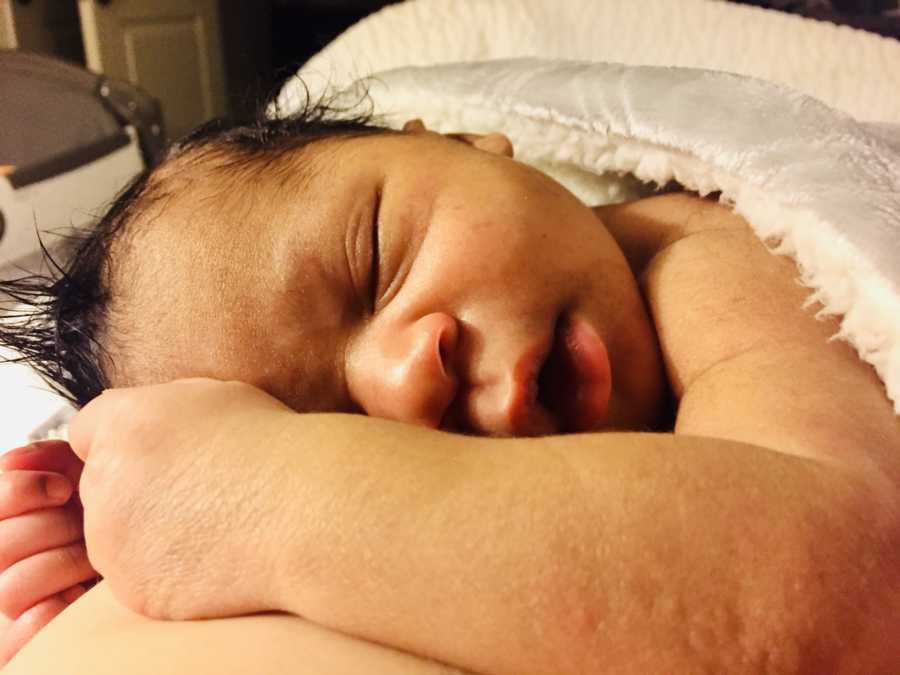 On December 26th, we hopped on a flight and flew home to be a family of 6. When we walked into the doors of our home, I was flooded by an overwhelming sense of peace. As Miller's three older siblings snuggled him and introduced themselves, we felt complete. We were home and ready to celebrate Christmas 2 days late.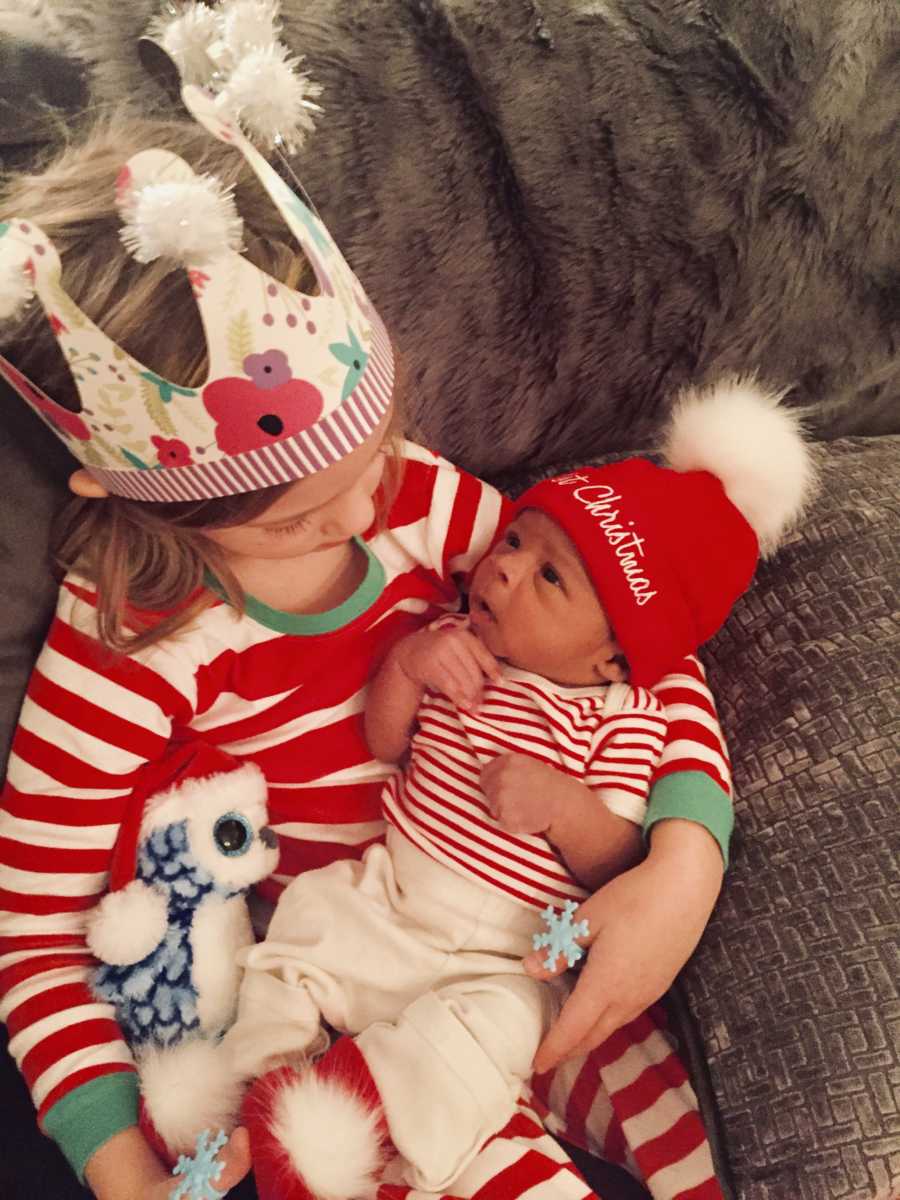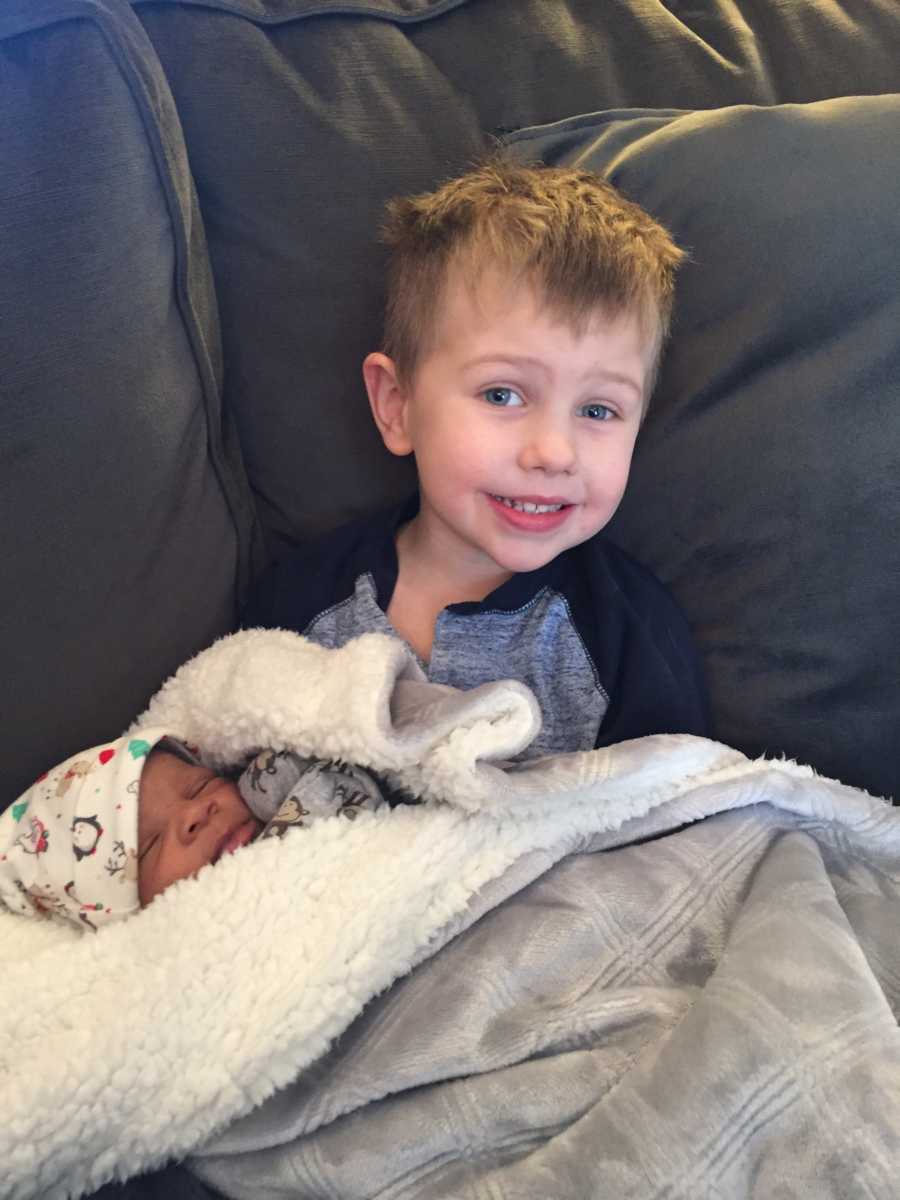 Adoption is not a question of love. It is a question of life. Miller's birth mom chose to give our son more opportunity, a family with a Mom and Dad, and a life she couldn't provide for him. She sacrificed her own feelings for our son and for that I am so thankful. We stay in contact with one another and I'm excited for the day Miller will understand all the stories I tell him of his birth mom and the love I know, without a doubt, she has for him.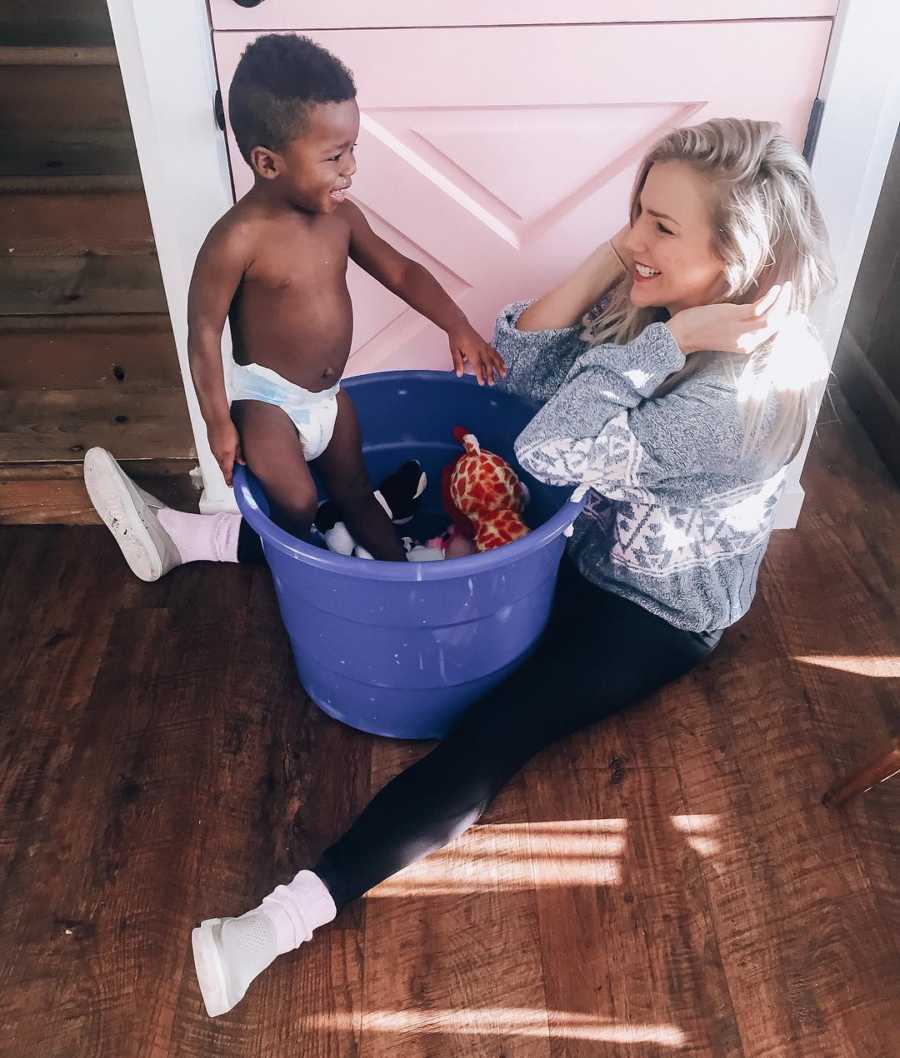 I had been praying for Miller for 24 years of my life on a daily basis. I didn't know who he was, where he would come from or what our story would look like. But now, now I know. Miller is mine and I am fully his and he is deeply loved."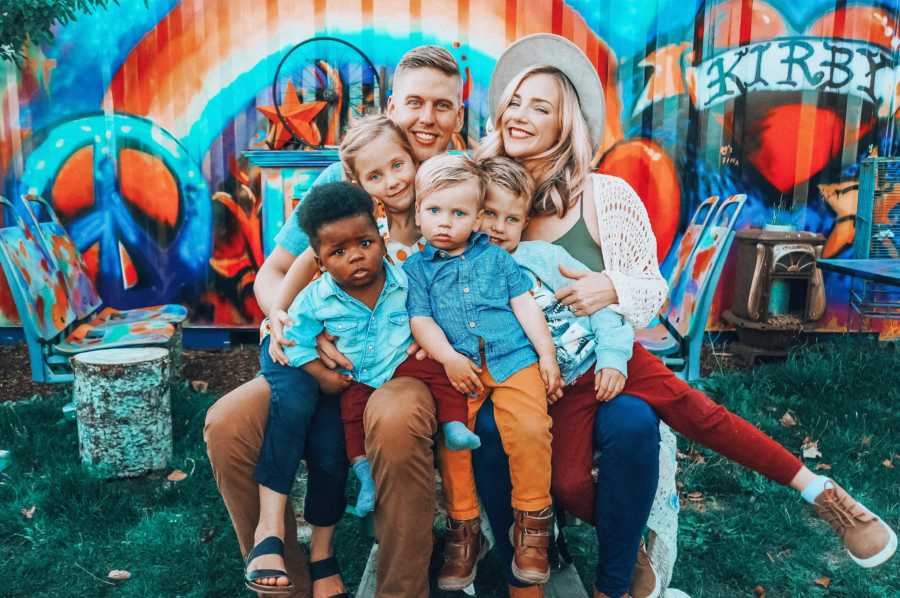 This story was submitted to Love What Matters by Rebecca Kaemingk. You can follow their family's journey on Instagram and YouTube. Submit your own story here, and subscribe to our best stories in our free newsletter here.
Read more stories like this: 
'When will we get our baby brother?' We needed $4,000 and had no idea how to come up with that money.': Couple embark on adoption 'roller coaster,' community unites to raise money
'At 18, I hid an entire pregnancy all the way up to delivery. I refused to tell anyone. I was ashamed and afraid.': Teen birth mom's candid lessons learned after choosing adoption for her daughter, reuniting with her 18 years later
'I found myself divorced and single at 40, no kids. I didn't want to wait any longer! As my adoption match fell apart, I fell in love. Life changed overnight.' Woman takes in special needs stepson after mother's sudden death
Help us show the world that compassion is contagious. SHARE this beautiful story on Facebook with your friends and family.