An incredible moment happened this morning as 13 semi trucks parked under a highway overpass in Detroit to save a man considering suicide.
The Michigan State Police came up with the clever solution to shorten the fall for the man who was threatening suicide, according to local FOX station WJBK. They organized multiple semi truck drivers to remain in place to shorten the distance the man would fall, if he were to jump.
The first call came in to report the suicidal man shortly before 1 a.m. Tuesday, the station reports.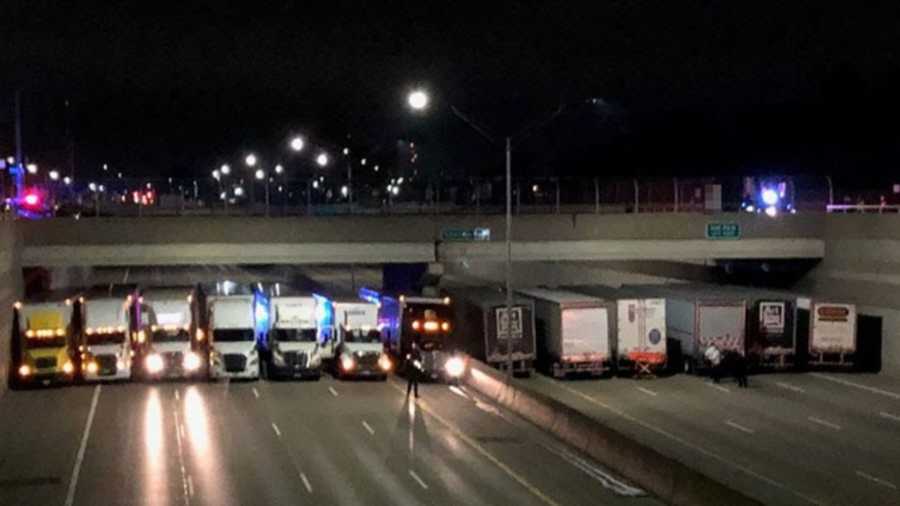 Thankfully, the man did not jump. The situation ended with the man safely walking off the bridge. He was later by taken by local law enforcement to the Beaumont hospital for evaluation, according to WJBK.
Several local law enforcement agencies were reportedly on the scene with negotiators speaking to the man for several hours before the situation ended peacefully.
If you or a loved one is feeling distressed, call the National Suicide Prevention Lifeline. The crisis center provides free and confidential emotional support 24 hours a day, 7 days a week to civilians and veterans.
Call the National Suicide Prevention Lifeline at 1-800-273-8255 or text to 741-741. Call 1-800-273-TALK for free and confidential emotional support.
This article was written exclusively for Love What Matters. Join the Love What Matters family and subscribe to our newsletter.
Read more stories about how kindness saved a life:
'They'll never know how amazing that small gesture was.': Suicidal woman in tears after stranger's kindness gives her hope
Suicide Survivor Gets Prevention Plaques Placed On Sunshine Skyway Bridge
SHARE this story on social media with family and friends.