"A friend from freshmen year of college called me out of the blue and said, 'Girl! I met your husband! He is so perfect for you and you have to come and meet him!' I thought she was crazy! My friend Jordynn was living in DC temporarily and while she was there she met Dre. She tried so hard to hook us up but at the time, I lived in Cleveland and was already dating someone. Dre was seeing someone too but Jordynn wouldn't let up. A month after that call I visited Jordynn and of course, she invited Dre to hang with us. During my trip, I found out my current boyfriend was cheating on me and I was really hurt.
Out of pity, Dre took me out on a date and we actually had a GREAT time. But I talked too much about my ex and quickly hit my drink limit… let's just say, the night didn't end so well. I was a hot mess. The next day, I went back to Cleveland, and Dre and I ended up losing touch. Life happened and 8 months later, I was planning to move to DC to expand my business to the DMV area. I remembered that Dre worked in property management so I hit him up after all those months for help with finding a place to live.
The weekend I visited to see some places, we had dinner together. It was at that moment that I realized that Jordynn might not have been crazy when she said he would be perfect for me. When we first met, neither of us were in a place where we would have been able to date. I was ending an unhealthy relationship and he was entertaining situations of his own. I was also such a mess that he didn't get a chance to really get to know me. At this dinner, we realized how much we had in common and how attracted we were to each other. From there, we continued to get to know each other and before I knew it, we were dating.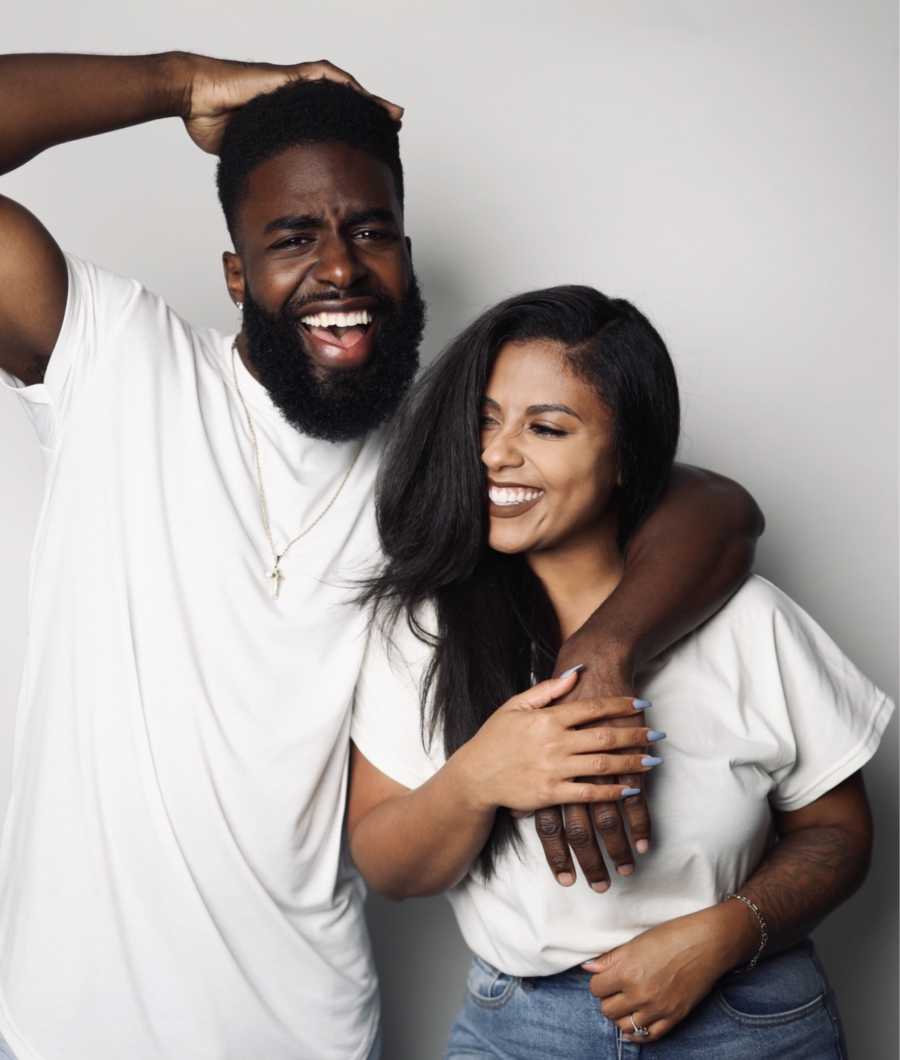 We were only dating 2 months (long-distance) when he said, 'I have something I have to tell you.' I was so nervous! He seemed too good to be true, so I figured there was some big bomb he was dropping on me. I drove from Cleveland to DC in the middle of the winter in hopes that his news wouldn't be bad… But I had a secret of my own, too.
I had made a vow to abstain from sex until I was engaged. I wasn't sure if this was something Dre would be okay with. So before spilling the beans, I allowed him to tell me his part first. He said, 'I really like you and see a future with you which is why I have to tell you this. I made a vow to God that I would wait until marriage to have sex.'
My mouth dropped. I was surprisingly overjoyed. Even though I didn't expect to wait for marriage, I was so impressed he made that choice. I thought it would be hard to find someone to wait for me and here I was with a man who was everything I wanted and more with a bigger commitment than mine. My exact words were, 'God is funny!' I explained to him I have been abstaining from sex since my ex and that I was afraid to tell him because I didn't think he would accept the fact I wanted to wait. It felt like both of our worlds aligned just right, and at the perfect time. We laughed about how we were both in such different places when we first met. Never would have thought we would be where we were at that moment.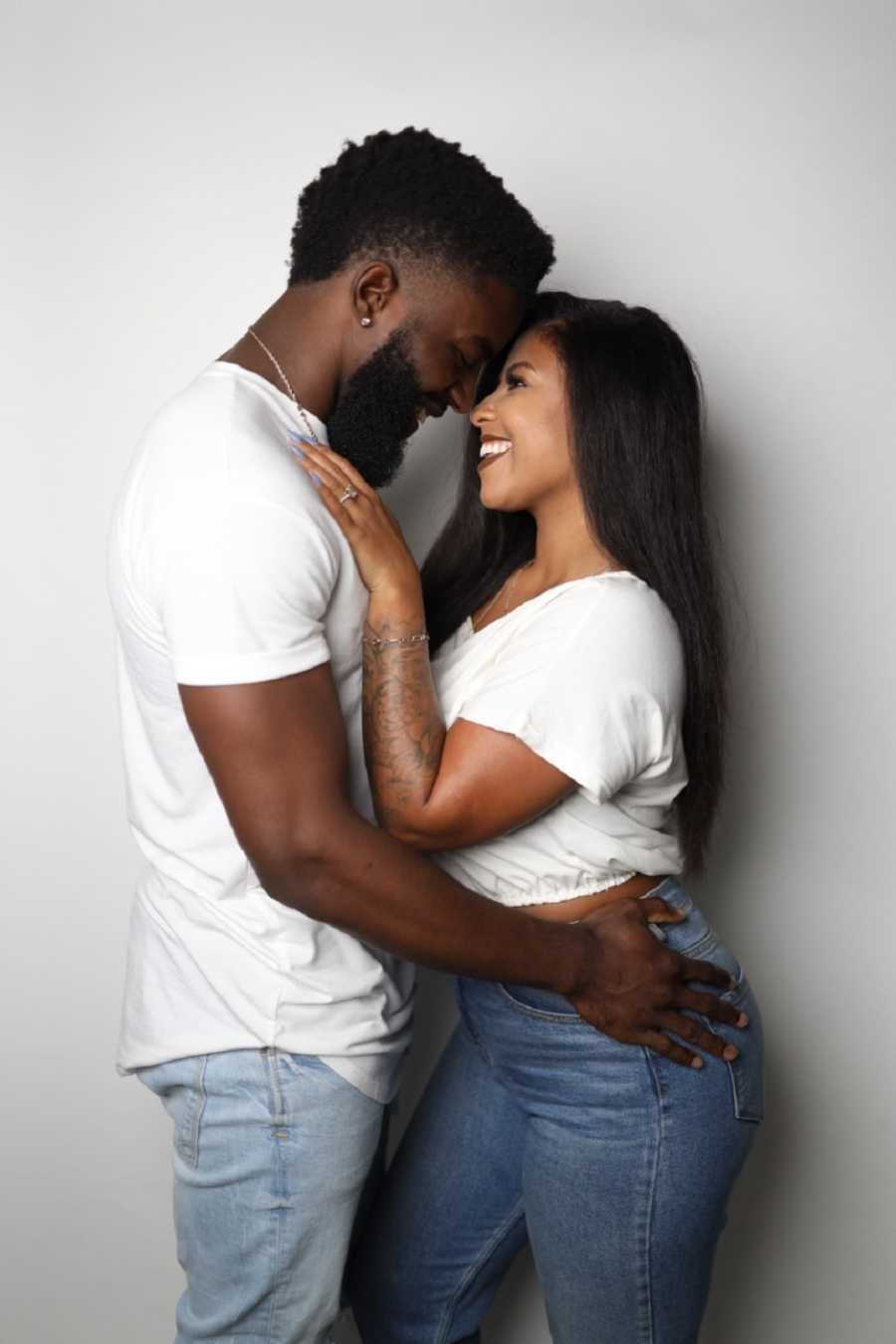 The moment felt unreal! He felt God sent! We spent the entire night talking about the commitment that we were making together and the journeys that led each of us to this current point.
Dre grew up in the church, parents are Ministers and he's always had a strong relationship with God. He wasn't a virgin, far from it. He was a college football player who had plenty of fun in his days but was ready for a change. He says, 'Any time I do things God's way, it always turns out better than I expected.' He wanted what his parents have, and was willing to wait as long as it took to meet the right person. He was tired of having physical relationships that lacked substance. He was having sex with women who he saw no future with or really cared for. He wanted something that was real. He wanted to find his wife.
I, on the other hand, was lost as a person. I didn't have strong faith, had my share of crappy men and was starting to lose hope for real love. My past relationship was so unhealthy I decided I needed to spend time getting to know ME, building my relationship with God and eliminating sex so that I could find the right person who was willing to commit to me and be intentional about building a healthy relationship. In my past, sex only confused things. I wanted to have more control and not just give myself to just anyone. I would confuse sex with love. I would confuse physical intimacy with intimacy itself. I realized if I would have taken things slower in my past relationships, I would have been able to clearly identify the red flags and left when I should have.
We continued dating long distance and a couple of months later, I moved to DC. A year later, he popped the question. It was the best day of my life! He surprised me by flying out my family and friends and setting up a surprise rooftop proposal. It was so perfect! The women were dressed in white and the men where dressed black (just like I want on my wedding day). He filmed the entire thing so that we can always remember and share this day.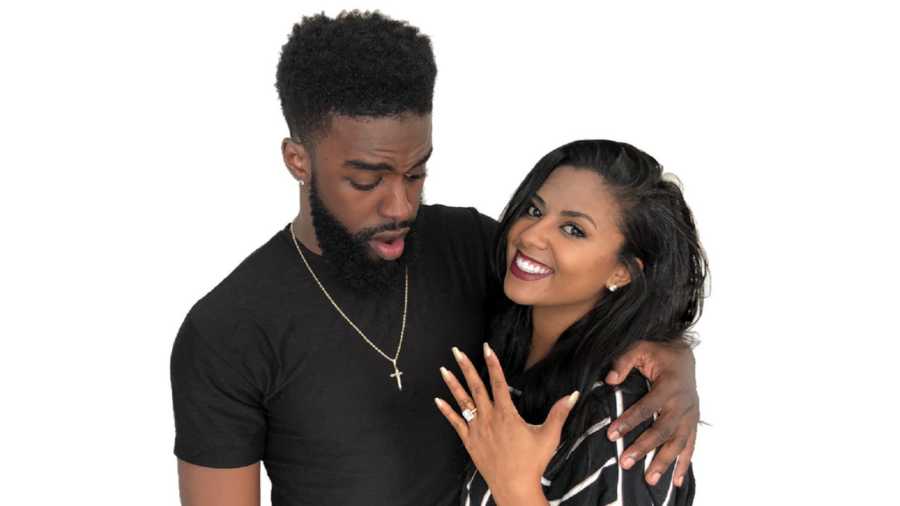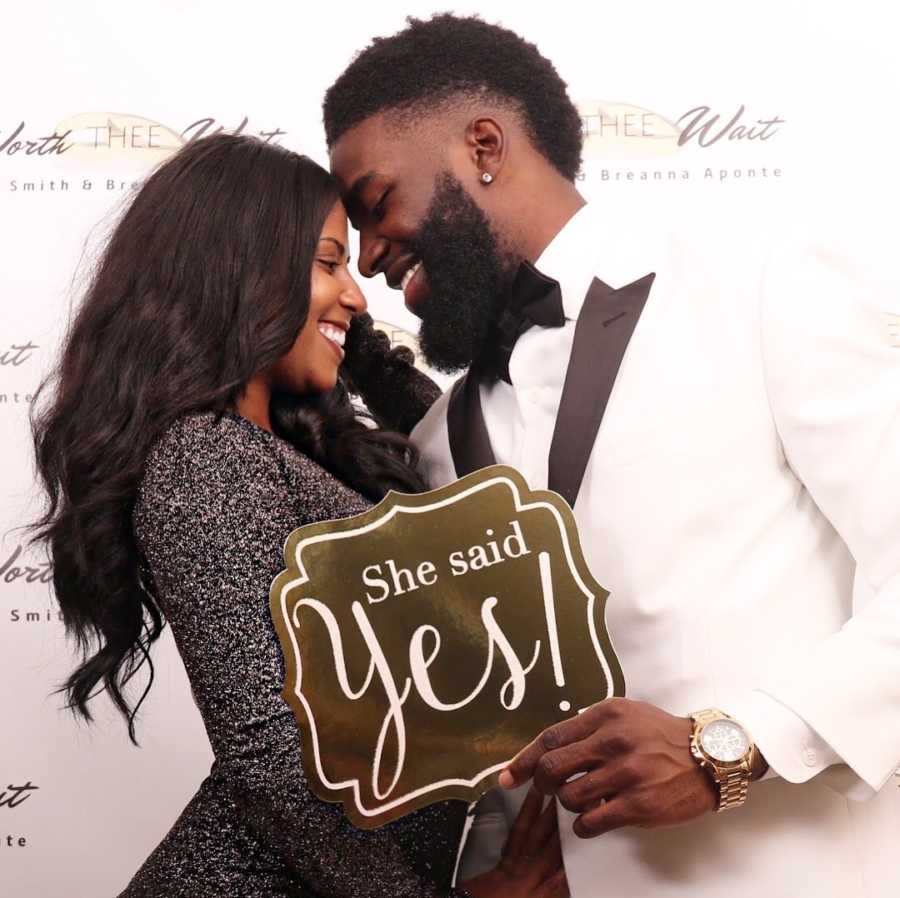 Proposal Youtube video here.
At this point, our family and friends were so supportive of our wait because they could see how happy and healthy our relationship was. We became an example to not only our friends but people all over the world. We started a YouTube channel where we share our journey with full transparency. So many are inspired by our story and are on their own journey of waiting. Others doubt we are still waiting, which is totally understandable since it's not the 'norm' now, but we use the platform to have open and honest conversations surrounding relationships, sex, love, and God.
Since our engagement, we have quickly excelled in life, in our businesses and in our relationship. We have a beautiful home in Tyson's Corner, Virgina, and our own office space. We have expanded our staff, reached new financial goals and have been scaling our personal brands. We truly make a great team!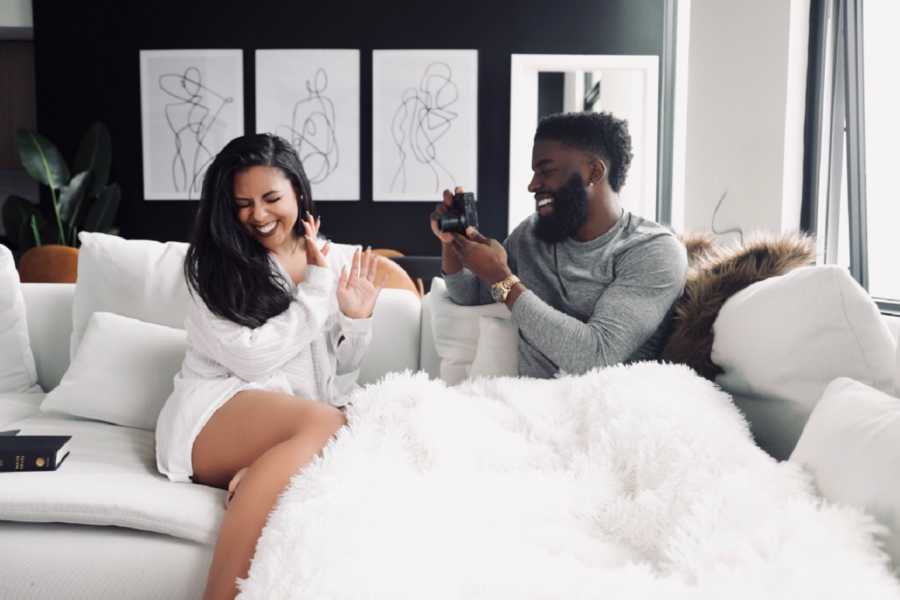 We are now 7 months away from our wedding day (which was pushed back due to Covid), and have gone 3+ years of waiting. Our relationship and lives are so beautiful because of it. Waiting has allowed us to build a relationship on a strong foundation which keeps God at the center. We are just one example of how when you trust God, all things work out!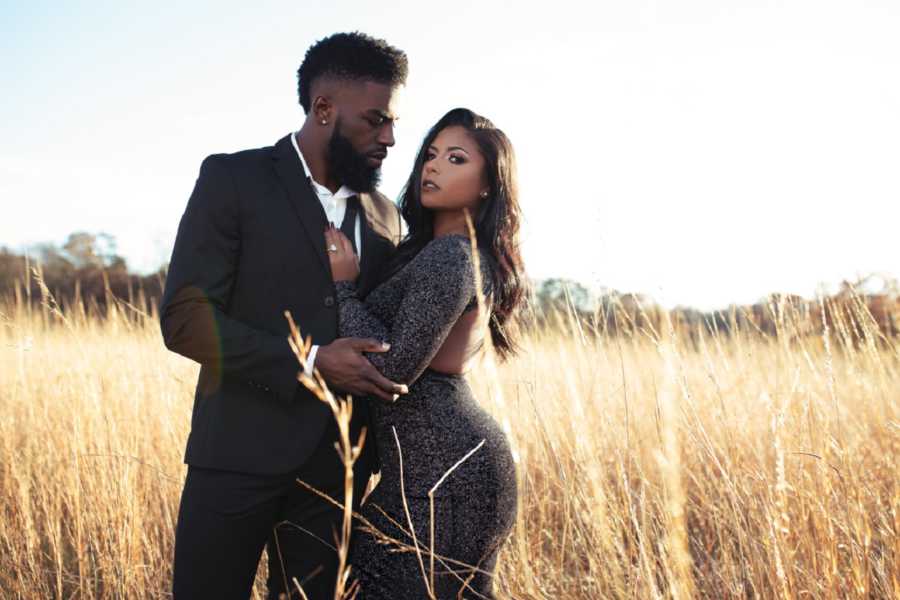 We get the question, 'What advice do you have for others who want to wait?' and here's my advice:
1. If you are single, understand that not everyone will understand or accept your choice to wait… so you have to be willing to be patient.
2. Know your 'why,' otherwise you'll struggle to commit to the wait. Our 'why' outweighs momentary pleasure, that's why we've never slipped up or lost focus of our commitment.
3. You AND your partner have to believe in the 'why' and want to commit. It's a team thing. If one person isn't really in it for the long run, they will end up encouraging temptation.
4. Set boundaries! You have to know what tempts you and set up boundaries for you and your partner. For example, Dre and I don't french kiss, we don't touch private areas AT ALL and we don't get drunk together. Without those 3 things, we have never come close to slipping up.
5. Stay busy!!! Time flies by when you're setting and reaching goals & spending time with people you love!"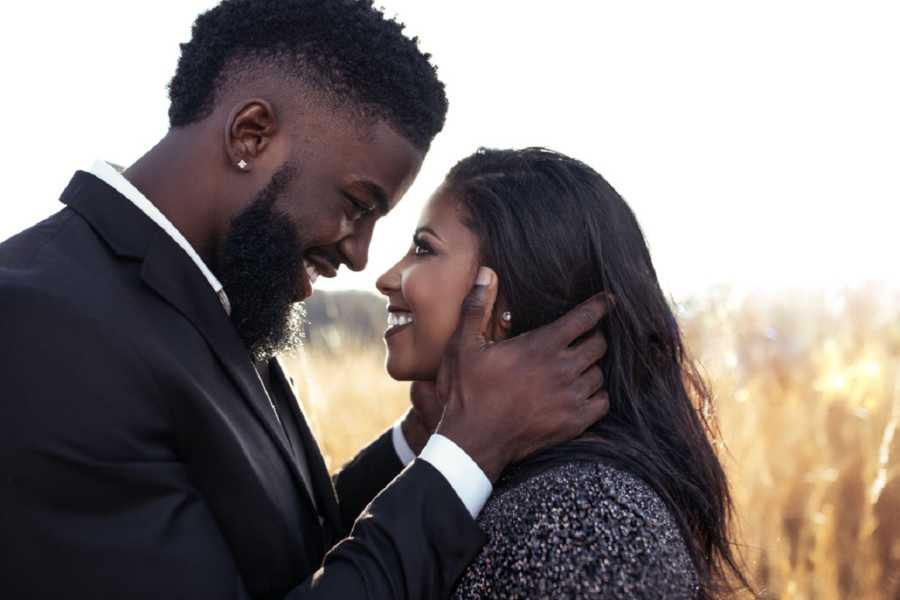 This story was submitted to Love What Matters by Breanna Aponte. You can follow their journey through Breonna's Instagram, Dre's Instagram and their Youtube. Submit your own story here, and be sure to subscribe to our free email newsletter for our best stories.
Read more stories about love:
''Will you ask her to marry you?' My dress was overnighted. Mom helped dad into his suit. I choked on tears.': Woman creates father-daughter dance before dad's passing, 'He always chose joy'
Please SHARE this story on Facebook and Instagram to spread love.