"When I was 25 I met a gorgeous guy. He was tall, handsome as hell, and funny. Perfect catch.
He wanted to spend every second with me, and I loved that. I hated the game and couldn't think of anything worse than denying what you felt.
But pretty soon the cracks started to show.
It first started when we were out, and I met his friends for the first time and one of them told a joke and I laughed, my amazing boyfriend glared at me, and told me that if I wanted to me could go home because I probably needed to study for upcoming exams. He started making fun of me when I spoke, imitating my voice. I was embarrassed and left soon after.
I woke up to thousands of texts begging for forgiveness with apologies for a bad mood, and I forgave this amazing guy. Everyone screws up once, right? He was otherwise perfect.
But it happened again… until one day he told me I wasn't allowed to come with him to see his friends. In fact, I wasn't allowed to see my male friends either, because they all had hidden agendas.
I was studying for exams and really wanted to do well, I used to go to my university's library to be free of distractions, I switched my phone off.
When I left the library, I had 86 messages. All from my amazing, perfect boyfriend. The charming guy who accused me of cheating and not loving him enough. I went to immediately reply but jumped into my car quickly as I could feel someone was watching me while I walked from the library. I received a phone call asking why I had started writing a reply and not finished.
My amazing perfect boyfriend apologized, said he was just worried for my safety. And I forgave him. He never hit me or anything, he was just really in love and protective, that's all it was.
The night before my exams I was at the library again. I made sure I didn't switch my phone off and I answered all the texts. I was a trustworthy girlfriend. I was a good girlfriend. I was loved, and I didn't want to lose that. I thought I was lucky enough to be loved. He asked me again where I was, even though I had told him and reassured him.
But then I saw him outside the library, looking for me through the windows. Making sure I was there. I met him outside and he told me he wanted to surprise me and couldn't understand why I was freaked out. I told him he was starting to scare me.
It didn't stop. I was followed to work, to college, followed in my car.Always for my own good. 'This was love, wasn't it?' Because that's what he would tell me.
This was me being lucky to be loved.
He started to tell me that I wasn't a good girlfriend. That I was not worthy, and I was lucky to have him. That I would break his heart every day. That I could stand to lose a few kilos, and dress more appropriately. I told him I wanted to leave because I wasn't happy, and he told me he wanted to end his life.
My friend said to me, 'you're in an abusive relationship, get out'.
But I knew what abusive relationships looked like growing up, this wasn't it. It took me three months to break free from this 'amazing perfect guy'.
But it wasn't until I was loved properly that I realized how bad it was and how much worse it could have gotten.
I was loved by a new boyfriend, who is now my husband, who never asks me where I am repeatedly, never tells me I'm a liar. Encourages me to go out with friends, makes friends with my male friends, encourages my dreams, my hopes and holds all my curves and tells me I'm perfect. He doesn't yell and doesn't watch me outside the library like a freak. (Not that I go to the library anymore lol) but This is love. Not that other stuff.
Ladies, abusive relationships don't always have to be physical. It can be something just as little as being followed, being told you're a liar or that you'd look better in looser fitting clothing. It's whatever makes you feel like shit and that you have to act a certain way to be worthy of love, or that you have to be accepting of things that make you feel scared. You don't.
The way you are is worthy of love. The way you look is worthy of love, and if it is love that you want, believe me you will meet someone one day that will love your freckles, your dimples and your independence – who will never be threatened by your looks or your personality but rather be in awe of it, because you are worthy of that and more.
Your Clyde to your Bonnie – without all the violence and crime and all those other things."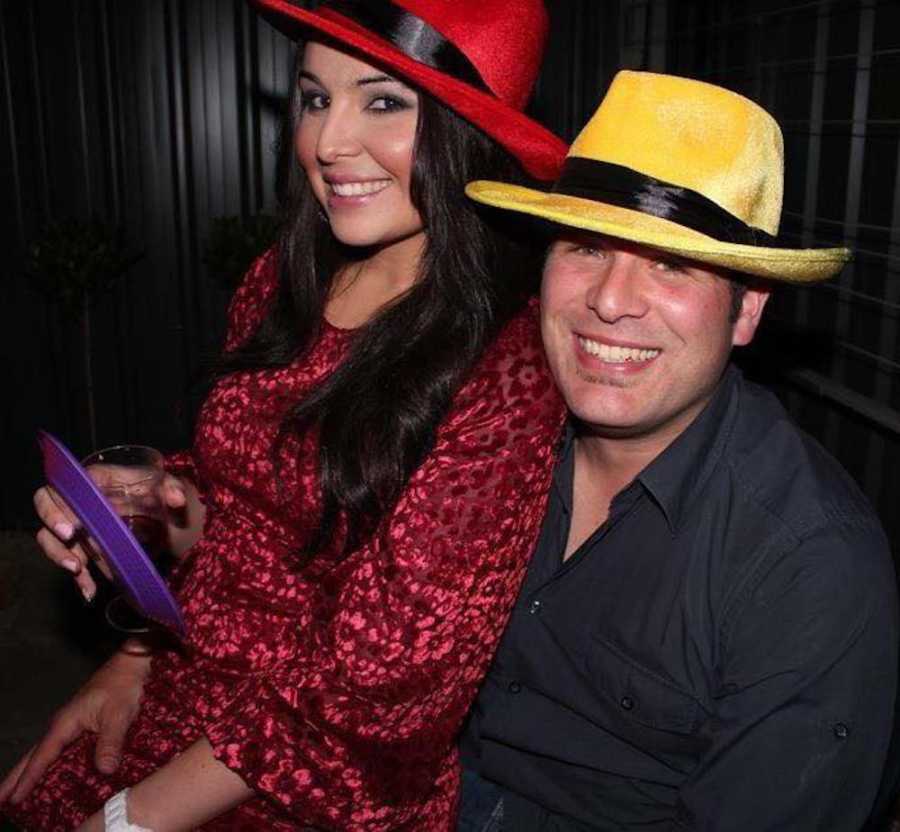 This story was submitted to Love What Matters by Laura Mazza of Mum on the Run, where it originally appeared. Submit your story here, and subscribe to our best love stories here.
Do you know someone who could benefit from this story? SHARE this story on Facebook or Twitter.