"I'm not quite sure how to put into words the emotions I'm feeling right now. Devastation, heartbreak, fear? I don't think those words come close.
My son Josh was born in 1993. He was a sweet, quiet and easy-going baby. As the years passed and he began school, his true compassion began to shine. In kindergarten he became friends with a little boy named David. These two were almost inseparable. David was a special needs child. He spent the majority of his young life in and out of hospitals, he had a multitude of health issues. His means of getting around was an electric wheelchair. My son Josh took to him like peanut butter and jelly. The two of them would get scolded by the teachers when David would give Josh a ride down the hallway on his wheelchair, but at the same time, the teachers would praise Josh for his compassion and love for his friend. They would spend hours together playing video games and having sleepovers. Josh spent so much time with his friend, he knew his medicine dosage and oxygen level setting, that the teachers knew if they had any questions, Josh could answer them.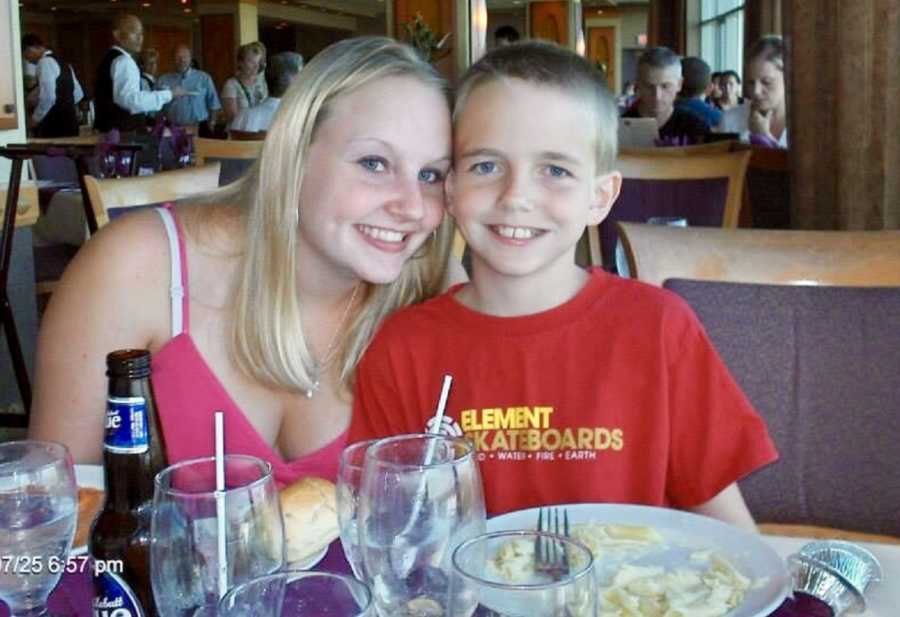 As the years went by, Josh never allowed anyone to make fun of David or say anything negative about his situation. Every year, the high school would have their homecoming parade up the street near our house. The boys would excitedly zip up the road on David's wheelchair and Josh would be armed with two bags to gather candy for both of them. Josh would tell the people on the floats that he needed double candy, because he was collecting his buddy's candy, because he was unable to do it on his own. I couldn't have been more proud of my son at that very moment.
Unfortunately their friendship would come to a devastating end in 5th grade. David's health was failing and so were his lungs. He was placed on a transplant list, but his little body wasn't strong enough to make it. This was such a huge blow to Josh. When he found out his best friend had passed away, Josh turned to paper and pen to put his emotions to words. He wrote the most beautiful tribute to David. The school principal had Josh read it during the morning announcements the day of his best friend's funeral. The strength he showed that day was unwavering. The teachers and staff, along with myself, couldn't contain our tears.
Immediately after the funeral, I had arranged for Josh to start seeing a pediatric therapist. I knew he was having issues dealing with his loss and I certainly didn't have the knowledge to help him, besides being there to love him and reassure him. He went to therapy for a few months and the therapist released him. He seemed to be doing well.
Middle school came and went without many issues, then high school arrived. His grades weren't excellent, but he was passing everything. He never wanted to apply himself, yet I knew, and so did the teachers, how smart he really was. His junior and senior years were challenging to say the least. He would skip school and his grades were getting worse. I'm certain now, that this is when his addiction began. Josh became more private and secretive, yet when he was around us, his humor and compassion was still there. Somehow he managed to graduate and told us he wanted to take a year off before he went to school. We were fine with that as long as he was working.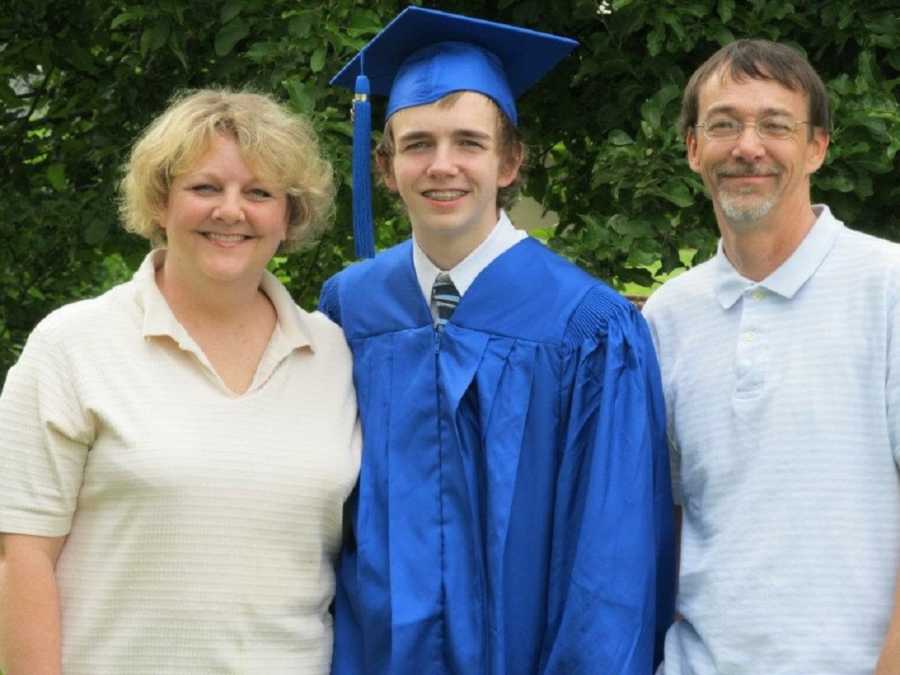 During this year, he would come and go from work and hanging with his friends, and we were none the wiser. I'm not quite sure how far into drugs he was at this time, or what type of drugs.  See, I've never been around anyone that was an addict and I had no clue what the signs were.
2012 had arrived and my daughter got married, and we were expecting our first grandchild by the end of the year. She and her husband were both teachers and neither of them wanted to put their daughter into daycare at such a young age. Josh stepped up and offered to be their live-in nanny for their daughter. So I moved him halfway across the country just days before his beautiful niece would be born. He's always loved little kids and had great patience taking care of them. This little girl couldn't have had a better uncle! The bond these two have is beyond anything I've ever seen. He stayed with them for the first 1.5 years of her life. He helped her learn to rollover, crawl and walk. He was amazing with her.
He made a choice to come home the spring of 2014. He was ready to get back to work and go to school. Unfortunately, this return home would be the beginning of our biggest nightmare.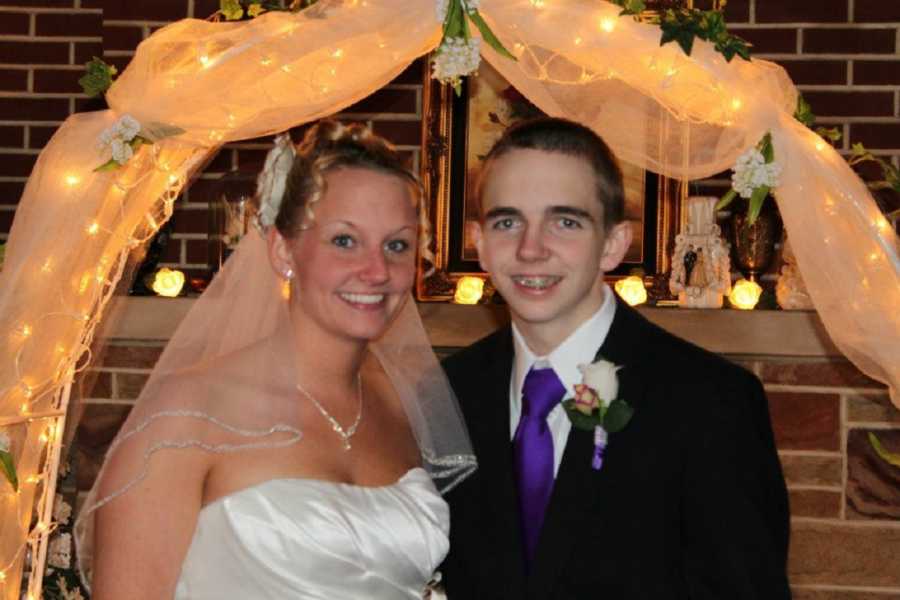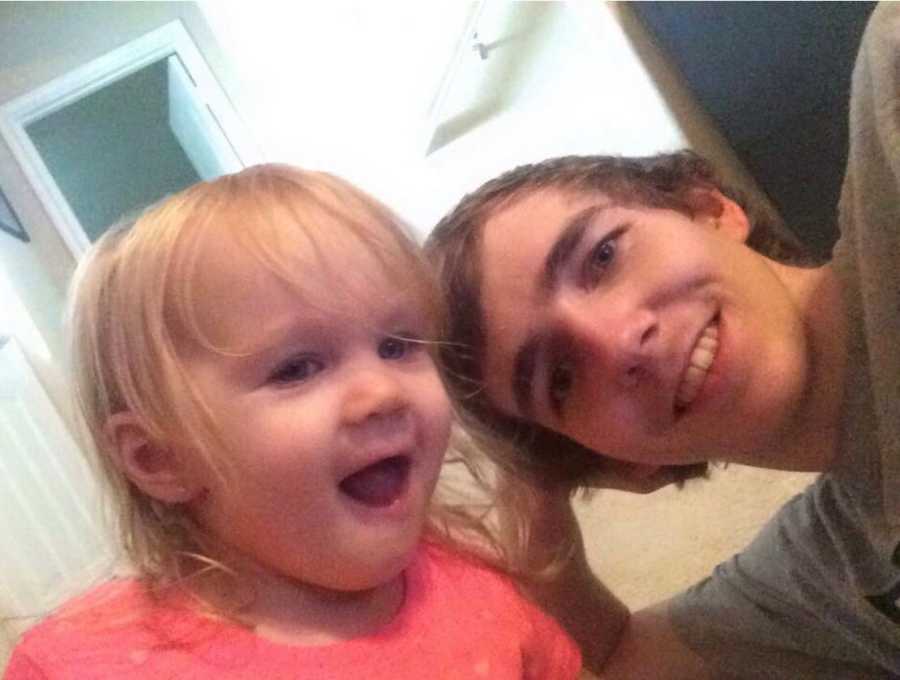 I'm pretty certain by the fall of 2015, Josh's addiction was growing. Impatience and easily angered moods were becoming more apparent as I look back. Something that Josh NEVER was like. He tried his best to hide his 'SECRET' from friends and family, but by the fall of 2016, more signs were falling into place. He was late on car payments, which shocked us because he was so proud he was able to buy a new car. The mood swings, quick temper and being secretive were all traits that were not his norm. We tried to approach him so many times. We would ask if he was having problems that he wanted to talk about, and as our radar was going up, we began asking him if he had a drug problem. He was so convincing that he wasn't. He was hurt that we would even think that. We then felt guilty for assuming such an absurd idea. OUR SON, would never be involved with drugs… RIGHT? We started noticing money here and there disappearing, not just from the house, but our bank account. Then larger amounts, then enough to put us in financial difficulty. We were now certain.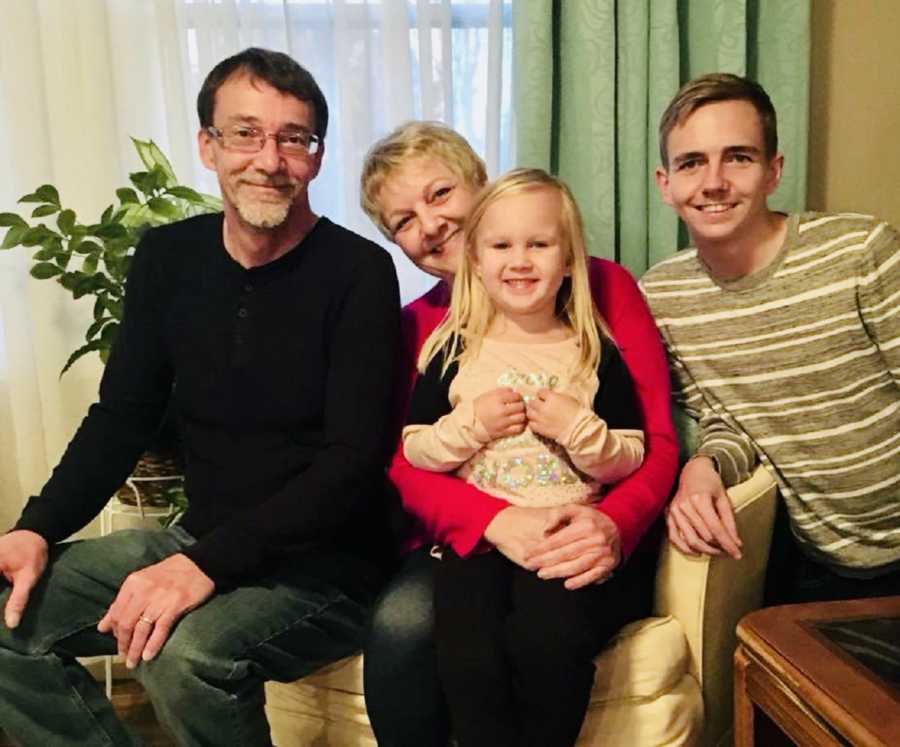 The end of January 2016, we confronted him. We told him he needed to be honest and that we could get him help. He finally admitted he was addicted to oxy. Little did we know, he was actually already using heroin. Our uphill battle was just beginning. I had no clue how to go about getting him into rehab, let alone pay for it. I had no clue how to handle my own emotions within myself, towards my husband and my daughter. This was all foreign to me and I felt as if I was drowning. I was saying the wrong things to the ones I loved most, or not asking the right things of my loved ones. It felt as though I was continually hitting speed bumps and there would no longer be a smooth ride ahead. I had no idea the strain this would put on my marriage, and my beautiful relationship with my daughter. My son's addiction almost ruined both.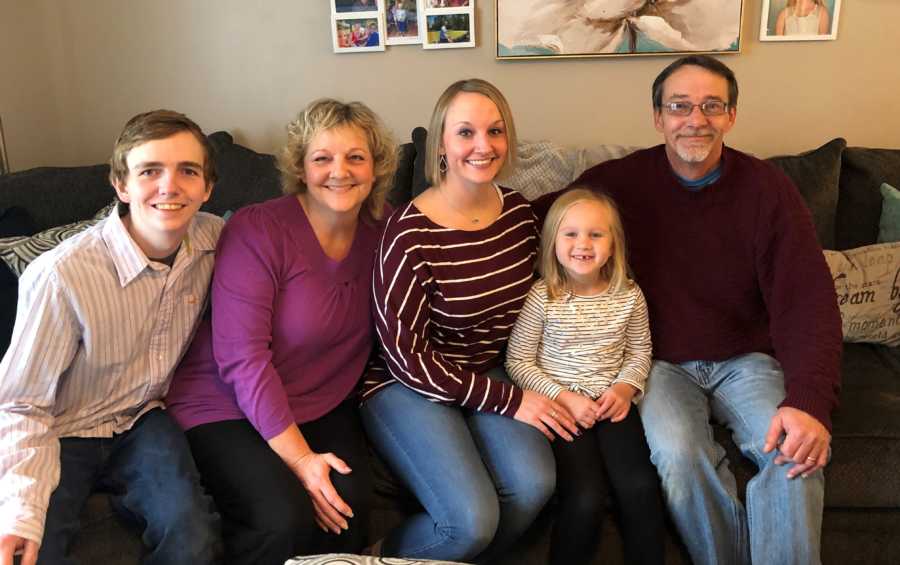 It took me two days to finally get a YES, we can assist you. He went to detox for 4 days and we had to go get him, because they didn't have a bed available for a 30 day stay. I was naive and actually thought, 'WHEW! He is detoxed and he will be good!' Boy, was I wrong. He spiraled even more over the next 2 months. We found a long-term rehab out of state, and in April we took him there. He spent 3 months there. The transformation he went through was unbelievable!  He had put on 30 lbs, his eyes were alive again, he had a genuine smile. He had found God!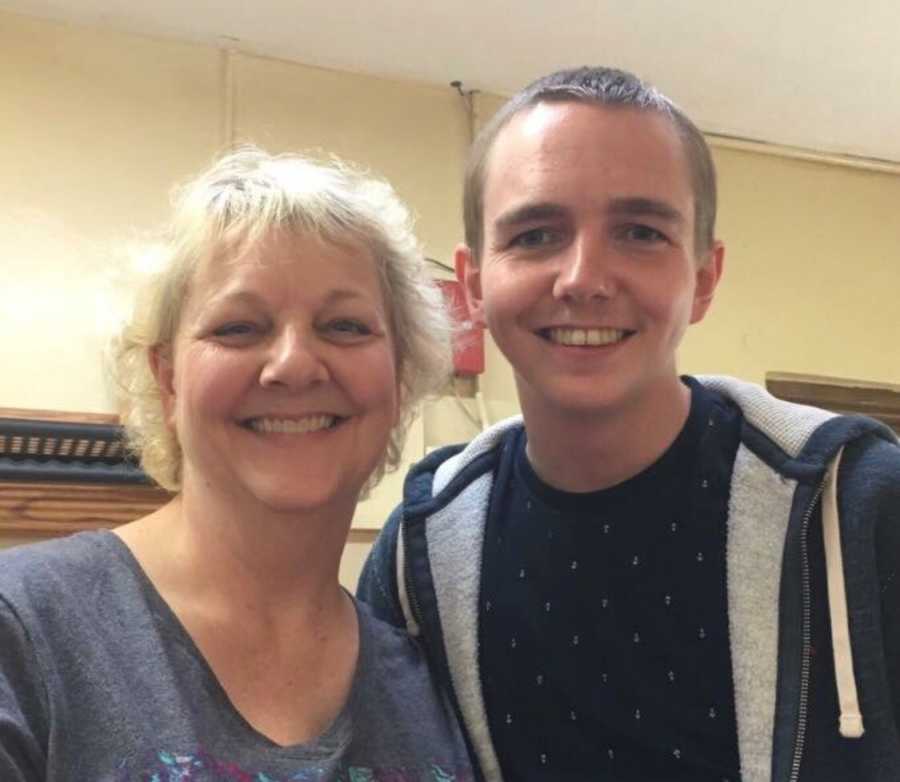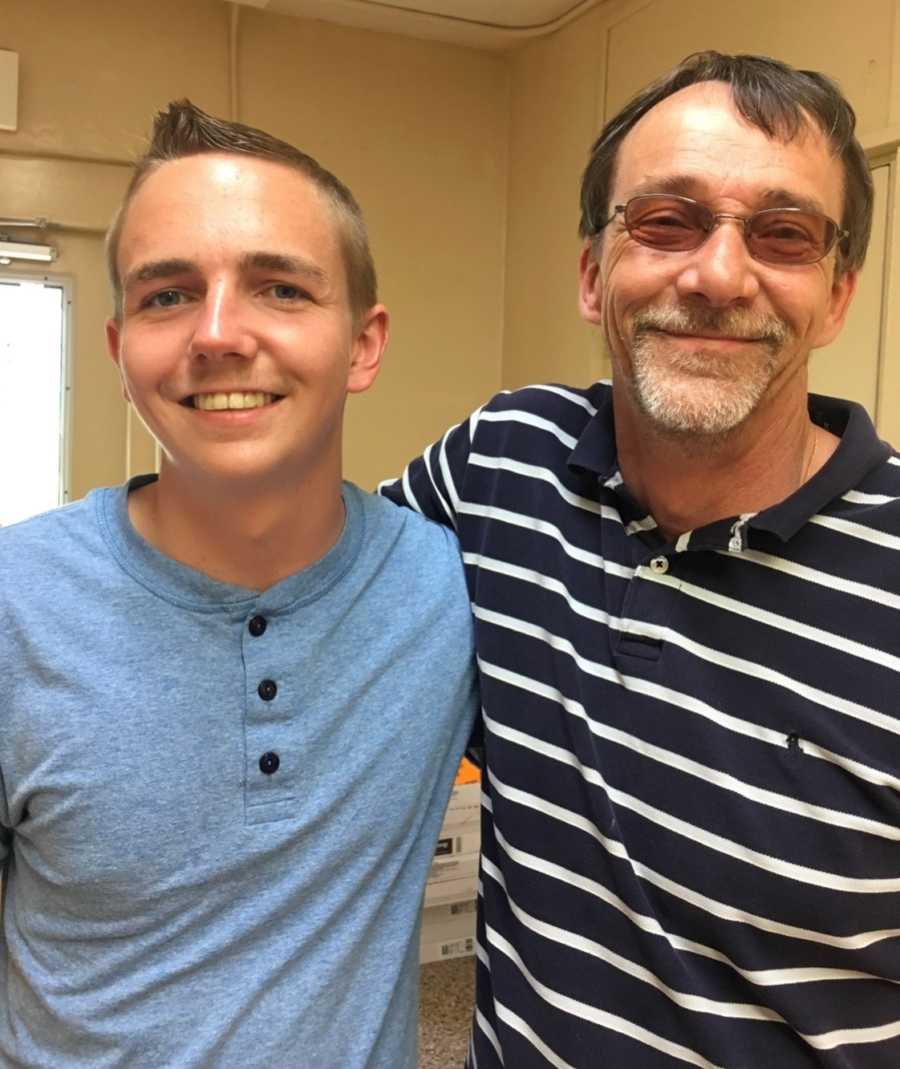 He returned home and it was like my funny, compassionate and loving son was back. We did a lot of things together and we talked a lot – something we didn't do for a long time. Let me fast forward to January 20, 2019. The DEVIL returned this year. We aren't quite sure when, but again he was back into full swing addiction. He has stolen from us, both money and items to pawn. His ugliness has returned. My eyes are wide open this time. We put him into rehab 3 times since January 1st. Each time, he walked out the next day. It's been a little over a week since he left the third one. Two days ago, my neighbor called me to say she saw Josh running up to the house. I was able to catch him as he was getting into a car to leave. I asked him why he was here. He told me he was leaving for rehab at 11:00 a.m. that morning and wanted a hug and to say goodbye, since he wouldn't see me for at least 30 days. I really didn't believe him, and I was correct not to. I noticed something orange laying between his legs and I knew immediately it was my debit card. I grabbed it and asked what he was doing, stealing my card. He told me he needed $100.00 to pay for suboxone so he can make it the first 24 hours once he gets to rehab. There is always a part of my heart that so wants to believe in my son. I in turn gave him the money, which was much cheaper than him taking $500, which I know he would have done. I handed him the cash and looked him in the eyes and said, 'I will always love you and I pray you are telling me the truth, but this will be the last dime you ever get from us.'
I was still trying to figure out how he got into the house because I was in my shop in the back of the house and as far as I knew, all the doors and windows were locked. We eventually found the basement window had been previously unlocked and the screen was unhooked for easy access. I then immediately checked my bank account. He had stolen our checks and cashed $830 that week.
I immediately called the police to file a report. My neighbors provided us with video of him climbing in and out of the window. Yesterday he called to say he wanted to come home, and get help. He even gave me the address where he was staying. I made the most difficult decision in that moment. I called the police to let them know where he was. I've never in my life been so torn or heartbroken. My son has until this Tuesday to turn himself in. If he doesn't, then a warrant will be issued for his arrest.
The torment of my own mind is overwhelming. The anger and sadness is endless. DRUGS have taken my sweet, compassionate, humorous and loving son, and turned him into a lying, secretive, manipulative criminal. Heroin has stolen my son from me and from himself. You can say what you want about an addict, but until it is someone you love with all your heart, your opinion will change. I love my son when he is sober and I love my son when he has relapsed, but I know in my heart I've done everything I possibly could do to help him – it's now up to him.
My son is an addict. I don't know when he will be able to understand why I've chosen to do this, but I pray that someday he will understand and appreciate the fact I made this difficult decision to send my son to jail. I love you Josh."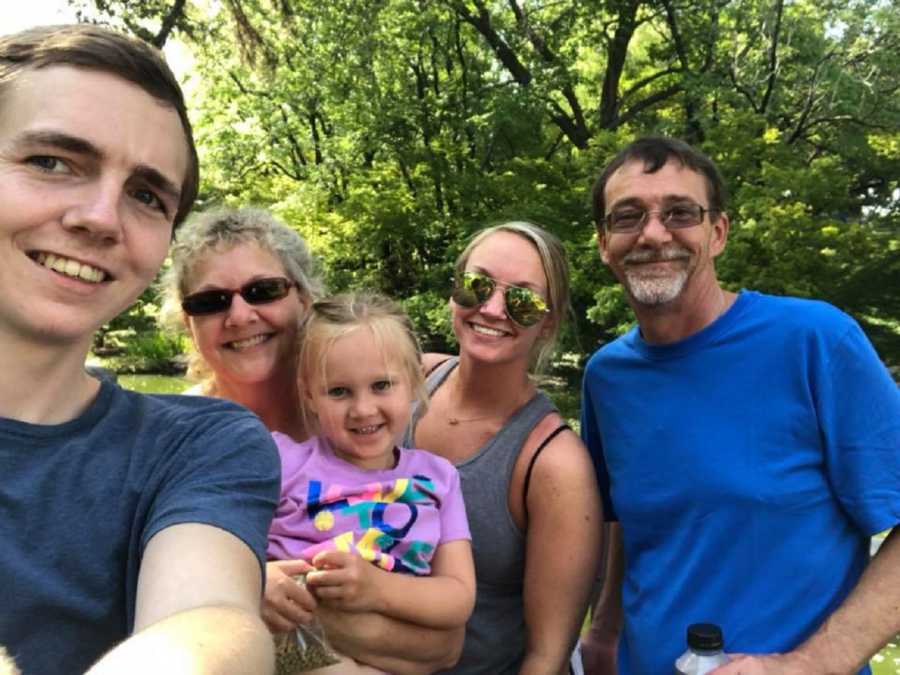 UPDATE: Josh turned himself in and had his arraignment. He was released on a $10,000.00 unsecured bond. Basically, he signed a paper and promised to show up on February 1st for his preliminary hearing. If he doesn't, then a warrant will be issued and he will be responsible for the bond. So I will still continue to worry about where he is and who he's with, and whether or not he overdosed. There is nothing more I can do but continue to pray that he shows up. Just when I thought I would be able to breathe a little, it was dashed. I didn't attend the arraignment because I didn't want him to have false hope that I would back down and not follow through on the charges. I will have to attend the hearing on the 1st. Even if I'm not able to help my son, I pray that my strength will help others to make this difficult decision.
FEB. 1 UPDATE: Josh went to rehab. As of yesterday, Jan. 31, he was still there. He was moved out of the detox wing into the rehab wing. His hearing has been postponed until March 15th. Once he is in with his counselor, he will need to find a sober living place to go between rehab and his hearing. We've made it clear that he can not come back here. I've found a fantastic place for him to go, but I'm sure the counselor will also have suggestions. All we can do is pray that he continues on this path and he begins to make good choices and not bad ones.
This is an exclusive story to Love What Matters. For permission to use, email Exclusive@LoveWhatMatters.com.
This story was submitted to Love What Matters by Sandra Snyder, of Greensburg, Pennsylvania. Do you have child who suffers with addiction? We'd like to hear your important journey. Submit your story here, and subscribe to our best stories in our free newsletter here.
Read more powerful stories from parents whose children battle addiction:
'He was my best friend. The last thing he said to me was: 'I'm ok mom, I love you too.' That was at 10:20 on Saturday night.'
'This typing… is Tyler. I am the junkie of our family. My mom and I were best friends. Then addiction struck.'
SHARE this important story on Facebook for other struggling families to know they are not alone.