"Last Thursday, I stood in the aisle with mailboxes at the Home Depot in Gaylord, Michigan. I was deep in thought trying to come up with an idea for a birthday gift when I was approached by associates Gary and Lorel.
I was asked If I needed help finding a mailbox, and my reply was 'Ya… kind of!'
I explained to them that my 7-year-old grandson has Autism and was fascinated with mailboxes. He loves to put things in, take them out, open the door, close the door, raise the flag, and lower the flag over and over (not necessarily in that order!).
Cameron is an amazing little boy! He's fearless and independent like many autistic children are. He's cuddly, loving, and very affectionate with those in his circle.
He is completely non-verbal, with the exception of a few select words that he may say on occasion with meaning and understanding. The first of those two words is 'hot!' He knows what it means and uses it. The second of those words is a four-letter word that begins with an S and ends in a t! And trust me when things go wrong, he uses that one quite well also!
I was looking to put a mailbox together for his birthday that would be sturdy but able to be moved from room to room. We talked and brainstormed for a few minutes when Gary told me to trust him and asked if I could come back Saturday morning. He said he had a few ideas and would put something together.
I returned to the store Saturday morning, grabbed a cart, and picked up a few things before meeting Gary at the service desk. He walked around the corner pushing a hand cart with the mailbox on top. I immediately teared up and told him it was perfect!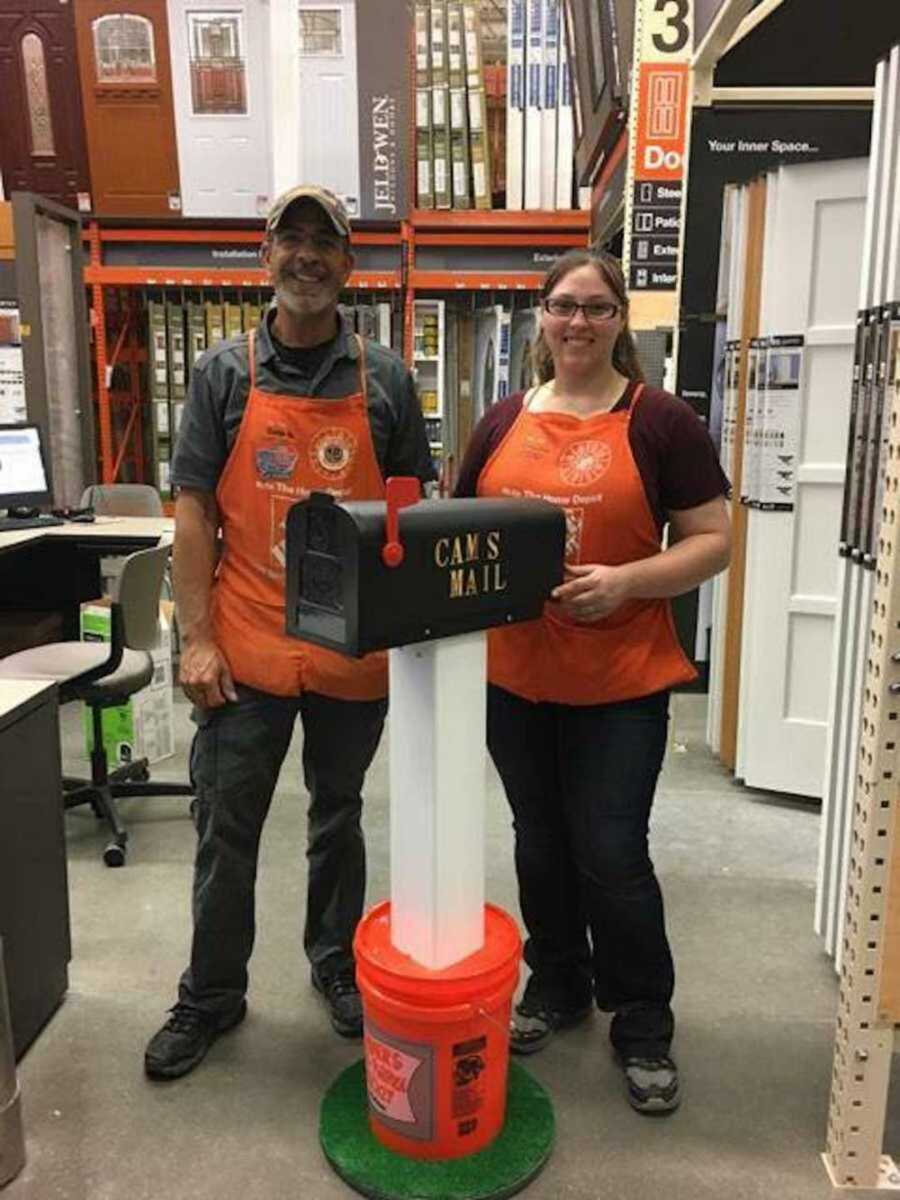 There was a Home Depot apron, a stuffed bear, and a few small toys inside the mailbox. We spoke for a few minutes as I placed my items on the hand cart with the mailbox.
I then asked him if there was a tag on the box so I could pay at the check-out and he said, 'There is no charge for the mailbox, tell that little boy Happy Birthday from Home Depot!.'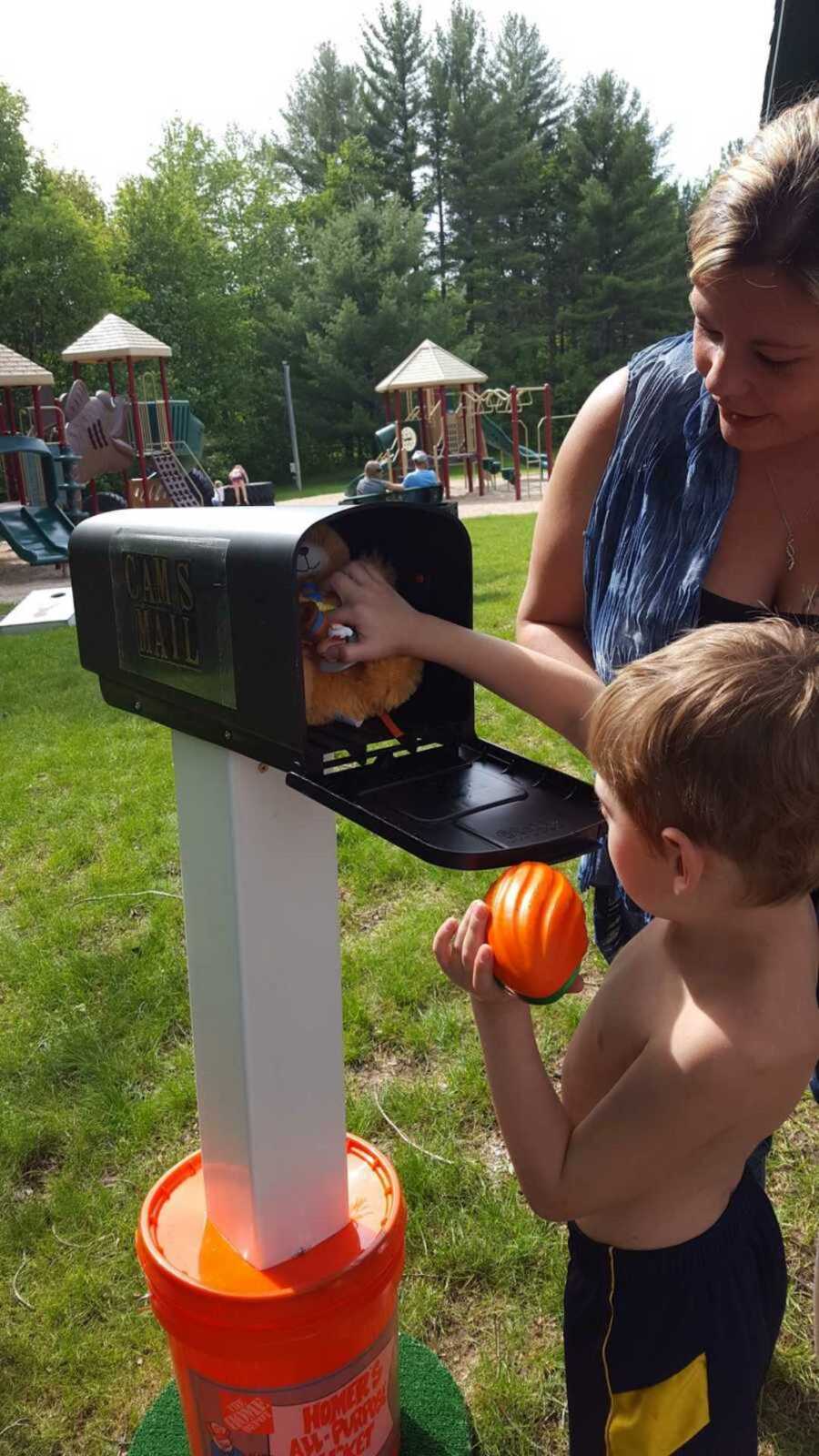 I must have looked like an idiot pushing the cart through the checkout crying like a baby! Thank-You so much to Gary and Lorel as well as Gene, Laura, and Don who built the mailbox!
If you want to send Cameron some mail, I will make sure he receives it! Mail can be sent to Cam C/O Denise DeMara Haight 9705 N. Sherman Rd. Frederic, MI. 49733″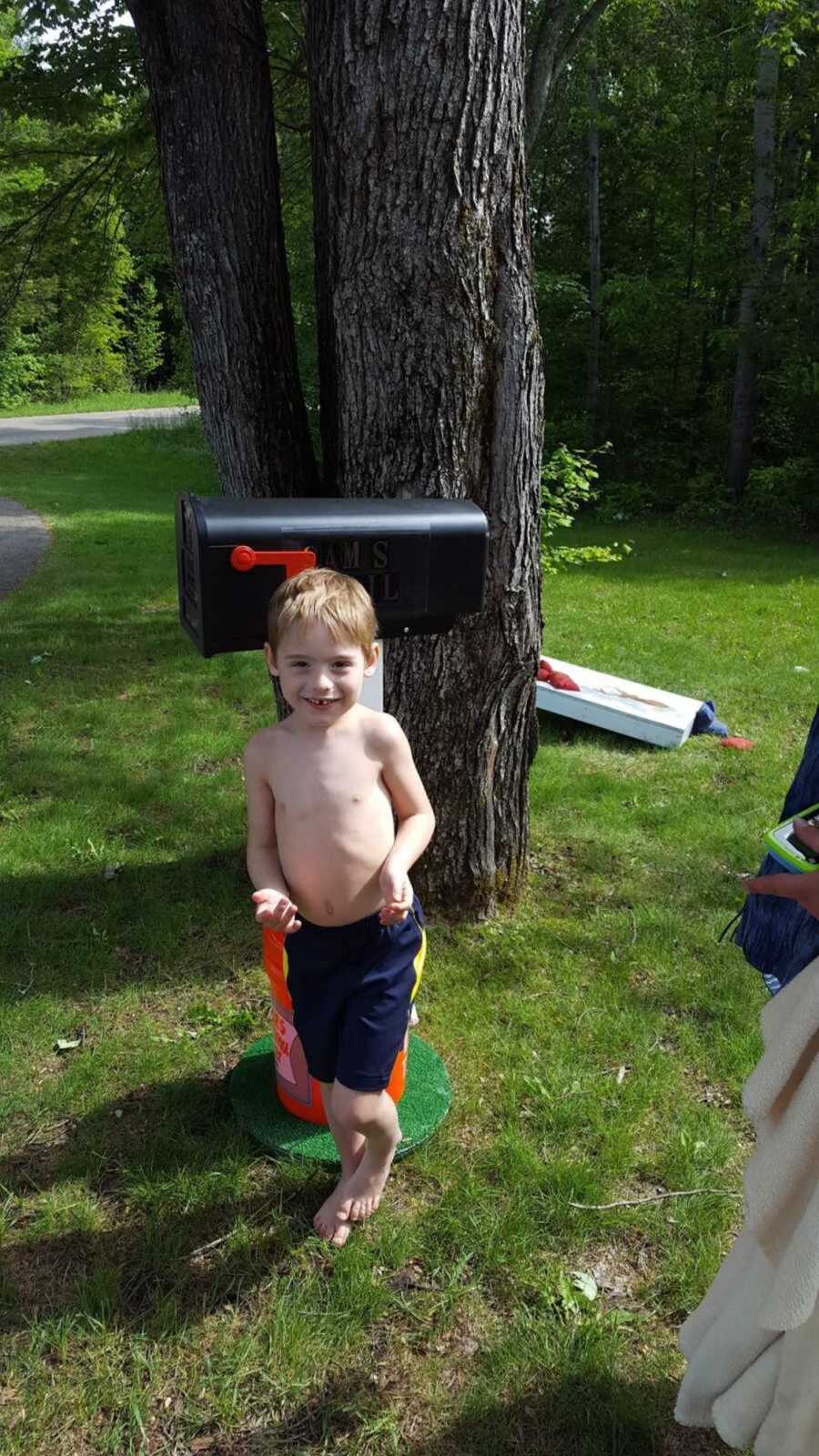 This story was submitted to Love What Matters by Denise DeMara Haight of Michigan. Join the Love What Matters family and subscribe to our newsletter.
Read more stories like this:
'I was leaking salty tears in the parking lot.': McDonald's worker shares act of kindness for tired mom
'As the hungry boys shrank in view of this 6'5″ giant, the words issued made my day. 'Y'all want a slushie? Come on up here, let's get you something.': Stranger shares act of kindness in Taco Bell
Help us show compassion is contagious. SHARE this beautiful story on Facebook or Twitter with your friends and family.