"I can remember it like it was yesterday, every detail, every emotion, every setback and every triumph along the way. Time may have passed, but my mind is right back there, back to April 2nd, 2007. The day that, in a moment's notice, I was fighting for my life.
I woke up to such a beautiful day, the sun was shining, the smell of honeysuckle filling the air. Although the air still harbored a chill from the changing winter/spring season, the thought of saddling up on my Harley excited me like nothing ever has. I had a few hours to spare before I headed out to my 12-8 p.m. shift, so I took my dogs for a relaxing walk before getting ready for work. I was fortunate enough to live on the beautiful grounds of a local vineyard and have access to the 200 surrounding acres. It was my little piece of heaven, my little slice of solitude that God had picked out for me. This became abundantly apparent in the months/years to follow. I remember very vividly counting my blessings and thanking God for such a beautiful day and a beautiful life. I had no idea that within hours of having that talk with God that my life was about to take a turn in a direction I never planned or prepared for. It would be the last time I would walk with my legs whole ever again.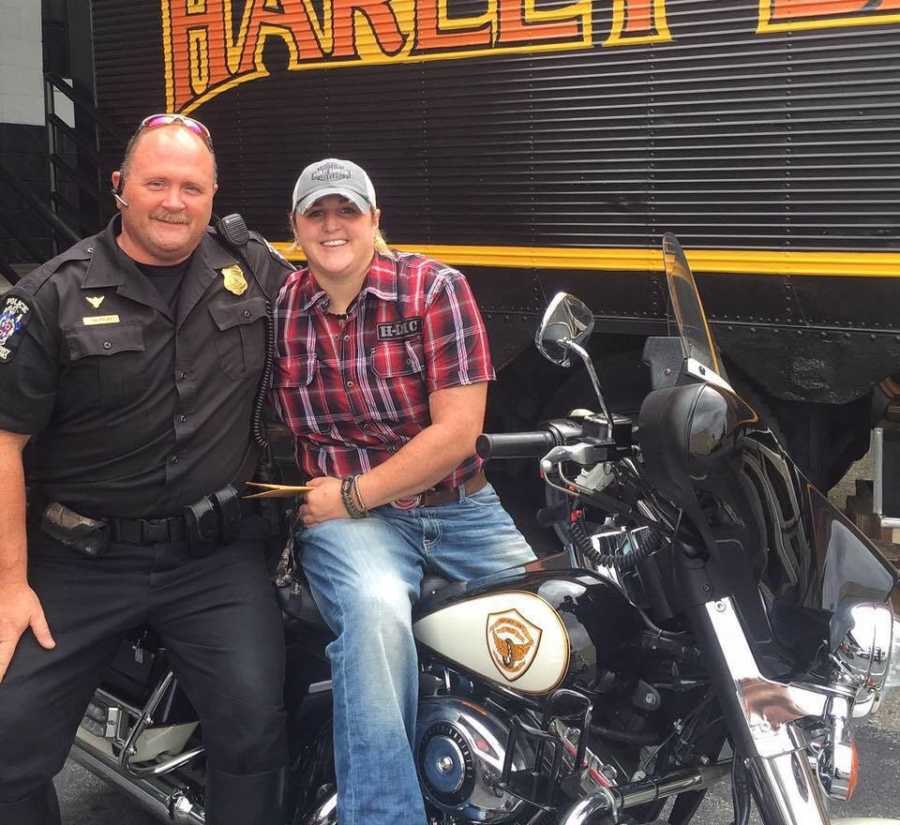 The shift started out great. I was in such a good mood, eager to handle anything the dispatcher wanted to assign me! I loved being a police officer. I took pride in looking sharp every day, my uniform pressed crisp and neat, my badge shining and my motor boots polished. Dispatch put out a call for a personal injury collision. I quickly finished up my traffic stop and rushed back to my motor. I turned on my lights and sirens and was enroute when an additional call came out of another vehicle involved in the same accident. I really started to hustle to get to the scene. I was quickly changing lanes, cautiously rolling through busy intersections and hell bent on getting there and handling my call. But I would never make it to the accident scene. I would have my own to deal with in a matter of minutes.
For our best stories, subscribe to our free email newsletter
I approached the intersection and moved around the cars that were stopping and allowing me to pass. Every car started to part ways except one a small car that appeared to be oblivious to my lights and sirens. As I came up behind it, I attempted to move around to the left side of the car — but it abruptly stopped, leaving me nowhere to go without hitting or being hit by other vehicles. I decided in a moment's notice to put my Harley down like we were taught in training. I turned the wheels sharply, hit the brakes and could see impact with the car coming at me.
I thought 1) this is going to hurt and 2) I might die. Boom, impact. I was ejected the length of the car, upside down, the top of my helmet skidding over the roof of the car. I continued over the hood and into the road where I rolled into the busy intersection. I was conscious throughout this chain of events and as my body landed, I immediately attempted to stand up. I was in shock. I dropped right back down to the ground. I could feel the broken bones in my right leg lying under the protective layer of my knee-high leather motor boots. I remember the panic setting in, the chaos, the pain, the still blaring siren coming from my broken-up Harley laying on its side 14 feet away from me. I'd like to say all that was on my mind was the excruciating pain I was in, but it wasn't. I thought about my loved ones first, my traffic squad second and that little girl who loved the hit 80's television show CHiPs, that loved being on her Harley, who worked tirelessly through 2 motor schools. That little girl flashed before my eyes. That's when the tears fell. The fractured ribs, my right leg in pieces, yes, those things hurt, but the possibility of me never getting back on a motor again, well, that thought killed me.
I fractured 3 of my lower right ribs, shattered my tibia and was deeply bruised and cut up on the entire right side of my body. I was released from the hospital with a rod in my tibia and the thought of getting back to work as soon as I physically could. Two months after my accident, I developed MRSA in a fracture blister on my leg. This is when things started to rapidly decline for me. I had to have the rod removed from my tibia, I had to have one of my 3 calf muscles removed and I had a long-term IV line placed in my upper arm to deliver the heavy dose of daily meds to combat the MRSA. Three weeks later I had another surgery to put a metal plate on my bone in an attempt to stabilize it. It was during this surgery that an additional bacterium was found in my leg. A week later, I was sent home to recover.
My body was very sick at this point, the bacteria in my leg began to wage a war against my entire body. Within days I was so sick I couldn't stand or sit up. I had to be lifted off my bed at home by fire and rescue personnel and placed on a nearby gurney for I lacked the strength to do so. I have never been so sick and weak in my life, it was like I could feel my body giving up. My mother, a nurse at the time, made the decision to call the ambulance after my fever spiked and I could barely move. I remember the ambulance ride to the hospital with my mother at my side. I could hear ambulance personnel distinctly saying that my blood pressure was 60/40 and to contact my district commander and tell them I was in grave condition. I won't ever forget hearing those words.
I had a blood clot in my leg and was battling the sepsis with every fiber of my will. I was in the intensive care unit for two weeks and transferred to Baltimore Shock Trauma where I met the doctor who never gave up on me or my leg, Dr. Greg Osgood. I remember him telling me I was 'staring down the barrel of amputation' on my leg. I didn't care, I wanted a fighting chance to save my leg and I knew I had the right man to go into the battle with me, he was ready. He advised me upfront there were no guarantees he could save my leg but that he would do his very best. The battle began with daily surgeries, me losing another calf muscle and waking up with a metal cage (an external fixator) on my leg. I would wear that crazy leg saving contraption for 14 months. I had a long way to go but knew that it required a shift in my mind and my attitude.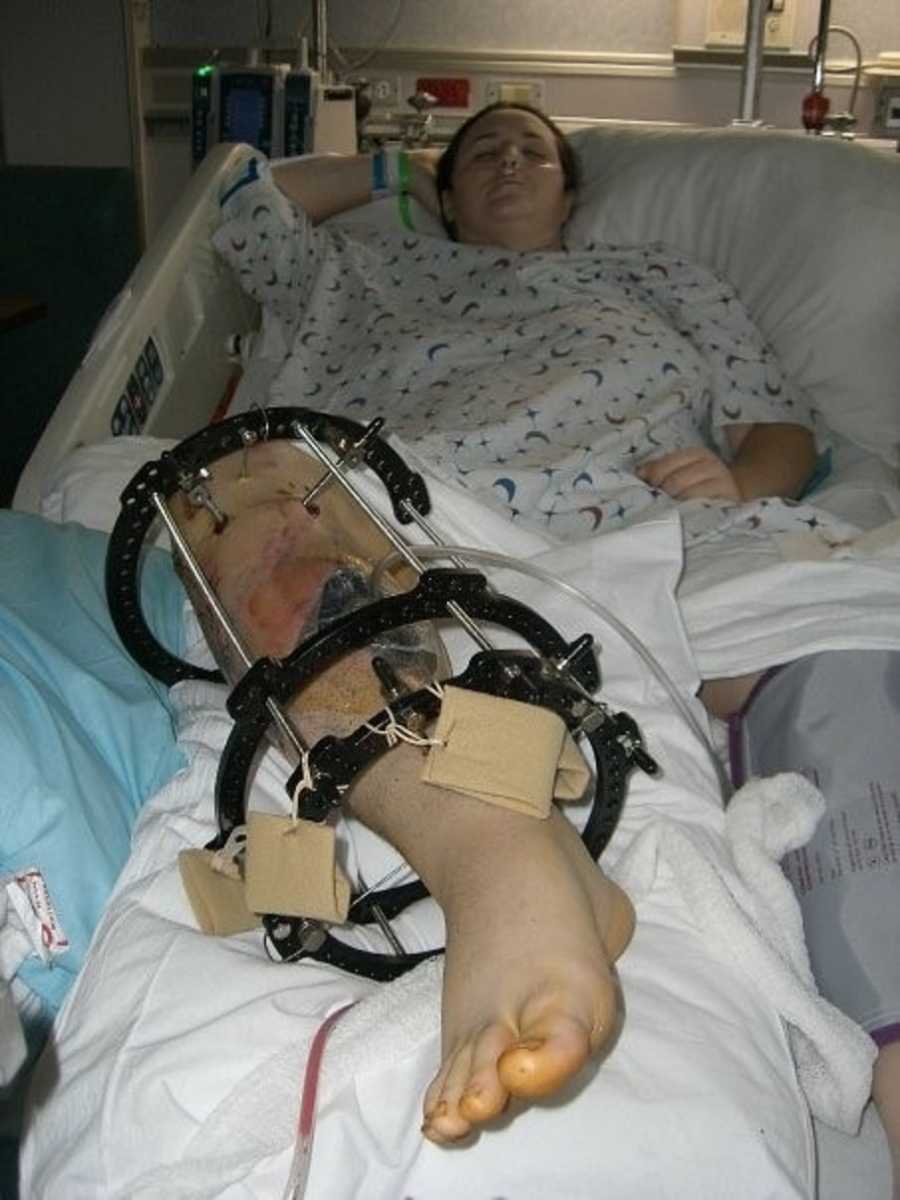 I was severely depressed. Everything I was going through was waging war in my heart and in my mind. Chronic pain wears you down and it became exhausting doing almost anything. I was told I wouldn't walk right, ever run again and at one of my lowest points, I considered throwing in the towel and putting my papers in to retire. The day I was set to go down to human resources and submit my paperwork to retire would be the last time I had a pity party for myself. I sat in that office, pen in hand, paperwork in front of me and the tears poured out of my eyes. I couldn't do it. That was the one thing that gave me hope. I made the choice to change my attitude, my mindset and to know I would walk again, run again and be a cop again. It worked.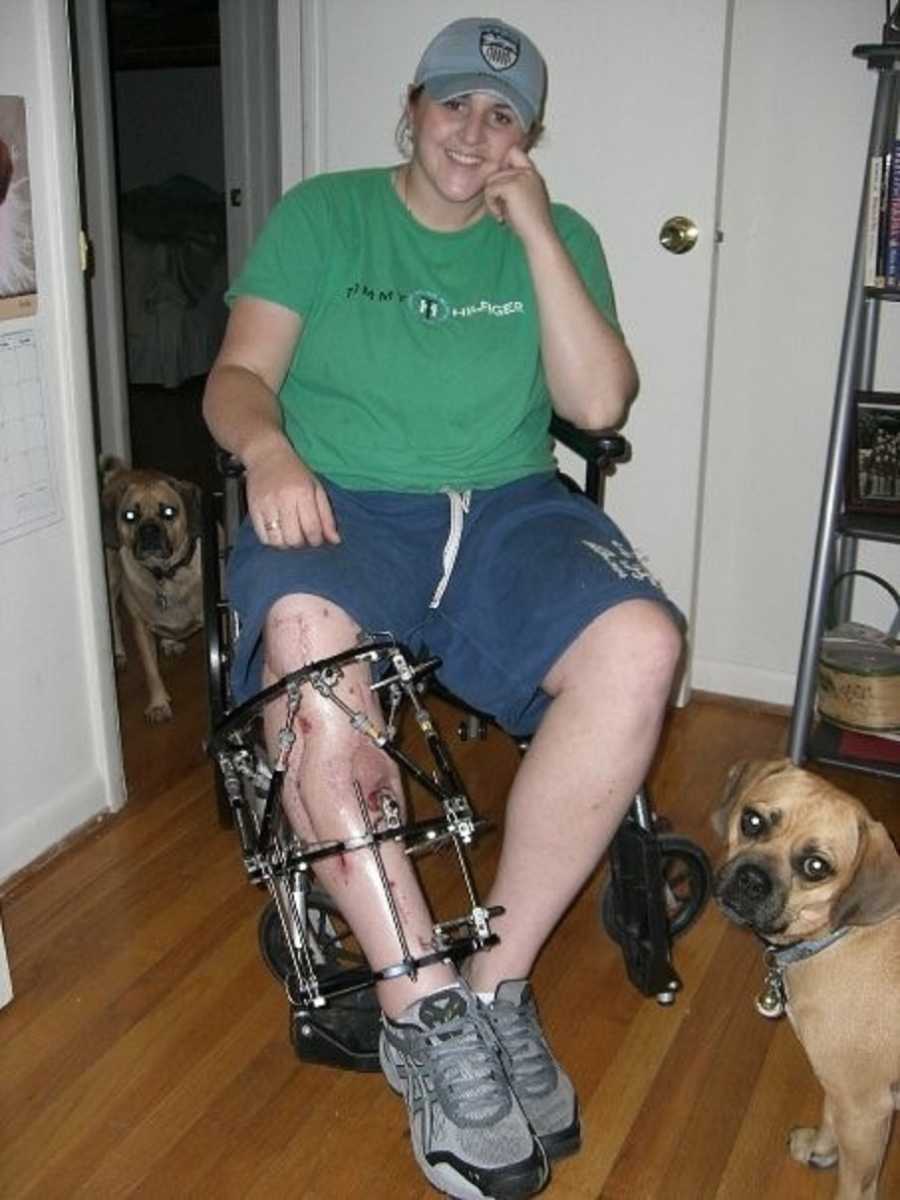 Three years later, I came back to full duty, back to my beloved traffic squad. It was one of the happiest days of my life. But things were about to abruptly change again for me. October 1, 2010, I was working out on a local high school track and my leg re-broke on me. I remember laying on that track punching the ground in utter frustration. A week later I had another rod placed back in my leg to stabilize the fracture. I was still determined as hell to get back to work and I did. January 21, 2011, I came back to full duty raring to go! The next 3 years were great being back out on the road doing the job I loved. I even got back onto my Harley, but wasn't able to do so safely and decided to patrol via my police cruiser.
After my triumphant return to full duty in 2011, things began to slowly change in my leg to the point where in 2014 I had to have my 21st and 22nd surgeries. My physical body could no longer handle being a police officer and I made the hardest decision in my life to medically retire. December 6, 2014, I was officially retired and feeling pretty defeated. I was dealing with the eternal sentence of chronic pain and my hope was gone.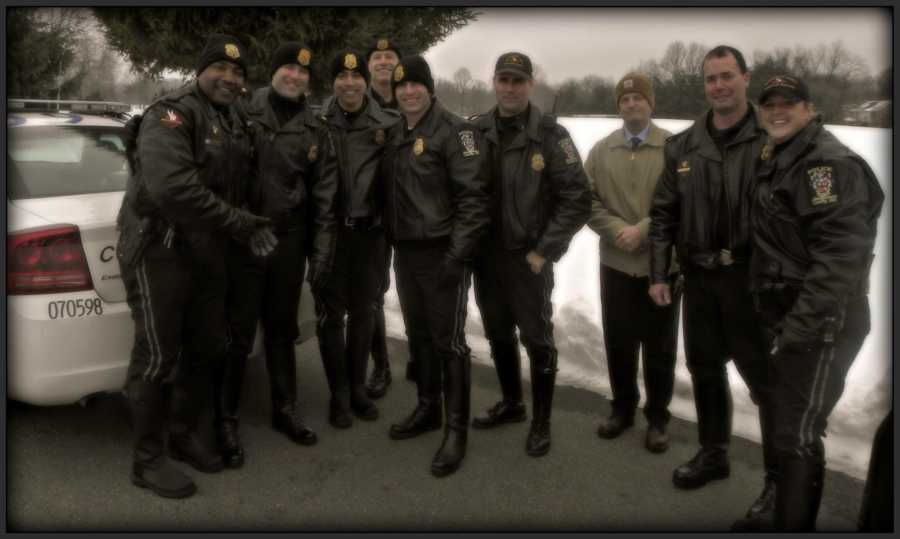 At this point, yet another war was about to be waged. I'll never forget my Facebook post from June 2017.
I'm going to take a big brave step here and post something very personal… thank you to all who are trying to understand what's going on in my life … in lieu of my response to a comment made on a post about first responders handling opiates … an individual made a comment about addiction not being a disease… deep breath, my response:
'Yes, it's a choice… but then it becomes a disease … I was on the police department for 15 years. I got hurt on the job in a motor accident. 22 surgeries later, I was left in horrific pain, my right leg mangled… after a triumphant return to full duty, I re-broke my leg trying to exercise. Again I had a rod reinstalled back into my tibia but this time things didn't go so smoothly. II came back to work full duty… at first I was ok but as the months and years passed, I learned that the rod inside of my bone twisted causing my knee to turn opposite of my ankle. Day in, day out, I would suffer wearing my heavy vest and my duty belt but never said a word until I couldn't take it anymore. I had my last surgery removing the rod and having my tibia re-broken in a new location.
Through a lot of prayer and downtime, I decided it was time to throw in the towel. I was medically retired in December 2014…I was miserable. My pain at all-time highs and barely existing… so yes, I guess you could say I made a choice, I chose to do the right thing and seek out a pain management doctor. I needed help for myself and for the people in my life that counted on me… and so for the last few years, I was prescribed and taking oxycodone … I took EXACTLY as prescribed. Never less, never more I, however, became tolerant and physically dependent on the medicine. Once you start taking opiates it attaches to receptors in your brains and activates dopamine and the pain subsides, that is until these receptors demand more and more to deliver out more dopamine. I realized that the meds take over and you begin to feel normal on them and abnormal off them. This is PHYSIOLOGICAL, something that I had no control over. I was a shell of the person I formerly was… I was existing, feeling a lot less pain every day, but now my life was no longer fun. Things that made me happy no longer did.
I became acutely aware I had to taper off them ASAP to take my life back. I told my pain management doctor I wanted off these meds and I needed help in doing so. For the first time in a long time I admitted I was scared. Little by little I would take less and less.
This has been humbling, humiliating and a real struggle. One of the hardest things I have ever done in my life, but I will be better for it. We are all human beings trying to do our best in this world. Nobody sets out to be a junkie, an addict. I certainly never did. Trust me, I'm not alone in this fight. To my fellow officers, be safe out there. I think of you guys/gals every damn day and wish I was out there with you.'
We are all vulnerable, and to some degree, directly or indirectly affected by the opioid crisis.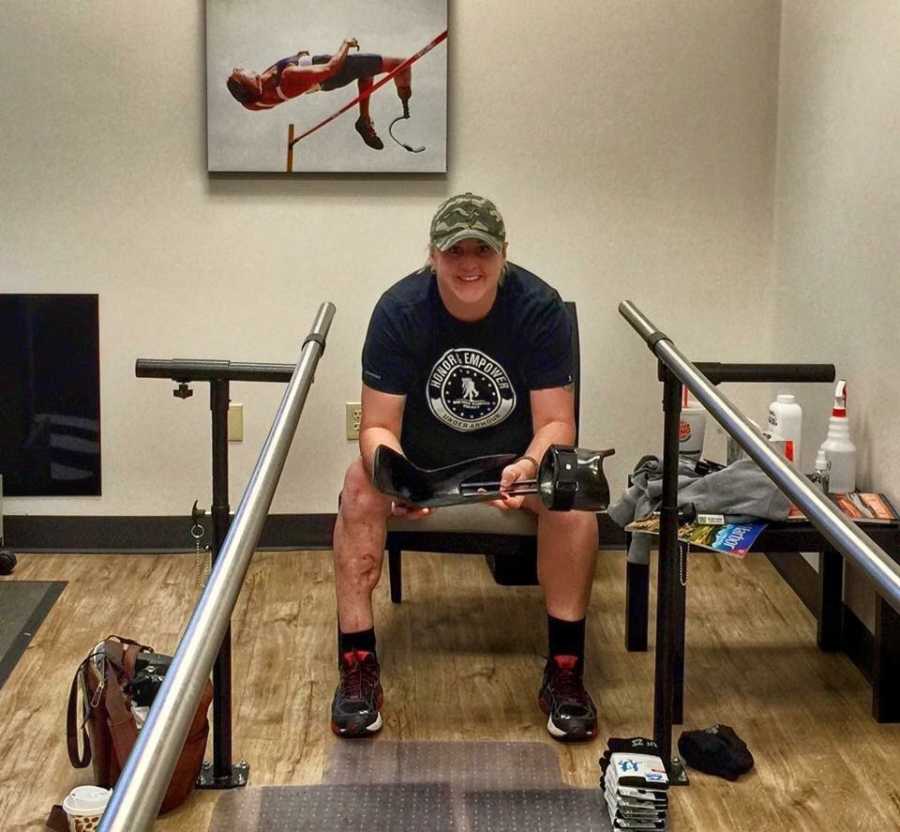 As of June 2, 2017, I stopped taking pain meds. I'm proud to say, I've come out on top. I've beat it. Yesterday, I had the honor of speaking at the Montgomery County Police Department annual traffic symposium. It was a privilege to be front stage in a room filled with the best of the best in police work. As I made my way to the front of the room to speak, the tears started forming in my eyes, my chest tightened up and my throat became paralyzed with a big lump in it. I turned around to face everyone, took a deep breath and prayed to God I could stay composed. My goals today were to show these fine men and women that something good can always come out of incredible tragedy, pain and loss. I wanted them to see my fight, my unwillingness to surrender and my insane will to survive, at all costs.
This day was huge for me. Prior to today, I could not even look at police cars, Harley Davidson police motorcycles and my fellow officers without feeling anger, remorse and a great depth of sadness. I loved my job and seeing those things only reminded me of what I had lost, and it hurt like hell. Today I faced my fears and went for it, I gave it my all. Speaking today, I was focused on giving something to my audience by my words, my gift to them. But as it turns out, I received a gift, the gift of the warm reception and fellowship I got from my fellow brothers and sisters in attendance. My heart overflowed with gratitude of the kindness and respect shown. These last 11 years have broken me at times, really broken me, but the road to my emotional healing truly started today with my giving back to the people in my department that so loyally stood by me at my worst and best times.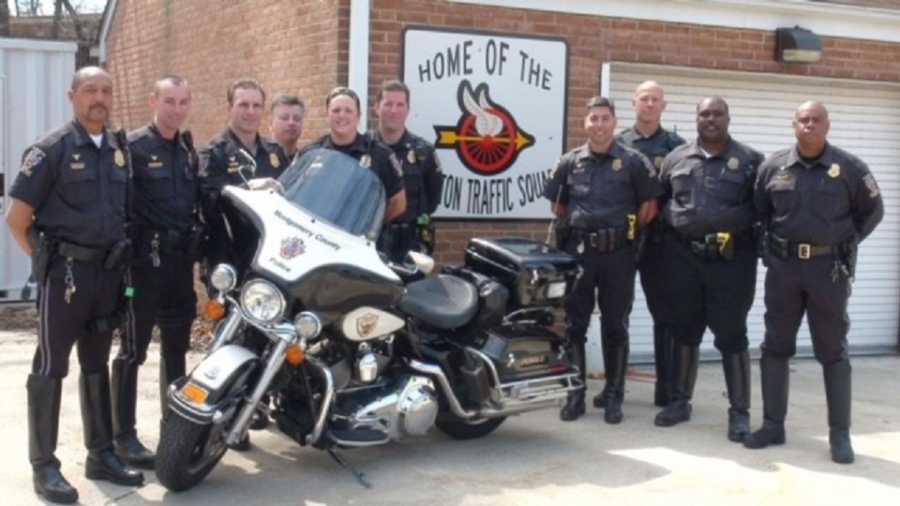 I stood up to hug my teary-eyed buddy and former Sergeant, Michael Ruane. As I turned to go back to my seat, I was humbled to see a room standing on their feet clapping, some wiping their tears. They didn't know it, but it was the best thing those officers could've ever done for me. I am forever indebted to my dear friend and former police Sgt. Michael Ruane for asking me to present yesterday. It has truly been a long time since I felt like I had a purpose, and yesterday you gave me one.
Today I accept that I chose to be a cop, to be a motor officer, a job I loved to my core and still do. I always knew those choices present inherent danger that exists on a daily basis. Today, I'm ready to accept whatever awaits me in this next chapter in my life. We are not promised a tomorrow, and we can't change the things in our rear view, but we can certainly get excited about the great things to come. I finally am."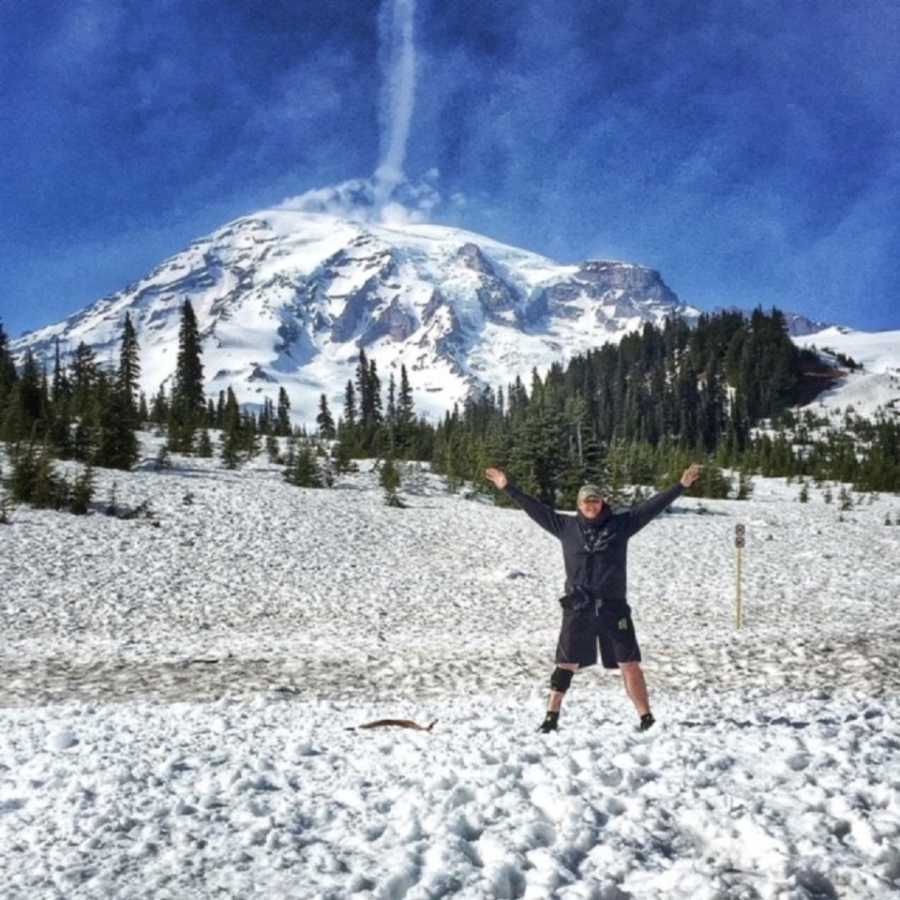 This story was submitted to Love What Matters by Tammy Hardy, 42, Clarksburg, Maryland. Submit your own story here, and subscribe to our best stories in our free newsletter here.
Read more stories like this here:
'I was the middle child of 3 and the only child placed for adoption. It was the most selfless thing my birth mom ever did.': Adoptee reconnects with biological family, loses birth mom to addiction
'Mamaw, why do you act funny after that white pill? Do you have to take it?' His little face was full of hurt.': Woman sober after 20-year opioid addiction in wake of car crash
'You won't be able to remember your address by the time you're 40,' the doctor told me. I still didn't stop.': Woman overcomes Xanax, alcohol addiction to be 9 months sober
'Mom, Jeremy is doing some really bad drugs.' Time stopped. I was dumbfounded.': After son's fatal heroin overdose, family start non-profit to help others battling addiction
Provide hope for someone struggling. SHARE this story on Facebook with your friends and family.