Meeting My Wife
"My name is Albree Shaffer. I am 26 years old and I was born and raised in Southern California. My wife Tiffany is 36 years old and was born in Texas but grew up in Ohio.
We met on a lesbian Facebook group. She added me and we started talking every day. Then we started FaceTiming every night.
We decided I should come out to visit. It was a perfect visit. When it came time to leave, I didn't want to go.
So, I took a leap of faith and decided to stay! We now have a beautiful, funny boy named Tyler. He is on the spectrum for autism and is developmentally delayed, but still very bright!
Tiffany worked full time and I stayed home. I would take Tyler to his speech therapy and Occupational therapy classes.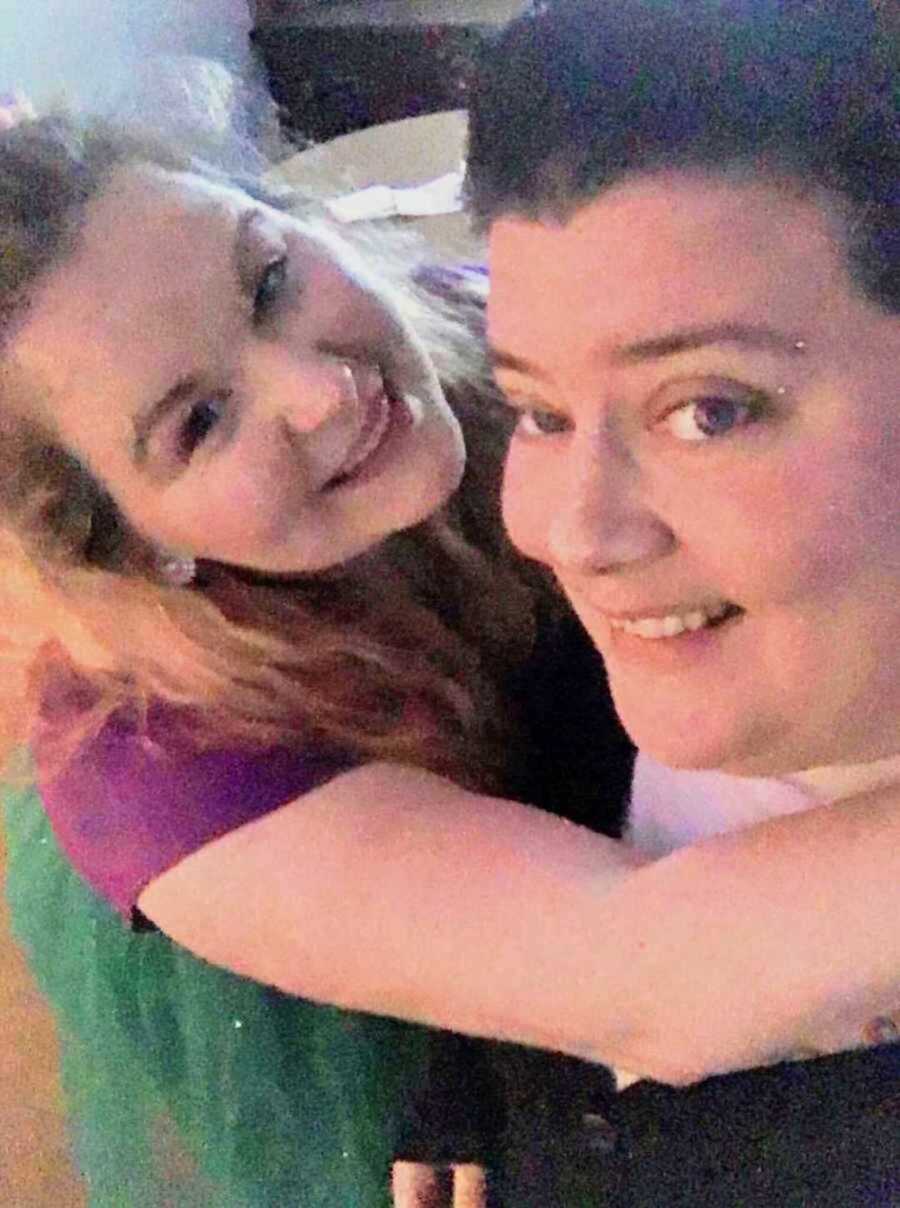 Having A Child
Years passed by, and we wanted to add to our family. I wanted to get pregnant, so we searched for a donor. At that time my sister wanted to conceive a child for us.
She called us and said she was pregnant! We followed the whole pregnancy journey with her.
We got a 3D ultrasound to find out the sex. It's a GIRL! I went out and bought bows and tutus.
We were just beyond excited and decided on the name of Callie from Grey's Anatomy and The Fosters, and June, as it's Tiffany's mother's middle name.
My sister came here in May for our wedding on May 16th, 2017. And she stayed for Callie's birth here. She was born perfect and healthy.
We took her to every doctors visit as well as appointments. Each time they would tell me she's perfect and we're doing a great job. No one knew or could tell she was hiding a secret illness.
Fighting a Secret Illness
Slowly Callie stopped eating and drinking as much, and then stopped playing all together. She was miserable.
We took her to a doctor, who told us that since she was still fighting back and producing tears, she was fine, and wasn't worried about her being dehydrated, even though she was.
So, we then took her to urgent care. They told us she had an upper respiratory infection and a start of an ear infection, so we got antibiotics for her. We finished them out and not even a little bit of improvement.
We reached out to our friend who is a nurse. She told us if she didn't improve by Monday over the weekend, then to take her to the hospital.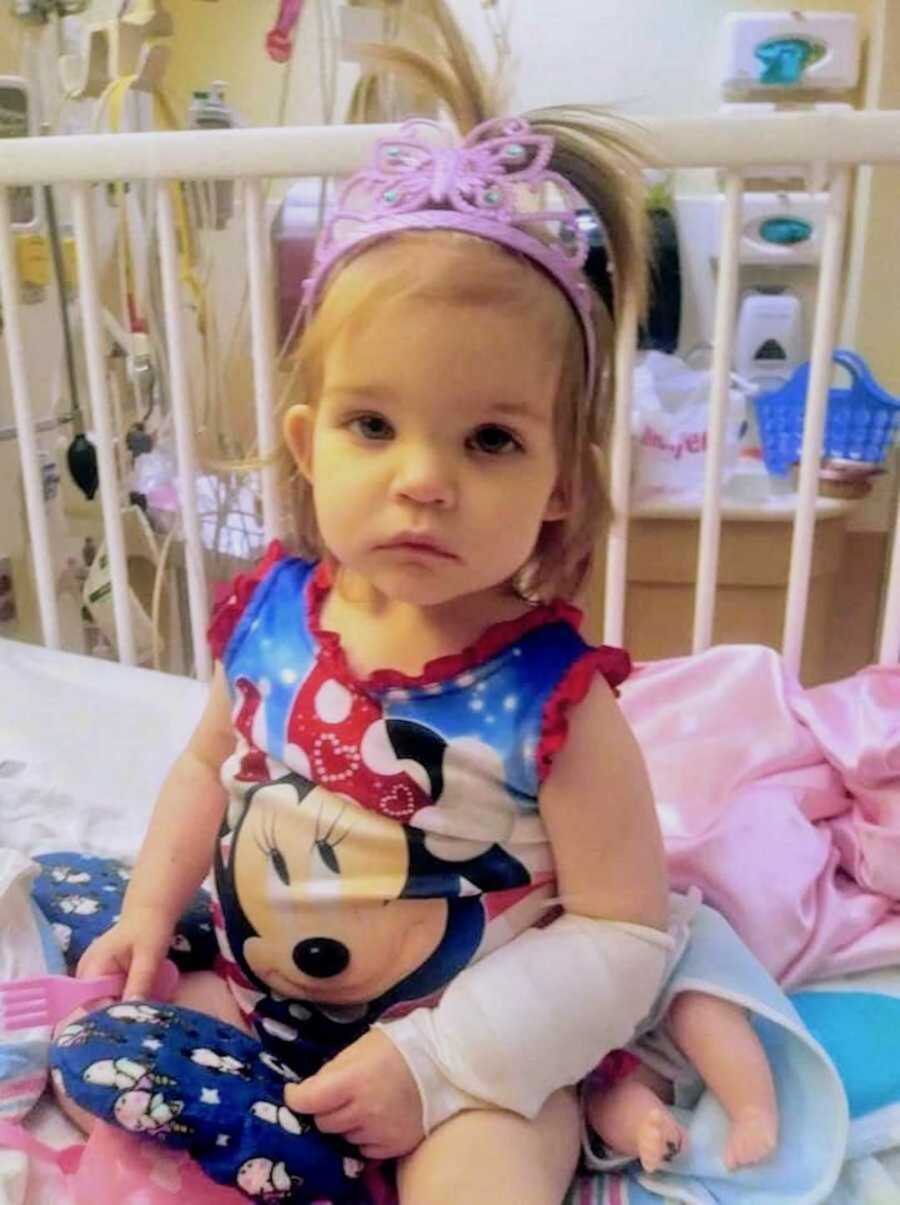 Stage 4 Neuroblastoma
Monday, we took her to the children's hospital because her stomach started to get a bit bloated.
They watched her breathing and took her for an X-ray. The doctor came in and told us they had bad news. He said the X-ray showed a huge mass in her abdomen.
We then got transferred to Cincinnati children's #1 for oncology. They tell us to take it day by day, which is the best advice we received.
Her stomach started bloating rapidly where she couldn't sit up let alone stand. She was bed ridden and had to be adjusted every so often to prevent bed sores. A week of scans we finally get the diagnoses. It's Neuroblastoma. Stage 4 and high risk. Of course, we are just mortified. But ready to take on this fight for our baby girl.
We went through four cycles of chemo and ended up in the PICU a few times. We had our scares, but she came through.
She lost her hair after the first cycle of chemo. Her stomach was so extended and full of fluids we needed to give her Lasix.
She came through and the chemo was working as it should and reduced the tumor tremendously. We then scheduled for the tumor removal on April 8th.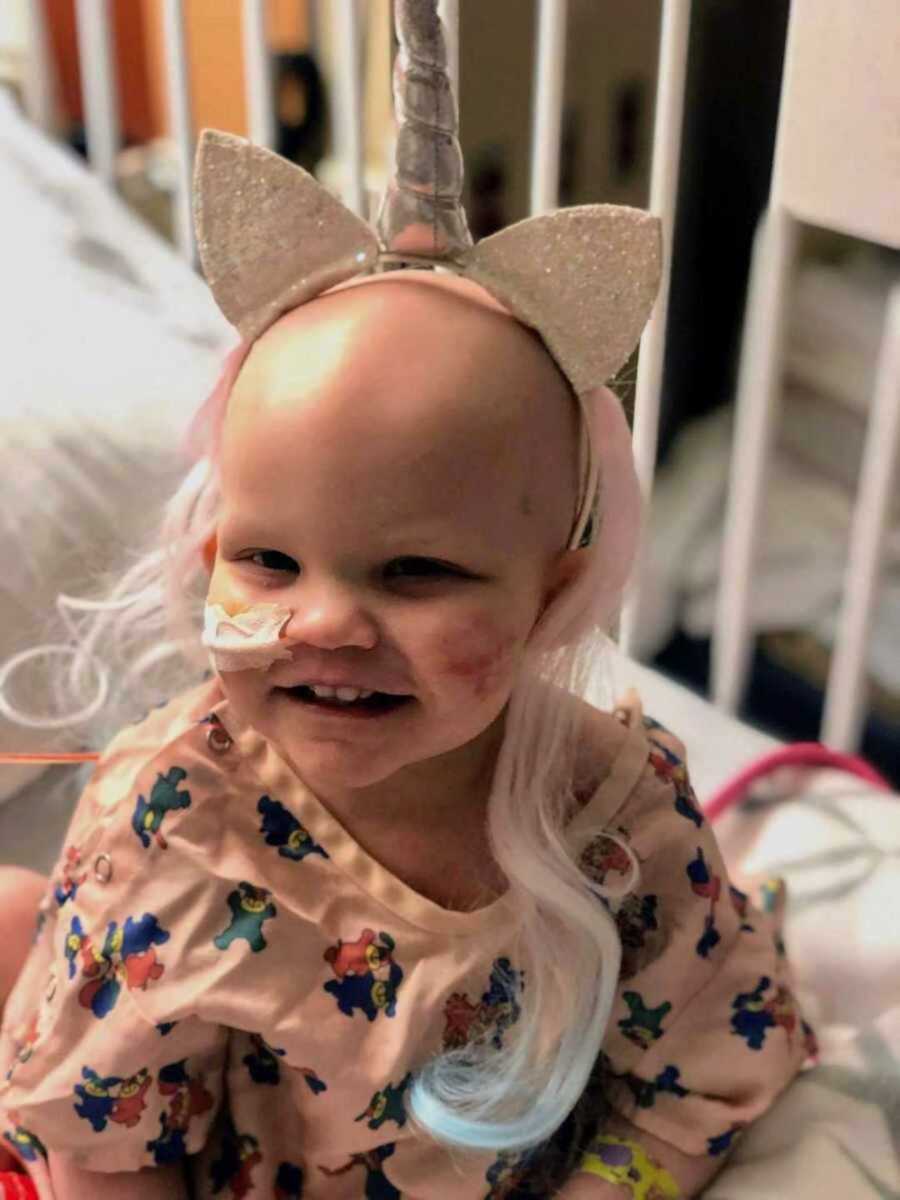 That day as we are full of anxiety and hope and praying, my wife Tiffany received a horrible message.
A woman said she was going to donate $7,600 dollars but realized this suffering child has two moms. She believes that our child is ill as a wakeup call that she shouldn't have two mommies.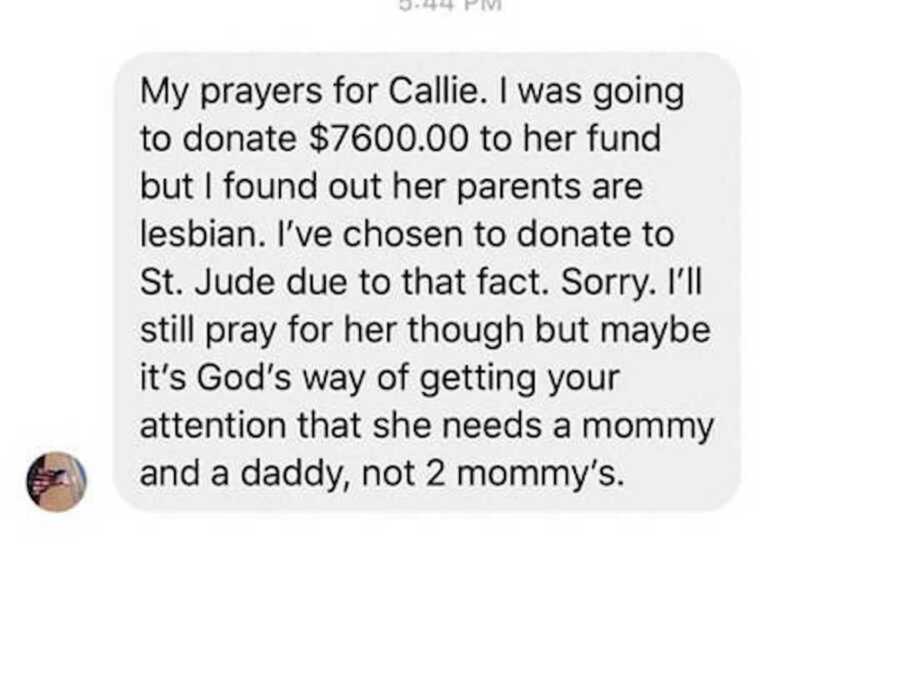 We were disgusted and hurt. But that message brought our daughter so much more support and awareness! We are overcome with support.
Tyler is now 7 years old and doing great. He had a bit of some issues with his family being split in half and not having his regular routine.
Callie is 20 months or a year and half. She's doing wonderful. She's thriving and playing again.
She will beat this.
The biggest thing I want everyone to know is when there's something wrong with your child do NOT brush it off. Keep fighting for them. You are their biggest advocate."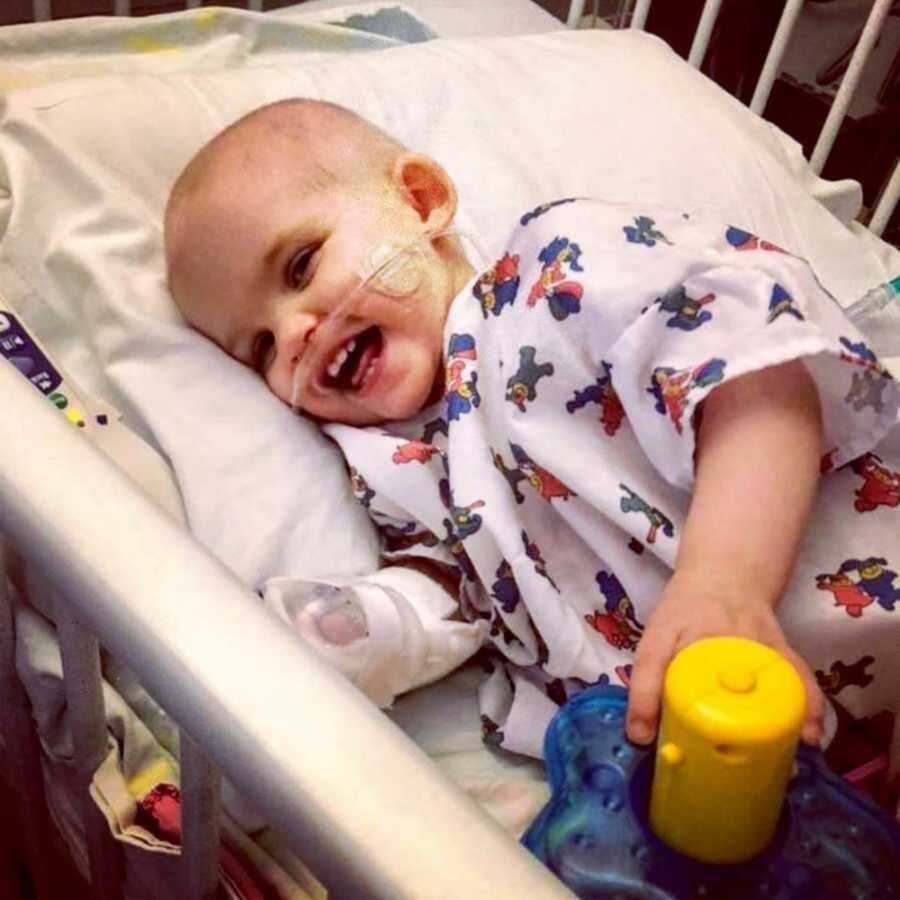 This story was submitted to Love What Matters by Albree Shaffer, 26. Follow Callie's journey on Facebook.  Be sure to subscribe to our best stories in our free newsletter.
Read more stories like this:
'Charlie strangely complained of headaches and started vomiting randomly at 6 a.m. with no other symptoms.': Mom of 3 shares candid reality of childhood cancer after daughter's diagnosis
'He held up his sign: 'Cancer is hard. Being black is hard… I want to survive both.' Just then, a police officer turned back around.': Police officers touched by childhood cancer fighter
Do you know someone who could benefit from this story? SHARE this story on Facebook with your friends and family.