"Meet Jack Rice. 90 years young and spunky as they come!
Jack is a farmer through and through. He and his wife Reva Dean met 60 some years ago at Parrotsville School for a Halloween Carnival. They have been married 65 years and live on the farm that Jack purchased in 1958 for $9,500.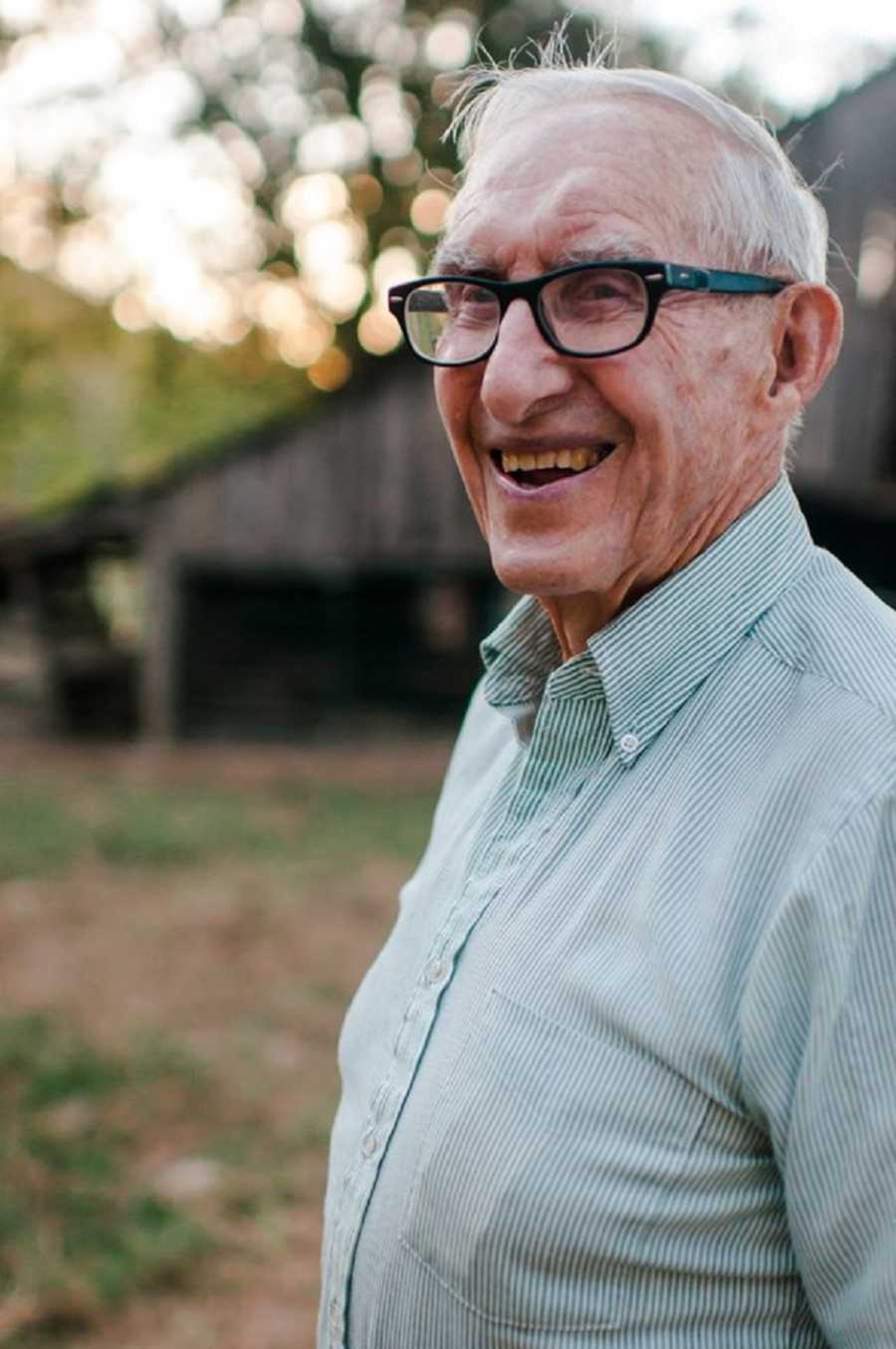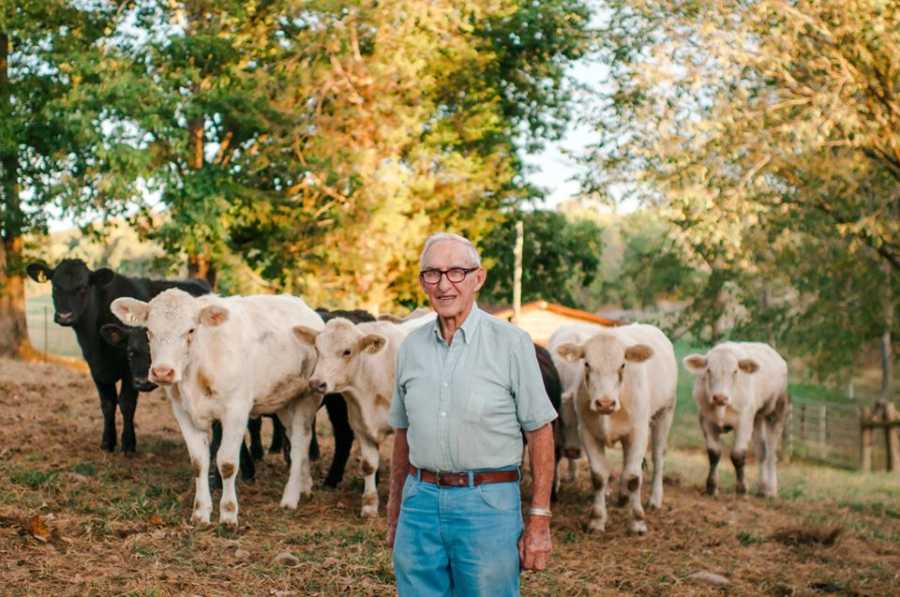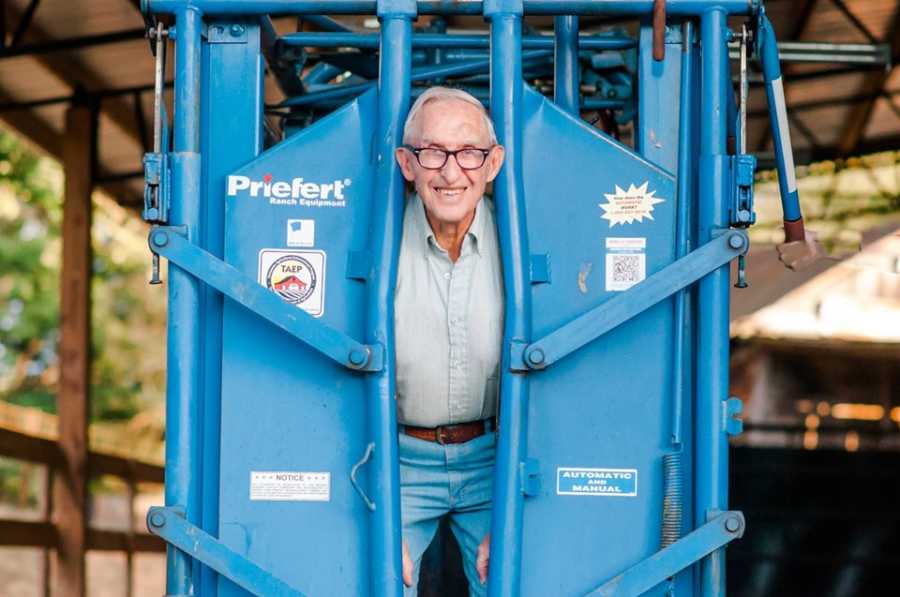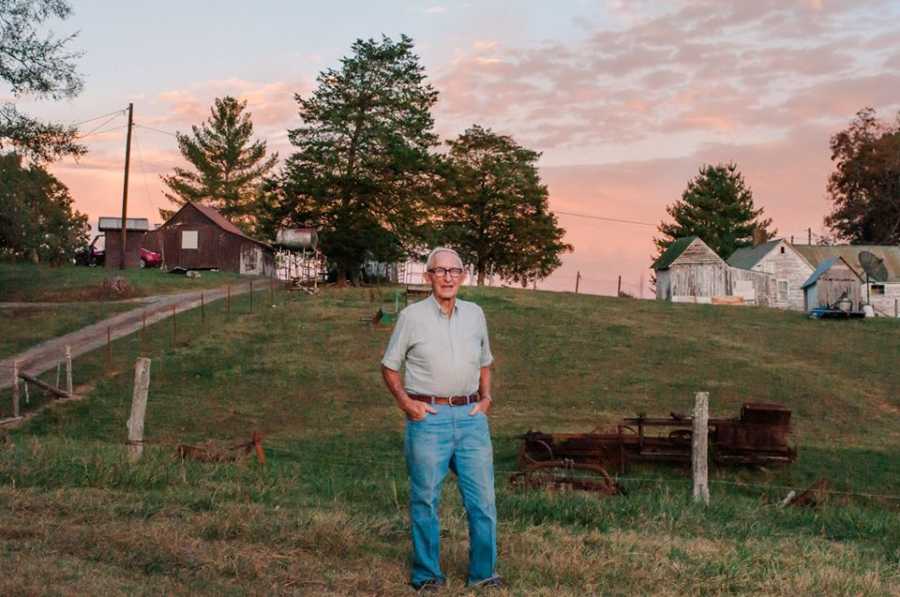 Initially, I went into this photo shoot with hopes to capture both Jack and his wife Reva Dean, but her health has been declining rapidly. We were unable to get her out of the house, but I was able to snap a few of them in their home together with one of the many quilts she's quilted in her lifetime. That quilt was sold for $8,000 at her church's Lords Acre Sale and later gifted back to her! Jack was so proud of her.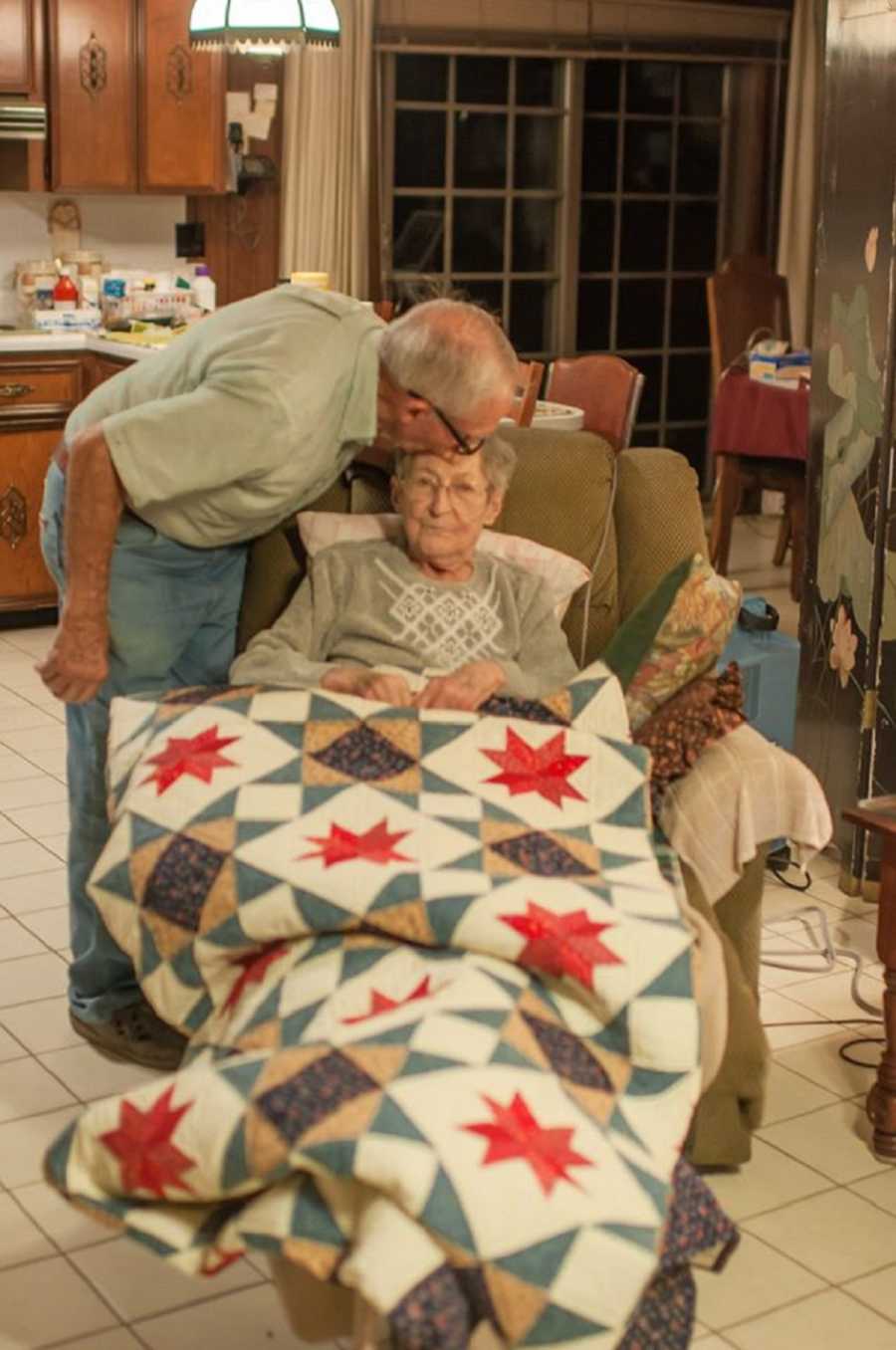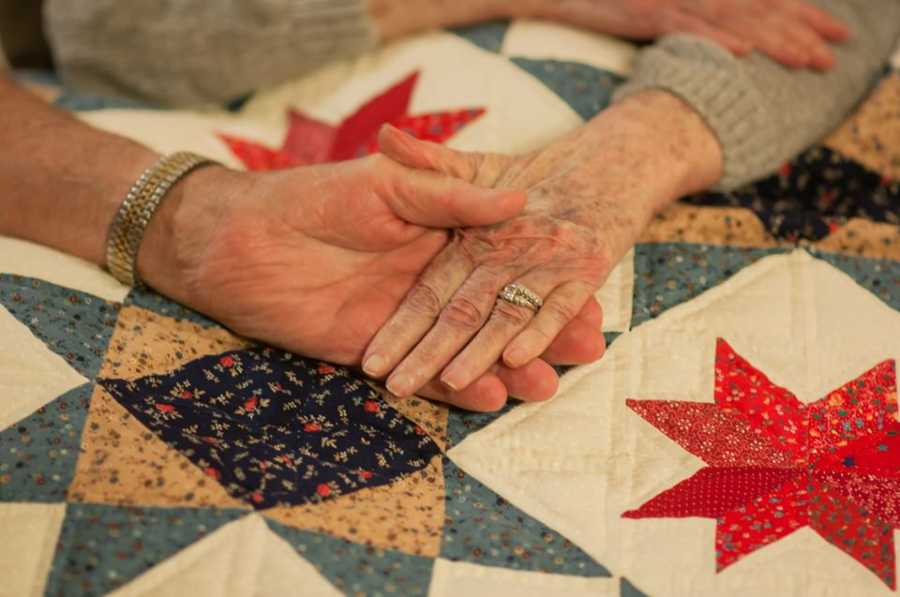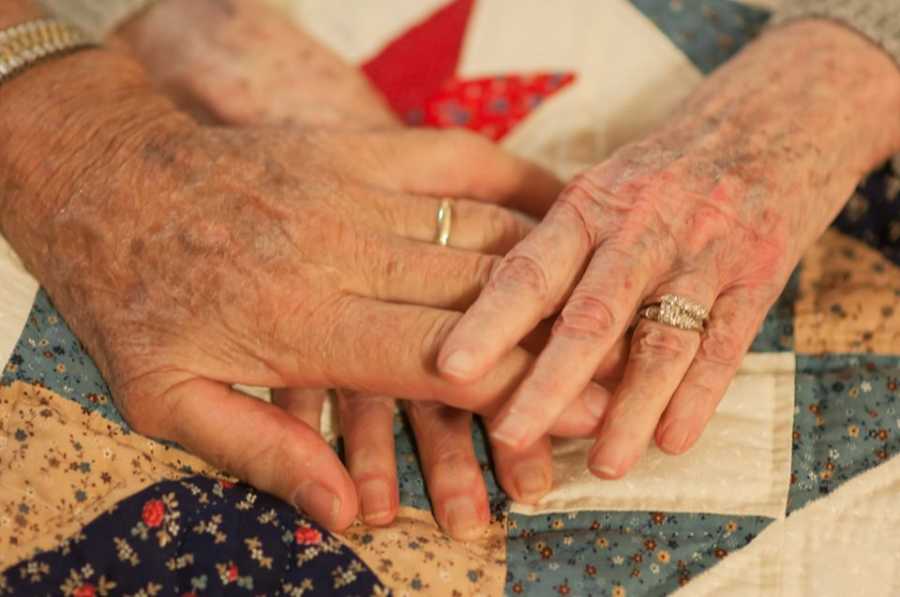 I fell head over heels for this cute little man! He's hilarious and such a flirt. He's apparently been finding 'field diamonds' all over his farm for years. I've been told his pockets are always full of them and he likes to hand them out to friends, neighbors, girls at church and waitresses! If you have one of these gems from 'ol Jack, consider yourself blessed! I thoroughly enjoyed myself being driven around on a Kubota to explore this farm of Jacks. He and his dog Lassie are the best of friends and took me everywhere. Some of my favorite shots are of him and Lassie in the rolling hills at sunset. The sunsets there were incredible!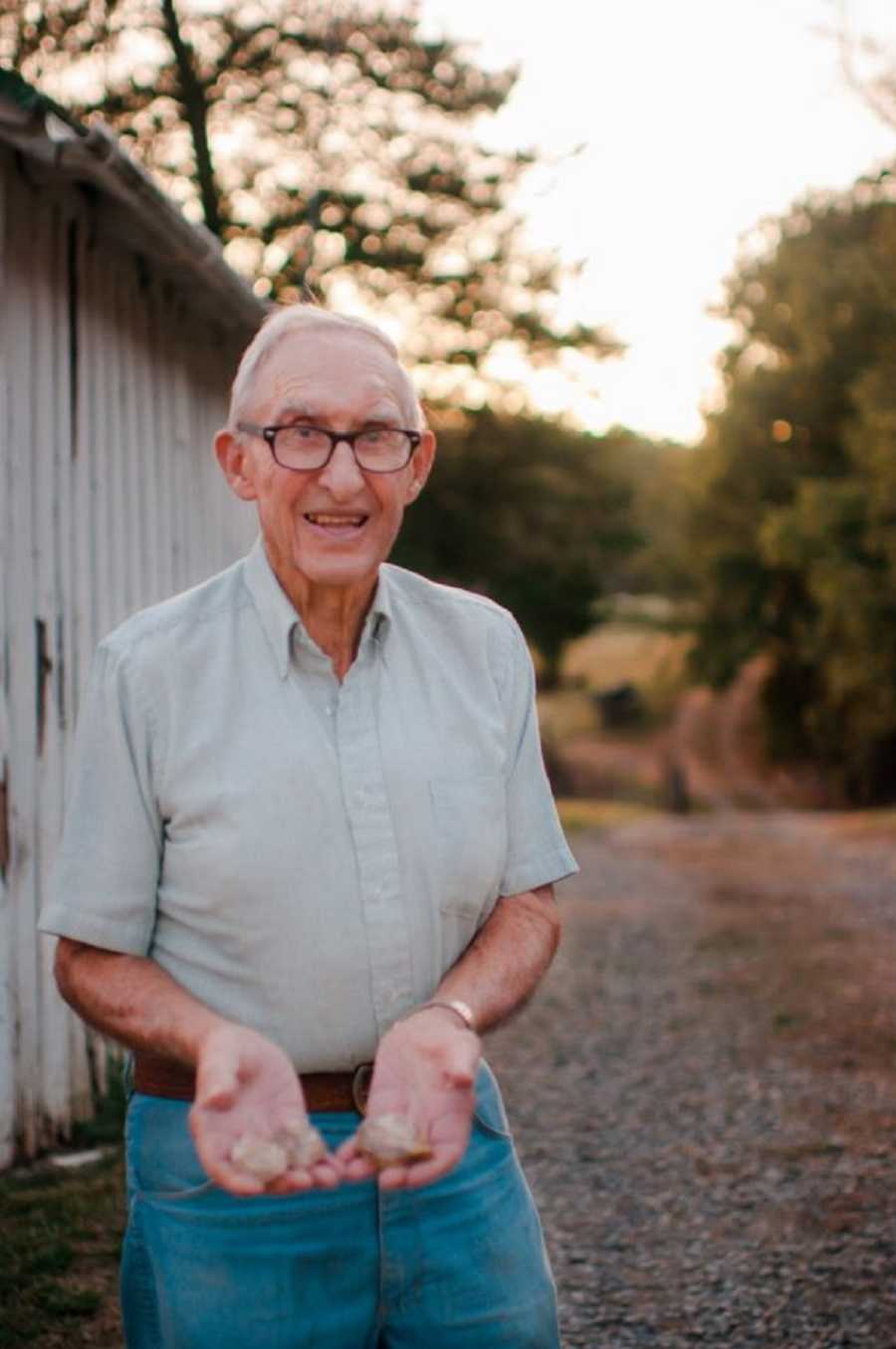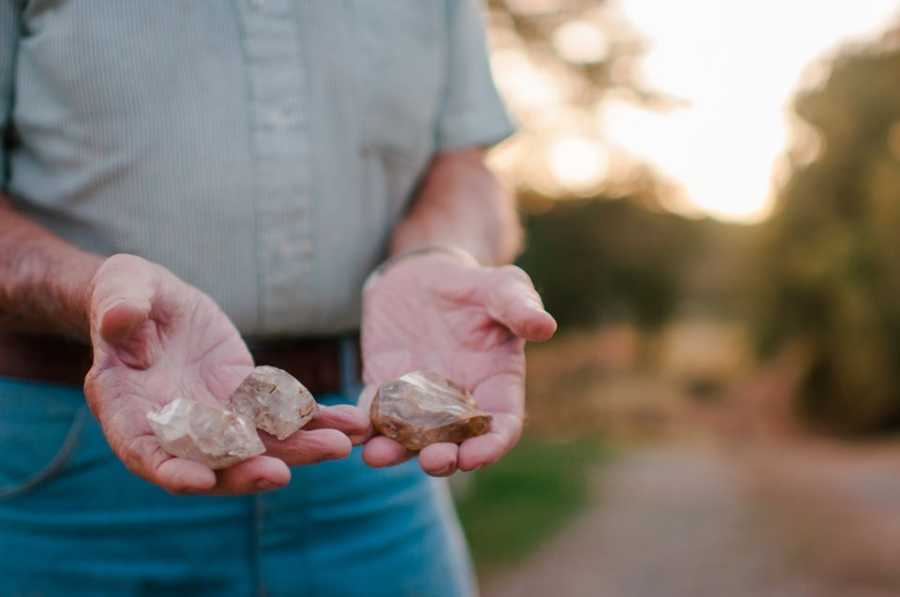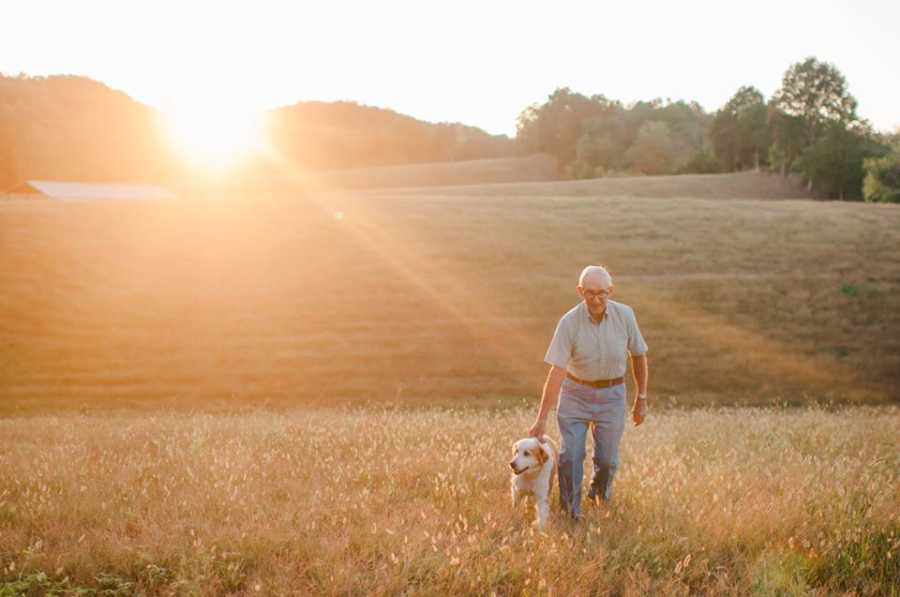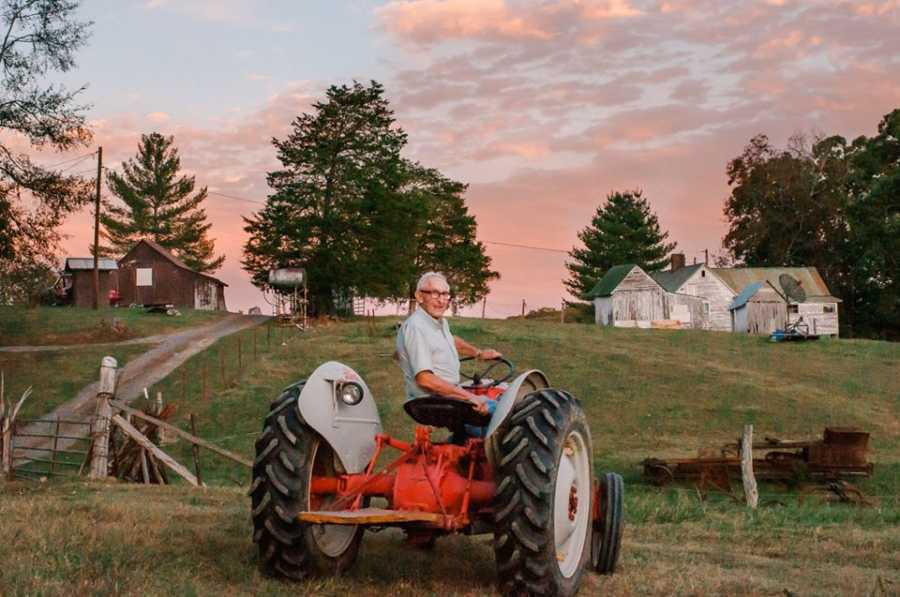 I know the Lord was at work in his timing with this shoot, for one week later, Reva Dean is now on hospice care. My heart breaks for the change that's about to happen in Jack's life. I've spoke all week with his granddaughter Sierra. She told me that she's always known they had the greatest love, but watching him love her through the last month of life has been the most precious thing to witness ever.
Jack has never gone grocery shopping, or made the meals in the house, but he's taken on all of these roles for he and his bride over the last several months. Sierra watched him fry his first egg at 90 years old in hopes that he could get his bride to eat something. This is love y'all. Tender, soft, strong, fragile, and courageous all wrapped up in one! It's not how much you do, but how much love you put in the doing! I pray for a Jack in life! We truly are all just walking each other home.
After I posted these photos on Facebook, I had several 'Jack fans' email me wanting to send Jack a card or words of encouragement through the loss of his wife this week. One fan gave me the idea to post his address so America, who's fallen for him and his great love story, could flood him with cards to help him get through this great loss. I LOVED the idea, though worried about so many people having his address being a new widow. I ran it by his family and they came up with idea to have all mail sent to the P.O. Box at his church! Brilliant, right?
WELL, A TRUE LOVE STORY NEVER ENDS, RIGHT?!
In October, I asked others to join me in sending Jack letters and words of encouragement to allow him to see how much his story had touched the hearts of America. I hoped that such a simple act of kindness could bring profound encouragement and joy to his grieving heart.
In my heart, I hoped for 100 cards. I never in a million years would have imagined the outpouring of love that people have shown this precious man! YOU GUYS, Jack has received 435 letters in the mail from all over the world! He's received drawings and letters from classrooms full of children, letters from college students, newlyweds, widows, deployed service members, full families. from the elderly, from some who are in hospitals and nursing homes, and even a certified letter of condolence from the President and First Lady of this great country. He's received words of great sympathy, inspiration, connection. Stories filled with hope, love, and saturated with scripture showing him that he's not alone.
Recently, I sat down with Jack and he smiled from ear to ear as he told me how much he loved checking the mail with his dog Lassie everyday! He giggled as he told me he's learned Lassie only likes to carry in the letters in white envelopes; she'll drop the colored ones in the road midway home. I asked for letters to be sent to his Church as to not give out his home address, but apparently the post man in his small town came asking if everything was okay because he had never seen that much mail ever come to one place in Bybee, Tennessee!
Jack said these letters have given him something to look forward to everyday. He reads every single one of them. They've made him laugh, cry, and smile, but ultimately have brought joy through the loss. He said he loves the letters from the little kids! They've sent pictures of their own pets, farm animals, and one child even sent him her rock collection after learning about his love for field diamonds!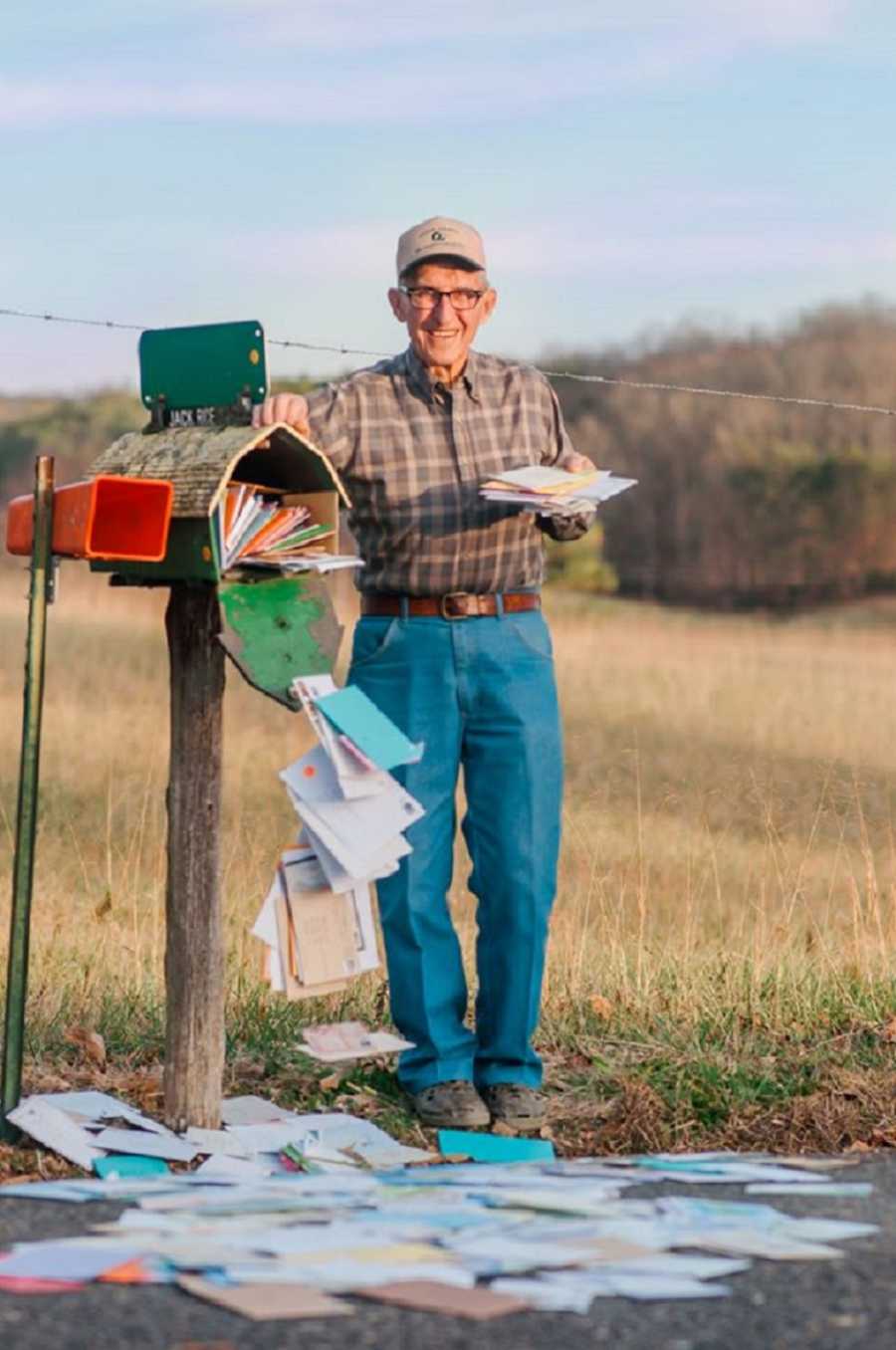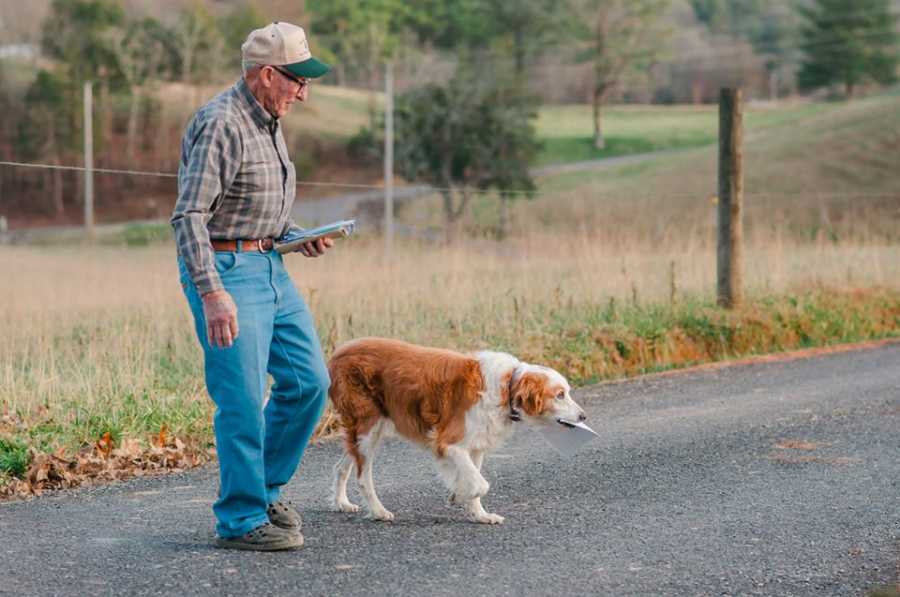 My heart has never been more grateful to see my community and America come together on the foundation of love. I have witnessed the power behind the smallest act of kindness. I have seen how something as little as dropping a letter in the mail, filled with a few simple words can energize, connect, and invite healing to the brokenhearted.
The Bible tells us in James 1:27 'Religion that God our Father accepts as pure and faultless is this: to look after orphans and widows in their distress and to keep oneself from being polluted by the world.' I cannot thank everyone enough for living up to Gods calling on our lives and joining me in seeing Sweet Jack through his distress. I encourage you as the Christmas Season is upon us to seek out other others who may be experiencing the same emptiness in their hearts as Jack and remind them, they're never alone are forever loved.
And lastly, if you're the Christmas Card sending type, please remember Jack! I would absolutely love to see his box continue to be filled with love through the holiday season! He only lacks five states from receiving a card from every state in the U.S. His family has an app they are tracking this with! I would love to see the whole map in color! HAWAII, MAINE, NEVADA, RHODE ISLAND, & VERMONT, Where you at?! Will you please help me fulfill this Christmas Wish? You can send mail to the following address:
Jack Rice
C/O Bruners Grove Church
PO Box 33
Bybee, TN 37713″
From podcasts to video shows, parenting resources to happy tears – join the Love What Matters community and subscribe on YouTube.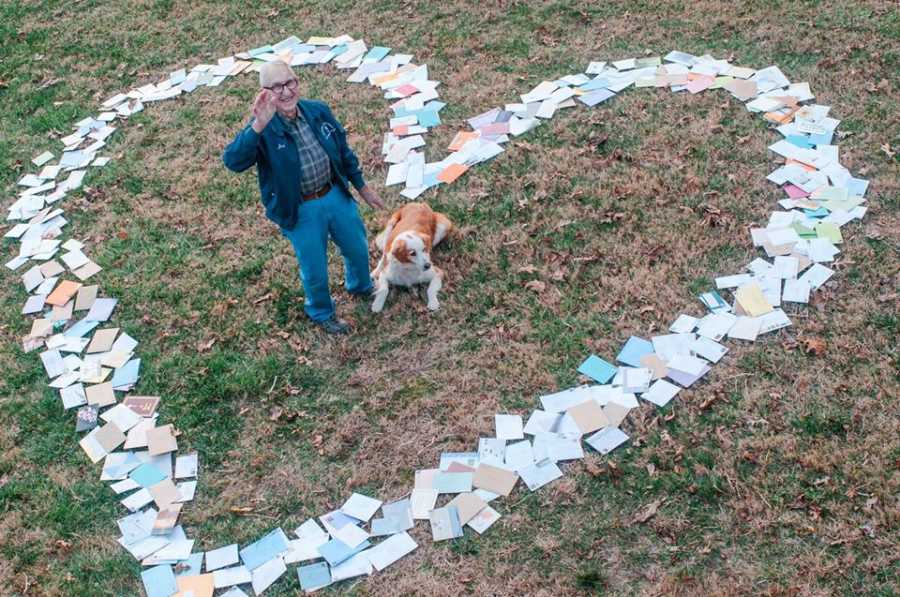 This story was submitted to Love What Matters by Kayla Maye of 29:Eleven Photography. Submit your own story here and be sure to subscribe to our free email newsletter for our best stories.
Read more about acts of kindness:
'This is $150 of underwear. My team and I are no longer willing to let our survivors go home without a bra, or decent pair of underwear.': Sexual assault nurse examiner shares act of kindness for rape survivors
'Ma'am, you dropped something.' She couldn't afford to buy a SLICE of cake for her son's birthday. 'Take this. It's yours.': Woman shares touching act of compassion for stranger, 'kindness is putting others before yourself'
Help us show compassion is contagious. SHARE this story on Facebook with family and friends.