"Hey gather round. Let's talk for a minute.
Today I went to the grocery store (ALONE) and was getting my meat at the butcher. I was shooting the sh*t with her and she was asking about my kids, and when she realized how young and close in age they were, she proceeded to ask me, 'You gonna get your tubes tied then?' HALT.
I literally always have the perfect response in my brain, and was just stunned and pretty much speechless. I said, 'No… why would I? If anything, my husband would get a vasectomy because I've ripped 3 of his kids out my lady bits.'
She said fair enough. I walked away.
Cue me standing in the canned goods aisle stewing about this for 10 minutes because that was bullsh*t. It is NO ONE'S business what any woman does with her body.
My reproductive health is NOT your business. My family size is NOT your business. My birth control is NOT your business.
And the only thing you should be asking a pregnant woman, or any woman for that matter, is 'Can I help you?' or 'Do you want the lean ground beef?'
What if she asks someone who's struggling to build a family? What if she asks someone who is pregnant with their rainbow baby? Or what if she asks the wrong pregnant lady?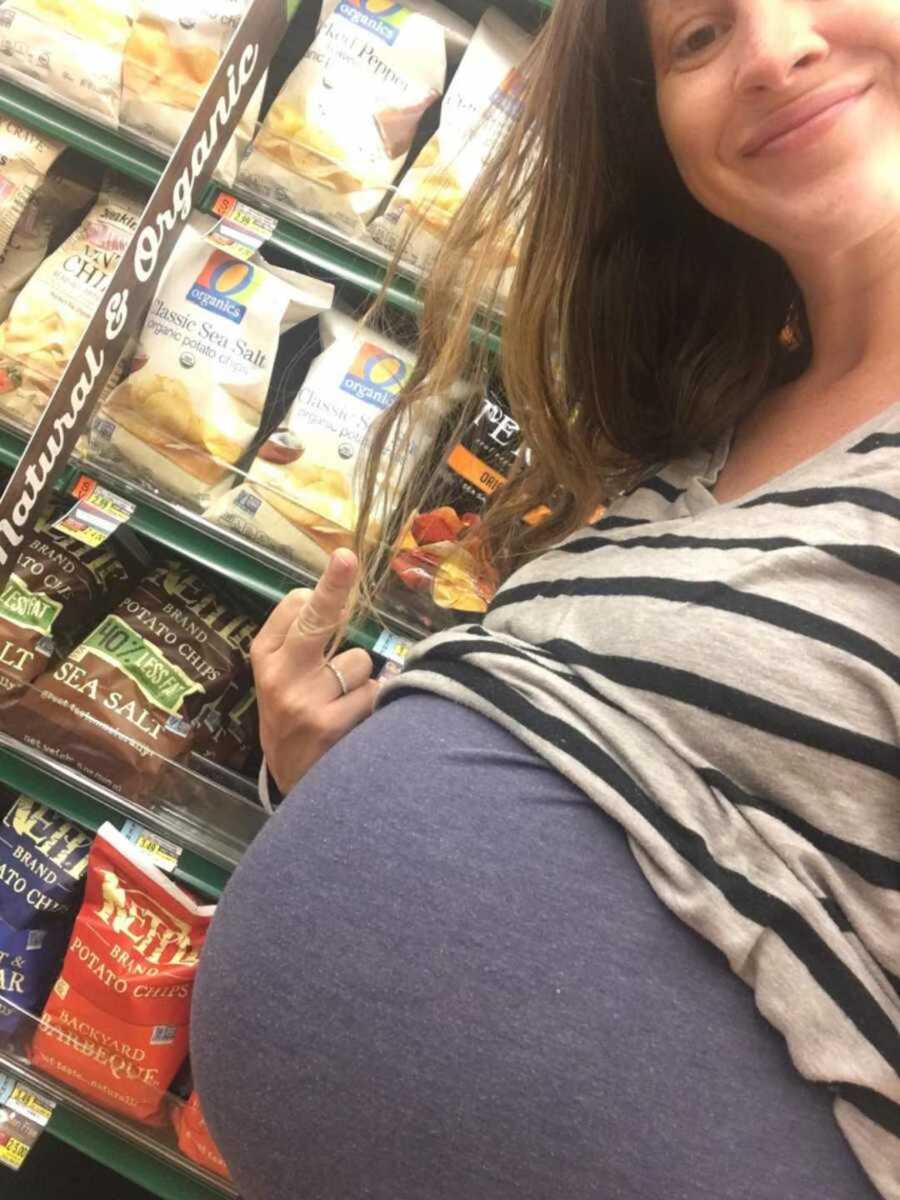 I texted my friend to see what she thought, and I slowly made my way back to ask her to see if she had anymore meat. After she told me they had no more, I said, 'Also… I know you meant no ill will by it, but in the future, I wouldn't ask anyone if they are getting their tubes tied. You don't know who's going through infertility.'
She cut me off and said, 'I'm pretty bold when I'm asking questions.' I responded that I was thinking about other women and that question might, you know… hurt their feelings. She said, 'I understand.'
No apology. I walked away.
This was obviously the most uncomfortable conversation for an introvert with mad anxiety busting out of my butt to have, but it needed to be had. I spoke with the manager whose jaw was basically dropped and she said she couldn't believe how insensitive it was, and that the situation would be handled. (She actually thought I was talking about a customer)
Moral of the story: mind your own uterus. Think for 5 seconds before you let garbage slip out of your mouth.
We don't know each other's stories and never will unless we feel like sharing them. Stop asking people ridiculous questions like this.
No, it's not twins. Yes, I have my hands beautifully full. Yes, I know how this happens (it's not from a stork). Yes, I know I'm huge.
And yes, I know it's none of your business. EVER.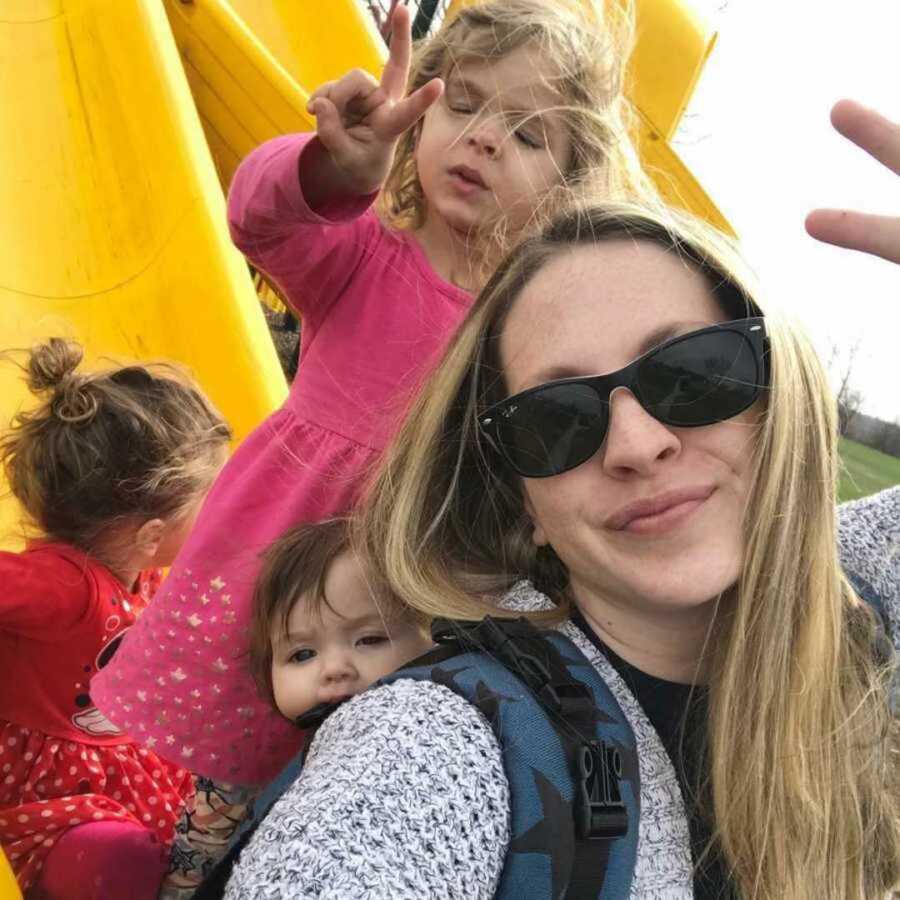 The purpose of me writing this piece wasn't just about being asked, 'Are you getting your tubes tied?' It's about people constantly feeling the need to make unwelcome comments and scrutinizing women's bodies in particular.
Our size, our reproductive health, our weight, our bodies, why are we having so many kids, why aren't we having kids, why don't you give your kids siblings, aren't you disappointed it's not a boy/girl, why we're too big, why we're too thin, why haven't you had any children yet.
'Are they all yours?' 'Just relax, you'll get pregnant.' The list goes on and on.
Although some people don't mind these questions from complete strangers, a lot of us do. So we can be mindful of each other and our stories and answer these questions however you best see fit.
I speak out for other women even when something doesn't directly hurt me, I always have and always will. Women's issues and rights in particular are very important to me.
Thank you to everyone who's been cool and respectful. Thank you for standing up for each other.
Keep being amazing women and keep on keeping on. So much love from my family to yours."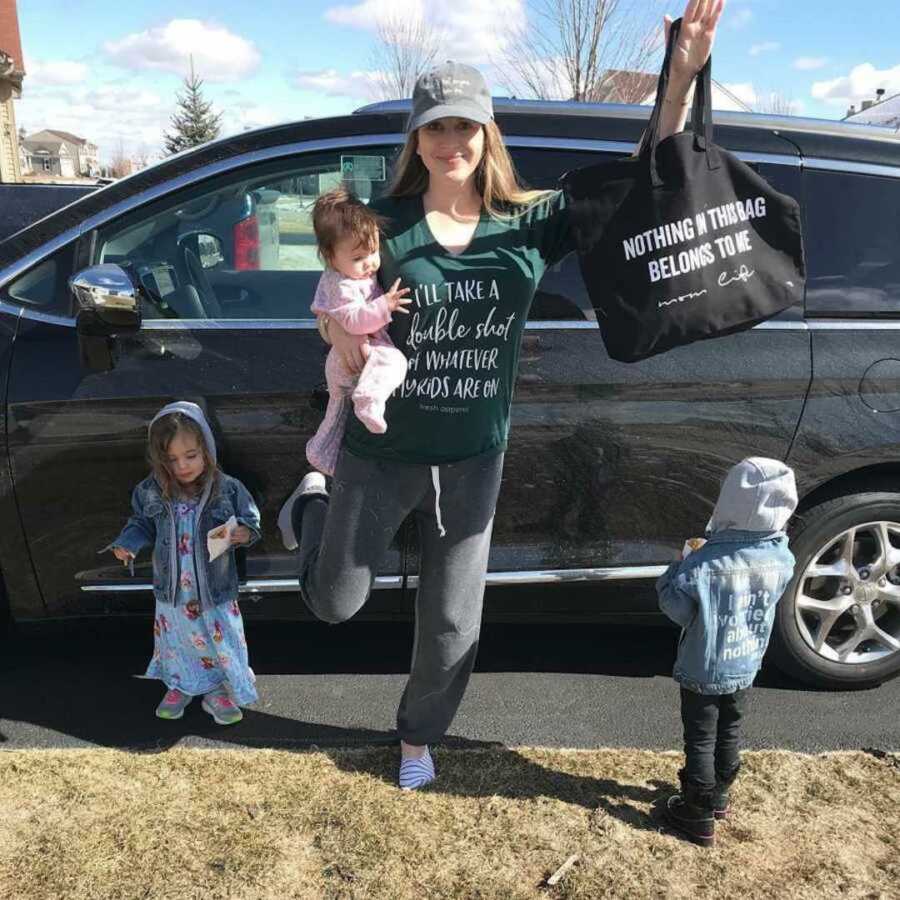 This story was submitted to Love What Matters by Sydney W of Strollin With My Homies. You can follow her journey on Facebook. Be sure to subscribe to our best stories in our free newsletter.
Read more from Sydney here:
'My husband is on the floor, eyes closed, moaning, 'Syyydd. I can't see.' Is this a joke. He has a flu symptom that doesn't even exist. Actually I can't. I should leave. Where is this dude's mom.'
'Oh my gosh, that's a dong.': Mom hilariously recounts memorable playground structure
Do you know someone who could benefit from this story? Please SHARE on Facebook to let them know is a community of support is available.