Twin Pregnancy
"Hearing the word 'twins' during your first ultrasound is the surprise of a lifetime, but not hearing it until your second appointment made for an even bigger surprise! At 12 weeks, we discovered a second little heartbeat, and I immediately knew I would hold the title of twin mama SO proudly!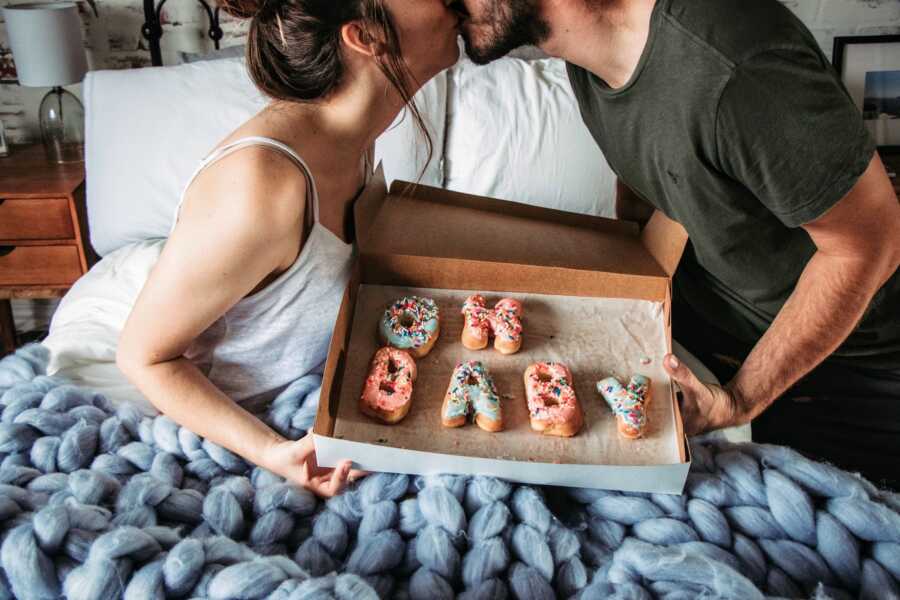 Although I had an awesome OBGYN who had dealt with many multiple pregnancies, and even assisted in the delivery of a famous set of quintuplets in our area, I was not seeing an MFM doctor (Maternal Fetal Medicine). We quickly knew our babies were identical twins, but I truly feel like the dangers of a Mo-Di pregnancy were never discussed with us.
At 21 weeks, I was sent for an anatomy scan and was told I would need to see my OB the next morning. Sadly, I had never even heard of the term Twin to Twin Transfusion Syndrome (TTTS), but less than 24 hours later, I was diagnosed with stage 3 and no chance of survival for either baby unless we immediately intervened. TTTS can happen to identical twins who share a placenta – it's an imbalance of blood flow that causes one baby to become the donor and the other a recipient of all nutrients.
Twin To Twin Transfusion Syndrome
We are blessed to live in Houston with incredible hospitals nearby that people travel to from all over the world. We were sent to Texas Children's Hospital where they confirmed I was already at Stage 3. The doctor present that day was so casual and his bedside manner was so cold when he began telling us our options. His first opinion was to terminate baby B to give baby A a better chance. There was already a 48% discordance between the girls' size, and as much as they were worried baby B would have a heart attack (she was passing all her nutrients to baby A), they were just as concerned baby A would have a stroke.
He was so flippant and casual with the idea of ending her life; I'm not sure I heard anything else he said. We immediately let him know we would not be choosing one baby over the other, and we needed to hear the other options. Surgery – with a 30% chance of survival for baby B. I was prepped for surgery immediately so a doctor from Panama could be present.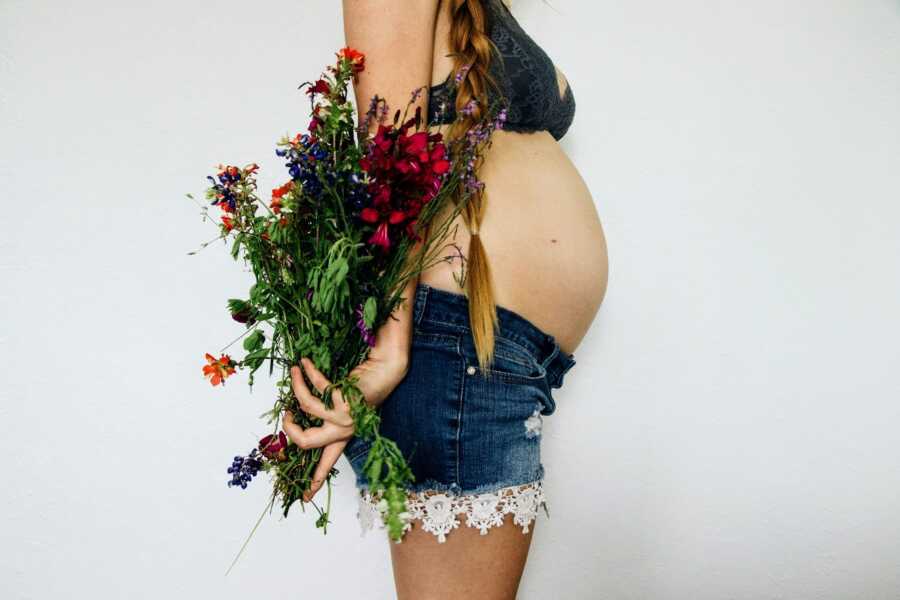 During the events unfolding that morning, I had been texting with my boss to let her know what was happening. I had been a nanny for their family for nearly three years. When I told her the diagnosis and that I was being prepped for surgery, she sent me the name and personal phone number of a family friend/colleague and told me we should get a second opinion, and he would be waiting for our call. After we spoke to him, we immediately made the decision to discharge ourselves and go straight to Memorial Hermann where a room was being prepped for us.
As the anesthesiologist came in, I told her we would like to see the doctor and be discharged. The doctor tried to convince us to stay, and even apologized for his bedside manner. I was so uneasy from the time we had gotten there, and the surgery felt so rushed. I knew the correct option was leaving and getting another opinion.
Upon being admitted to Memorial Hermann we received the kindest care from the Fetal Centers amazing team led by Dr. Pappana and Dr. Burke. We were given all of the same options, but this time with more hope that surgery could be successful. We were also assured it was safe to get some rest and the entire team would be there the next morning.
We spent the night in shock at the day's events and praying (I think it was probably more begging than praying) we would still have two heartbeats the next day. I remember laying there most of the night trying to finalize the girls names, because I couldn't imagine something happening to them and not already having names picked out.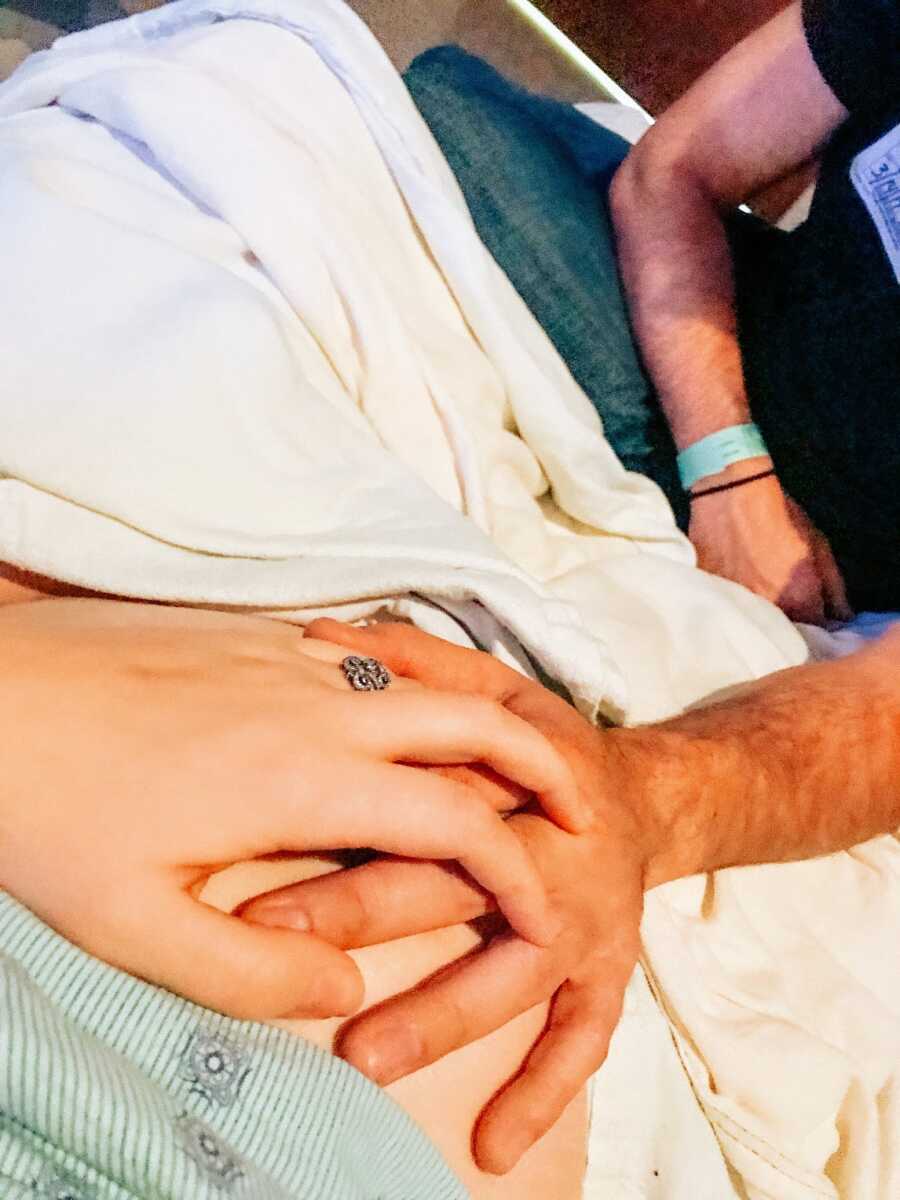 Twin To Twin Transfusion Syndrome Surgery
The next morning came quickly and surgery was first thing. I had to sign papers stating that if at any point baby B's heart stopped they would quickly cut her supply and only focus on baby A. A truly dreadful thing to sign your name to.
To help correct the issue that TTTS brings, the blood vessels that are causing the chaos and imbalance in growth must be severed. During surgery, I was kept awake and listened to them call out baby B's heart rate – it stayed steady and she never wavered. I will never forget the sweet nurse who wiped my tears while I laid there. During surgery, they also took two liters of extra fluid from baby A's sack that had been building up and that would cause her harm.
Surgery was successful and every time the team came back to check on us, they found two strong heartbeats and fluid levels evening out. But honestly, this was just the beginning of our story. Being only 21 weeks, we set a goal to make it to 28 weeks. I was sent home on bedrest and was seen weekly by our now growing team of doctors.
Things remained mostly uneventful at each appointment and fluid levels continued to look good. The difference in the girls' sizes remained a large concern as they stayed nearly 48% discordance. Our donor twin had fallen so far behind it was not possible for her to catch up even now that she was getting the correct nutrients. The big goal was 28 weeks – so naturally, my water broke at 27 weeks 6 days. I was rushed to labor and delivery, where they gave steroid shots and stopped my labor.
I stayed in the antepartum unit for nearly five weeks, being monitored every 4 hours. Morning and night. It was confirmed it was baby A's water that had broken and baby B's was still intact. My entire pregnancy was consumed with fluid levels, and now instead of hurrying and delivering because of the lack of fluid around baby A, we needed to buy as much time as possible because 28 weeks was still too early to deliver them safely.
Emergency Delivery
The next few weeks went by slowly, and we were in a constant state of praying and begging for our tiny baby to grow some more before delivery. She was still estimated to be around 2 pounds, and the risks and health issues that could come with that were nauseating. Finally, at 31 weeks and 5 days, our smaller twin's heart rate began to waver on the monitors. They gave her many chances to return to normal, but the drops in her heart rate became too risky and it was decided it would be time to deliver.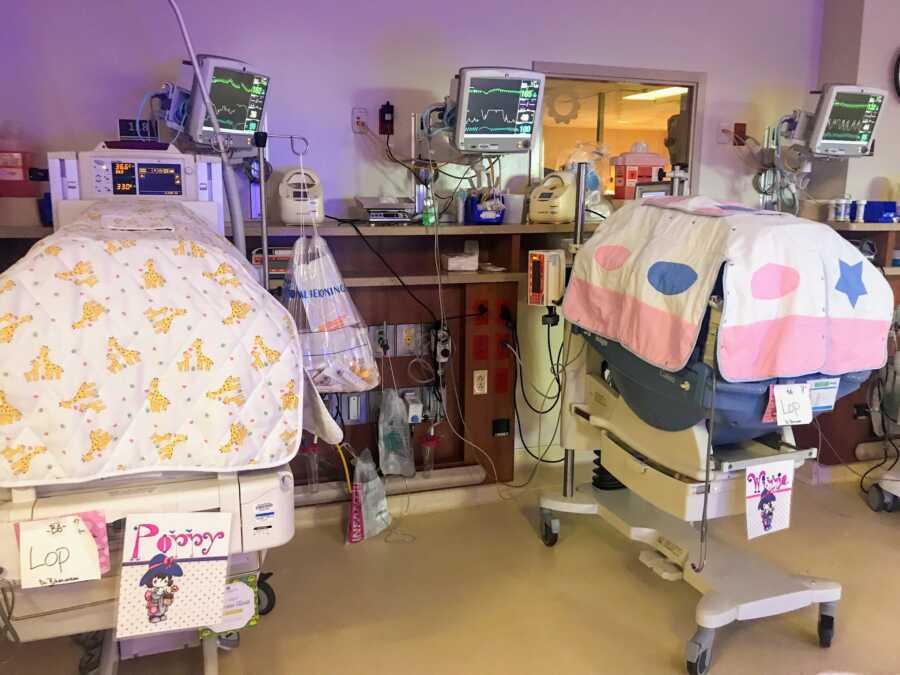 I will admit that throughout my pregnancy I relied on baby A to be 'healthy' – my worry was never toward her. I knew she was big enough to be safely delivered at any time and I felt her kicks and hiccups daily. She was active and wiggly on the monitors, and the doctors never had very many concerns regarding her growth or health. But on the morning of May 24th, our very worst fears came to life… in an unexpected way.
Baby B (who we were offered to terminate and who was always called 'donor baby' and who was never on a single growth chart) was born 1 pound 11 ounces, and to our surprise, healthy as she could be. She was strong and needed virtually no assistance besides a very low amount of oxygen. They found nothing wrong with her heart and no reason for the big scare that caused the delivery.
Health Complications
However our 'healthy' baby A was born with such underdeveloped lungs she was rushed away from us without us even getting a glimpse of her. It was her water that had broken nearly five weeks before, and it had taken a toll on her that doctors did not expect. A team of doctors worked on her for an extended amount of time and finally came to give us an update. There was nothing more they could do for her, she wasn't going to make it. I remember questioning which baby they were talking about because I thought I had heard them incorrectly. The doctor rushed away.
There were mothers all around me in the recovery area being taught how to breast feed their babies and others were trying to calm the newborn cries and in awe of their new little bundles of joy… it truly felt like a horrible joke to be given that news in such an open area, with only curtains dividing us from the others. More time passed when the same doctor rushed in to tell us the team of doctors on call that day just did not want to give up on our girl. They had given one more last ditch effort and it was something that was not FDA approved. It worked. They were able to get her on a ventilator on the very highest setting, and although they weren't sure if she would make it, there was a glimmer of hope.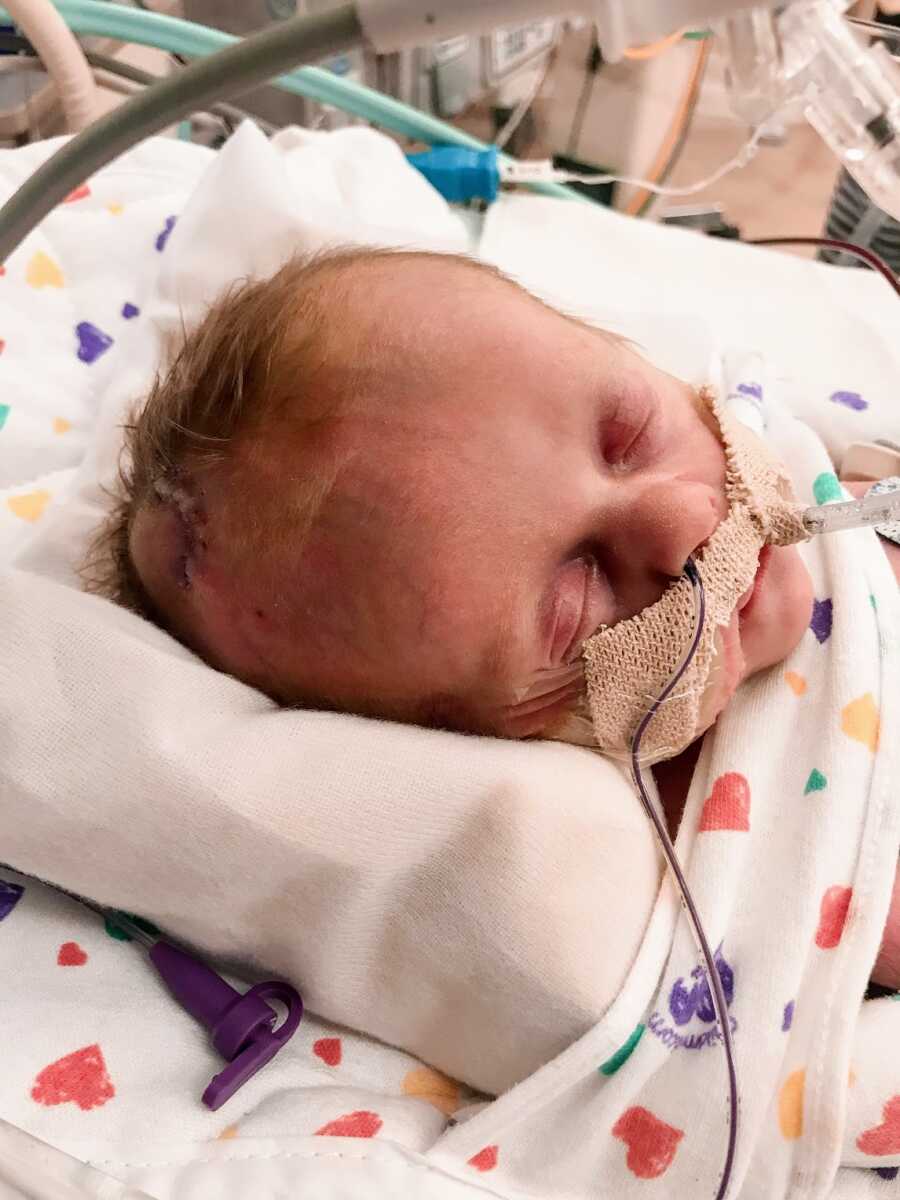 'I think your tiny twin saved her sister's life,' were some of the next words I remember our doctor telling us. It was clear if we had waited ANY longer to deliver the girls, baby A would not have made it. Our doctor felt like baby B was letting us know her sister was in big trouble, and they needed to be delivered immediately! I fully believe if we would have terminated baby B when given the option, we would have come home alone. With neither girl.
The next week the girls both grew stronger and stronger. Winnie (baby A) came off the ventilator in record time and blew every doctor away, and Poppy (baby B) was as feisty as could be and left our nurses in awe of how tiny and strong she was.
Our NICU time came with many highs and lows. Due to the trauma of saving Winnie's life at birth, she developed stage 3 brain bleeds on both sides of the brain. This resulted in hydrocephalus (the building of fluid on the brain), and she had brain surgery at 14 days old. A reservoir was placed with the intention to place a shunt as soon as she grew a little more.
Each day her neuro team came and 'tapped' her reservoir, taking out the fluid that was building. Until one day they were able to skip a day, and then another day, and so on. We were told there was less than a 10% chance this problem would ever resolve on its own, however, we feel this was just another life changing blessing our girl received. She never had to undergo another brain surgery.
Hospital Discharge
On day 27, the girls were finally reunited and back on the same floor. I was able to hold them together for the first time. On days 52 and 54, our girls were discharged. Winnie first and Poppy shortly after. Poppy came home the morning she weighed in at four pounds exactly! The day after Winnie came home, she and I drove all over Houston trying to get a special car seat for Poppy so she could try and pass her car seat test and get home with us!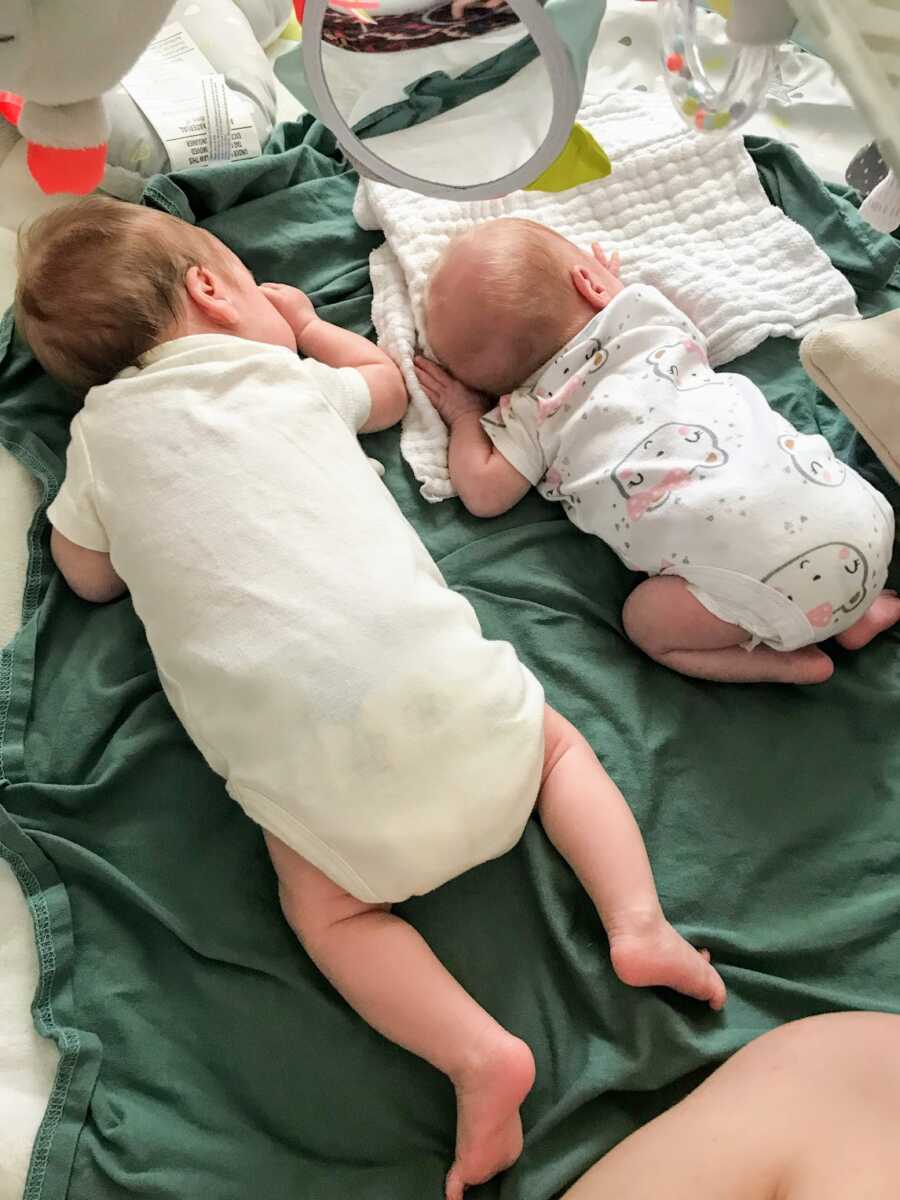 Life Now
We celebrated the girls' third birthday a few months back, and I am so thankful for the opportunity to watch them grow. Today, the only lasting effect of TTTS is the height difference between them. I still occasionally get a comment from a stranger that surely they can't be twins because of the difference in height… I usually just smile and think to myself, if only you knew. Our family truly saw the goodness of God during these times – there was no mistaking His hand in the many miracles received and the way that things worked on our behalf. We are forever grateful.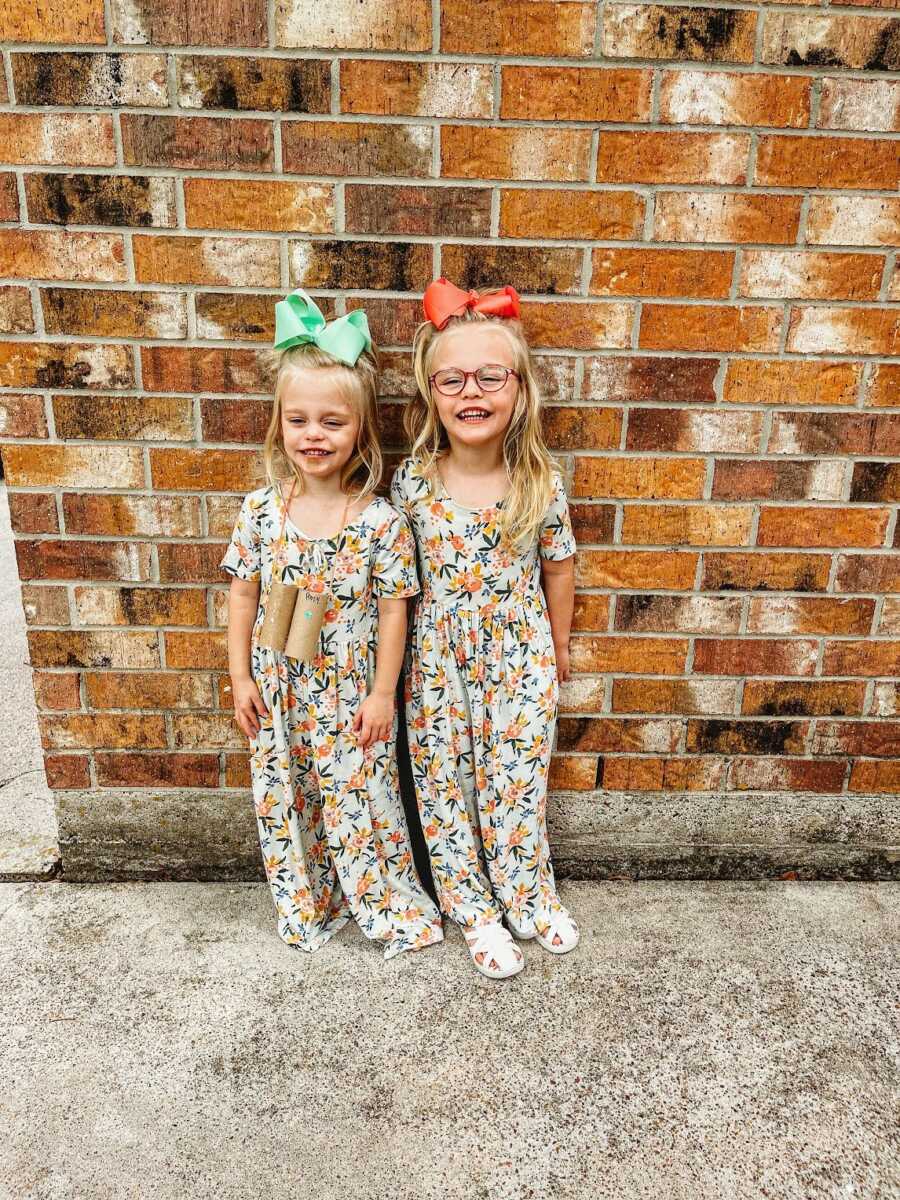 A special thank you to Dr. Pappana's team (The Fetal Center) at Memorial Hermann, to the group of doctors on shift at Women's Hospital who refused to give up on our girl that morning, and to Dr. Sandberg of UT Physicians and his awesome Neuro team!"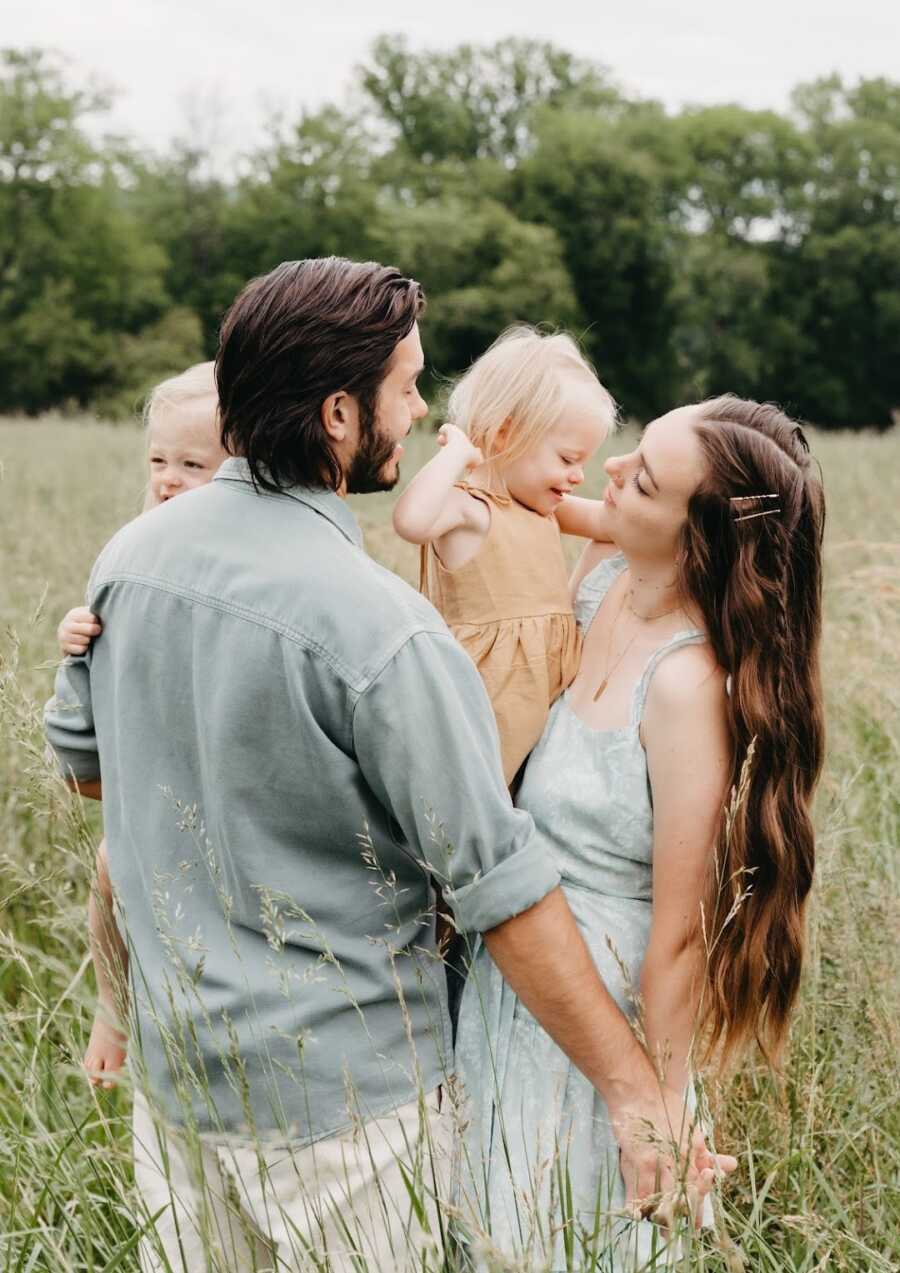 This story was submitted to Love What Matters by Leah McBride of Houston, Texas. You can follow her journey on Instagram. Submit your own story here, and be sure to subscribe to our free email newsletter for our best stories, and YouTube for our best videos.
Read more stories like this:
'My daughter was placed on my chest. Then I began hemorrhaging over half my blood volume.': Mom recounts traumatic birth of miracle twins
'I see twins. IDENTICAL twins.' I let all the air out of my lungs and quietly said, 'WHAT?': First-time mom navigates surprise pregnancy, medically complex child
'The OB showed me a second baby—twins! At 33 weeks, I had a feeling something wasn't right.': Mom survives HELLP syndrome to deliver twins
'Terminate one baby.' My weak heart couldn't handle triplets. But as a triplet myself, I wanted all three.': Triplet births triplets against all odds, delivers 3 'healthy, amazing little miracles'
Spread beauty and strength for others. SHARE this story on Facebook with family and friends.