You can Courtney's previous story here. 
"Many of you read the story of my family and extended family. You may know of the small community in west Texas, Wink, which has helped shoulder our burdens for years. You know of my daughter's fight with cystic fibrosis and the unrelenting chronic pancreatitis. You know my son's long-time girlfriend was diagnosed with leukemia the weekend he ran in the 2018 UIL State Track & Field meet as a junior. You know how I described rocking my then 6'4, 175 lb. baby boy in my lap as he learned of Kylie's diagnosis. He feared the answers to the questions he had not dared ask. He had a little sister with a chronic and terminal illness to one side, and a girlfriend diagnosed with another on the other side.
You read how he arranged for his basketball team to send a video of them singing Happy Birthday to his sister, Carson, when she celebrated her 12th birthday while hospitalized. He brought her a basketball signed by the entire Wink Wildcat Varsity Basketball team to keep in her hospital room. He would fix Barbie limbs when they broke, curl his long and lanky frame up in the visitor bed, and always stay with us when he visited. The most touching though, you all may remember, was how he would write CH/CF in the spikes he ran track in. Carson Halterman over cystic fibrosis. Those same cleats carried him as a 4-time Regional Qualifier in the 300M Hurdles, 3-time Regional Qualifier in 110M Hurdles, 2-time Regional Champion in the 110M Hurdles, 2-time State Qualifier in the 110M Hurdles, and State Bronze Medalist his senior year of 2019.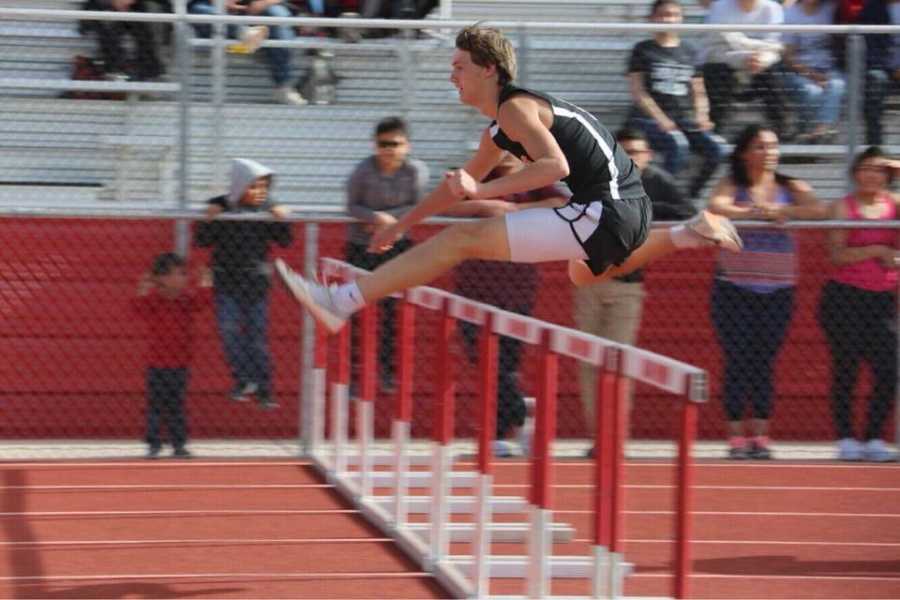 You may have read how he and his girlfriend were #relationshipgoals. He, the multi-sport star and all-around incredible guy, and her, the cheerleader, multi-sport athlete, active in 4H, and all-around incredible young lady. They defined 'The Wildcat Way.' To know them individually and together is to love them.
Kylie was so upset they would miss prom because her medical team wasn't sure she would be out of the hospital, so Wade enlisted the help of the school, myself and Kylie's mom, my sister and Kylie's aunt, and their older sisters (a combined four) to take prom to Kylie.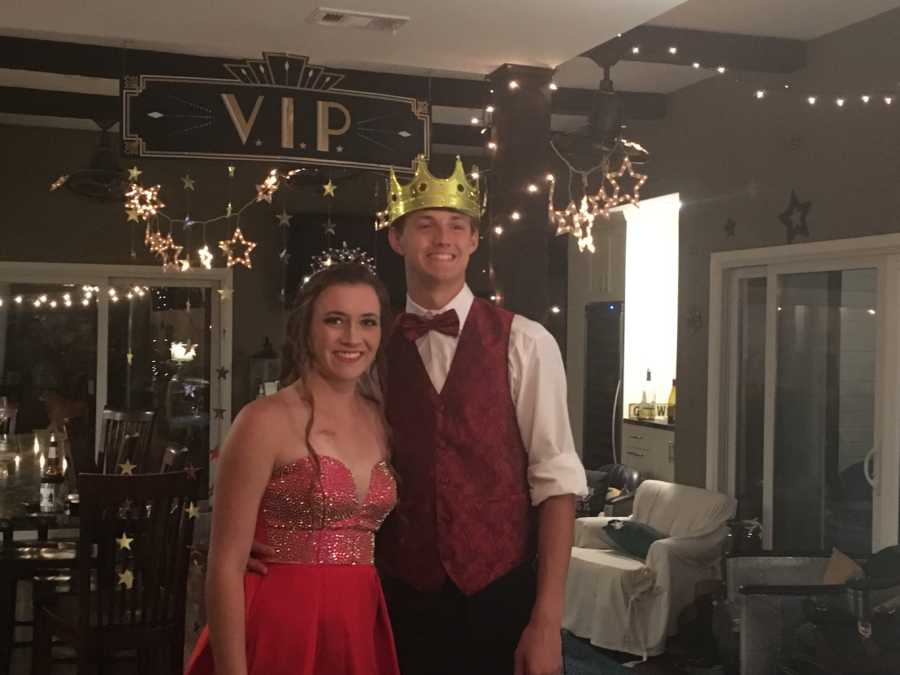 When Wade won the statewide Built Ford Tough Texas Player of the Week for week two in all of 2A his senior year, local news stations requested interviews with him, his coaches, and me. During one off-camera conversation, I mentioned all the aforementioned. The reporter did not know. He didn't know while Wade was having this fantastic high school career that small town kids dream of emulating, he also had all this hardship off the field. Nor did he know how he continued to rise above to take what Carson could not do, what had sidelined Kylie, and used it to propel him forward. Wade being Wade remained humble during his portion of the interview. What began as a sports story morphed into a feature titled 'Pillar of Strength.'
At the time the original story was shared on Love What Matters, in the fall of 2018, we were actively searching for long-term solutions for Carson's chronic pancreatitis that was robbing her of her life. She ended up having a TPIAT, total pancreatectomy with islet auto transplantation. It is as science fiction as it sounds. Her vast medical team knew this was what we had to do, even though it would present problems of its own. So, on May 30th, 2019 (just a few days after Wade graduated high school), Carson and I temporarily relocated to Cincinnati.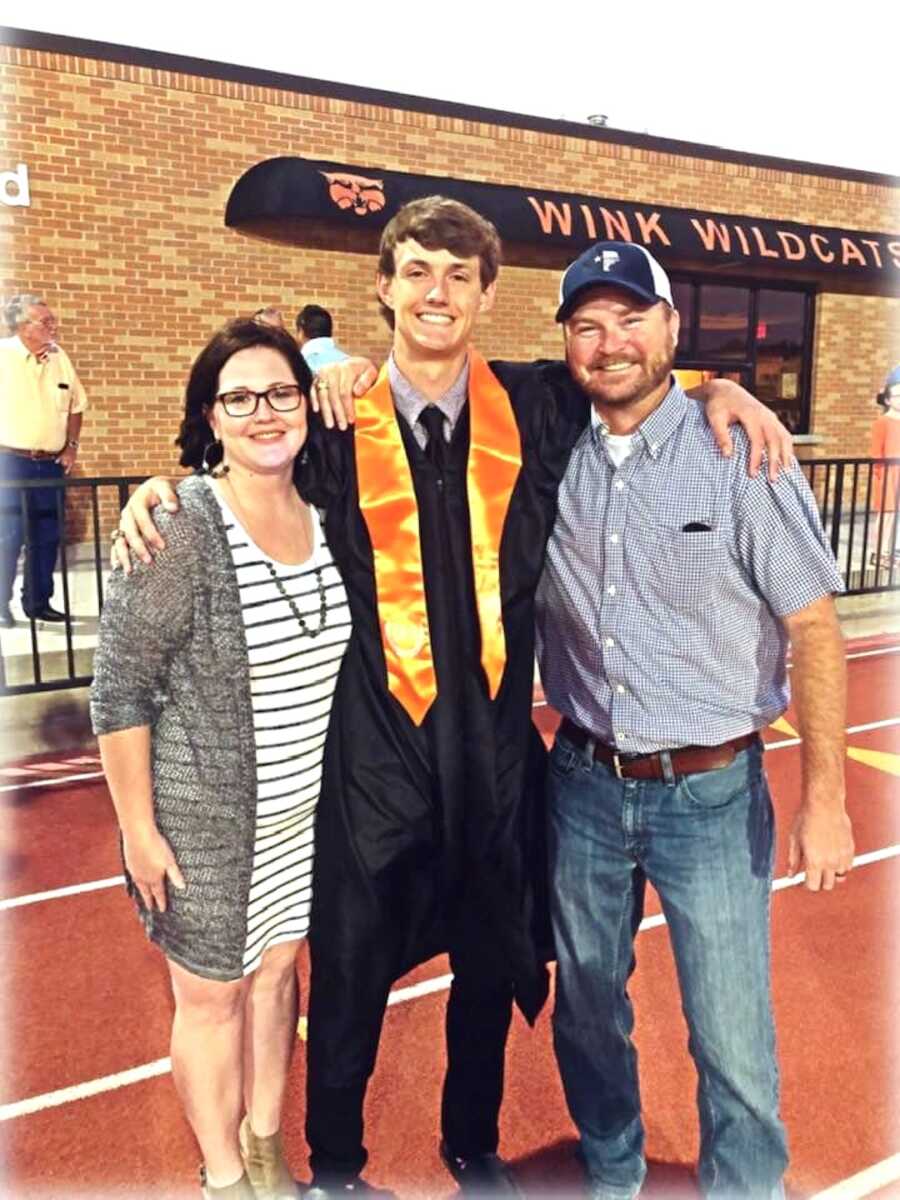 Carson had her pancreas, gallbladder, spleen, and portions of her jejunum/small intestine/small bowel removed and re-sectioned. Then, the islet cells harvested from her pancreas were transplanted into her liver. This surgery was over 14 hours and the recovery process was brutal. Carson (little fighter is her nickname) was a rock star. To know her is to be in awe of her. She did face many complications months after the surgery when we were home, but she fought and clawed her way back to health each and every time. She continues to battle her CF, chronic illness anemia, and adrenal insufficiency, as she always will. She also battles what her therapist calls 'chronic traumatic stress disorder.'  She doesn't work to overcome a single event, it's too many to count, and the events will continue throughout her life. Carson understands, at the tender age of 15, the importance of mental health.
Kylie has completed her cancer treatments. She is living, thriving, and her smile is even more radiant than before. I didn't know that was possible. Wade would accompany her to treatments, and watch marathons of Hawaii 5-0 and Friends on the days she felt the worse. Their support of each other was unmatched.
Two months ago, Wade came home for the weekend. We celebrated my son-in-law on Friday and hung out with my daughter, son-in-law, their girls, and my son-in-law's family all day Saturday – eating, watching football, playing with the littles, and laughing. Wade and my son-in-law (a phenomenal athlete as well) always had a healthy competition with the obligatory trash talking. They played a little backyard football and Wade taught the littles how to properly catch a football while running routes, and of course, end zone dances.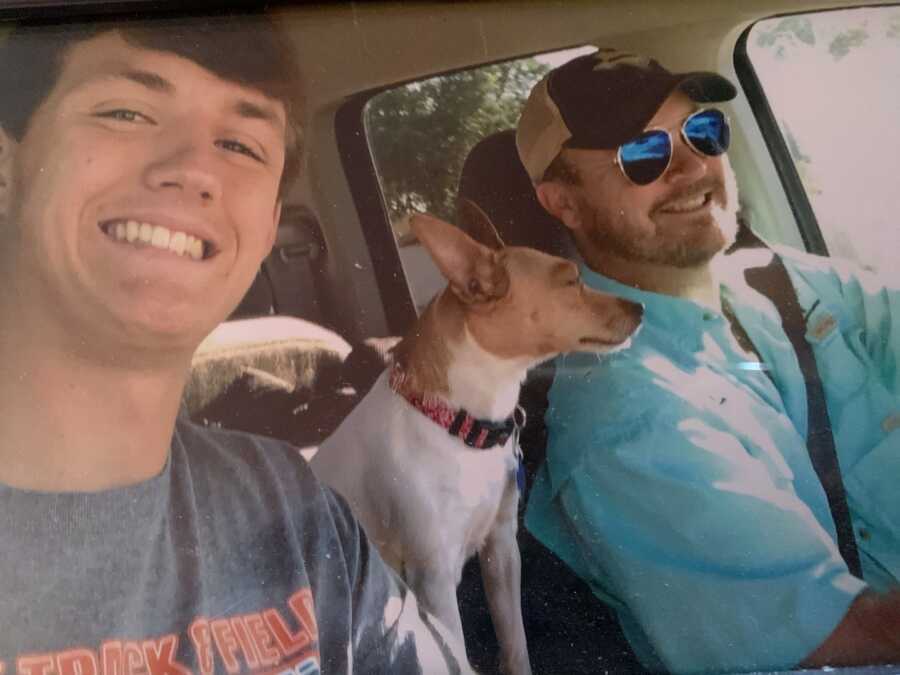 Wade was also a 'Duncle Buh' to my oldest daughter's girls, 6 and almost 2. When my oldest grandgirl couldn't say Uncle Bub, it came out 'Duncle Buh,' and it stuck. Those two were peas in a pod. They snacked together, napped together, danced together, and she had to have Duncle Buh kisses after football games. He would sit at her princess table and have tea parties, eat lunch, play dolls, and color. Most recently he was teaching her the fine art of trash talk. Their latest thing was, 'You don't want this smoke bro.'
When my daughter, Cambry, had Madi, her second daughter, he had already graduated and moved away from home. But, he was cognizant of needing and wanting to cultivate that same relationship with Madi. The last weekend he was home, he taught her to lay down, cover up, squeeze her eyes shut, say 'Nigh Nigh,' and LOUDLY fake snore. This is her new bed time ritual.
Our phones stayed down that weekend so I ended up with just two photos – one of my three children and one of my golden boy and I. I distinctly remember standing in Cambry's kitchen realizing not one person had a phone in hand and being awash in gratitude because as children grow, families grow, time is all the more precious.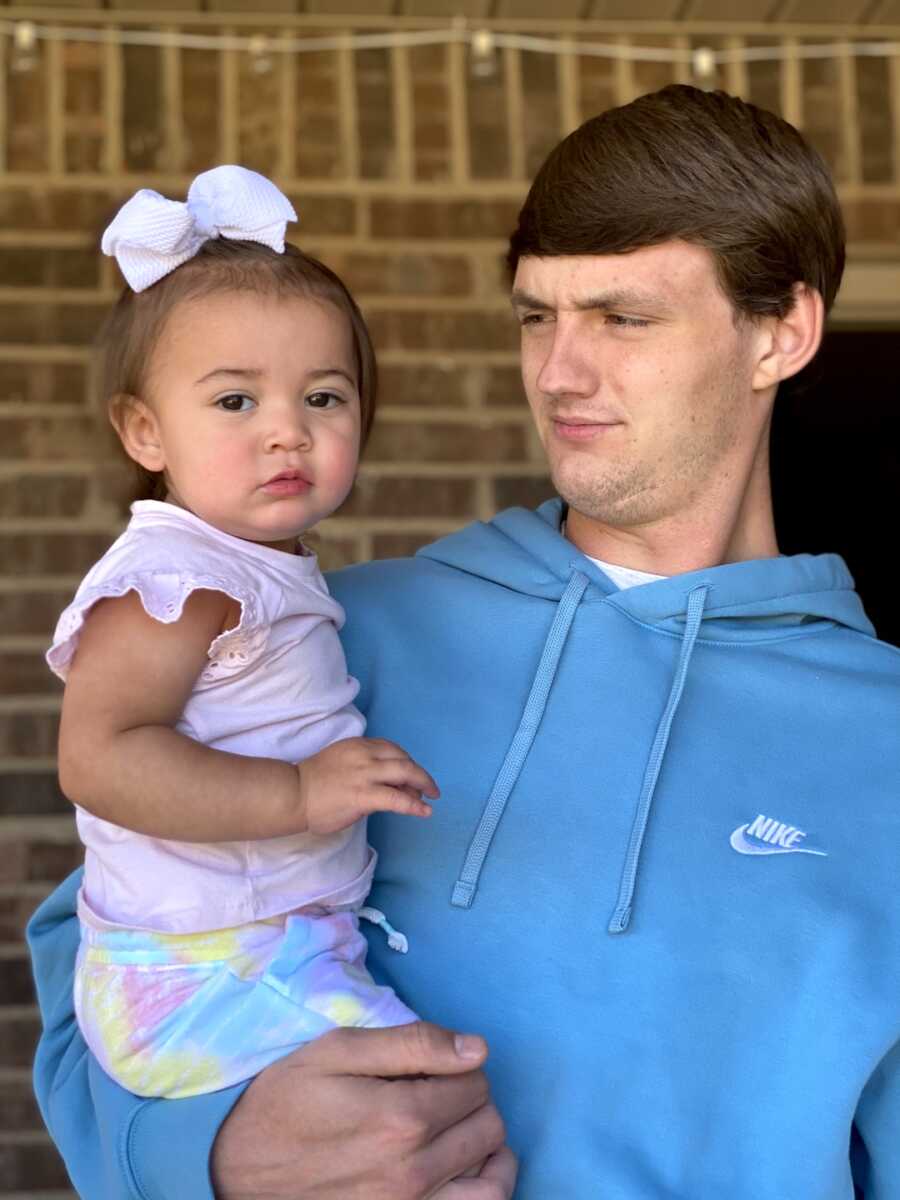 On Sunday, November 7th, we woke up and watched Christmas Vacation, then Wade got up to get ready to go home. I slipped a card in his bag. I put a card, note, or letter in his bag every time he left. Typically a couple of days would go by and I would get a text simply saying, 'I love you too.' His way of letting me know he received my notes or cards. I did not know if he tossed them or stuffed them in a drawer somewhere.
He gave hugs and said 'I love you's.' I followed him outside, put extra snacks in his passenger seat, gave him another hug, another tousle of his hair, and kissed his cheek. He said, 'We never took that picture we said we were going to.' In my pajamas, hair in a bun, no make-up, we took that picture. I repeated the hug, tousle, kiss routine, and this time, I rubbed his scruffy cheek and reminded him to shave. He just smiled that golden boy smile and waved as he drove away. I looked at the picture and gasped at how beautiful he looked. He positively radiated.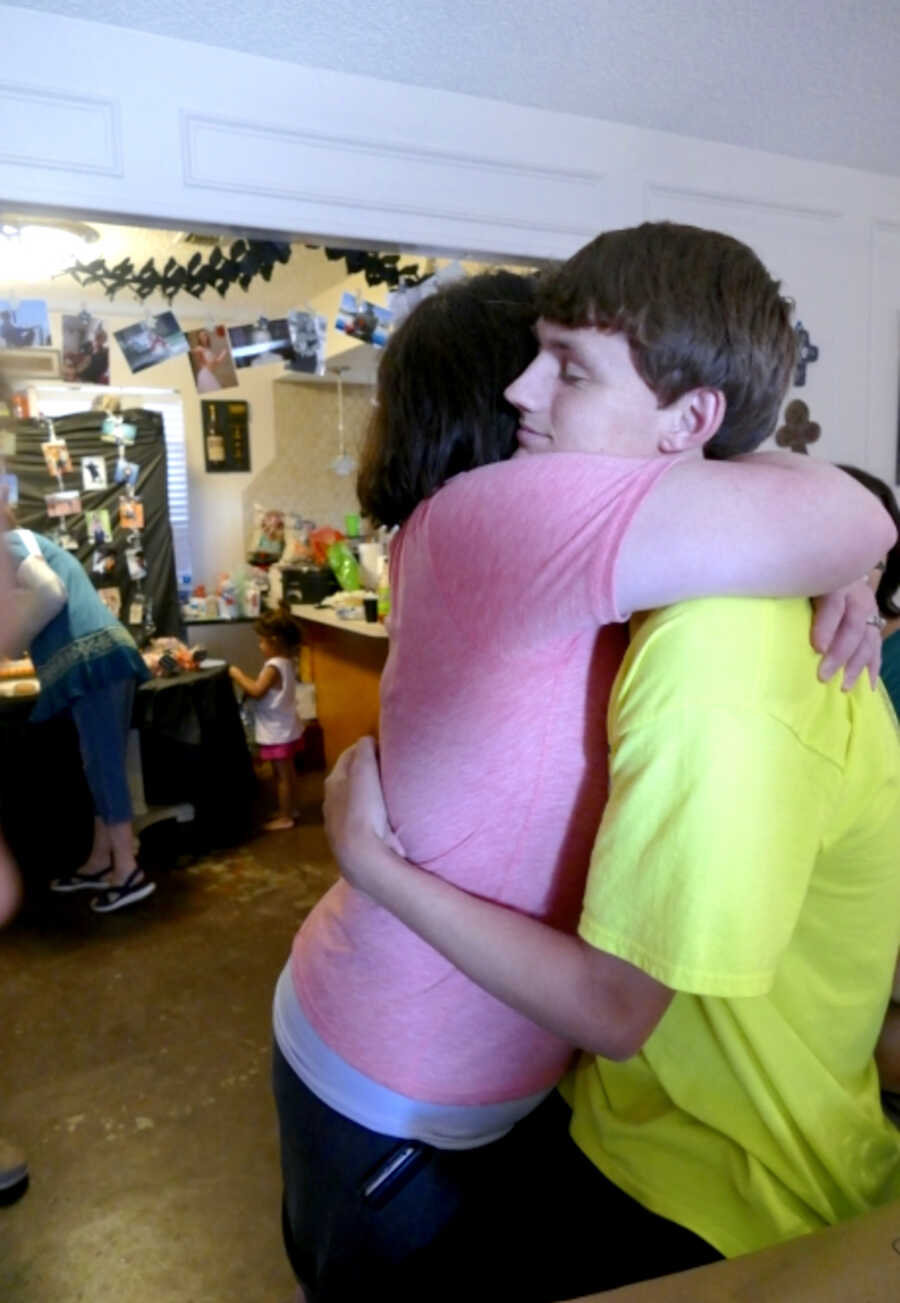 Three hours later, our doorbell rang and Carson answered. She immediately yelled, 'It's the cops!' I knew. A mother always knows. I was immobilized, tears stinging, unable to speak. I heard them ask if we owned a 2017 Jeep. I heard them ask if I was home. I honestly thought if I didn't get up, it meant it wasn't real. My mind immediately went to my grandmother saying those same words when she saw two Marine Corps officers getting out of a car and walking up her sidewalk. 'If I don't answer that door, whatever news they have will go away.' But, it didn't. My father remained critically wounded. And, perhaps this is what they would tell me; he was critically wounded.
I went outside and when I made eye contact, I knew what words would come from her mouth. I knew she had to ask these questions, and I had to answer them. I knew she obviously hated this part of the job, but I was grateful it was her. She is a mother. She treated me with tenderness, candor, and rubbed my back as I sobbed. I saw she too was crying. She told me to squeeze her hands as hard as I could as I screamed obscenities. Next came the phone calls I had to make.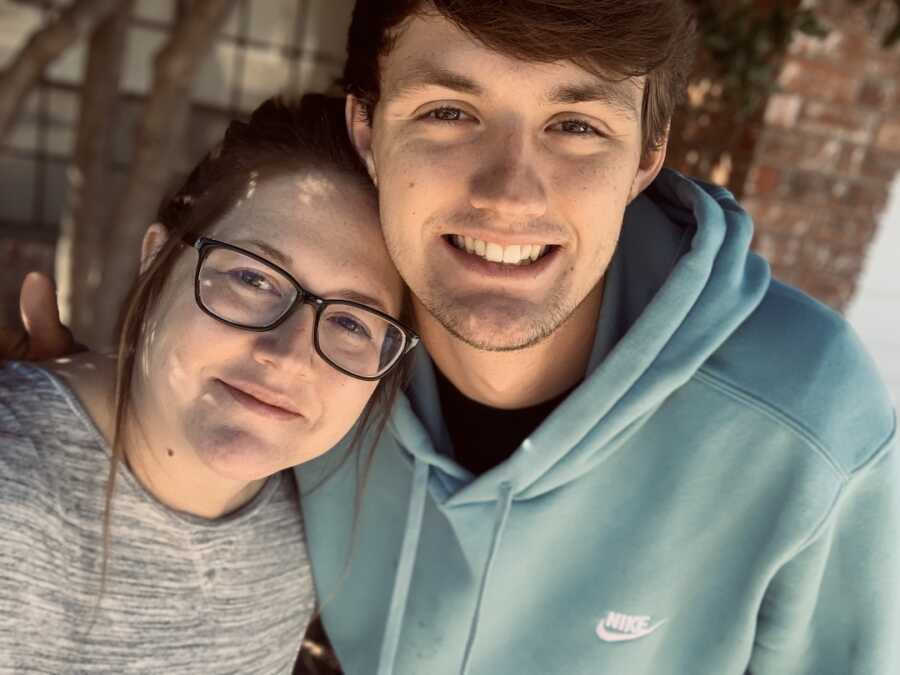 Carson has been in numerous very precarious health battles. We've been told to be prepared for the worst more than once. However, a mother's mind does not prepare in that way. We can't. We do not fathom our children not surviving the surgery, not overcoming the sepsis, not beating cancer or cystic fibrosis or sickle cell or other childhood diseases. We cannot fathom our children driving away and not making it home. There is no such preparation. There is only shock – raw, primal, visceral, overwhelming grief. Tsunamis of grief that rock your body and heart with a physical pain unlike any I've ever felt. I once asked a doctor who very bluntly told us Carson may not make it and we should prepare, 'How do you suppose I do that?' No. She gets all of my hope, my fight, my will transferred to her. That is how mom's prepare.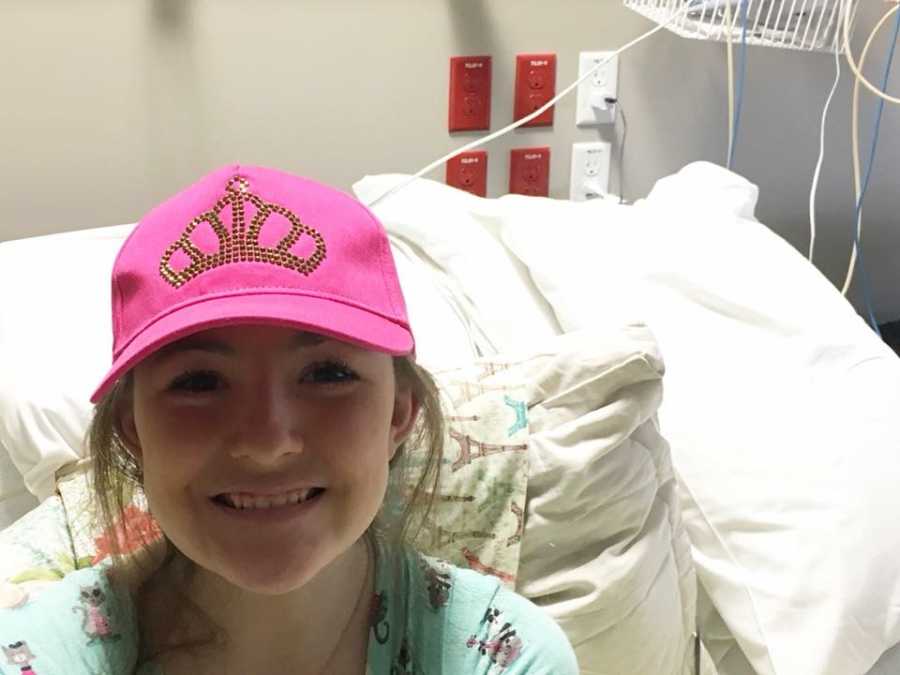 I have always known how much Wade is loved by everyone from preschool teachers to current co-workers and bosses, his youth coaches and high school coaches. From pre-k classmates to teammates, to the youth who idolize him, and everyone in between.
But I was not prepared for the personal stories hundreds of people shared. The ways this one young man from a dusty dot on the map changed the world. I know how he changed mine, those in our orbit, and over the years, teachers and parents would share stories that made my heart burst.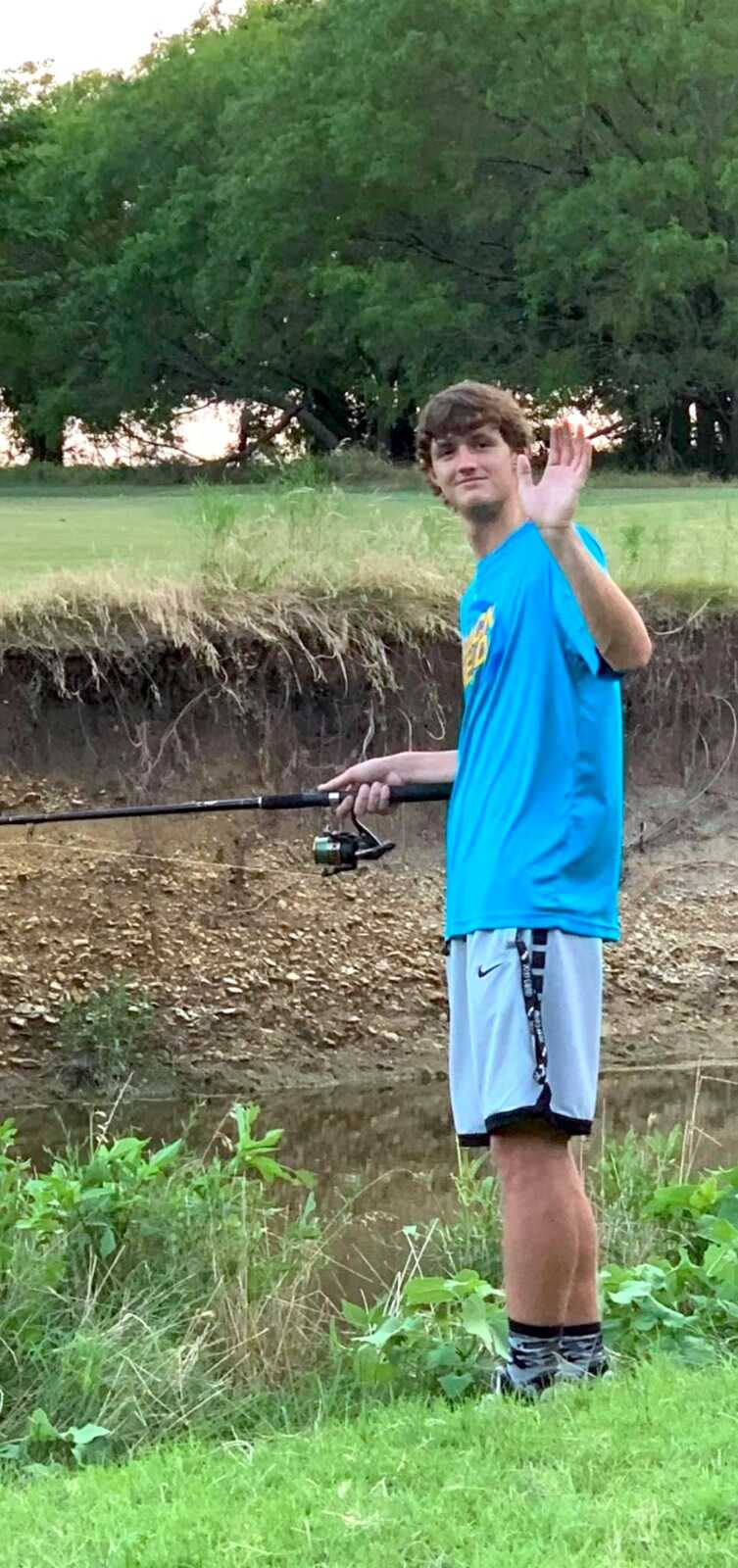 A snippet of people came (some had moved away and came back for the celebration) to personally tell me:
•He was my only friend in elementary school.
•I was bullied relentlessly in junior high and he was often the only person who cared. He sat with me at lunch when no one else would. His late night texts kept me here. I probably wouldn't still be here if he didn't show me I mattered.
•Wade and I shared an elective class when I was freshmen and he was a senior. I wasn't cool, popular, or an athlete. He was all of those things. Whenever we did partner projects, he always chose me. He talked to me outside of the class and school whenever he would see me. He gave me the confidence to come out of my shell.
•Wade was the ultimate big brother to so many children.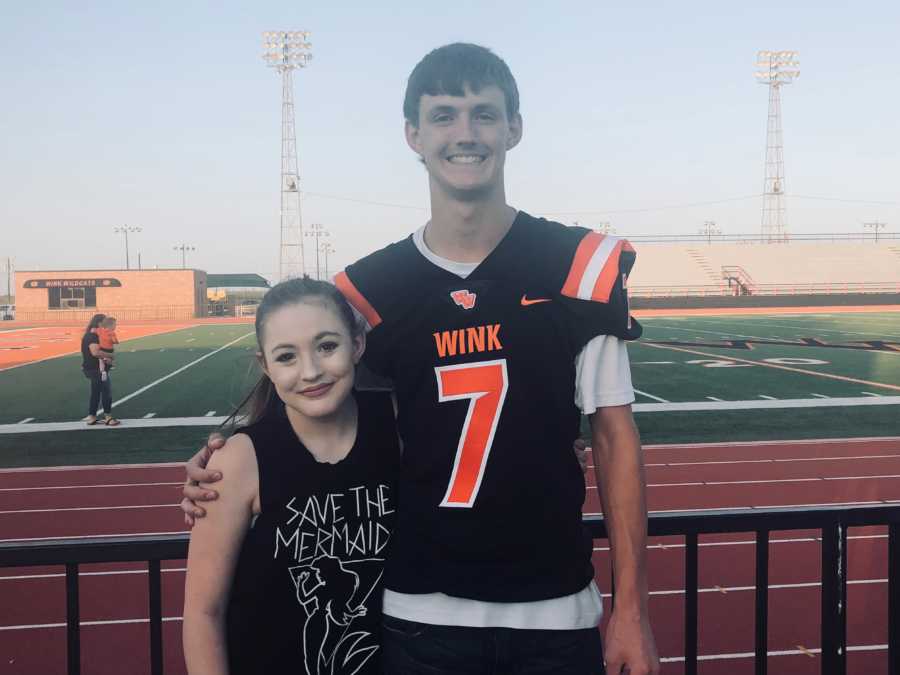 In one eulogy, spoken by Wade's coach, he said this:
'Wade, he understood kids admired him and he understood that in the most unselfish way possible. He understood it and took the time to talk with the kids, say hello to them, give them a hug, take a picture with them… whatever it was. And he 100% was doing it for those kids, not for himself or his image.'
Wade always took the time to take pictures – exhausted, sweaty, dirty – after every sporting event, with any child who asked. His 6'5 frame squatted down to their level to speak with them. He would say yes to any teacher who asked if he would visit their classroom. He would toss a football before school, after practice, even after games, with any child who asked. He would dunk over and over after basketball games when he was asked to, even though he had just played four quarters nonstop. Kids loved him because he truly cared.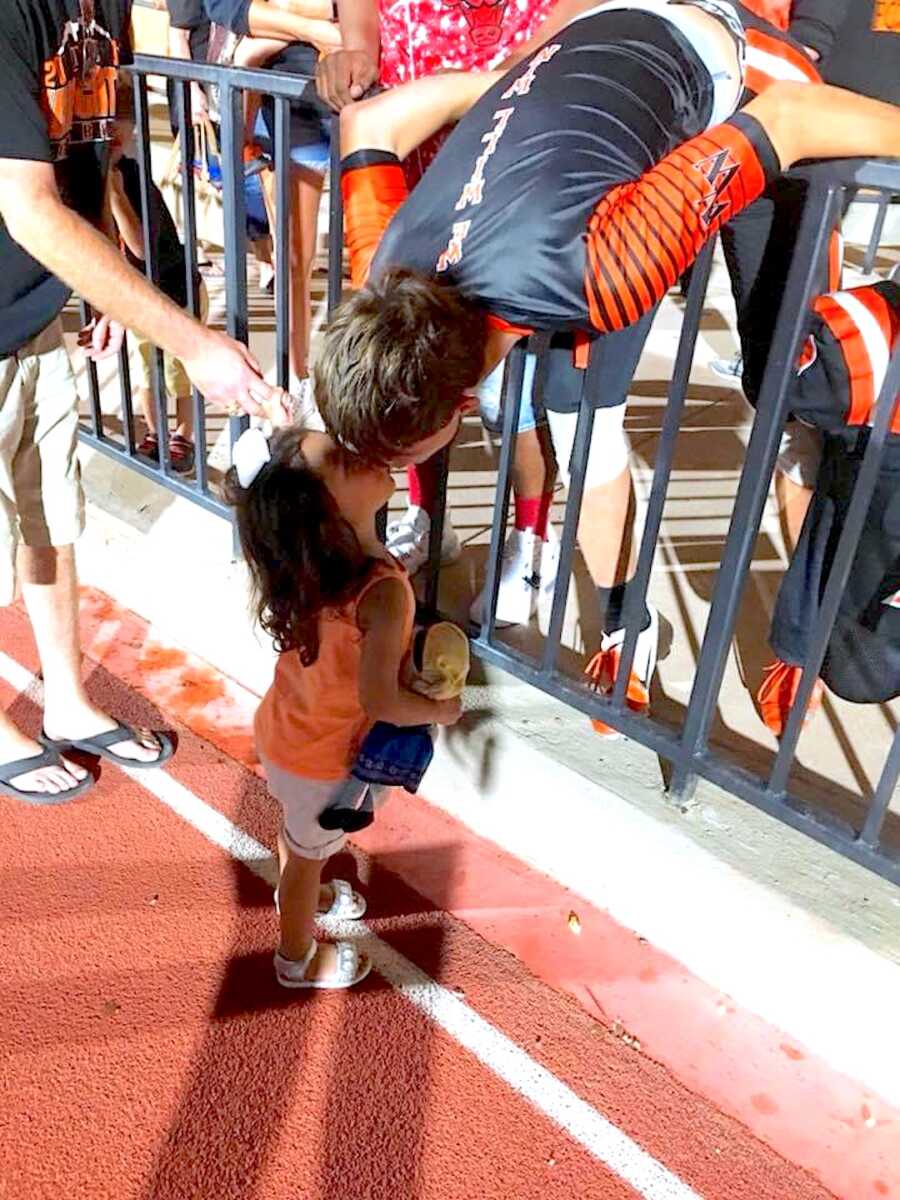 In my own eulogy, I said this:
'Parents ultimately want very few things from their children and for their children.
They want them to be surrounded by supportive family. Family who shows up for the hard times and the not-so-stellar moments, as much, if not more than, the moments of glory. We did that. We love and love BIG, sometimes messy, always showing up for each other, never leaving our presence or ending a phone call/text without an 'I love you and I'm proud OF you, to be yours.'
As for all those letters and cards slipped into his bag upon his leaving me? They were all in his glove compartment. Even the one I had slyly put in there mere hours earlier. He had already gotten it out and read it. He went to Heaven with my words of love, encouragement, pride, and humor surrounding him.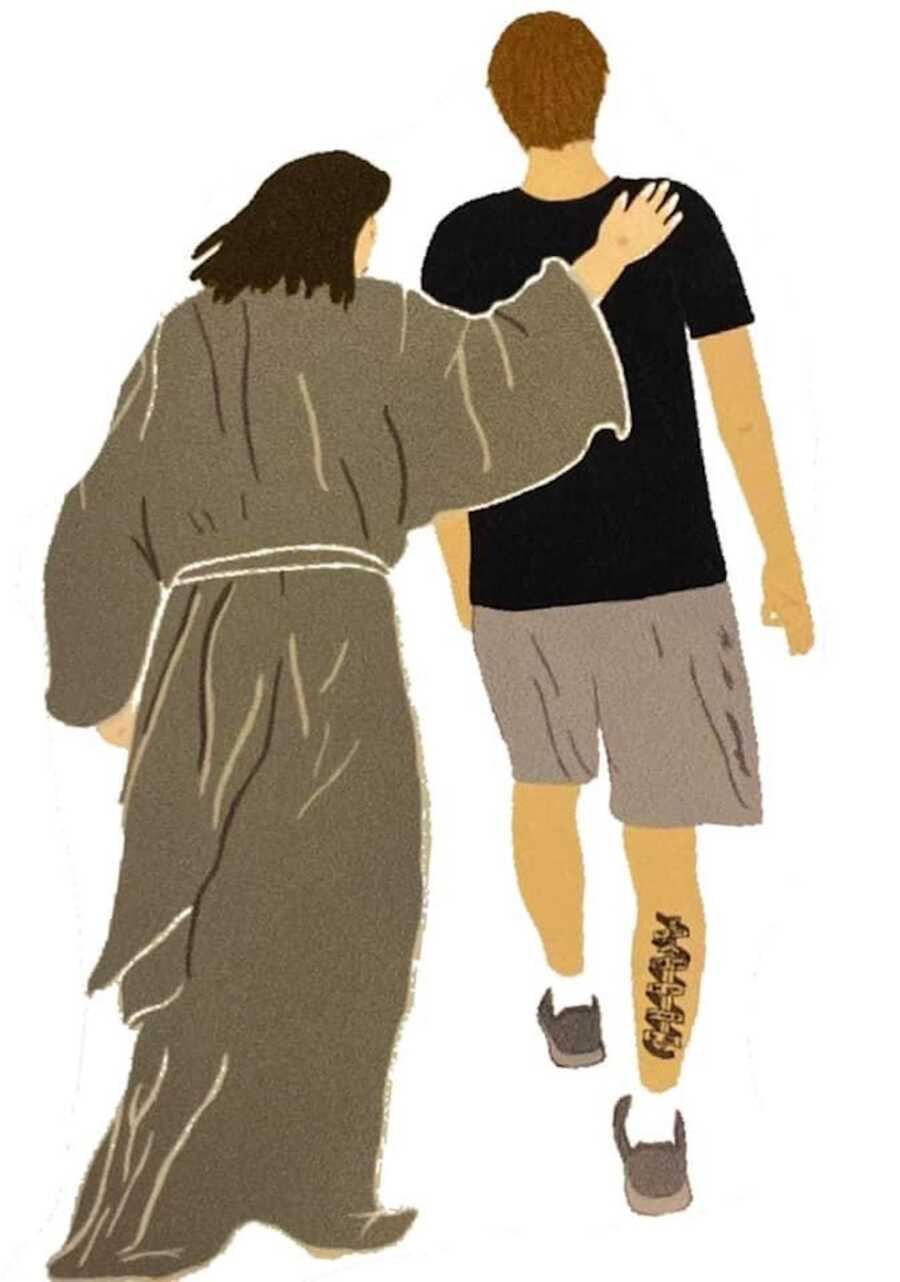 We want our children to have friends and to be a friend. Wade had friendships that transcended into brotherhood and sisterhood. I found out just how much of a true friend he was to so many. To love and be loved. Wade had his great love story with Kylie. To make the world better in broad strokes, or by impacting one person's world at a time. Man, how Wade has changed this world by being that friend to the child who only had him; by being the friend to the one who was bullied; by befriending the shy underclassman and helping him come into his own; by being a team captain on and off the field; by giving the children who wanted to be him the attention they seek, showing them they matter, because they do. He will continue to impact the world because all of those he positively affected will go into the world treating others with more kindness and selflessness. Children will emulate his positivity.
His nickname may have been golden boy because when he was 10, he loved the way his hair turned more blond and his skin more golden during the summer. But he WAS golden. In his 20 years, he showed us how to live golden, and in turn, we got to watch God's promise unfold… only we didn't know it.'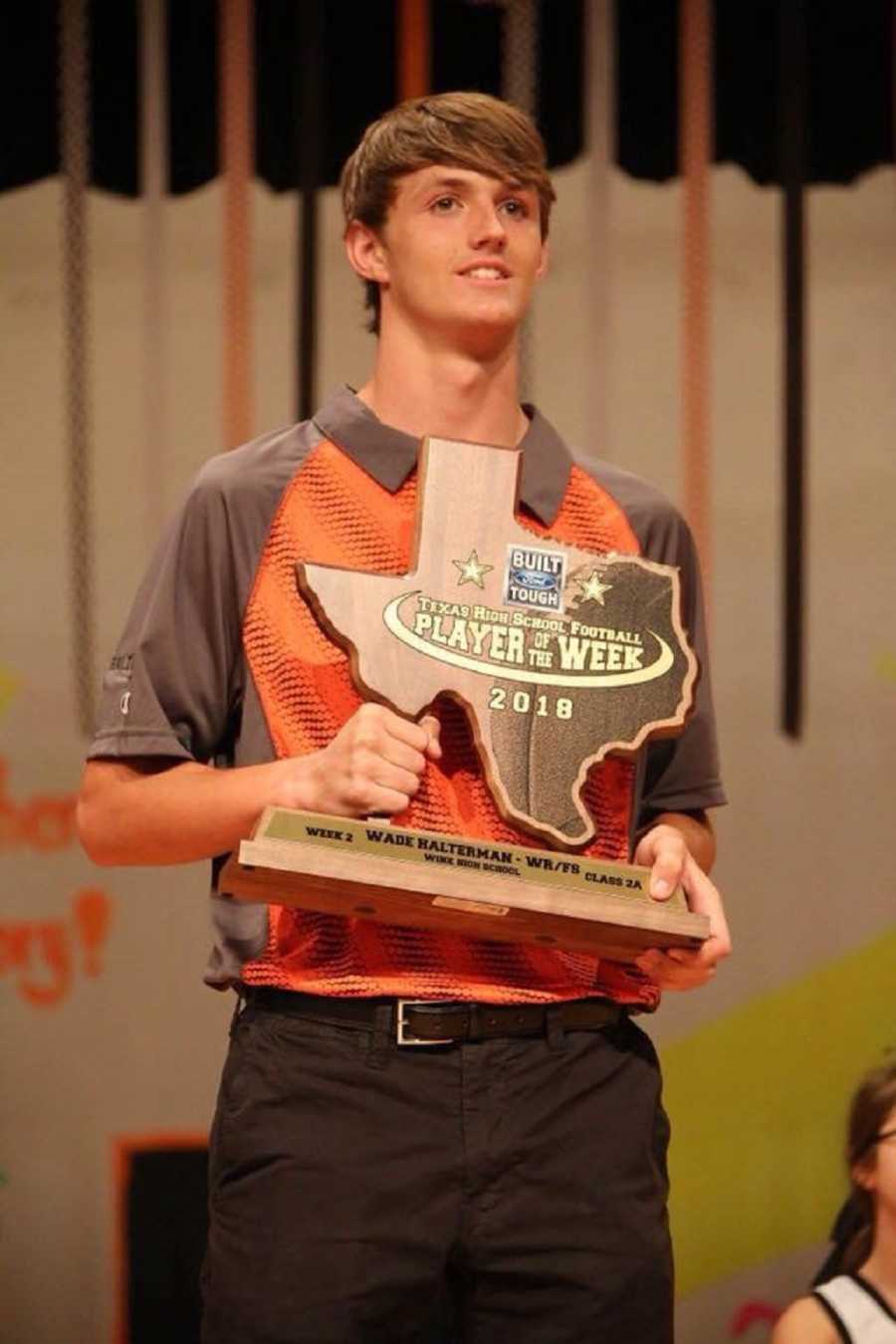 Perhaps my favorite quote from this devastating time came from one of his best friends:
'You lit up a room like you lit up a scoreboard.'
Our world is broken, the darkness gets all the attention. Perhaps if we live lighter, kinder, smile with more ease, find more humor, get on each other's level to let them know they matter, and live golden, then prayerfully the innate goodness of people can shine more.
Live Like Wade. Stay Golden."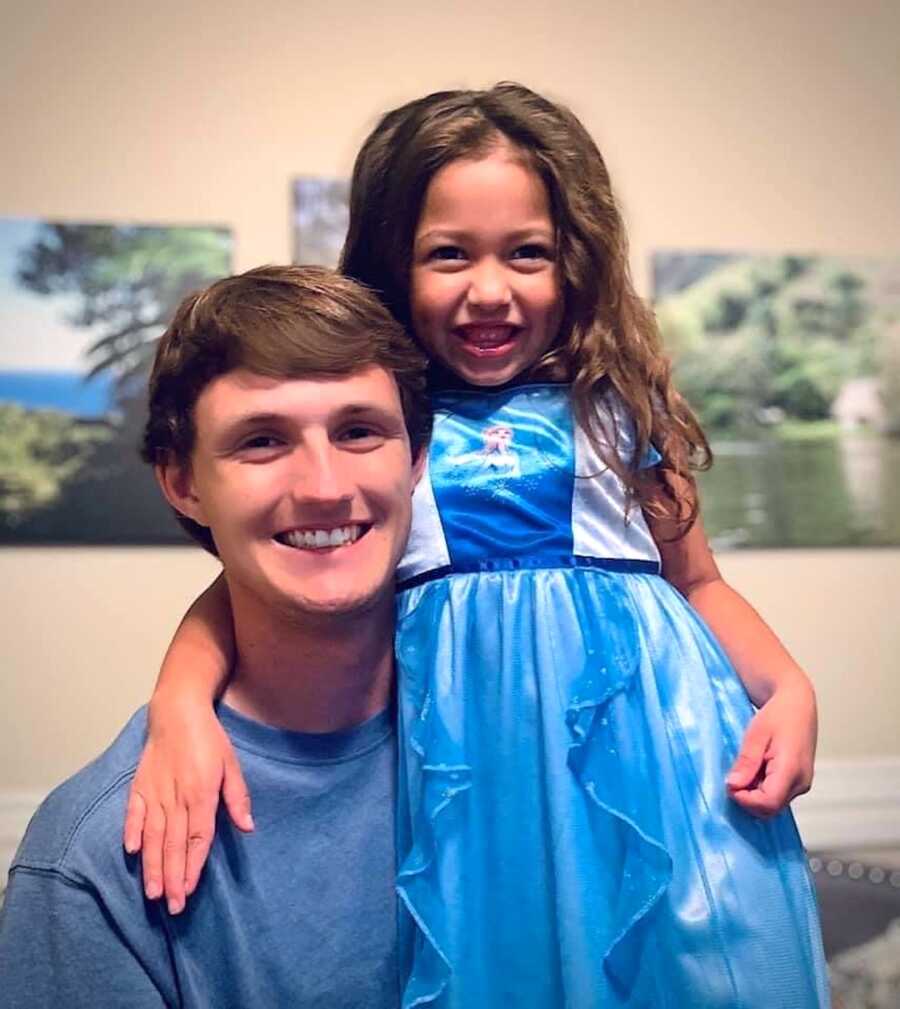 This story was submitted to Love What Matters by Courtney Orr. Do you have a similar experience? We'd like to hear your important journey. Submit your own story here, and be sure to subscribe to our free email newsletter for our best stories.
Read more from Courtney here: 
'He knew. Both his beautiful girls were in the fight of their lives.': 17-year-old rallies behind his girlfriend after leukemia diagnosis, sister after Cystic Fibrosis diagnosis
Read more stories like this:
'I was scared to open the ambulance door. 'I'm here, everything will be OK. We're getting you help.' A tear ran down my son's face.': Mom loses 'gentle giant' to 'freak accident' after gun falls from cabinet, 'The investigator had never seen anything like it'
'We were at dinner when I said, 'Hell, give me another drink. I may take up smoking too.' Kinsley was as healthy as a horse and in a week span, she was dead.': Mom loses daughter unexpectedly to flu
'I opened my mouth to say, 'No, don't go,' but the words never came out. 'Why don't you come?' I took one last look.': Young widow shares grief journey after losing husband in car accident
SHARE this story on Facebook with family and friends to remind them to love what matters most.