"Mother's Day is approaching.
Every year as I stroll through Target I am caught off guard by the sudden early display of Mother's Day cards.
It catches me and I feel the tenderness and the ache of loss.
I don't linger here much because of the painful reminders this display holds.
As a woman who has lost my birth mom and adoptive mom, and deeply longs to be a mom, I have learned what it means to honor myself and my story on such a sacred day.
There have been years when I skipped church because it was far too painful to listen to the sermon about moms, motherhood, and the traditionally-narrow view of what our world says a mother is and should be.
There have also been times when I write a letter to my birth mom and enjoy a good meal in honor of her.
And then there are days when I do nothing but shed tears that tell the story of losing my two moms, and the wondering when I will get to step into motherhood alongside my dear friends.
As Mother's Day approaches, I want to invite you to take a moment to re-imagine the traditional hallmark holiday.
Consider who the women are in your life who carry hope, burdens, joy, sorrows, and all the complexities in between.
Who has mothered you from up close or afar?
Let's honor and celebrate the women beyond the traditional, narrow-minded mother role:
birth moms
foster moms
women who have lost littles
women who have had the gift of giving birth stolen or lost
women who mentor younger women
women who have lost their moms
women who never knew their moms
women who have been separated from their moms or kids
women who bring and bear LIFE, in ways beyond giving birth
women who are caregivers for others beyond their homes
Take a moment to consider who comes to mind in your journey and skip the 'traditional' cards.
More than likely, you won't find many cards that fit the women on the list above.
As a few women come to mind, find ways to honor, bless, lament with, and celebrate women in your story who may not fit the traditional Mother's Day card."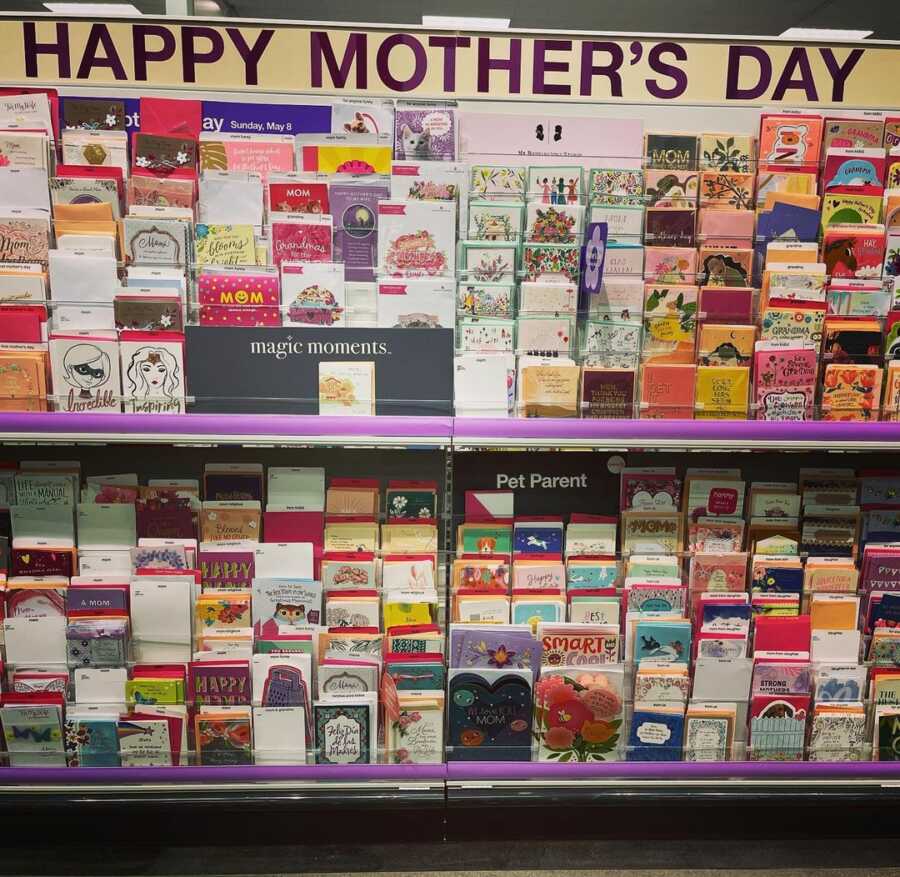 This story was submitted to Love What Matters by Sandhya Oaks. It originally appeared here. You can follow her journey on Instagram. Submit your own story here and be sure to subscribe to our free email newsletter for our best stories.
Read more stories like this:
I Want To Tell My Daughters About Motherhood Now, Not When They Become Mothers
'We love being mothers, but sometimes, it is so hard.': Mom of 6 shares Mother's Day gift advice
'I can spend Friday night at a bar with my friends. I can go to mommy and me group. That is what moms do. We do it all.': Woman reminds other mothers to 'get to know YOU better'
As We Approach Mother's Day, Reflect On What Moms Accomplish On A Daily Basis
Spread beauty and strength for other mothers. SHARE this story on Facebook with family and friends.